9 Best eCommerce WordPress Plugins to Create Your Online Store in 2024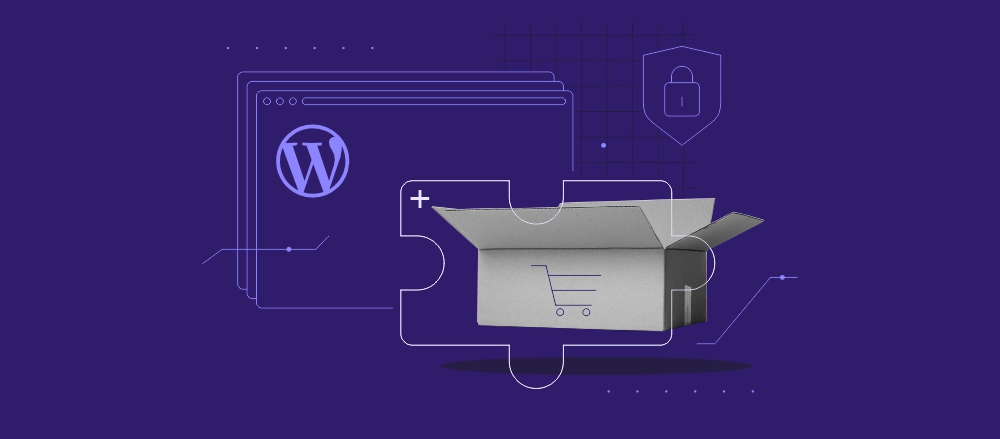 The rising popularity of eCommerce opens a new opportunity for individuals to make money online. As many eCommerce websites successfully drive more revenue than brick-and-mortar stores, this business idea can be extremely profitable.
Today, many eCommerce platforms enable anyone to easily start an online business. Each eCommerce platform offers different sets of features, so it's important to research and choose the right one for your needs.
Using WordPress for business, for example, enables you to scale your eCommerce site using plugins. With over 50,000 plugins to choose from, you can seamlessly build a WordPress site that caters to your specific business goals.
To help you build a successful online store, we have compiled a list of the eight best WordPress eCommerce plugins. These plugins range in features to suit different kinds of WordPress stores, and can facilitate online payments and integrate shopping carts.

Top 9 WordPress eCommerce Plugins
For our analysis, we consider ease of use, pricing, features, and limitations when choosing the best WordPress eCommerce plugins.
Keep in mind that using too many plugins can slow down your eCommerce store's performance, so make sure to only install plugins that fit your business goals.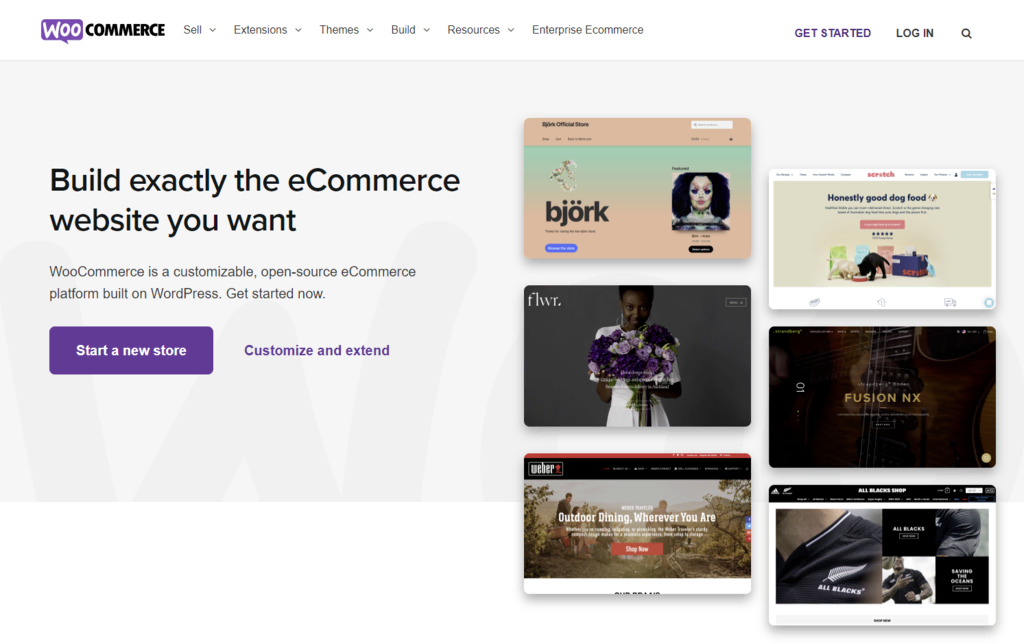 Plugin stats:
Rating: 4.6/5
Best for: all eCommerce purposes
Price: free (add-ons range between free to $150/year)
WooCommerce is one of the top WordPress eCommerce plugins to consider. The core plugin comes with essential features to make an eCommerce store. Extend the functionality of your WooCommerce store using the platform's free and premium add-ons.
This free plugin is compatible with physical, digital, and membership products, making it a versatile solution for all kinds of businesses. A WooCommerce store can simultaneously accommodate physical and digital products, giving you the tools to scale your business.
Multiple built-in WooCommerce blocks make adding product listings to any part of your eCommerce store easier. For instance, the All Products block displays all listings, while Product by Category, Newest Products, and Best Selling Products blocks group your listings into collections.
WooCommerce developers created the WordPress Storefront theme to ease the process of setting up a WooCommerce store. The theme also minimizes incompatibility risks with other plugins and extensions.
Use one of the Storefront child themes provided by WooCommerce's official store for an easy start. Various online marketplaces like ThemeForest and TemplateMonster also offer free and premium WordPress eCommerce themes for WooCommerce if you want more options.
Also, consider launching your eCommerce store using WooCommerce host optimized for the best performance and uptime of WordPress sites.
Key Features
Supports multiple product types in one listing
Built-in analytics
Pre-built WordPress eCommerce themes
An extensive collection of add-ons
Cons
Requires add-ons to unlock other payment gateways besides its own processing solution
A shipping address requirement for all purchases, including digital products
[DOWNLOAD]


The ELEX WooCommerce Dynamic Pricing and Discounts plugin is a must have for any eCommerce store. This plugin is a game changer with the plethora of features it offers in an easy to use and intuitive dashboard.
This ELEXtensions plugins provides you with the flexibility to customize your store's product pricing based on a range of criteria. Additionally, you may also offer dynamic discounts for various products and categories.
With the ELEX WooCommerce Dynamic Pricing and Discounts plugin, you can generate fixed, flat, percentage, coupon discounts for individual products, product combinations, categories, and tags based on user roles, weight, user emails, number of orders, and more. You can also provide buy one, get one discounts for the above mentioned criteria.
Apart from the discounts and pricing options, the plugin allows you to set up product price tables and offers tables. This keeps the users informed about the various discounts and offers you provide.
The ELEX WooCommerce Dynamic Pricing and Discounts plugin offers a free version with limited features for those who want to try it out before investing in it. The premium version starts at $79 for a single site and goes up to $199 for 25 sites.
Key Features
Create product combinations, individual products, categories, tags, and BOGO discounts.
Customize your store's pricing to suit your specific needs.
Product discounts for various product variations.
Provide cart discounts based on product attributes and shipping methods.
Provide repeat discounts for set product multiples.
Cons
Setting up all the features may take a little time for larger stores.
The plugin is only available for WordPress/WooCommerce.
[DOWNLOAD]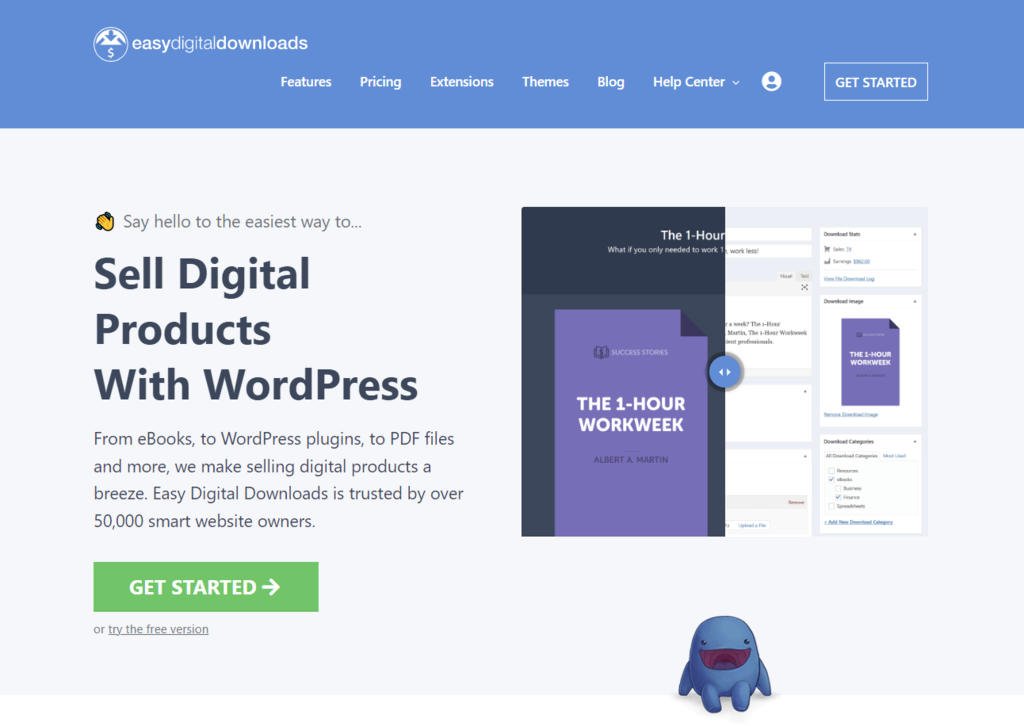 Plugin stats:
Rating: 4.7/5
Best for: selling digital downloads
Price: freemium (paid plans starting at $99.50/year)
Easy Digital Downloads is the best WordPress eCommerce plugin for selling digital products. It's perfect for online stores offering eBooks, music, software, or other digital downloads.
This popular WordPress eCommerce plugin provides plenty of options to sell digital products in multiple forms. For example, when embedded in a post or page, visitors can choose which product version to purchase.
Another key feature that makes Easy Digital Downloads worth considering is bundle downloads, which lets buyers add multiple digital products into a single download. This feature is useful when offering product bundles for a special price.
Access the built-in analytics from the plugin's user-friendly dashboard to see actionable insights on your WordPress store. Track your business performance based on various metrics, such as earnings, number of downloads, and website traffic.
Download logs with details of each transaction's date and time, IP address, and payment record are also available. With the customer management feature, you can track each consumer's purchase history to improve your eCommerce targeting.
Easy Digital Downloads supports Stripe, PayPal, and Amazon payment gateways. Various extensions are also available to add more payment options, including ones from third-party developers.
This WordPress eCommerce plugin comes in free and premium versions. Upgrade to Personal for $99.50/year to get email marketing tools and support. Buying the Professional plan for $299.50/year unlocks Easy Digital Downloads' most popular features, such as its marketplace functionality, checkout fields manager, and wishlists.
Key Features
Integrated payment support for PayPal and Stripe
Customer management panel
Built-in download and transaction reports
Extensions to expand the site's functionality
Cons
Only works for digital downloads
[DOWNLOAD]
Plugin stats:
Rating: 4/5
Best for: integrating BigCommerce with WordPress
Price: free to download, accounts starting at $29.95/month
BigCommerce is a managed eCommerce platform that offers a headless solution. That means the eCommerce infrastructure will run on the BigCommerce platform, keeping it separate from the WordPress core.
The BigCommerce WordPress plugin provides the framework for running an online business. All you need to do is connect your BigCommerce account to a WordPress website and set up the back-end of your WordPress online store from there. If you don't have an existing BigCommerce account, set up a new one from your WordPress dashboard after installing the plugin.
Like WooCommerce, BigCommerce also offers product blocks to embed product listings on WordPress pages. Additionally, managing various aspects of your WordPress eCommerce store from the BigCommerce dashboard is intuitive.
The platform provides marketing tools to create promotional materials and generate discount codes to improve conversion rates. Meanwhile, abandoned cart emails help to minimize the risk of losing potential sales.
BigCommerce offers three core plans and an enterprise solution. It also has comprehensive analytics tools generating real-time data, such as purchase funnel reports and customers' purchase history.
Key Features
Easy-to-use BigCommerce blocks
Supports various currencies and PCI-compliant payment gateways
Many advanced features eliminate the need to install multiple plugins
Supports major global couriers
Cons
The cheapest plan doesn't have advanced tools like abandoned cart saver and customer segmentation
[DOWNLOAD]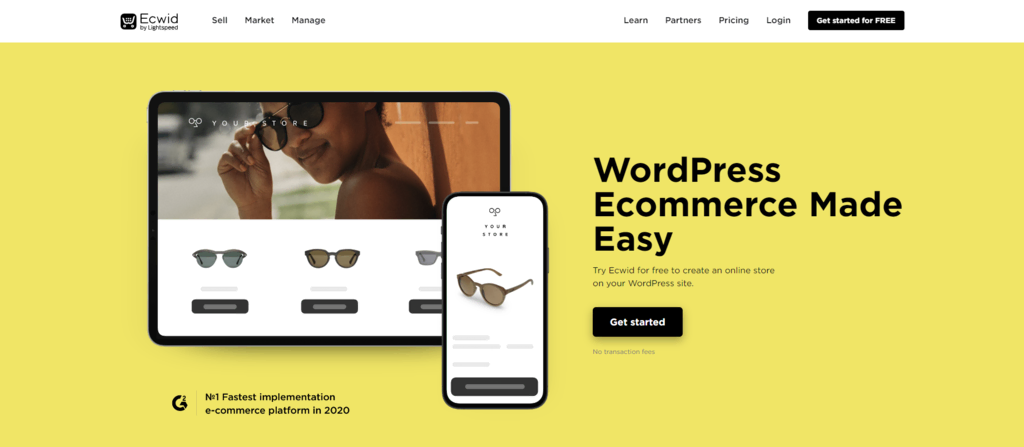 Plugin stats:
Rating: 4.4/5
Best for: integrating the Ecwid eCommerce platform with WordPress
Price: freemium (paid plans start at $12.50/month)
Ecwid is an excellent software as a service (SaaS) eCommerce platform for integrating your online store with WordPress and using various social media platforms as sales channels.
Unlike BigCommerce, the WordPress version of Ecwid imports all the dashboard and configuration panels into WordPress. You can manage products, sales channels, and payment options directly from your WordPress dashboard.
The Ecwid eCommerce Shopping Cart plugin for WordPress has a built-in Google Ads configuration panel. This is where you can set up advertising campaigns and select Google Ads packages in one place.
The analytics tool requires a third-party app, but you can install it easily from the dashboard. Moreover, a free analytics app from Kliken is also available.
When it comes to online payments, Ecwid supports Stripe, Square, and Paypal. This WordPress plugin also accepts manual payments, such as bank transfers, cash on delivery, and checks. Additionally, the plugin automatically calculates shipping rates if you integrate your store with major couriers.
Ecwid's free plan offers basic features to build a small online business. Purchasing its premium version lets you integrate your business with social media stores, like Facebook Marketplace and Instagram Shopping. Mobile point-of-sale and Amazon integrations also require a premium plan.
Key Features
Complete Ecwid panel integration with WordPress
Built-in Google Ads configuration panel
Both the plugin and the eCommerce platform are free to use
No transaction fees
Cons
The configuration panel isn't beginner-friendly
The free plan only accommodates up to 10 products
[DOWNLOAD]

Plugin stats:
Rating: 4.6/5
Best for: membership WordPress sites
Price: from $179.50 to $399.50/year
If you want to turn your WordPress site into a membership website, MemberPress is one of the best WordPress eCommerce plugins for the job. By applying a membership system to your site, this WordPress plugin lets you offer digital content, courses, and downloadables behind paywalls.
MemberPress offers multiple pricing plans to create the membership program that suits you best. It also provides unlimited access rules for blocking access to pages, posts, and other content based on users' membership tiers.
This plugin uses a custom post type to create a pricing page. You can utilize its built-in pricing templates as a base design and modify it with custom CSS.
The automated billing system reminds users when it's time to renew their memberships. The system automatically revokes the membership if a user doesn't pay the renewal fee on time.
Like WooCommerce, MemberPress has a library of add-ons to expand your membership site's functionality. For instance, you can integrate international payment processors besides PayPal and Stripe and redirect members who want to cancel their membership to a custom landing page.
The only downside is that MemberPress doesn't offer a free plan. However, its lowest tier subscription provides great value for money to build a fully-functional membership website without needing other plugins.
Key Features
Automated billing system and membership revocation
Add-ons and integrations for scalability
Unlimited access rules to block user access
Pre-built pricing pages
Cons
[DOWNLOAD]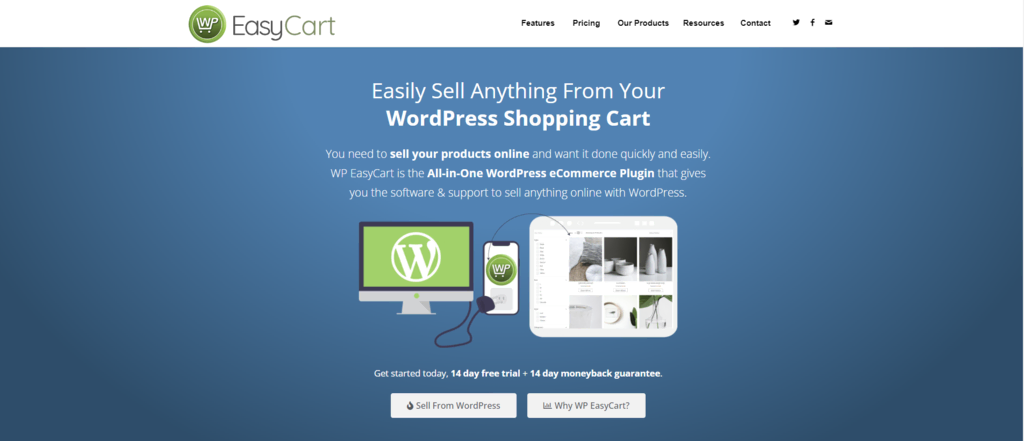 Plugin stats:
Rating: 4.4/5
Best for: selling different product types on WordPress
Price: freemium (paid plans starting at $69/year)
WP EasyCart is a powerful WordPress plugin that offers easy-to-use shopping cart features. It provides a comprehensive yet streamlined report for easier performance analysis, and integrations are also available with multiple popular payment gateways.
The free plan limits you to selling retail products. You can only collect payments using PayPal, Stripe, and Square, with a 2% application fee for each transaction. Support is only available via the community forum.
Upgrading to the Pro plan removes the application fees and unlocks more product options, including memberships and digital downloads. Adding new product entries with WP EasyCart is also simple via a sidebar pop-up. Additionally, over 30 payment gateways are ready to support global transactions.
Consider opting for the Premium plan to get the most out of this eCommerce plugin for WordPress. Besides getting all the Pro features, you get access to advanced extensions like MailChimp eCommerce, BlueCheck age verification, and AffiliateWP marketing. Use its apps to manage your store from desktop and mobile devices.
Key Features
Comprehensive dashboard with an excellent user experience
Supports a wide range of product types
Built-in diagnostic tools
Store management via desktop and mobile apps
Cons
The free plan comes with limited basic features and a 2% application fee
[DOWNLOAD]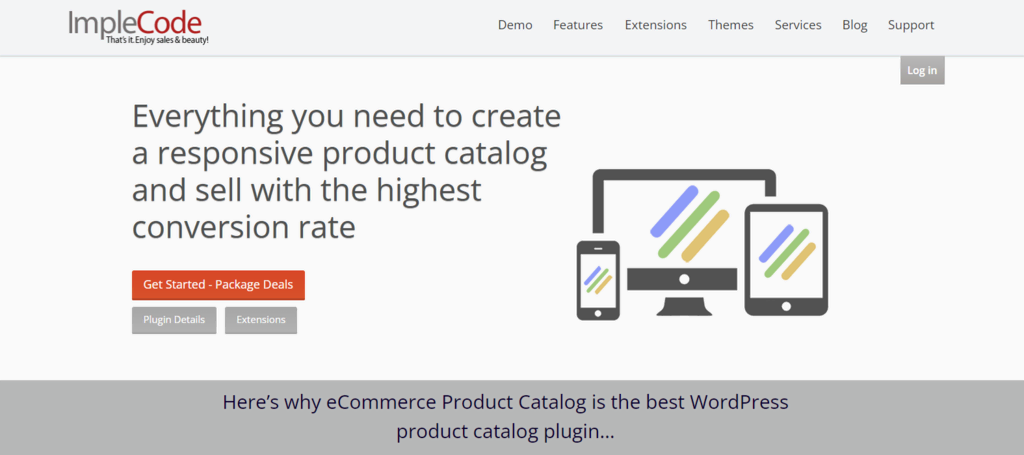 Plugin stats:
Rating: 4.7/5
Best for: creating product catalogs with eCommerce functionality
Price: freemium (paid plans starting at $49/year)
eCommerce Product Catalog is one of the most popular WordPress eCommerce plugins for creating product listings. It offers various ways to display and organize products on your WordPress website.
For instance, a product catalog for eCommerce stores can include a shopping cart feature. If you offer services or products with tailored pricing, create an inquiry catalog and add the quote cart feature. Alternatively, you can design a simple catalog without transaction functionality.
Multiple display options supporting an unlimited number of products are available to give your product catalog a unique and user-friendly look. All product page templates are also responsive, ensuring an excellent customer experience across different devices.
Unfortunately, the free plan doesn't support any payment gateway. Upgrading to the paid plans for $49-$399/year unlocks payment gateway integrations, advanced extensions, premium support, and automatic updates.
Key Features
Various catalog mode options
Built-in design tools
The option to enable and disable eCommerce functionality
Multiple widget options for your WordPress theme
Cons
The free plan doesn't come with any payment gateway
[DOWNLOAD]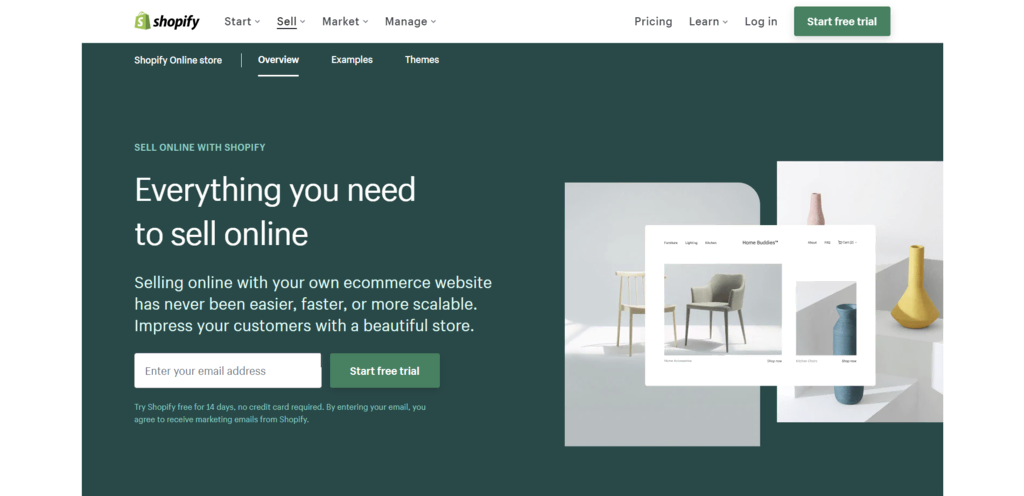 Plugin stats:
Rating: 4.6/5
Best for: all eCommerce purposes
Price: $5/month for WordPress integration ($24 to $299/month for core plans)
Many people often compare WooCommerce and Shopify due to their popularity and similar functionalities. Like WooCommerce, Shopify offers extensive easy-to-use tools and features to create a full-fledged eCommerce site.
However, Shopify's integration with WordPress works differently than its competitor. Being a hosted eCommerce store builder means it can host your online shop without a third-party hosting provider. Instead of using a plugin, you only need to enable the Buy Button feature to sell products on your WordPress site.
While Shopify doesn't have a free plan, it offers a 14-day free trial. Integration with WordPress includes core eCommerce tools, unlimited products, 100+ payment gateways, sales tracking, and global currency support.
Shopify also provides robust search engine optimization (SEO) features. It even enables you to modify the robots.txt file to direct search engine crawlers to specific URLs for higher rankings. Additionally, all Shopify themes are responsive and SEO-friendly.
That said, it's worth noting that the platform's built-in payment processor, Shopify Payments, is only available in certain countries. If you want to use a third-party payment gateway, Shopify will charge a transaction fee between 0.5-2%, depending on your plan.
Key Features
Easy integrations with shipping providers
Robust SEO features
Intuitive setup
Advanced reports
Cons
Transaction fees for third-party payment gateways
[DOWNLOAD]


What to Look For in a WordPress eCommerce Plugin
There are many elements to consider other than your store's needs when looking for powerful WordPress eCommerce plugins. Pay close attention to the following four factors, which affect your website's performance and user experience.
Impact on Site Speed
Despite their abilities to expand your website's functionality, installing too many plugins can affect its loading speed. Having a slow page loading time can impact not only the user experience, but also your site's ranking on search engines.
To mitigate this issue, you can either opt for lightweight plugins or invest in a small number of excellent plugins with multiple functions.
If your chosen plugin has a free version, we recommend testing that on a staging environment first before installing it on a live site. Otherwise, pick a premium plugin that offers a free trial for testing purposes.
Going through different review articles and forums also gives you better insights into each plugin's performance and any potential issues that might affect your website's speed.
Also, if you're using Hostinger's WordPress hosting, you'll be able to check on your plugins as well as get useful performance tips in the hosting control panel.
Payment Integrations
If you want to process online transactions, choosing a plugin with payment gateway integrations that suit your store's needs is crucial. Having to install them separately can compromise your page load time and SEO.
Some plugins come with built-in payment processors or an in-house payment gateway, while others offer them as add-ons. Research the plugin's availability in your country and check whether there are transaction fees.
Customization
Each online store has different needs, so finding WordPress plugins that are customizable to your business goals is essential.
Good plugins give access to documentation and learning materials, explaining all the features and ways to customize them on your website. Many plugins also provide shortcodes and hooks to simplify the customization process.
If you have limited to zero coding knowledge, opt for popular plugins with an active support forum to help answer any queries. At the same time, consider hiring plugin developers to help you set up eCommerce functionality on your WordPress site.
Support
One of the disadvantages of eCommerce is that any downtime can cause a loss of revenue and customers. As plugin conflicts and issues can cause website downtime, getting the assistance you need quickly helps to mitigate any damage to your brand.
Your chosen plugin's support team should be easy to contact through multiple channels. Since there's no telling when a plugin conflict might happen, we recommend finding plugins that offer 24/7 support.
Many plugins include premium support in their paid plans. This is worth investing in for plugins that your eCommerce store can't function without.
Conclusion
WordPress eCommerce plugins make it possible to run an eCommerce business using the content management system. Since they offer varying features, choosing the right WordPress eCommerce plugin is crucial.
Here's a recap of our top picks for the best eCommerce plugins for WordPress and what they are most suitable for:
WooCommerce is a multi-purpose eCommerce plugin for WordPress suitable for online stores with various product types.
ELEX WooCommerce Dynamic Pricing and Discounts plugin is a must have for any eCommerce store.
Easy Digital Downloads is the perfect eCommerce plugin for selling digital goods, like eBooks, online courses, and media files.
BigCommerce for WordPress offers comprehensive analytics tools and the infrastructure to support medium to large businesses.
Ecwid eCommerce Shopping Cart is an excellent WordPress plugin for eCommerce sites looking to expand their reach into social media segments.
MemberPress is the best eCommerce plugin for selling exclusive content through membership subscriptions.
Shopping Cart and eCommerce Store by WP EasyCart offers a unique user interface and a comprehensive plugin dashboard for a better user experience.
eCommerce Product Catalog by impleCode is one of the best WordPress eCommerce plugins for creating appealing product catalogs with online payment features.
Shopify is one of the best WordPress eCommerce plugins for businesses that run both brick-and-mortar and online stores.
Do you agree with our picks? Leave a comment to let us know your favorite eCommerce plugins for WordPress.
WordPress eCommerce Plugins FAQ
If you're still unsure about WordPress eCommerce plugins, check out the following sections for answers to some frequently asked questions.
What Is an eCommerce Plugin?
An eCommerce plugin is an additional software for adding eCommerce functionality to a WordPress site. Using a plugin for WordPress eliminates the need for coding to expand the website's capabilities, enabling anyone to build an eCommerce store on the platform easily. All types of plugins are available in the WordPress plugin directory.
What Are the Requirements for Running an eCommerce Website?
Some crucial requirements to run an eCommerce site include stable and fast web hosting, a responsive and SEO-friendly web design, and appealing product catalogs. Meanwhile, the core requirements for supporting online transactions include a shopping cart, payment gateways, shipping integrations, and customer support.
How Do I Integrate eCommerce into My WordPress Site?
To integrate eCommerce into your WordPress site, you can use a plugin like WooCommerce or Easy Digital Downloads. These plugins offer features like product listings, shopping carts, payment gateways, and order management. You can also use a theme that supports eCommerce functionality.
Is WordPress Good For eCommerce?
Yes, WordPress is a great platform for eCommerce. With the right plugin, you can have extensive eCommerce features. In addition, WordPress offers flexibility and customization options to create a unique online store.