How to Start an Online Business in 2021: Your Go-To Jumpstart Guide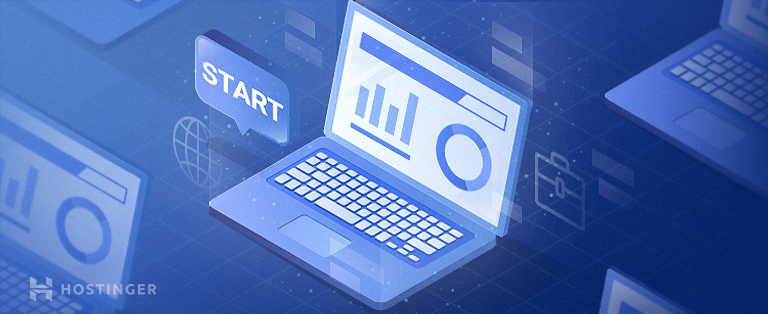 With more than half of the population using the Internet, opening an online business is a lucrative venture. Not only is it cost-effective and straightforward, but there are also fewer risks compared to a traditional business.
If you are looking to open a small business online, you have come to the right place. Join us as we will explore how to start an online business and list some of the best business ideas to try out yourself.
Benefits of an Online Business
Probably the first notable benefit of starting an online business is that you never run out of ways to make money online. You can sell products online, create content, or be an affiliate marketer, for example.
Thus, you can diversify sources of income to reach maximum profit. Small online business owners can earn an average of $29,462 to $160,606 yearly in the US alone. Passive income through online ads, course sales, and affiliate links are all options that are not available in non-online businesses.
You can work anywhere at your own pace, having the freedom to arrange a work schedule to fit your lifestyle.
What's more, your business is open 24/7 for anyone to see. Businesses online have the option to go global without the additional cost of maintaining a physical storefront.
Lastly, the eCommerce experience is faster and more personalized. Entrepreneurs can easily collect and track relevant data based on user behavior to get more online business ideas.
Online businesses are predicted to grow exponentially, up to a 4.81 trillion dollar market cap by 2021. That alone makes this an opportunity worth considering.
Overall, there are virtually no major drawbacks when starting an online business. For example, Internet businesses have to rely on a hosting provider to keep a website running. If the server fails, your website will go offline, which is detrimental to your business. However, great hosting companies offer a 99.99% uptime guarantee.
Types of Online Businesses to Start in 2021
There are many options to try, but the best choice boils down to how well you know your target market and niche. We'll explain how to research your market later, but for now, let's take a look at some home business ideas.
Affiliate Marketing
Affiliate marketing lets you earn money by promoting different companies` products and services, usually through videos and blog posts. In practice, your customers will use the affiliate link included in the post, and you receive a commission either through sales, leads, or clicks.
A lot of businesses use affiliate marketing as it's highly effective to scale operations. For comparison, the affiliate marketing industry increases by around 10.1% annually, and 81% of brands trust this method to reach conversion goals.
Those statistics indicate that there are a lot of opportunities for you to succeed in this industry. It doesn't cost anything to join an affiliate program, and you can join multiple programs at once.
For example, there is CJ Affiliate, Amazon Associates, eBay Partner Network, to name a few.
This method works best if you are an influencer or a blogger who has built a close relationship with your audience on the Internet. You could also create a microsite on your website that is dedicated to marketing other company's products.
Pros
Passive income, as one affiliate link can last for months or even years.
Work from home or wherever you'd like.
It is performance-based – the more advertising you do, the more you earn.
Cons
Since it's percentage-based, you receive lower margins compared to if you sell the product yourself.
You need to have high traffic, which takes time if you're not an established influencer.
eCommerce Online Store
Creating an online store is one of the best business ideas to make money online. You can sell your goods or services anywhere at any time.
The core principle to starting an online store is the same as other online ventures – you research the market you want to enter and learn about the competitors. For example, Owler is a great place to gain insight into rival brands.
Aside from that, keep your target customers in mind. Find out how to offer a solution for their problems with your products. Scouring conversations surrounding a niche in social media or forums is an excellent way to figure this out.
Afterward, narrow down the list further by prospect and resources. Generally, a niche with a 20% profit margin is considered lucrative, but this can be influenced by many factors depending on the industry.
To estimate the potential profit margin, decide what kind of commodities you want to sell within a niche. Take revenue models and logistics into account:
Dropshipping. A business fulfills orders through a supplier. You don't need to manage inventory or stock, but the downside is you cannot ensure product quality.
Wholesaling. In this model, you sell goods in bulk. This business requires high investment and a large warehouse for stocks, but you get excellent returns.
Private Labeling. Your products are manufactured by a third-party, but it is sold under your brand name. This happens when you want to produce items but do not want to own a factory of your own. It requires capital, but not as large as for wholesaling.
White Labeling. This is when you rebrand a product that is already on the market. It's different from private labeling in that you don't create a new product from scratch.
Subscription. This model sends a box of products at scheduled intervals for a period of time. A great example of this model would be Blue Apron.
Next, familiarize yourself with different eCommerce business models. This determines the kind of transactions you make in your business.
Here are the four main online business models:
B2B (Business-to-Business). As the name suggests, B2B businesses sell products to other business entities. A great example is WeWork, as it sells its office spaces to other companies. However, B2B requires a more generous amount of cash to start.
B2C (Business-to-Consumer). This business model is the most common, where online businesses sell to private individuals. However, some B2C companies may also do B2B, such as Amazon, for example.
C2B (Consumer-to-Business). You don't get to see C2B businesses often, but it's growing in popularity thanks to the gig economy. One C2B example is blog monetization, as individuals sell their blog space to companies for advertisements.
C2C (Consumer-to-Consumer). C2C is when a consumer sells to another consumer through a website like eBay or Etsy.
By taking all of these aspects into consideration, you'd be more than ready to start a business.
If you're not sold yet on this idea, looking at these advantages and disadvantages may help:
Pros
You can sell anything you want, be it physical and digital goods or online services.
Starting an online store doesn't need a high startup cost. A lot of eCommerce platforms like Zyro and WooCommerce provide an easy way to start.
Visitors can see the full selection of products available and make comparisons easily.
Cons
It takes a lot more time to start and promote your business.
Fierce competition, as you might need to compete with brands from other countries.
Content Creator
Content creation is producing content for your existing or potential audience. It takes time to grow your content creation skills. Being consistent is vital.
Start by generating some content ideas and picking out a niche you're passionate about.
Then, begin researching topics that are based on those ideas. You can use Google keyword planner to explore your options further.
Lastly, pick a platform to start. There are many content options to explore, but we will focus on three popular ones – videos, blogs, and eBooks.
The most popular video-sharing platform by far is YouTube. Most people enjoy visual information as compared to text because it is easier to digest. As long as you enjoy making and creating videos, YouTube is a great place to start.
On the other hand, blogging is an excellent option if you love to write. Once you gain traction, monetize your content through advertisements, sponsorships, and affiliate marketing. For instance, use Google AdSense to display ads on your website and get paid-per-click.
Lastly, if you are fond of writing, sell your work online through Kindle eBooks. Although the margins are small, there are no startup costs to start with as you don't pay the publishing fees. You don't even have to create a website and just sell on Amazon, but for a small transaction fee.
As you continue to grow your business, companies will start offering paid promotions and sponsorships. In simple terms, the more you succeed, the more opportunities you will get.
Pros
You don't have to stick to one platform. For instance, start with blogs and then venture out to YouTube.
It's a chance to build up a brand. Many content creators had successfully made a name for themselves, like PewDiePie, Pat Flynn, and Andy Weir.
Stay top-of-mind by providing valuable content. That way, your audience will always return for more.
Cons
It takes time to earn money, as you need to build a following before deals start coming in.
You need to flesh out fresh ideas to stay ahead of the competition.
Teaching and Coaching Online
Online tutoring is growing in popularity due to its convenience. You can interact with customers from all over the world, all while staying at home.
You need to be well-versed in a subject or a skill, either formal or informal. Pick up training courses from platforms such as EdX or Teach. Or, polish up existing skills by taking seminars and workshops.
After that, decide how to distribute your service: selling video tutorials or offering live lessons. You can set up your own eLearning website to start your own business or join third-party online tutoring websites like Chegg and TutorMe.
With Chegg, sign up to become a tutor, and the platform will send a group of students your way. It allows tutoring through chat, audio, and video mediums. TutorMe, on the other hand, offers strictly one-on-one tutoring.
For a less academic route, check out TakeLessons. This website offers private and group tutoring and a wider variety of topics, such as language, music, and craft classes.
If you want to sell courses instead, Udemy, Skillshare, and BitDegree are great places to start. A variety of classes are available here, from educational to lifestyle courses. And even though you're not the owner, you can still build a brand that way.
Pros
You can teach as many subjects as you can to earn additional income, with no limitations.
Save time and money in transportation and workspace costs.
Flexible hours, set by you.
Cons
Both parties need to have a good Internet connection.
Time zone restrictions, therefore it might be harder to target a global audience if you're offering live lessons.
How to Start an Online Business the Easy Way
Now that you have some online business ideas in mind, it's time to learn how to set one up.
1. Conduct Market Research Before You Start
First, it's vital to tap into the right niche so you can target the right people. That way, your marketing strategy will be more focused and effective.
Find a more lucrative market using tools like Google Trends. Look at the trends within the niche you're interested in, and then narrow it down so you'll have a specific focus.
Let's use health as a keyword example. This can be narrowed down to sub-niches like selling healthy food, creating a health app, or creating health-related content.
When researching, make sure there's an upward trend on the graph. This shows that people are interested in the topic.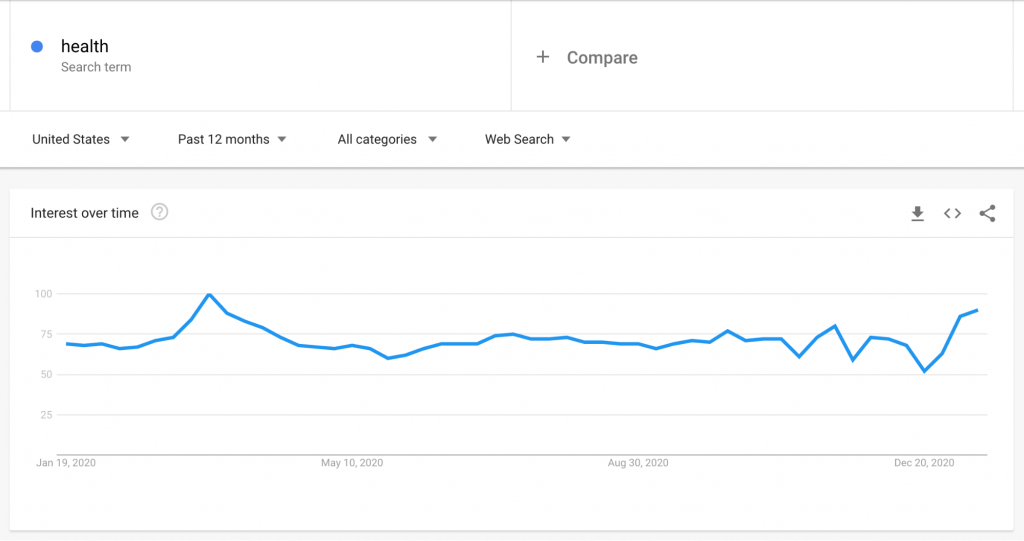 After nailing down the main niche with a promising prospect, you can refine it further by researching long-tailed keywords. You can use tools such as Wordtracker or Ahrefs.
Gauge the niche's profitability and competition by search volume and the number of competitors.
2. Decide What You Are Going to Sell
Once you've figured out a few ideas, it's time to create a business model.
A business model defines how a business makes money and answers three essential questions – who are your customers, what kind of value the company can offer, and how much money it'll take to fulfill that. As such, you can envision how you want your business to grow.
The four business ideas mentioned above are some of the most popular online business models that will help you write a business plan. Other than that, some models worth trying are membership sites, podcasts, and consulting services.
3. Get a Domain Name
A domain name is what users have to type out in a web browser in order to reach a site. Picking a great domain name is crucial to have strong branding.
It needs to be simple and memorable, yet also unique enough to attract attention. Furthermore, ensure that the name is not a registered trademark to avoid legal issues and possible confusion.
Use a domain name checker or business name generator to grab some ideas. Then, take it one step further to see its availability on social media.
To create a memorable domain, avoid hyphens and numbers as it makes the name more confusing. Settle for personal names or short phrases to describe your business.
For example, Chanel is named after its founder. Meanwhile, TripAdvisor is a descriptive name that describes what the business does.
Avoid uncommon words, unless you're sure it's great for branding. A notable example of this is Zalando, offering fashion and shoe products.
Lastly, use the .com extension. It is the most popular option, and most people automatically assume that your website ends with .com.
Once you have decided on a domain, head to a domain registrar or buy one through a hosting provider like Hostinger.
4. Get Hosting for Your Website
Creating a website requires you to have a hosting plan. It will be the backbone and infrastructure of your site that determines performance, uptime, and so forth, so you need to use a trustworthy hosting provider.
Hostinger offers excellent hosting packages along with affordable pricing plans. We also provide 24/7 live chat support, ready to help you succeed in any way we can.
The most popular hosting type is shared hosting. Not only is it affordable, but it's also great for beginners who are just starting their online business.
5. Build Your Website
If you're looking for flexibility and near unlimited customization options, opt in to use WordPress.


WordPress is a free content management system (CMS). It has thousands of plugins to expand or even add new features to your site. There are tons of free and premium themes available for WordPress, namely on their official site.
For example, with bbPress, you can add a forum to your site, while Yoast SEO is a search engine optimization (SEO) plugin that helps you optimize your website and content ranking on Google's search results pages.
Besides that, if you want eCommerce functionality, WooCommerce can cover that. You can also reduce spam comments with tools like Akismet or start an email list with Mailchimp.
Overall, if you are looking for a customizable choice, WordPress is an excellent solution.
If you're looking for an all-inclusive way of setting up a site, you can use a website builder. For example, Zyro offers web hosting services, custom domains, and a platform to build and customize your website's look. It includes everything you might need to start a brand or small business.
If you're looking to sell products directly from your website, pick out an eCommerce plan.
6. Promote Your Business to Get Your First Customers
Once you have a website ready, use various channels to promote your small business and create your mission statement. Social media is a great place to start, considering that's where most conversations happen.
Engage where your audience is already active without being pushy. Help them by providing genuine value, providing great answers on platforms like Quora, works very well. It'll help you build trust with existing and potential customers.
When it comes to the best strategies for online marketing, there are no strict rules. It's essential to pay attention to your targeted demographics and the platforms they frequent.
For example, younger users, especially 18-24 years of age, prefer Instagram. As a visual-centric platform, eye-catching photos work best. You can utilize Instagram Stories or Posts to highlight your products and brand persona.
However, it might be challenging to gain traction if you only rely on social media. Advertising is one of the fastest ways to grow a brand's online presence, but it can be costly for a beginner entrepreneur.
One way to work around this is by cross-promoting your products or services on marketplaces like Amazon. That way, you can leverage the platform's existing traffic. Drop a link to your website, so interested buyers can learn more about your brand once they discover the products.
In retrospect, these small actions will drive traffic to your website and help you gain more visibility on search engines.
How to Bootstrap Your Online Business With Little Investment
Owning a website is not as expensive as it once was. Hosting and a free domain name with our premium shared hosting plan only costs $2.89/month.
If you're planning to set up an eCommerce site, think of starting a dropshipping business, so you don't have to worry about buying and stocking products. The suppliers will ship orders directly from their warehouses, and you will earn a margin after their cut.
Guerilla marketing tactics don't cost anything and are a great way to advertise your small business. As far as business ideas for online advertising go, it's a great creative solution for beginners.
If you want to take a step further, social media advertisements are very flexible regarding budget costs. Google AdWords offers a pay-per-click option, which means you only pay if someone actually clicks on your ad.
Overall, starting an online business is inexpensive if you think outside the box. To succeed, take your online business seriously, and you will find yourself enjoying the process a lot more.
Frequently Asked Questions on How to Start an Online Business
If you find yourself stuck or just looking for some inspiration on how to run a business, have a look at these insights.
What Is the Best Online Business to Start in 2021?
According to one report related to COVID-19 changing the landscape, the tech sector, especially in communication and cloud hosting, is predicted to grow exponentially. The same research shows that retail and travel sales took a 5.7% and 44.7% dip, respectively.
With that said, you might want to dabble in business opportunities that capitalize on those trends in mind, especially on businesses related to remote communication.
What Is the Easiest Business to Start and Run Online?
While there's no definitive answer to what is easy, there are some common, universal pointers. Here's why a business might be considered as one:
Beginner-friendly
Short term revenue gain
Affordable
We're going to dive more in-depth on the last two points. For now, let's take a look at how to find the best business for beginners to try.
The first attribute you want to look for is speed. How fast can a business be set up, and how steep is the learning curve? You may want to settle for businesses you can promote on platforms with an existing audience and take on ventures based on skills that are not as demanding to learn.
A service that doesn't require formal education to start off with is a great example. Being a freelance writer might check all of that. You don't need any special equipment to start apart from a laptop and your imagination. You can also be a writer in multiple languages if you know more than one.
You can set your service up in no time on a gig marketplace like Fiverr or Upwork.
What Type of Online Business Is the Most Profitable?
It depends. Again, it's good to stick with the 20% margin rule. However, here are two examples of profitable ideas for an online business with excellent prospects to start with:
Ad management. eMarketer reported $129 billion in digital ad spending in the US in 2019. This trend is projected to surpass the total media expenses by two-thirds in 2023. Plus, the yearly income of an ad manager is $110,221.
Subscription-based business. Whether it's software or box-based commodities, this model can offer a recurring stream of income. What's more, this type of eCommerce model is forecasted to hit $478.2 billion by 2025, according to UnivDatos.
How Do I Start An Online Business with No Money?
To start a small business with little to no budget, aim for ventures that don't require self-manufacturing goods like dropshipping.
You can also sell digital information items like eBooks or online courses. To further cut spending, sell on marketplaces like Google Shopping or Amazon.
Conclusion
Don't wait until next year or the year after that to start an online business, because now is the right time to begin.
You'll get tons of benefits running a business online with a lot of ideas to choose from. Plus, starting one doesn't take a lot of effort, thanks to affordable platforms to start a business with.
If you're still looking for more ideas for a website, check out our further posts!