How to Start an Online Business That Brings Profit in 2022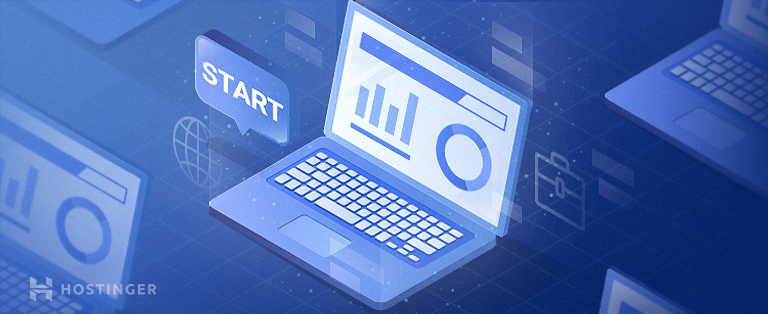 Download Guide To Writing Business Plan
More people are starting their own online businesses thanks to the many website building platforms and tools available. Besides being lucrative, cost-effective, and convenient to manage, the eCommerce industry is also less risky than a brick and mortar business.
If you are interested in starting a small business online, this article may be right for you. We will break down the steps of how to start an online business and provide tips to minimize the costs of running a business.
Video Tutorial
Find out how to start an online business to make extra money in our video tutorial.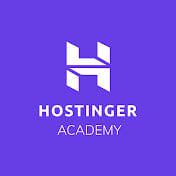 Subscribe For more educational videos!
Hostinger Academy
Subscribe
Why You Should Start an Online Business
Starting an online business can offer you many ways to make money online to maximize your profits.
For example, small business owners can sell products online or create content. Generating income through online ads, affiliate links, and online courses are also options not available to offline businesses.
Unlike a brick and mortar business, an online store lets you work from anywhere at your own pace, with the freedom to have a work schedule that fits your lifestyle.
Furthermore, your business is open 24/7 for potential customers. Online businesses can also go global without the additional cost of maintaining a physical storefront. Regardless of the target audience's timezone, they can make purchases any time.
Lastly, the eCommerce experience is faster and more personalized. Entrepreneurs can easily collect and track relevant data based on user behavior. This way, they can come up with more online business ideas and develop more effective online marketing campaigns tailored to the target market.
Running an online store is a lucrative business. Small online business owners earn an average of $65,784 yearly in the United States. In addition, online businesses are predicted to grow. Global retail eCommerce sales are expected to reach $5.4 trillion in 2022, a significant increase from $4.28 trillion in 2020.
Like offline businesses, however, there are both advantages and disadvantages to running online businesses. One of the main disadvantages is having to rely on a hosting provider to keep your website running.
If the server fails, the website will go offline – this can be disastrous to an internet business. This is why it is important to find a great hosting provider that offers a 99.9% uptime guarantee.
How to Start a Successful Online Business in 5 Steps
Now that you know the benefits of starting an online business, we will walk you through a step-by-step guide on how to create your own online business.
1. Find and Research Your Niche
The first step is to conduct market research on potential niche industries to join and the successful online businesses already thriving in it.
Discover a Profitable Area of Business
It is important to tap into the right niche to reach the target audience interested in your products. That way, your online business strategy will be more focused and effective.
Find a lucrative target market using tools like Google Trends. Look at the trends within the business niche you're interested in, and narrow the options down to choose a specific focus.
Let's use health as a keyword example. This can be narrowed down to sub-niches like selling healthy food, developing a health app, or creating health-related content.
When researching, make sure there's an upward trend on the graph. This shows that people are interested in the topic.
After identifying the main niche with a promising prospect, refine it further by researching long-tailed keywords using tools such as Wordtracker and Ahrefs.
Pay attention to the search volume to determine the niche's profitability and the number of competitors.
Research the Potential Competition
Conducting competitive analysis will help determine various elements of your online business, such as business strategy, product pricing, and market gap availability. Look up fellow competitors in the chosen business niche and analyze their strengths, weaknesses, strategies, and positions within the industry.
When analyzing rivals, compare the following aspects of each company:
Market niche
Products and services
Locations covered
Target audience
Product pricing
Unique qualities
Business website
Marketing tactics
Customer reviews
Use the data acquired to perform a SWOT analysis of your own business. Identify its strengths and weaknesses compared to fellow competitors. Determine if the trends and strategies you find among other companies can be beneficial or harmful to your business.
Here are some useful tools for performing competitor research:
2. Decide on Your Business Model
Once you have a few ideas, it's time to choose a business model and scale your business.
Doing so will help answer three essential questions – what the target market is, what kind of value the company can offer, and how much money it'll cost to run the business.
There are four main business models according to the parties involved in the transactions:
Business to Consumer (B2C) – companies sell their products and services to consumers for personal use. Examples include grocery or online clothing stores.
Business to Business (B2B) – refers to companies selling to other companies as the products and services offered are typically for business use. For instance, a tire company that sells tires to car manufacturers.
Consumer to Business (C2B) – means that individuals offer their services and expertise to companies. Think of freelancing work and affiliate marketing as examples.
Consumer to Consumer (C2C) – when people buy and sell products and services from each other via an online platform. An example is someone selling a secondhand laptop to another person.
To help you better understand how adopting these business models can help with your own online business, we will provide some options of online businesses you can run:
1. Create an eCommerce Store
Creating an online store is one of the best business ideas to make money online. You can sell trending products or services from anywhere at any time. This option can fall under the B2C, B2B, or C2C business model.
The core principle of starting an eCommerce store is the same as other online ventures – conducting proper market research. Learn about your target market's needs and competitors' business practices.
Afterwards, narrow down the list of possible niches according to prospect and resources. Generally, a niche with a 20% profit margin is considered lucrative, but this can be influenced by many factors depending on the industry.
To help you decide if this is the option for you, here are some of its pros and cons:
Pros
Low startup costs
Global market reach
Store is open round-the-clock
Many tools available online to help with store operations
Cons
Competitive industry
Dependent on technology
Customers can't take products home straight away
Strong site security to prevent phishing and cyberattacks is necessary
2. Run an Affiliate Marketing Website
Affiliate or influencer marketing lets you earn money by promoting different companies' products and services, usually through videos and blog posts. In practice, customers will use the affiliate link included in your post, and you'll receive a commission for sales, leads, or clicks. This kind of online business falls under the C2B or C2C model.
Many online businesses use affiliate marketing as it's highly effective to scale operations. It doesn't cost anything to join an affiliate program, and you can join multiple programs at once. Examples include CJ Affiliate, Amazon Associates, and eBay Partner Network.
This method works best for influencers or bloggers who have built a close relationship with their audience. If you are considering becoming an affiliate marketer, take a look at some of the pros and cons of being one:
Pros
Great source of passive income
Low setup cost
No limit on the number of affiliate programs you can join
Cons
Only works well for those with a significant following
Little to no control over rules or commission
Fierce competition
No steady income guarantee
3. Become a Content Creator
Content creation refers to producing content for an existing or potential target audience. Becoming a content creator belongs to the C2C or C2B model.
Before generating content ideas, pick out a niche you're passionate about and research the topics surrounding it. Use the Google keyword planner to explore your options further.
There are many ways to learn how to make money blogging or creating content. For example, you can monetize your videos or blog posts via advertisements, sponsorships, and affiliate marketing. Selling your own eBooks, audio tracks, or artworks are also great options.
Here are some pros and cons of becoming a content creator:
Pros
Great for networking and building relationships
Excellent source of passive income
Good for improving ranking on search engine results pages
Cons
Takes time to build an audience
No steady income guarantee
Lots of competitors
Requires extensive research
4. Tutor Online
Online tutoring is growing in popularity. As a tutor, you'll interact with students worldwide from the comfort of your home. Online tutor work belongs to the C2C or C2B business model.
Tutors need to be well-versed in a subject or a skill, either formally or informally. Those lacking formal education can take online courses on platforms such as EdX or Teach. You can also polish your current skills by attending seminars and workshops.
As a tutor, you can sell video tutorials or offer live lessons. Set up an eLearning website to start your own online business, join third-party online tutoring websites like Chegg and TakeLessons, or sell an online course via Udemy or Skillshare.
Here are some pros and cons to consider before becoming an online tutor:
Pros
Teach students from all over the world
Set your own pay rate
Typically no minimum or maximum teaching hours
Cons
Limited by the virtual medium
Timezones may pose a problem
No teacher or employee benefits
An excellent internet connection is necessary
3. Figure Out Business Licenses and Laws
It is important to learn the legal aspects of starting a business. Online business laws, licenses, and permits differ depending on the country and city you're in. Make sure to do proper research to find out the requirements.
In this section, we are going to focus more on the regulations for businesses based in the United States.
Pick a Business Structure
The chosen business structure determines your personal liability, taxes, fundraising possibilities, and the paperwork to file.
Choose a business structure before registering your business. Examples of business structures include sole proprietorship, partnership, corporation, cooperative, and limited liability company.
Choose and Register a Business Name
Come up with a business name that reflects your brand identity and the types of products and services you offer. Make sure it is catchy and unique to avoid people mistaking your brand for others. Before deciding on the name, make sure a domain name for the brand is available and purchase it to ensure a smooth website creation process.
After picking a name, don't forget to protect it through registration. There are four different ways to register a business name:
Trademark. Registering a business name as a trademark protects it at a federal level.
Entity name. This registration protects the business at a state level.
Doing Business As (DBA). Your DBA or trade name doesn't provide you legal protection, but registering one is mandatory in most states.
Domain name. This type of registration protects the address to a business' website.
Obtain Federal and State Tax ID Numbers
Find out if it is necessary to apply for federal and state tax ID numbers. Requirements may differ according to factors such as products sold and the location of operation.
These numbers are also known as the Employer Identification Number (EIN). Applying for one is free, and it lets your business pay state and federal taxes. In addition, an EIN is also required for hiring employees, opening a bank account, and applying for licenses and permits.
Tax obligations differ from one state to another, so make sure to check your local regulations.
Get Business Licenses and Permits
A small business will typically require some licenses and permits from federal and state agencies. Requirements and fees differ according to the business location, activities, and government regulations.
Get a federal business license or permit for business activities that are regulated by a federal agency, and do the same for ones regulated by a state agency.
Examples of federally regulated businesses include ones engaging in commercial fishing or importing animal products across state lines. On the other hand, states typically tend to regulate business activities such as construction, dry cleaning, retail, auctions, and plumbing.
It is also important to keep track of when to renew licenses and permits, as some of them expire after a certain period.
Open a Business Bank Account
Creating a business bank account lets you spend or receive money as your business instead of using a personal account. This gives the following benefits:
Credibility. Using a business bank account makes your online business seem more official, trustworthy, and professional.
Legal protection. By separating business and personal funds, you get a certain degree of personal liability protection in case any damages or accidents occur as a result of your business operations.
Revolving loan. This loan acts as your business' credit card, letting the business borrow funds up to a predetermined limit – great for dealing with emergencies or unexpected expenses.
4. Build Your Website
The next step is to figure out how to make an eCommerce website. The steps of doing so will differ depending on the chosen website-building platform.
A domain name is what users type in a web browser to reach the site. It needs to be simple and memorable, yet unique enough to attract attention. Avoid hyphens and numbers – instead, settle for a personal name or a short descriptive phrase.
Make sure the name is not a registered trademark to avoid legal issues and confusion.
Use a domain name checker or business name generator to get some ideas. Look up its availability on social media sites.
Domain Name Checker
Instantly check domain name availability.
Once you have decided on a domain, head to a domain registrar or buy one through a hosting provider like Hostinger. Go for the .com extension if possible. Most people automatically assume your website ends with .com since it is the most popular option.
Decide on a Website-Building Platform
When building an eCommerce website, there are two main platforms to choose from: hosted or self-hosted.
Choosing a hosted approach typically means creating your website using a website builder that also provides hosting for the site. Examples of such solutions include Zyro, Wix, and Shopify.
We recommend using Zyro due to its wide array of useful AI-powered tools that help users accomplish various website-building tasks. Examples include its Business Name Generator, Logo Maker, and Content Generator.
On the other hand, a self-hosted approach usually requires you to find your own web hosting provider, like Hostinger, and build your website using a content management system (CMS). Examples include WordPress, Magento, and PrestaShop.
To give you a better idea of which option will suit your needs better, let us compare their advantages and disadvantages. Here are the pros and cons of building a website with a hosted website builder:
Pros
Dedicated support team
Easier to set up
Highly scalable
Cons
No complete control over your own website
Limited theme choice
Restricted customization options
The following are the pros and cons of building a website using a self-hosted CMS:
Pros
Full control over website infrastructure
A wide variety of theme choice
Extensive customization options
Cons
Must perform your own website maintenance
Steeper learning curve
No dedicated support team
People who want to set up websites quickly and effortlessly should choose a website builder. However, for business owners who want to get more hands-on and have full control over their website, we recommend going for a self-hosted CMS.
If you choose the latter, you will need to purchase a hosting plan. It will be the backbone of your site that determines performance and uptime, so make sure to use a trustworthy hosting provider.


Hostinger offers excellent hosting packages – every plan comes with a free SSL certificate, managed WordPress, and a 99.9% uptime guarantee. We also provide 24/7 live chat support, ready to help you succeed in any way we can.
If you are confused about where to start, consider trying shared hosting – it's the most popular hosting type for small business owners who are just starting to learn how to sell online.
Design the Website
When it comes to designing a website, make sure to use a visually attractive theme that is clutter-free, responsive, and easy to navigate. Include your brand name, logo, and signature colors throughout the website, but especially on the homepage.
It is also important to add essential pages to a new business website, such as the About Us page, a contact page, and legal pages, including elements such as the privacy policy, disclaimer, and terms and conditions.
After figuring out the design and essential pages, set up the eCommerce side of the website. This may differ slightly according to the kind of business you run. For those wanting to create an online web store, for example, here are some key elements to set up:
Products. Provide detailed product descriptions and information like the product prices and available variants, including their material, sizes, and colors. Include high-quality product images.
Payment gateways. Choose between the three payment gateway types: on-site payment, redirection to payment service provider's site, or off-site payment with on-site checkout. Consider the payment gateway's ease of integration, processing fees, and PCI compliance.
Shipping options. Determine the shipping fees, carriers, and areas you deliver to. Choose whether to offer customers free, flat-rate, or real-time quote-based shipping.
After setting up the necessary features, don't forget to test the website to make sure everything works properly.
5. Market Your Business
After launching the business, the journey doesn't end there. A business owner needs to promote their new venture and find ways to drive traffic to the website. The more traffic the site receives, the higher the revenue will be.
With that in mind, take a look at some of these eCommerce marketing strategies for your new business.
Create SEO-Friendly Content
Search engine optimization (SEO) is an essential aspect of online marketing, especially in terms of content creation. This means tweaking aspects of the content so search engines can understand it better. The higher your website or page ranks on search engine result pages, the more people will see it, resulting in more traffic to your site.
There are many ways of improving a site's SEO performance through its content. For example, conduct keyword research using tools such as the Ahrefs Keywords Explorer and incorporate the keywords into headers and paragraphs.
Search engines take many factors into account when ranking sites and pages. If you want to learn more, we recommend checking out our guide on WordPress SEO essentials.
Here are some pros and cons of this marketing strategy:
Pros
Drives targeted traffic
Helps establish authority within the industry
Increases brand awareness
Cons
Requires lots of trial and error
SEO rules are constantly changing
Build a Social Media Presence
Social media marketing is a great way to promote a business online, as many conversions happen on different social media platforms. Companies often manage multiple social media accounts on platforms like Instagram, Twitter, Facebook, and Youtube to increase brand awareness.
The key to building a solid social media presence is nurturing engagement. Connect with your audience by providing genuine value, answering questions, and offering solutions. It'll help you build trust with existing and potential customers.
It is also essential to pay attention to your target demographics and their used platforms. For example, people under the age of 35 make up the majority of Instagram's user base. This makes the platform excellent for marketing products to a younger audience.
Here are some pros and cons of using social media to grow a brand and business:
Pros
Facilitates easy and direct communication with the target audience
Wide audience reach
Can use contests or giveaways to benefit from user-generated content
Cons
Knowledge of the used social media platforms is a must
Less control over brand narrative
Wrong move may result in a swift backlash
Utilize Email Marketing
Email marketing involves sending emails to people who signed up for your newsletter. The emails may contain information such as store updates or special sales or promotions. They keep your business at the forefront of customers' minds, enticing them to return and make more purchases.
Many website-building platforms come with tools for email marketing automation. For example, Mailchimp is email marketing software that helps business owners send emails with eye-catching subject lines and attractive templates. It even has a reporting feature to help users keep track of the effectiveness of email campaigns.
The pros and cons of this marketing tactic are as follows:
Pros
Allows marketing personalization and segmentation
Direct communication with customers
Lets you collect customer feedback by sending surveys
Cons
Frequent emails may annoy customers
Email software may classify some messages as spam
Bonus Step: Measure Your Success
There are two useful concepts for measuring the success of a business: critical success factors (CSF) and key performance indicators (KPI).
CSFs are the important elements a business needs to achieve or maintain to be successful. KPIs are quantifiable numerical goals that objectively determine the success of business efforts.
An example of a CSF is profit growth, while an example of a KPI aligning with that factor is the objective of reaching 1% of growth in sales every month. Naturally, the CSFs and KPIs of each business may differ according to its scale, operations, and industry.
If you are confused about where to start, here are some general KPIs to track:
Traffic. Monitor the number of site visitors and where they come from.
Bounce rate. This is the percentage of users who leave your site immediately after only visiting one page.
Dwell time. Find out the length of time visitors spend on your pages.
Conversion rate. Refers to site visitors who complete a desired goal, such as clicking on links or buttons to buy a product or sign up for a newsletter.
To track the metrics above, you can use Google Analytics. Check out our Google Analytics Essentials webinar to learn more about the tips and tricks of using the web analytics tool.
Tips to Bootstrap Your Online Business With Little Investment
Owning a website is not as expensive as it used to be. Web hosting with our premium shared hosting plan only cost $2.99/month and come with a domain for free. Check our hosting pricing page to discover more plans and their costs.
If you're planning to set up an eCommerce site with a limited budget, consider starting a dropshipping business. With dropshipping, there is no need to worry about buying and stocking products. The suppliers will ship orders directly from their warehouses, and you will earn a premium on each purchase.
For promotional efforts, guerilla marketing tactics don't cost anything and are a great way to advertise a small business. Social media marketing can also be an affordable option. Google Ads offers a pay-per-click option, which means you only pay if someone actually clicks on your ad.
Overall, starting an online business can be budget-friendly if you think outside the box.
Conclusion
Starting an online business is lucrative, flexible, and allows for global customer reach as well as selling online round-the-clock. Running a small business online is also more affordable than setting up an offline store, as there is no need to rent store space.
To help you get started, we have broken down how to start an online business into five steps:
Find and research your niche. Conduct proper research to discover profitable business areas, choose a target audience, and learn from competitors.
Decide on your business model. Determine the kind of model to adopt: B2C, B2B, C2B, or C2C.
Figure out business licenses and laws. This differs according to the location the business operates in. For example, starting a business in the US involves registering a business name and opening a business bank account.
Build your website. Use a website-building platform to begin creating your online store. Set up essential pages, product pages, payment gateways, and shipping options.
Market your business. Promote the business using marketing strategies like creating SEO-friendly content, building a social media presence, and email marketing.
Now that you are equipped with ample knowledge on how to start an online business, go ahead and begin your eCommerce journey today. Good luck.
How to Start an Online Business FAQ
If you feel stuck or want to look for some inspiration on how to run a successful online business, check out these most frequently asked questions.
What Is the Best Online Business to Start in 2022?
Experts predict that buy now, pay later (BNPL), digital grocery, and social commerce trends will continue to grow. 

Furthermore, US eCommerce sales will surpass $1.6 trillion – 21.8% of total retail sales – by 2025, making launching an online store in 2022 a viable business option.
What Is the Easiest Business to Start and Run Online?
While there's no definitive answer to what is easy, an online business that's beginner-friendly, affordable to start, and has short-term revenue gain potential might be considered convenient to run, like blogging, affiliate marketing, or freelancing.

What Type of Online Business Is the Most Profitable?
It depends. That said, it is always good to stick with the 20% margin rule. Two great examples of profitable ideas for an online business with excellent prospects include ad management and subscription-based business models. Both have excellent prospects for growth.
How to Start an Online Business With No Money?
To start a small business with little to no budget, aim for ventures that don't require manufacturing your own products. For example, many small online business owners use the dropshipping method.
Was this tutorial helpful?