Website Builder vs CMS: User-Friendliness, Cost, Features, Scalability, and More
Website builders and content management systems (CMS) are popular site creation tools. These platforms let you create all types of websites, from personal blogs to online stores.
While similar, they suit different user needs due to several factors, such as scalability and customization.
This article will compare website builders vs CMSs in several aspects, including price, features, customization, and ease of use. We will also explain who they are best for to help you choose one.
Download Website Launch Checklist
What Is a Website Builder?
A website builder is an all-in-one web development platform for designing and publishing a site. It typically includes essential services required to launch a website, namely a web hosting plan and domain name.
The best website builders have a drag-and-drop functionality and let you generate a site based on a template. Some also have built-in search engine optimization (SEO) and traffic analysis features.
The integrated services and features allow you to set up a website quickly. However, users are limited to the built-in features as they can't install third-party apps.
While this type of platform doesn't commonly let users switch hosting providers, some website builders provide scalable plans and migration features. These builders are ideal for users looking to grow their websites to accommodate more traffic and content.


What Is a CMS?
A content management system is a software application that provides the basic infrastructure for building websites. It lets users create a website and push content automatically to the host server.
It lets users make a website using a theme and add features with plugins. Some CMSs also let users create custom extensions and edit website elements by coding.
Due to its high customizability and flexibility, using a CMS platform has a steep learning curve. It also requires more effort to maintain as users must manually update the platform and its add-ons.
Also, outdated themes and plugins create security vulnerabilities that cyber criminals can exploit to attack your site. In case of issues, CMSs usually don't offer customer support. You need to rely on its documentation and others users to solve them.
Still, CMSs are highly popular, with 43.9% of custom websites worldwide using them. Since there are various brands with different features, check our review of the best CMS platforms to learn more about them.
Which Platform Is Better: Website Builder or CMS?
In this section, we will compare a website builder and CMS in several aspects. Note that their features, prices, and user interface may differ depending on the platform.
Which Is More User-Friendly: CMS vs Website Builder?
User-friendliness covers the tool's ease of use, installation, website setup process, and overall learning curve.
Website Builder
Site builders typically provide a drag-and-drop visual editor, which is beginner-friendly and easy to learn. Users can fully utilize the editor without any coding or design skills.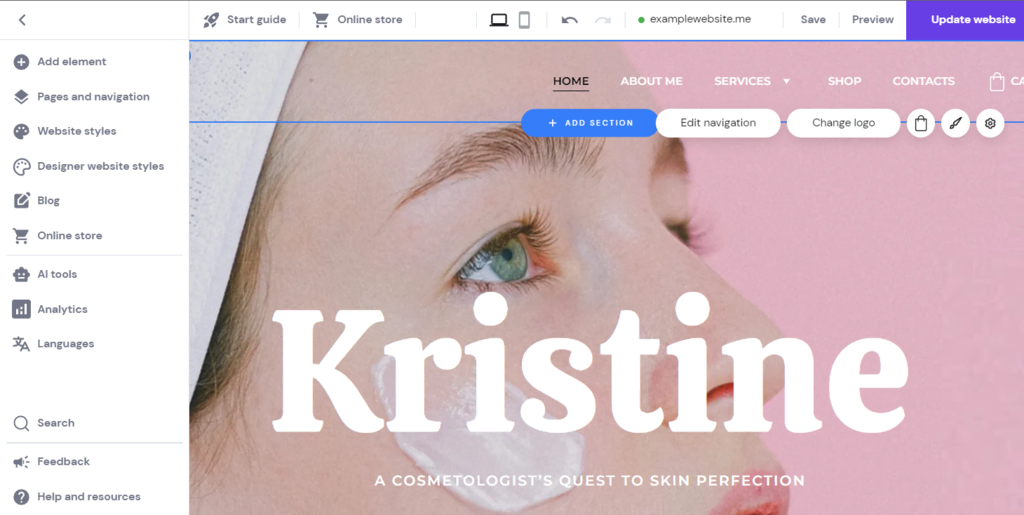 To create a website, pick a template and customize its appearance. The template automatically generates the main layout, allowing users to finalize the website design quickly.
Then, users can preview and publish the website from the same screen. The centralized editor helps simplify and speed up the site maintenance process.
Also, website builders usually include a hosting plan, domain name, and tools to enable users to set up the platform and launch their websites quickly.
Content Management System
While a CMS platform also offers a visual user interface, it has a steeper learning curve due to its comprehensive features. It also takes longer to set up as you need to get a hosting plan and domain name from other providers.
By default, a CMS doesn't have many features apart from blogging. You must manually install and configure plugins to add features to your site, which can be time-consuming.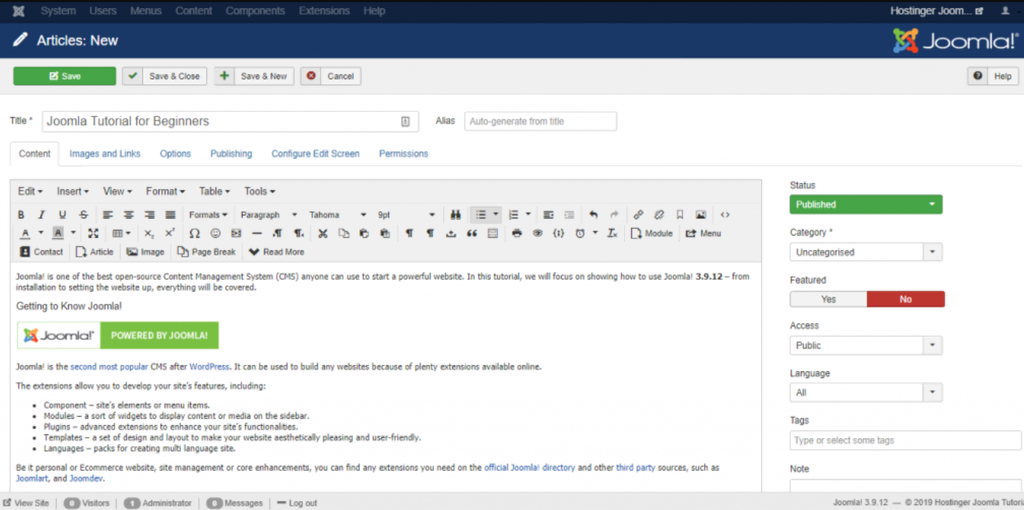 For instance, CMS users need to install plugins like Stripe WooCoomerce to accept online payments on eCommerce sites. For a basic site, you may need add-ons for security, website caching, or SEO tools.
While you can create a website without coding knowledge, you may need it to add advanced features or customize a theme. You will also need some technical skills to handle your website hosting and security.
Pro Tip
If you decide on a CMS, consider using CMS hosting plans, as they come with pre-installed plugins and tweaks that help speed up the setup process.
Which Is More Costly: CMS vs Website Builder?
The costs necessary to build a functional website with these platforms may include hosting, domain, extension, and platform subscription fees.
Website Builder
Some website builders have free plans but with limited features and a non-customizable domain with the provider's brand, such as yoursite.websitebuilder.com. Since non-custom domains are less professional, they are more suitable for personal use.
For business owners, we recommend a paid option like Hostinger Website Builder. It lets you launch a professional online store or blog for only $2.99 – without hidden costs.

This price includes hosting services, a free domain for a year, a domain-based email, and unlimited SSL certificates. In addition, it provides eCommerce functionality, built-in traffic analytics, and SEO tools.
If you are looking for a more powerful solution, our site builder is also available with all cloud hosting plans, starting at $8.99.
Our website builder platform also offers free designer-made templates and high-resolution stock images. With a CMS, you must purchase them separately, adding extra costs.


Content Management System
Unlike a site builder, a CMS doesn't include a free hosting plan, domain name, and additional features. While the software is available for free, the total cost can be high depending on your site's size and functionality.
For instance, you don't need premium plugins or themes to make a basic website. While for an online store, you must purchase SEO, marketing, and eCommerce add-ons.
To help you understand the potential costs, here's the estimated cost of building a site with a CMS. Note that the price may vary depending on the CMS:
| | |
| --- | --- |
| Hosting Service | $2-18/month |
| Domain Name | $0.99-$20/year |
| SSL Certificates | $7.27-$1,000/year |
| Premium Themes | $2-$200/theme |
| Premium Plugins | $5-$1,000/plugin |
| TOTAL | $17-$185/month |
If you don't have technical skills, you may need to hire web developers to manage your site. Website maintenance can cost $18-20/hour when purchasing a freelancer's services.
Which Offers More Features: CMS vs Website Builder?
We will explain what tools, features, and functionalities are available on a website builder and CMS.
Website Builder
The features of a site builder usually depend on the provider. If you need new features, you must send suggestions and wait for the developers to release them.
Some website builders have a plugin library where you can install third-party apps to expand the site's functionality. However, the library is usually less comprehensive.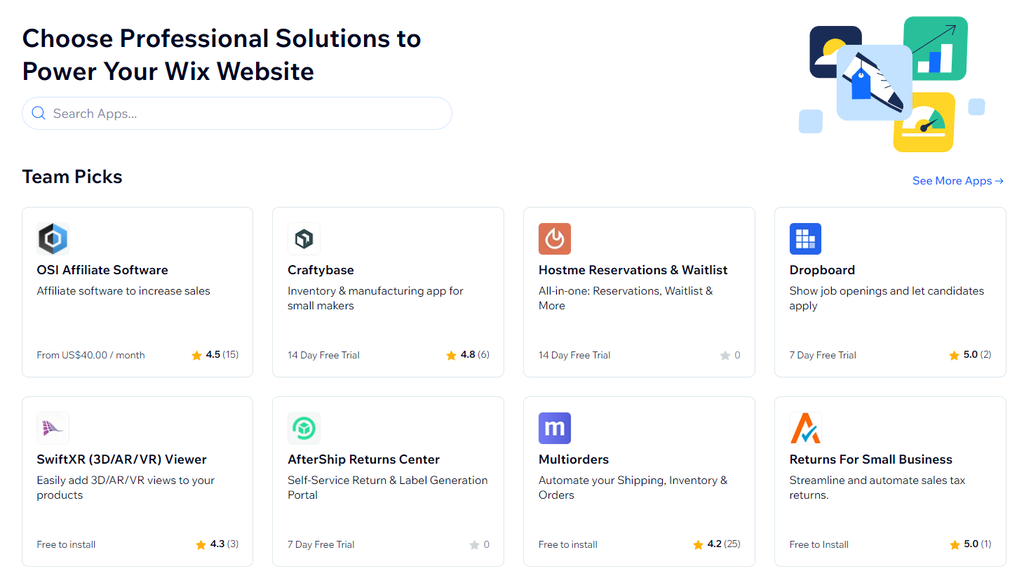 Despite the limitations, website builders typically have eCommerce functionality by default, including inventory management, payment processing, and order tracking features.
Unlike CMSs, several website builders also provide free AI tools to help simplify your website creation process. For example, Hostinger Website Builder offers an AI content generator and logo maker. It also has an artificial intelligence website builder plan that uses AI to create websites from scratch.
Additionally, there are some website builders with code editor features that let users make more detailed changes to their websites with custom code.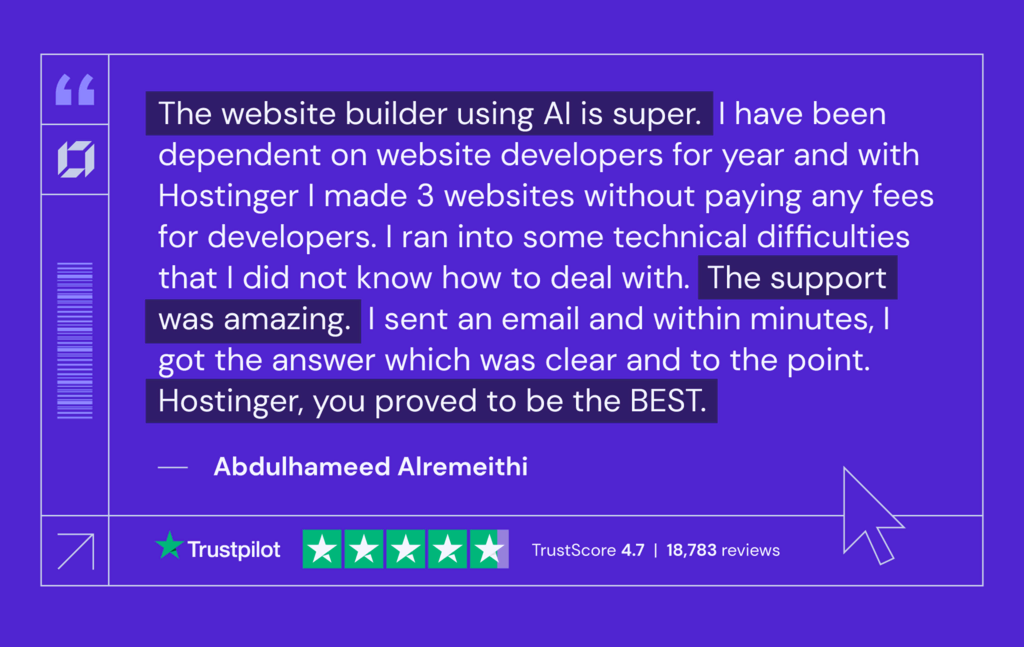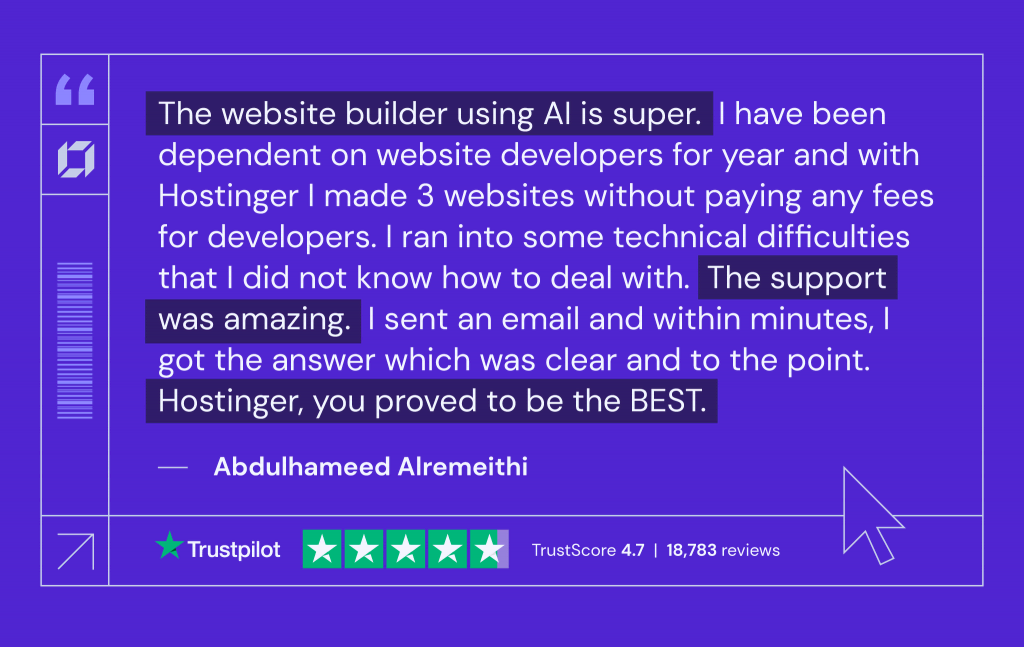 Content Management System
CMS platforms support various plugins to add functionality to your website. In addition to the official options, some CMSs also support plugins from third-party developers.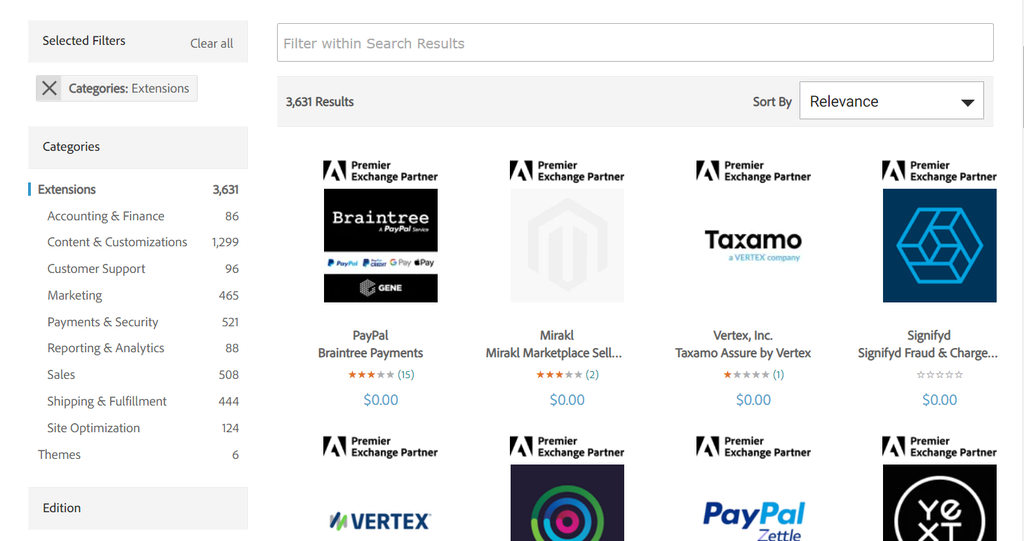 Users with programming knowledge can also create custom plugins according to their needs. The vast selection of pre-made plugins and the ability to make custom ones means CMS features are virtually unlimited.
However, installing too many plugins may compromise the site's performance and security.
Which Offers Better Design and Customization: CMS vs Website Builder?
This section will compare website builders and CMSs regarding template selections and design customization tools.
Website Builder
While website builders offer vast template selections, users can only choose ones from the official library. For example, Hostinger Website Builder has over 150 free templates optimized for search engines.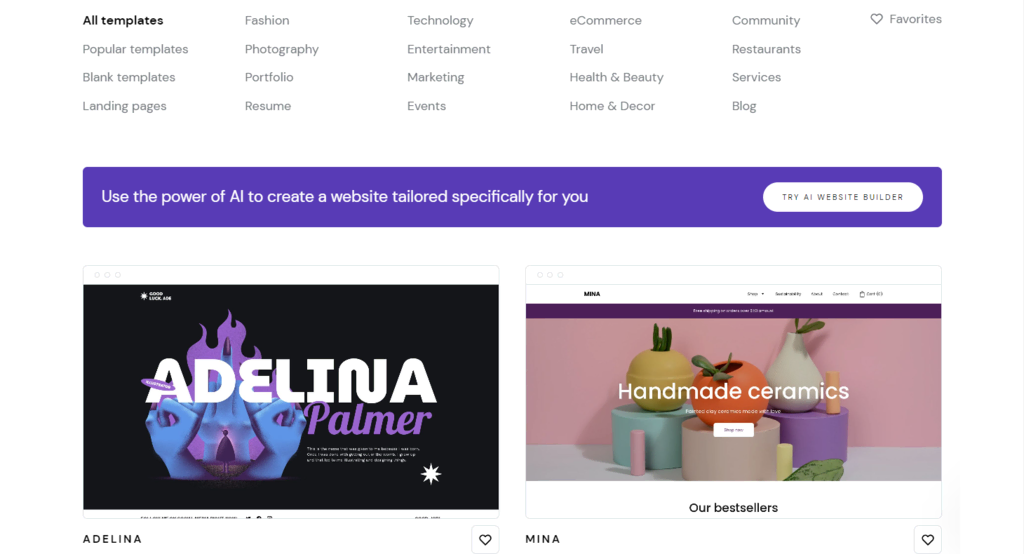 Users only need to customize the templates, such as changing the font or color schemes, to create a professional-looking website without any coding or design experience.
Content Management System
CMSs offer a wider selection of themes from official and third-party libraries. For instance, a popular third-party CMS website theme library, ThemeForest, lists over 50.000 themes.
Important! Despite the wider selection, some CMS themes are premium, while website builders usually provide all templates for free.
Regarding customization, content management systems are more flexible than website builders. Users can create a custom theme or add CSS code to customize existing website files. However, you may need to hire a web designer to take care of that.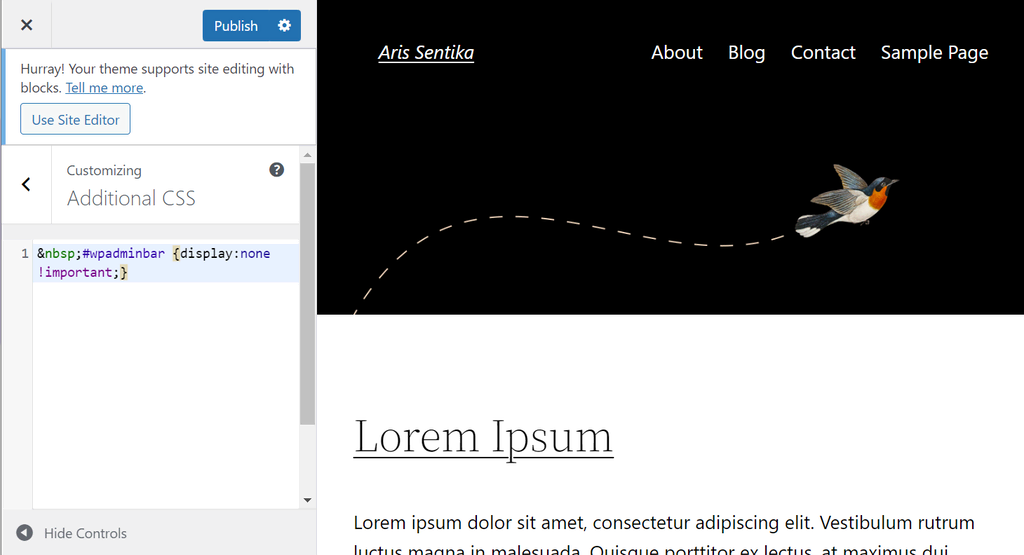 Which Is Better to Scale Your Website: CMS vs Website Builders?
Scaling your website means adjusting the site resources to handle its performance and content as traffic grows. Some methods include switching to a new hosting provider and installing optimization tools.
Website Builder
Websites created with a builder platform are usually bound to the provider's hosting service. When switching hosts or platforms, users may need to recreate their sites from scratch.
To accommodate your site's growth, choose a builder with high-performance hosting and an easy migration process. Hostinger Website Builder lets users transfer their sites to a popular CMS in four steps.
Despite lacking support for third-party plugins, most website builders have built-in optimization features. For example, Hostinger Website Builder automatically optimizes image size and placement to improve page loading speed.
Additionally, Hostinger users can easily switch from web hosting to cloud hosting as their site requires more resources.
Content Management System
Due to their flexibility, CMSs are generally more scalable than website builders. You can tweak your website back-end to optimize performance, like clearing database files or minifying your website code.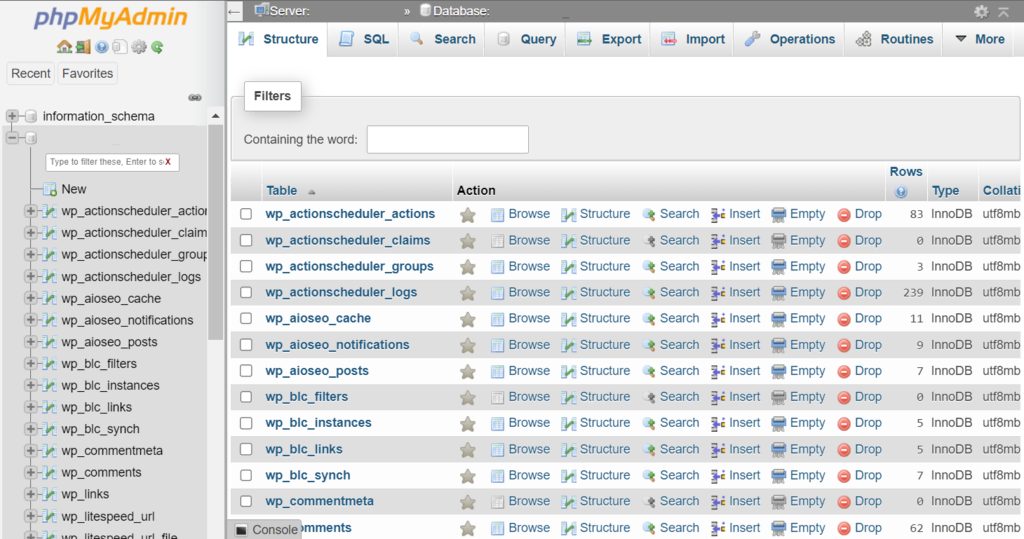 A CMS also lets you install extensions to help improve website performance, such as a cache plugin. In addition, you can easily switch providers or upgrade to higher-performance hosting plans.
A Quick Comparison of a Website Builder and a CMS
Because of their differences, a website builder and CMS suit different users. To help you decide, we will recap their main aspects and explain who they are best suited for.
| | | |
| --- | --- | --- |
| | Website Builder | Content Management System |
| Difficulty | Easy | Difficult |
| Setup time | Quick | Longer |
| Costs | Cheaper | More expensive |
| Features | Limited to the provider | Expandable with plugins |
| Customization | Limited to the provided tools | Flexible with custom code |
| Design templates | 150+ | 49,000+ |
| Platform and hosting migration | Limited or not possible | Possible |
A website builder is most suitable for users who want to create a site quickly and easily. These platforms are a great option for users looking for an all-in-one solution for their website development.
In addition to providing free hosting, the platform's provider handles updates to ensure optimal security and performance.
If you plan to scale your website, choose a builder with migration capability. For example, Hostinger Website Builder lets users easily upgrade to cloud hosting when their project becomes more complex.
Using a website builder is a great option for small to medium businesses. Aside from being affordable, it offers free tools to help you create content and market your business.
Due to its flexibility, a CMS is an excellent tool for building a complex website with various features. It is also suitable for users with large budgets and long-term web projects.
However, the steeper learning curve and extensive customizability options can overwhelm beginners. Unlike website builders, you may need coding skills to unlock the platform's full potential.
CMSs also require other technical skills as you must manage your website's updates and security as well as handle any errors that may appear. While you can hire a web developer for the task, it incurs additional costs.
Due to its scalability, flexibility, and higher price, a CMS is a great option for medium-to-large business websites with high traffic. It is also ideal if you want complete control over your website.
Conclusion
Site builders and content management systems are popular tools for building websites, from personal blogs to online stores.
However, they suit different use cases and technical knowledge. In this article, we have compared them based on different factors. Here's a recap:
User-friendliness. Site builders are more user-friendly and easier to learn than CMSs. They offer a drag-and-drop editor and free tools to help users create websites quickly.
Costs. Using CMS platforms can be more expensive than site builders. While the software is usually free, you must purchase a domain, hosting, and premium tools separately.
Features. Site builders have limited features and integrations. Meanwhile, a CMS lets you install third-party plugins or add custom code.
Design customization. CMSs offer a wider theme selection.
Scalability. While website builders like Hostinger's are scalable, most builders aren't.
Content management systems suit users who prefer flexibility and scalability over simplicity. Meanwhile, a site builder is ideal for beginners who want to build their first web page easily and quickly.