Website Maintenance Cost in 2022: A Full Pricing Breakdown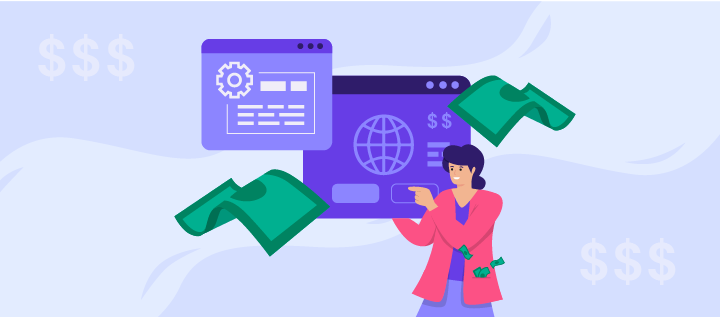 Starting a website may be easy, but maintaining it can get costly. There are many expenses to consider, such as hosting and domain renewals, web design, marketing strategies, and regular content updates.
What you'll pay for website maintenance costs depends on the type of site you run and the approach you choose. For example, self-maintaining a website is often more affordable than hiring professional website maintenance services.
In this article, we'll give you an overview of website maintenance pricing so you can prepare a budget for website maintenance. We'll discuss crucial aspects to consider in a website upkeep checklist and categorize them based on importance.
How Much Does It Cost to Maintain a Website – A Quick Overview
Depending on the type of website you run, average website maintenance costs can vary from $5/month to up to $5,000/month.
Note that these prices are only estimates. Very popular and large websites such as Amazon and Netflix exceed these monthly management costs.
To give you an idea, here's a breakdown of average monthly maintenance fees depending on the website type.
Website Type
Average Monthly Website Maintenance Cost
Personal Website
Examples: Digital portfolios and personal blogs.
$5–$25/month
Professional Blog
Examples: Popular blogs with medium to high traffic.
$25–$75/month
SME Business Website
Examples: Restaurants, simple corporate landing pages, and small to medium educational institutions.
$35–$500/month
Large Company Website
Examples: Very popular businesses and large educational institutions.
$200–$4,500/month
Multimedia Entertainment Website
Example: Popular digital magazines.
$300–$2,500/month
eCommerce Website
Example: Online stores.
$1,500–$5,000/month
Besides website size and type, maintenance costs also vary depending on the approach or services you use.
For example, a small portfolio site or blog won't have the same maintenance costs as a large eCommerce or business website.
Similarly, website maintenance costs increase if you employ professional services or purchase premium software and tools.
9 Essential Website Maintenance Costs
Some essential website maintenance costs include paying for domain name registration, SSL certificates, and web hosting plans.
Other costs like email services, premium tech support, and website design are important but not always essential. When it comes to these maintenance costs, many website owners opt for more cost-effective strategies.
1. Domain Name
Domain Name Checker
Instantly check domain name availability.
Monthly average costs: $1–$20/year + renewals between $10–$90/year. Optional domain privacy protection at $5/year.
Level of necessity: Optional | Important | Necessary.
Every website needs a domain name. It's the website's address that visitors type into their browser to access it.
Since domain names can't be changed once they're registered, it's crucial to find one that accurately represents your brand or business. Consider using a domain name generator to help with this process.
Costs vary, but the average price of a domain name ranges from $1–$20/year. The most cost-effective domain registration option is through a hosting provider. Some even offer a free domain with their hosting plans.
Before finalizing your choice, use a domain checker to see if the domain name is available.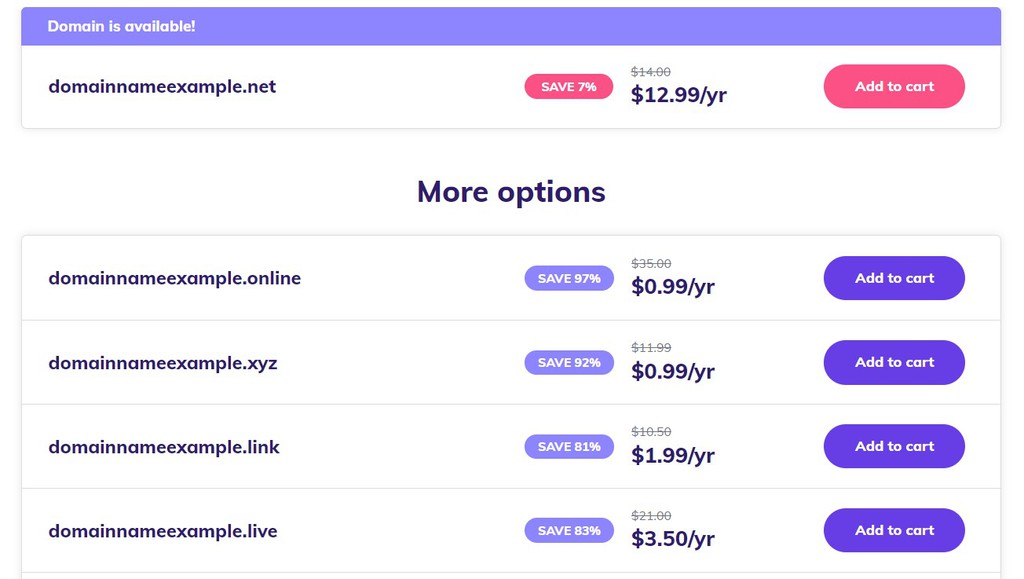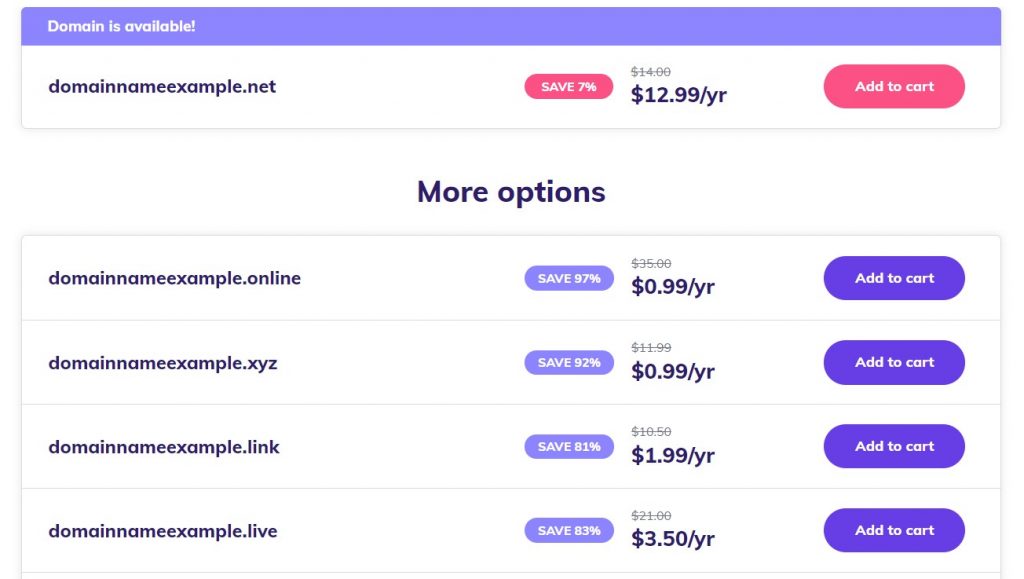 There are two elements in a domain name. Consider Hostinger.com, for example. "Hostinger" is the website name, while ".com" is the domain extension or top-level domain (TLD).
The cost of a domain name largely depends on its TLD. Here's a quick overview of the different TLD categories:
Generic Top-Level Domain (gTLD). Vary greatly in cost depending on how popular the gTLD is. These can be used by any type of website. Popular examples of more expensive gTLDs include .com, .net, and .org. Less common examples include .info, .news, and .biz.
Country Code Top-Level Domain (ccTLD). These are generally used for country-specific websites. Examples include .us for the United States, .jp for Japan, and .fr for France.
Sponsored Top-Level Domains (sTLD). The use of sTLDs is restricted to websites with specific owners or purposes. Examples include .edu for educational institutions, .gov for U.S. governmental sites, and .int for international organizations or treaties.
Buying a domain name typically means registering it for a minimum period of one year. To keep using the same custom domain name, the website owner needs to renew it. Note that renewal prices are often more expensive than the initial cost of domain name registration.
You may also choose to purchase domain privacy protection. This service helps to hide and protect the personal information and contact details of a domain name owner.
Although costs can vary, Hostinger offers domain privacy protection for $5/year.
2. Web Hosting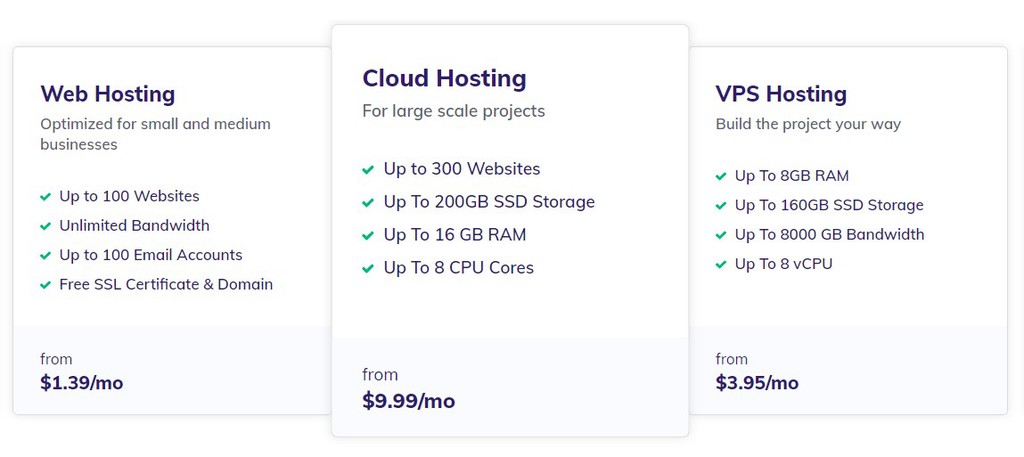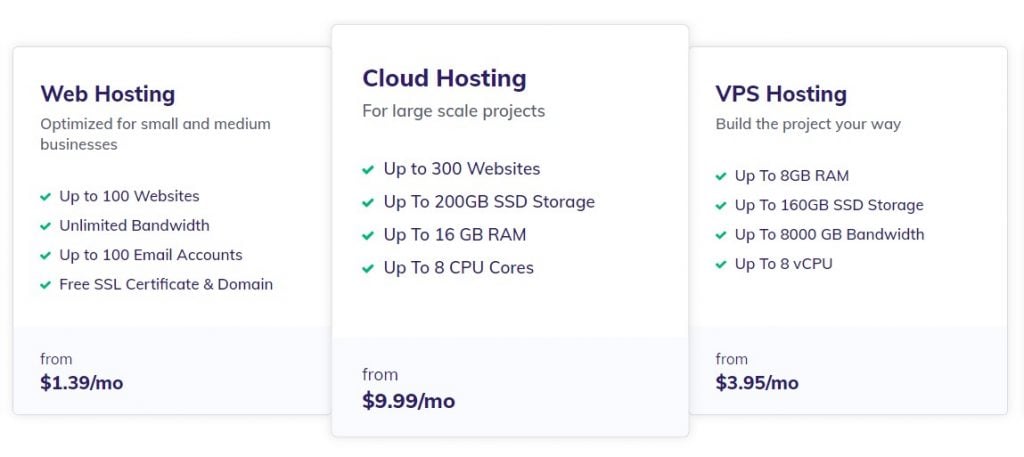 Monthly average costs: $1.39–$77.99+/month, depending on hosting type and plan length.
Level of necessity: Optional | Important | Necessary.
Web hosting is a service that enables a website to be published online. A hosting provider essentially rents out space on their physical servers so website owners can store their site's files and data.
The web hosting provider and hosting plan you choose affect the cost of web hosting. To estimate an average price, we'll focus on Hostinger and our variety of hosting plans.
Different types of web hosting include:
Shared hosting. The ideal option for small to medium-sized websites like digital portfolios, simple business websites, and blogs. With this type of hosting, a website shares one server's resources with other sites, which keeps costs at a minimum.
Shared web hosting is a popular option for beginners with little to no technical knowledge. It's also the most affordable type of hosting service, with prices ranging from $1.39–$3.99/month. 
VPS hosting. An excellent option for medium-sized websites. Virtual Private Server (VPS) hosting gives websites dedicated resources within a shared server. It also offers website owners greater control over server settings.
VPS hosting plans typically cost between $3.95–$77.99/month. It's great for users with technical knowledge or companies with a dedicated technical team.
Cloud hosting. Ideal for high-traffic websites and sites with growth potential. The website's data is stored on a cluster of servers to ensure high uptime. It's a user-friendly option since technical maintenance is conducted by the web host.
The cost for cloud hosting varies but comes at a higher price than shared hosting. Plans range from $9.99–$69.99/month.
Dedicated hosting. Suitable for established businesses that don't mind spending more for increased performance. This hosting type offers a dedicated server to each website. Users also have complete control over server files and settings.
Dedicated hosting costs range from $80–$300/month. It is the most expensive hosting type available.
WordPress hosting. A type of hosting that's designed to optimize sites built with this content management system. It's an excellent option for those who specifically want to create a WordPress website. It's also great for beginners since no advanced technical knowledge is necessary.
Prices for WordPress hosting range between $1.99–$11.59/month.
WooCommerce Hosting. WooCommerce hosting is designed to optimize online stores built on WordPress. It's an excellent option for those who want easy integration with eCommerce features.
Prices for WooCommerce hosting plans range from $3.99–$23.99/month.
Note that the initial monthly price of a web hosting plan changes once the plan renews. Renewal costs mainly depend on the length of your payment plan.
For example, Hostinger's Single Shared Hosting plan starts at $1.39/month. If you choose a 48-month plan, the monthly cost for web hosting will stay the same throughout the four years. After that period, the monthly fee changes to $2.99/month.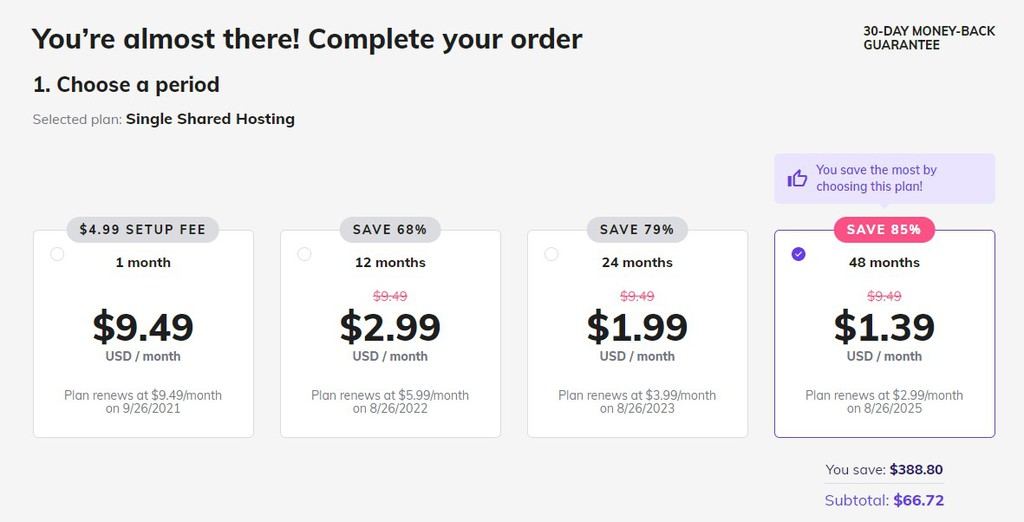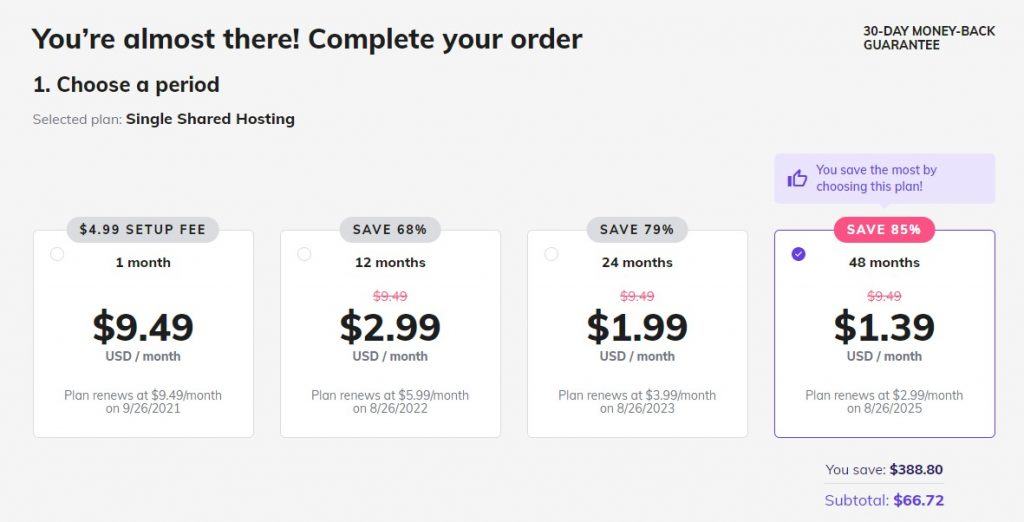 However, if you choose a shorter plan length, the initial monthly price and its renewal cost increase. For example, a Single Shared Hosting 12-month plan's monthly cost is $2.99. After the year is over, its renewal price goes up to $5.99/month.
Before finalizing your choice, it's essential to consider these longer-term hosting costs and weigh them into your budget and maintenance plan.
3. SSL Certificate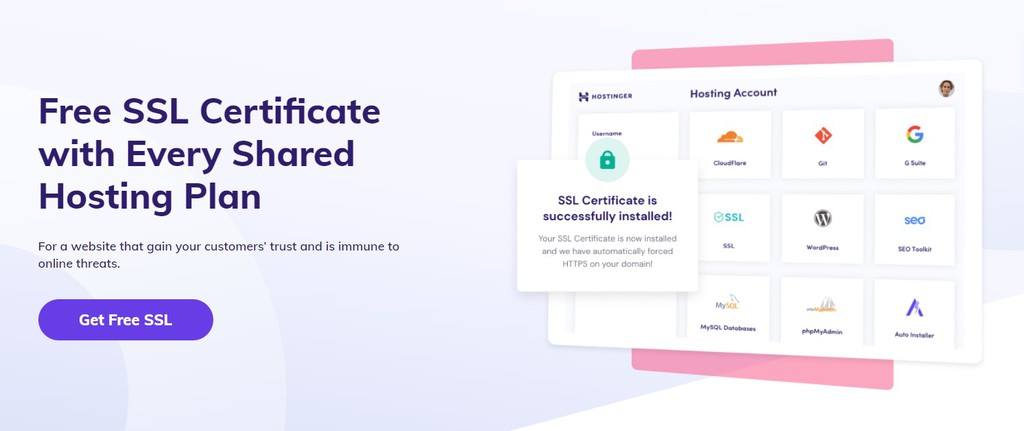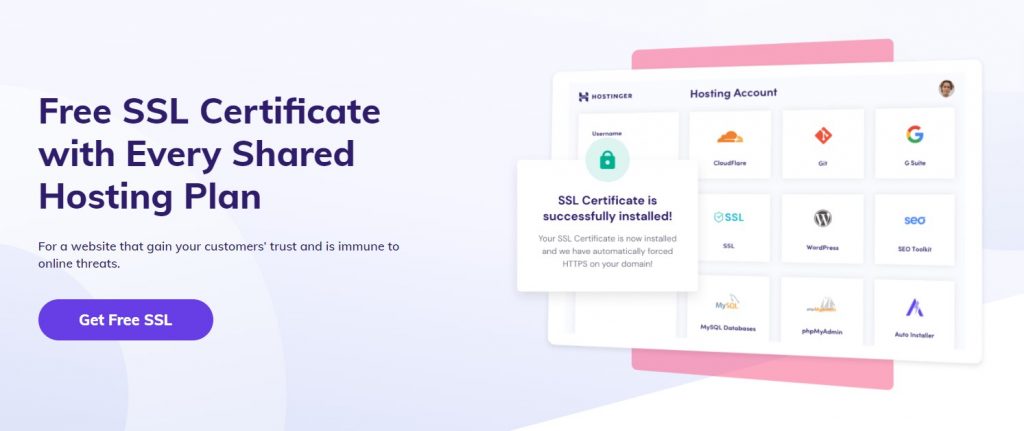 Monthly average costs: $7–$1,000/year. Save costs by purchasing a lifetime SSL certificate, which starts at $11.95.
Level of necessity: Optional | Important | Necessary.
SSL, which stands for Secure Sockets Layer, is a data transfer protocol that enables encrypted communication between a web server and a web browser.
The benefits of having an SSL certificate on a website include better security, data privacy, and improved site credibility. All websites that process sensitive user information such as passwords or credit card details should have an SSL certificate.
SSL certificates vary in cost depending on the number of domains or subdomains it covers. For a single domain, prices range from $7–$860/year. For Wildcard SSL certificates that cover multiple subdomains, prices range between $50–$1,000+/year.
To save costs, you can get a lifetime SSL certificate. For example, Hostinger offers a lifetime SSL certificate for a one-time fee of $11.95 per domain. It is a great budget-friendly option for a small business owner.
Alternatively, look for a hosting provider that offers a free SSL certificate with their hosting plans. It is the easiest way to obtain an SSL certificate for your own website.
To see if a website uses an SSL certificate, check if there is a padlock icon before the URL or an "HTTPS" before the domain name.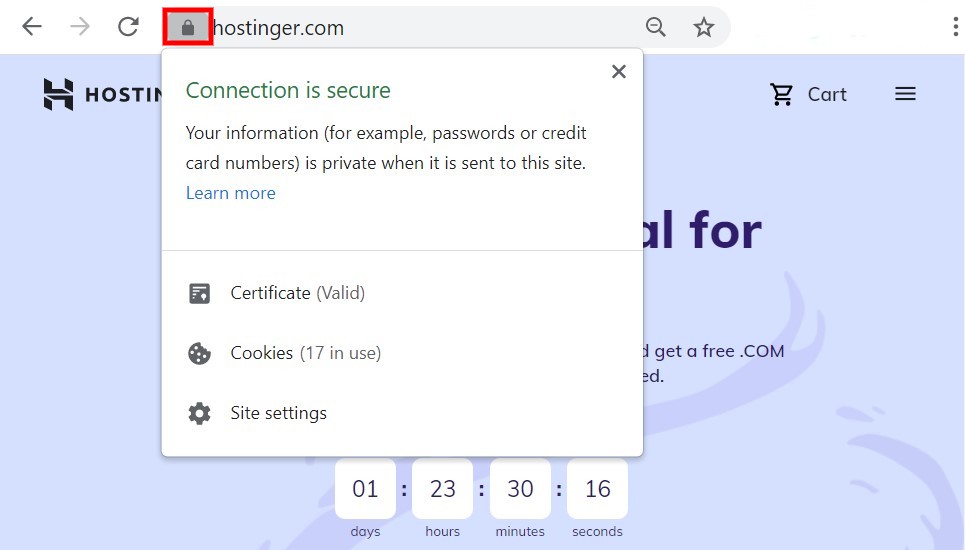 4. Email Services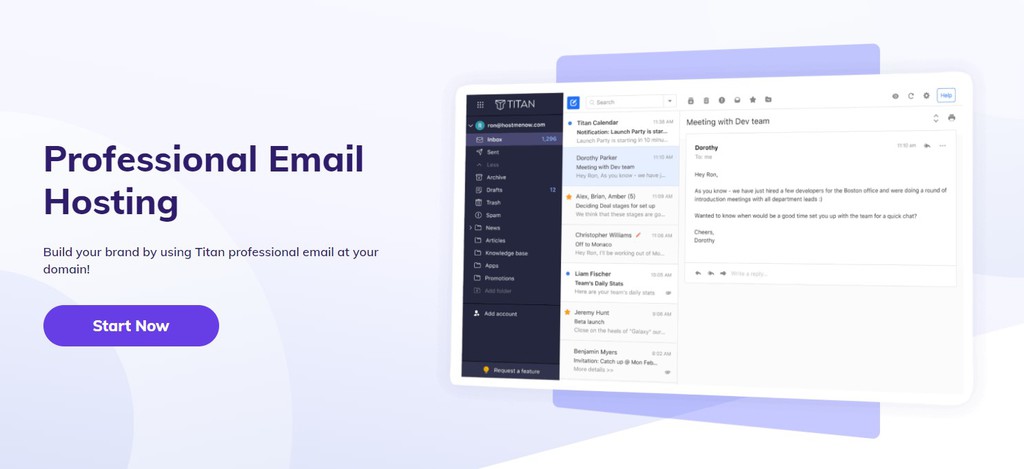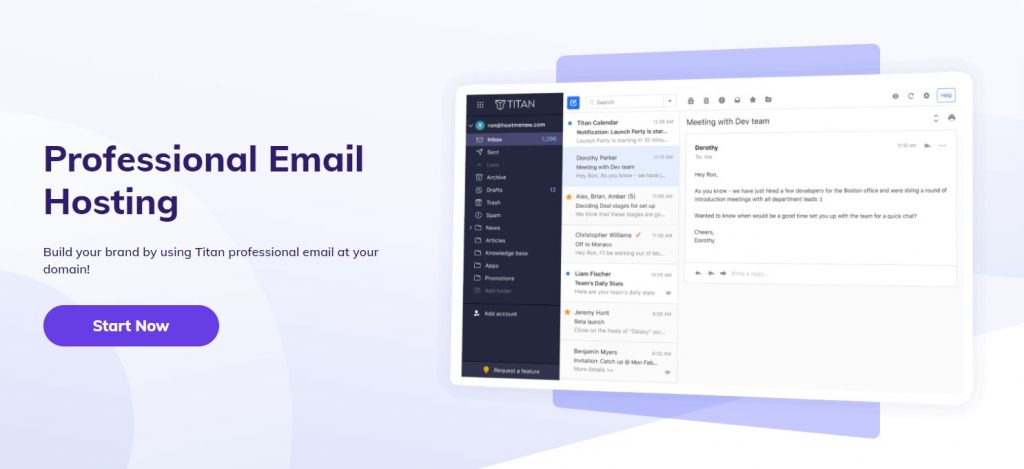 Monthly average costs: $0.99–$18/user/month.
Level of necessity: Optional | Important | Necessary.
Professional email hosting enables website owners to create custom email addresses with their domain names. For instance, customersupport@yourdomain.com.
Having a custom email for a brand or business can help to promote the brand, convey professionalism, and gain customer trust.
To save on costs, look for hosting providers that offer email services for free with the hosting plan. However, note that free email services usually come with limited storage space and features.
For premium email services, Google Workspace is a popular option for business owners. Their prices range from $4.20–$18/user/month.
Hostinger also offers professional email hosting with automatic virus scanning and a built-in calendar. Users can choose the Business Email Plan that costs $0.99/month or the Enterprise Email Plan for $2.49/month. Note that these rates are charged per mailbox.
5. Tech Support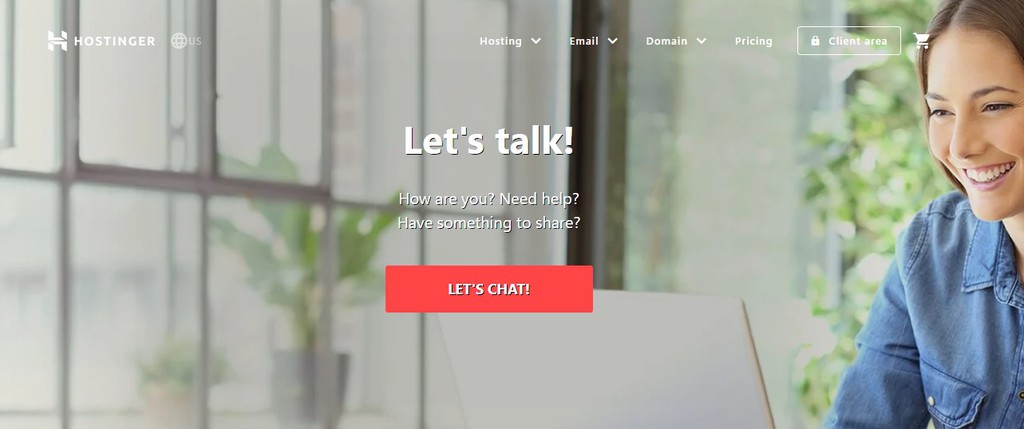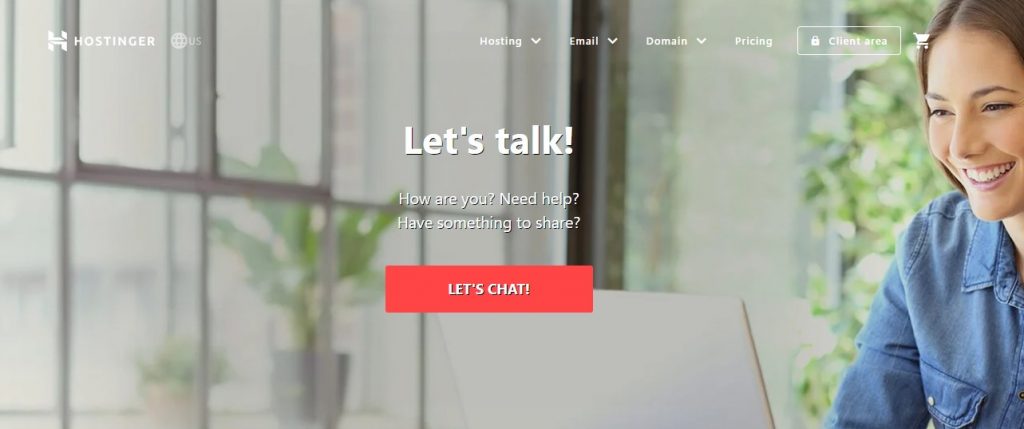 Monthly average costs: Free–$11.99/month.
Level of necessity: Optional | Important | Necessary.
Whether you're a beginner or an advanced user, having access to a customer service team is critical in case you run into issues.
Tech support comes in different forms, such as:
Live chat. Perfect for when you're in a crunch. It's especially useful if you experience website crashes, errors, or security breaches.
Email ticketing system. It uses an online tracking system for technical assistance requests. It's ideal for anyone who wants to establish a paper trail with the customer support team.
Phone service. Best for those who are more comfortable speaking with a customer service representative and need immediate solutions for quick inquiries.
Knowledge database. Many hosting companies create tutorials and guides for their users. It's an excellent resource for individuals who prefer to research and solve issues independently.
Community forums. An excellent solution for those who want to get feedback from multiple sources. These platforms enable users to interact and ask for assistance and advice from developers or advanced users.
Most hosting providers offer free live chat and email support with each web hosting plan. If you run a small or medium-sized website, these support resources should be sufficient. It's also a great way to reduce monthly costs.
Some hosting providers offer optional paid support for instant and personalized services. An excellent example is the priority support service we offer at Hostinger, with prices ranging from $1.99–$11.99/month depending on the subscription length.

Paying for premium tech support depends on your website's needs. If you're managing a small business site, personal website, or personal blog, we recommend sticking with free support services and upgrading as your site grows.
On the other hand, eCommerce stores or large corporate websites may find premium support services more suitable.
6. Website Design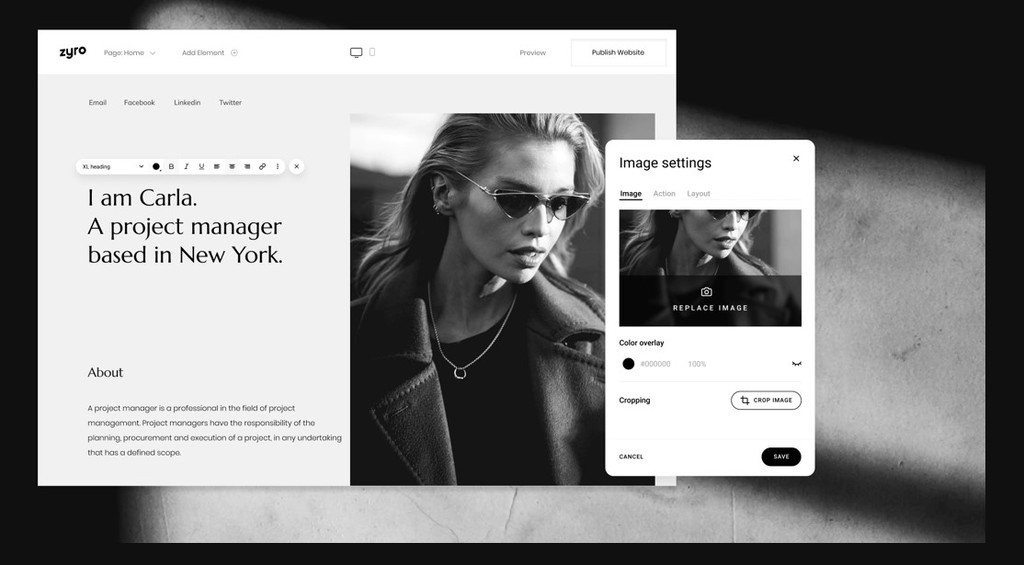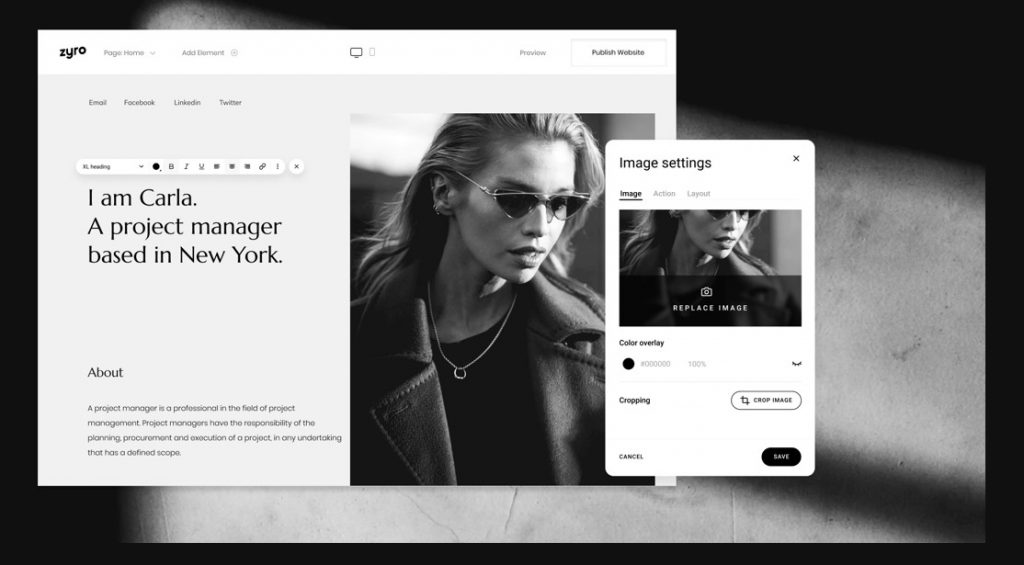 Monthly average costs: Free–$17/month for self-designing. Average of $6,000 for a basic project and $500–$1,000/year for regular maintenance.
Level of necessity: Optional | Important | Necessary.
A website's design is the digital visual representation of a brand or business. It is the first thing visitors see and helps them decide whether a website is worth browsing.
The costs for website design vary depending on the approach. The first option is to self-design, and the second is to hire a professional.
Design Yourself
With many resources available, self-designing a website from scratch is possible. Using free tools for site design is also an excellent way to reduce website maintenance costs.
A great option for beginners is to use website builders like Shopify, Weebly, or Zyro to create and design a website from scratch.
Website builders offer professionally designed templates for free with each pricing plan. Some even have a drag-and-drop feature that makes designing easy and intuitive.
However, keep in mind that using a website builder can mean limited flexibility when it comes to customizing site design. More advanced users may choose a more versatile option instead.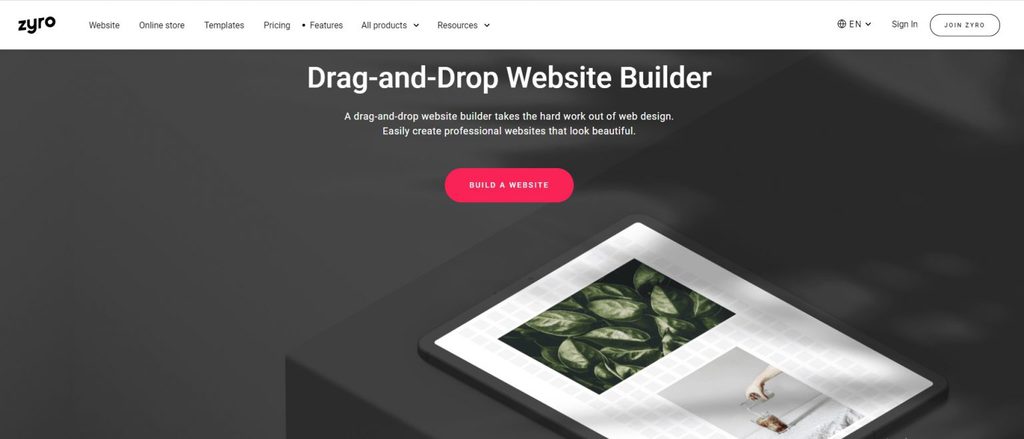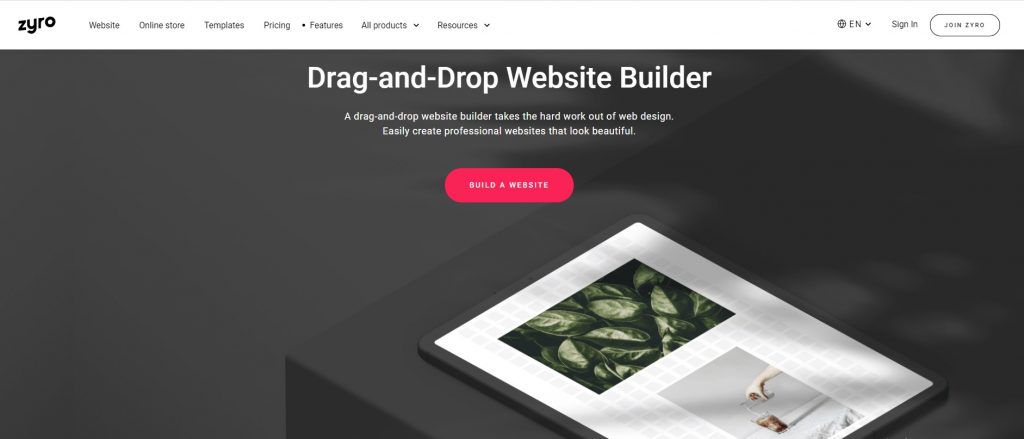 If you want more freedom and flexibility while still taking advantage of user-friendly tools, use a content management system (CMS) like WordPress to build and design the site.
There are more than 8,000 free WordPress themes to choose from, such as Neve and Ultra. Premium themes are available for those who want automatic design updates, customizable features, and access to priority customer service.
Examples of paid WordPress themes include OceanWP and Astra. Costs average around $5–$17/month but may also be charged yearly or as a one-time fee.
Keep in mind that self-designing a website means you are responsible for updating and installing themes, ensuring site optimization, and, if necessary, coding.
Hire a Professional
Although this option can result in a higher website maintenance cost, hiring an expert to design your website is beneficial in various ways.
Professional web designers and developers are well-versed in current design trends and can code a website to unique specifications. With expertise in scripting languages like JavaScript, a web developer can create engaging custom-built websites that stand out from the crowd.
Web developers also provide other maintenance services such as updating software and technical support. Having an expert create a website's design also ensures optimized functionality.
Web designer fees vary depending on the type of website you want. They generally average at $6,000 for a basic project, and the website maintenance pricing ranges between $500–$1,000/year.
7. Plugins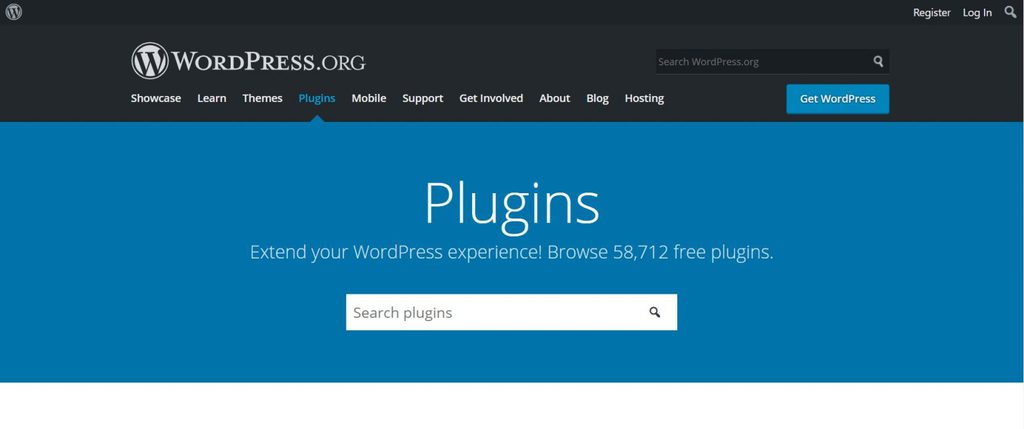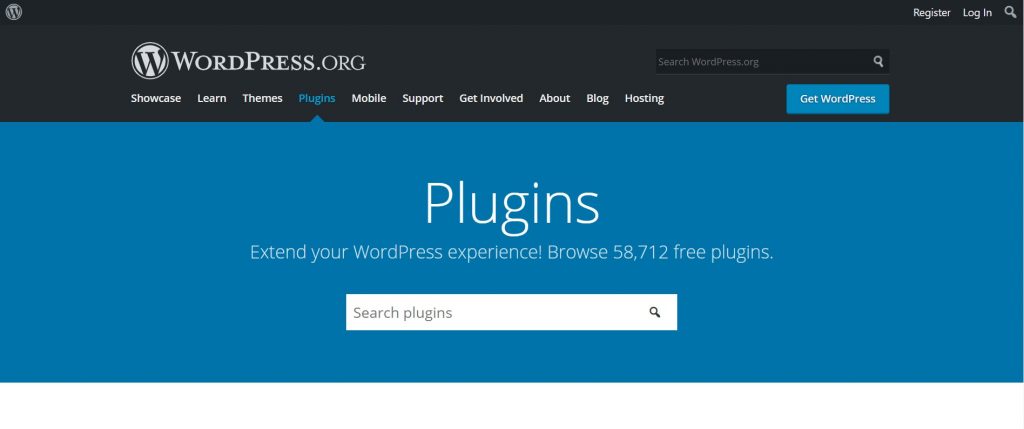 Monthly average costs: Free–$49/month.
Level of necessity: Optional | Important | Necessary.
Plugins are extensions that expand the features and functionality of a WordPress website. With more than 58,000 free plugins available, there are many excellent options, such as:
Contact form plugins streamline messages from site visitors.
Membership plugins can help website owners make money with their content through a paid membership system.
Booking plugins are especially useful for businesses such as restaurants or freelance photographers.
To reduce website maintenance costs, consider installing a free caching plugin like W3 Total Cache to help with website upkeep.
Another excellent example of a free plugin is Sucuri Security, which helps scan for malware and keep your WordPress website secure.
On the other hand, premium plugins are available for WordPress website owners who want upgraded features like a dedicated tech support team or custom functions. Examples include WP Rocket and OptinMonster.
The pricing of paid plugins can vary from a small monthly fee of $4 to more premium options at $49/month. Alternatively, many plugins also offer a yearly or one-time fee.
8. eCommerce Features


Monthly average costs: $18.99–$1,000+/month.
Level of necessity: Optional | Important | Necessary.
Unlike other websites, making money online with an eCommerce site means higher maintenance costs due to necessary additional features. These may include payment gateways, inventory management tools, shopping cart features, or a live chat function.
Although eCommerce features are optional for regular sites, they are necessary if you run an online store.
The features you need depend on what you sell. For instance, if you sell digital products like eBooks or online courses, inventory management tools may not be necessary.
A great way to minimize costs is by creating an online store with a website builder or web hosting plan optimized for eCommerce.
It's an excellent option for small businesses or beginners as eCommerce platforms offer excellent integration tools and features for eCommerce sites, such as online store templates.
Average prices for an eCommerce website builder plan are between $9.90–$14.90/month. WooCommerce hosting plans range between $3.99–$23.99/month.
Payment Gateways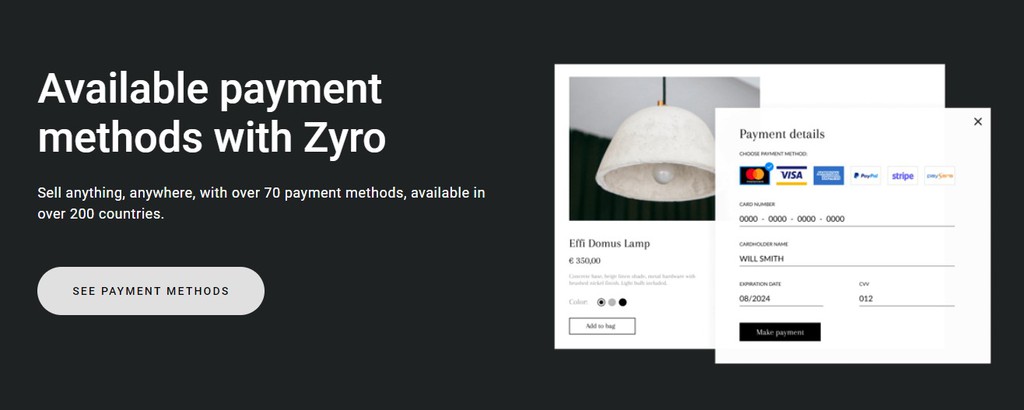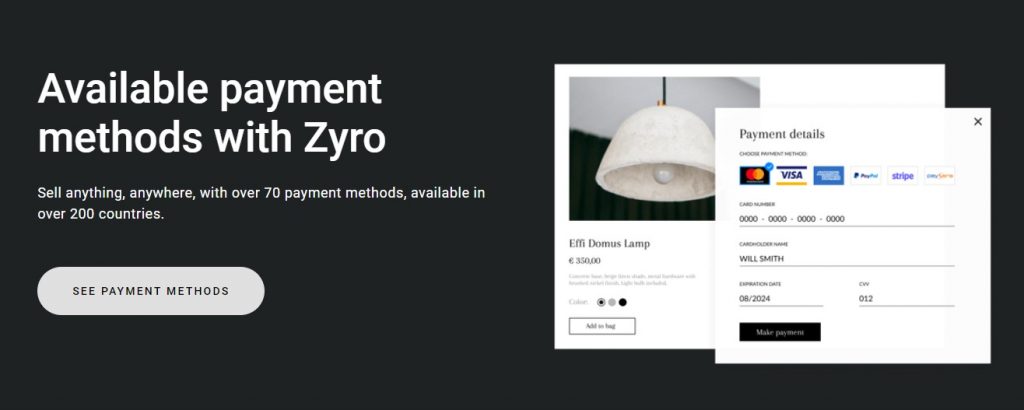 Payment gateways play a crucial role in processing digital transactions. With fraud screening tools like Card Verification Value (CVV) and payer authentication, these gateways ensure sensitive data, like credit card details, are secure.
A secure payment gateway is also an asset that can build customer trust and encourage transactions. Using widely-known services like PayPal and Stripe can even help increase conversion rates.
This is important considering the average eCommerce shopping cart abandonment rate is 69.8%.
Let's take a look at PayPal's pricing. Costs vary depending on the payment method you choose and the currency being processed. For example, it can cost eCommerce site owners between 1.90% per transaction + a $0.10 fixed fee, to 3.49% per transaction + a $0.49 fixed fee.
Determining the actual cost you will pay for payment gateways depends on the website size, traffic, and the average number of transactions. As a rough estimate, expect to pay between $15–$25/month if you run an average-sized online store.
Inventory Management
1/3 of businesses have sold an item that's out of stock. An inventory management system can help avoid this problem.
Many inventory management tools offer end-to-end product tracking and organizing. For example, they help with catalog orders, batch tracking, serial number features, and shipping integrations.
Inventory management plugins like the WP Inventory Manager or WooCommerce Zoho are available for an eCommerce WordPress website.
Many inventory plugins offer free versions with premium add-on options available. Paid versions cost between $15–$200/year depending on single or multi-site installations.
Alternatively, there are inventory management software available like Zoho, Orderhive, and Ordoro that can be installed on websites built on various platforms. Many also offer integrations with other eCommerce tools and platforms like PayPal and Shopify.
Zoho's prices range from free–$239/month. Orderhive offers a free plan for Shopify users and paid plans costing between $49.99–$299.99/month. Ordoro's prices range from $59–$999/month.
9. Marketing and SEO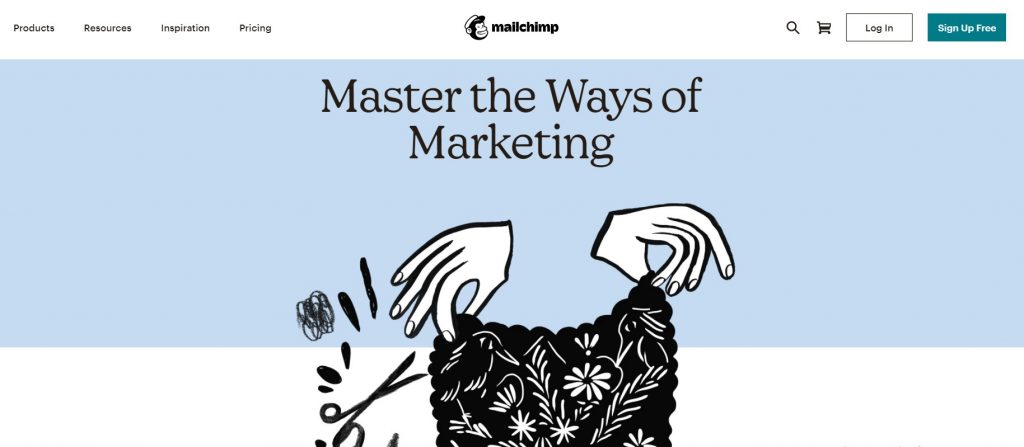 Monthly average costs: Free–$10,000+/month.
Level of necessity: Optional | Important | Necessary.
In order to drive traffic to a website, it's worth considering website maintenance costs for marketing and search engine optimization (SEO) strategies.
To attract audiences, publishing good quality content like articles, videos, and photos is essential. Good quality content can also help to establish credibility, encourage audience engagement, and generate leads.
To promote a brand and its website effectively, consider implementing the following digital marketing strategies while taking into account the brand's niche and long-term goals.
SEO. Refers to the process of optimizing web pages to rank higher on search engines. This strategy helps audiences discover a website more efficiently, leading to an increase in traffic volume.
Examples of SEO tools include Ahrefs, Ubersuggest, and Moz. Free options are available, while paid subscriptions cost from $12–$150/month.
Content marketing. Refers to the strategy of creating relevant and trending content to attract, engage, and retain audiences.
Many companies outsource to digital marketing agencies or freelancers. Rates depend on the type of content and can cost $1/word for an article or between $50–$3,000 per project.
Influencer marketing. Refers to marketing collaborations with popular social figures to promote a brand and its products or services. It's an excellent way to increase brand awareness and boost conversions.
Influencer rates depend on several factors like follower count, content type, and audience engagement. Costs generally range between $10-$10,000/post.
Email marketing. Refers to the distribution of email newsletters to keep audiences informed about a business' activities.
Popular email marketing tools include Mailchimp and Constant Contact. There are also many email marketing plugins available for WordPress websites. Prices for these generally range from free–$310/month.
Social media marketing. Refers to all types of marketing activities that are conducted on a brand's social media platforms. These can include posts, ads, and SEO strategies.
An average company spends around $6,000–$10,000/month on social media marketing. These costs often include marketing software tools, ads, and hiring a social media manager.
Keep in mind that not all of these marketing strategies must be implemented at once. For example, smaller websites can get away with just doing SEO, email marketing, and simple content marketing strategies.
How Often Is Website Maintenance Required?
There are no set rules on how frequently maintenance procedures should occur. However, it's a good idea to conduct monthly website maintenance to ensure everything is performing smoothly.
Routine maintenance helps verify that all software is up to date, avoid errors and lags, and identify security weaknesses. It also gives you a chance to catch any bugs or issues early on to avoid negative impacts on website performance.
Buying quarterly or yearly professional website maintenance packages is also something to consider. This can be especially useful if you want help with more technical aspects like backups, firewalls, core updates, or troubleshooting.
Should I Maintain the Website Myself or Hire a Developer?
Whether you hire a professional or conduct website maintenance yourself, each approach has its pros and cons.
Ultimately, how much you spend on website maintenance costs depends on the amount of time, money, and effort you are willing to spend.
Hiring a Professional
Average cost: Between $200-$10,000+/month.
This option helps to save website owners time and effort. Professional web developers handle the more complex and technical aspects associated with maintaining a site.
These may include conducting regular software updates, back-end maintenance, monitoring site security, optimizing performance, and implementing SEO strategies.
Hiring an expert is an excellent option for business owners who want to allocate their time and focus to other tasks, like marketing strategies and content creation.
The downside to hiring a professional website maintenance service is that it results in a higher website maintenance cost since you pay extra for their expertise and high-quality work.
Self-Maintaining a Website
Average cost: Under $100/month.
A do-it-yourself approach means more affordable website maintenance costs. It's an excellent option for beginners who want to save money or those who like to be hands-on with technical maintenance tasks.
With many free resources available today, learning how to conduct website maintenance yourself can be done in a relatively short period. For example, many resources outline how to perform regular backups or improve performance on WordPress websites.
There are two great reasons to self-maintain a website. The first is that you may learn and develop new skills. The second reason is that website self-maintenance enables site owners to have more control over site settings and configurations.
The downside to maintaining a website yourself is that it takes time to learn something new and implement it correctly. It can also be overwhelming to handle all the technical aspects of your site, especially for beginners with no prior technical experience.
Website Maintenance Services
If you have been maintaining your website by yourself and you're successful, you can also consider selling website maintenance services to make a recurring profit. Our guide on website maintenance services outlines the best types of website maintenance services and strategies on how to sell them.
You can also use this guide to understand what to look for in a good website maintenance service package and what pricing your should expect.
Conclusion
Website maintenance costs vary depending on the size and type of website, the approach you choose, and your overall strategy.
In this article, we've explored some of the essential aspects of a website maintenance cost. These include domain registration, SSL certificates, and web hosting.
On the other hand, there are areas where it's possible to take a more affordable approach to reduce overall monthly website maintenance costs. These include web design and marketing strategies.
Additionally, there are two main approaches to website maintenance – doing it yourself or outsourcing.
A do-it-yourself approach is best for smaller websites or web owners who don't mind spending more time performing technical tasks. In exchange for more time and effort, this option results in a lower website maintenance cost.
Alternatively, paying for professional website maintenance services costs more money, but it lets website owners focus on other aspects, like business marketing strategies. In exchange for higher website maintenance rates, this option brings together expertise and efficiency.
Also, consider that certain site types, like eCommerce businesses, may need to consider additional website maintenance costs. These include payment systems, inventory management plugins, and other tools necessary to run an online business.
Now that you've learned the main aspects of website maintenance pricing, it's time to set a budget, consider your long-term goals, and set a plan for your website maintenance checklist.