What Is Domain Privacy Protection, 5 Reasons Why You Need It, and How to Enable It
After buying a domain name, your personal information will be publicly available. As a result, you might get more spam messages and face more hacking attempts.
This is why domain privacy protection is essential. It hides your contact details from the WHOIS record, saving you from potential cyber attacks.
In this article, we'll dive deeper into what domain privacy is, how it works, and why it's important. We'll also show you the steps to activate domain privacy and answer the most common questions about the topic.


What Is Domain Privacy Protection?
Domain privacy protection is a service that hides your WHOIS information from the public. By using this feature, website owners will be less prone to spam messages and identity theft.
How Does Domain Privacy Protection Work
To register a domain, the owner must submit their contact details, such as the name, organization, location, phone number, and email address.
These personal details, along with the registration and expiration dates, IP address, and domain registrar, will be accessible through the public directory.
The Internet Corporation for Assigned Names and Numbers (ICANN) requires this information to verify and authenticate the domain's registrant. However, making these details public also leaves room for malicious intent.
With the WHOIS privacy services, site owners and administrators can conceal their sensitive information in the public directory.
Let's take a look at the following example. Instead of revealing the registrant's true identity, Privacy Protect – the domain privacy provider – shows its contact information.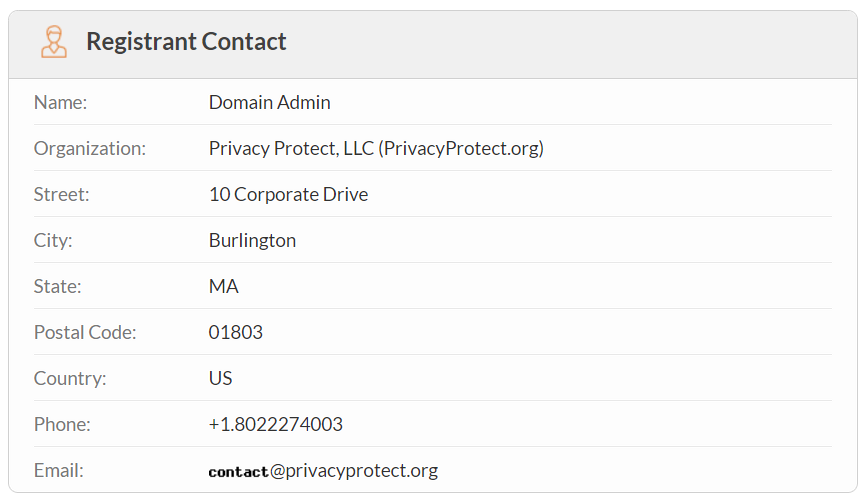 The only way to contact the domain's owner is by visiting privacyprotect.org and submitting a form.
What Is WHOIS Lookup?
WHOIS Lookup is a tool for searching the details of any domain. Since it extracts the information from the official WHOIS database, its accuracy is guaranteed.
Hostinger provides a WHOIS Lookup tool you can use for free. Simply enter the website address, and it will reveal the domain's current owner, registrar, and expiration date.

This feature is also great for checking your personal contact information. If the domain privacy service is enabled, you will see REDACTED FOR PRIVACY in the registrant fields.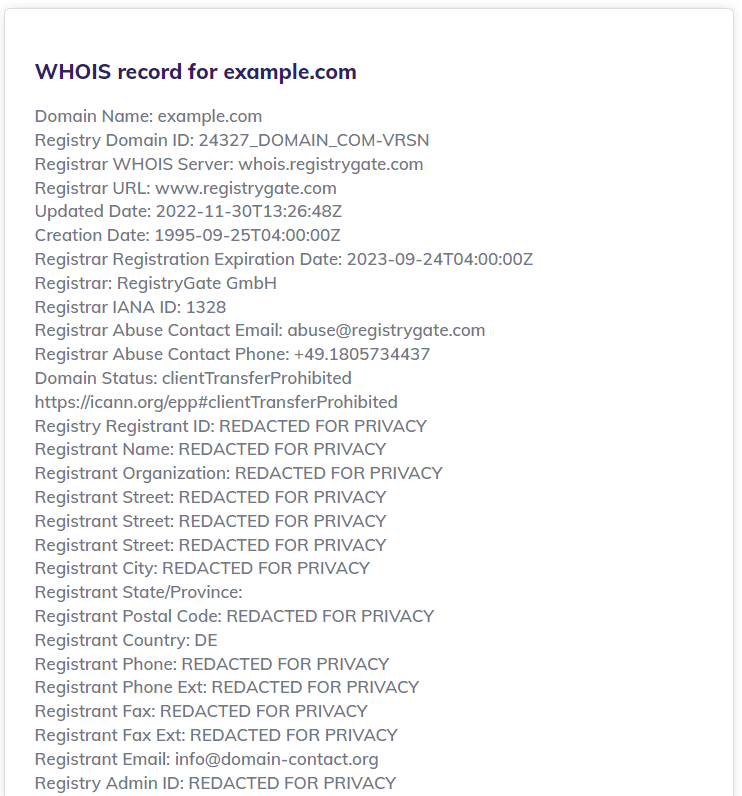 Moreover, your email address is replaced with a dummy or a forwarding address. This is how the domain privacy service keeps your information private.
In contrast, the contact details will be visible when the domain owner does not use private domain registration. Those include their mobile number, email address, and complete postal address.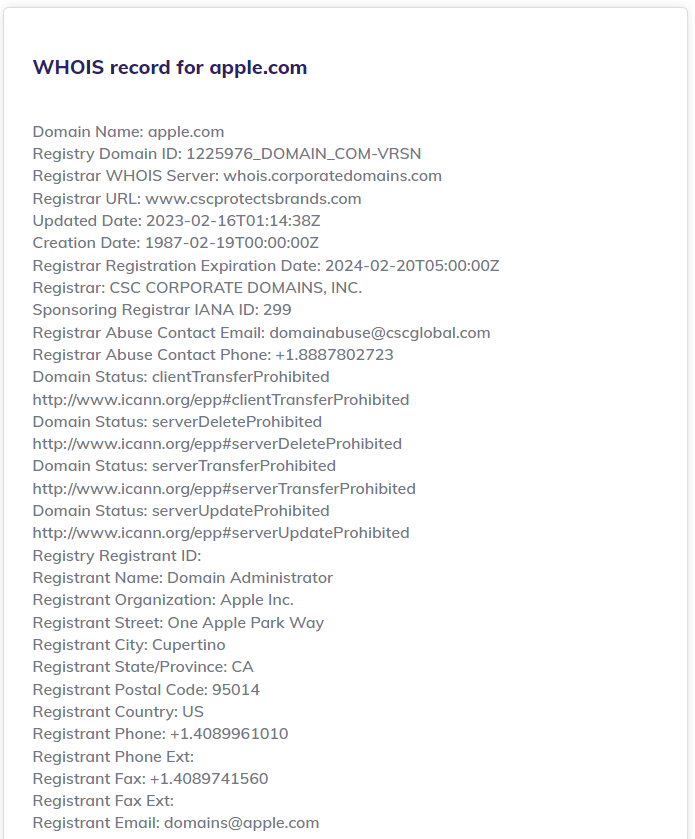 5 Reasons Why You Need Domain Privacy Protection
Let's discuss the five main reasons why enabling domain name privacy protection will benefit your business in the long run.
1. Protect the Contact Details and Personal Information
During domain name registration, it's mandatory to submit your actual contact details for security purposes.
ICANN will recognize the listed person or organization as the legal owner of the web address. Using false contact information may lead to a legal dispute about the domain name's ownership.
However, since your contact details are stored in public, anyone can easily retrieve the information. Cyber criminals might use the data to gain access to your website and install malicious software.
Moreover, they can steal customers' sensitive data or leak your internal documents to competitors. As a result, you might lose money and the customers' trust.
For that reason, it's safer to keep your confidential information private using the WHOIS protection service.
2. Prevent Spam Emails
Another advantage of using domain privacy service is preventing spam emails.
Marketers often use WHOIS records to collect your email address and send plenty of promotional offers. Spam emails may also contain viruses, which can lead to security breaches.
By activating privacy protection for domain names, spammers will see a dummy email address instead of your real one.
3. Prevent Scam Phone Calls
The WHOIS directory is a great source for telemarketing companies to gather phone numbers.
When your mobile number is publicly available, expect to receive various marketing and sales calls. A fraudster might also contact you to market fake products and services.
Even worse, they can pretend to offer domain renewal services when your domain is expiring soon. Contact your registrar first before providing personal information on these types of calls.
With WHOIS protection enabled, scammers won't have access to your contact information.
4. Prevent Domain Theft
Domain theft occurs when someone changes your domain's registration details without permission. A common hijacking method involves using the domain owner's personal information to access their email address and domain registrar account.
After gaining full control, hackers can use the website for phishing attacks. They will replace the real web pages with identical ones to manipulate visitors and collect their sensitive information.
To prevent financial loss and reputational damage, we recommend enabling domain privacy and protection. The dummy email address will give hackers an extra obstacle when breaking into your account.
5. Prevent Unwanted Traffic
Unwanted traffic usually takes the form of junk emails or bad bots. These bots crawl your website for malicious intent, such as triggering DDoS attacks or clogging it with fake signups.
Receiving unwanted traffic can cause overloads in your site's storage and server resources. As a result, the website will run slowly or become inaccessible to visitors.

To tackle this issue, conceal your personal data. This way, cyber criminals will have a more challenging time sending you spam.
How to Activate Domain Privacy on Hostinger
Hostinger provides free privacy protection for eligible top-level domains (TLDs), including .com, .net, .shop, and other popular extensions.
However, due to restrictions imposed by the registry operator, some TLDs do not support privacy protection for non-EU citizens:
Generic top-level domains – .mobi, .space, .pro.
Sponsored top-level domains – .cat, .asia, .istanbul, .ist.
Country-code top-level domains – .ru, .es, .de, .ca, .nl, .be, .ch, .pl, .cz, .se, .nu, .fi, .gr, .us, .ag, .am, .at, .bz, .cl, .cx, .dk, .la, .lc, .lt, .lu, .lv, .me, .mn, .mx, .pt, .sc, .vc.
Second-level extensions – .com.es, .com.ru, .com.br, .com.mx, .com.pl, .com.pt, .com.au, .net.ru, .net.in, .net.mx, .net.pl, .org.ru, .org.es, .org.in, .org.br, .nom.es, .co.in .gen.in, .firm.in, .ind.in, .biz.pl, .info.pl.
On the other hand, EU citizens are protected under the General Data Protection Regulation (GDPR). Their personal data will be hidden by default for all TLDs, except for .us and .fr.If you want to activate WHOIS protection for .fr domains, contact our Customer Success agents.
How to Enable WHOIS Protection for New Domains
Before registering a new domain, check its availability using our Domain Name Search tool. 
Domain Name Checker
Instantly check domain name availability.
If the web address is available, add it to the cart and follow the instructions. The domain privacy feature will be added automatically during checkout.
Here's how to register a new domain:
Select the domain registration period.
Create a new Hostinger account or log in to your existing one.
Choose a payment method.
Fill in your information.
Click Submit Secure Payment.
How to Enable WHOIS Protection for Existing Domains
If you have an existing domain name, follow these steps to activate domain privacy:
Head to hPanel → Domains.
Select the intended domain name under My domains.
Scroll down to the WHOIS Privacy option.
Toggle on the button.
How to Check if Your Domain Privacy Is Enabled
To check whether your domain information is already hidden, perform a WHOIS lookup:
Visit a domain lookup tool like WHOIS.
Type in your domain name on the search bar and click Search.
Scroll down to see the Registrant, Administrative, and Technical Contact information.
When the WHOIS privacy service is disabled, your records will be visible to the public. On the other hand, the personal information of domain owners who use the privacy protection service will be hidden.
The domain privacy provider usually replaces your email with a dummy or a forwarding address to hide your sensitive data.
For example, when looking for ZARA's WHOIS information, the actual email address is switched to zara.com-registrant@anonymised.email.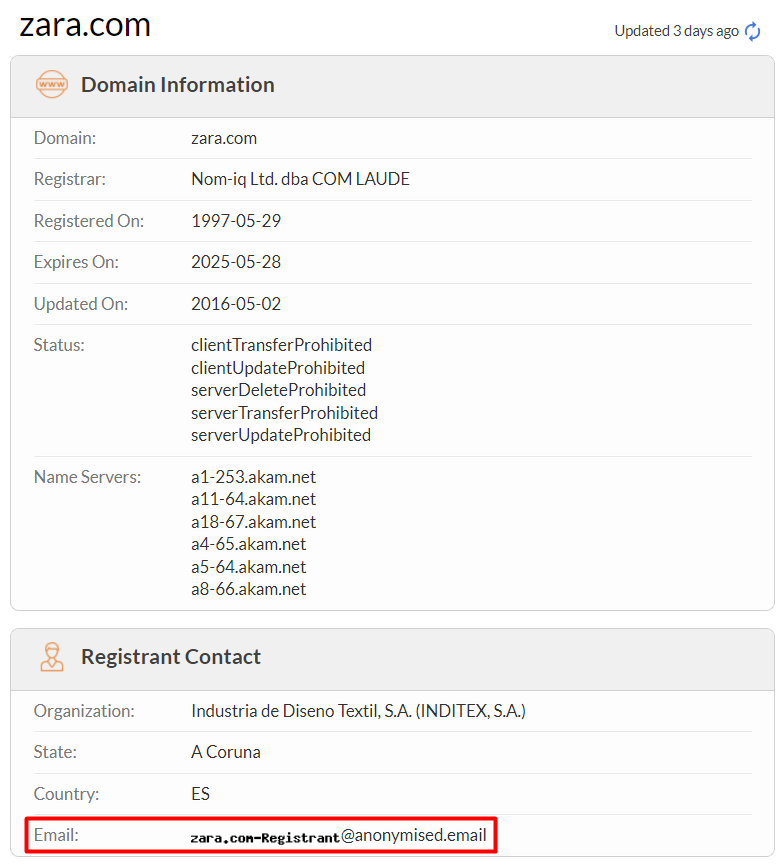 GDPR and Domain Privacy
For the most part, European Union citizens do not need a WHOIS privacy service.
This is because the General Data Protection Regulation (GDPR) laws will automatically protect their WHOIS information.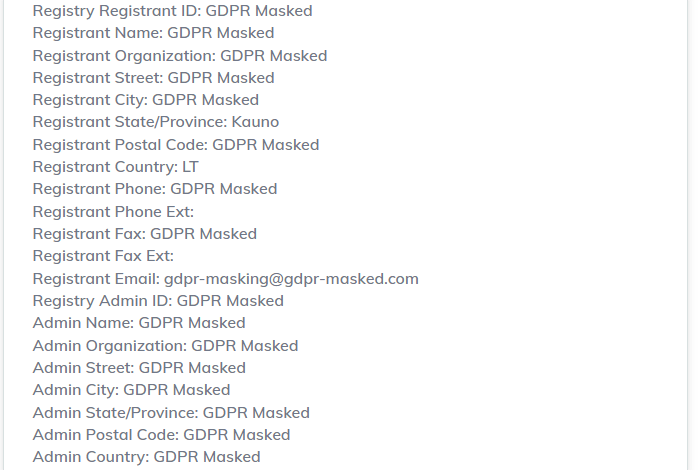 ICANN also implemented the Temporary Specification for gTLD Registration Data to comply with the GDPR while also keeping its policies intact. Therefore, even if your personal information is made private, some of the data will still be available to the public, such as:
Internet Protocol (IP) address
Sponsoring registrar
Domain name registration and expiration dates
Non-EU users need to enable domain privacy manually to enforce the Temporary Specification.
Conclusion
A domain privacy service is crucial for any website owner. It protects your personal data from falling into the wrong hands, preventing domain theft, unsolicited emails or calls, and cyber attacks.
Generally, domain privacy works by masking your real contact information with a fake one in the WHOIS database. Those include your name, personal email, business address, and phone number.
Fortunately, activating this service does not have to be expensive or complicated – you can enable domain privacy for free and easily via Hostinger's hPanel.
If you still have any questions about domain privacy or domain ownership protection, don't hesitate to leave a comment below.
Domain Privacy FAQ
Find answers to the most frequently asked questions about domain privacy protection.
How Much Does Domain Privacy Cost?
WHOIS protection cost varies depending on the provider. Some domain registrars charge around $10-20/year, while others – like Hostinger – provide free domain registration privacy.  
Can I Get Domain Privacy Protection for Free?
Yes, absolutely. With Hostinger, privacy protection is included in a domain's cost. Simply head to our Domain Name Search tool, find available domain names, and proceed with the purchase.
How Secure Is Domain Privacy?
A domain privacy service completely hides your personal data from the WHOIS database, lowering the chances of cyberattacks on your website. This is why having a domain with privacy protection is essential.
Is Domain Privacy Protection Available for Every Domain?
No, it depends on the top-level domain (TLD). Domain privacy is usually available for popular extensions, such as .com, .net, .org, and .co. However, some domains do not support privacy protection due to regulations imposed by their registry. Those include .mobi, .asia, and .space.