Digital marketing is a method that's been improved over many years and is a great option for business growth. It can massively affect how likely people are to purchase products and interact with businesses. Digital marketing allows you to connect with and influence your potential customers in real time.
There are principles you need to know and consider before building and launching any digital marketing strategies.
Check out the complete overview in this article!
What Is Digital Marketing?
Digital marketing is the process of promoting products or services to your potential customers through the internet.
The internet has opened possibilities of using online platforms, such as social media and emails or websites to spread your messages, reach your business goals, and engage a broader audience at a lower cost.
By early 2019, internet users cover 56,3 % of the world's population. It means that most people spend a lot of their time online. Everyone can have full access to information from every platform as long as they have an internet connection and a device like a computer, laptop, tablet or smartphone.
With today's internet accessibility, the number of people who go online every day is always increasing.
Digital marketing has replaced most traditional marketing strategies, simply because it's designed to reach today's customers.
Such outlets as newspapers, magazines, TV, radio, postcards, telemarketing, SMS marketing, billboards, fliers, and other offline platforms for business promotion  – has become much less effective.
Digital marketing is a highly promising, cost-effective and accessible strategy for you to scale your business.
Why Is Digital Marketing so Important?
Digital marketing has eased the border between the customer and marketer in real time, as it provides these advantages:
Spend Less, Reach More
Digital marketing allows you to spend less money while reaching a larger audience. Compared to traditional marketing, you can approach more people through the internet without allocating extra budget for your advertisement.
You can simply use digital marketing channels, such as, websites or social media enhanced with content that is specific to your target audience, informative and well structured. There is also the option to advertise your products through social media ads, Google Ads, or specifically through email.
For example, if you advertise your product on a billboard, you are only able to reach a local audience. And if you want to reach a broad audience with it – you need to pay extra for rent, recourses, and publication.
Meanwhile, if you promote your product through social media posts or social media ads, chances are, what you have to pay is less than the profit you will get as long as you research before you execute the strategy. The sky is truly the limit with digital marketing.
This will result in more engaged customers and larger profits.
Highly Measurable
As the internet provides access to tons of data, online digital marketing enables you to analyze campaigns and understand what is working and what isn't.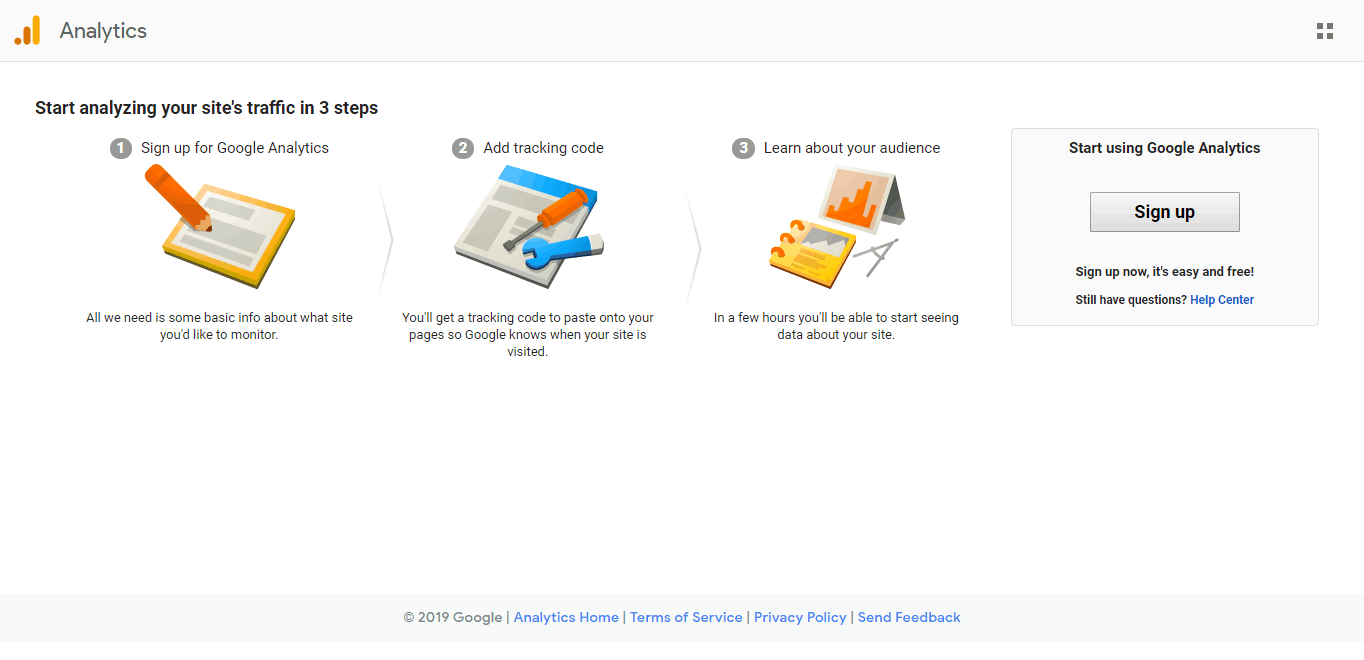 With tools such as Google Analytics is possible to see how changes elements like inbound traffic, bounce rates, conversion rates, profit, number of visitors, and the general trends of the interested audience.
That means you can predict the return on investment (ROI) of any aspect of your marketing efforts.
For example, when you create printed ads in a magazine, you cannot know who has read them. You never know how your potential customers react to the material. However, if you post ads through social media or websites, you can measure the data collected to gain valuable insights. This allows you to evaluate the effectiveness of your campaign to improve further strategies.
This helps you stay a step ahead, as the key to effective marketing is knowing how to interpret the data gathered and implement changes based on what you discover.
Rich Targeting Options
Digital marketing allows you to segment audiences by interests and other demographic characteristics that bring greater accuracy helping reach the target. It also helps identify trends and patterns in your potential customers' behavior before they decide to make a purchase.
Moreover, with many channels available for digital marketing, it allows you to be on the one where the most profit might be earned.
That helps customers see you, learn more about you, and even ask any questions about your product or service. This surely helps create engagement and conversions.
Meanwhile, traditional marketing segments the audience on classic attributes like age, sex, location, and salary. It's very difficult to tell how people interact with your brand before they make a purchase. You need to wait for the campaign to conclude before you can plan your next step.
This is less effective for your business growth.
Online Presence Matters
Unlike traditional marketing – where an online presence is less involved – for digital marketing, a strong online presence means stronger customer engagement and brand reputation, which may lead to higher conversion rates.
That being said, you have to maintain good quality content across your marketing platforms – website as well as social media, such as Facebook, Twitter, and Instagram. Also, pay attention to the different characteristics of each platform.
For instance, Twitter is not the best place to post photos, videos and ads for product branding – Instagram and Facebook are. Gain knowledge about each platform, post content consistently and let your audience grow organically.
In addition, make sure you add value to your content. Instead of just bombarding your audience with ads and promotions, create DIY tutorials, insightful articles, and more meaningful content.
Don't forget to respond to comments too. Keep them engaged and build a long term connection with the people following you!
Scalable
Digital marketing has a low barrier to entry. Using the internet as a marketing medium is like opening the doors to new opportunities.
Most importantly, digital marketing allows attribution modeling that helps identify trends in the way people research and buy your product, helping you make more informed decisions when choosing which marketing strategy deserves more attention, and what needs refining.
After you set your goals, it is easy to take the next steps. You can start by setting your initial budget, planning your strategy, measuring results, and planning for the future.
This quality surely cannot be found in traditional marketing where everything is much less predictable.
Digital Marketing Strategies
As digital marketing is a growing field, the strategies to do it will likely keep evolving. However, here are some existing strategies most businesses are using today:
1. Search Engine Marketing (SEM)
While SEO takes time to build and bring in traffic, Search Engine Marketing (SEM) can provide an instant result when targeting potential customers. It is the process of gaining traffic by purchasing ads on search engines. Your ads will appear on the top or of search engine results page (SERP) highlighted with a yellow ad icon beside them.
This strategy is often called paid search, or pay-per-click (PPC) advertising. It was known as Google Adwords, and now it refers to as Google Ads.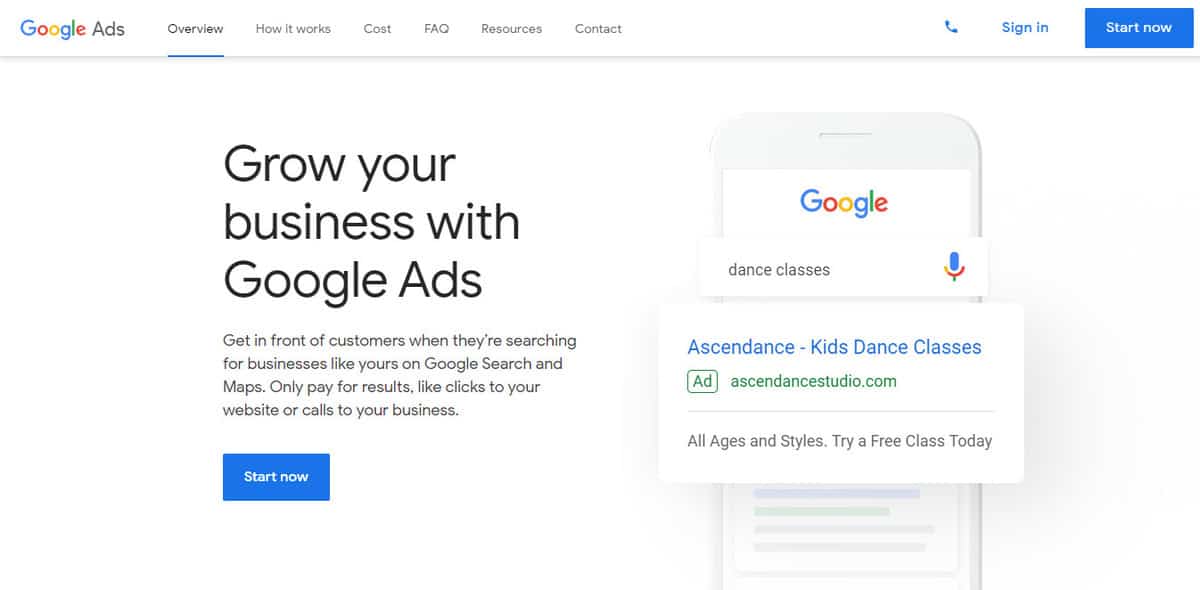 PPC ads are effective for many different types of business, as according to research, 64% of consumers will click on a Google ad when they are looking to buy items online.
You can customize your PPC ads to appear when specific keywords are entered and create ads that are targeted to a very specific range of potential customers. Most importantly, you only pay when it is clicked. So, you can set your budget allocation quite precisely when using this marketing strategy.
Paid search works well because the cost you need to pay for the ad is small when compared to the profit you will get.
2. Search Engine Optimization (SEO)
Most internet users use search engines to look for information about brands, products or services. Moreover, up to 90% of them will choose a brand after researching pages from the search engine result pages (SERPs).
If your website is not in the top few search results, you may not get the opportunity to reach and attract your potential customers. How so?
Most of your people will filter information from the SERPs, but only a few make it to the third page. Therefore, appearing on the first page of SERPs is crucial in digital marketing.
This can be achieved by applying SEO principles to organically rank higher in every search engine, such as Google, Bing, Yahoo, or Yandex. Do so by simply carrying out keyword research, optimizing your site, using organic link building, and creating good content on your website.
With this, you can always engage the potential customer coming to the SERPs.
3. Social Media Marketing
Social media  – Facebook, Twitter, LinkedIn, Pinterest, Instagram, Reddit, Youtube, etc.  – is a great place to advertise your business, as almost half the world's population is active on social media channels.
Moreover, since most of your potential customers spend one-third of their time online on social media, it's vital to include social media ads as part of an online advertising strategy. It will allow you to reach a larger, more engaged customer base for a reasonable price by direct and person-to-person engagement.
This will effectively promote your brand and your content on social media channels to increase brand awareness and drive traffic to your business. However, you should plan the most appropriate social media marketing strategy to grow your business.
4. Content Marketing
Content marketing centers on creating, publishing and distributing content for your target audience that aims to build brand awareness, traffic growth, and attract new customers. This strategy works best with SEO and SEM.
It covers any digital marketing efforts that use content assets, such as blog posts, social media post, infographics, eBooks, photos, videos, lookbooks, etc., that may influence almost all other online marketing strategies.
As content is the main attraction of every digital marketing strategy, it is important to maintain high-quality content that is useful and relevant to readers. Do so by conducting research regarding your target readers and the keywords they search for before creating informative and reliable content.
This helps your potential customers see you as a valuable source of information, and encourages them to use your product or service.
5. Email Marketing
Email marketing is a way of communicating with your audience by nurturing the relationships with customers you already have. You can stay in touch with your loyal followers or subscribers with emails that can go beyond content promotion. Instead, build connections with seasonal emails, newsletters, reminders, exclusive offers, or flash announcements.
If you already have a website with good content that ranks high on search engines, you will have a number of followers or subscribers you can contact right off the bat. To keep them coming to your brand and become your loyal customers, you can follow them up with emails  – making personal interactions and offering exclusive deals or freebies.
WordPress is perfect for email marketing, as it facilitates transactional email. You only need to optimize it for marketing purposes.
Apart from the other strategies, email marketing can be the best enhancement to maintain your business.
6. Marketing Automation
Last but not least, marketing automation is a useful platform that ties all of your digital marketing strategies together. It is a kind of software that helps automate your marketing operations.
Many businesses can automate repetitive marketing campaigns to save time. These include email newsletters, social media post scheduling, campaign tracking, and reporting.
When used effectively, marketing automation will help you gain insights into what campaigns are working and which aren't. Most importantly, it will measure the results and ROI of your digital campaigns, helping you to grow revenue faster.
Keep in mind that, all of the digital marketing strategies mentioned above are related to each other and work best together, complimenting one another.
How to Start?
Digital marketing can work for any business in any industry. However, not all businesses can implement a digital marketing strategy in the same way.
There are some principles you need to consider before starting to plan:
Know Your Business Model
Knowing what to target is essential. However, you first have to know whether you want to deal with businesses or individual customers. This will determine your business model.
Let's take a look at which strategies tend to work best for business-to-business (B2B) and business-to-customer (B2C) companies:
B2B Model
If your company is business-to-business (B2B), your digital marketing efforts are likely to be centered around relationship building. In this model, you deal with other businesses that will become your customers, so your buyer is usually the top manager, owner, or a decision maker in the company.
This requires you to build brand awareness and trust before customers make a purchase.
Beyond your website, we recommend focussing your efforts on business-oriented channels like LinkedIn, or emails to maintain your brand's responsiveness.
B2C Model
If your company is business-to-customer (B2C), it's likely that the goal of your digital marketing efforts is to attract customers to your channel. This model requires you to deal with an individual customer.
These kinds of customers often make a purchase because of emotional reasons, so brand positioning is a very important factor.
For B2C companies, channels like Instagram, Pinterest, and flashy ads can often be more valuable than business-focused platforms LinkedIn.
Know Your Target Audience
Get to know your audience! If you don't understand who you're trying to reach, it'll be hard to deliver a message that's relevant enough to cut through the competition and noise. So, you need to identify who you are marketing to.
Knowledge about a customer's needs, characteristics, preferences, and behaviors based on an analysis of qualitative and quantitative data are an important part of putting together an effective digital marketing plan.
The good news is that you don't need to have a customer research agency, you can make your own buyer personas – fictionalized, general descriptions of your key customer groups. Do so by following these simple steps:
Think about who your customers are and group them into some categories.
Create a characterization for each category.
Determine which category has the most potential customers, and start choosing the best strategy to attract them.
This is critical. Different buyer personas require different marketing tactics. And, even more importantly, different buyer personas turn into different types of buyers.  So, it is a good way to craft an effective marketing strategy.
Plan Out Your ROI
When running any business, you should not spend your money blindly – plan out your budget.
To do that, you first need to clarify what your goals are. The ultimate goal of any marketing effort should be return on investment (ROI). You will not earn profit from any digital marketing strategies you carry out unless you earn more than you spend.
With that in mind, the first thing you need to determine before deciding what your digital marketing budget should be is to decide how much revenue you want to drive.
Once you know that, you can use that information to determine how much money it will take to reach the revenue goal.
Make sure that you have a measurement plan in place and invest in the right tools to track your progress.
Start With One Marketing Strategy
To begin with, you can start with a single method that does not require a large investment.
No need to worry, if you focus on implementing one strategy at a time, you'll be surprised at how quickly your business can grow.
Then, when everything is up and running, you can focus on optimizing and improving your processes for maximum growth by complementing it with other strategies.
Mobile Digital Marketing
Another key component of digital marketing is mobile marketing.  Therefore, it's vital that marketers should understand how to effectively communicate through this channel.
Why so?
Among 86,2% of internet users worldwide use a mobile phone to access the internet and 66% of them frequently feel delighted to access a vendor's content via phone. Moreover, mobile-optimized sites appear higher on SERPs.
This means it's essential to optimize all your digital marketing channels  – including digital ads, web pages, social media content, and other digital assets  – for mobile devices.
As social media automatically makes your content responsive, at least, building a mobile responsive website is a must.
Responsive designs can be graded through these aspects:
Content adapts to a wide range of devices and screen sizes.
Content fits on the screen without side-to-side scrolling or zooming.
It loads quickly.
Site has no mobile-specific errors.
This results in consistent and engaging user experience (UX).
Because 46% of mobile web users abandon pages if they don't load within 10 seconds and 34% of potential buyers cannot make an intended purchase because the website they visited wasn't mobile-friendly, mobile UX has a dramatic effect on every stage of the buying cycle.
Therefore, making sure your mobile user experience is as easy and seamless as possible should be a primary digital marketing goal.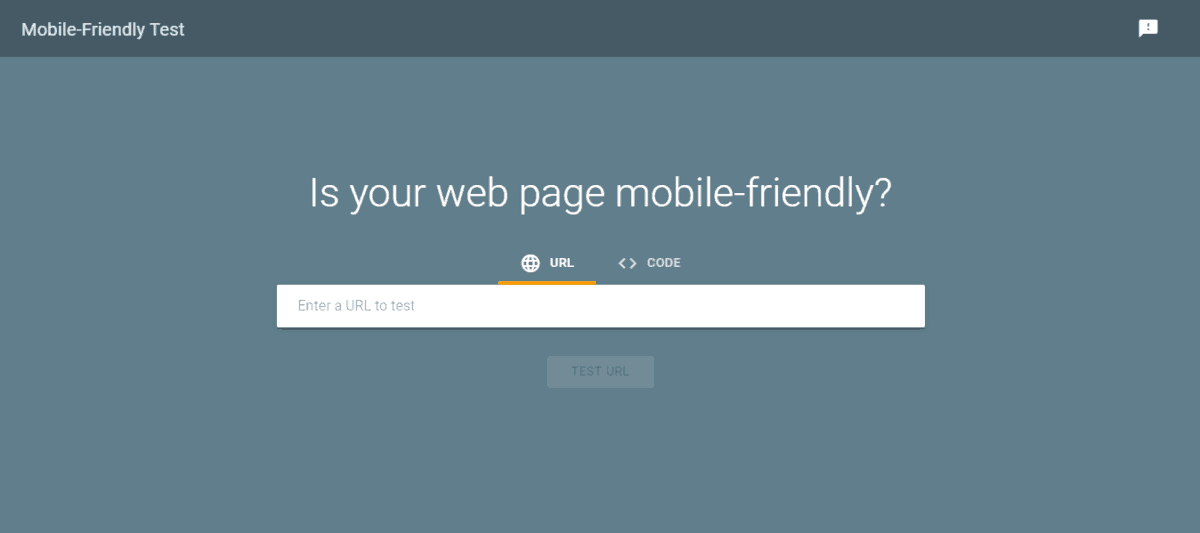 Here are steps you can do to make sure your website is responsive:
Before going further, you have to check whether your site is already responsive or not. Google has provided a free mobile-friendly test tool to help you determine how to best optimize your site for a mobile device.
If your site has passed the test, you only need to optimize your content to suit the mobile environment. Do so by considering your content's length, not using flash, and not using pop-up ads.
If your content has not been optimized for mobile devices, you can start fixing the problem by first making sure that your site loads quickly, is easy to navigate, and makes contacting you easy.
Moreover, you can simply switch your site's theme into a mobile-friendly theme if you're on WordPress.
Then, you can start optimizing your ads for mobile and start running your digital marketing strategy.
Conclusion
As you can see, marketing is about connecting with your audience in the right way.
Digital marketing allows you to interact with potential customers and influence them based on demographics, platforms and much more.
Here are some strategies that we have discussed in this article:
Search Engine Marketing (SEM) or Pay-Per-Click Advertising to drive paid traffic to your website, where your potential customer can see your offers.
Search Engine Optimization (SEO) to optimize your content, so it will show up on SERPs when a potential customer is searching for the information you've written about.
Social Media Marketing to share content and engage with customers.
Content Marketing to keep customers updated about a product, issues related to it, the problems users are facing, and how you solve those problems.
Email Marketing to follow up with customers to make sure they continue getting the solutions they're looking for.
Marketing Automation to automate your digital marketing strategy operation.
Apart from these digital marketing strategies, making sure that your channel is mobile-responsive is crucial for your business because a lot o potential customers use a smartphone.
With this, you can keep in touch with your customers everywhere.
So, what are you waiting for? It's your time to start planning a digital marketing strategy to empower your business!