What Is Web Hosting – Web Hosting Explained for Beginners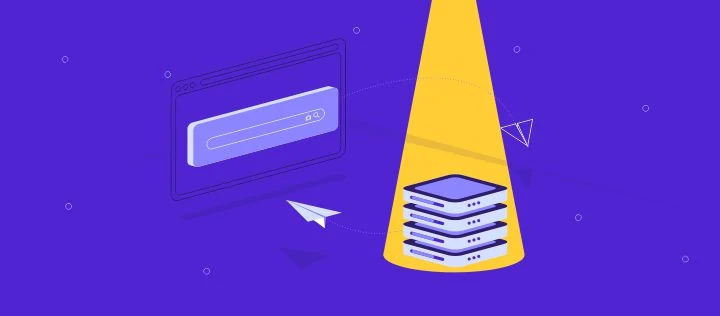 Web hosting is an online service that makes your website's content accessible on the internet. When you purchase a hosting plan, you are renting space on a physical server to store all the website's files and data.
Web hosts provide the hosting technology and resources required for the effective and secure operation of your website. They are responsible for keeping the server up and running, implementing hosting security measures, and ensuring that data such as texts, photos, and other files are transferred successfully to the visitors' browsers.
In this article, you will learn what web hosting is, how it works, and what are the different types of web hosting available.


Video Guide on What Is Web Hosting
If you prefer to watch the video on what is web hosting, check this out: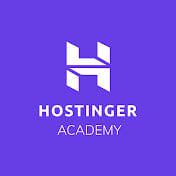 Subscribe For more educational videos!
Hostinger Academy
Subscribe
What Is Web Hosting?
Web hosting is an online service that enables you to publish your website or web application on the internet. When you sign up for a web hosting service, you basically rent some space on a physical server where you can store all the files and data necessary for your website to work properly.
How Does Web Hosting Work?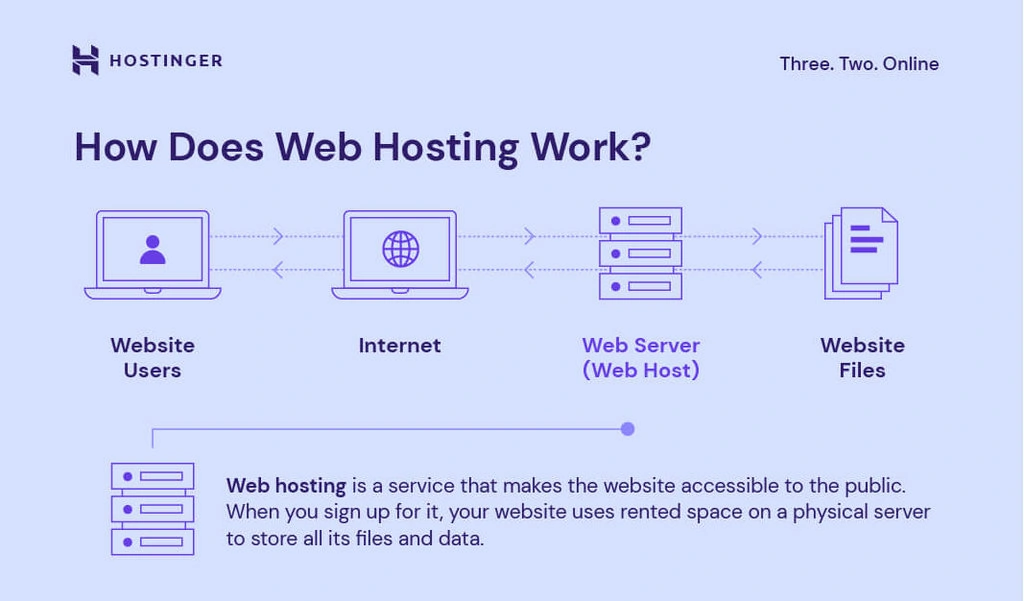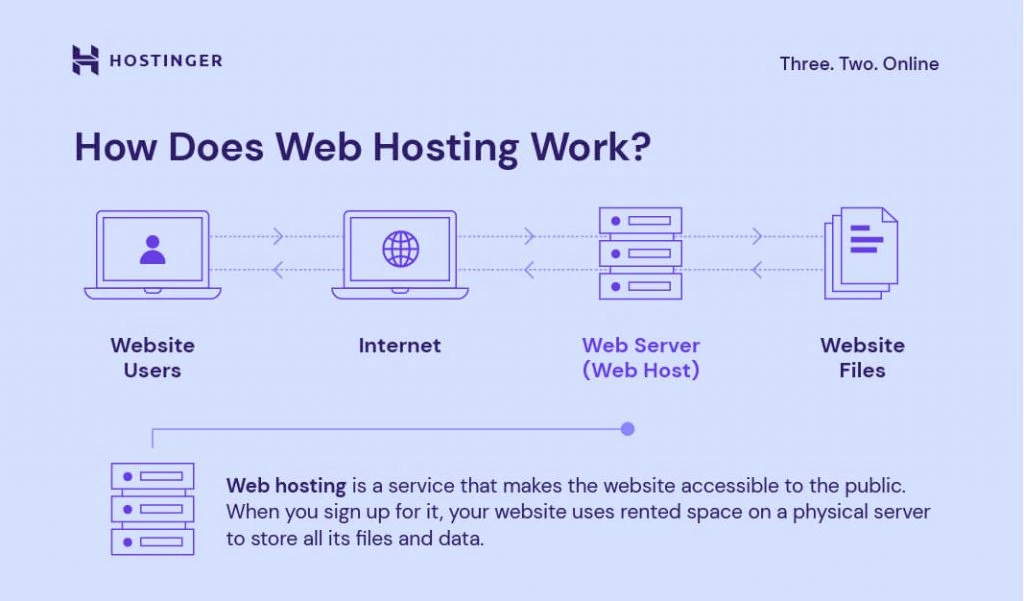 The server that hosts your website is a physical computer that runs continuously to make the site available for visitors all the time. Buying servers for web hosting will allow you to store all the data of your website in the those servers of your provider.
Once a user enters your domain name into their browser's address bar, the web host's server will transfer all the files necessary to load your website.
You can host a website yourself, but it requires extensive technical skills. Self-hosting entails setting up and configuring a web server from scratch, including the equipment, infrastructure, hardware, and software. Furthermore, you will also have to handle all the ongoing maintenance.
A web hosting service provider ensures that your website performs optimally and with better security protocols. In addition, it simplifies the many complex aspects of hosting a website – from software installation to technical support.
Types of Web Hosting Services
With numerous web hosting options available, it can be challenging to determine which one is best for your website.
Most web hosts offer different hosting packages for different types of customers – from business website owners to personal blog creators.
Ideally, you should start with the simplest hosting solution. Once your site gets more traffic, you can upgrade to a more advanced plan. Feel free to check Hostinger's hosting prices to get a general idea of the different types of hosting and their costs.
Let's take a look at some of the most popular ones available.
Shared Hosting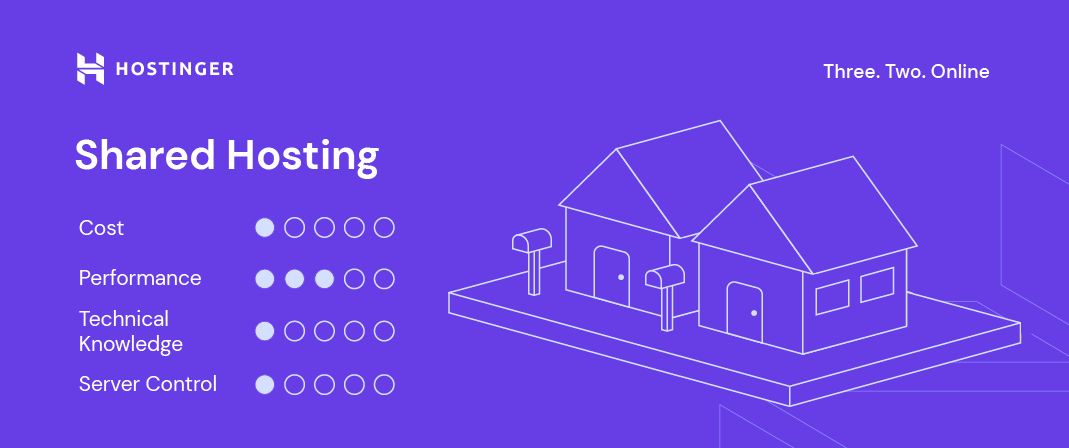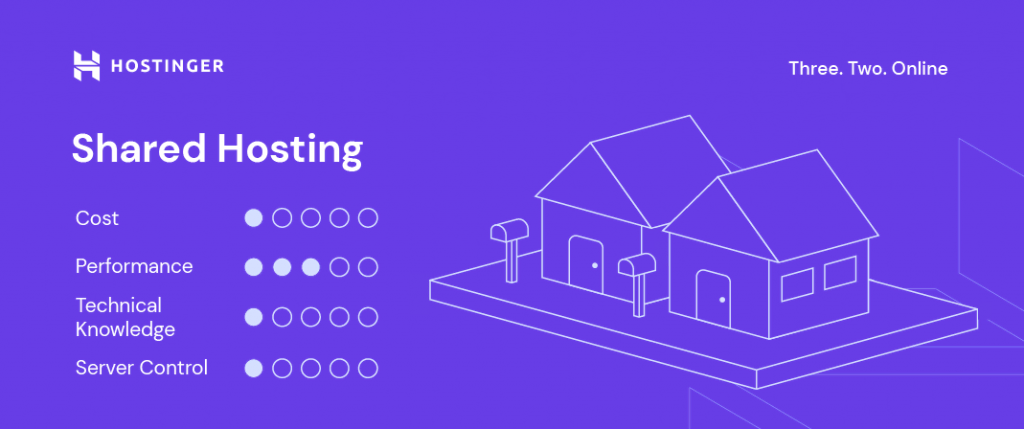 With shared hosting, multiple users share the same server resources, including memory, processing power, and storage space.
Because of its simplicity and affordability, shared web hosting is an excellent solution for small businesses and personal websites that do not require advanced configuration or higher bandwidth. Hence, shared hosting is an excellent choice for beginners that need cheap hosting to start.
Pros
Cost-effective, ideal for small-scale websites
Technical expertise is not required
Pre-configured server options
No need to take care of maintenance and server administration
Cons
Minimal access to server configuration
Increased traffic on other websites can affect your website's speed
Virtual Private Server (VPS) Hosting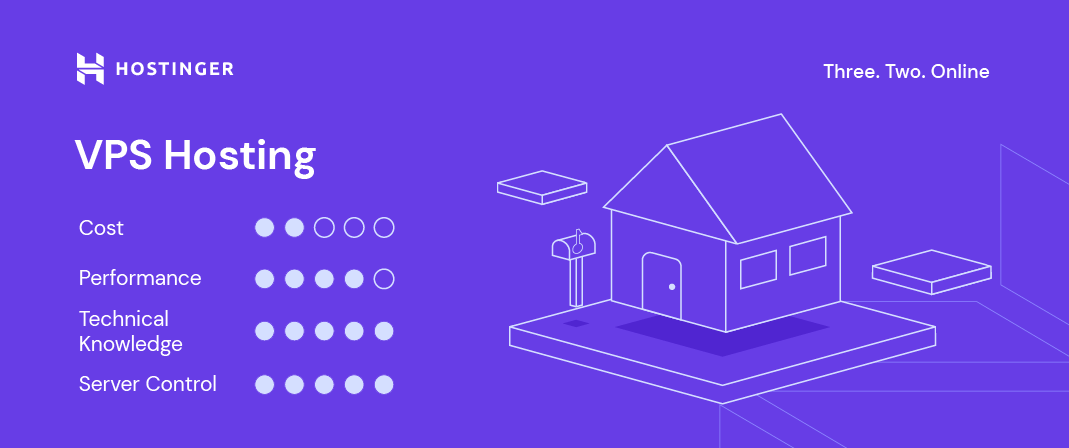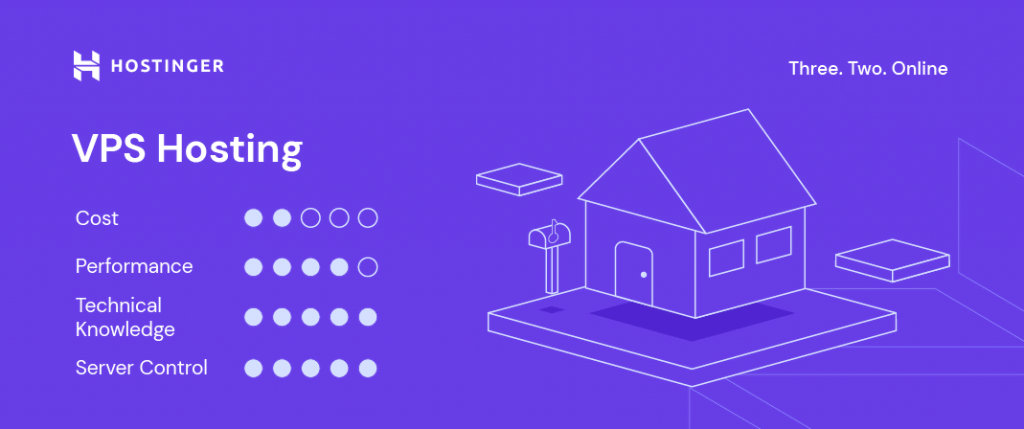 With this web hosting type, your website also shares a physical server with other users, but the web host creates a virtual partition for each user. Thus, a site hosted on a virtual private server get an allocated amount of resources.
VPS web hosting is a great option for medium-sized sites, eCommerce shops, and large blogs with a rapidly growing number of visitors.
Pros
Dedicated server space
Increased traffic on other websites has no impact on your site's performance
Root access to the server
High customizability
Cons
Users need technical expertise to manage it
Even though it's relatively affordable, some users may have to hire a developer to manage the virtual server, increasing the overall costs
Cloud Hosting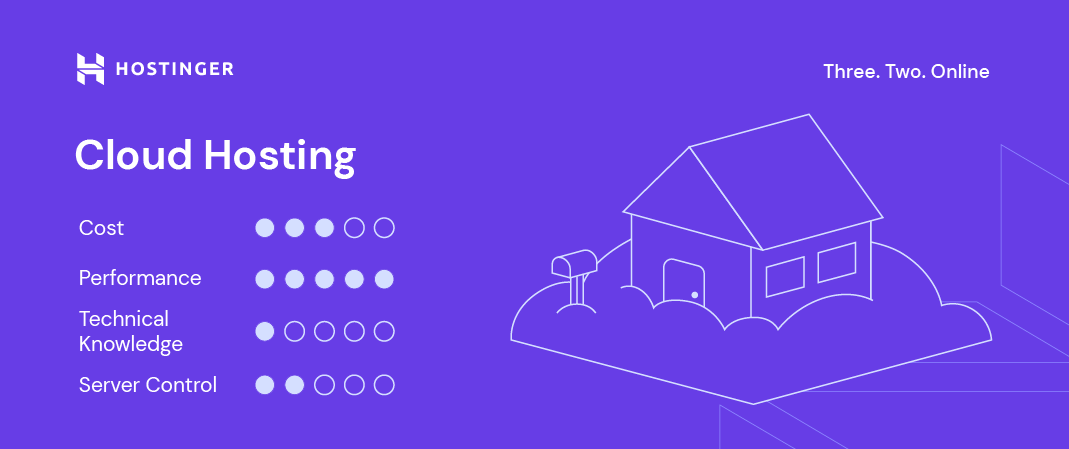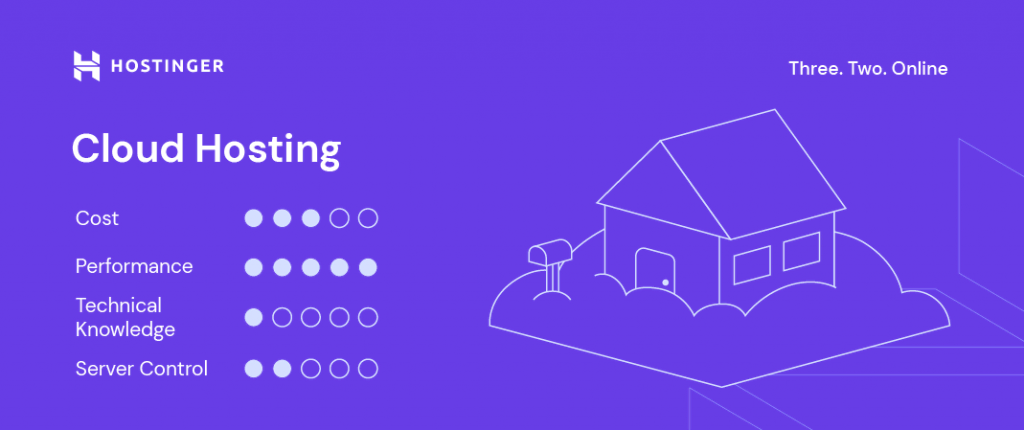 This web hosting solution uses several virtual servers to host sites. Thus, if one server experiences high traffic or a problem, the remaining ones will take over and maintain the website operating.
Since cloud based web hosting relies on a cluster of web servers to function, businesses with multiple websites and large-scale sites like eCommerce shops can benefit the most from it, as it provides little to no downtime.
Pros
Reduced likelihood of downtime and hardware failure
Uses load balancing to handle high traffic and prevent DDoS attacks
Scalability – your website is not limited to the resources of a single server
Cons
Root access is not always provided
It is more expensive than VPS and shared hosting
WordPress Hosting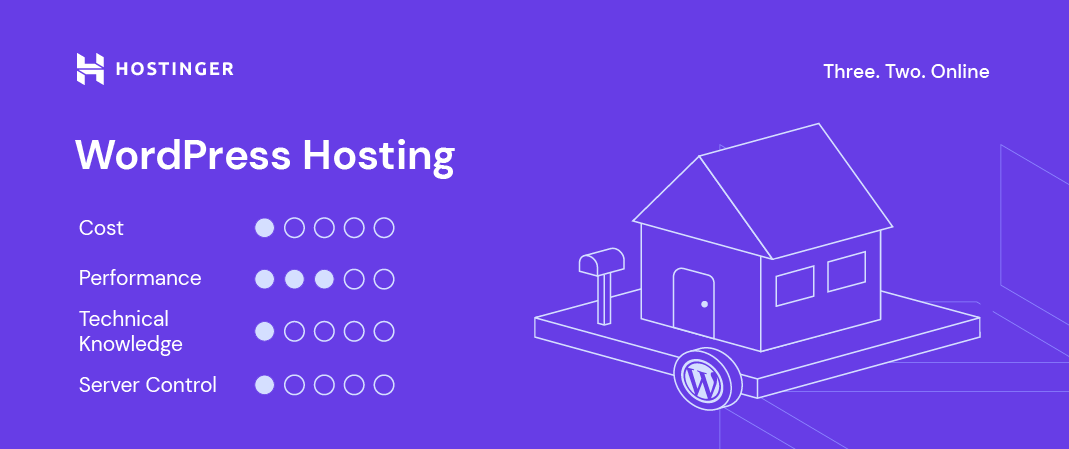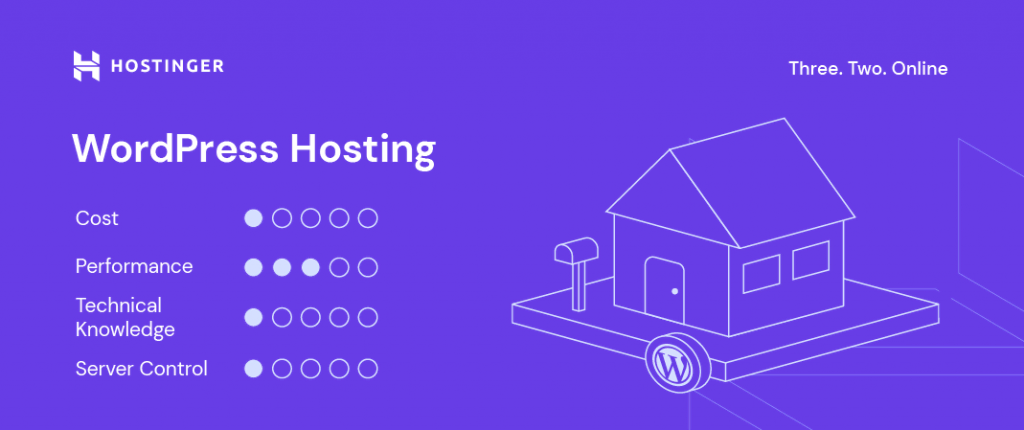 This type of CMS web hosting service provides a WordPress-optimized server environment to help your site load faster and minimize potential issues. However, other types of web hosting still work for websites based on this popular content management system (CMS).
Typically, WordPress-optimized hosting plans come with features such as pre-installed themes, plugins for core functions like caching and security, and other tools.
Pros
Low cost and beginner-friendly
Optimized performance for WordPress sites
Customer support team trained in WordPress issues
Pre-installed WordPress plugins and themes
Cons
Not an ideal type of web hosting for non-WordPress websites
Dedicated Hosting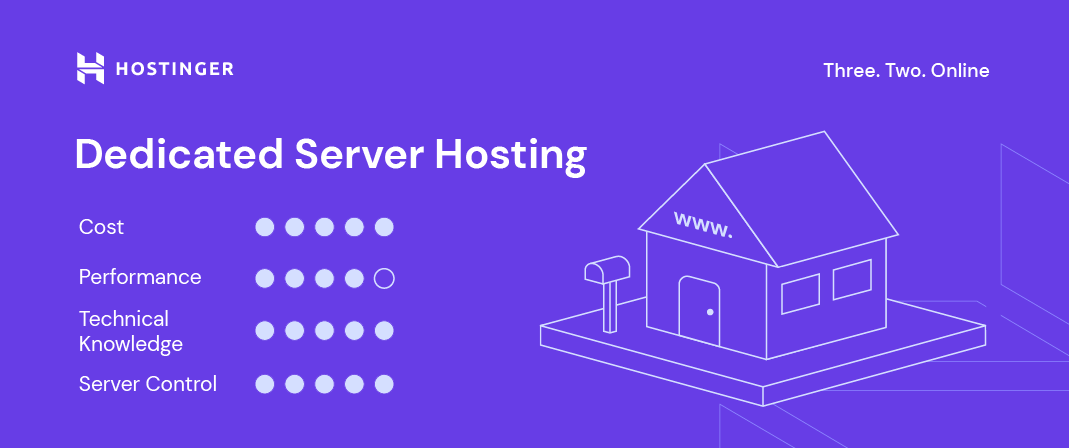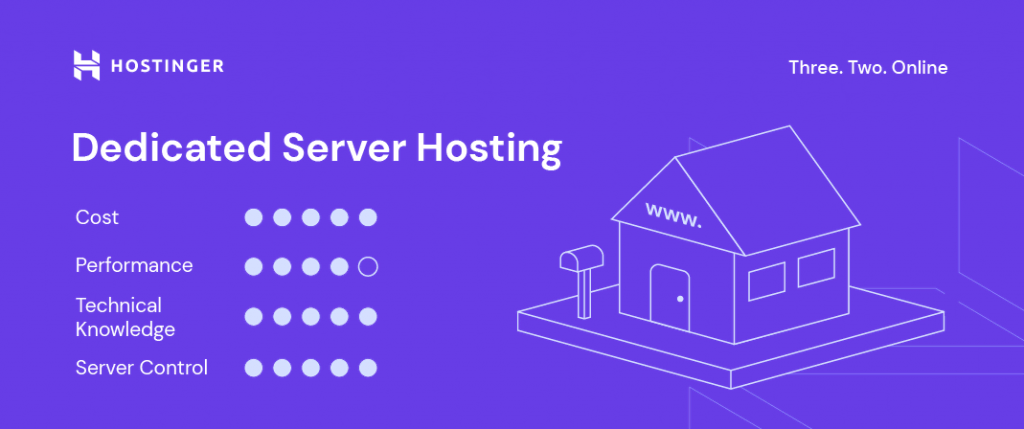 Dedicated hosting designates a physical server for each website. By going with dedicated hosting, you can configure the server, choose your desired operating system and software, and customize the entire hosting environment to your specifications.
Renting a dedicated server is just as powerful as having your own on-site server, but with the added benefit of getting professional support from your web host. Thus, dedicated hosting is ideal for large online businesses that deal with heavy traffic.
Pros
Complete control over the server's configuration
High reliability
Root access to the server
Cons
High cost, more oriented towards large businesses
Technical and server management knowledge is required
How to Choose the Best Web Hosting Service Provider?
As your website grows, you might need additional storage space, bandwidth, and other types of resources. In that case, you may consider migrating to a more advanced hosting solution such as cloud hosting or VPS.
Therefore, make sure to find the best web hosting provider that offers a variety of services so you can upgrade at any moment. Additionally, there are several factors to analyze when it comes to deciding between web hosting providers.
Control Panel
With a hosting control panel, you'll be able to manage the hosting account without having to log in to the web server. Thus, it is best to go with web hosts that provide an easily manageable user interface for users of all skill levels to work with.
Our hPanel lets you manage your files, create a full backup and install associated applications to your website – quickly and efficiently.
Web Host's Uptime
Due to poorly maintained or unstable web servers, frequent and unexpected downtime can seriously impact your business and customers' trust. Hence, ensure the host you select meets the uptime guarantee they advertise.
An uptime guarantee and fair terms of service reflect the commitment of hosting companies to keep their systems up and running.
Technical Specifications
Apart from choosing hosting services with enough disk space, processing power, and bandwidth, you should look for other features that help your website run smoothly.
At Hostinger, our servers operate on CloudLinux and we adopt LiteSpeed technologies to speed them up.
Online Reviews
Research website hosting reviews that provide in-depth information on different web hosting service providers. Most online reviews include information about uptime and speed, so you will be able to see how the provider's servers actually perform.
Security
Ensure that the hosting provider is well-equipped with advanced security measures to help protect your site from malware or DDoS attacks.
They may include access management, malware detection, automated backups, and updates.
24/7 Customer Support
Round-the-clock customer or technical support comes in handy if your website encounters unexpected lags, crashes, or even security breaches. Check if the host also provides support resources such as tutorials and knowledge bases.
Additional Services
A great hosting plan offers excellent value for money if it contains free add-ons and features such as an SSL certificate, a business email account, or a content delivery network (CDN).
What's the Difference Between Web Hosting and a Domain Name?
After choosing where to store your website files, the next step to set up your website is to perform a domain name search and then purchase a domain name. Domain and hosting are two different but equally important things needed to publish your website online.
While hosting is used to store your site, a domain name acts as the website's digital identity, allowing people to easily access it.
A domain name usually consists of a website name and a domain extension such as .com, .org, or .net. Also, there are lots of other options and new domain names like .xyz, which are among the most popular alternatives today.
A domain and a hosting account can be purchased from the same or different providers. Many hosting companies, including Hostinger, offer domain registration as well.
To get started, decide on a domain name, and check its availability.
Domain Name Checker
Instantly check domain name availability.
Once you find a unique domain name, register it with a domain registrar. If it's not the same company you chose for hosting the site, buy a hosting plan and point the domain name accordingly.
Alternatively, buying a hosting plan that includes free domain name registration is a much simpler and more affordable solution.
However, if you are not happy with the service provided, you can migrate the site to a new host. Just make sure that the company supports your website's framework.

Conclusion
There's a lot of decision-making involved in creating a new website, including how and where to host it.
Whether it's an online business, blog, or another type of website, the first step to building your online presence is signing up for a hosting account. Web hosting is a service that enables your website to be available online.
Learning the basics of web hosting and the types of web hosting services will help you find a cost-effective and reliable solution for your website.
When you are considering different services and hosting providers, keep your needs in mind and analyze the advantages and disadvantages of the web hosting companies. At Hostinger, we offer a 30-day money-back guarantee, free site migration, integration with various CMSs, and hosting coupon codes to make our plans even more affordable.
If you have any other questions about hosting, feel free to leave us a comment below or contact our 24/7 customer support team.
What Is Web Hosting FAQ
Is It Necessary to Buy Hosting?
Most often, yes. Going with a web hosting company is the most convenient and cost-effective approach to hosting a website. Top hosts also implement advanced technologies to keep your site safe and secure. However, if you start a blog using WordPress.com, you don't need to buy a hosting plan.
Can I Host My Website for Free? How Does Free Web Hosting Work?
Hosting your website for free is possible, but it has its limits. Paid plans are easier to customize, and have larger bandwidth, storage, and processing power. Free plans don't come with additional features to improve your website's speed or security, either.
How Much Does It Cost to Host a Website?
The total cost of hosting a website varies depending on the provider, the type of hosting, and the desired features you choose. If you are looking for affordable, beginner-friendly options, Hostinger's WordPress and Shared Hosting plans are excellent choices.
How Does Free Web Hosting Work?
Free hosting is a good way to learn the fundamentals of building a website, including file management, website maintenance, and security monitoring. At Hostinger, you can have the best free website hosting that can be an excellent starting point for your online journey.