What is a Content Management System (CMS)?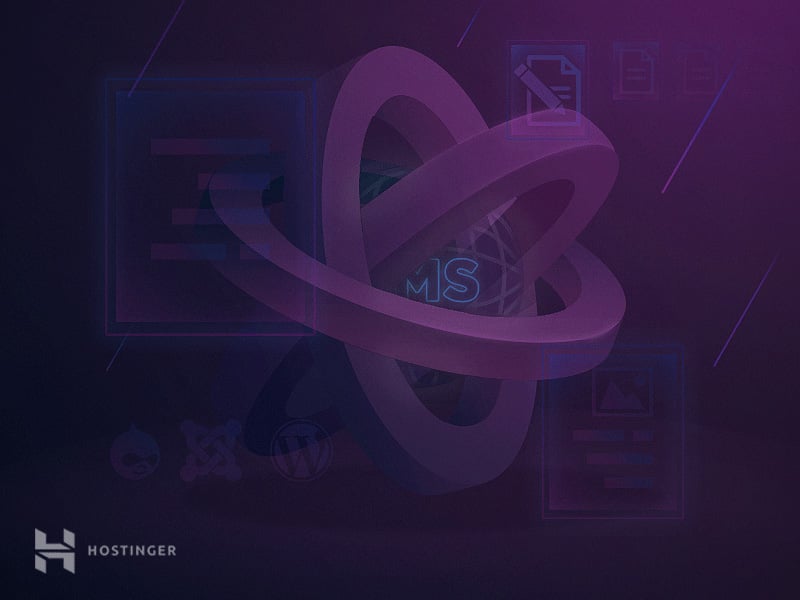 Content Management System (CMS) is a software that runs in your browser and allows to create, manage and modify website and it's content without knowing any programming knowledge. A content management system provides you with a graphical user interface where you can manage every aspect of your website. You can create and edit content, add images and videos, and set up the overall design of the site. WordPress, Magento, and Drupal are some of the most popular CMSs currently on the market.
How Does a CMS Work?
Without a CMS, you would have to use different programming languages to create a website. You would also need to upload your content manually to your server. A modern website consists of two main parts: the front-end and back-end. The front-end is the part your visitors see in the browser: blog posts, images, videos, About and Contact pages, newsletter forms, etc. The textual part is displayed with a standard markup language called HTML, while the design is added with CSS and JavaScript.
The back-end consists of the database and the functionality of a website. The content is saved into the database and it's pushed from the back-end to the front-end whenever a user requests a web page. The back-end functionality can be written in different programming languages such as PHP, Python, JavaScript, and others.
If you use a CMS, there's no need to write either front-end or back-end code. It's a user-friendly application that runs in your web browser. A content management system allows you to use a content editor to create posts, pages, web shops, and push all your content online. You can also configure your settings with the help of drop-down menus, checkboxes, and other controls. For example, here's how the content editor of WordPress looks like: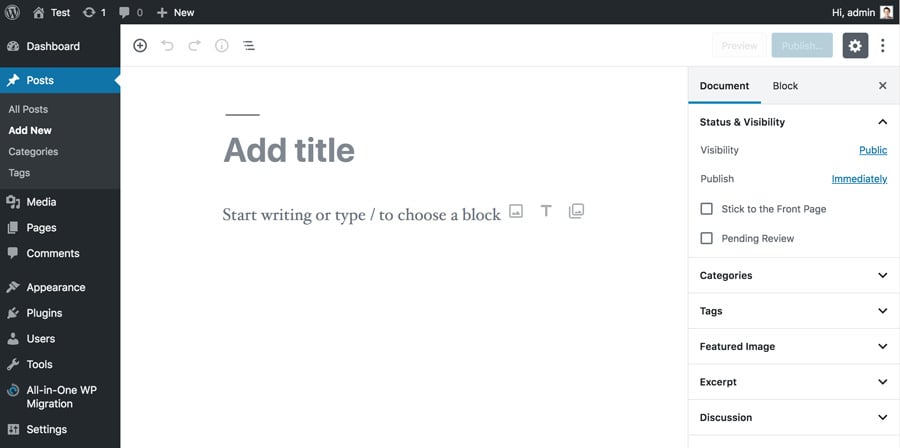 With a CMS, you don't need to manually upload your content, as it manages the whole process for you. When your content is ready, you simply press the Publish button and it instantly appears on the site.
Plugins, Themes and Extensions
Most CMSs let you add extra functionalities to your site in the form of extensions or plugins and themes. By default, a CMS allows you to create posts and pages, and design the overall looks of your website. Additional features such as search engine optimization, security, newsletter and contact forms, or image galleries need to be installed separately. The idea behind this structure is that every website owner has different needs and wants only the features they really need.
You don't need to have any programming knowledge to use plugins or extensions, either. You can usually install them right from the CMS, with just a few clicks. Better still, many plugins and extensions come for free, however more advanced ones may cost money.
For instance, WordPress has thousands of free plugins in their official plugin repo. Probably, you have already heard of the most popular WordPress plugins such as Yoast SEO, W3 Total Cache, WooCommerce, or WordFence Security. There are also plugins with which you can integrate your site with external tools such as MailChimp, PayPal, Eventbrite, and social media sites like Facebook and Twitter.
Popular CMS
These days you can choose from many CMS. Each of them targets different user needs, so everyone can find the one that best suits their own needs. Here are the most popular content management systems currently on the market.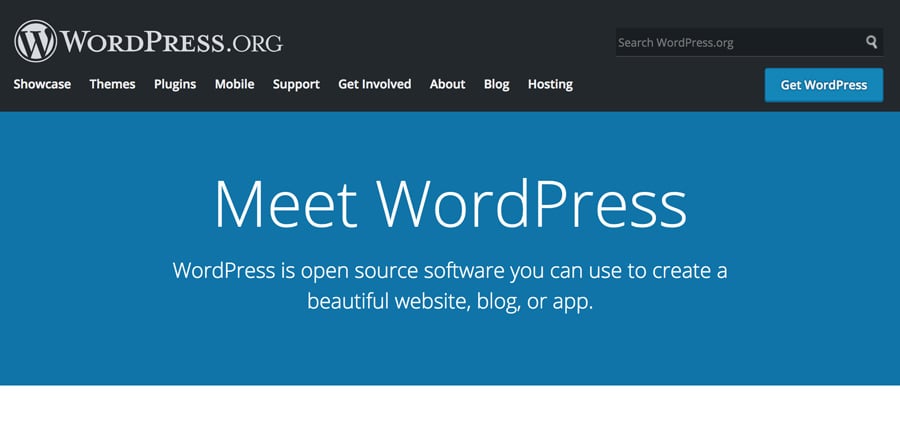 WordPress has been the number one CMS for a while. According to BuiltWith's statistics, this open source CMS currently powers more than 30% of websites worldwide. It started as a blog publishing platform but now it's used for all kinds of websites from artist portfolios to business sites to online shops. WordPress' popularity stems from its incredible versatility and ease of use. There are literally thousands of themes and plugins you can choose from to customize your site according to your exact needs.
Drupal is a professional CMS mainly used by the corporate world. NASA, Tesla, Sony Music, Nokia, and many other notable businesses chose Drupal as their content management system. Drupal sites have an excellent page load time and a strong security. Drupal comes with built-in modules that work out of the box and seamlessly integrates with many popular analytics, marketing, and eCommerce tools.
Want to create a website with Drupal? See our Drupal tutorial to get started.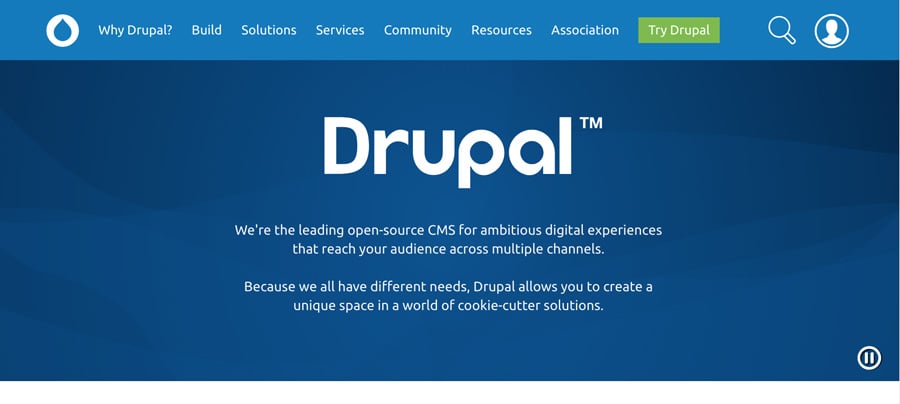 PrestaShop is an increasingly popular content management system for running online shops. It's currently used by around 270,000 merchants worldwide. PrestaShop is an excellent solution for small and medium-sized eCommerce businesses. It allows you to quickly set up your online store, customize its design, and upload products. PrestaShop puts a great emphasis on complying with the law. You can configure taxes depending on location, make your checkout process compliant with local laws, and more.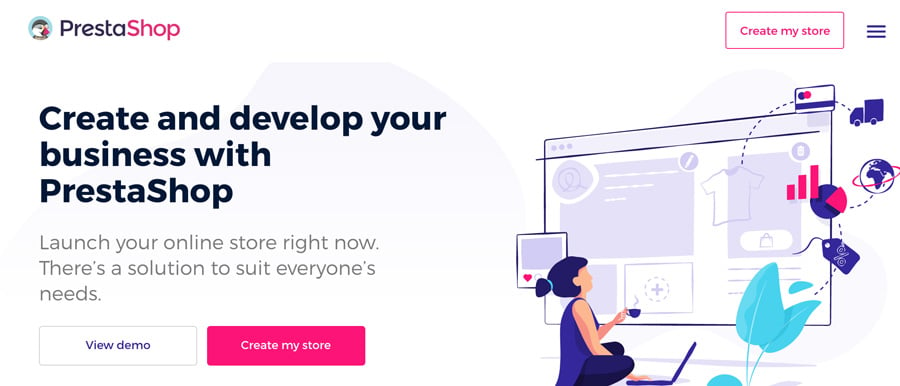 Magento is a popular eCommerce platform used by companies like Samsung, Nike, and Ford. It allows you to build a complex online shop with all kinds of eCommerce features. You can create professional product and delivery pages, manage inventories, orders, and shipping, and more. With Magento, you can also add coupons, landing pages, up-sell and cross-sell campaigns to your online store.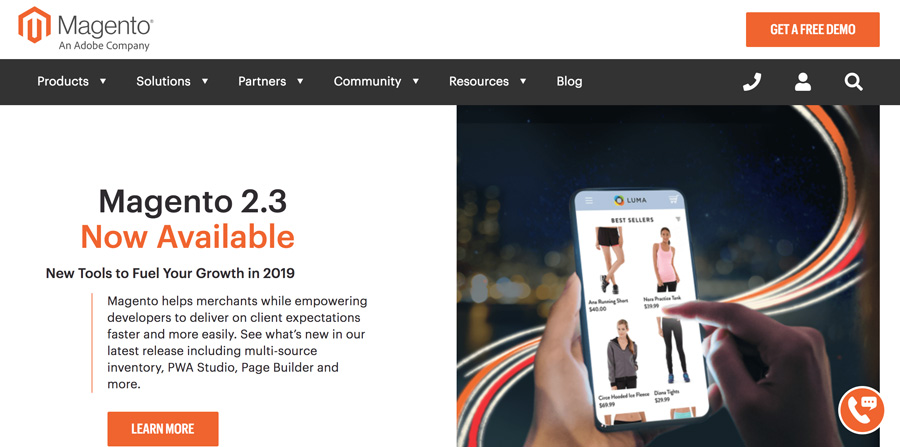 Pros and Cons of Using CMS
A content management system is an ideal choice for many website owners, however, it can also come with some downsides. Here are the most important pros and cons of using a CMS.
Pros:
Using a CMS doesn't require any programming knowledge.
You can easily install and update both the CMS and the related themes, plugins, and extensions.
You can choose from hundreds or thousands of pre-designed themes.
You can add extra functionalities using plugins or extensions, such as SEO, security, newsletters, social media buttons, and web shops.
CMSs come with user management functionalities. You can quickly set up different user roles such as subscriber, author, editor, and administrator.
Most CMSs have a huge community around them, including support forums, online chats, Slack channels, meetup groups, and more.
CMSs are well-documented. You have access to online docs, FAQ pages, theme and plugin descriptions, tutorials, and videos.
Most CMSs come for free, so you only have to pay for the domain and web hosting.
Cons:
Pre-designed themes sometimes look cookie-cutter. Although themes are customizable if you choose a popular one you may bump into many other sites with a similar design.
CMSs have less flexibility than hand-coded websites. If you need a unique feature you may have to hire a programmer to implement it.
Websites using popular CMSs are more frequently targeted by hackers. However, the security risks can be highly reduced by using a security plugin.
CMSs can slow down websites. Pages usually don't load as fast as on a hand-coded website. In most cases, to improve page load times you will need to use additional plugins and extensions.
How to Choose the Right CMS
When choosing a CMS, you need to consider many things. A CMS that works excellently for one website might not perform that well for another one. It's always useful to listen to the experience of others but you also need to assess your own needs before making a choice.
Here are the most important questions you need to answer:
What type of website do you need? For an e-shop, choose an eCommerce CMS such as WooCommerce or Magento. For a blog or small business site, WordPress can be an ideal choice. For a corporate site for a mid-sized business, you can also consider Drupal.
What kind of design do you want? Before choosing a CMS, take a look at how the themes they offer look like. Do they have any themes you can imagine for your own website?
What kinds of functionalities do you need? Check out if the CMS has plugins or extensions for everything you need, including security, caching, marketing, social media sharing, ads, and SEO.
How much you can spend on your website? You have to pay for the domain and web hosting. Although most plugins, extensions, and themes are free, some more advanced ones do come with a price tag. Calculate the overall cost you have to pay each year.
Will you have any extra needs in the future? For instance, if you plan to create an online portfolio choose a CMS that have a decent selection of portfolio plugins.
Still not sure which one to choose? See our list of the best CMS platforms to start a website.
How to Start Using a CMS
Before you start to use a CMS, there are a couple of other tasks you need to do. First, you will need a web hosting company that provides you with a web server. The web server stores all the content, files, and databases necessary for your website. Your CMS is in constant contact with the server, uploading and downloading files whenever you add new content or a user loads your website in the browser.
You need to choose a web hosting company that supports the CMS you want to use. For instance, Hostinger has different WordPress plans that allow you to easily set up a WordPress site on our servers.
After you have found the best web hosting company, you need to choose and register a domain. The domain is the name of your website that users enter into their browser. Usually, you need to purchase the domain separately from your hosting plan. Sometimes, you can also get a domain for free, such as with our Premium and Business hosting plans.
After you chose the hosting company and purchased the domain and a hosting plan, you can start to set up the CMS from your hosting account. These days most web hosts, including Hostinger, provide you with one-click CMS setups. So, the whole process is automated and only takes a few minutes. When the CMS is up and running, you can access your site under your domain name and start to add content and customize the design.
Conclusion
A CMS makes it possible to create and run a modern website without any programming knowledge and at a minimal cost. Besides its ease of use, the main appeal of a CMS is its customizability. With pre-made themes, plugins, and extensions, you can pick the design and features that best suit your needs. Content management systems make a successful online presence possible for anyone, let it be an individual artist, a startup, or an established company.