How to Install WordPress Theme: 3 Efficient Methods + Tips for Switching between Themes
WordPress is known to be a highly customizable and flexible CMS. The fact that there are 8,600+ WordPress themes with generic or niche-specific designs on the official directory plays an important role in that.
Installing the right WordPress theme is an excellent way to maximize your website's potential. In addition to creating a visually appealing design, it helps strengthen your brand and improve the visitors' experience.
In this article, you'll learn all about WordPress themes – what they are, what to consider before installing one, three different methods to install one on the site, and how to switch between themes.

Video Tutorial
Want to know how to install a WordPress theme? Find out in our tutorial.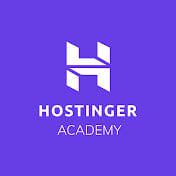 Subscribe For more educational videos!
Hostinger Academy
Subscribe
What Is a WordPress Theme
A WordPress theme is a bundle of modifiable template files that, once installed, helps to establish consistent design throughout a WordPress site without altering its core features. It typically doesn't affect your content, rather altering the way it is displayed for site visitors.
WordPress themes cater to all sorts of user preferences and needs. Each comes with customizable designs, with the option to modify its code, insert widgets, or add plugins.
There are WordPress themes for every kind of site – from eCommerce websites to food blogs. Generic themes are also available if you prefer them over niche-specific choices.
Find themes on the official WordPress theme directory or third-party theme marketplaces such as ThemeForest and ThemeIsle.
Things to Consider Before Installing a WordPress Theme
Finding the perfect theme for your website is essential due to a variety of factors besides the website's appearance. It can also affect the site's overall user experience and how people perceive your brand:
Establish a good impression. You only have a few seconds to convince people to stay on your website. A beautiful and eye-catching theme is crucial in doing so.
Strengthen credibility. Having a great site appearance makes you look professional, reliable, and detail-oriented.
Enhance the user experience. An attractive and well-organized website helps visitors easily find the information they're looking for.
Increase dwell time. If your website is both easy to navigate and good-looking, visitors are more likely to stay and explore more of your website's content.
To achieve these results, however, there exist some factors that one should consider before installing a theme on WordPress.
Choosing the Perfect Theme For Your Site
There are countless WordPress themes, either official or from third-party providers, such as Neve and Astra.
Finding and choosing the right one can be tricky. However, there are certain criteria you should consider to narrow down your choices.
The official WordPress theme directory has a feature filter to help you find your new theme. Simply select filters according to your needs and hit the Apply Filters button.
Some themes are made for specific niches, such as blog themes, portfolio themes, and podcast themes. Others are more generic and multipurpose.
Therefore, the first thing for you to decide is the focus of your website. We suggest picking something that defines its aim the best.
Another aspect to consider is the design, as it concerns elements like colors, layouts, fonts, and ease of navigation.
Checking Compatibility
No matter how beautiful it might be, a theme needs to be compatible with your website so you won't run into technical issues later on. Take these factors into account:
Flexible. Choose a theme you can easily improve or modify.
SEO-friendly. Themes can affect SEO in many ways. The two most important factors are fast loading time and proper HTML format.
Plugin-friendly. Make sure your theme is compatible with the plugins you plan on using on the site.
Cross-platform. The theme should function and be displayed correctly across different browsers and be mobile-friendly. After all, most people use more than one device to find the information they need.
Free vs Premium WordPress Themes
Contrary to popular belief, a premium theme is not always better than a free one. Each has its own pros and cons.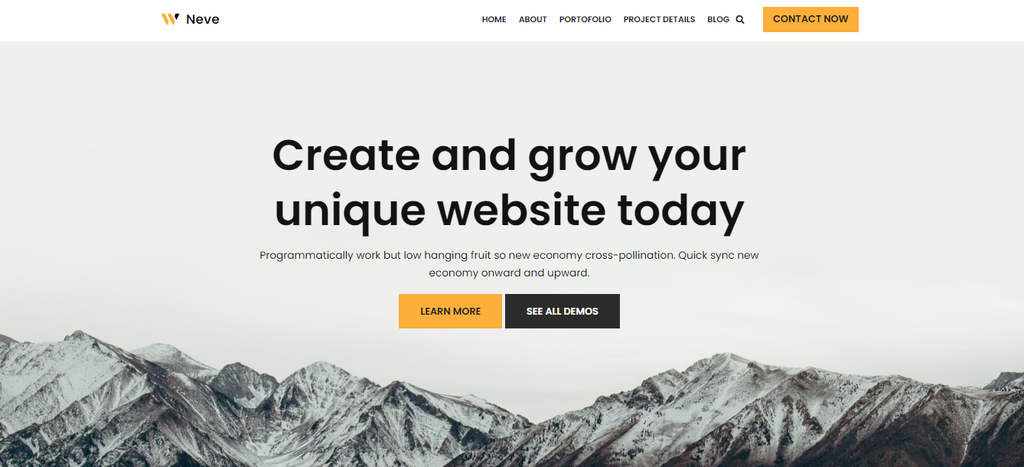 Free WordPress themes are a great solution for users who want to experiment with different designs before committing to a theme. Additionally, they are ideal for small or personal websites with limited resources. Other advantages include:
Budget-friendly. If you don't like it, just switch to another one – no need to pay a single cent.
Compatible with official WordPress plugins. Free themes found on the official WordPress theme repository work seamlessly with WordPress's official plugins.
Approved by WordPress. Free themes featured on WordPress's official directory have gone through a rigorous review process.
Depending on the appearance and functionality you have in mind for the website, free WordPress themes may not fully fulfill your needs:
Not unique. Free themes are used by many people, making it difficult for your site to stand out.
Limited features. The themes' features are typically very basic and significantly less extensive than the ones found on paid themes.
No personalized support. When you run into problems with the theme, you typically only get to rely on documentation and user forums instead of getting help from a dedicated support team.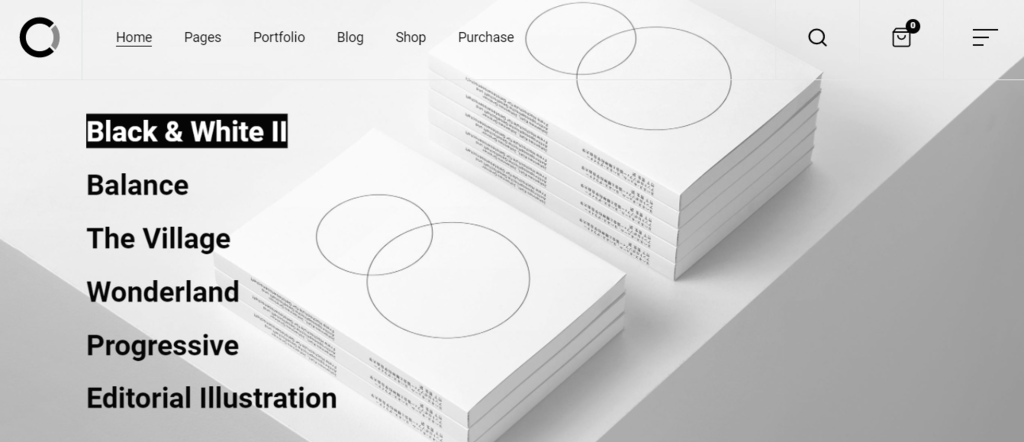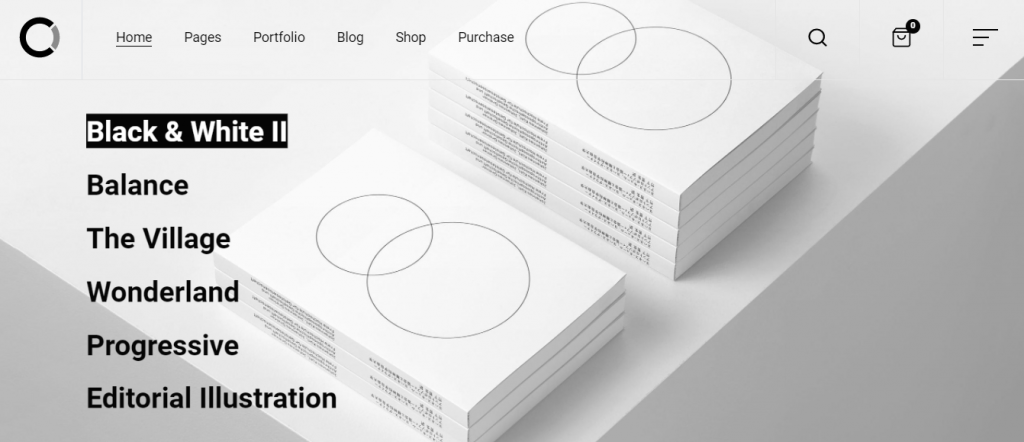 If you do have the budget for a premium WordPress theme, you'll have access to:
Frequent updates. The theme developer will update it constantly with various improvements and bug fixes.
Dedicated support. The theme development team will help answer your questions and fix various technical issues as part of their service.
Extensive customization options. Premium themes usually provide more features to customize the website according to your liking.
Using premium WordPress themes also has some disadvantages, such as:
Higher costs. If you decide the theme you purchased is not the right one, you cannot get the money back. Also, you might have to pay for extensions and integrations with other services.
No quality guarantee. Premium themes from different creators may vary in quality and plugin compatibility, especially since they are not officially reviewed by WordPress.
Steeper learning curve. Learning how to set up and configure premium themes properly may take longer than free ones since there are more features to explore.
We recommend using free themes on sites whose content may cover a wide range of topics, such as blogs, personal and business websites.
For sites whose content can be narrowed down to a specific niche, we recommend using premium themes that you can fully customize to represent the uniqueness of your content and brand.

3 Ways to Install a WordPress Theme
After weighing your options and picking a WordPress theme, the next step is installing it.
In this tutorial, we will cover three different methods to help you install a WordPress theme: using the WordPress directory, doing it manually, and using an FTP client.
1. Through the WordPress Theme Directory
Note that this method is only limited to the free selections in the official WordPress theme directory. If you are going to use a free theme, follow these steps:
From your WordPress dashboard, hover above Appearance and click Themes. Next, click the Add New button on the top of the page.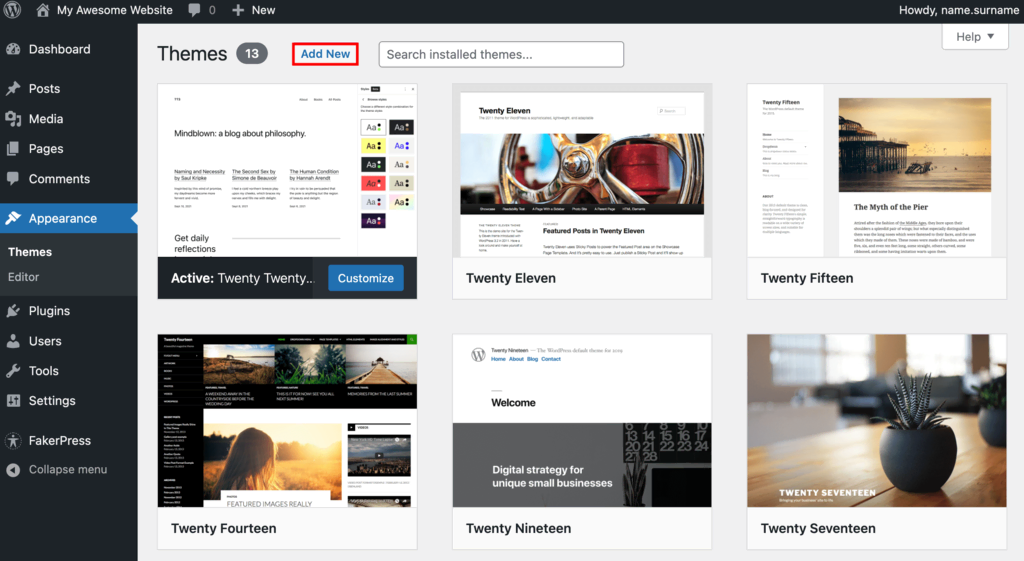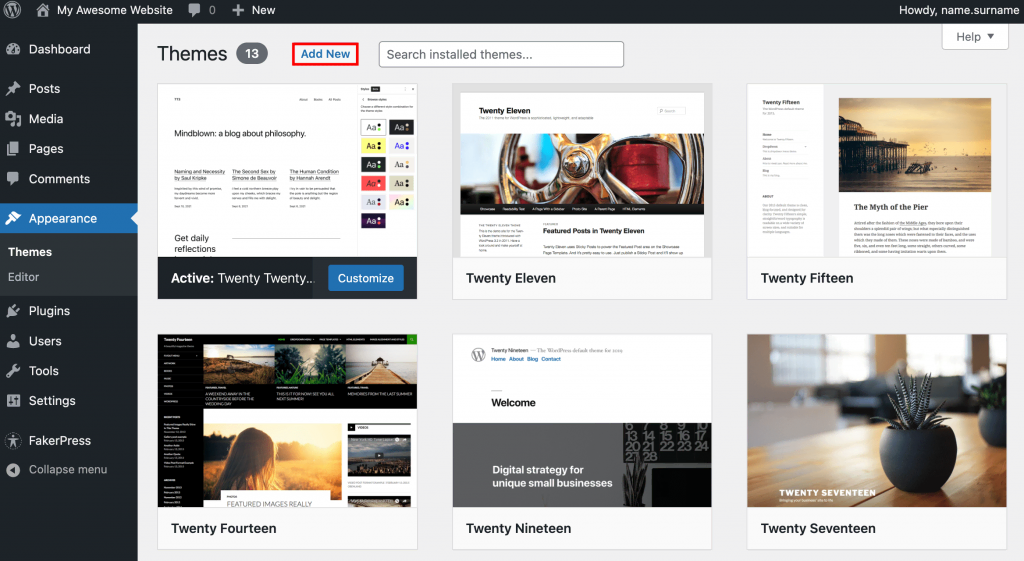 Click the Feature Filter button to help sort the options. Users can also use the search box to look for specific themes.
After specifying your criteria, press Apply Filters.
Hover above your theme of choice. Click the Install button to begin the installation process.
Next, you have the option to get a preview of your website using the theme by clicking the Live Preview button. If you want to use the theme straight away, click Activate.
You will see a notification telling you the new WordPress theme has been activated. Click Visit site to check how everything looks.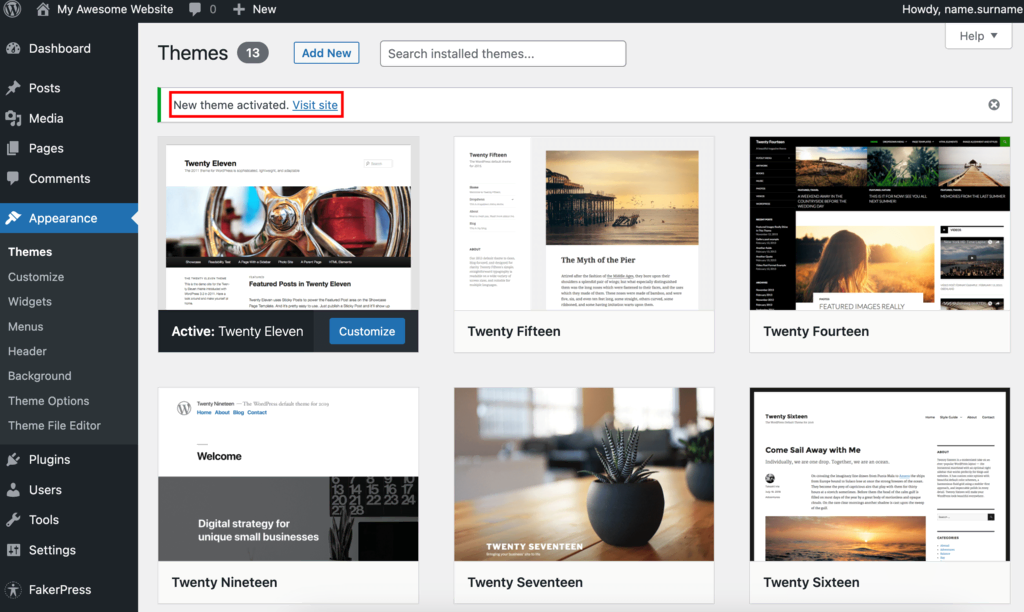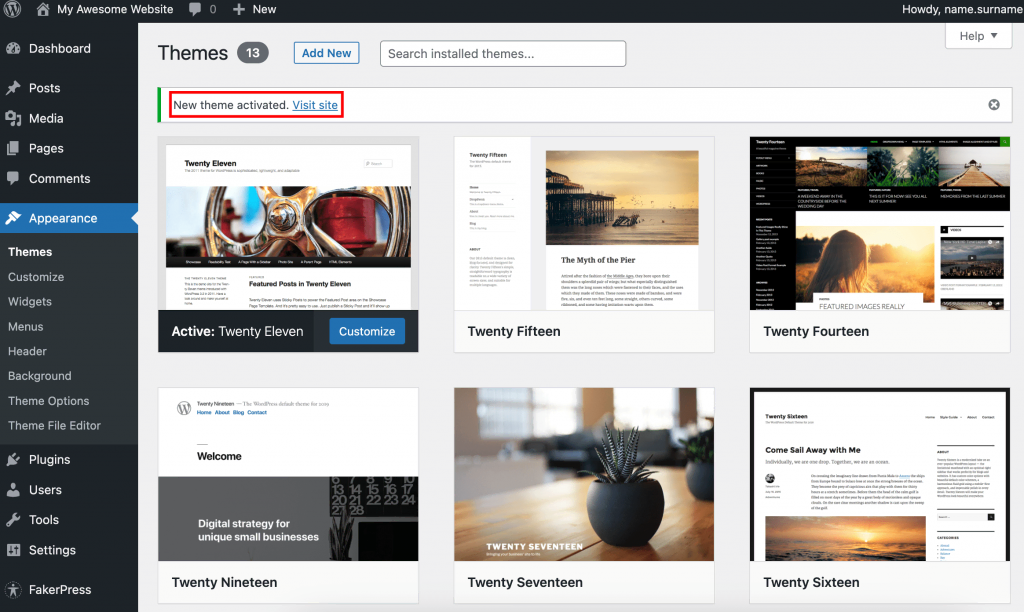 2. Manually Uploading to WordPress
This method will teach you how to upload a theme in WordPress manually. You will first need to download the theme as a .zip file from external sources. Then, take the following steps:
Follow the first step from the previous method, but click the Upload Theme button after you get to the Add Themes page. Next, click Choose File.


Locate your theme's .zip file. For this tutorial, we're going to use Hestia from ThemeIsle. Click Install Now and wait for the uploading process to complete.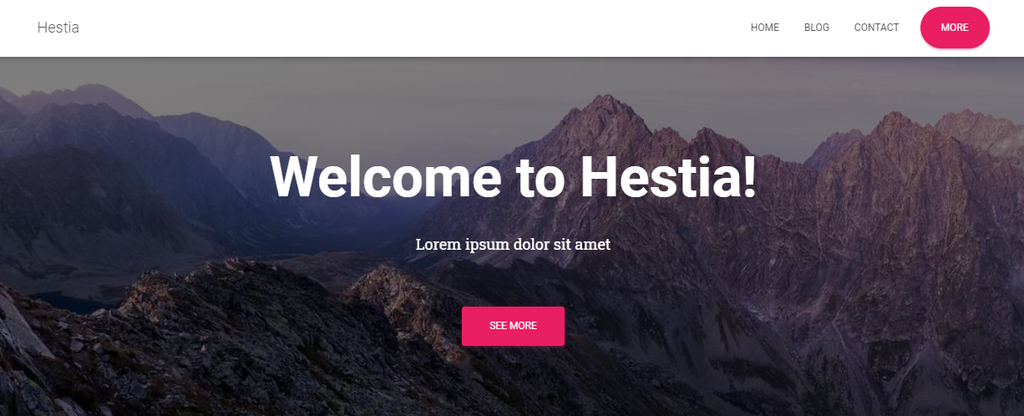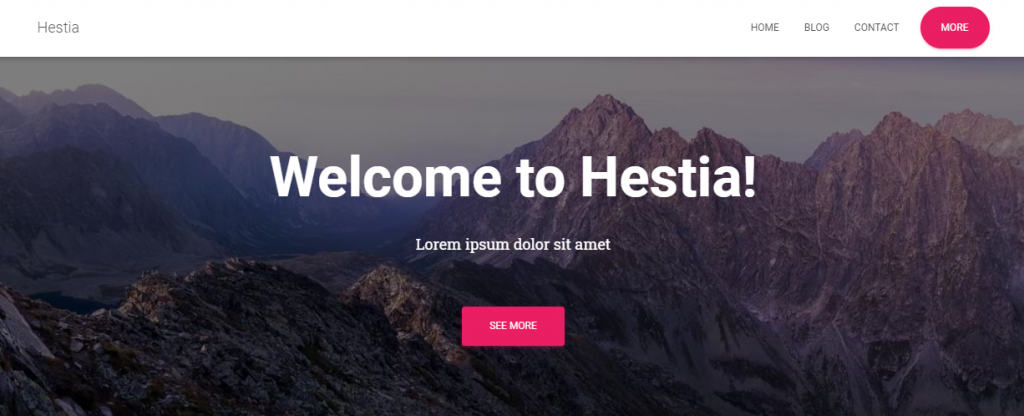 Click Live Preview to see how your site might look like once the theme is activated. Click Activate if you want to use the theme immediately.
Some third-party themes require extra tweaking to function as advertised. You can visit the theme provider's website to check its documentation or to get technical support.
3. Installing a WordPress Theme via an FTP Client
A File Transfer Protocol (FTP) is a protocol that facilitates file exchange between computers and servers on a network.
This tutorial is going to teach you how to add a theme to WordPress with FileZilla. Make sure to download and install FileZilla first.
This option can be especially helpful if the upload limit set by your hosting provider is not large enough to upload your theme.
If you're using one of Hostinger's plans, keep in mind that the PHP upload limit varies according to the service. The default limit in our Single Shared Hosting plan is 128 MB, which should be more than enough to cover most WordPress themes.
However, if you ever feel the need to switch a hosting plan to increase your limits, consider our WordPress hosting enterprise plans.
Once the FTP client is installed, do the following steps:
Step 1. Connecting an FTP Client
For the transfer to work, set up a connection by following these steps first:
On your hPanel, find FTP Accounts and click on it.
You will see your FTP credentials on the page. Find your FTP hostname, FTP username, and FTP password. To generate or change the password of your FTP account, click the Change account password button.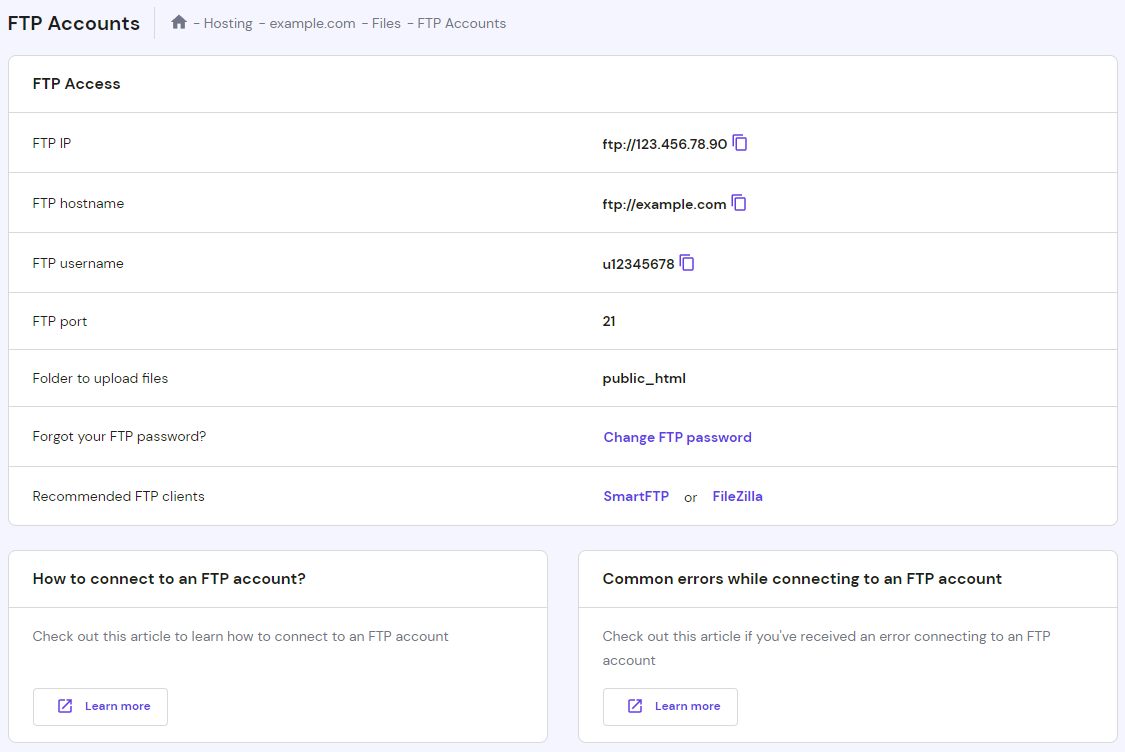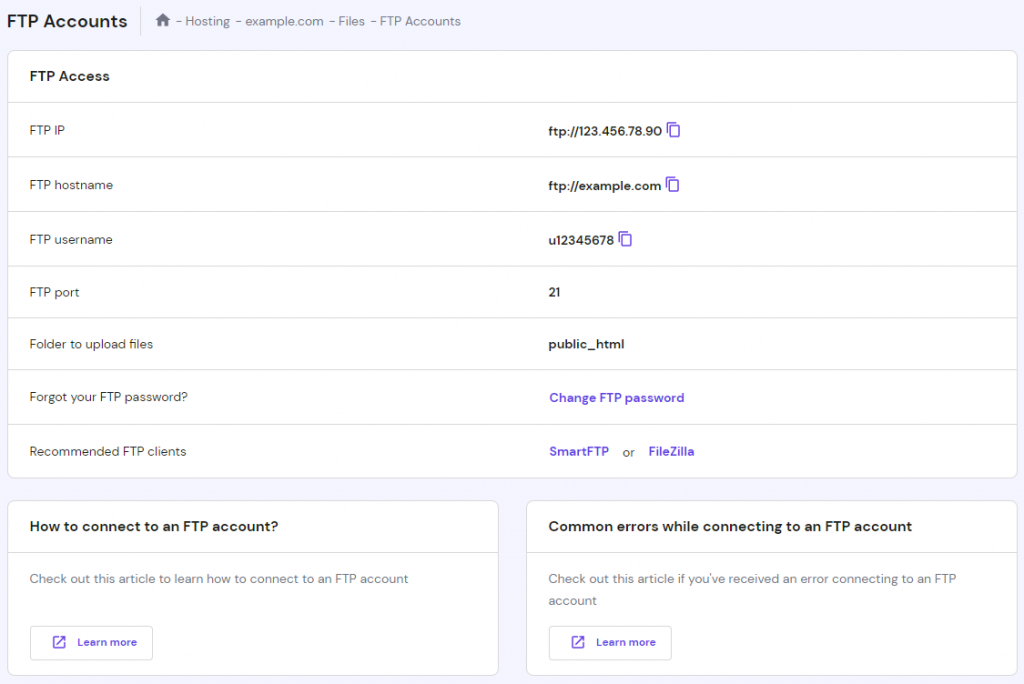 3. Open FileZilla, go to File → Site Manager. You can also access it by pressing Ctrl+S on your keyboard for Windows and CMD+S for Mac.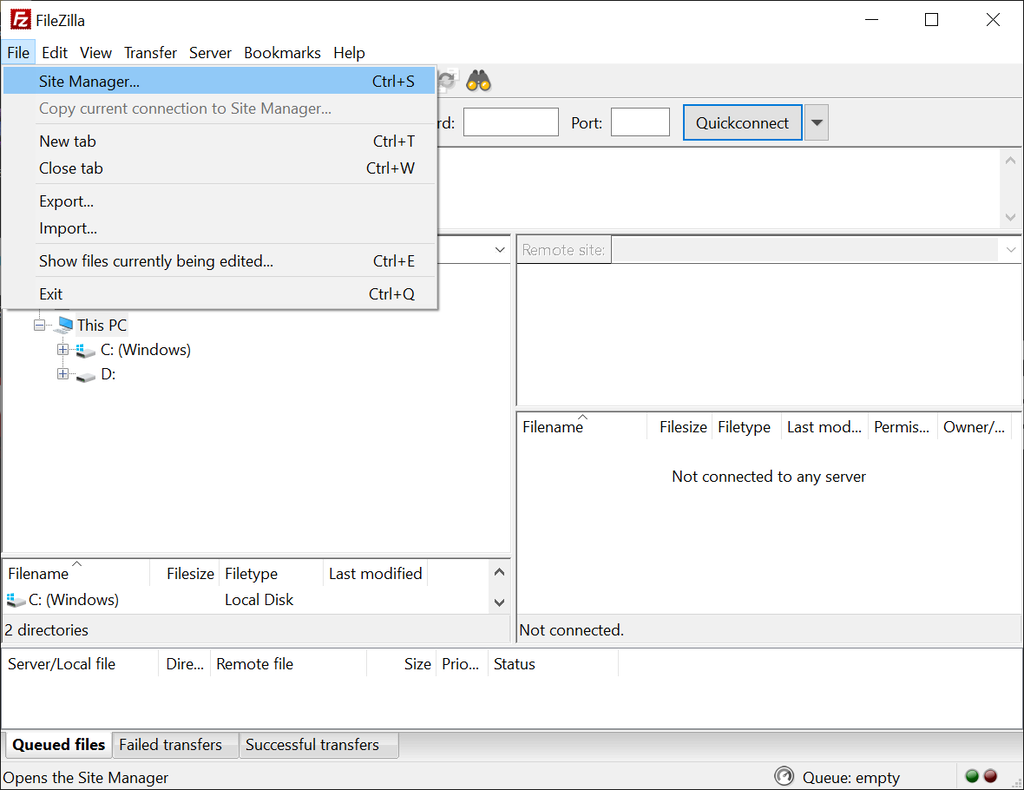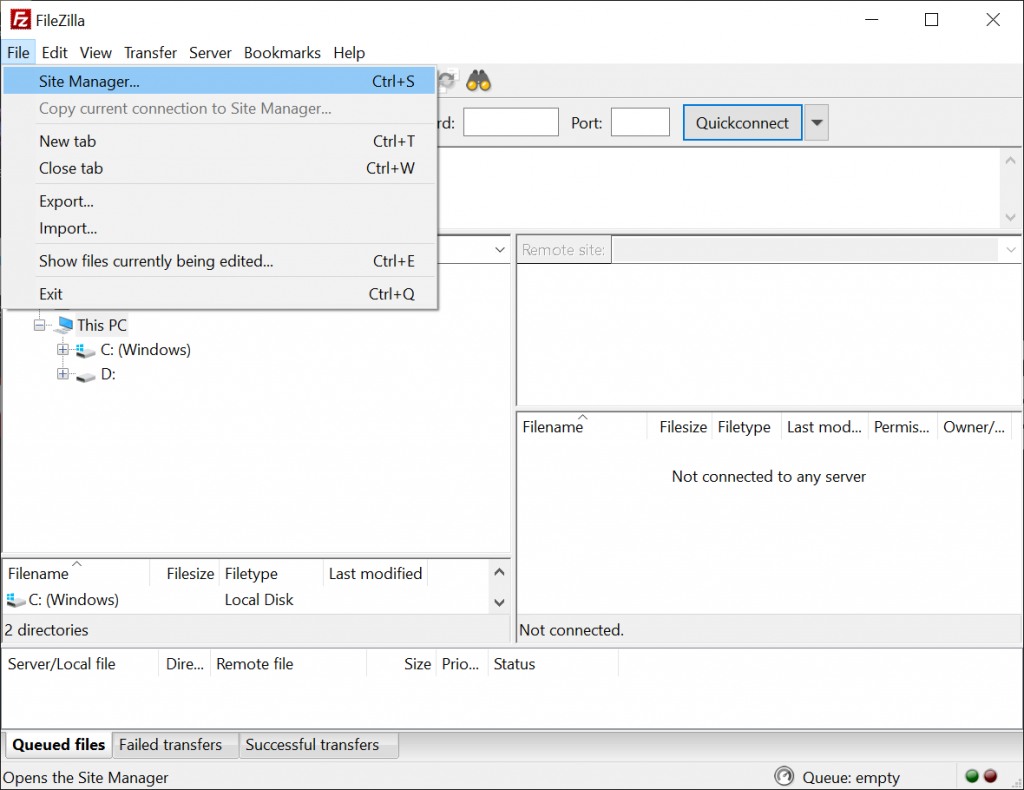 Select New site on the pop-up to make a new connection. Fill in the fields with the information you collected in step two. Leave the settings as they are and press Connect.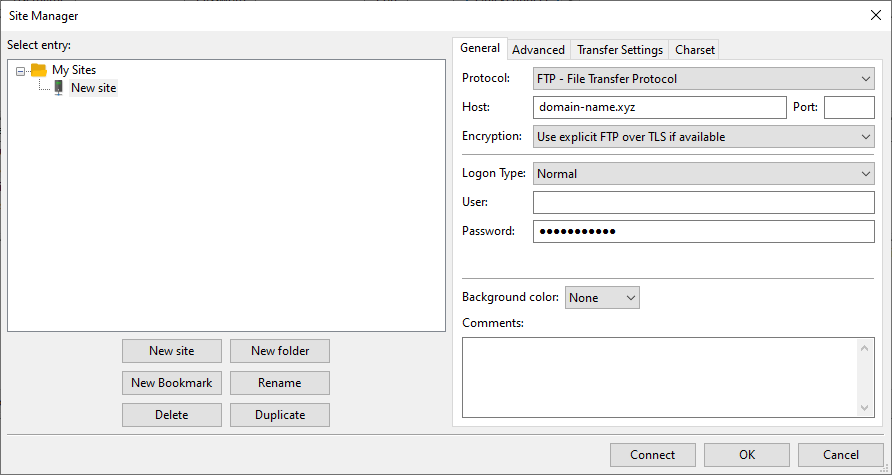 Step 2. Uploading WordPress Theme via FTP
Wait until the server returns a positive response and continue with the following steps:
Locate wp-content inside your WordPress directory, and open it.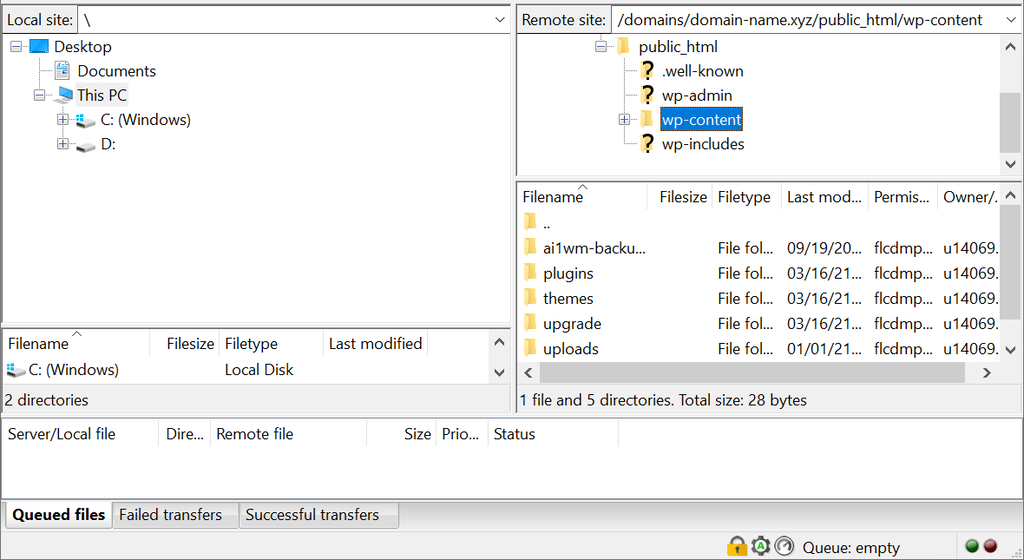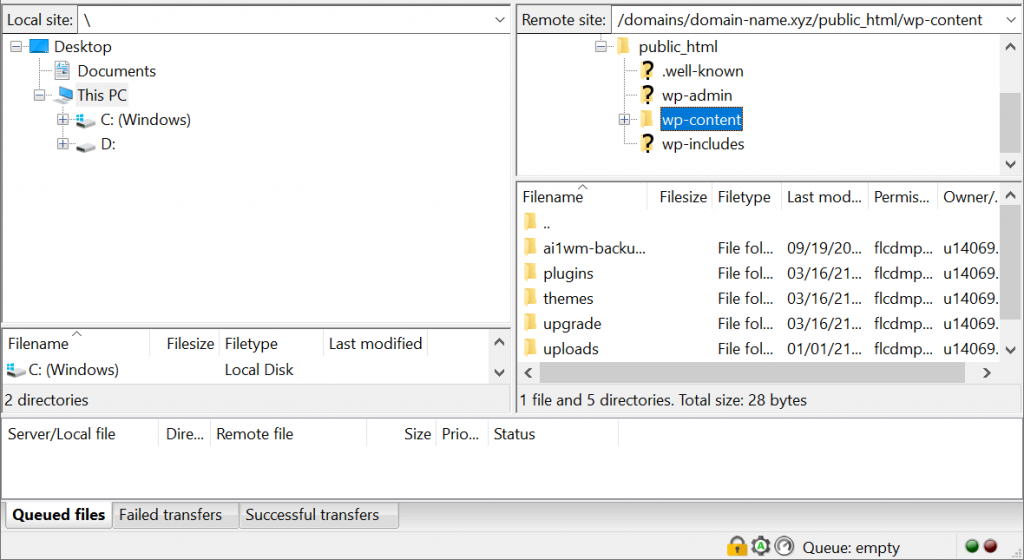 Navigate to the themes folder. Inside the folder, you will see all of your installed WordPress themes listed.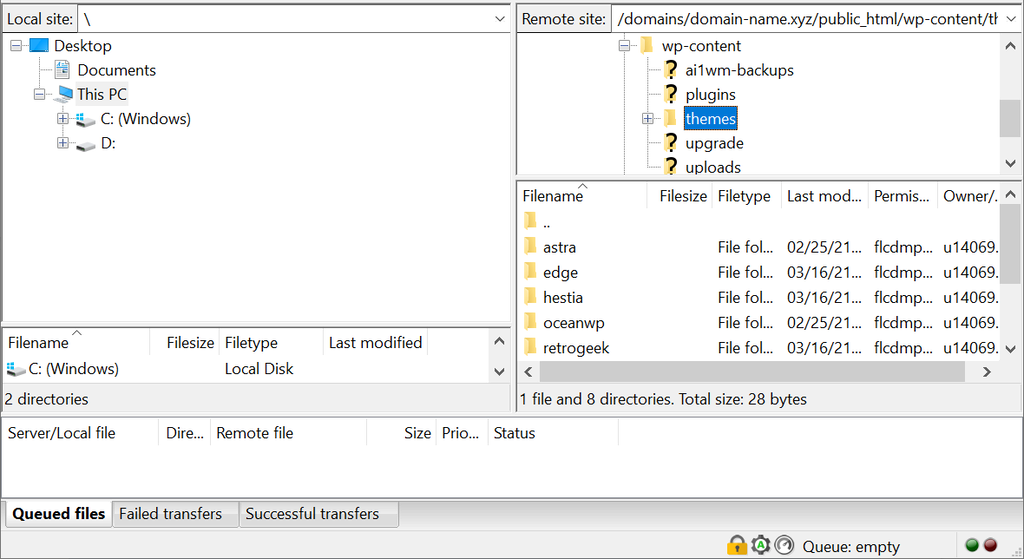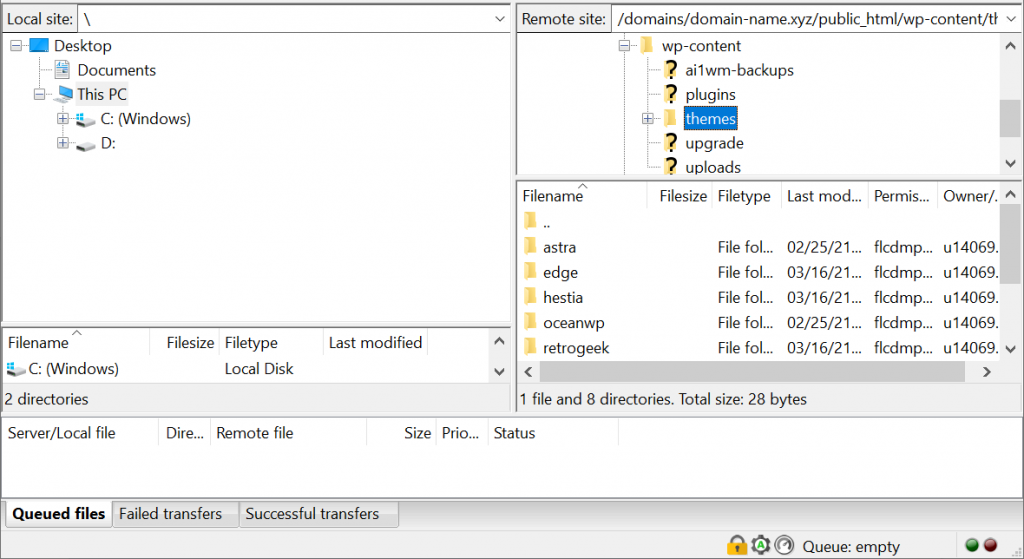 For this demonstration, we'll be using Alternative from Theme Freesia. The theme will be downloaded as a .zip file, so make sure to unzip the file first. On your computer, locate the template files extracted from the .zip file.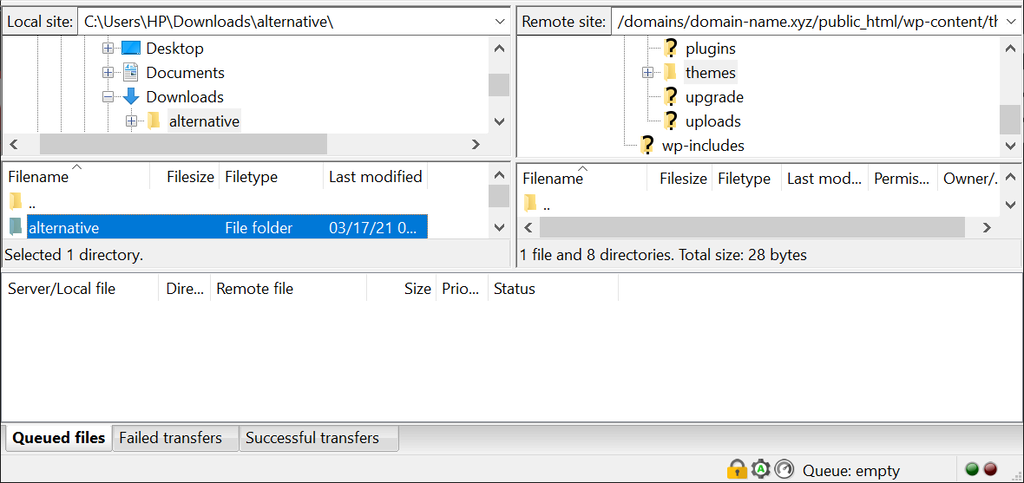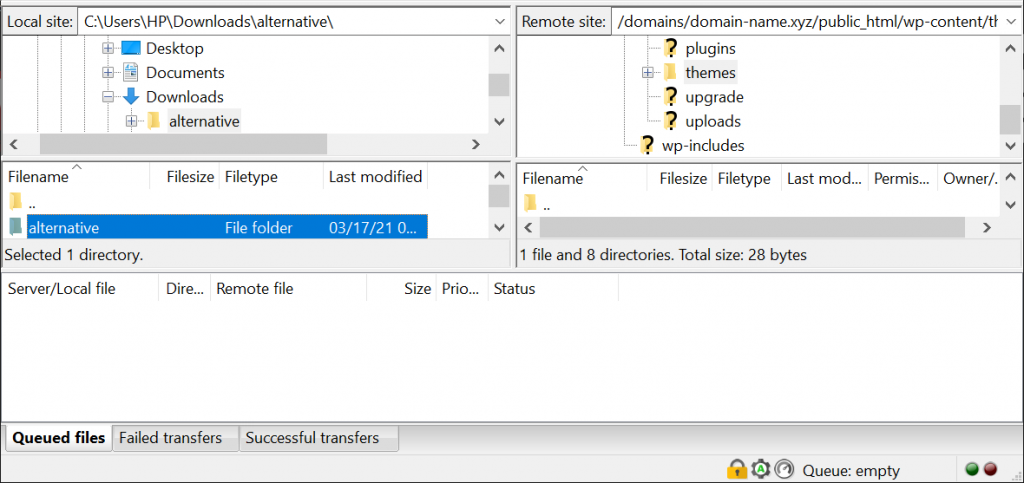 4. Select the folder containing the template files. Drag and drop it into the themes folder. Your new theme will appear on the list of WordPress themes contained in the themes folder.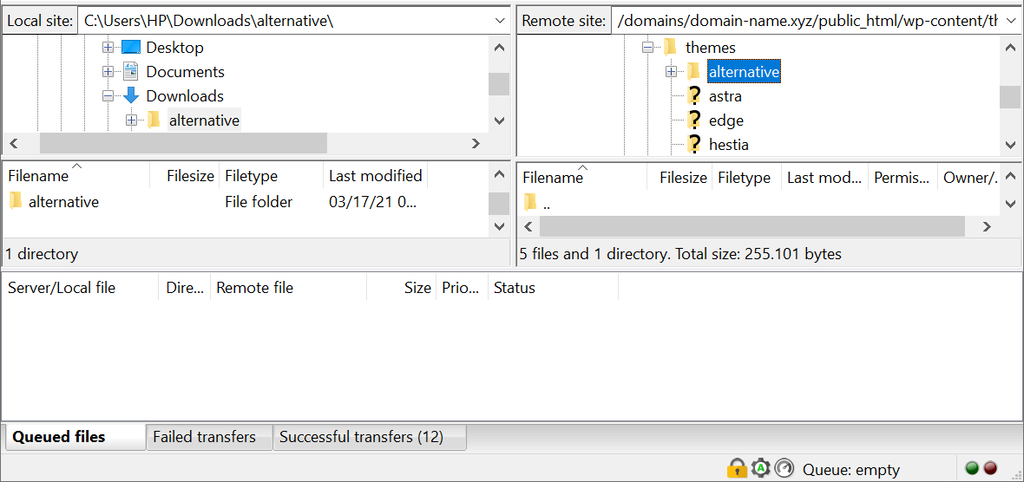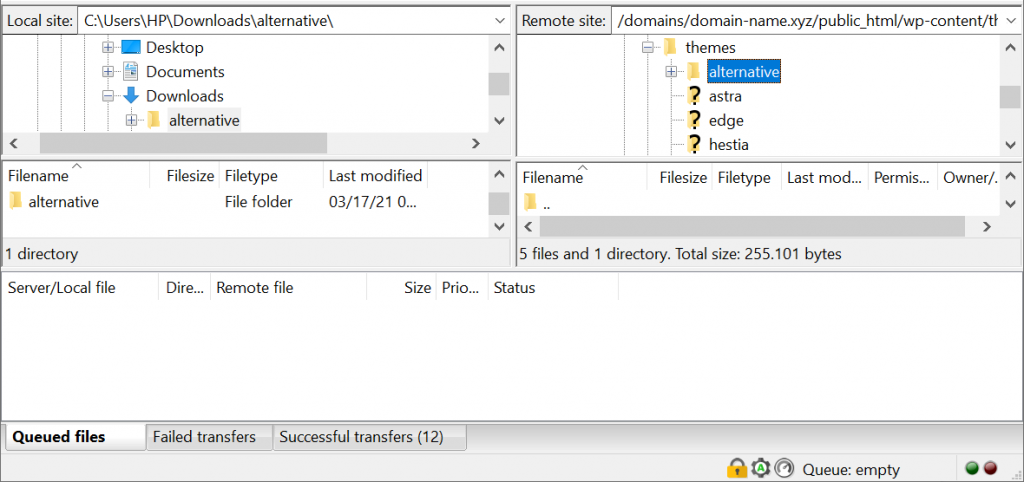 To see if it works, go to your WordPress dashboard, click Appearance, and then choose Themes from the drop-down menu. Search for your new theme on the list of installed themes.
Hover over the new theme. Click the Live Preview button to get a preview or demo of how your site will look with the theme. Click the Activate button to use the theme.
Switching Between WordPress Themes
Switching between the WordPress themes you installed in your library only takes seconds. All you need to do is to follow these steps:
Access your WordPress dashboard and navigate to Appearance → Themes.
Scroll to find the theme you want and click Activate. Click Visit site to check out the look of your new theme.
Changing WordPress Themes via phpMyAdmin
You can change the WordPress theme design and features by editing its code. However, if done incorrectly, you can encounter various errors.
In the worst-case scenario, you won't be able to log in to the WordPress dashboard to change your theme and get your site running back again.
Luckily, there is an alternative solution: you can change the WordPress theme via phpMyAdmin.
Important! Before making changes to your MySQL database, we suggest that you backup your files first.
Here is how to change a WordPress theme using phpMyAdmin:
Search for the File Manager on your control panel.


Click on the application and then find wp-config.php using the search feature.
Double click on the file. Search for the line "The name of the database for WordPress." Read the line below it, find the string of letters and numbers beside "DB_NAME", and save it for later.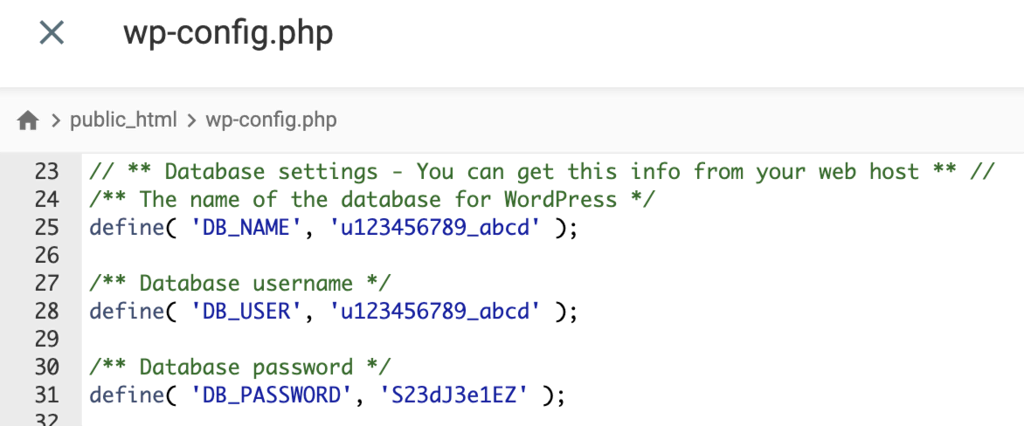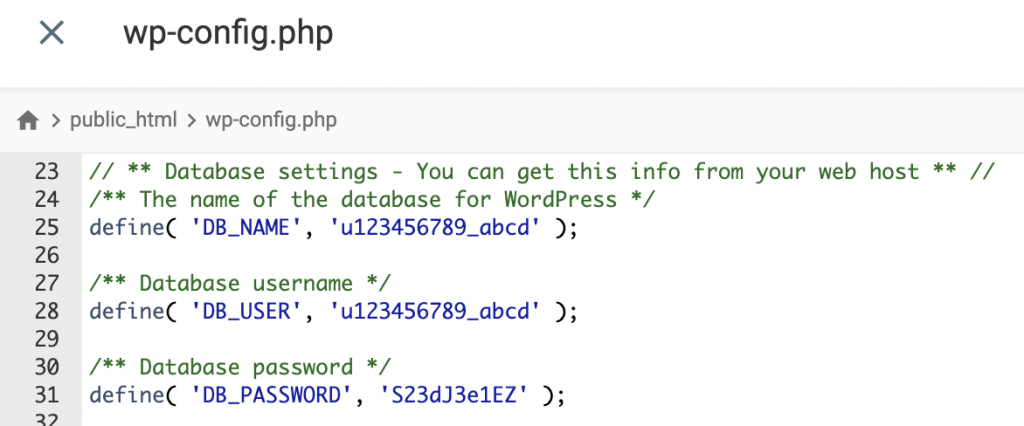 Next, find the names of your existing WordPress themes. To do this, navigate to the wp-content folder to open the themes subfolder.
Backtrack to your control panel and search for phpMyAdmin. Click on it.
On the next page, you will find a list of your active databases. Press Enter phpMyAdmin on the one you located in step three.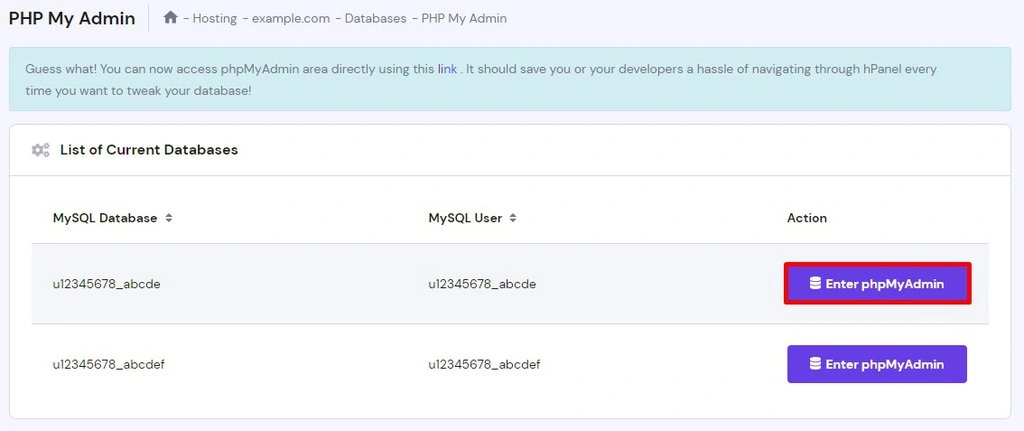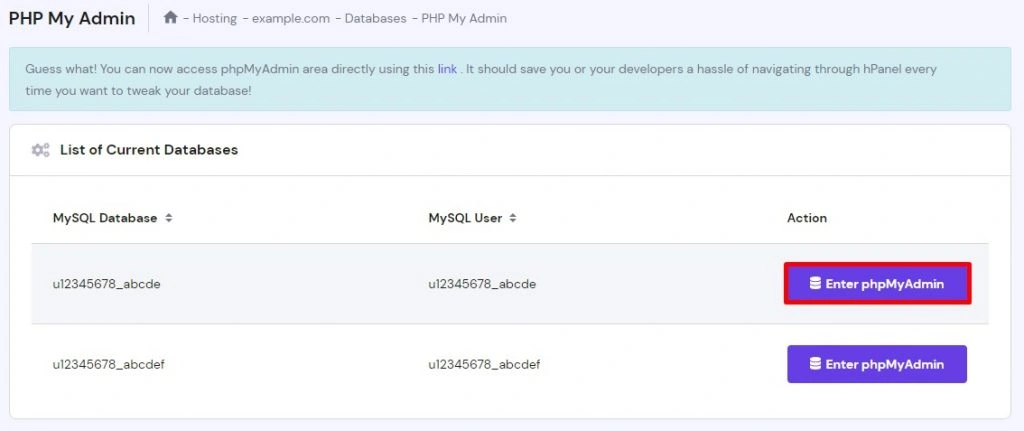 Double click on the wp_options to reveal another table.
Scroll down, go to page two by clicking on the single right arrow. Next, search for the template and stylesheet.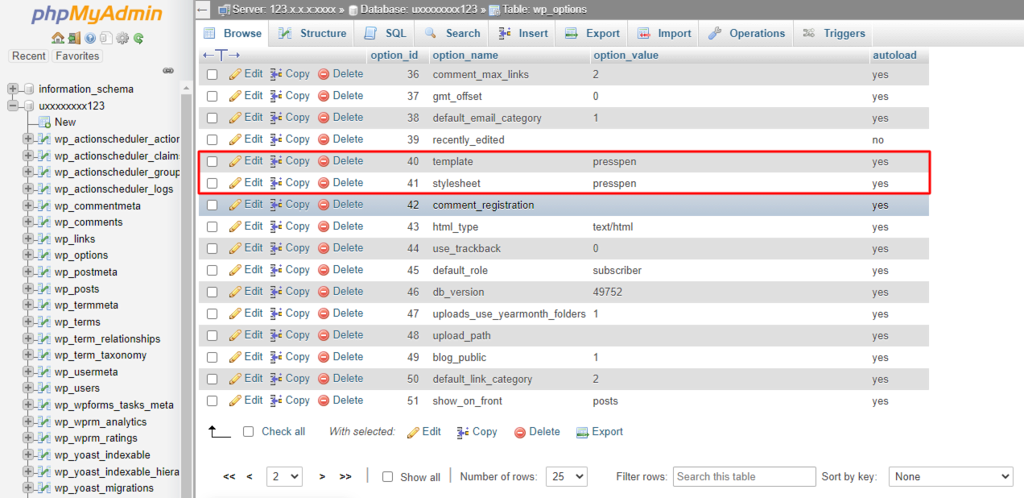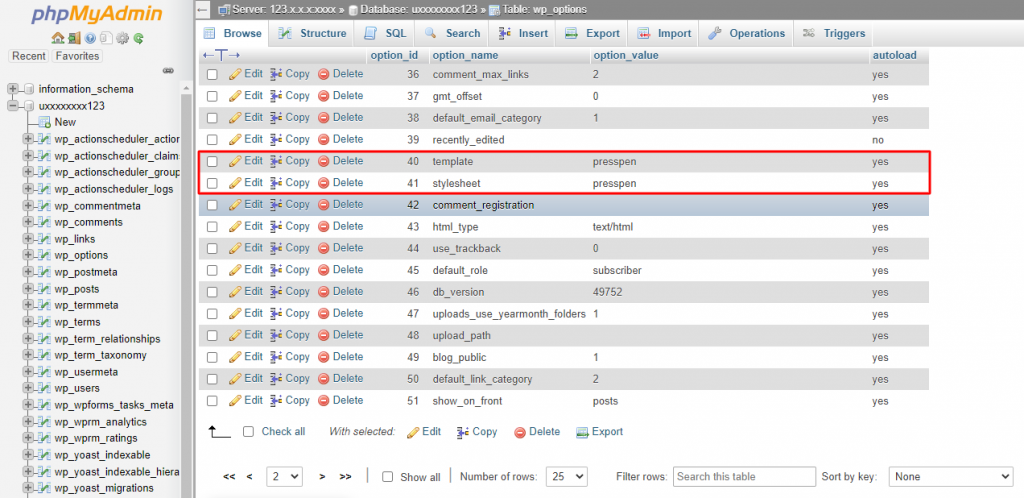 Double-click on the option_value of the template and change it to your theme's name. Use the theme file name as seen in step four. Do the same with the option_value of the stylesheet.
To see the changes, go to your website.
Conclusion
A WordPress theme is a group of template files that all give a consistent design to a WordPress site while maintaining its core features.
Before you install a theme, consider your site type, compatibility, and budget. There are lots of themes available for various purposes, both free and paid.
The right theme can create a great first impression, improve user experience and credibility, as well as increase dwell time. To achieve this, make sure your theme is configurable, attractive, easy to navigate, lightweight, and suits the site's niche.
Once you decide on a theme, you just need to install it to start customizing and adding content to the site. In this article, we have discussed how to install a WordPress theme using three different methods:
Through the official WordPress theme directory, which is only possible for free themes.
Manually uploading it to WordPress.
Uploading it via FTP.
However, if you change your mind and decide to use a different design on your website, switching between themes is also possible. You can do so via the WordPress dashboard or using phpMyAdmin.
We hope this guide has been useful in helping you choose and install a WordPress theme on your website.
How to Install WordPress Themes FAQ
Why Can't I Install a WordPress Theme?
Most often, a WordPress theme won't install because the file format is wrong, there are files missing, WordPress is encountering a syntax error, the zip file is wrong, there's not enough memory or the file is too big.
What Is the Best WordPress Theme?
The best WordPress theme for your website depends on your needs – a blogger will have different requirements from their theme than an online shop owner. Some of the most popular themes include Themeforest, OceanWP, ThemeIsle and Avada.