How to Install a WordPress Theme

WordPress is known to be a highly customizable and flexible CMS. To maximize the potential of your website's design, you can use free or premium WordPress themes. If you're not sure how to use them, don't worry. In this article, you are going to learn how to install a WordPress theme in no time.
What is a WordPress Theme?
First, let's start with the definition. A WordPress theme is a bundle of modifiable template files that, once installed, helps give a consistent design to a WordPress site's visual interface without altering its core features.
WordPress themes are plentiful enough to cater to all sorts of user preferences and needs. Each of them comes with a design that is fully customizable by modifying its code, inserting widgets, or adding plugins, making the possibilities endless.
WordPress has themes for every kind of site – from eCommerce ones to food blogs. Regardless of the niche of your website, you will surely find the right one for you.
Things to Consider Before Installing a WordPress Theme
Having a fitting theme is essential since it isn't just about the skin-deep elements of your website, but also the way visitors interact with it. Hence why you should take the following factors into account.
Choosing the Perfect Fit for Your Site
As there are countless WordPress themes, either official or from third-party providers, such as Elementor or Astra Theme, finding and choosing the right one can get tricky. However, there are certain criteria you can consider in order to narrow down your possible choices.
The Official WordPress theme directory has feature filters that can help you find your new theme. Simply select filters according to your needs and hit the Apply Filters button.
Some themes are made for specific niches, such as restaurant themes or business themes, while others are multipurpose. Therefore, the first thing you have to decide is the focus of your website. We suggest picking something that defines its aim the best.
Another aspect you may want to consider is the design, as it concerns elements like colors, layouts, fonts, and whether it is easy to navigate.
Making Sure It is Compatible
No matter how visually-pleasing it might be, a theme needs to be compatible with your website so that you won't run into technical issues later on. Take these factors into account:
Flexible – choose one you can easily improve or modify. That way, if you need to add or omit a feature, it won't be difficult.
SEO-friendly – themes can affect SEO in many ways. The two most important factors are fast loading time and proper HTML format, which makes using light template design and the correct tags essential.
Plugin-friendly – make sure your theme can accommodate the extra functionality you add to your website.
Cross-platform – it should be displayed correctly across different browsers and be optimized for mobile. After all, most people use more than one device to find the information they need.
If you need recommendations, check out these best themes of 2020.
3 Ways to Install a WordPress Theme
Now, let's get to the specifics on how to install a WordPress theme. There are four ways you can go about it:
Method 1: Installing from the WordPress Theme Directory
Note that this method is only limited to the free selections in the WordPress Theme Directory. If that is not an issue for you, follow these steps:
From your administrator area, hover above Appearance and then click Themes. Next, select Add New.
Afterward, click Feature Filter to help you sort out choices.
Once you have checked all the boxes of your criteria, press Apply Filter. Hover above your theme of choice and select Install to do so, then Activate. After you've done so, you will see a "New theme activated" notification. From there, you can click Visit site to see how everything looks live.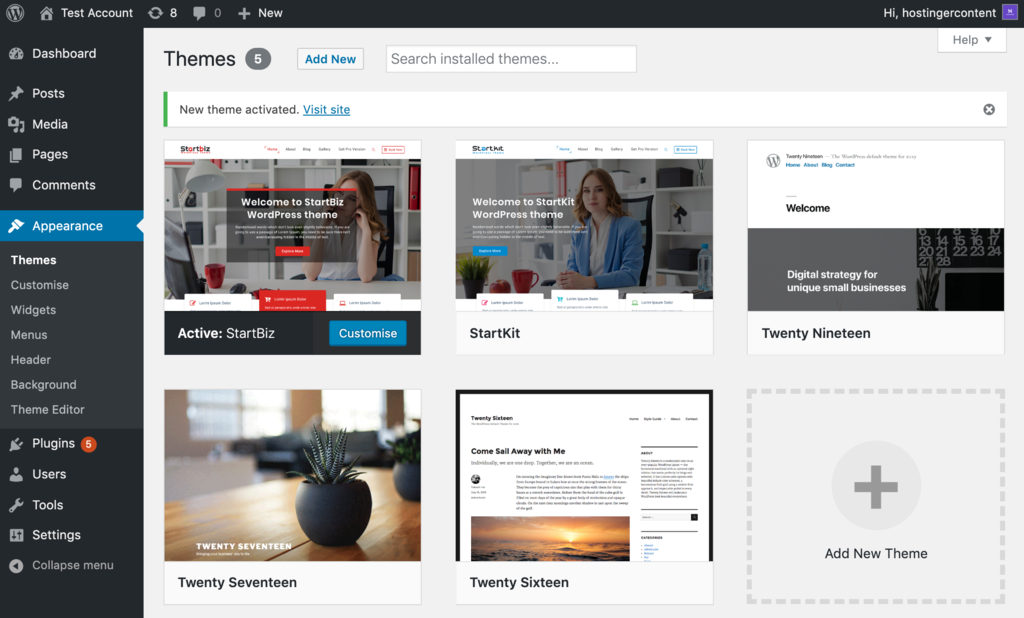 Method 2: Manually Uploading to WordPress (Use for Premium Themes)
This method will teach you how to upload free or premium themes to WordPress manually. First, however, you need to download the theme as a .zip file from external sources. Then, take the following steps:
Follow the first step from the previous method, but after you get to the menu, select Upload Theme, and then Choose file.
Locate the .zip file of your theme. For this tutorial, we're going to use Hestia from Themeisle. Once the uploading process is finished, click Install Now. Select Live Preview to see a sneak peek or Activate it to finalize the change.
Some third-party themes require extra tweaking to function as advertised. You can visit the website of your theme provider to see its documentation or to get technical support.
Method 3: Installing WordPress Theme via an FTP Client
A File Transfer Protocol, or FTP for short, is a protocol that facilitates file exchange between computers and servers on a network.
This method is going to teach you how to install a WordPress theme with FileZilla. So, make sure to have it downloaded and installed first. This method can be especially helpful if your upload limits set by your hosting provider are not large enough to upload your theme. If you're using a Hostinger plan, keep in mind that the default PHP upload limit is set to 128MB, which should be more than enough to cover most themes out there.
Once you have an FTP client installed, do the following:
Step 1: Connecting FTP Client
For the transfer to work, you have to set up a connection by doing these procedures first:
On your hPanel, look up FTP Accounts and click on it.
Inside, you will see the credentials needed to establish a client-server connection. You only need the ones marked with red. If you forgot the password or don't have one yet, make sure to set it using the Change account password button.

Open FileZilla, go to File -> Site Manager. You can also access it by pressing Ctrl+S on your keyboard for Windows and CMD+S for Mac.
Select New site on the pop-up to make a new connection. You can change the name if you want.
Fill in the details with the information you collected in step two, but leave the settings as it is and press Connect.
Click OK if you want the app to remember your password, the second option if you don't, or the third one to set up a two-way authentication process.
Step 2: Uploading WordPress Theme via FTP
Wait until the server returns a positive response and continue:
Locate wp-content inside your WordPress directory, and open it.
Navigate to Themes.
Inside the folder, you will see all of your installed WordPress themes listed. Now, let's locate the template files you want to upload.
For this demonstration, we'll be using Alternative from Theme Freesia. Don't forget to unzip the file first.

Drag-and-drop the folder into the themes directory and you're all set!
To see if it works, go to your WordPress site, access Appearance, and then choose Themes from the dropdown. You should see your newly uploaded theme in the list.
Switching Between WordPress Themes
Switching between the themes you have installed in your library only takes seconds. All you need to do is to follow these procedures:
Just like before, go to Appearance -> Themes.
Scroll to find the theme you want and click Activate.
Click Visit site to check out the look of your new theme.
Changing WordPress Theme via phpMyAdmin
You can change the WordPress theme design and features by editing its code. However, if done incorrectly, you can encounter errors or even the white screen of death. In a worst-case scenario, you won't be able to login to the WordPress admin dashboard to change your theme and get your website running back again.
Luckily there is an alternative solution. You can change the WordPress theme via phpMyAdmin.

Important: Before making changes to your MySQL database, we suggest you back up your files first.
Here's how to change a WordPress theme using phpMyAdmin:
The first thing you want to do is to find the name of your WordPress database. To do this, locate the File Manager.
Click on the application and then find wp-config.php using the search feature.
Double click on the file. Scroll down to find the line "The name of the database for WordPress." What you're looking for is in the line below it, specifically the string of numbers beside "DB_NAME." Save it for later.

Now, still within the same installation repository, let's find the names of your existing WordPress templates. To do this, navigate to the wp-content folder to open the themes subfolder.
Backtrack to your Dashboard and search for phpMyAdmin. Double click on it.
Inside, you will find a list of your active databases. Press Enter phpMyAdmin on the one you located in step three.

Double click on the wp_options to reveal another table.
Scroll down, go to page two by clicking on the single right arrow. Next, locate the Template and Stylesheet.

Change the names of both by double-clicking them.
That's it. To see the changes, go to your WordPress site and select Visit Site.

Conclusion
Your visitors should be able to tell your website's intent at first sight. You can achieve this by using templates that are aesthetically-relevant, pleasing to the eyes, and easy to navigate.
However, you also have to make sure that they are configurable, responsive, plugin-friendly, and light.
In this article, we have learned how to install a WordPress theme with four different methods:
Using WordPress directory with free themes
Manual upload
FTP upload
Via phpMyAdmin
We hope that this guide is useful the next time you want to give your site a sleek makeover!