How to Use File Manager in Hostinger's hPanel – Navigation, File Editing, Permissions, and More
The file manager is one of the features you will find in hPanel. If you're wondering how to use Hostinger's File Manager and what its functions are, this article will provide the guidance you need. Keep reading!
Download Guide To Using Hostinger
File Manager: The Basics and How to Find It
File Manager is a tool that allows you to control your site's content through HTTP instead of FTP clients, SSH, or 3rd party applications. Uploading, editing, creating, changing file permissions, deleting files and directories, as well as extracting archives are some of the few tasks that you can do with this tool.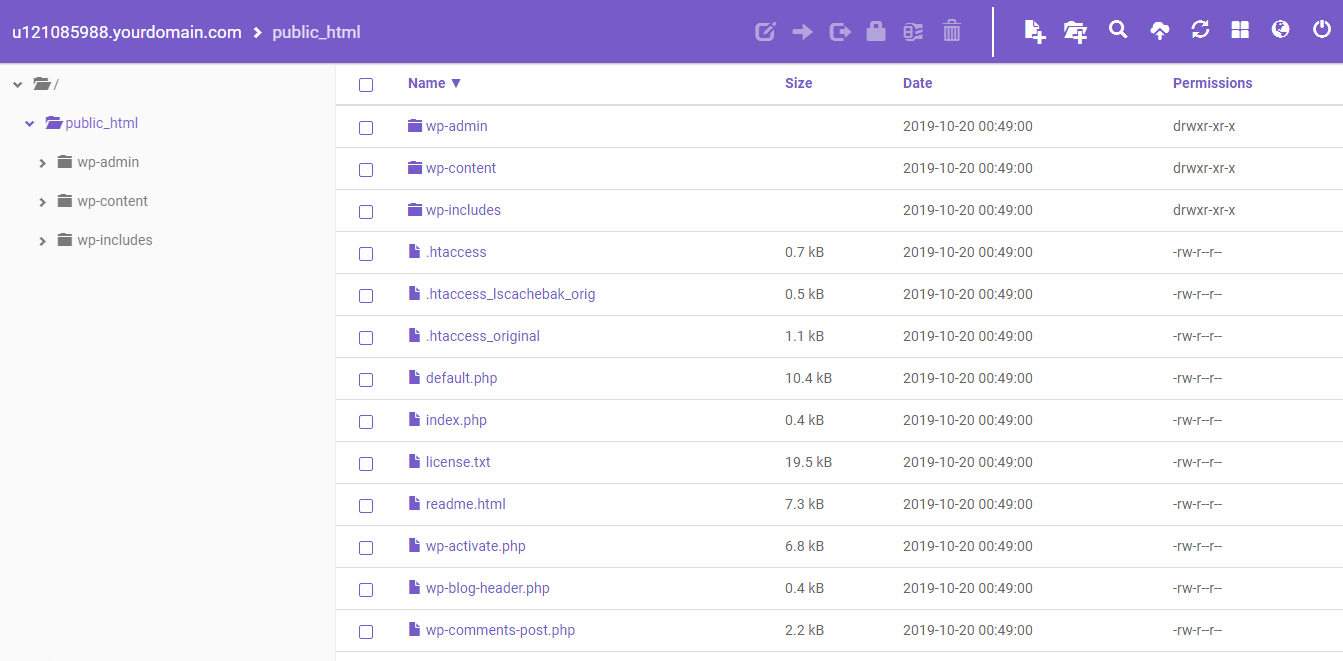 Hostinger's File Manager is located under the Files category, which you can find faster using the search feature. By default, it will open the public_html directory that holds all the website files for your domain. Whenever someone visits your website, the server will display the content of this folder. Now that we know how to locate Hostinger's File Manager let's explore its components!
Navigating and Using the File Manager
To better understand how Hostinger's File Manager works, we will split it into four sections and analyze each one in more detail.
Navigation Menu

The navigation menu is on the left side of the screen. It allows you to see your current location and quickly jump through different directories within your account. The highlighted folder shows which one you are currently working on. In this case, it is public_html.
File Manager Bar Buttons

At the top-right corner of the Hostinger File Manager, you will see a variety of bar buttons. Let's quickly overview what functions they provide from left to right:
New File – allows you to create a file in the folder you are browsing at the moment.
New Folder – lets you create a new directory.
Search – the button you click to find a particular file or folder.
Upload Files – opens a pop-up window that allows you to select a new file to upload.
Reload – refreshes the directory you are working on.
Icons and List – selecting this will alter the way you view the files.
Language –translates File Manager to another language. Aside from the default English, the choices are Chinese, Spanish, French, German, and Russian, to mention a few.
Log Out – logs you out of your File Manager account.
File Management Area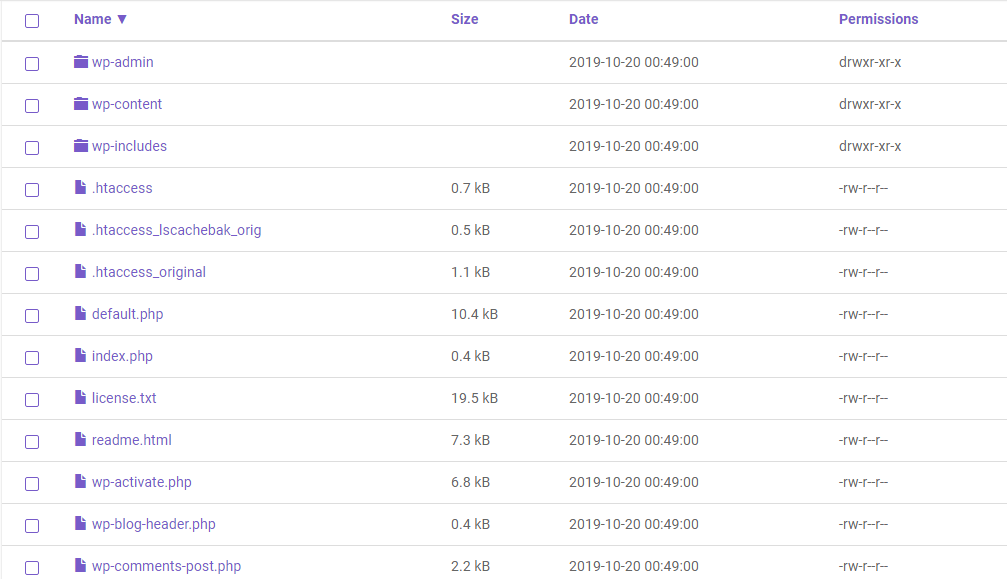 The file management area in Hostinger's File Manager lists the available files and folders in your working directory alongside the details of their sizes, creation dates, and permissions.
Context Menu

The context menu will be activated once a specific file or directory is selected. The same function can also be achieved by right-clicking. Let's see what each of these functions does from left to right:
Open – opens the chosen file or directory.
Download – it simply downloads the selected file.
Rename – lets you edit the name of a file or folder.
Move – allows you to transfer the selected file or folder to another directory. After clicking it, this popup will appear:
You can click Change to choose your destination directory.
Copy – select this option to duplicate a file or folder to the same or different location. The process is similar to the Move settings.
Edit – only text files are editable. You won't see this option in the context menu for videos, pictures, etc.
Permissions – specifies authorization with the read, write, or execute file options. Simply check the boxes you need and press Change. When changing permissions, always make sure you know which ones need to be set for specific files, otherwise you might start seeing 403 error.

Compress –as its name says, it lets you compress a file or folder into an archived format. You will now see an Extract button when a zipped file is selected.
Delete – permanently erases the selected file or folder.
Conclusion
In this short tutorial, we have learned how to use Hostinger's File Manager through its functions and features. It is a convenient and efficient tool for data management that every website enthusiasts will find useful.
If you have any tips or tricks on using this tool that you wish to share, feel free to do so in the comments below!