The Most Frequently Asked Questions About Hostinger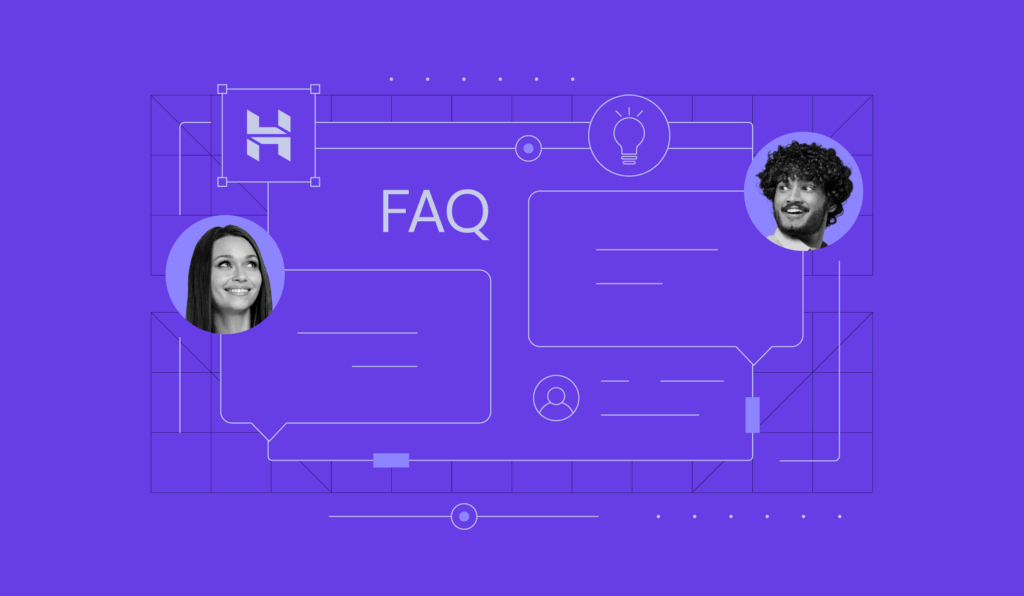 Hostinger is a web hosting company that enables users to start their websites and helps them succeed online. If you want to learn more about the company, continue reading this article.
We'll answer the most common questions about Hostinger, including fundamental company information, services, and pricing.
Download Guide To Using Hostinger
Where Is Hostinger Located?
Hostinger's headquarters is located in Kaunas, Lithuania, with multiple offices in different areas:
Vilnius, Lithuania
Larnaca, Cyprus
Florianopolis, Brazil
Yogyakarta, Indonesia
That said, our services are available to all customers worldwide. Hostinger's Customer Success team is ready to help you 24/7 and speaks over ten languages.
To contact the team, email support@hostinger.com, and we will answer within one business day. If you don't want to wait, create an account and reach out via live chat for an instant response.
Who Owns Hostinger?
Hostinger is a private employee-owned company. ConHostinger, a private equity company, controls around 30% of its stakes.
Hostinger is a parent company of several subsidiaries:
Why Are Hostinger Prices So Good?
Unlike most hosting providers that resell services, Hostinger owns its infrastructure. This unique approach allows us to optimize costs and pass those savings directly to our customers.
We also take pride in our innovative spirit and autonomy. Essential tools like our custom hPanel, user-friendly website builder, and performance-boosting CDN and LiteSpeed object cache are developed in-house.
By creating our own tools, we ensure seamless integration and performance while cutting down on expenses tied to third-party software.
Our active engagement in web development communities, especially with the WordPress community, equips us with firsthand insights into the evolving needs of users. This direct feedback loop helps us stay ahead in service quality but also benefits from organic growth through word-of-mouth.
Additionally, Hostinger runs an affiliate program that nurtures trust and partnership with independent marketers and businesses. We also offer the chance for customers to become our marketing partners through our referral program.
Thanks to these combined efforts, Hostinger rapidly expands and provides reliable service at competitive prices.
Learn More About Hostinger Pricing
Refer to the price comparison table to learn more about Hostinger's hosting plans, prices, and features.
What Are Hostinger's Security Features?
To help protect users' websites and data from cyber attacks, Hostinger implements various security modules to its servers, such as:
Mod_security – detects and blocks web server exploits based on determined rules.
PHP hardening – we use Suhosin to patch PHP application flaws, improving the server's security.
BitNinja full-stack protection – our virtual private server (VPS) hosting uses BitNinja's multi-layered security features like anti-malware, web application firewall, and DDoS detection.
In addition, all Hostinger's plans have protection features configurable via our custom-built hosting control panel, hPanel. Some of them are:
Let's Encrypt SSL – enables data encryption between the server and users to help prevent cyber criminals from stealing it.
Cloudflare nameserver protection – distinguishes malicious traffic and reroutes it from the host server, maintaining a website's uptime.
Auto-backups – hPanel backs up your hosting data regularly, allowing you to restore it easily in case of errors, unauthorized modification, or deletion.
Two-factor authentication – an additional authentication method that helps prevent hackers from accessing your account.
Account activity log – track detailed information about account activity, such as login and transaction history, to help indicate potential breaches.
Is Hostinger Fast?
To provide optimal speed, Hostinger uses the LiteSpeed web server for all its hosting services. It offers significant performance improvements compared to other web servers, such as Apache.
In addition, Hostinger servers use Non-Volatile Memory Express (NVMe) solid-state drives to store users' data. They are more durable and up to 35 times faster than typical hard disk drives.
Agamabox, one of our customers, also reported that its overall website performance increased five times after migrating to Hostinger. The website page load time became 10 times quicker, and its GTMetrix score increased by 10%.
Our business and premium hosting plans also come with unmetered bandwidth. This means your website can transfer an unlimited amount of data and handle larger traffic.

How Can I Pay for a Hostinger Plan?
Depending on the region you purchase our products from, the accepted payment method and currency differ. For example, you can use a JCB credit card on Hostinger.com but not Hostinger.in.
We generally accept three payment methods:
Credit, prepaid, and debit cards – such as Visa, MasterCard, and Amex.
eWallets – like PayPal, Google Pay, and Apple Pay.
Cryptocurrency – including Ethereum, Litecoin, and Dogecoin.
For the payment cycle, you may pay monthly or yearly. You can also change the billing cycle anytime and enable the auto-renewal feature through the Billing section in hPanel.
Will I Get a Refund if I Cancel My Account?
Yes, you will get a refund for products purchased within the last 30 days. However, note that based on our refund policy, it doesn't apply to certain products and purchases made with cryptocurrencies.
If a refund to the original payment method isn't possible, it will be transferred to your Hostinger Balance. Note that it can only be used to purchase another Hostinger product.
Remember to back up your site files before deactivating your account since they will be permanently deleted.
How to Refund My Services?
To request a refund, follow these steps:
Log in to your hPanel account and visit your List of Paid Invoices.
Click Refund next to the invoice you wish to cancel.
In the Refundable Services List section, select the intended service and press Continue.
A warning message will appear, indicating that your data will be lost after requesting a refund. Check the verification box and click Continue.
Specify your reasons for canceling the service and hit the Submit button.
Click Request refund and confirm the cancelation. Shortly after, you will receive a confirmation email.
To check the status of your refund request via hPanel, head to Billing → Payment History → Refunded History.
Keep in mind that some refundable services may not appear on the list. In that case, contact our Customer Success agents to create a manual refund request.
Is Django Supported at Hostinger?
Yes, our VPS hosting plans support the Django framework, enabling you to build dynamic websites. Each package comes with a pre-made template – Ubuntu 22.04 64bit with Django and OpenLiteSpeed.
Securing your sites is also easy with a straightforward setup process for SSL. Plus, you can optimize the URLs for search engines with RewriteRules, and upload files directly without going through the development server.


Who Uses Hostinger Web Hosting?
Hostinger offers various web hosting plans to cater to diverse user needs. They are suitable for web apps and different types of sites, from eCommerce to online portfolios.
Currently, our service serves millions of users worldwide, including freelancers, small businesses, and large corporations.
Is Hostinger Good for WordPress?
Yes, we offer a WordPress hosting service specifically designed for the content management system (CMS). It comes with several adjustments to ensure optimal WordPress performance.
Like other plans, WordPress hosting offers 24/7 customer support and free email. In addition, it has features such as:
1-click WordPress installer – users don't need to configure the CMS manually and can start building their websites instantly.
Automatic update – automatically update WordPress and plugins to ensure security and compatibility.
Built-in LiteSpeed caching plugin – enable caching with the LiteSpeed plugin to speed up your WordPress site.
WordPress staging – create a separate development environment to test changes without affecting the live site.
We offer several WordPress hosting plans to cater to different user needs, from beginners and medium businesses. Its price ranges from $1.99 – $8.99.

Is Hostinger Free to Use?
Hostinger offers a free hosting plan through the 000webhost brand, enabling you to build a functional website at no cost. While not as powerful as the paid ones, it is reliable and sufficient for your first basic project.
This plan uses a high-performance server to ensure your website performs well and remains accessible. It also provides a control panel, allowing you to easily manage your site on a single screen.
Due to limited resources, the free hosting plan isn't ideal for a long-term solution, especially when its traffic increases. In this case, you can migrate to Hostinger's premium plans, like shared or cloud server hosting.
Note that the free plan doesn't come with a custom domain name. If you need one, switch to the premium web hosting plans, which include a free domain, or purchase it separately from a registrar.
Where Are Hostinger Servers Located?
Hostinger has multiple servers spread across different countries in Europe, Asia, South America, and North America. Here are the available data center locations for different hosting plans:
Hosting plan
Server locations
Web, Cloud, and WordPress hosting
Europe – France, the Netherlands, Lithuania, the United Kingdom
Asia – Singapore, India
North America – the USA
South America – Brazil
cPanel hosting
Europe – Lithuania, the United Kingdom
Asia – Singapore, India
North America – the USA
South America – Brazil
cPanel reseller plan
North America – the USA
South America – Brazil
Linux VPS
Europe – the Netherlands, Lithuania, the United Kingdom
Asia – Singapore
North America – the USA
South America – Brazil
Users can freely choose any of the available locations based on their hosting plan. Our hosting plans also support a content delivery network (CDN) to ensure users' website performance regardless of the server location.
Can I Migrate My Website to Hostinger?
Yes, Hostinger offers a free website migration service without any request limits. However, you can't migrate websites built with a custom builder like Blogger, Wix, and Shopify.
To migrate your website to Hostinger, you need an active hosting account and a domain. Once you have them, simply fill out the migration request form in hPanel and wait for the process.
If all the data is correct, the migration process can take up to 96 hours, depending on the website's content and complexity. During this process, your website remains accessible.
Does Hostinger Have a Website Builder?
Yes, we offer a website builder starting at $2.99/month. This service comes with a free domain, email account, and hosting plan, allowing you to get your website up and running immediately.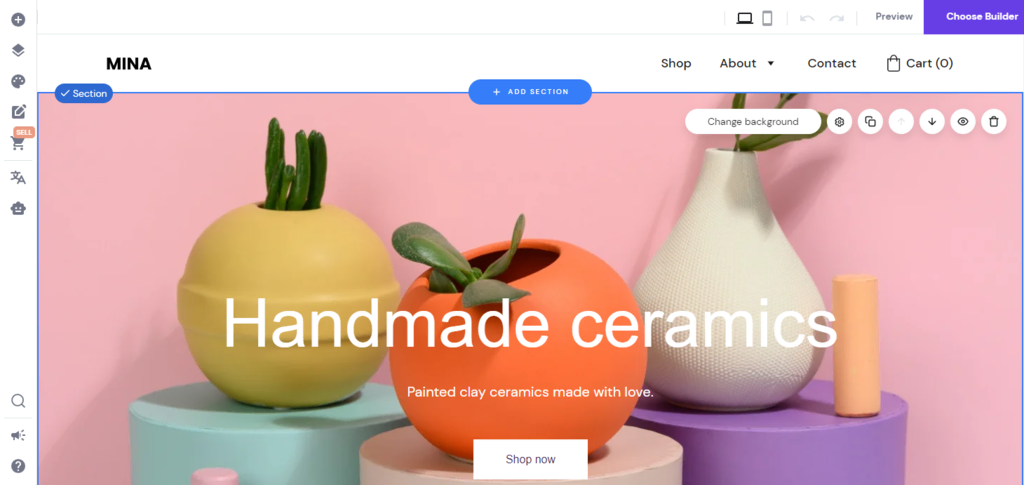 Hostinger's website builder has several features that help users build any type of website easily, such as:
Drag-and-drop editor – create a responsive website design without any coding. Hostinger's website builder also provides plenty of templates and royalty-free images to simplify the design process.
Marketing integrations – collect business insights from your website using tools like Google Analytics, Google Tag Manager, and Hotjar. They help drive traffic and grow your business.
eCommerce functionality – make an online store with simple inventory management, multiple payment options, and automated order notifications.
Security features – the website builder includes a free SSL certificate to encrypt visitors' data. It also has DDoS protection and reliable hardware to maintain uptime.


Can I Upgrade My Hosting Plan?
Hostinger users can always upgrade their hosting plans by going to hPanel → Hosting → Upgrade. You can also upgrade your shared plan to cloud hosting via the same menu.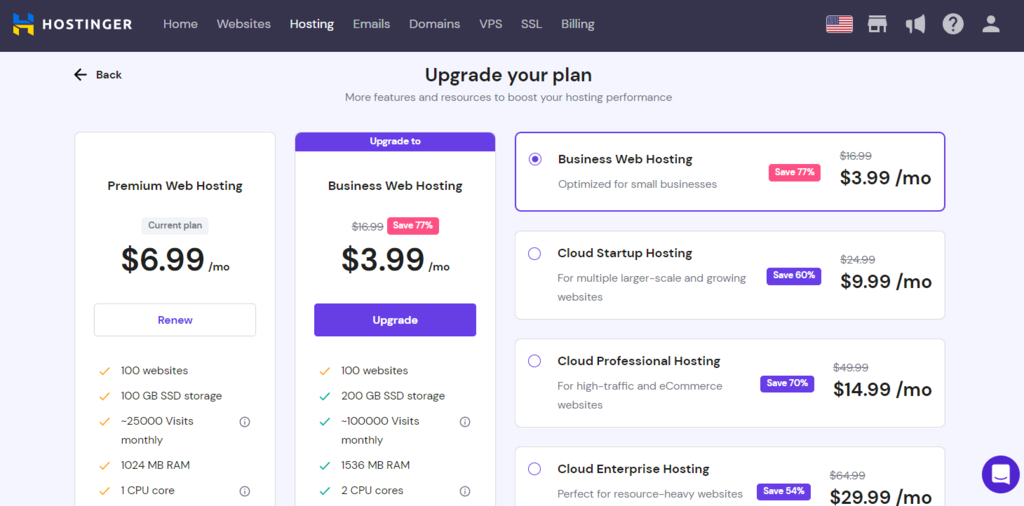 The upgrade process takes a few minutes and automatically transfers all data, including websites, files, and emails. Also, the remaining time of the old plan will be converted and added to the new one.
Pro Tip
Alternatively, boost your account for 24 hours to try a higher hosting plan for free.
Can I Become a Hostinger Affiliate?
Yes, Hostinger offers an affiliate program with up to a 60% commission for every purchase. There is no limit to how much you can earn, but you must make at least $100 to request a payout.
Important! Hostinger referral program only supports payment via PayPal and converts all currency into US dollars.
To join the program, fill in the affiliate form and wait for the review process, which takes three business days at the latest. Once your account is approved, you can start promoting Hostinger.
There are no limits to your creativity – feel free to use any platform, including your YouTube channel, email, or social media posts. Note that most Hostinger products are eligible for the program, excluding SSL and domain registration.
Conclusion
Hostinger is a web hosting provider, suitable for any kind of website, from a personal blog to a large eCommerce website.
While affordable, our hosting plans are reliable and secure due to features like SSL, Cloudflare-protected nameservers, and auto-backups.
If you want to experience our service, go ahead – every hosting plan comes with a 30-day money-back guarantee. You can also migrate your existing website to Hostinger for free by filling out the request form via hPanel.
Should you have any more questions, leave a comment below or check out our reviews page.