Wednesday October 25, 2023
Hostinger's Intuitive Panel Makes Managing 150 Websites Easy for Pixel Digital
Handling many websites on different platforms was a headache for Arthur Bourgeois – he needed one easy and reliable place to host his clients' sites. Discover the full story of how migrating to Hostinger simplified project management for Arthur and his team at Pixel Digital.
Background
Arthur Bourgeois is the owner of Pixel Digital, a thriving web agency located just outside of Lyon, France.
Website development makes up 90% of Pixel Digital's business. The agency builds around 100 websites annually for businesses in many sectors, including sports, fashion, retail, and real estate.
The Challenges
Running an agency business like Pixel Digital isn't always smooth sailing. Arthur's clientele often have hosting plans from different providers, complicating the management process.
To make matters worse, some of those hosting providers have poor user experience (UX) design, making it difficult to navigate their platforms and services.
"Some of our clients purchased hosting plans from one of the leading hosting providers in France. However, the web host is super complicated to work with, and their proposed solutions are not simple at all."
Once, what appeared to be a simple task of installing an SSL certificate turned unexpectedly complex, even for seasoned developers like Arthur.
"I tried to install an SSL certificate with a hosting provider most of my clients used, but it wasn't a pleasant experience. Even though I am a web developer, I spent maybe two hours doing it."
Arthur soon realized that managing multiple hosting providers, especially those with complex user interfaces, could hinder the growth of Pixel Digital.
So, he began his quest to find a hosting provider with an easy-to-use control panel and a smooth migration process. One that allows him to manage different projects seamlessly in one place.

Discovering the Solutions With Hostinger
Arthur's discovery of Hostinger started when he stumbled upon us on YouTube.
Intrigued by Hostinger's competitive pricing, Arthur decided to purchase a cloud hosting plan. He was immediately impressed by our straightforward user experience and overall performance.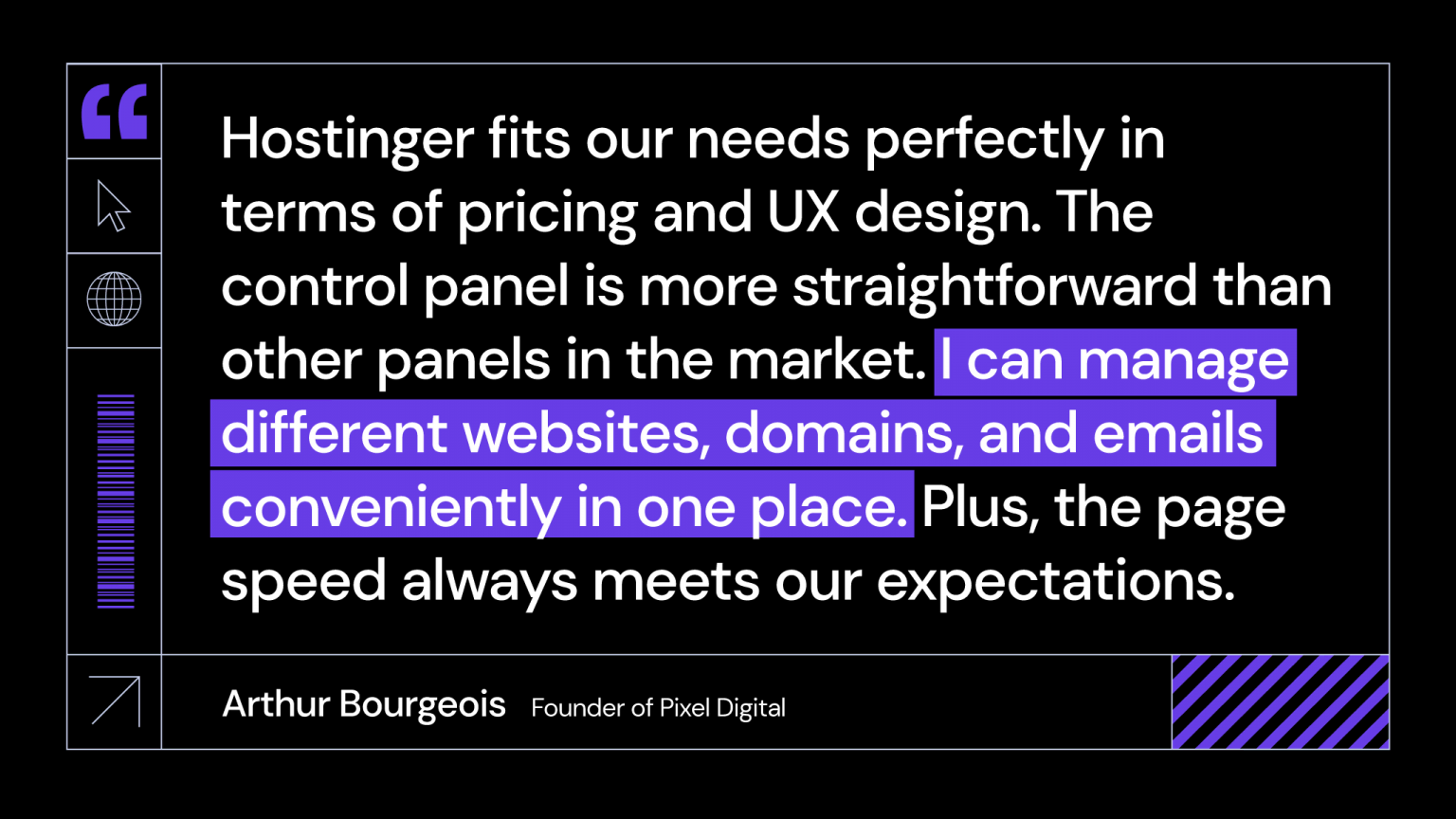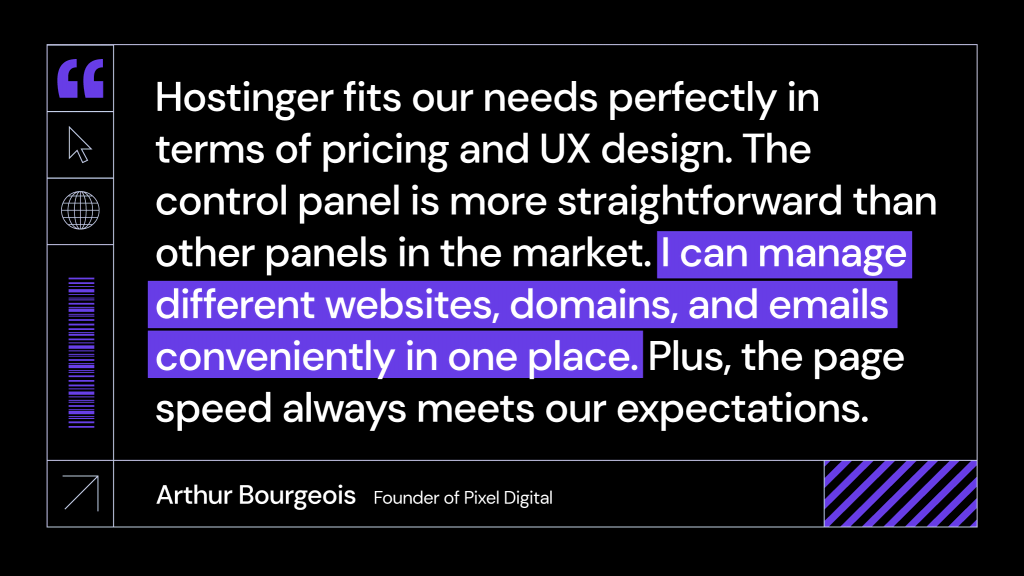 Because of this positive experience, it wasn't long before Arthur moved his clients' websites to Hostinger. The process was quick and hassle-free, thanks to our automatic migration tool.
"All I had to do was enter my clients' WordPress login credentials, submit a migration request, and their sites would connect with Hostinger almost instantly. It's that simple."
While using Hostinger's control panel, Arthur also appreciates how easy it is to manage files and create backups.
"Before, I had to connect to an FTP client to check my clients' website files and databases. With Hostinger, I can access them directly from the control panel and create file backups in just one click. These features are included for free in my cloud hosting plan, so I don't have to pay extra."
Security is another concern for Arthur, especially with the increasing number of malicious bots and AI-driven DDoS attacks looming on the horizon.
To deal with incoming threats, Hostinger implements robust DDoS protection, which eliminates unwanted traffic before reaching the hosting infrastructure. This gives Arthur the peace of mind that his website and client projects are safe from all kinds of cyber attacks.
All in all, using Hostinger for website management is a game-changer for Arthur. Time-consuming processes that used to eat up hours, he can now accomplish in a fraction of the time.
"Switching to Hostinger's panel was magical. I know exactly where to find stuff, and performing tasks only takes a few clicks," Arthur explained. "I have a lot of clients moving to Hostinger because I told them it's much easier for me to manage their sites."
This gives Arthur plenty of room to focus on what matters most – expanding his client base and growing his agency.
Looking Forward
Arthur currently hosts 150 websites with Hostinger, and will continue to recommend our services to his clients.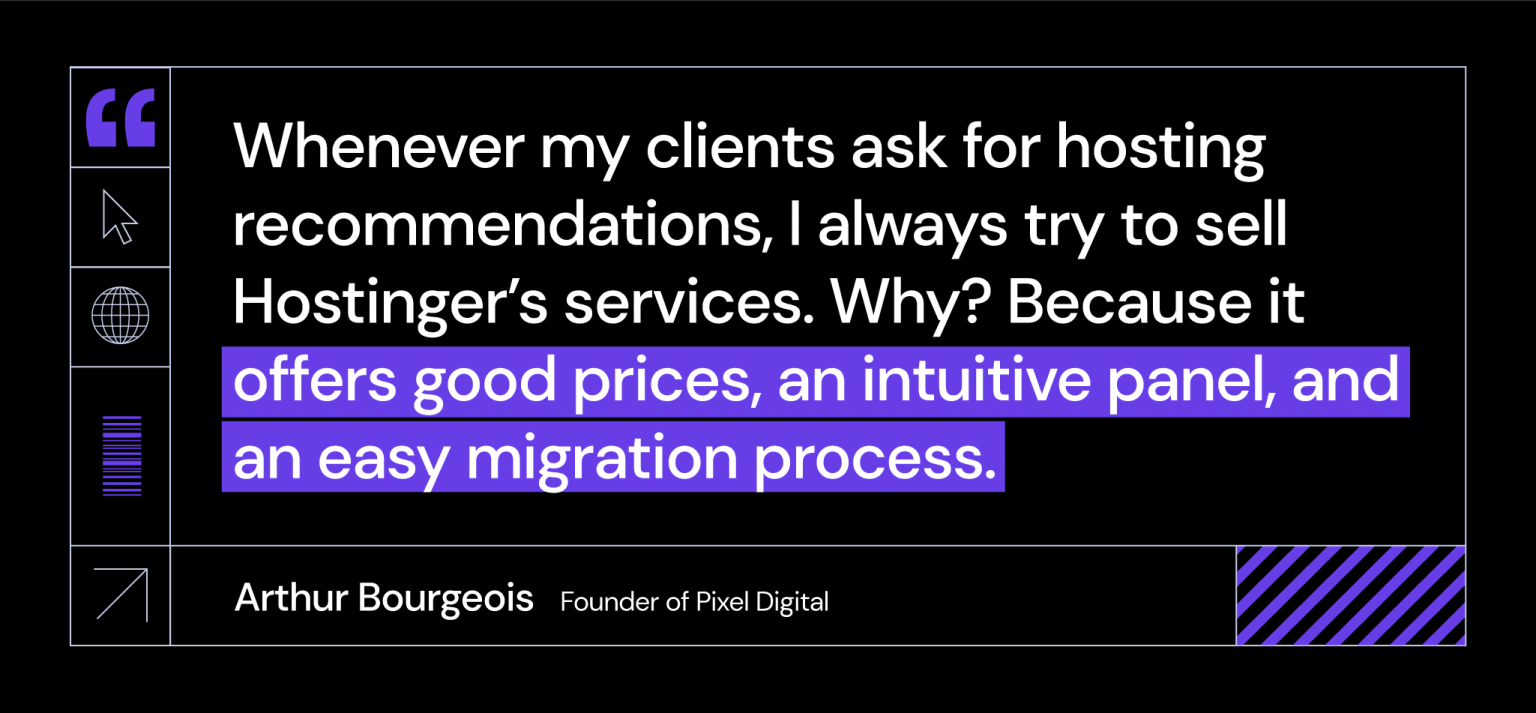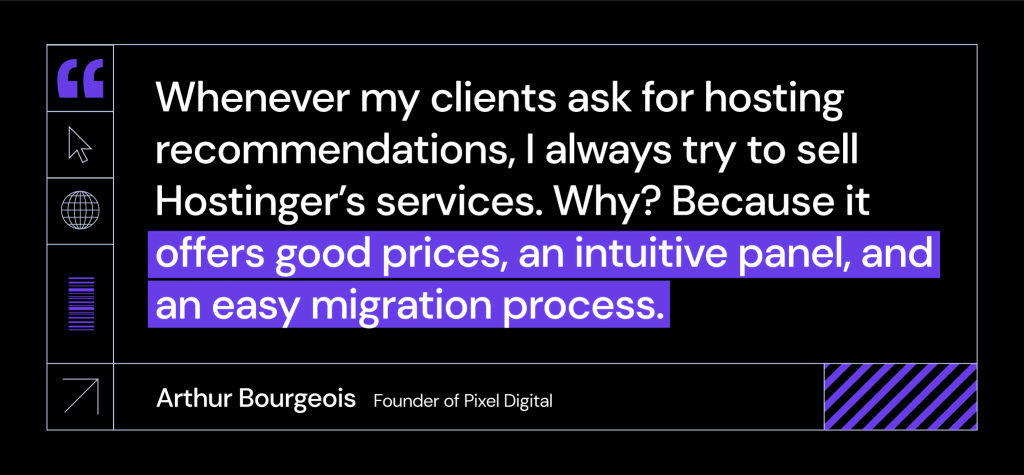 Thanks to the simplicity and automation Hostinger brings to the table, Arthur can allocate more time to scale his operations.
Next, Arthur plans to hire more people and open new office branches in France and Switzerland. Even though the web agency industry is filled with fierce competition, the future looks promising for Pixel Digital.