How Coletivo Estúdio Secures Its 170+ Websites With Hostinger Technology
After having two poor hosting experiences, Douglas Souza was set on finding a web host that offers stable performance, implements the latest security practices, and can support the needs of his agency, Coletivo Estúdio. Learn how migrating to Hostinger has benefited his business. 
Background
Douglas Souza is the founder of Coletivo Estúdio, a creative agency based in São Paulo, Brazil. The company offers web development and marketing services to small to medium-sized businesses in the country.
Founded in 2010, the agency is now a team of eleven specialists who have worked with over 1600 clients across Brazil.
Challenges
When Douglas started Coletivo Estúdio, he was hosting his clients' websites on a local web host's reseller plan. It was sufficient until the agency began to scale and took on more customers.
During this growth period, security issues like malware, viruses, and technical difficulties emerged. Douglas had to deal with them round-the-clock, and the company's support was slow to assist him.
He also noticed problems with email downtime. "We had a client with over 200 email accounts still with our first provider. One time, those mailboxes suddenly went offline for more than 15 minutes, which was unacceptable for any business."
From there, he migrated all of the websites to a global hosting provider. However, the situation didn't improve.
His customers noticed an increase in malware and downtime on their websites and emails. In fact, one client's inbox got hacked – an incident that affected other users.
According to Douglas, there was no warning from the provider's side about this. They would only notice the problem when someone complained or the website was already down.
WordPress security is another aspect that the provider lacked in. Douglas had to constantly check for plugin and software updates, which became more time-consuming as Coletivo Estúdio increased its clientele.
"Many plugins have poor security, which can create gaps for malware to enter our websites and cause downtime," said Douglas.
To make matters worse, the company's support was unresponsive and unknowledgeable.
"They couldn't help us with our security problems, so we had to deal with them ourselves. At the time, we didn't have someone with advanced knowledge who could handle these issues for us, so we were lost."
With hundreds of domains on their hands and many customer complaints, Douglas decided to find yet another hosting provider – one with better stability and security.
Solution
Douglas found Hostinger through video reviews comparing our services to other hosting companies.
After researching the different offers and considering his agency's needs, he decided to go with the Cloud Professional plan. It offers up to 300 websites, 250 GB of SSD storage, and 6 GB of RAM – plenty of room for Coletivo Estúdio to scale its business.
"We saw immediate security improvements after moving to Hostinger, which convinced us to migrate all of our clients," Douglas shared.
hPanel's Malware Scanner is one of the key factors that make Douglas stay with Hostinger.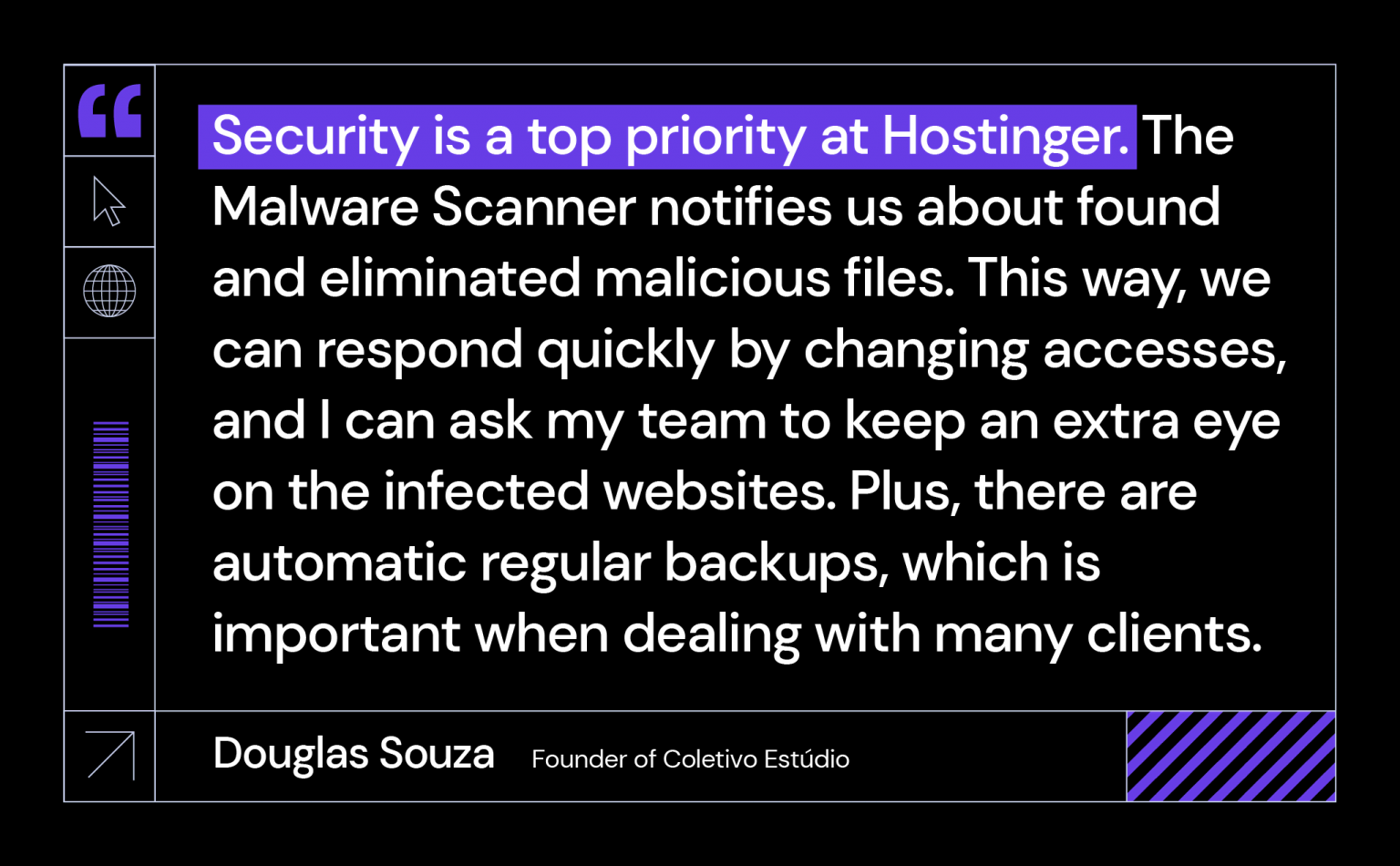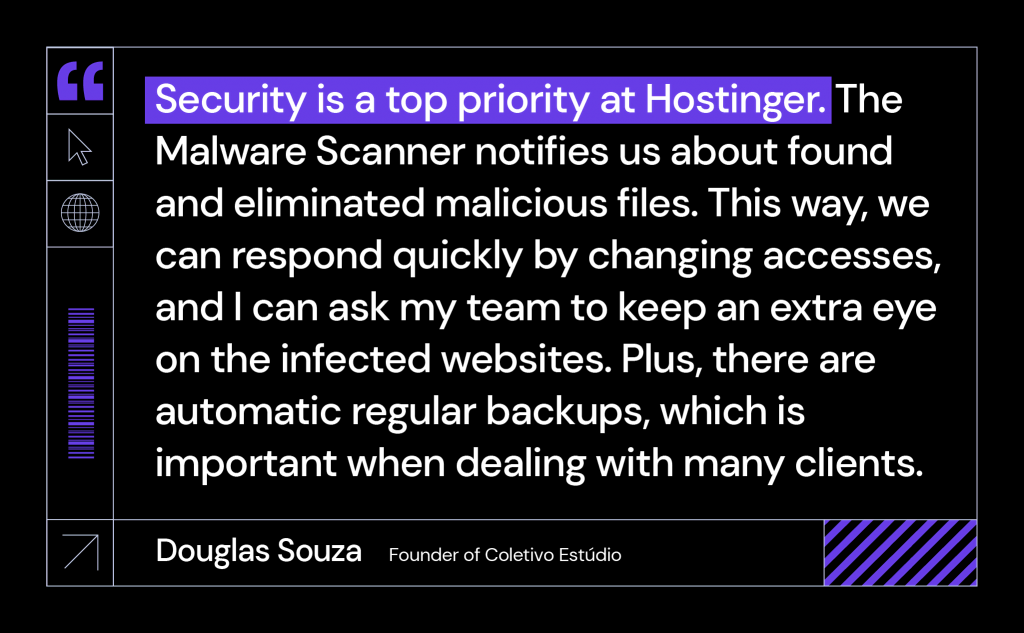 hPanel also includes a WordPress plugin vulnerability checker, which has saved his team plenty of time and effort in spotting security gaps.
"Neither of our previous providers was concerned enough to let us know if there were vulnerable plugins in our websites, but Hostinger was."
With Hostinger's 99.9% uptime, service downtime is no longer an issue. All of our clients are kept up-to-date about upcoming server maintenance, and they can check our systems' statuses in real time.
Hostinger email hosting also has anti-spam measures, from email filtering and blocklisting to SPF and DKIM.
"With Hostinger Mail, our emails are so well-protected that when our client sends too many promotional messages at once, Hostinger will suspect it as spam and block it. Thankfully, we simply need to enter hPanel and enable the email back in a few clicks."
Additionally, Douglas and his clients have noticed how easy it is to manage their hosting via hPanel.
"We've tested other custom control panels, but Hostinger's is the best. Many of our customers also decided to go with Hostinger for the quality and intuitiveness of hPanel. If they purchase a domain and hosting with Hostinger, the SSL certificate is already automatically installed – no need to set one up themselves."
In terms of support, Douglas finds Hostinger's Customer Success team to be reliable. We have agents living across the globe, including Brazil. This way, our customers can get prompt assistance 24/7, no matter where they are.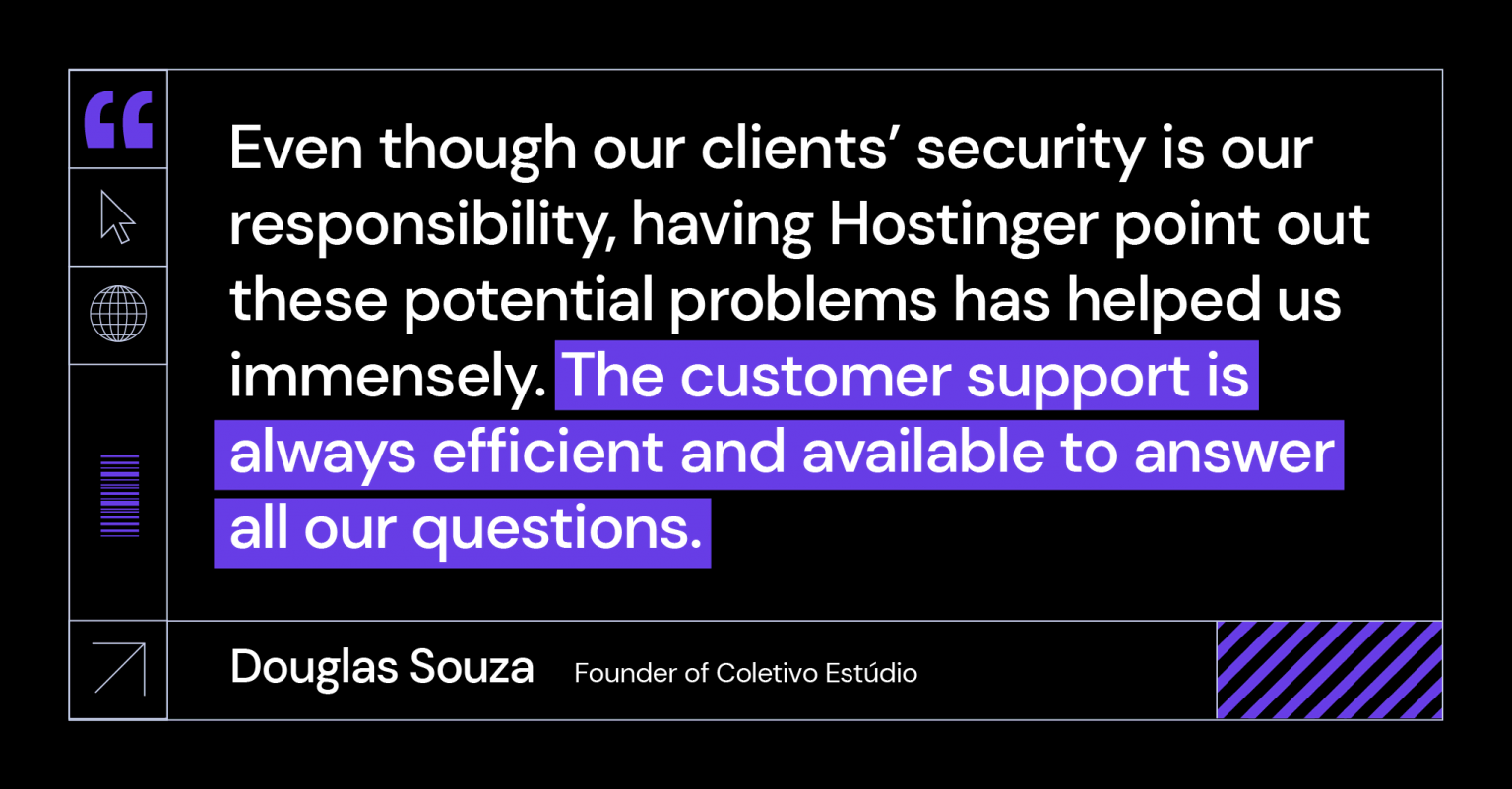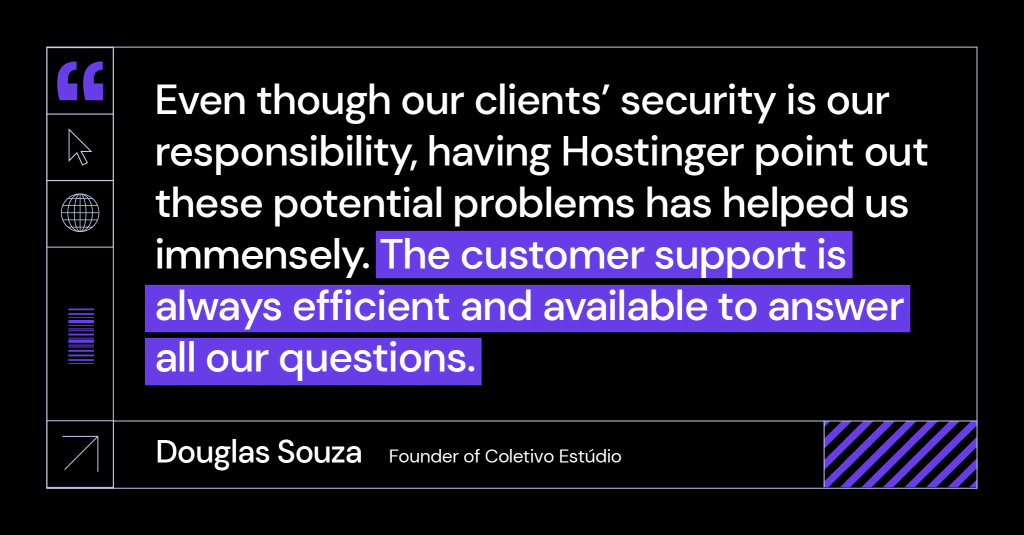 With the security and performance issues solved, Coletivo Estúdio can now focus on improving its customer experience and growing as an agency. "We've been with Hostinger for three years, and we have nothing to complain about. We've finally found the right company."
What's Next?
"At the beginning of the year, I received an email from Hostinger highlighting my journey with the company. We now have 172 websites with more than 170,000 visits in total. And the most visited website is our own, which is pretty cool," said Douglas.
Thanks to the stability that Hostinger has provided, Douglas is now more confident in taking Coletivo Estúdio to a higher level.
"The ability to even think about expanding our web development department shows how essential Hostinger's role has been. We can now bring bigger clients into our agency, and we want to host more websites with Hostinger."
We look forward to supporting Coletivo Estúdio's journey to reach even more milestones in the future.