What Is SEO? A Comprehensive Guide for 2024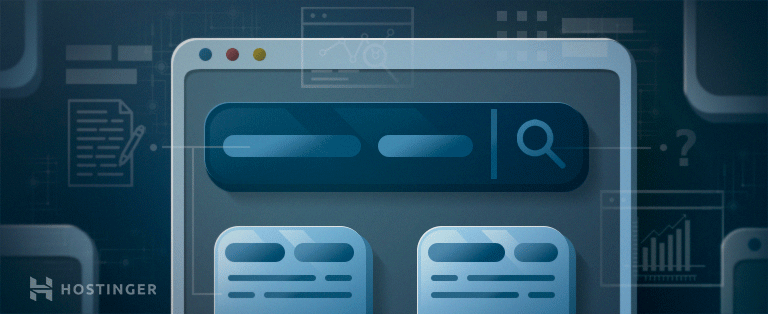 SEO stands for search engine optimization, and it is a practice of optimizing your web pages to rank higher on search engine result pages (SERP).
SEO also serves as a reliable and budget-friendly marketing strategy to help you drive traffic to a website and grow conversion rates.
To better understand what SEO is, this article will walk you through the search engine and SEO basics, explain how search algorithms work, and what factors influence your site's ranking.
At the end of the article, you will also find the best SEO practices and comprehensive resources to expand your SEO knowledge.


SEO Explained – Video Tutorial
Want to know more about what is SEO? Watch our video to find out.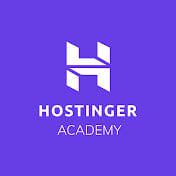 Subscribe For more educational videos!
Hostinger Academy
Subscribe
SEO vs SEM: What's the Difference?
Search engine optimization (SEO) and search engine marketing (SEM) are marketing strategies that businesses use to reach their audience through search engine results.
The key difference is that SEO focuses on optimizing pages to rank better through organic traffic. This refers to site visitors coming from search engines such as Google or Bing.
Meanwhile, SEM uses paid strategies to increase a website's visibility on search engines. Visitors from paid traffic come from clicking on advertisements generated on Google Ads or other platforms.
While SEO takes some time to give consistent and lasting results, SEM offers a nearly instant outcome. You will quickly see how many clicks and conversions your ads are generating on search engines.
Despite being different, SEO and SEM work hand-in-hand. A good SEO foundation is necessary for a successful SEM strategy.
Optimizing your landing pages with keywords can improve your Google's Quality Score and increase your site's visibility.
What Factors Influence SEO and Are Most Important?
As the go-to search engine, Google processes more than 3.5 billion searches per day. Thus, ranking higher on Google search results has the potential to drive significant traffic to your site.
That's why it is essential to pay close attention to Google's ranking factors. These factors are constantly evolving along with Google's search algorithms. They help deliver the most relevant content for a better user experience.
From page load time to website security, here are the most important ranking factors you need to know:
Page speed. It defines the amount of time it takes for a web page to load. A fast-loading page can help your site rank higher in search results. Regularly monitor your site's performance and use speed-analysis tools such as Google's PageSpeed Insights and the Pingdom Speed Test to get an insight into how well your site is performing.
Mobile-friendliness. A responsive design automatically adjusts website elements to fit different screen sizes, providing an optimal experience for visitors across devices. Pages from responsive, mobile-friendly sites will appear higher on the search results. Use Google's Mobile-Friendly Test to measure your site's usability.
High-quality content. Provide relevant and factual information to answer specific queries. Google evaluates content's length, structure, relevant keywords, and information. Always create unique and original content to attract more visitors and increase your site's visibility.
Backlinks. Also known as inbound links, those are links to your website placed on other sites, serving as an indicator of your site's authority. When a website includes your link in its content, they mark your site as a relevant source. Pages with high-quality backlinks from credible sites can rank higher on search engine results pages.
User experience. Google measures user experience through multiple signals, including bounce rate and dwell time. When visitors land on a site and leave soon after, Google will consider the site irrelevant. Consequently, if visitors stick around for a while, that signals that the site provides valuable information.
Site security. Involves all actions to protect a website and its visitors from cyberattacks. Thus, Google prioritizes websites secured by HTTPS. To enable your website to load via this secure protocol, you'll need to add an SSL certificate. Websites without SSL are marked as not secure, which can deter visitors. If you don't have an SSL certificate yet, you can obtain one here at Hostinger.
How Does SEO Work?
Google and other search engines work to collect, organize and display relevant information to answer user queries. To do that, they go through three primary processes, including:
Crawling. Search engines rely on a team of web crawlers, also known as spiderbots or simply bots, to find updated content on the web. Web crawlers help discover and collect information required to index a page.
Indexing. It refers to a process where search engines store and organize the web pages collected. Once web crawlers find information on a site, such as keywords and fresh content, they will add the web page to the search index. To help them find your content, submit your website to search engines. When users look for relevant information, the search engine will fetch the indexed website.
Ranking. Web pages in the search index will then be displayed on the search results from the most to the least relevant content.
SEO improves your web presence by making your site more appealing to search engines. In other words, it works to determine how well your site is going through this series of steps, from crawling to ranking.
For instance, well-structured internal links on your pages make it easier for web crawlers to hop from one page to another. It allows them to explore your website in-depth and index more of your content.
If you don't want to have certain pages explored, it is possible to block bots using the robot.txt file.
Moreover, the search engine's algorithms will also consider extensive ranking factors, such as relevant keywords, backlink quality, and content freshness.
Thus, creating SEO-friendly content with these factors in mind can significantly boost your search results.
What Are the Different Types of SEO?
Below, you will find a brief overview of the four main types of SEO, along with their primary targets.
| On-page SEO | Off-page SEO | Technical SEO | Local SEO |
| --- | --- | --- | --- |
| Site content | Link building | Site speed | Local keywords |
| Keyword optimization | Influencer marketing | Schema markup | Business profile |
| Title tags | Social media | Internal linking | Customer reviews |
| Image alt text | Forums | SSL certificate | Local content |
To give you a better understanding of SEO, the following sections will uncover each type's definitions, how they work, and their implementation.
On-page SEO
On-page SEO refers to the optimization process of individual pages from a site to increase its ranking on organic search results.
This type of SEO focuses on both the page's content and HTML source code, including title tags, header tags, and meta description, so that it appeals to web users and search engine crawlers. If your website runs on WordPress, you can use one of the top SEO plugins to assist you in these areas.
On-page SEO also helps organize your page so that the search engine's web crawlers can easily analyze what your content is about and index it for relevant search queries.
To guide you about on-page SEO optimization, we gathered some of the main practices you need to know:
Site content. Google uses a framework known as E-A-T (expertise, authoritativeness, and trustworthiness) to assess the quality of content, pages, and sites. It favors high-quality content from reliable authors and trustworthy websites. Thus, to rank higher on the search results, you want to make sure your page meets such criteria.
Keyword optimization. Placing keywords in your content helps the search algorithm identify what type of information it provides. Perform keyword research with SEO tools such as Ahrefs Keywords Explorer or Google Keyword Planner to find a target keyword and build your content around it. However, make sure the keyword distribution is natural to avoid Google's penalty on keyword stuffing.
Title tag. Also known as the page title, it appears as a clickable link that people see on the search engine results pages. It determines the page's relevance to the user's search intent. A well-written title will generate more clicks and drive more traffic to the page. Moreover, search engines like Google prefer a concise title with keywords, ranking it higher on the organic results.
Header tags. Breaking your content into pieces with header tags provides a better user experience and makes it easier for web crawlers to index your page. When users type in their search terms, the search engine will look for any relevant information using these tags as a guide. Thus, increasing your page's chance of appearing higher on the search results.
Image alt text. Alternate text is an attribute that describes a specific image that the site cannot display and is helpful for visually-impaired users. Screen readers use alt text information to describe the image. It informs the search engine that the image is a valuable piece of content on your page. This gives additional ranking opportunities for your page as it might appear on Google image search results.
Meta description. It refers to the pages' short description on SERPs, which appear as snippets along with the page title and URL. Meta descriptions include keywords and accurately describe the information the page provides. A good meta description can generate more clicks and reduce bounce rates if the content satisfies user intent.
Off-page SEO
Off-page SEO refers to any activities performed outside of a website to improve the site's ranking on search engine results pages. It gives the search engine an indication of how well the audience perceives a site, business, or product.
As a result, a well-constructed off-page SEO strategy can help your website increase its page authority and rank better on search results.
Here are some off-page SEO factors to note:
Link building. Refers to the process of acquiring links from other websites into your site. Google's algorithm relies heavily on links. Every link you receive serves as a vote of confidence for your site. However, always keep quantity over quality and make sure to only get quality links from trustworthy sites.
Social media marketing. Building a strong social media presence is important for your business. It serves as a resource for users to check your reputation. Posting engaging content on social networking sites helps to reach a wider audience. Moreover, when your content manages to get traffic from around the globe, the search engine will see that your site is trustworthy.
Influencer outreach. Establishing relationships with influential brands or people is an excellent way to build brand awareness. When done right, influencer marketing can help endorse your brand and bring new audiences to your site. This way, you can get more traffic and recognition.
Forums. Forum pages such as Quora, Reddit, and Stack Overflow provide an excellent opportunity to promote your website. There, you can get involved in real conversations between users by answering questions, allowing you to show your expertise and credibility. Also, you can add a link to a page on your site and drive organic search traffic.
Although link building is the central aspect of this SEO strategy, every activity that takes place off a site is considered off-page SEO, and you shouldn't overlook it.
Technical SEO
Technical SEO is the process of optimizing your website's technical aspects to ensure it meets the criteria of a search engine algorithm. This includes speed optimization, mobile-friendliness, and website architecture.
Optimizing technical SEO will guide a search engine like Google to easily detect and index your pages. As a result, it will reward a website with well-optimized technical SEO with a higher rank in the search results.
Not only does technical SEO help improve your search rankings, but it also determines your user experience. Users and search engines prefer a well-structured site with a fast loading time and high security – all of which are essential technical SEO factors.
There are several technical SEO factors you need to consider when optimizing your website:
Page load speed. A website with pages that take too long to load will have higher bounce rates and rank worse. Steps like website caching, compressing images, and reducing page redirects are some of the effective ways to optimize speed. Additionally, you can use tools like GTmetrix and PageSpeed Insights to determine which components to optimize.
Schema markup. It refers to tags you can add to your HTML code to help a search engine identify your content better. Adding schema markup will enhance your page's snippets on the search results. For instance, add ratings or reviews along with the meta description to make the page more attractive. It can drive more traffic and improve your site's click-through rates.
Internal linking. This is the process of attaching hyperlinks that point to other pages on the same website. By placing internal links, search engine crawlers will find and index more pages on your website. When implemented correctly, internal links can also improve page authority, improve the navigation experience and increase your page's dwell time.
XML sitemaps. Simply put, an XML sitemap is a collection of your pages' URLs. It serves as a roadmap and enables search engine crawlers to reach important pages on your website faster. The Yoast SEO plugin offers an easy way to build an XML sitemap for WordPress sites. Alternatively, you can use free generators such as InSpyder or Screaming Frog.
Accelerated Mobile Pages (AMP). This web framework generates lightweight pages to optimize the loading time for mobile users. When you activate AMP, Google will deliver your web pages through a designated cache, allowing your website to load faster if not in an instant. Google also prioritizes websites with AMP, making this framework a tie-breaker between high-quality sites.
SSL certificate. A website with SSL encryption will activate HTTPS on its URL. It indicates that every piece of information transferred between a website and its users is secured and encrypted. Since Google uses HTTPS as one of its ranking factors, activating it means your website can achieve higher search rankings. If your hosting plan comes with an SSL certificate, make sure you activate it.
Local SEO
Local SEO is an activity of improving local businesses' visibility on search results. It gives more exposure and allows businesses to promote their brands, products, and services to local communities.
When people search for "doctors near me" or "pet stores near me", search engines will identify their locations through their IP addresses and present relevant results accordingly. To get a spot on local search results, it is necessary to optimize your local SEO.
Google presents local search results with a map followed by three organic search results. For example, when users search for "restaurants in Seattle", the SERP will present three local businesses along with a snippet of their locations in Google Maps as the top results.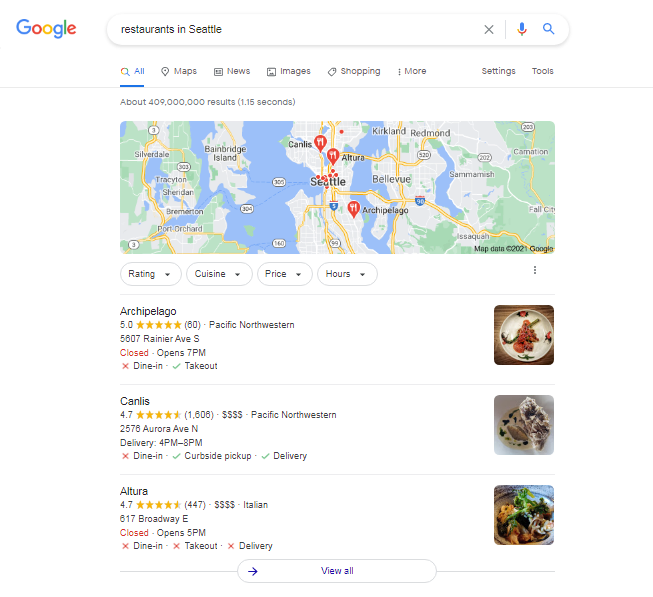 If you want to feature your business on local search results, pay close attention to the different aspects of local SEO:
Google My Business (GMB) profile. The map shown in the top results on Google local search comes from GMB profiles. You need to create an account first. Be sure to fill in accurate and complete data such as your name, address, and phone number, as these will serve as ranking factors. Additionally, Google also ranks a GMB profile based on its distance, prominence, and relevance to a search query.
Local keyword research. When done right, including local keywords on your pages can give a ranking boost on the SERPs. Make a list of keywords describing your products or services, then add location-based modifiers. An SEO tool like Ahrefs can help you identify how well keywords perform based on their search volume and difficulty.
Localized content. Targeting a specific demographic and localized content can help your business website improve its visibility. Create locally relevant content that fulfills the demand of your target audience. From blog posts and guides to case studies and recommendations, make sure to choose the ones that fit your business niche.
Customer reviews. Reviews show that customers trust your business, and Google will notice that fact. Therefore, start encouraging your customers to leave their comments. You can do this by sending them an email or providing a review page. Since Google also considers third-party reviews, be sure to monitor your online reviews.
Best SEO Practices: Ways to Improve Your Google Rankings
It is crucial to implement the best practices with so many SEO factors influencing your website's search engine rankings. Applying wrong and outdated SEO strategies will not only harm your rankings but can also impact your traffic and conversions.
We have listed some of the best practices to improve SEO and keep you ahead of the competition.
Target Long-Tail Keywords
Keyword research is essential for search engine optimization. It shows everything from what people are searching to the keywords your competitors are ranking for.
Thus, it is important to know what SEO keyword research is and perform it efficiently.
First, you need to understand the different types of SEO keywords:
Seed. The keywords that define your niche and act as the base to expand your content, also known as focus keywords. The keyword can be as simple as "coffee" or "what is SEO".
Synonyms. Keywords with the same meaning yet composed differently, attracting similar search results. For example, "how to fix broken headphones" can be changed to "how to repair broken headphones".
Long-tail. Longer, particular phrases that answer a specific search query. These commonly consist of three or more keyword phrases, such as "gluten-free chocolate cookies recipe".
Semantically-related. These keywords are conceptually related to each other. For example, "visit Los Angeles" is semantically related to "flight tickets to LA" and "best destinations in LA".
The key to optimizing SEO with keyword research is to target a relevant topic to your industry that has good traffic potential while keeping in mind metrics such as:
Search volume. It determines how many people are looking for a specific query within a given time and is commonly measured using national-level data.
Keyword difficulty. Also referred to as keyword competition, this metric measures how difficult it is for a keyword to rank in Google organic search results.
Fortunately, SEO tools such as Ahrefs, Semrush, and Google Keyword Planner can easily identify these metrics.
If you want to write a piece of content containing a cookie recipe, checking your focus keywords will show that most of them are highly competitive:

If your website is new and you're targeting the keyword "peanut butter cookies", you don't have much chance of ranking high on Google. Thus, it's better to start listing out long-tail keywords, such as:

A keyword with a high search volume attracts more organic search traffic but is also more competitive. Targeting high-volume keywords means competing with high-quality sites that have higher authority.
On the other hand, long-tail keywords have less competition and allow you to build highly relevant content for your audience.
Start by improving your website's traffic through long-tail keywords and build your SEO keyword strategy from there.
Expert Tip
Your competition is basically websites you'll be trying to outrank. For this, just take a closer look and see if you have a lot of professional websites, big media websites, or company websites? Does your website sit among these sites?
If you see a lot of established websites on the first page, I would recommend starting with new, different keywords especially if you're working on a new website. Those keywords will most likely have a lower search volume, but they should be easier to rank.
Also, if you have a Google Ads account, you can even check the pay-per-click for certain search terms. Those with high pay-per-click are usually harder to rank in organic search.
Match Your Content for Search Intent
Search engine algorithms help present more advanced search results for users based on the purpose of their search.
For instance, Google's algorithm not only gives users relevant search results but is also able to determine their specific search intent.
When a user searches for "how to pair a JBL Bluetooth speaker" Google will present results from pages or videos that contain instructions of some kind.
Meanwhile, when a user searches for "buy a JBL Bluetooth speaker" Google instantly shows eCommerce pages as the top results.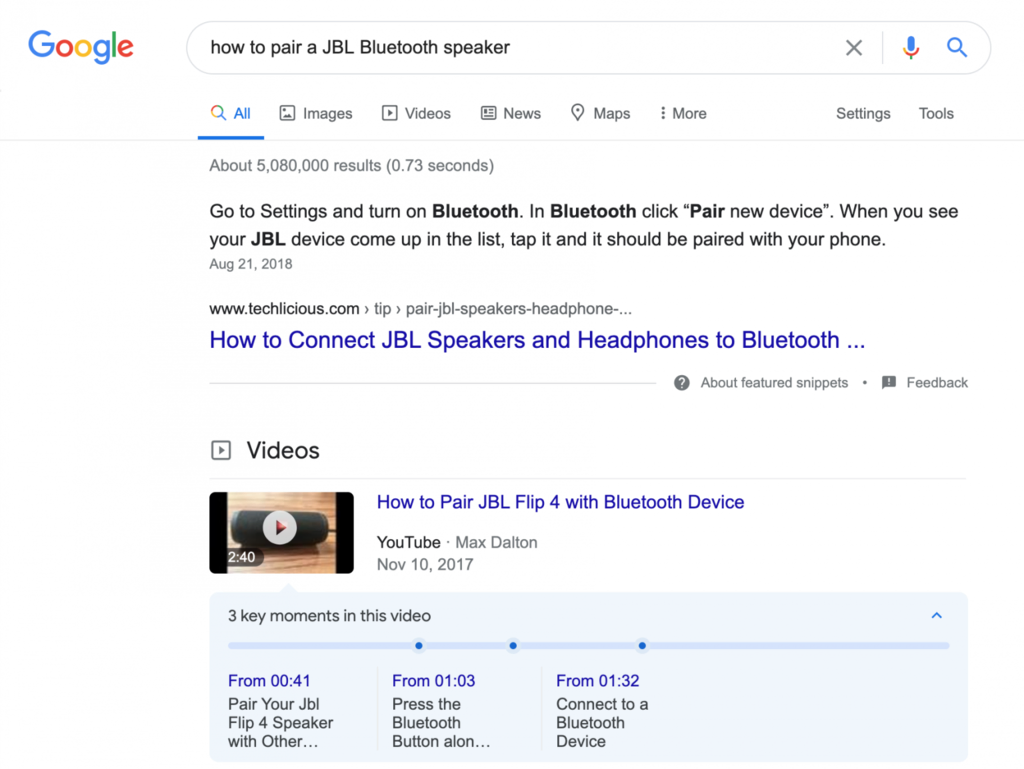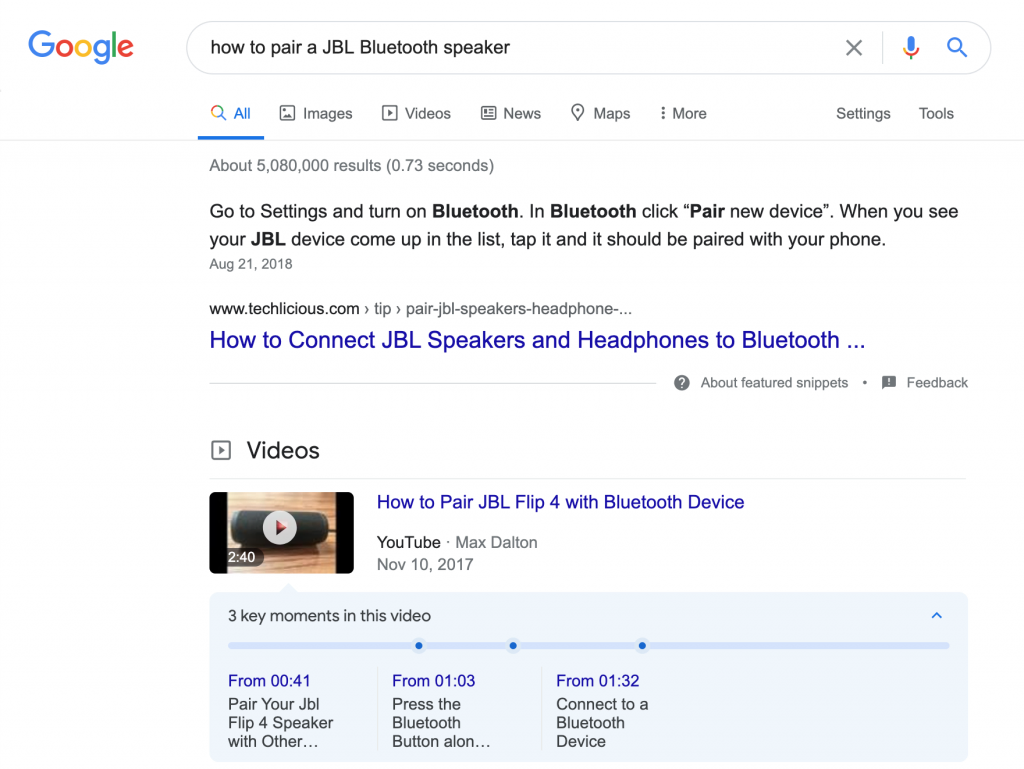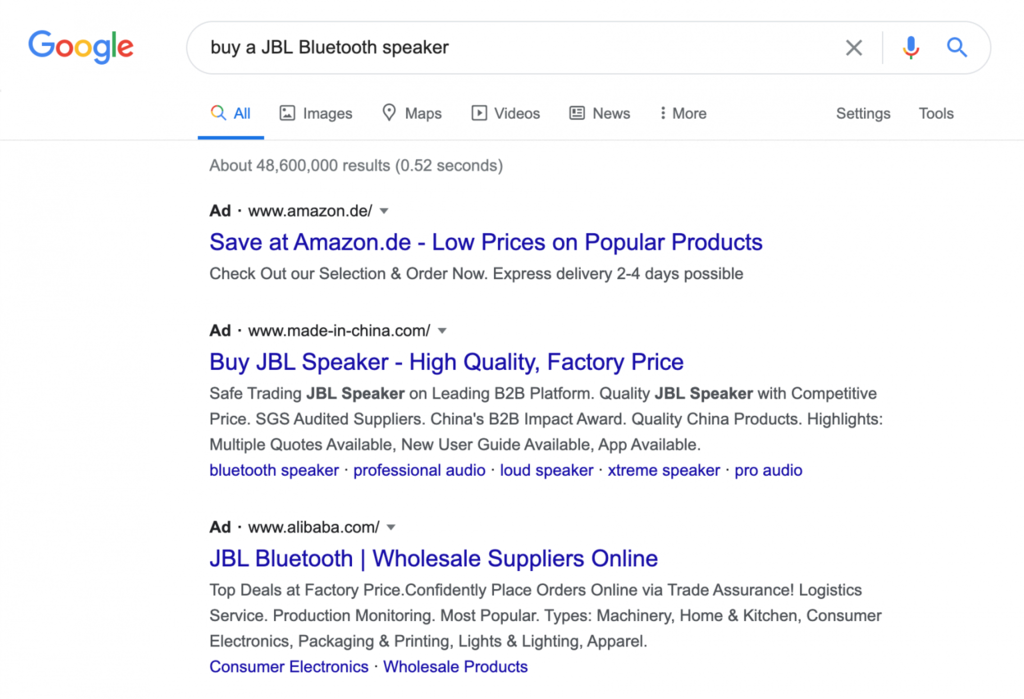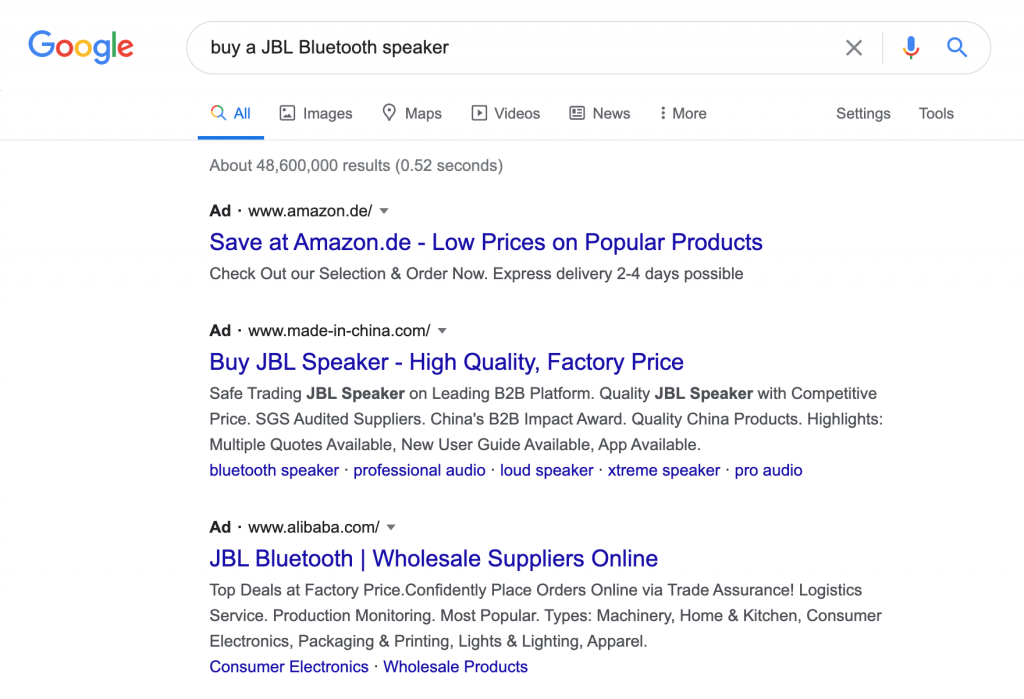 This occurs because the search algorithms can detect the four primary search intents and act accordingly.
Informational. It refers to the users who want to know or learn about something. The searches for this intent include, but are not limited to, phrases with "how to", "who is", and "what is".
Navigational. Users with this intent are looking to visit specific sites. Instead of typing the URL in their address bar, users choose to navigate through Google. Some examples of searches for this intent are "Reddit login", "Facebook", "Spotify".
Commercial. Users usually conduct this search before they make a purchase. They investigate and compare multiple brands, products, or services to find the best option. A common query for this search intent looks like "gaming laptops 2024" or "top restaurants near me". 
Transactional. These searchers are targeting a specific product or service to buy. The searches commonly include brand names, such as "Buy Samsung Galaxy S20" or "Air Jordan Retro for Sale".
For example, to rank for such keyword as "natural face cleansers", you need to craft your content for informational intent. Focus on answering possible questions related to the industry, write about the benefits of natural products, tips for clear skin, or DIY natural face products.
However, it's different from when you want to rank for "best webcams for streaming". Users with this intent simply wish to compare the best webcams for streaming purposes. Thus, this belongs to the commercial intent.
With that in mind, the best SEO practice is to align your content to suit the various types of intent. In short, identify what your users want and provide the answers to them.
Include the Target Keyword In Title Tags
A title tag is critical to your website. It provides users with an insight into the content and helps them see why it's relevant to their searches.
Users want to find web pages that show relevant keywords to their queries. That's why Google urges you to create good titles and snippets for search results.
When you optimize a title tag with a target keyword, it gives the search engine more opportunities to discover your website and rank it higher.
For instance, the top results for "how to increase productivity in the workplace" contain a specific target keyword.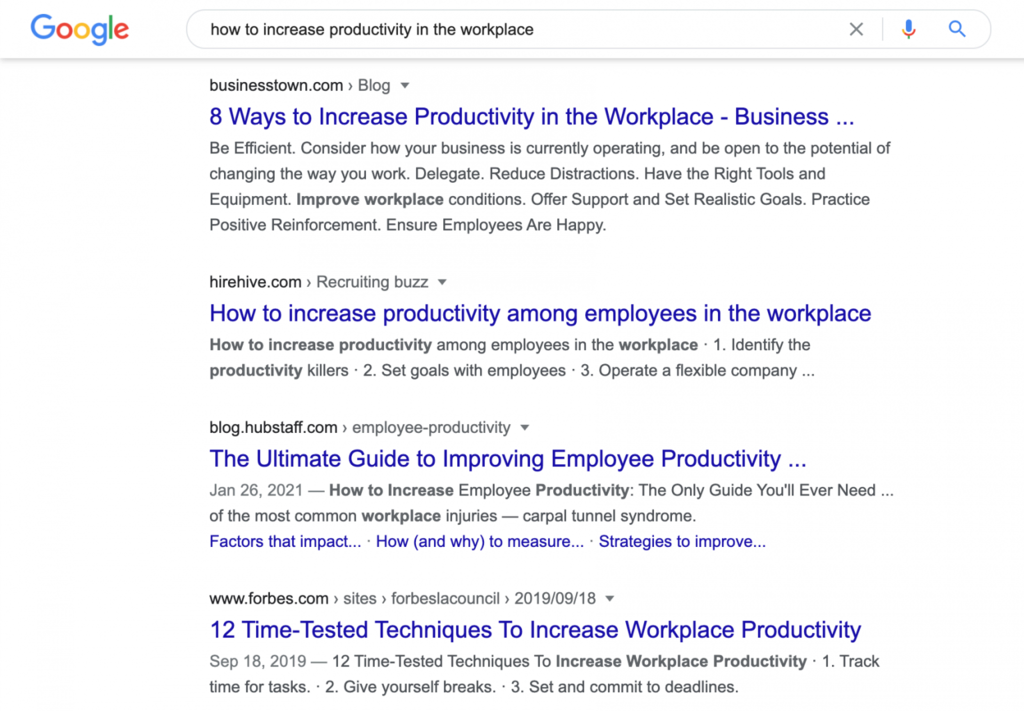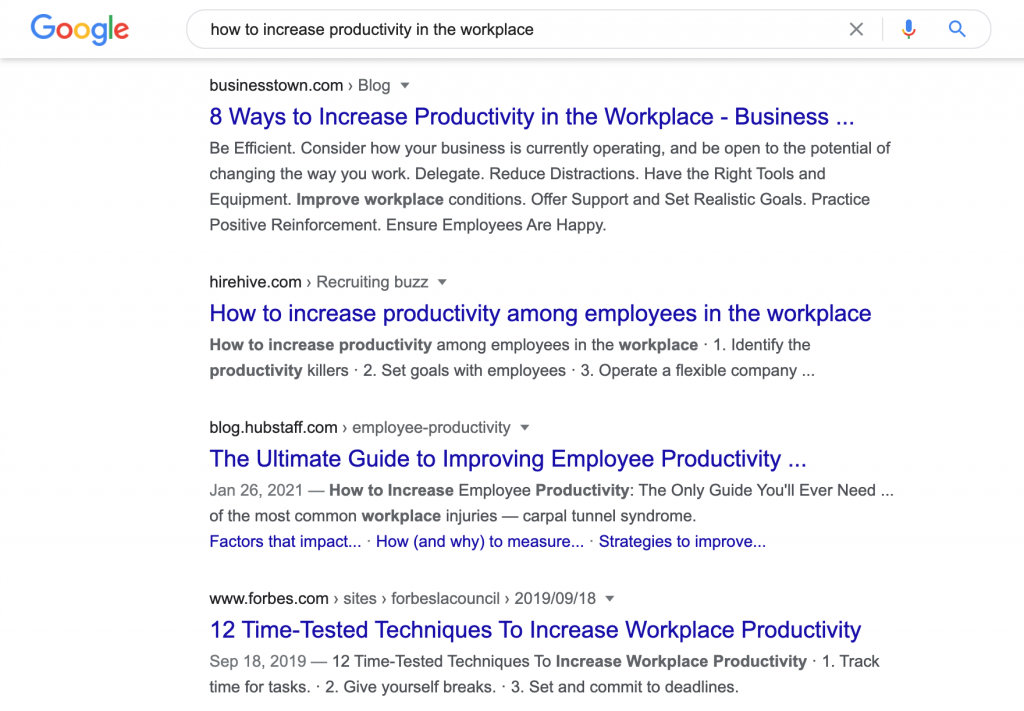 The key is to place your main keyword early in the title. Not only can it grab the users' attention, but it also helps search engines determine what the page is about.
However, make sure the keyword placement sounds natural and avoid stuffing unnecessary words.
In addition to optimizing your title tags, it is also important to craft your meta descriptions. This allows you to reflect on what the content is about and entice users to click on the page.
A few SEO tips to note are to keep the descriptions around 150 characters, use active voice, and make them actionable.
If you use WordPress, the SEO plugin Yoast offers suggestions for title tags and descriptions, along with a snippet editor that allows you to preview how your page will look on Google.
Expert Tip
SEO plugins are great because they give you recommendations on what exactly you need to do to optimize the content for specific keywords. It's super easy – start by entering your key phrase, then it'll analyze your content and provide a list of suggestions for optimization.
I personally never ever follow the suggestions blindly, but if you are just starting with SEO, I would say these suggestions are really good. It's as easy as applying these suggestions and getting that green smile.
Get Authorized Backlinks
Authorized backlinks refer to links coming from reputable websites. Google's algorithm sees backlinks as votes of confidence on your site and considers the source's domain authority to validate them.
The right amount of authorized backlinks will bring more benefits than having excessive links from spammy websites.
High-quality backlinks help your SEO rankings, while poor-quality backlinks can hurt your site's credibility.
Here are a few SEO tips for building quality backlinks to your site:
Write quality content. Providing comprehensive and informational content on your site is essential. It helps other sites judge your authority and determine whether your page is worth linking to.
Guest blogging. This refers to the practice of writing a blog post for another website. In return, they allow you to add backlinks in the post or the author's bio section. Additionally, you get brand recognition and exposure to a broader audience, triggering more organic traffic to your site.
Analyze your competitor's backlinks. Keeping an eye on the competition allows you to identify websites that are likely to link back to your site. Tools such as Monitor Backlinks and Ahrefs Link Intersect will enable you to monitor backlink opportunities. Once you have listed the sites that link to your competitor, reach the site owners and deliver your pitch.
Broken link building. This SEO technique involves finding HTML 404 errors on a website and notifying the site owner. It allows you to suggest your website as a resource to replace the broken link. You can use Ahrefs Broken Link Checker to scout and identify broken links on the web.
Expert Tip
If you're just starting your website, what I would do is google the keywords I want to rank. The search results will show me 100 results, and then I try to find pages where I can place links to my website. It can be a forum post or a blog. Try contacting the blog owner, and offer him a guest post that you'll have to write and link back to your website.
If it's like a local website and you're trying to rank it locally, you can use directories and the classified ads websites for that.
Prepare for the New Algorithm
Google introduced a new search algorithm called page experience. It refers to a set of signals that measures user experience when interacting with a web page.
Page experience includes existing SEO factors such as mobile-friendliness, website security, and page speed. It also uses Core Web Vitals, a set of metrics that measure loading, interactivity, and visual stability.
These metrics include:
Largest Contentful Paint (LCP) – reports the amount of time required for the page's largest content to load, including images and videos. The ideal load time is 2.5 seconds.
First Input Delay (FID) – measures the time from when a user first interacts with a page, such as clicking on a link or tapping a button, to when the browser processes that request. The suggested FID is less than 100 milliseconds.
Cumulative Layout Shift (CLS) – counts the total unexpected layout shifts on a page during the loading phase. It prevents visitors from clicking on elements that suddenly change positions. For the best user experience, a website should have a CLS score of less than 0.1.
Now that you know what components are involved in the upcoming search algorithm update, here are some tips you can follow to prepare your site for the new update:
Detect and fix usability issues. Usability refers to the ease of use of a website. Use web page heatmap tools such as Crazy Egg and Hotjar to learn how visitors engage with your site. The tool highlights which parts get the most attention and where visitors are likely to get stuck, allowing you to enhance your page structure and provide a better user experience.
Enable safe browsing. Google eliminates potentially harmful sites from its search results. It keeps visitors away from malicious and deceptive content. Access Security Issues Report on Google Search Console to ensure your pages don't have any security issues. It helps detect hacked content, malware, and phishing attacks.
Optimize for mobile devices. A responsive design automatically adjusts website elements to fit different screen sizes. It provides an optimal experience for visitors across devices, from desktops to smartphones. Some good approaches include applying a fluid layout for your design and eliminating pop-ups that launch new windows.
Expert Tip
There is a common misconception about Core Web Vitals. It does not play a huge role in the algorithm.
It's for sure important and can move your rankings up, but if your overall SEO strategy is not good, if your content isn't optimized, having the perfect Core Web Vitals and a 100 score in PageSpeed Insights most likely won't help you at all.
Even Google itself has been downplaying the importance of Core Web Vitals as a ranking factor, and there is a great article by Search Engine Journal about this if you want to learn more.
Why Is SEO Important?
Generating around 53.3% of all website traffic, organic search has become a crucial part of online marketing. Organic traffic brings a high prospect of turning visitors into buyers or members of your business.
However, driving organic traffic to your site is not easy, and this is where SEO comes into play. With SEO, you can optimize different parts of your website and page to fit various criteria of the ever-changing search algorithms.
SEO provides a set of strategies that focus on boosting a website's visibility on search engines. The higher your rank is, the more traffic your site will get.
Especially for businesses, optimizing your site's SEO can give your brand more exposure and possibly grow your sales and revenue.
In addition to that, Google's algorithm takes numerous SEO factors into account when ranking websites for their results.
If your website manages to get a position on the top of search engine result pages, it can help establish your brand or business's trust and credibility.

Where to Learn More About SEO
Learning about SEO from scratch requires a lot of time and patience. Besides understanding the basics of SEO, you'll need resources to learn the fundamentals of digital marketing and how search engines work.
To help you get started, we have listed some of the best SEO learning resources available:
Conclusion
Working on search engine optimization involves numerous factors and practices. SEO strategies are constantly evolving to keep up with the dynamic search engine algorithms.
A site with well-implemented SEO has an excellent chance to appear on the top search results and get an increase in traffic.
To ensure you implement the best SEO practices, let's recap the four main types of SEO we previously discussed:
On-page SEO – focuses on content-related elements on your web pages, including image-alt, title tag, and meta description.
Off-page SEO – involves activities outside of your website, such as link building, outreach marketing, and guest posting.
Technical SEO – includes SEO technical aspects to optimize your website's speed, compatibility, security, and ease-of-use.
Local SEO – SEO strategies to boost your website visibility on local searches and gain more local traffic.
With that in mind, we hope you have a clearer vision of how to improve your website's SEO efforts.
Keep in mind that SEO is a continuous process. To get visible benefits in the long run, you need to constantly adjust your SEO strategy and adopt the newest SEO factors and practices.