How to Write a Blog Post: Practical Tips for Beginners
Blog posts remain one of the most popular and effective forms of content. That's why many companies include blogging as one of their main digital marketing efforts to spread brand awareness and generate leads.
Creating blog posts is an excellent way to share your passion, showcase expertise, and improve your writing skills.
However, writing a blog post can feel like a challenge, especially for beginners with no clue how to start their first draft.
Thus, it's essential to be strategic before crafting a post, from choosing a topic to editing the draft before publishing it. Doing this will save time and help you create high-quality and SEO-friendly content.
In this article, we'll dive deeper into each of the eight steps on how to write a blog post and share pro tips to create successful blog posts.
Video Tutorial on How to Make a Blog Post
Need a refresher on how to make a blog post in WordPress? Check our quick video rundown below: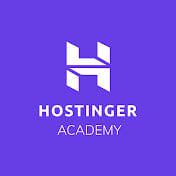 Subscribe For more educational videos!
Hostinger Academy
Subscribe
1. Choose a Topic to Write About
The first step before you start a blog is finding a topic to cover in your first blog post.
One excellent method to identify relevant blog topics is to do keyword research, a process to find search queries or keywords that a target audience enters into search engines. Doing this helps a writer discover topics people care about and check their popularity.
Before doing keyword research, try listing up to ten terms that relate to your blog niche. Consider using tools like Google Docs or Todoist to create this list to access this file at any time.
Enter these terms into a keyword research tool such as Ahrefs or KWFinder to find more keyword suggestions that you might not have considered.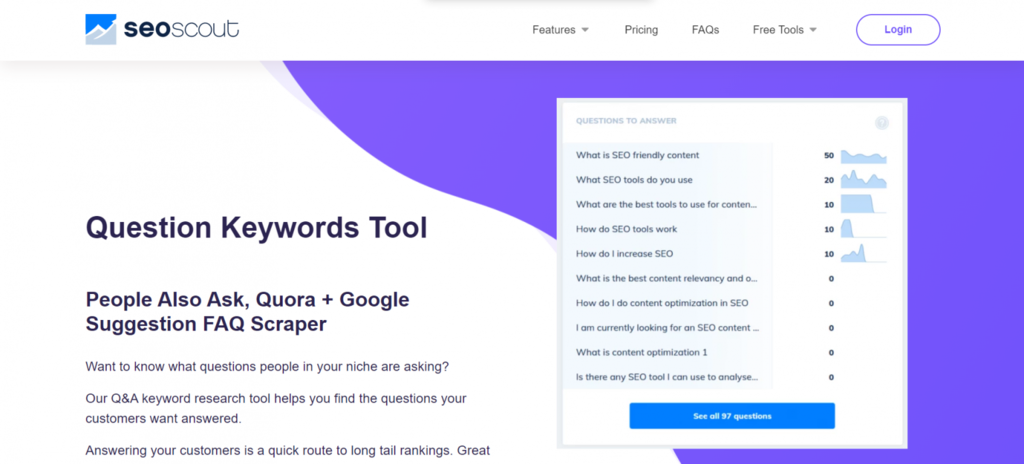 Additionally, there are other topic-searching tips to try:
Research related terms – enter a specific keyword into the Google search box and find related search terms at the bottom of the first result page.
Join online forums – discover niche discussion forums using FindAForum, then analyze topics in those sites that receive the most likes from its members.
Scan blog comments – spend some time looking at the comment sections on competitors' blogs and other popular sites in your niche. Then, search for topic ideas that their readers might be asking for.
Find proven topics on Pinterest – this social network is a great place to find popular topics. Simply type in a keyword in the search bar, and this platform will display a list of other suggestions.
Look for new topics – new topics are usually less competitive than topics that have been around for years. To consistently find new subjects to discuss, use a tool such as Exploding Topics.
Once you have a collection of topics or target keywords, revise the list by considering these:
Identify each keyword's search volume – search volume shows how many people are searching for a specific query. Consider choosing terms with low search volume as they are less competitive than high-volume keywords, making it easier for a new blog post to rank on search engine results (SERPs). To see a keyword's search volume, utilize a tool such as Google Keyword Planner.
Look for long-tail keywords – a long-tail keyword usually contains more than three words. Focusing on long-tail terms can help drive more desirable traffic since people who search for these keywords are looking for a specific answer.
See how competitors are ranking for specific keywords – evaluate the topics by analyzing keywords your competitors are trying to rank and currently ranking for.
Identify trends – use Google Trends to ensure that a topic can stay relevant for years.
2. Research Blog Post Ideas
After collecting some topics, pick one to get started with and find a good blog idea or format that matches the subject.
Choosing a suitable format can help increase the site's chance to rank on Google's search engine results pages, making it easier for potential readers to discover your content.
There are many types of blog posts to choose from, and each provides a basic outline.
Some of these blog post types include:
How-to post – a how-to article is a step-by-step guide that educates readers on a specific activity. Here's an example of a how-to post by Vicky Newbold Nutrition, which shares a step-by-step guide to make a poke bowl: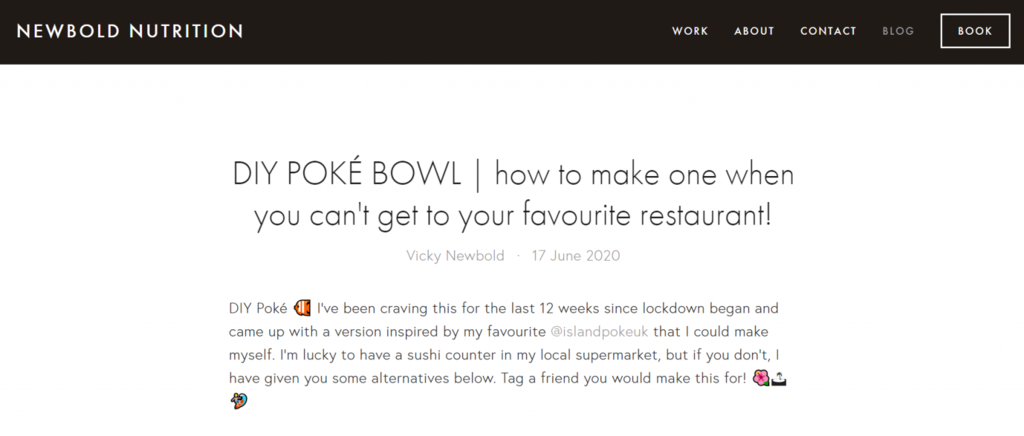 List post – a list post, also called a "listicle," is an article written in list format. This content type is easy to recognize as it commonly contains a number in its headline. List articles are also easy to read and skim, allowing readers to quickly understand and get important information.
What post – this blog post type aims to introduce and explain a specific subject, highlighting the importance and relevance of the concept. A pro tip for writing a blog post using this format is avoiding jargon and only using analogies that readers understand.
Thought leadership post – the idea behind thought leadership posts is usually to educate the audience about the latest news or trends in an industry. This blog content type is excellent for those who want to be seen as experts in their field.
Interview post – this content type is excellent for introducing the perspective of an authority figure on a particular subject. It's also great for developing relationships with experts or influencers within an industry and attracting their audiences to your blog.
Review post – review blog posts typically talk about the pros and cons of a product or service. According to Podium, 93% of customers read online reviews before buying a product. That's why this format is one of the most popular content types.
Comparison post – as the name suggests, this format compares different solutions to help readers decide. To write a fair comparison article, make sure to include facts and statistics from third-party sources to back up your claims.
Curated post – curated content is a selection of helpful resources about a specific topic. This type of post is suitable for aggregating content such as statistics or industry examples. Here's a curated post example from our blog about the latest eCommerce statistics: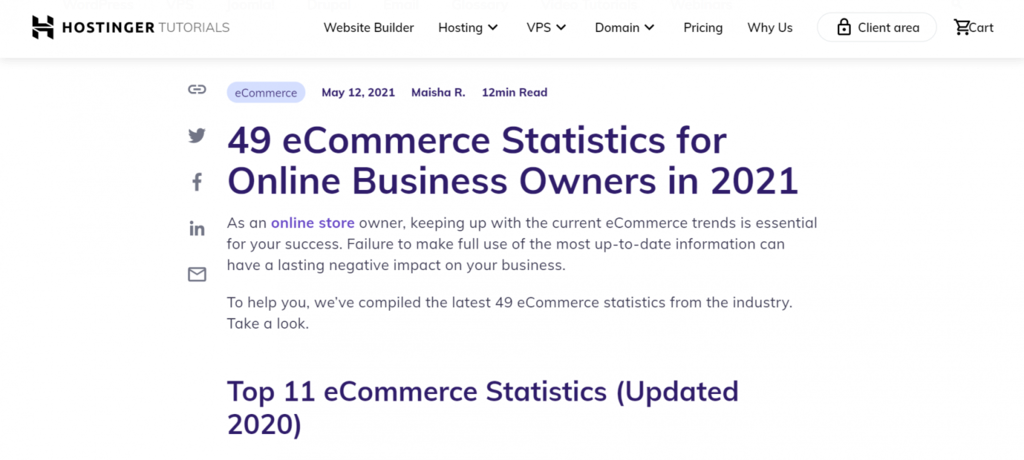 Before picking your first blog post format, identify the search intent behind the topic's main keyword. This shows what users are attempting to accomplish when they enter a query, allowing you to match the content with their expectations.
There are three types of search intent:
Informational – people with informational intent have a specific question and want to know more about a particular topic. Some formats that might be suitable for this intent are list, how-to, and what posts.
Navigational – users with this type of intent usually want to visit a specific website or web page. In other words, a page will be irrelevant to their needs unless it's precisely what they're looking for. For instance, people who search for "LinkedIn" are usually on their way to the LinkedIn website.
Transactional – people searching with transactional intent usually plan to buy a product or service and use search engines to do their research. Consider writing blog post types such as comparisons or reviews for terms with this intent.
To see the search intent behind a topic, simply enter the term into Google using the Incognito mode. This way, the results won't be biased by your past search history.
Then, analyze which type of intent is most common on the results pages. After that, make sure to write a blog post that is aligned with this intent.
3. Aim for an Engaging Title
Now that you have a blog topic and format, it's time to write a good blog post headline.
A title is the first element that people notice. That's why it's crucial to come up with a catchy title to convince visitors to click and read your blog post.
Before you start to write a blog post, try creating a working title – it's a temporary title that describes the topic and works as the starting focus point for writing.
A working title doesn't have to be perfect. It just needs to be specific enough to guide the blog post. When you finish writing the blog content, it's time to focus on making a perfect post title.
Expert Tip
A good headline is anything that's educational and evokes curiosity, like "How to…" and "Step by Step." Those are some of the headlines that do really well.
I would also look at what does well on the social web – that'll give you an idea of what headlines people like and what direction you should go as well.
Refer to the following tips to come up with a great headline:
Add numbers – if you're creating a list post, consider using numbers in the headline since a title with a number performs better than other types of headlines. Additionally, including a number can tell readers how long an article will be. Here's an example of how we used a number in our tutorial about profitable things to make and sell: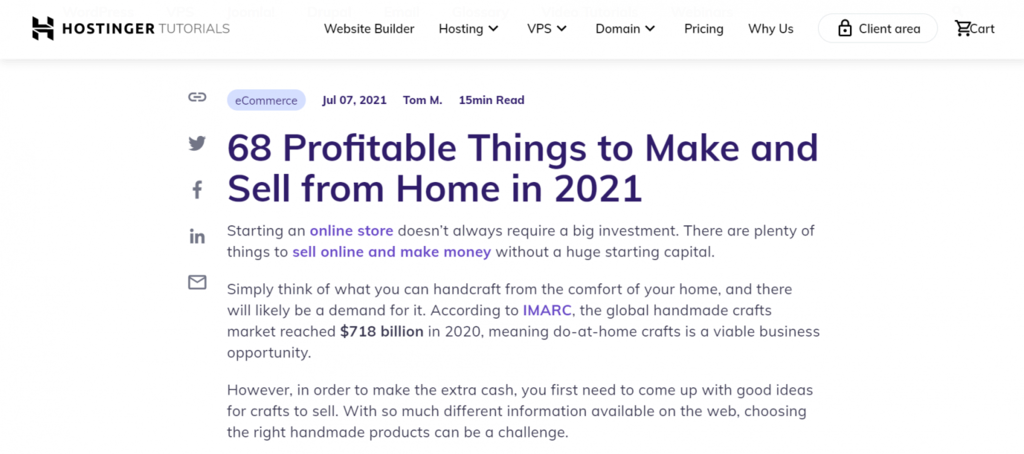 Avoid vague headlines – a headline should have a clear value and indicates certain promises. The more precise the benefit, the more likely target readers are to click. Ask the question "What's in it for me?" on behalf of your reader when writing headlines.
Prepare multiple titles for each post – according to a study by Orbit Media, bloggers who spend time writing lots of headlines before choosing one see better results. Try creating several titles using different formulas and choose the most appealing one for the blog post.
Consider a negative title – one excellent method to create a great blog post title that generates clicks is to include a negative sentiment in the headline. A study by Backlinko shows that a negative title has a 7.2% higher click-through rate (CTR) than a neutral headline.
Ask a question to spark curiosity – question headlines can be a compelling hook to generate interest and draw in readers curious about the answer to the subject you're asking. Based on Backlinko's research, titles containing a question have a 14.1% higher CTR than pages without a question in their headline.
Use a page title generator – utilizing a free tool like Portent's Content Idea Generator can be an excellent solution for those struggling to come up with great blog posts' titles.
Write long headlines – according to BuzzSumo, long headlines work better when it comes to engagement. A long headline usually contains more information, helping readers understand the benefit of clicking on that blog post.
Include hyphens and colons – titles with hyphens or colons perform better than other headlines. A simple technique for using hyphens and colons is to use target keywords at the beginning and add a compelling title after it.
Improve the title – use a headline analyzer to provide feedback on what to improve in a title.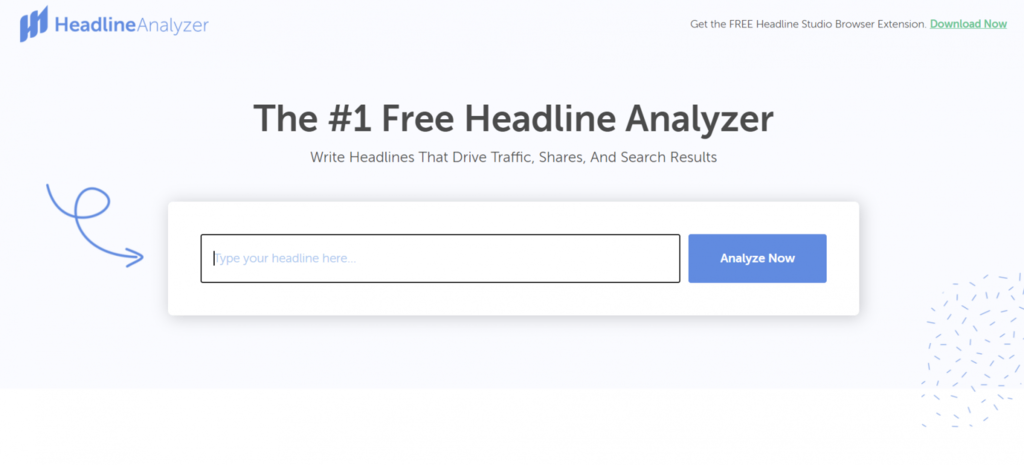 4. Create an Outline
Creating a content outline is the next important process before you start writing a blog post.
An outline is the basic structure of a blog post. It's designed to help the writer create quality content faster and more efficiently.
By preparing a content outline, bloggers can keep their blog posts focused and on-point by planning out and arranging their ideas.
To start outlining, use a writing tool such as Google Docs, as it comes with a document outline feature that helps organize the text.
When creating an outline, make sure to include the blog post's main topic and working title. It's also essential to add the article's headings and subheadings to the outline.
A heading is a short phrase that represents what a specific section of an article is about. Meanwhile, a subheading is a text placed under a heading to expand on what the heading says.
Headings and subheadings organize a blog post's intent and lead the readers through the article. They also help separate a lengthy post into parts, making the content more scannable for the readers. Additionally, well-crafted headings and subheadings make content quicker to rank on search engines.
Here is an example of a heading and subheading in our article about how to start a food blog: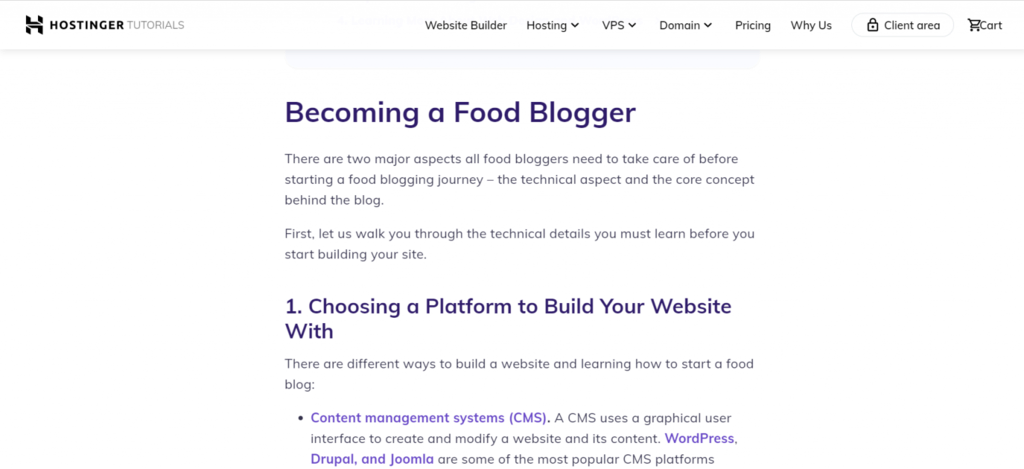 Pro Tip
Find relevant subheadings to include in the outline when searching the blog topic on Google and looking at the top ten ranking articles. Identify the section headers of these pieces and choose the ones that are useful and applicable.
Here are some other tips to consider when creating an outline:
Provide brief descriptions – ensure each heading has a short description that sums up the purpose of the section.
Use bullet points – create bullet points of all the rough ideas that might be worth discussing underneath each section.
Keep the word count in mind – the length of a post can help a writer define the number of headings and subheadings needed in the outline. Thus, make sure to determine the word count before creating a content outline. According to HubSpot, most-read blog posts tend to have at least 2,100-2,400 words.
Include some research – add a few facts or links to back up your ideas and consider adding more once the writing process begins.
Ensure all ideas are relevant – be sure to remove items that don't fit the scope of the posts before getting too invested in the writing process. Also, organize the bullet points into a logical structure to make the writing flow better.
5. Write Your First Draft
Once the outline is ready, use it to guide your writing.
However, before you begin writing the first draft, make sure to determine the point of view (POV), which is the angle from which a writer explains the topic. Many new bloggers overlook this process, not committing to a POV from the start and jumping from one perspective to another when writing.
There are three primary POV types to choose from. Commonly, the most compelling blog posts use the second-person point of view, as it puts the readers and their problems at the center of the conversation.
Expert Tip
Create that personal touch. Put in stories, personal experiences, respond to your comments – let people know that you're there to help.
Just put in all the personal touches so people know that it's not just another blog. You're a person behind it and you're here to help others.
Once you figure out what POV to use, start writing the first draft of the content.
A blog post is made up of three parts: introduction, body, and conclusion.
Introduction
An introduction is the first paragraph of a blog post that appears below the title. It lets readers recognize the post's focus and engage them to read the article further.
Here are the three essential elements to keep in mind when you write a blog post introduction:
Hook – it's the part of the introduction that grabs the reader's attention. It can be an interesting quote or anecdote, intriguing question, or striking statistic. The right hook to choose will depend on the topic, audience, and writing style.
Transition – a transition is a sentence or paragraph that connects the hook to the body of the post. It tells the readers the importance of the blog topic before they dive into all the details of the post.
Thesis – as the last element of an introduction, the thesis summarizes the post's purpose and strengthens why readers should continue reading the article. For instance, if you plan to discuss ten ways for monetizing a website, tell the readers up front that you have ten tips to share.
Body
The blog post body is where a writer elaborates the main topic of their content into some paragraphs.
To write a blog post body, use the outline created to make the body's paragraphs flow well.
Since readers tend to skim when consuming an article, it's essential to keep each of the paragraphs short and cover only one main idea.
To make an effective paragraph, ensure it also contains the following aspects:
Topic sentence – it's the paragraph's first sentence, which clarifies the subject you are covering. It can either establish a new idea or continue one from the previous section.
Supporting sentence – it might include proof of the paragraph's subject or an example to illustrate your point.
Conclusion sentence – use the last sentence of the paragraph to conclude the main idea before moving on to the next section.
Make sure to choose simple rather than complex words when forming a sentence to make a post easy to understand for most readers.
Also, remember to use transition words to ensure a smooth flow of ideas from one paragraph to another.
Conclusion
A conclusion is an essential element of a blog post, summarizing the main idea presented in the body of your article. It provides closure for the readers and reminds them about the importance of the content.
Here are a few tips for writing a blog post's conclusion:
Restate the topic – the first step to write a blog post conclusion is to restate the article's main idea. Use one sentence or paragraph to summarize why the topic is important. Ensure it's clear and concise.
Use the introduction as a reference – consider restating the points made in the introduction. For instance, if you started the introduction with a question, mention the answer in the conclusion.
Present actionable solutions – include all the key takeaways from each section that readers can implement in their daily lives.
Avoid presenting new information – a conclusion is simply a review of the blog post, so avoid introducing new ideas in this part.
Conclude your thoughts – finish the conclusion by creating a call-to-action (CTA) or presenting an idea that gets the readers thinking further about the article.
Start a discussion – consider asking a question in the conclusion to encourage readers to leave comments and start a conversation.
Pro Tip
Create your first blog draft easily with the Hostinger AI Assistant plugin. The AI will generate well-structured and SEO-friendly blog posts, which you can easily edit in the post editor before publishing.
6. Make Use of Visual Elements
One of the most effective ways to keep readers interested in your blog post is to include visual elements.
According to Creatopy and Orbit Media's research, all bloggers in the study use relevant images in their articles, showing how crucial visuals are for their posts.
A visual element can be used to separate blocks of text, making it easier for readers to scan and digest the article. It also helps to strengthen the post's message and make it simpler to understand.
There are many types of visuals to use to make a blog post visually appealing. Some of them are:
Images – it's one of the most common media files in articles. Including images in your blog post can help readers remember the information longer. If using stock photos, avoid copyright issues by downloading them from sites like Unsplash.
Infographics – this visual type can increase website traffic up to 12%. Infographics are excellent for educating. However, it can take a lot of time and energy to research and develop one. Some useful tools for creating infographics are Piktochart and Canva.
Videos – adding video to content can help engage visitors and make them spend more time on a site. What's great, posts incorporating videos can attract three times more backlinks than other articles without a video. Some great sources for free videos are Videvo and Stock Footage for Free.
GIFs – this visual type can create emotion and catch the audience's attention with subtle animations. It's easy to consume and has a relatively smaller file size compared to other image file formats.
Screenshots – screenshots are best for a how-to or step-by-step guide that shows actionable tips to help the readers progress through the content. Feel free to insert arrows, basic shapes, or explanatory text on the screenshot to convey your message better.
Graphs and charts – use graphs or charts when presenting numerical data to simplify the information and make it seem more appealing. However, make sure to utilize the correct type of graph or chart and relevant statistics. For example, bar charts are more suitable for comparisons, while pyramid charts are great to show the hierarchy of data.
Illustrations – if you can create an illustration, consider using it instead of standard stock images to make your blog stand out from others. Remember to establish a style guide for the pictures to ensure they are consistent across multiple posts.
Pro Tip
When adding visual elements to a blog post, remember to do it at regular intervals.
According to BuzzSumo, articles with an image every 75-100 words receive double the social media shares as articles with fewer images.
Also, remember to optimize the images before using them on your blog – big files can consume more space and make the site slower. If adding videos, host them on a video hosting platform since they can take up server bandwidth and storage space.
7. Proofread Your Work
Once the first draft is done and it has some visual elements, it's time to double-check your work and ensure no mistakes are left before sharing the post.
Whether you're an experienced writer or a new blogger, it's crucial to spend some time editing the post to make it clearer and more concise. At the same time, this step can save you from returning to the blog post later to make new changes.
Remember that editing is more than just fixing some writing issues. It also includes ensuring a blog post has all the necessary elements to make it more appealing and engaging.
To start editing your first blog post, refer to this checklist:
Allow the post to rest a bit before editing it – ensure to wait at least a few hours before editing. Once your mind feels refreshed, it will be easier to spot any typos or grammatical errors.
Read the article out loud – reading a draft aloud is an excellent way to catch mistakes and awkward sentences that are hard to follow.
Structure and format – ensure all elements in your content are formatted for readability, from headers to visuals. Consider including numbered lists or bullets to help readers skim and identify important takeaways quickly.
Spot inconsistent language – fix any language inconsistency to look more professional. Use established style guides like the Oxford or AP Stylebook during this process.
Fact check – ensure all links and information in your content are accurate and from reputable sources.
Eliminate adverbs and filler words – use an app like Hemingway Editor to catch adverbs and filler words that make the content sound weak.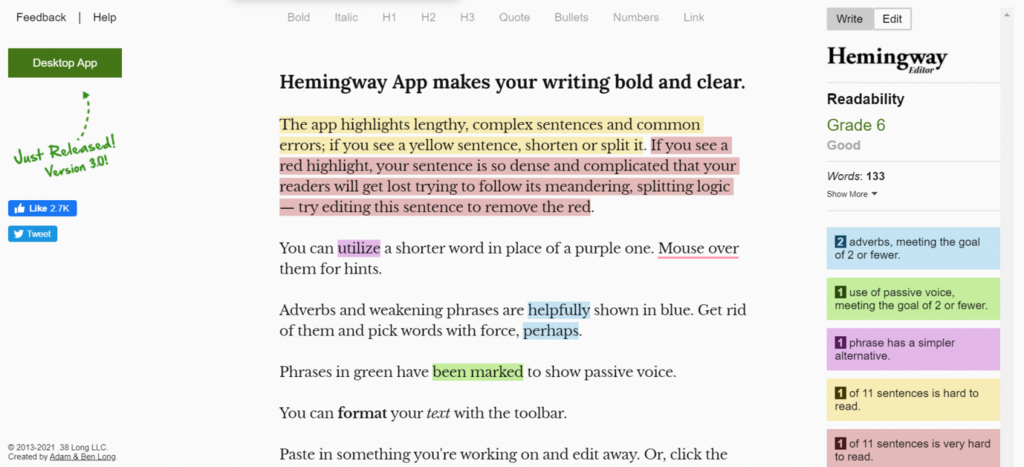 Proofread – take advantage of a grammar checker like Grammarly to fix spelling and grammatical errors, repetitive words, and typos.
Choose the appropriate category and tag – before you hit "publish" on the blogging platform, make sure to assign the post to a relevant category and tags. Doing so allows readers to navigate to other content in the same category easily and helps Google discover more posts about a similar topic.
Use a featured image – adding a visually appealing and relevant featured image at the very beginning of the article is an excellent way of directing visitors' attention to the introductory paragraphs they mostly overlook.
8. Publish and Promote
After writing the blog post, it's finally time to publish it on your site.
Pro Tip
Still hosting your blog elsewhere? You can launch your own WordPress site today without breaking the bank. Simply subscribe to one of Hostinger's hosting plans for WordPress and get a free domain along with all the necessary beginner-friendly tools to set up your blog in no time.
Before publishing the content, ensure its URL is short, descriptive, and contains the blog post's title – changing the URL after a post is published can affect its ranking and search traffic.
Another element to focus on before publishing your first post is the meta description, a summary of what the post is about. Try crafting a readable, compelling narrative using related keywords to improve the organic click-through rate.
Once the post is published, start promoting it to bring in the readers. Without letting people know about the content, potential readers have no way of finding it.
Here are some excellent methods to promote your blog for free:
Leverage social media – try sharing your blog post on popular social networks such as Instagram, Facebook, or Pinterest. Social media, however, is a two-way engagement platform. In other words, it requires that you actually interact with other users, starting conversations or commenting on others' posts.
Build a mailing list – it's an effective way to notify readers about new blog posts. To build an email list, consider giving visitors an incentive like a free course or eBook in exchange for their email address. If you're using WordPress, utilize a newsletter plugin like Jackmail to create and send newsletters directly from the dashboard.
Join online forums – consider being part of online forums in your niche. Contribute to the forum regularly, and see if there are opportunities to mention your posts in the conversation.
Use reciprocal sharing sites – another way to drive traffic to a post is to join a reciprocal sharing website like Triberr, which lets you connect with other bloggers. If you share other users' content on social media, they might promote your posts as well.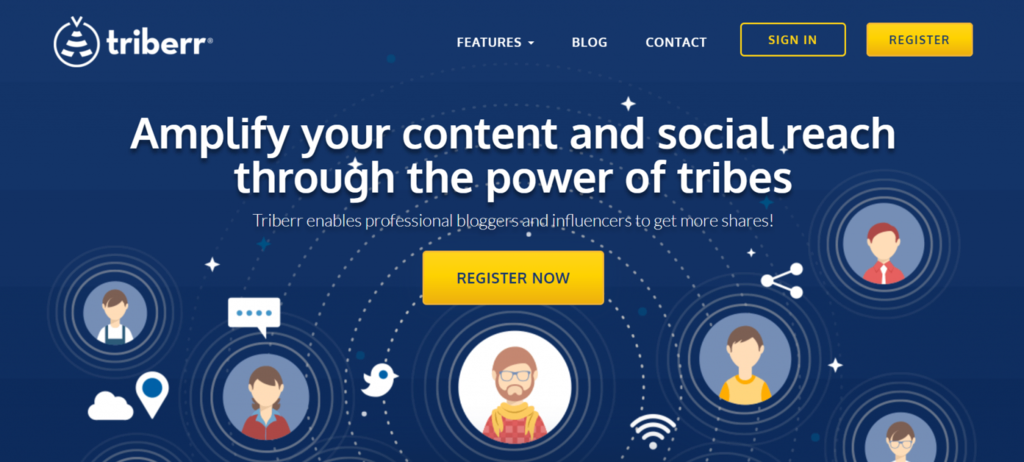 Guest post on popular sites – guest blogging can also be an opportunity to drive referral traffic. To find sites that accept guest posts, go to blog directories like AllTop and OnTopList. Also, make sure to look for websites that allow adding links to your site.
Expert Tip
Every time I write a blog post, I do the following things:
1. I email out the people I've linked to and ask them, 'Hey, I've linked to you! Check out my post, feel free to share it on your favorite social web.' And a lot of people will do that because they're flattered.
2. I would go on social networks like Twitter, see who shared other people's content that was similar to mine, and I hit him up asking to share my content. And I let them know, 'Hey, if you ever want me to share your content, let me know.'
3. I cross link. So every time I post a new piece of content, I'll go to my old pieces of content that are related and link back to the new one.
4. I use the backlink opportunity report in UberSuggest, and I see who's linked some of my competitor URLs. If someone's linked up to three, four of your competitors, but they haven't linked out to you, chances are they're willing to link to you because they link to multiple competitors. So I hit them up, tell them how my content is better, more thorough, more detailed, and better for their audience, and ask them for a link.
Tips for Creating a Successful Blog Post
Now that you know how to write a blog post, let's see some other tips to make your posts successful.
Understand the Target Audience
A target audience is a group of people who can resonate with the content and have the potential to become loyal readers.
Understanding your target audience helps to write a blog post with the language and tone that appeal to them.
To learn more about your potential reader, start by collecting their demographic data. This includes their age, income, location, hobbies, gender, and job title.
Try using a social listening tool like Awario to identify demographics that discuss the post's target keyword on social media.
Once you have the demographic information of potential readers, consider creating a reader persona – it's a semi-fictional person created to represent the ideal reader. It usually includes a name, face, personality, and goals.
Utilize a persona generator like Userforge to easily create a reader persona. By having a persona, bloggers can imagine as if they're writing a blog post for someone they know.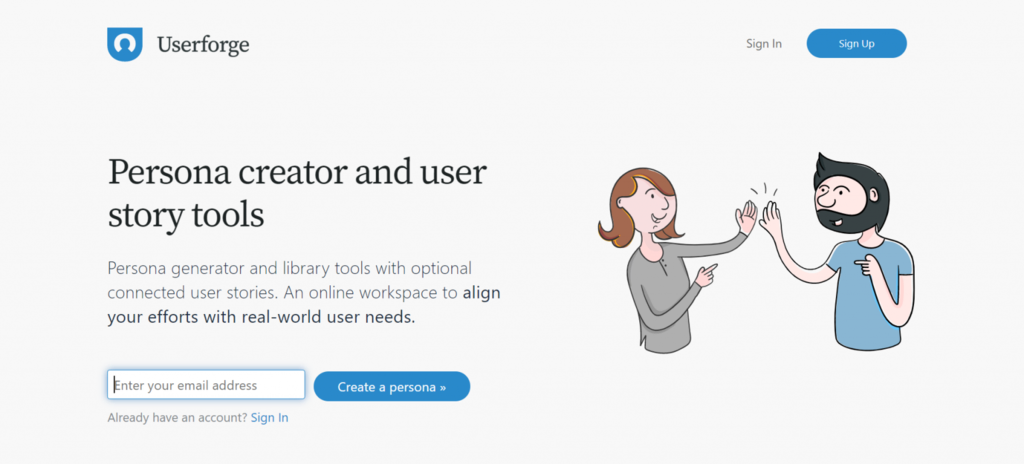 SEO
Search engine optimization (SEO) is the process of improving a site to increase its visibility on SERPs.
According to BrightEdge, 53% of all web traffic comes from organic searches. That's why SEO is vital for bloggers, as it helps their sites rank high in search results and increase search traffic.
One of the on-page SEO practices you should do is creating the image alt text, which describes what a picture is about. Doing this will help Google understand the context of the image and improve the site's accessibility.
Using internal and external links is one of the most effective WordPress SEO tips to apply when you write a blog post. Internal linking allows visitors and search crawlers to navigate a blog easily. Meanwhile, external linking to relevant pages that are well-ranked helps improve a site's authority.
Expert Tip
I typically write 15-20 articles before I really focus on SEO. And if you're on WordPress, there's a lot of SEO plugins like All-in-One SEO or Yoast SEO that just help ensure that your site's pretty optimized, so you don't have to worry too much.
Remember to regularly monitor the posts' SEO performance using Google Search Console, a free tool that displays any keyword a site currently ranks for in Google.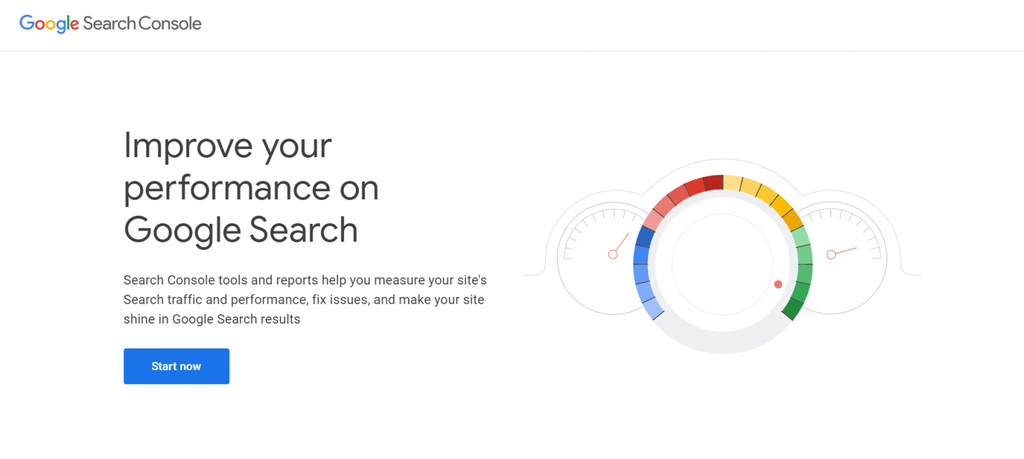 Use Call-to-Action (CTA) Signals
When you write a blog post, remember to include a call-to-action. This element directs readers to any action a writer wants them to take.
Many bloggers use CTAs at the end of their blog post's conclusion. A call-to-action can use different forms:
Button
Text hyperlink
Plain text with no link
There is also a variety of CTAs that can be implemented in blog posts, including:
"Leave a comment"
"Follow on social media"
"Share the blog post"
"Subscribe to the newsletter"
When creating a CTA, be sure to use strong words that stimulate action, like "join" or "download," for instance. Consider also using words with a sense of urgency, like "now" or "today."
Publish During the Peak Hours
Publishing a post when your audience is online helps it get their attention and generates more traffic to the page.
Various studies can help determine the best time to launch a post. One of them is the research by Shareaholic, which states that the best time to publish a blog post is early morning on weekdays.
Expert Tip
Try to post in the mornings within your time zone or whatever time zone that you are targeting people, it tends to do better.
So if I'm targeting people in Europe, I would do it in the mornings, maybe like 8am time in the UK. That way you can get the email traffic and social shares. And it just tends to do better. Posting afternoon or night doesn't do as well unless it's breaking news.
Once the blog has some traffic, use Google Analytics to get some peak time insights – this tool shows the number of visits broken down by day and hour.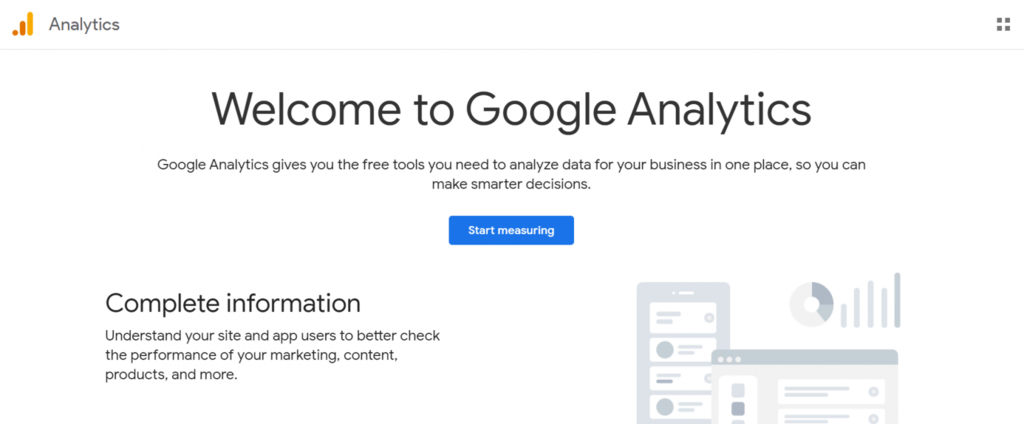 Keep experimenting with different posting times and see what time works best for your blog.
How Can I Earn Money With My Blog Post
Blogging can also be a way to make money online. A beginner blogger can make up to $100/month.
Here are a few ways on how to make money blogging:
Affiliate marketing – with this method, bloggers only need to add affiliate links to their posts, and they'll receive a commission once a visitor purchases through the links. To find affiliate marketing programs to join, go to sites like CJ Affiliate.
Sponsored posts – a blogger can also make money blogging by talking about products or services they love. Some places to discover sponsorship opportunities are Social Stars and Blog Meets Brand.
Display ads – showing ads on the blog is another quick way to earn income from blogging. One of the most popular services to monetize a blog with ads is Google AdSense, which is free to join and has easy-to-meet requirements.
Sell services – if you have specific skills, turn your blog into an online portfolio and start offering a service online on sites like Upwork and Toptal. It's an excellent way to make money blogging with little to no initial investment.


Conclusion
Creating relevant and engaging blog posts is the first step to making a successful blog.
To craft quality content, you must plan every step of the writing process. Doing this prevents you from facing writer's block and ensures the content provides value for the readers.
In this article, we have covered eight steps on how to write a blog post. Let's recap what we've discussed:
Choose a topic to write about – do keyword research to find a list of topics people care about.
Research blog post ideas – choose the blog post format that suits the topic and user intent.
Aim for an engaging title – a headline is the first element of content that people will notice. To grab a reader's attention, create a title that's catchy and has a clear value.
Create an outline – an outline aims to make the writing process faster and more efficient. It usually includes the article's title, headings, and subheadings.
Write the first draft – in this step, a blogger uses the outline to guide their writing and starts creating the blog post's introduction, body, and conclusion.
Optimize with visual elements – including visual elements like images, videos, and infographics can help hook and keep readers on the page for a longer time.
Edit your work – this process includes fixing writing issues and adding essential blog elements like a featured image and tags.
Publish and promote – after publishing content, be sure to promote it to drive readers to the post.
To make a successful blog post, remember to keep your target readers in mind, apply the best SEO practices, include a CTA in the content, and publish it during peak hours.
We hope this article encourages you to write the first post and start growing your blog. Feel free to leave us a comment if you have any questions or have some blogging tips to share.