How to Create an Email Newsletter: 7 Tips to Connect With the Audience and Grow a Business
With email projected to reach 4.6 billion users in 2025, more businesses are investing in email-based marketing methods like newsletters.
An email newsletter contains the latest information about a company's products and services and any updates that may affect customers. It helps businesses stay connected with audiences, generate sales, and encourage engagement.
Having an email newsletter also lets you distribute product knowledge and build brand credibility. You can leverage it to promote blog posts covering topics relevant to your industry, positioning your company as a leading authority.
This article will show you the steps for creating an email newsletter. We will also provide tips to help make your first newsletter campaign successful.


How to Create an Email Newsletter in 4 Easy Steps
The key to having a successful newsletter is setting it up optimally from the beginning. Follow these simple steps to start your newsletter campaign.
1. Choose an Email Newsletter Service
Various email newsletter services like OptinMonster, Mailchimp and Stripo Email offer automation features and pre-made email templates that make mass mailing easier. If you're using WordPress, consider checking out some of the platform's best newsletter plugins.
Keep in mind the following factors when choosing an email newsletter service for your business:
Ease of use ‒ determines whether you need to hire a web developer.
List management ‒ organizes your email contacts and segments email lists.
In-depth analytics ‒ provides insights into your campaigns' performance.
Template customization ‒ eases personalization so the designs fit your branding.
Automation features ‒ simplifies email sending and other tasks to save time.
Hostinger's business email services, costing $0.99/month and $2.99/month, include robust security features, unlimited email templates, auto-replies, and ten email aliases. With up to 50 GB of storage, our email hosting can support your business as soon as you launch a newsletter.


2. Design a Subscription Form
Email marketing opt-in regulations state that businesses must receive users' permissions before sending subscription newsletters. So, make sure to give them a way to easily opt in and out of your email marketing campaigns.
The easiest way to collect email addresses is to embed a subscription form on your website and invite visitors to sign up. Using this method is cost-effective since you'll be leveraging your own platform.
Here's an example of a subscription form for Hostinger's newsletter: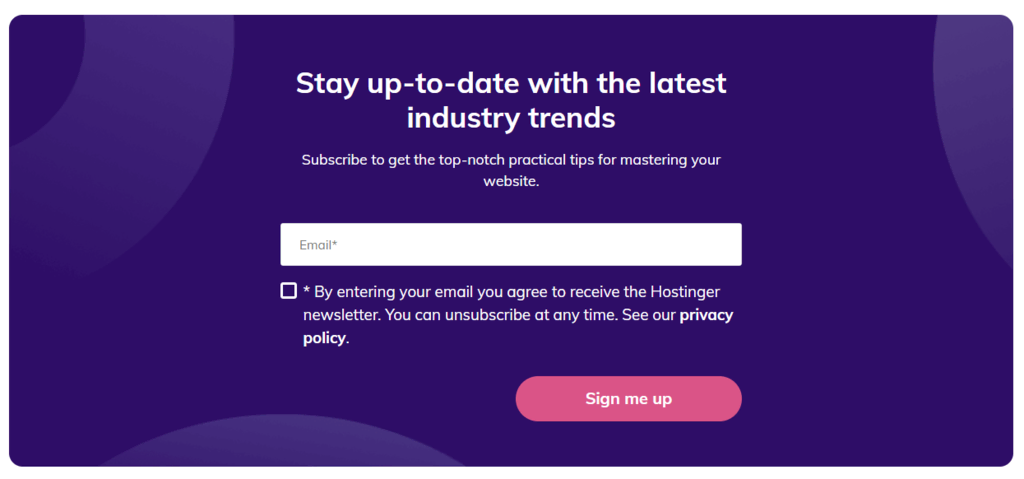 A good subscription form needs more than just good design. Here are some tips to boost your conversion rate:
Ensure the form is easy to find ‒ many websites embed theirs on the homepage or display it as a pop-up for maximum visibility.
Offer incentives ‒ rewarding users who join your email list creates a win-win situation, positively influencing their decision-making process.
Mention your anti-spam policy ‒ reassure users that you won't misuse their trust by being transparent about the content you will send.
Make the form easy to fill out ‒ only collect vital information to ensure a quick signup process.
3. Create an Email List
An email list is a collection of email addresses of people who want to receive updates from you. Avoid sending newsletters to customers who don't consent to receiving them, as this can hurt your brand reputation.
Most email newsletter services require you to set up at least one email list before you can start sending messages.
We'll provide tips on segmenting audiences later in this article. For now, start by adding all the email addresses you obtained from the subscription form to a new email list.
4. Start Your First Newsletter Campaign
When drafting your newsletter content, make it simple yet engaging. Cover topics relevant to your audience and niche using your brand's tone of voice.
Keep in mind that recipients will most likely scan rather than read the entire email, so place vital information at the top.
Also, remember that subscribers can opt out of your email list at any time if they don't find value in your email newsletter. Avoid unsubscribers by sending your audience quality content and valuable information that benefits them.
7 Tips for a Successful Email Newsletter Campaign
Now that you know how to create an email newsletter, follow these tips to optimize its performance.
1. Personalize Your Email Content
Research shows that four out of five people want businesses to send more personalized content. As your target audience consists of users with different preferences, segmenting the audience base ensures your email content resonates with them.
Audience segmentation involves grouping target users into small clusters based on specific parameters, such as age, location, and income level. It makes personalizing your newsletter much easier since you can refer to each segment's client profile.
Leverage tools like Google Analytics to ease your segmentation process. At the same time, encourage users to segment themselves by asking for their preferences when signing up for newsletters or inviting them to participate in a survey.
2. Write Catchy Subject Lines
47% of recipients open emails based on the subject line. Not optimizing your newsletters' subject lines can hurt their open rate, costing you valuable leads and potentially hurting your brand.
Creating an eye-catching subject line requires in-depth knowledge of your audience. Ideally, it should build excitement without sounding spammy or promoting clickbait.
For instance, a business wants to create a newsletter promoting its lead generation software as a service (SaaS) product. Using the subject line "Here's How to Triple Your Leads Overnight!" is deceptive as no lead generation strategy can guarantee that outcome.
A better email subject line might read, "Are You Ready to Grow Your Email List? We Can Help!" It offers potential customers value without overpromising.
Make sure to also personalize your subject lines based on the audience segment. Doing so can increase your newsletters' open rate by up to 50%.
3. Include Interactive Content
With 91% of customers actively looking for interactive content online, you can drive higher conversion rates by adding this kind of content to your newsletters. It also helps boost engagement, according to 70% of marketers.
Here are some interactive content ideas for your newsletter:
Ask for feedback and suggestions through a poll or questionnaire.
Embed event calendars with reminders to encourage attendance.
Run quizzes relevant to your brand and industry.
Show snippets from your social media feed to grow your following.
Share user-generated content from your community.
4. Offer Tangible Value
As mentioned earlier, users might unsubscribe if they no longer find value in your newsletters. To retain them, you must plan your content carefully based on your audience's interests and preferences.
For instance, Hostinger's newsletters offer knowledge nuggets and educational blog posts to give readers a better understanding of web hosting and website development. Popular blog post types include tutorials, listicles, and resource lists.
We also include discount codes for our hosting plans, encouraging recipients to apply what they learn from the newsletters in real life. As over 80% of people in the U.S. sign up for emails only to receive online coupon codes, this type of content strategy has a high return on investment (ROI).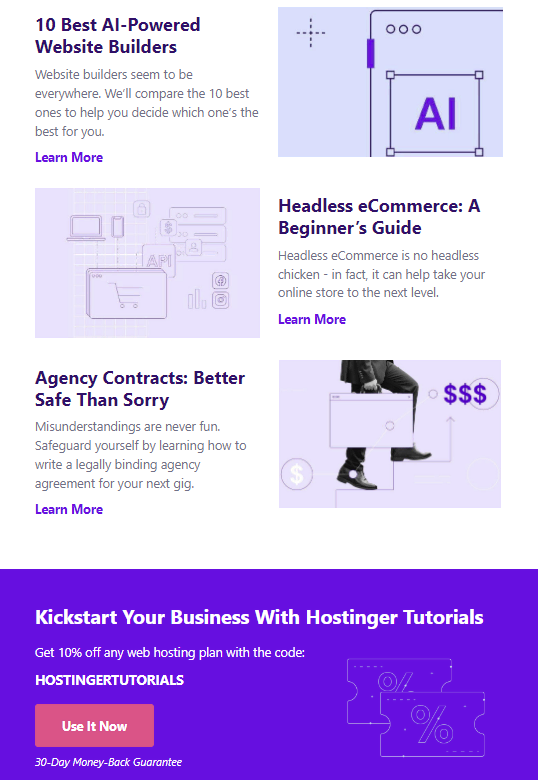 Determining valuable resources to achieve optimal results depends on your brand's industry and target audience. Research thoroughly before launching your first newsletter campaign to avoid disappointing subscribers.
5. Fine-Tune Performance with A/B Testing
A/B testing helps to improve your newsletter's effectiveness in achieving your marketing goals and connecting with potential customers. This comparison test involves tweaking different newsletter elements to determine which version delivers the best results.
While it sounds time-consuming, split-testing email campaigns like newsletters can improve conversions by 49%. Plus, there are numerous A/B testing tools available to ease the process.
Several elements of newsletter marketing to conduct A/B testing include:
Subject line ‒ add personalization and keep it short.
Preview text ‒ align the email's brief description with the subject line and create a sense of urgency.
Call-to-action (CTA) ‒ experiment with contrasting colors and placements for the CTA button.
Social proof ‒ include testimonials, ratings, and brand endorsements to build credibility.
6. Review Feedback
The best way to measure audience satisfaction is to review customer feedback. A/B testing may help you identify elements of the newsletter to improve, but your subscribers' opinions provide valuable input on what to add, remove, or maintain.
Consumer reviews also make great social proof, which helps to attract new subscribers and potential customers. When implemented correctly, feedback establishes two-way communication with your audience, helping to increase their brand loyalty.
You can ask for feedback through newsletters or surveys. Another option is to send your most active readers a personalized email asking for their opinions. This group of subscribers will likely engage with your email and reply with actionable feedback.
Consider offering incentives to encourage participation, but don't pressure people into leaving a review. This gesture will come off as a reputation-building tactic instead of a genuine effort for improvement.
7. Optimize for Smartphones
While content matters, giving your audience a good reading experience can positively affect their opinion of your newsletters.
With 41% of email views coming from mobile devices, not making your newsletter's user experience (UX) mobile-friendly can result in lower open rates and customers unsubscribing.
Optimize your newsletters for mobile devices by following these tips:
Keep your subject lines short, around 40 characters.
Choose a single-column email template with a width of 600 pixels.
Don't rely on images or videos for CTAs.
Use plenty of blank space to emphasize your message.
Test emails on major mobile operating systems.
Conclusion
Email-based marketing strategies are great for driving conversions and connecting with customers. Newsletters are among the most popular types of emails for business marketing.
Here's a recap on how to create an email newsletter:
Choose an email newsletter service.
Design a subscription form.
Create an email list.
Start your first newsletter campaign.
To help you craft newsletters that convert, we also covered seven ways to improve your email campaigns' effectiveness, from personalizing email content to optimizing for smartphones.
We hope this article helps you start a successful email newsletter campaign. Good luck!