What Is a Domain Name? How It Works and Different Types of Domain Names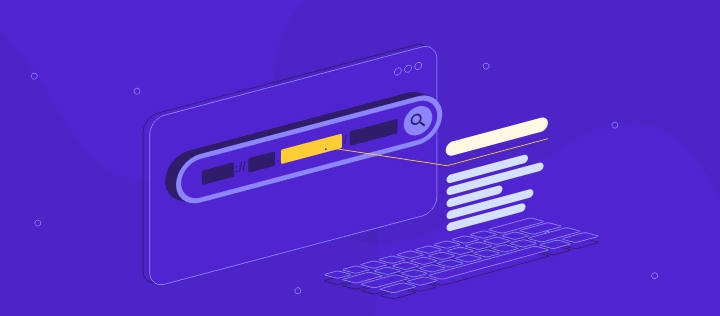 Getting a domain name is one of the most vital steps in building a website. A domain name is a unique web address that can be acquired through domain registration. Usually, domain names consist of a website name and a domain name extension. A good domain strengthens your branding and helps your audience find your website.
In this article, we'll discuss what domain names are, how they work, and the different types of domain names. We will also provide some steps for getting a domain name for your website.


Learn What Is a Domain Name With Hostinger Academy
If you prefer watching a video, check out our YouTube tutorial, which explains domain names and how they work.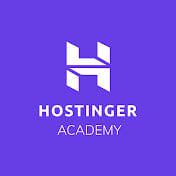 Subscribe For more educational videos!
Hostinger Academy
Subscribe
What Is a Domain Name?
A domain name is a website's equivalent to a physical address. It consists of a name and an extension. It helps users easily find your website and eliminates the need to memorize the site's internet protocol (IP) address. On top of all, domain names are key to the internet infrastructure.
How Do Domains Work?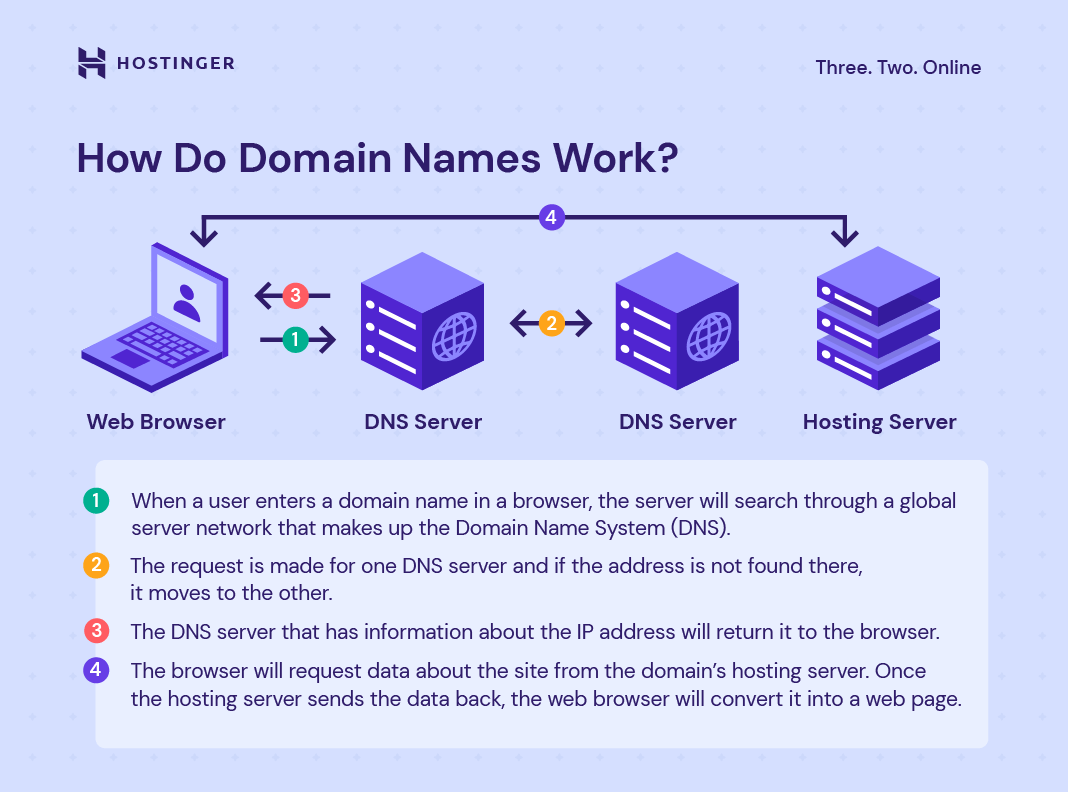 A domain name and a web hosting server are the two main elements of a website. All domain names connect to their corresponding IP addresses and point to the specific servers hosting the site.
When a user enters a domain name into a browser, a global network of Domain Name System (DNS) servers will look for its associated IP address and web server. This web server stores the website's data, including its files, database, and HTML code.
Next, the matching web server will pick up the requested data from the domain's hosting service and return the request to the browser.
Once the browser receives the data, it will convert it into a web page for the user.
Suggested Reading
To better understand the web elements, check out our guide on what a website is.
Why Get a Domain Name?
Let's review some of the reasons why you need a new domain name for your business or project:
Website memorability – your audience can technically visit your website by entering its IP address. However, it is difficult to remember since it consists of a string of random numbers. Domain names make a site more accessible to users.
Effective branding – a well-thought-out domain name helps convey your project or business' values and mission.
Credibility – websites with custom domain names look more professional than those with a free subdomain, such as yourwebsite.websitebuilder.com.
Custom email addresses – a domain name lets you create professional business email accounts, like name@yourdomain.com. It also makes your presentation consistent throughout different online channels.
SEO – a memorable domain name with relevant keywords will positively impact your website's search engine optimization, improving its rankings on Google.
Domain Name Types
Different domain types can reveal more information about a site. Here are some of the most common types of domain names:
TLD: Top-Level Domain
Top-level domain is the general term for a domain extension. It's the part that comes next to the name. For example, in the domain name hostinger.com, ".com" is the top-level domain.
Various TLDs (top-level domains) are available online, but .com domains remain the most popular, with over 47% of all sites using them. While it's commonly used for commercial businesses, other projects can utilize the .com TLD to improve website credibility.
Another advantage of popular extensions is that they can drive high organic traffic, as users often write them by default. Here are other popular TLD choices:
On the downside, popular domain names can be very expensive.
The less common extensions, such as .online, .io, .shop, and .tech, are often more affordable and unique. However, with the increasing number of new sites created daily, the popularity and cost of a specific top-level domain may change.
The Internet Corporation for Assigned Names and Numbers (ICANN) manages TLD distributions. ICANN's responsibilities include:
Evaluating and approving applications for new TLDs.
Managing and monitoring domain registries.
Developing and coordinating policy within the domain name system.
Ensuring the introduction of new TLDs aligns with the organization's mission to enhance innovation, competition, and consumer choice online.
ccTLD: Country-Code Top-Level Domain
ccTLDs (country-code top-level domains) are extensions specific to a particular country. They often consist of two letters based on the international country codes.
To illustrate, sites from India may use .in as their domain extensions, whereas .us is usually registered for US-based websites.
Here are other examples of ccTLDs you can register with Hostinger:
A ccTLD suits companies, organizations, or entities operating in a specific country. Global companies can also use ccTLDs to differentiate localized content across different regions.
For instance, the BBC uses bbc.co.uk as their UK domain and bbc.com for the international audience.
gTLD: Generic Top-Level Domain
gTLDs (generic top-level domains) are domain extensions that do not rely on a country code. .com and .net domains are great examples of gTLDs.
However, some of them are associated with a specific community, so you need to be careful not to confuse your visitors.
Often called sponsored TLDs, these domain extensions are represented by a sponsor organization that establishes and enforces rules for the TLD. Here are some examples of sponsored TLDs:
If your company or project doesn't belong to a particular category, you won't be able to use a generic TLD associated with it.
Other Domain Name Types
The following sections cover the other available structures of domain names.
Second-Level Domain
A second-level domain (SLD) is below TLDs in the domain name hierarchy. An SLD is the section of a domain name located to the left of the last dot. Take www.hostinger.com, for example – "hostinger" is the SLD.
Some domain name registries use a second-level domain to indicate the specific entity that is registered. For example, academic institutions in the United Kingdom mostly register websites under .ac.uk, and commercial companies in Australia use .com.au domain names.
Pro Tip
Website owners often use their registered business names as their second-level domain names. While it's usually a good idea, you don't have to make your domain name exactly like your business name.
Some examples include instances when a domain is already taken, too long or a different domain name might be more relevant for your website content.
Subdomain
A subdomain specifies a separate division from a parent domain within the same servers. Therefore, you don't need to register a subdomain if you already own the domain.
A subdomain may also be called a hostname. The www part in most URLs is technically a subdomain, suggesting that a website is part of the World Wide Web. However, some websites have an additional subdomain besides the hostname.
A common reason to create subdomains is to organize web content into separate sections. For example, Google uses developers.google.com to provide information specifically for developers.
A subdomain is also useful for localization. Take Wikipedia, for example. It has a subdomain for different languages – en.wikipedia.org for the English version and de.wikipedia.org for the German one.
For a business website, here are popular subdomain examples:
blog.yourwebsite.com – for your business's blog, which may cover company updates and customer stories.
news.yourwebsite.com – for the company's latest news.
resources.yourwebsite.com – for case studies, white papers, or eBooks.
support.yourwebsite.com – for documentation, FAQs, and contact information.
Free Domain
Website builders often offer free domain names for new users. Usually, beginners take this opportunity to create websites before investing money into them. Check out our guide on how to get a free domain for more information.
A free website address often follows the same structure as subdomains. For example, instead of hostingertutorials.com, the domain would be hostingertutorials.wordpress.com.
A free subdomain often comes with minimal features and tools. It can limit your website branding opportunities as it's only a subdomain of your website-building platform.
We recommend investing in a paid custom domain name to improve brand identity and credibility.


Differences Between a Domain Name and a URL
While a domain name and a Universal Resource Locator (URL) share some similarities, they are different.
A URL refers to a complete web address directing visitors to a specific page, and a domain name is just a part of a URL. Typically, URLs or web addresses consist of these elements:
A protocol – can be HTTP (Hypertext Transfer Protocol) or HTTPS (Hypertext Transfer Protocol Secure). It lets visitors know whether a site is secured with an SSL certificate.
A domain – usually consists of a second-level domain and a top-level domain.
Path – appears only when directing visitors to a specific page within a website.
There's also the fully qualified domain name (FQDN). It's the complete version of a domain name that also covers the hostname, like www.
Important! Don't confuse a URL with an FQDN. A URL specifies a resource's location on the internet. In contrast, an FQDN specifies a computer's or server's location on the internet.
A URL always includes an FQDN, but an FQDN does not always include a URL. For example, the web address for Google's website is https://www.google.com/. In this example, the FQDN is www.google.com, but the URL also covers the protocol https:// and the path /.
How to Get a Domain Name
Domain name registration involves buying a domain name from a domain registrar for a specific period. Meanwhile, domain name transfer refers to moving a domain from one registrar to another.
How to Register a Domain Name
If you need help generating the perfect domain name, a domain name generator is a good starting point.
To find the right domain, consider branding and cost. Ensure it's memorable and fits your budget.
Note that popular domain names are often more expensive and might already be taken. Some generators provide alternate options if the domain you want is unavailable. With Hostinger, you can choose a different top-level domain (TLD) with the same name or an alternative.
You can also use a domain checker tool, like the following, to check if your desired name is still available.
Domain Name Checker
Instantly check domain name availability.
Once you have found a valid domain name, use a trustworthy registrar to buy the domain. The ICANN database lists legitimate domain name registrars, which include Hostinger.
Here's how to easily purchase from Hostinger's domain registration services:
Pick your desired domain name and proceed to checkout.
Select the registration period for your domain name.
Access your new account upon payment.
Complete the registration process by entering the required fields, including your name and postal address.
After completing the domain registration, you can access a control panel with all the essential management tools.
With Hostinger, domain privacy protection is pre-included. It hides your sensitive information in the WHOIS database, preventing identity theft through the WHOIS lookup tool.
How to Transfer a Domain Name
Domain name transfer is the process of switching to another domain registrar. A different domain registrar may provide better quality service, which may encourage the switch.
Fortunately, you can transfer your domain from any registrar to Hostinger.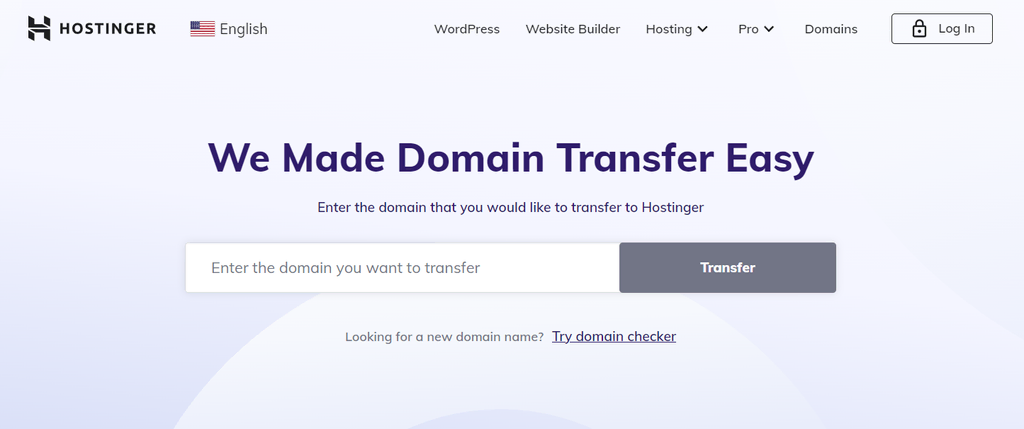 All you need to do is submit the domain authorization code (EPP) from your current provider and confirm the transfer. This process may take four to seven days to complete.
Unfortunately, some extensions are not transferable. If a domain registrar doesn't accept certain TLDs, you can point the nameservers to a particular website hosting company instead. For this, you'll need to change your nameservers.
You can only change web server information from the original domain registrar. If the registrar does not allow changing nameservers, you can try pointing the domain to another registrar using the A record.
Conclusion
Domain names are essential to websites and the internet. These unique addresses make it easier for people to find websites. They also help to enhance your brand and to improve your website ranking on search engines.
When choosing a domain name for your website, ensure it's memorable, relevant to your website's content, and available for registration. The .com extension is great for making your website appear professional. That said, .icu and .shop are also good alternatives.
We hope this article has given you a basic understanding of what is a domain name and how to incorporate it into your online business or project. If you still have questions, write them in the comment section.
What Is a Domain Name? FAQ
Other than "what is a domain name?", we'll answer other frequently asked questions about domain names or website addresses:
What Is the Difference Between a Domain Name and a Website?
A domain name is a website address. It's what internet users enter into a browser to access a website. On the other hand, a website is a collection of web pages made up of files under a single domain.
How Do I Check the Owner of a Domain Name?
You can check who owns a domain name by browsing ICANN Lookup. Simply enter the domain into the search bar to find its contact information. However, many domain owners hide their personal data for privacy reasons. You can contact the registrar for more details if the contact information is masked.
How Can I Get a Free Domain Name?
Hostinger offers free domain registration for one year with our hosting plans. If you don't mind spending little money, consider cheap domain names.
Who Owns Unused Domain Names?
To find the owners of registered but unused domains, search the domain on ICANN Lookup or contact the domain registrar. If you want to find out which domains are unregistered and currently available for purchase, use our domain checker tool.
What Happens When a Domain Expires?
When a domain expires, it gets deactivated and parked. This means it no longer resolves to the website and becomes available for purchase. If not renewed within the grace period, the domain will be auctioned off. After the auction, the domain is released to the public for registration.