How to Get a Free Domain Name via Web Hosting, Website Builder, and More Methods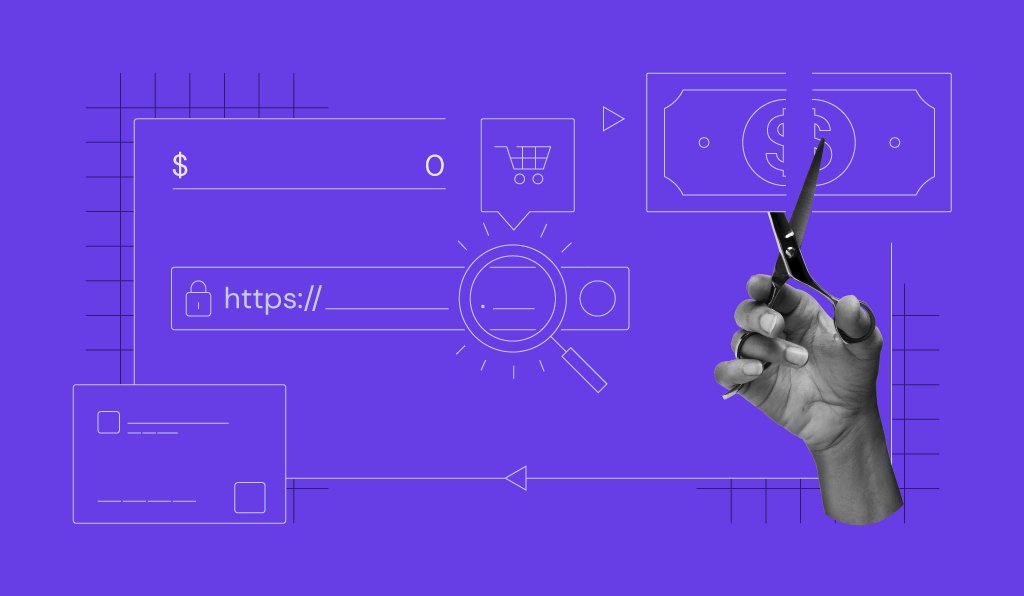 A domain name is essential to your website as it represents your brand name and acts as the site's address.
People can easily visit your website by typing the domain name into a web browser address bar or a search engine. For business owners, a memorable domain name helps build an online presence and customer trust.
Knowing how to own a domain name is essential. Domain names cost between $10-15/year, depending on the domain extension and registrar. You can register a domain name with a popular extension, such as .com, .online, or .net.
Fortunately, there are ways to get a domain name for free. In this article, we will share how to get a free domain name using six different methods.


How to Find Free Domain Names: 6 Simple Methods
You can get a free domain name from a hosting provider or web host, a site builder, a domain registrar, a subdomain, and an affiliate marketing program.
1. Web Hosting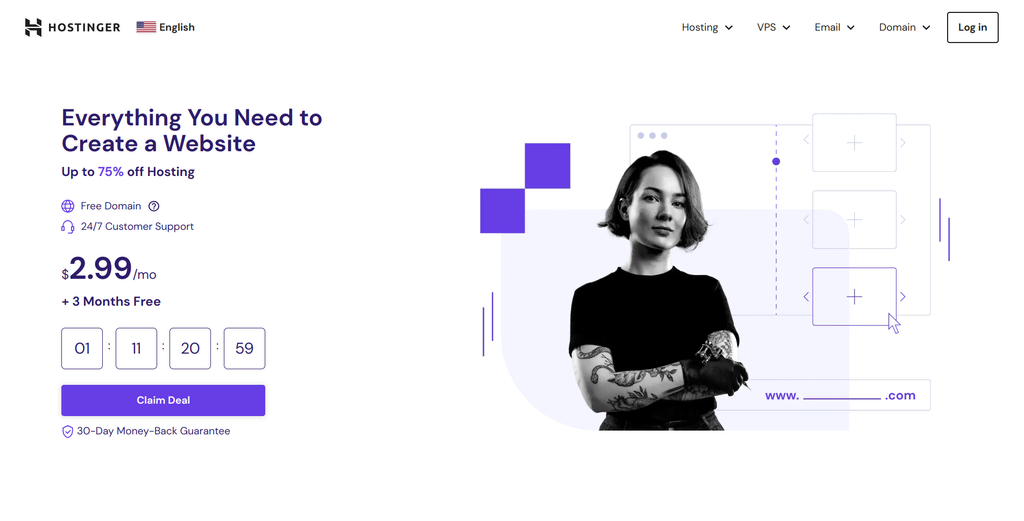 Web hosting is a service that provides resources to host and manage a website, often including a domain name. Website hosting prices vary depending on the type, with shared web hosting plans ranging from $3-10/month.
This is a good option for business owners who want to register a domain name and purchase a hosting plan from one provider.
When choosing a suitable web hosting plan, consider the following factors:
Security features. The hosting plan should provide automated backups, an SSL certificate, firewalls, and a malware scanner to protect your website from malicious attacks.
Speed and optimization. The package must offer a fast web server, multiple server locations, and a content delivery network (CDN) to ensure a fast-loading website.
Easy setup. The hosting control panel's interface should be intuitive. A comprehensive knowledge base is also useful to help build websites without hassle.
Bandwidth and storage. The server resources should be enough to store your website files and handle high traffic.
Hostinger is a great option for those seeking a reliable web hosting service. Most of our plans, including Web Hosting, Cloud Hosting, and WordPress Hosting, also come with free domain names, unlimited bandwidth, a free SSL certificate, and a 99.9% uptime guarantee.
Buying hosting from Hostinger is easy. Simply choose the hosting plan, select the hosting period, enter your account information, and complete the purchase. After purchasing the hosting plan, claim the free domain.
Here are the steps to get a free domain name with hosting:
Log in to your Hostinger account.
Click Setup and follow the steps until you are on the Name Your Website page.
Choose the Claim a Free Domain option and click Select.
Enter your desired domain name and top-level domain (TLD), such as mydomain.com.
Click Search to check the domain name availability. If it is taken, look for an alternative domain extension.
Click Continue to finish the free domain registration process.


2. Website Builder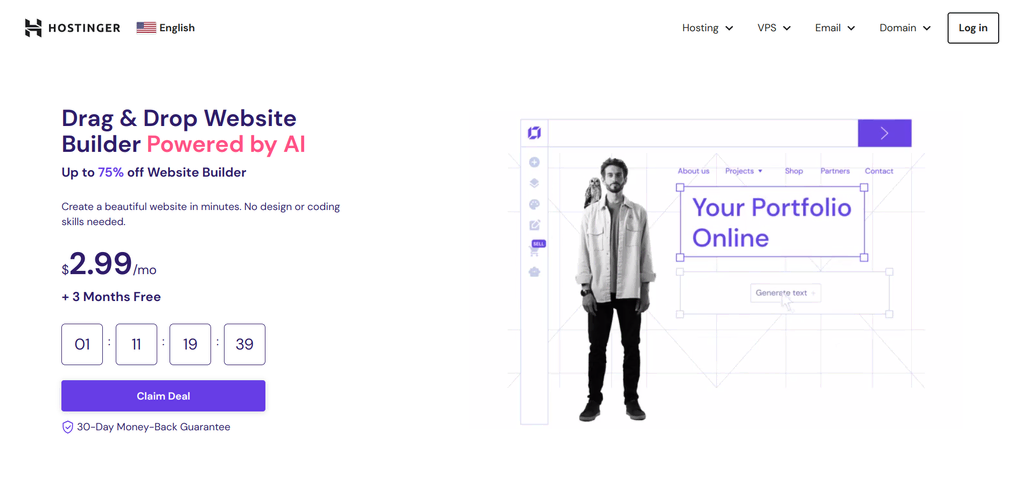 Website builders let you create and customize a website without coding or technical knowledge. They are best for beginners or non-technical users who want to learn how to create their first personal or business website.
Many site builders include hosting and a domain name in their plans.
Hostinger offers a premium site builder plan for $2.99/month with a free domain and email service. Our site builder is powered by artificial intelligence (AI), so you can build a fully functional business or personal site without hassle.
Hostinger Website Builder also provides free features to manage your online store's inventory, sell up to 500 products, and accept multiple payment options. You can scale up your business with built-in SEO tools like Google Analytics and Hotjar.
To get a free domain with Hostinger's site builder plan, you must choose a registration period of at least 12 months. Once you have bought the plan, go to your hosting account and start customizing your website.


3. Domain Registrar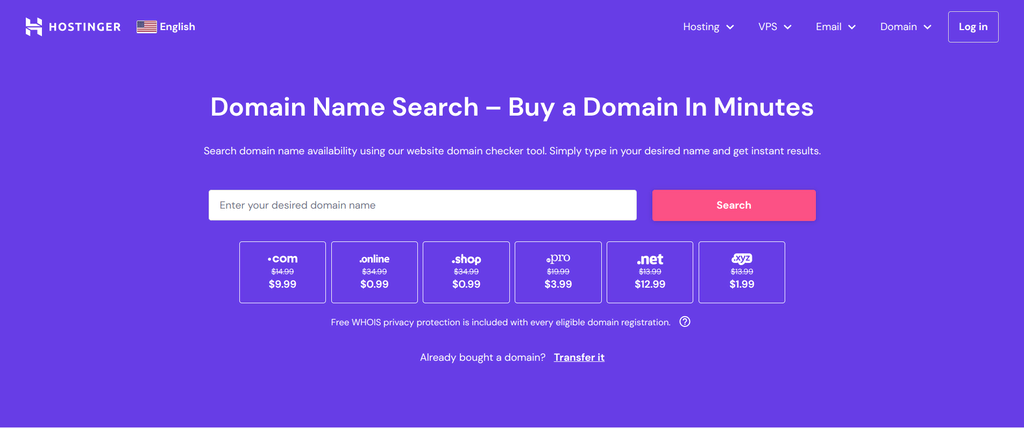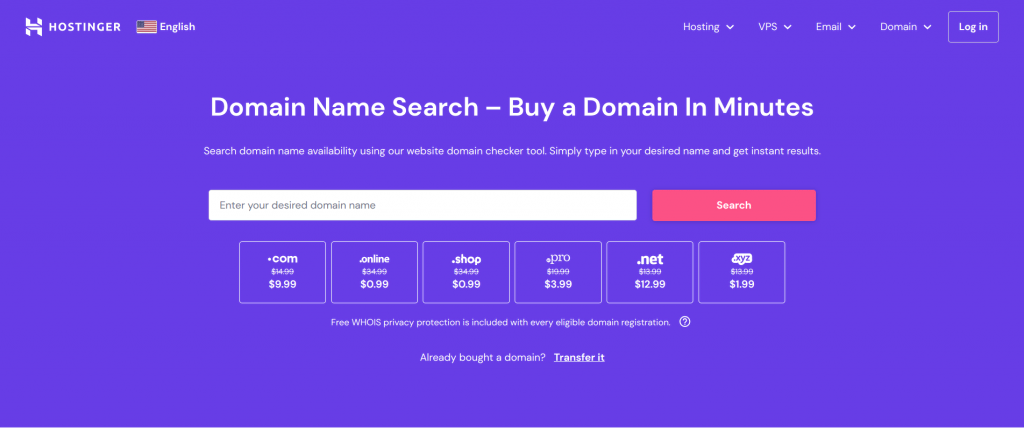 A domain registrar is a company that handles the domain registration process. This includes taking orders from the registrants and assigning IP addresses to the domain names.
Several domain registrars are Hostinger, Google Domains, and Namecheap. They suit individuals and businesses that want to register a domain name without a hosting service or a site builder.
Fortunately, you can get a free domain name for one year via Hostinger's domain checker. We offer various free domain name extensions to register, such as .net, .xyz, .online, .com, and .shop. Here is how:
Go to Hostinger's Free Domain Names page.
Type a memorable domain name in the domain search field and click Search. A list of available domain extensions will appear.
Choose your preferred domain name extension and click Add to cart.
Pick a hosting plan from the available options and click Select.
Enter your email address and select a payment method. Click Secure Payment.
After purchasing the domain, complete the free domain name registration by entering the contact information.
Pro Tip
Choosing a good domain name can be time-consuming. Therefore, we recommend utilizing a domain name generator to find the best custom domain name ideas.
Since your information will be available on WHOIS, we recommend activating domain privacy protection. This feature comes free with Hostinger, and it conceals your contact details using aliases and protects you from spam and other cyber attacks.
Domain Name Checker
Instantly check domain name availability.
4. Subdomain
A subdomain is an extension added to the beginning of an existing domain name that lets you distinguish one web page from another. For example, Hostinger Help Center's URL is support.hostinger.com, where support is the subdomain.
Another example is WordPress.com. It lets you create a basic website with a free subdomain, such as mydomain.wordpress.com.
From the URL's structure, mydomain acts as the subdomain while wordpress is the main domain. It shows that the WordPress website is hosted using a WordPress.com free account.
Hostinger offers a free web hosting plan that enables you to create a website using a free subdomain. Follow these steps to get it:
Go to Hotinger's free hosting page and click the Get Free Hosting button under Free Website Hosting.
Enter your email address and click Sign Up. A verification email will be sent to your email address.
After verifying the email address, select which type of site you want to create.
Name your subdomain and choose a password. Then, click Submit.
Choose a website creation platform – use Hostinger Website Builder, install WordPress, or upload your site manually.
However, we don't recommend creating online business websites with a subdomain. It might make you appear unprofessional and untrustworthy to your target audience. Another downside is that a free account only provides limited website customization features.
5. Premium Email Service
It is possible to get a domain name for free when you sign up for certain email services. Popular email service providers that offer free domain names as part of their packages are Zoho Mail, Proton Mail, and Yandex Mail.
While the domain name is free, you may still need to spend money on email hosting and domain protection services. We recommend reviewing the terms and conditions, limitations, and future costs before purchasing email hosting packages.
6. Affiliate Marketing Program
Joining an affiliate marketing program is another way to get a free domain. You can search for affiliate programs from web hosting providers or domain registrars. Occasionally, they offer a discounted or even a free domain.
An affiliate program may involve running ads or creating content that contains referral links. When visitors click the links, they will be redirected to the affiliate website.
Keep in mind that you must meet the affiliate program's criteria to earn commission credits. Once you have gathered enough commissions, you can redeem them for the rewards.
Conclusion
Getting a free domain name benefits new business owners, as it helps save money during the initial steps of building a website.
In this article, we have reviewed six methods with tips for getting a free domain name. Here is a recap:
Web hosting.
Site builder.
Domain name registrar.
Subdomain.
Premium email service.
Affiliate marketing program.
From the list, the best method to get a domain name for free is from a hosting service.
This is because web hosts like Hostinger provide additional features and benefits besides a free domain. For instance, you also get a free email account, an SSL certificate, and domain privacy protection.
We hope this article has helped you understand the methods and tips for getting a free domain. Good luck!
How to Get a Free Domain Name FAQs
We will answer several frequently asked questions about getting a free domain.
Can I Get a Free Domain Without Hosting Services?
Yes, you can get a free domain name without purchasing a hosting package. For example, you can use a free subdomain, get an email service, or join an affiliate marketing program.
Can I Get a Free Domain Name Permanently?
No, you cannot obtain a free domain permanently. Free domains are usually limited-time offers, meaning you must renew the domain name after one year.
How to Get a Free .com Domain Name?
You can get a free .com domain name by purchasing an eligible web hosting service. Hostinger offers this benefit along with other features like domain privacy protection and free email. Another way is to buy a premium site builder plan with a free domain.