If you're new to using WordPress, you might be wondering: what is a WordPress plugin? When reading WordPress tutorials, you probably see this word everywhere. And even if you already installed the software, you still might be unsure what is a plugin and what do you need it for.
Plugins are essential to increase the functionality of your WordPress powered site. In this tutorial, you will learn what a WordPress plugin is, what does it do and find answers to other FAQs related to the topic.
What is a WordPress plugin and how does it work?
A WordPress plugin is a piece of code that "plugs" into your WordPress website. Simply speaking, it is an extension to your site that modifies and improves WordPress' main functionality.
Instead of editing original WordPress' codes, using plugins is a better solution to enhance WordPress capabilities. It is easier to download and install plugins rather than customize a long set of codes. Dealing with code is a hard task after all.
With plugins, you only need to "plug" additional codes to modify the original ones. Whenever the changes are no longer needed, you can "unplug" it by deactivating the plugin.
What's great is that there are thousands of pre-developed plugins available for you on WordPress. Correctly utilizing plugins will not only increase the functionality and user experience of your website, but it will improve your workflow as well.
What can a plugin do?
Plugins are the modifiers that turn a run-of-the-mill blog, into a website of any form and functionality. With a few simple steps, plugins will transform your site into an e-shop, a magazine, a portfolio, a learning management system… Anything you can think of!
For example, if you're making an online store – WooCommerce is your new best friend. Do you want to make a site for a reservation system? Check out Bookly.
Maybe you're a photographer who wants to showcase your work on your website? The Envira Gallery plugin is a perfect choice.
While some plugins totally transform your site, others act as simple tweaks behind the curtain. You may not see its front-facing change, but the plugins optimize how a site works.
For example, you can add WPSmush to compress your images. W3 Total Cache will improve your site performance. Plugins like WordFence boost your website's security.
While planning your website, make sure that everything is under control. We are offering easy website builder where no coding skills are required. Use drag & drop feature, choose a beautiful template to design your website well and always have a trust with our customer support that is under your services 24/7.
Where to find WordPress plugins?
There are a few places where you can get WordPress plugins. However, be careful to choose where to download the plugins from. Plugins released by untrusted developers may harm your website.
WordPress directory is the best place to go looking for plugins. There are 50,000+ plugins published for you to choose from.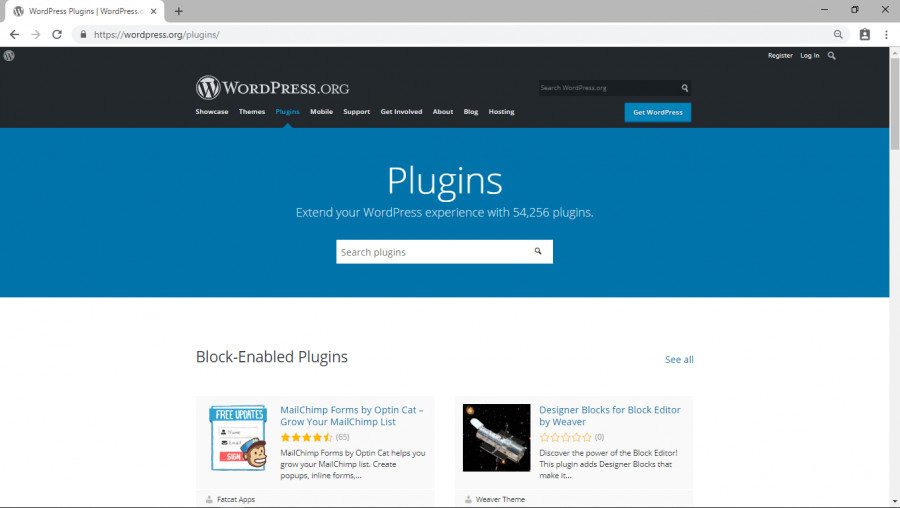 You can also invest in purchasing premium plugins. There are WordPress plugin marketplaces that provide premium plugins such as Code Canyon, MOJO Marketplace, or Creative Market.
To install the plugins from the WordPress directory, you can go to Plugins >> Add New from your admin dashboard.
How to Install WordPress Plugins
There are three ways you can use to install plugins. First, you can install it directly via the WordPress directory. Secondly, you can upload the .zip plugin file to your site. Lastly, you can upload the plugins via FTP.
To learn all the methods further, you can visit our article that discusses how to install WordPress Plugins.
Free vs. Premium Plugins
Because there are free and paid plugins, you may ask yourself which one you should pick. Do free plugins only work for short-term goals? Do premium plugins support your future growth better?
Well, just because you need to pay more, it doesn't mean you will get better quality. There are hundreds of free plugins that offer premium qualities. So if you simply can't afford to pay for a premium plugin, you can always find a free option.
Here are some points to consider, when choosing between a free and paid plugin:
Features: Although there are a lot of free plugins in the WordPress repository, some key features of may only be available on their pro version. Double check whether you really need the features or not. If no free plugins provide the required option, you'll need to upgrade your plugin to the premium one.
Support: Premium plugins usually offer full-time support. So if your plugin malfunctions or you need some tips on utilizing it – you can contact the support team for help. With most free plugins, you'll have to do the research yourself.
Documentation File: Paid plugins usually come with documentation files. These files are like a manual book. You can find how to configure all features in the plugin and maybe some tweaks to optimize it.
Before installing WordPress Plugins
Before installing any plugins, you need to consider a few things.
First, you have to know what your website really needs. Don't come to WordPress repository with no idea what will you need and install everything you find cool. It's ineffective and time-consuming.
Secondly, research the internet for plugin recommendations. This step is helpful if you already know what you need but not sure which plugins will help you to achieve your goals.
Lastly, you need to check the plugin's compatibility with your WordPress version and theme. Some plugins might not support the older or newer WordPress version. And if your theme doesn't support a plugin of your choice, installing it might cause some serious problems.
Why can't I add plugins to my WordPress?
Some beginners don't know that there are two versions of WordPress: WordPress.com and WordPress.org. While the .org version gives you the freedom to use any plugin you want, the .com version doesn't.
Only users who purchased the WordPress.com Business Plan are allowed to add plugins to their sites. However, the numbers of plugins available for installation are limited.
If you want to know more about the differences between the two versions of WordPress, you can read our article about these two versions of WordPress.
Will too many plugins harm my website?
Technically, the number of plugins installed won't affect your site's performance. However, poorly coded plugins may cause errors or slow down your site.
One thing to remember: everything you add on your website will use your disk space. So if you install a vast amount of plugins, you will run out of space sooner.
Moreover, some plugins might conflict with each other and cause unwanted issues on your site. So do your research and keep your plugin numbers smart.
Some plugins are important for every website
While some plugins are optional, depending on the format of your site, some plugins are essential. To maximize the functionality of your site, we recommend these three plugins you should install right away:

With this plugin, you can put a contact form to your website with a few simple steps. This plugin is also easy to customize and offers useful features that are easy to add to your site.

In short, SEO (Search Engine Optimizer) is a set of techniques and strategies to help your website rank high on search engines. With some helpful options and pointers, the Yoast SEO plugin does the hard work of optimizing your content, for you.

As your website grows bigger, you have to prepare yourself to spam messages and comments. Akismet not only protects your website from spam but also filters it into a separate folder. What is more, Akismet automatically generates a spam statistics report for you.
Conclusion
In a nutshell, if it wasn't for plugins, WordPress may not be as powerful as it is now. Plugins increase the functionality of your site, protect it and overall maximize its potential.
However, there are some things to remember before installing plugins to your WordPress site.