The 10 Best Free & Paid WordPress Booking Plugins Compared
If making reservations is an essential part of your business, your powerful SEO plugins and beautiful theme alone will not be able to support your core service fully. Your WordPress site needs a booking plugin. From checking availability, reserving places, to making online payments, our selection of the best WordPress booking plugins will surely make everything easier.
Do you need booking plugins?
Don't get too excited yet. Not everyone needs booking plugins. They will be particularly useful if you run:
a rental service (bed & breakfast, vehicle rental, etc). An online reservation could be a great companion to your conventional method.
a ticketing service (airfare, train, etc). Let your visitors browse the available dates, book tickets, and make payments directly from your site.
a professional practice (doctor, lawyer, etc). An option to make an appointment through your site could save your staff a lot of hassle.
a freelance service (graphic design, photography, etc). You might be a busy freelancer. Therefore, you can share your availability through your website, and let your potential clients book your service there.
You can always add booking plugins to your WordPress site if you think it will bring functional value to what you offer. Don't do it if you really don't need it, or just because you can. Everything you add to your WordPress site should better the user experience. Otherwise, it might slow down your site.
Free WordPress Booking Plugins
If we can get great features for free, why not use them? Take a look at these free and functional plugins.

Booking Calendar is one of the pioneers in this field. It has been downloaded over 1 million times since 2009. It is particularly famous for its clean interface and multi-language support. The other key features are:
Flexible. Your client can navigate easily to your site and book your service directly. As the owner, you can customize your booking form, prevent any double booking(s), and set the timeline for your availability.
Admin panel. You can approve or decline bookings, get email notifications about actions, and search or sort the bookings using different parameters.
Sync bookings. This allows you to import feeds from many sources like Airbnb, booking.com, TripAdvisor or any other calendar that uses .ics extension. Integrating Google Calendar to your admin panel is also very easy.
The plugin supports a wide variety of businesses, like accommodation services, rentals, and any other type of scheduling (meeting, event, medical, etc).

If you want to have a simple and straightforward appointment tool, this could be it. You just need to unzip the file, upload it to the WordPress' plugin directory, and you're done. This plugin might be particularly useful for a lawyer, doctor, hairdresser, or anyone who wants to support their offline service with an online appointment tool. With this plugin, you can:
create and manage an appointment service from the Admin Interface.
insert a booking calendar into any post/page
block time slots for specific occasions (lunch, vacation, meeting, etc).
get email notifications regarding appointments.
export the list of appointments as a .csv file.
The plugin also has a premium version, which includes additional features like Dashboard Management, Google Calendar synchronization, and a Paypal payment gateway.

This plugin focuses its service on one functionality: an availability calendar. Your visitors can check your availability and make a booking directly from its simple interface. Bed & breakfast, hotels, or guest houses might find this plugin particularly useful. However, the free version is very basic. You can upgrade to the premium one if you think you need more features, such as:
Simple edit. You can select multiple dates with just a few clicks.
Easy synchronization. This allows you to connect your own calendar to other similar platforms (Google Calendar, Airbnb, etc).
Multiple overview option. Combine multiple calendars into one clear overview, and link your calendar to a specific page.
Customizable legend. The physical attributes of your legend can easily be modified. Every calendar can also have their own customized legend.

Usually, the free version of a plugin is significantly different from the premium one. That's not the case with Pinpoint Booking System. You can find almost all of its amazing features in the free version. Its renowned easy-to-use user interface makes everything simple. From setting up an availability calendar, customizing a booking form, to integrating payment methods, the process won't wear you down. The key features are:
AJAX-powered calendar. You don't need to refresh the page when applying changes. The calendar also supports a multiple-month view and time zone settings.
WooCommerce integration. If you run an online store or plan to start one, you can easily integrate this plugin with WooCommerce.
Customizable offers. Creating coupons or vouchers is fairly easy to do.
In addition, it has a wide range of options when it comes to language support, currency preference, and calendar synchronization.

This is another fair-play plugin. That means that the free version has premium-like features. As the name suggests, this plugin is perfect for booking. Whether you are doing it from your laptop or your mobile phone, its responsive user interface can switch back and forth seamlessly. Bookly is also known for several other things, which are:
No excessive data input. The booking process is relatively fast.
The customizable booking form lets you manage your bookings more effectively. You can classify them into different categories and assign different employees to each category. Searching and sorting your bookings is also possible.
It supports WPML plugin, so you can translate your user interface and notifications into 40+ different languages.
Considering its highly customizable nature, Bookly is suitable for a wide range of businesses: accommodation services, medical support, and consultancy. You can upgrade to the premium version, which comes with several additional features: payment methods, an unlimited number of staff members, and the flexibility to install more add-ons.
Paid WordPress Booking Plugins
If you want to go beyond 'functional' and desire power, you should consider buying premium booking plugins. These are some of the best ones: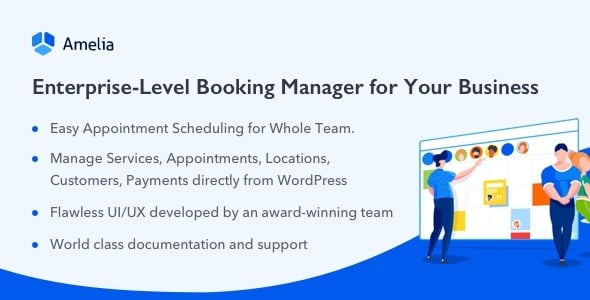 Amelia is a robust appointment plugin which is particularly famous for its intuitive user interface. It works best for customer-oriented services like medical clinics, beauty salons, fitness centers, law firms, etc. Apart from its customizable calendar view, these are some features that make Amelia stand out:
Multiple services. Let's say that you own a fitness center that provides a wide range of classes, but you find it hard to organize them on your website. With Amelia, you can categorize your services in a built-in interface. There is no need to create a separate page for each category.
Multiple employees. Doesn't matter if you're running a business by yourself, or have employees. Amelia provides multiple users with their own personal calendar. Each user can also set up their own preferences: availability, working conditions, breaks, etc.
Multiple locations. If your business is operating in multiple locations, each location can be added to the database
Informative back-end dashboard. Amelia dedicates a one-page intuitive panel to providing you with insightful sales figures and business metrics.
You can get all these amazing features for only $59. You can extend the 6-month customer support to 12 months for an extra $20.25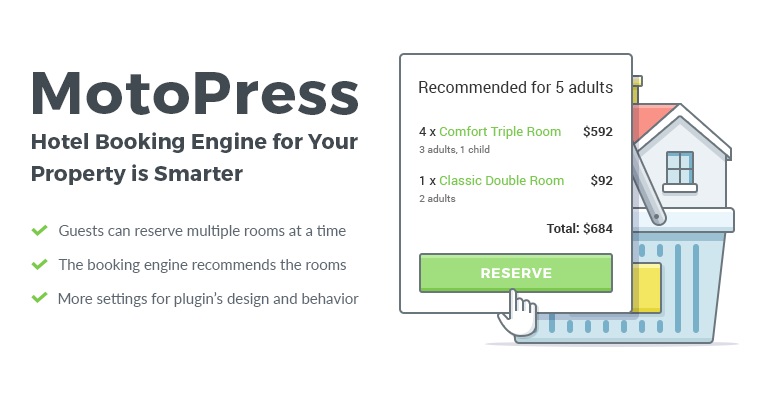 The name gives it away. It serves a niche functionality: room rentals. Whether you run a fancy hotel or a modest bed & breakfast, this plugin could make your business stand out. Its $49 price tag is worth your money. The key features are:
You can add specific descriptions to each accommodation type, and make them more attractive by adding featured images.
Making a booking is 3 simple steps away: (1) Input check-in and check-out dates, (2) Choose the desired option(s) from the research list, and (3) Fill in some personal information. Clients can check all the recorded bookings from the calendar view.
Customizing details has never been this easy! Be it discount coupons, seasonal price rates, additional booking conditions, or options for extra service, the plugin's intuitive interface makes sure that the clients are aware of every little detail.
Many other supporting features are available. From iCal synchronization, email notifications, multi-language translation, a wide variety of payment methods, to widget-ready shortcodes, everything is ready to use.
The plugin lets developers make advanced customizations. If you run multiple booking services, the premium version ($199) may better suit your needs, as it allows multiple installations in unlimited websites.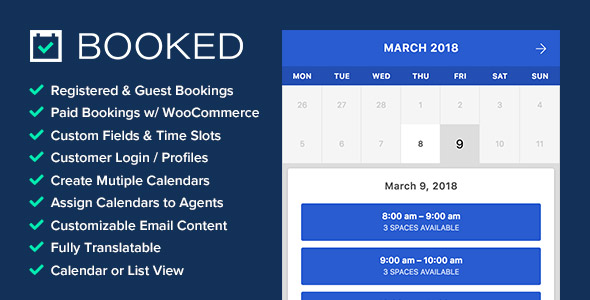 Booked is an appointment plugin with a relatively affordable price –  of $49, or $65.5 if you want customer support extended to 12 months. The price is a one-time payment, and you can only purchase it via CodeCanyon. The key features are:
Guest booking. Your clients can book appointments without registering to your site.
The user interface is straightforward and elegant.
The plugin supports multiple calendars. If you have several employees, each of them can set their own availability calendar.
It integrates well with WooCommerce.
It has a free plugin called Front-End Agents. Your booking agents will have a profile screen on the front-end which allows them to manage their appointments.
You can specify some occasions like holidays and off-days through its custom time option.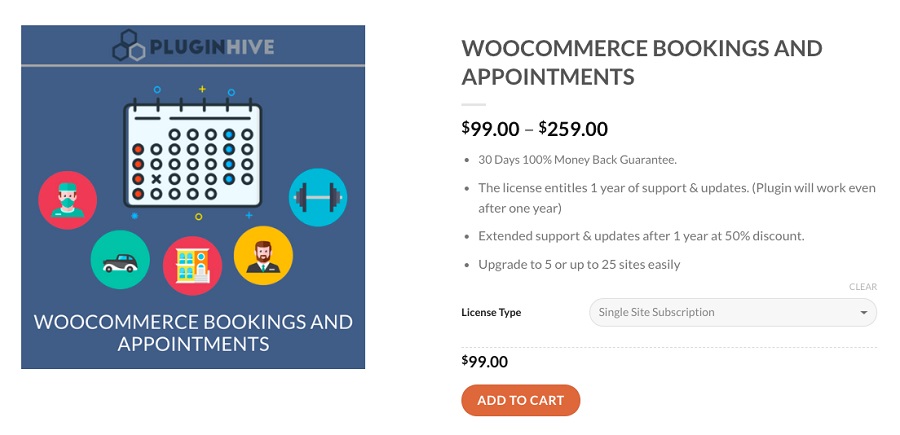 This plugin was specifically designed for WooCommerce. Let's say that you own a WooCommerce-powered supplement store. Your sales are doing fine, but you want to expand by providing a personal trainer service. You can add this plugin to accommodate all your scheduling and booking needs. Its $99-$259 price tag may seem a bit large for some, but worth it considering the premium features. The key features are:
A to Z booking functionality. This includes but is not limited to availability calendars, pricing customization, easy synchronization, and flexible compatibility with similar platforms.
Staff management. Creating a staffing plan and managing the cost is very easy.
Easy synchronization. You can sync multiple booking calendars between multiple products, and sync booking calendars based on different time zones.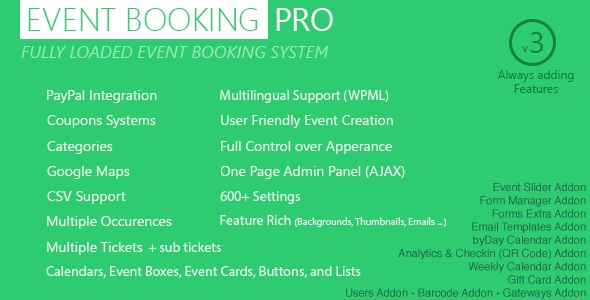 Event Booking Pro is our top "have-it-all" choice for event management. With its reasonable price, starting at $33, or $43.5 for 12-month extended support, you can do almost everything you need.
All-in-one event management features. Creating, managing, and sporting events couldn't be easier. You can analyze events and send reports directly to your computer.
3 different full calendars. Weekly and by Day calendars can be added to your settings.
Complete ticketing options. You can create and manage any type of ticketing system. This includes setting a quota or creating sub-tickets for children, adults, disabled persons, etc. A wide variety of options for coupons and gift cards are also available.
The plugin also supports multiple payment methods, multi-currency options, easy synchronization to Google Calendar and Google Maps, integrated QR codes, and email notifications.
Conclusion
Start with the question: 'Do I need a booking plugin?'. If you do, don't rush your decision. The free ones might meet your needs. If you run a thriving business and need premium booking support, spending a dollar or two will surely be a wise investment. Here is our summary of the best WordPress booking plugin based on functionality:
Free
General booking management tool: Booking Calendar
Appointment tool: Appointment Calendar
Booking management tool for accommodation services: WP Simple Booking Calendar
Free yet powerful, rich in features: Pinpoint Booking System and Bookly
Paid
All-in-one appointment tool: Amelia
Similar to Amelia but more cost-effective: Booked
All-in-one booking system for accommodation services: MotoPress Hotel Booking Plugin for WordPress
Booking management tool for a WooCommerce-powered business: WooCommerce Bookings & Appointments.
Complete event management tool: Event Booking Pro
There you go! Should you have any questions or suggestions, kindly drop us a comment!