15+ of the Very Best WordPress Plugins in 2021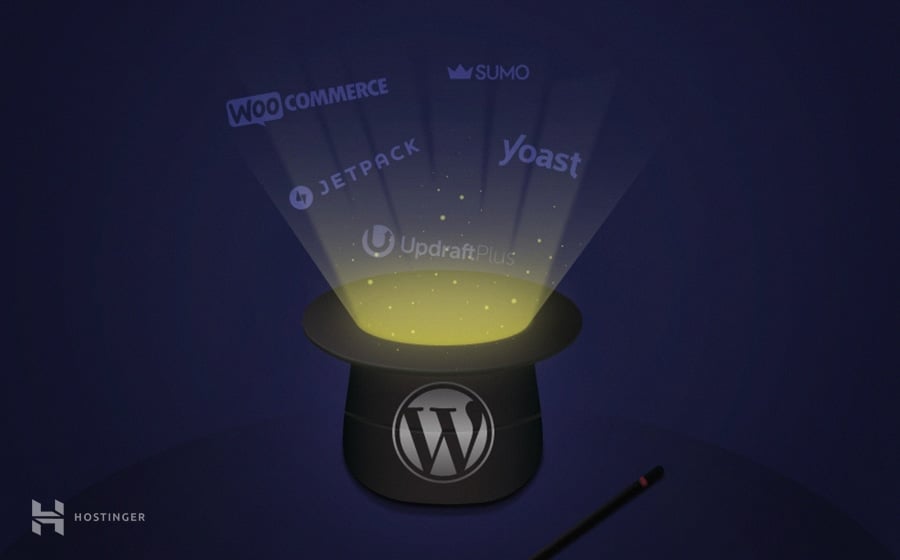 With more than 55,000 plugins to choose from, WordPress lets you add tons of additional functions that can range from improving website security, adding analytics tools, landing pages, and much more.
However, with so many options available, narrowing down the best WordPress plugins for your own personal needs can quickly get overwhelming.
Thankfully, you don't need to look very far to find the best WordPress plugins. In this article, you'll find 15+ plugins we believe every WordPress user should be aware of in 2021.
Build your website faster by using a real front-end drag and drop editor. Visual Composer eliminates the elaborate coding part from the web building process in order to offer everyone an opportunity to design a beautiful site.
The Free version comes with 40+ content elements and a number of great-looking Free and Premium templates – all backed up by powerful Design Options.
If you're still in need to make adjustments to any content element or part of your layout, Visual Composer comes with in-built local and global CSS/JavaScript editors.
Here are some of the core features of Visual Composer:
Build your page content using a real front-end drag and drop editor.
Use and implement content elements without having to touch a single line of code.
Create your page layout within minutes by choosing one of many available templates.
Visual Composer is free to download from the WordPress plugin repository. However, the Premium version of the plugin grants you full access to the Visual Composer Hub – a cloud library of elements, templates, and website builder extensions. The Premium version of this plugin starts from $49/year.

Powering more than 3,8 million ecommerce sites, WooCommerce is one of the best and most popular WordPress plugins for people who want to set up an online store.
The highlight of the plugin is undoubtedly its extension library, which makes this plugin highly versatile. You can add a currency converter to the checkout page, including a live chat feature, automate the sales tax, and much more. Furthermore, it is highly compatible with many other WordPress themes and plugins.
However, even without the additional extensions, the plugin itself already has the necessary tools to run an online store. Sort products into categories, show product ratings, set the preferred measurement units, and upload unlimited images.
It's nearly impossible to list everything WooCommerce has to offer, so here are some of its highlights:
Various payment options, such as Stripe, PayPal, and Square.
Extensions for various purposes – payments, shipping, and product management, etc.
Built-in analytics tool to monitor your website's performance.
Manage multiple product types, such as physical products, subscriptions, affiliate products, and so on.
A feature-rich product management tool, including stock tracking, one-click refunds, and email templates.
WooCommerce is free to download and use. However, note that not all of its extensions are free. For example, you need to pay around $79 to $199 to use FedEx Shipping Method or $249 to $449 to use WooCommerce bookings.

Known as one of the best WordPress plugins for SEO purposes, Yoast is designed to help you publish higher-quality, search-optimized content.
The plugin operates via a unique "traffic light-like" indicator system that shows how your content will fare with search engines. A green light denotes that your article is SEO-optimized, yellow indicates it needs more optimization, while red means that your content is badly-optimized.
These indicators are influenced by multiple factors, such as keyword density, focus keywords, meta description length, and keyphrase distribution. Luckily, Yoast SEO will point out the best practices you can apply to further optimize your content.
Heres's what Yoast SEO has to offer:
Analyze WordPress pages and posts to identify SEO weaknesses.
Update page analysis results when the appropriate SEO changes are made.
Build XML sitemaps to your web visibility
Create SEO breadcrumbs on compatible WordPress themes.
Yoast SEO can be used for free. However, since it is important to employ a stellar SEO plugin to keep your website ahead of the curve, you may want to use the Premium version by paying $89/year for one site.

With the 5.0 update, WordPress has completely changed its default editor. The great thing about it is, that you can extend the editor's functionality by using Gutenberg-based plugins. Ultimate Blocks is one such plugin that comes with more than 15 additional custom Gutenberg blocks.
Once you've activated the plugin, you will get the following blocks in your Gutenberg editor:
Content blocks, including Content Filter, Table of Contents, Tabbed Content, Content Toggle (Accordion), Expand.
Creative blocks, like Call to Action, Styled Box, Styled List, Countdown, Progress Bar, Image Slider, Button.
Social blocks, featuring Click to Tweet and Social Share.
Other blocks, such as Review (Schema-Enabled), Testimonial, Star Rating, Divider.
You can enable or disable individual blocks to keep your website from running slower. Ultimate Blocks is a free plugin. You can download it from the WordPress repository and use it straight away.

A slow website has a negative effect on your business and sales. To prevent this, you need a reliable, fast caching plugin like W3 Total Cache.
Considered to be one of the best WordPress plugins for increasing site speed, W3 Total Cache will save your site's static content to your visitors' browsers. This way, your site will load quicker on subsequent visits since the browsers do not need to re-download all the files.
W3 Total Cache also implements a content delivery network (CDN) that allows the user's browser to access your site using the nearest server. That way, web pages will load even quicker since the distance for the data to travel is shorter.
Overall, the plugin will improve your site's performance by executing the following tasks:
Cache most elements of a WordPress website, including pages, posts, feeds, and search result pages.
Employ AMP (accelerated mobile pages) to reduce the load time of your mobile site.
Clear (purge) cached files via WP-CLI.
Save up to 80% of your bandwidth by minifying and compressing your HTML, CSS, and Javascript files.
W3 Total Cache is free to use. That being said, you can also purchase the Premium version for $99/year.
The paid version comes with a special fragment caching feature that will cache your site more efficiently. Moreover, you'll also get an extension framework that allows third parties to contribute to your project without having to become a core developer yourself.
Sleeknote helps you convert your website's visitors into email leads without negatively impacting the user experience.
The advanced page-specific targeting tool displays personalized on-page messages to particular visitors on certain pages. This helps target your customers no matter what part of the marketing funnel they are in.
The Analytics and Insights section will provide all the data you need to help improve your conversions. Take advantage of the goal tracking, split testing, and analytics page, amongst other tools.
Check out some of Sleeknote's other resources:
Collect email addresses using SleekBar, slide-in SleekBox, Exit-Intent SleekBox, or other designs.

Nudge visitors with a digital assistant.
Create personalized on-site messages and connect with your visitors through Geo-Targeting.
Implement interactive elements such as radio buttons, drop-down menus, a text area, and call-to-action buttons.
The drag-and-drop editor helps create beautiful and eye-catching messages with your own personal style. Easily add to pre-made templates, create forms, link to specific events, and more.  
Try Sleeknote free for 7 days or get the Basic version for $57/month.

Jetpack helps your website generate more traffic by combining security, performance, and website management tools. It is a one-stop solution to improve your site's performance.
The Free version of the plugin comes with 35 modules, each with its own unique function. There are modules for Google Analytics, custom CSS, infinite scroll, contact forms, and much more. In addition, it also comes with built-in SEO tools to improve your site's ranking.
Take a look at some of Jetpack's core features:
Analyze your overall website performance with its built-in analytics tool.
Protect your website by using malware and code scanning.
Provide social sharing, advanced commenting, and a stylish contact form to help you interact with your visitors.
Check your content for spelling, style, and grammatical errors.
The basic features of Jetpack are completely free. However, the Premium version of this plugin offers a number of other features, such as daily automated backup, downtime monitoring, and unlimited static file hosting.
The Premium version of this plugin starts from $39/year.

Having robust security measures is essential to run a website. For this purpose, we recommend using Keyy.
This security plugin enables you to use the popular two-factor authentication (2FA) method, which works by verifying your identity through a mobile device.
Once installed, you'll be required to download the Keyy app on your smartphone. When you want to log in to your WordPress site, you can simply open the app, then use it to scan the code that appears on the screen. There's no need to enter your username and password.
To ensure that you're the only one who can use the app, don't forget to set a pin number or record your fingerprint.
Here are some of the core features of Keyy:
Remove the need to enter a password, allowing for a faster and more secure connection method.
Create and store a 2048-bit RSA digital key on a smart device.
Provide one-click access so you can log in to all your websites at once.
The Free version of Keyy should be enough for most users. However, there's also a Premium version of this plugin that is available from $39 to $99/year.
The paid version comes with a lot more perks, such as Premium Support, an ad-free admin page, and additional privileges to change user settings.

As the name suggests, Broken Link Checker looks for links that point to web pages that no longer work. This is extremely important, as your site's rank in the search engine will significantly drop if it includes too many missing or broken links.
Once activated, this free plugin will monitor your site for broken links and send the report via an email or WordPress dashboard. From there, you can edit or remove the links in question.
You may need to wait for a while to run an initial check, especially if you have a larger website. To see its progress, open your dashboard and head over to Settings -> Link Checker.
Here are some of the key features Broken Link Checker is able to bring to your WordPress website:
Monitor all the links on your website and make sure they all work.
Notify you if there are any issues, both through email and the WordPress dashboard.
Stop search engines from following broken links.
Furthermore, the developers behind the plugin offer an incredible all-in-one package of security, performance, SEO, and marketing tools for WordPress starting from $49/month.

Contact forms are one of the most important tools dedicated to improving communication with visitors and potential customers. With that in mind, we have included Contact Form 7 on our best WordPress plugins list.
This simple plugin lets you customize the contact forms of your WordPress website. It also allows you to tweak the style and add various "form fields" such as queries, suggestions, and other messages.
Contact Form 7 also supports CAPTCHA, Akismet Anti-Spam, and Ajax-powered submissions to make sure that the forms sent to your inbox remain spam free.
Here are the highlights of Contact Forms 7:
Allows you to manage multiple WordPress contact forms.
Customize your existing WordPress contact forms in a variety of ways.
Help prevent spam by using CAPTCHA and Akismet.
Contact Form 7 is available for free. However, you may want to help the development of this useful software by making a donation through its official website.

Given the competitive nature of online businesses, monitoring your site analytics is a must if you want to stay ahead. The ExactMetrics Google Analytics for WordPress plugin will help shed some light on your website's performance, directly from your WordPress dashboard.
You'll be presented with a stylish panel that includes real-time metrics to track traffic sources, the number of visitors, and the acquisition channels.
Furthermore, the plugin also offers detailed analytics reports, such as page views, bounce rates, and organic search stats – all the data you might need to expand your market reach is present.
Let's take a look at what the plugin has to offer:
Real-time reports on the number of visitors, acquisition channels, and traffic sources.
Track important website events, such as downloads, affiliate links, and emails.
Detailed reports on organic search results, error stats, bounce rates, etc.
Supports Google AMP (accelerated mobile pages).
The ExactMetrics Google Analytics for WordPress is free to use. Furthermore, this plugin is also compatible with WooCommerce, so you can use it as your primary online store analytics tool.
Wordfence Security is a WordPress firewall and security scanner plugin, designed to protect your website from malware, malicious files, spam, and other online threats. With over 100 million downloads, it is arguably the most popular WordPress security plugin out there.
Wordfence arms itself with Threat Defense Feed, a web application firewall (WAF) that will identify and block malicious traffics. It also protects your site from brute force attacks by limiting login attempts and forcing you to use strong passwords.
Upon activation, WordFence Security can:
Recognize and block online threats, including malware, malicious traffic, and harmful content.
Monitor your website via malware scanner, security firewall, and Live Traffic security tool.
Check your website for possible security vulnerabilities.
Wordfence is free to use, but you can purchase the Premium version for $99/year. The Premium plan gives you extra security by implementing a real-time IP blacklist and country-blocking option. What's more, you will also get Premium Support from professional support engineers.

Large-size images are often the main culprit of slow websites. Therefore, it's highly crucial to use Imagify Image Optimizer, a plugin responsible for keeping image sizes down.
This plugin scans and optimizes any images within the WordPress Media Library. It offers three different levels of compression – Normal, Aggressive, and Ultra.
Normal compression alters the image algorithm without changing its quality. As a result, the image size is only reduced a bit.
The Aggressive compression, on the other hand, reduces a tiny bit of image quality, resulting in smaller image size. Meanwhile, Ultra compression significantly reduces both the size and quality of the image.
Other than that, Imagify also has other splendid features:
A bulk system that allows you to optimize multiple images at once.
An online app where you can resize your images.
The free plan has a limit of 25MB per month. If you need more, the plugin has several pricing plans that start from $4.99/month for its Lite plan.

Sumo is an email marketing plugin that is designed to increase your site's conversion rates and sales.
Use this plugin to send bulk emails about product promotions, new launches, and company updates. This way, you can envoke better relationships with all your potential customers.
Installing and activating this plugin allows you to:
Create email subscription popups.
Add share buttons on your websites for Facebook, Twitter, and Instagram.
Collect emails of potential customers to expand your market reach.
Sumo is available for free, but it also has a Pro version that costs $39/month. The Premium version gives you more resources and additional features, such as advanced analytics tools, an unlimited email quota, and advanced email integration.

Finding a great backup plugin should be one of your highest priorities when running a website. That way, if something happens to your website, you'll always have the important files at hand.
For that reason, we recommend using UpdraftPlus. The plugin helps you make automated daily, weekly, monthly, or even hourly backups. The process can be monitored directly from the WordPress dashboard.
You can also choose a variety of storage options, including Amazon S3, Google Drive, and Dropbox.
Here are some of the core features of UpdraftPlus:
Provides a scheduled, automated backup.
Allows you to save the backup files to various storage platforms.
Enables you to easily backup and restore your site files with a single click.
Offers a fast backup process and uses fewer server resources.
You can use UpdraftPlus for free or purchase the Premium version for $195 to $399/year. The Premium one includes a year of Premium Support, database encryption for better security, and access to UpdraftPlus' add-ons.

Modern website design demands smooth visuals that don't distract your readers from your content, and NextGEN Gallery perfectly accomplishes this.
NextGEN Gallery will turn your gallery into a media management system with tons of perks – thumbnail editing, photo effects, and the ability to create multiple albums.
This fantastic WordPress plugin offers three ready-to-use gallery styles – thumbnail, slideshow, or image browser.
To get a better understanding of this plugin's functions, here are some of the basic features of NextGEN Gallery:
Converts the default WordPress gallery into a powerful media management tool that can be used to arrange, add, or erase multiple photos.
Provides three beautiful gallery designs for free, all with extensive customizations.
Offers two album styles that are highly-customizable.
The Premium version is available if you want to unlock the real power of this plugin. The price ranges from $99 to $499, and you'll get more gallery options, the Lightroom plugin, and Premium Support.

Migrate Guru offers a smooth and reliable way to move any WordPress site. The plugin will copy your site's content to its server, and then automatically migrate those files to a new host.
Using this method, your servers will not be overloaded, thus reducing the risk of website crash. In fact, the plugin can migrate up to 200 GB of data without a hassle.
On top of that, Migrate Guru allows for a simple one-click migration. You only need to enter the new host details, hit the Migrate button, and the plugin will start the process with an astonishing speed of 1 GB per 30 minutes or less.
Let's take a look at Migrate Guru's other features:
Copy your data to its servers, then erase it upon the completion.
Alerts you via email when the migration process is finished.
Automatically rewrites all URLs.
Migrate Guru is completely free to use. In addition, you don't need to download any add-ons to use this plugin – it works great right out of the box.
Conclusion
Given the sheer number of plugins available, it can be easy to get overwhelmed when choosing the best WordPress plugins.
Luckily, we have selected these 15+ best WordPress plugins to help you out:
Do you have any other plugin recommendations? Let us know in the comments section below.