Page builders are software that helps design your website's layout easily. Here are our five favorite WordPress page builders compared.
With these builders, instead of having to edit HTML or PHP files, you can add or move items on your page. That's why they're often called drag-and-drop website builders.
Page Builders – Why?
For a long time, people get only two options when they make a website: a CMS (content management system) such as WordPress, or a page builder like Weebly or Wix.
WordPress is currently the most popular CMS, offering plenty of beautiful premium themes. However, the CMS is not as user-friendly when it comes to its layout. Users need to know how to edit code to modify WordPress themes. Page builders, on the other hand, eliminate the need for coding skills by providing a drag-and-drop interface. Luckily, with WordPress, most of the time you can have best of all worlds – there are multiple amazing page builder plugins that can turn your WordPress site building experience into one similar to Weebly's or Wix's.
We know that such user interfaces allow users to freely place items – be it texts, widgets, or tools – on their pages. But there are more benefits to be had!
No need to use additional plugins. In WordPress, you need to install plugins (most of which are premium) to achieve the result you would get by using page builder software, making it more expensive to build the website you want.
Professional look in no time. Since you get more freedom to design your website, it takes less time and effort to turn your idea into a site. Many page builders offer professional-looking templates without added cost. So you only need to make the best use of your creativity.
Preview your changes. When designing a WordPress site, we can't see changes in real time. With a page builder, you can preview the result of your actions in the editor immediately.
Due to their ease of use, page builders are gaining popularity quickly. Page builders are a great way to start a website without hassle. However, a CMS like WordPress is still the best bet for a truly powerful website. Many WordPress users wonder if the prominent CMS is open to the drag-and-drop approach.
WordPress does have the option, to do it through plugins. If you check the CMS' plugin directory, you will find several page builders. Let's see the favorites
Best WordPress Page Builders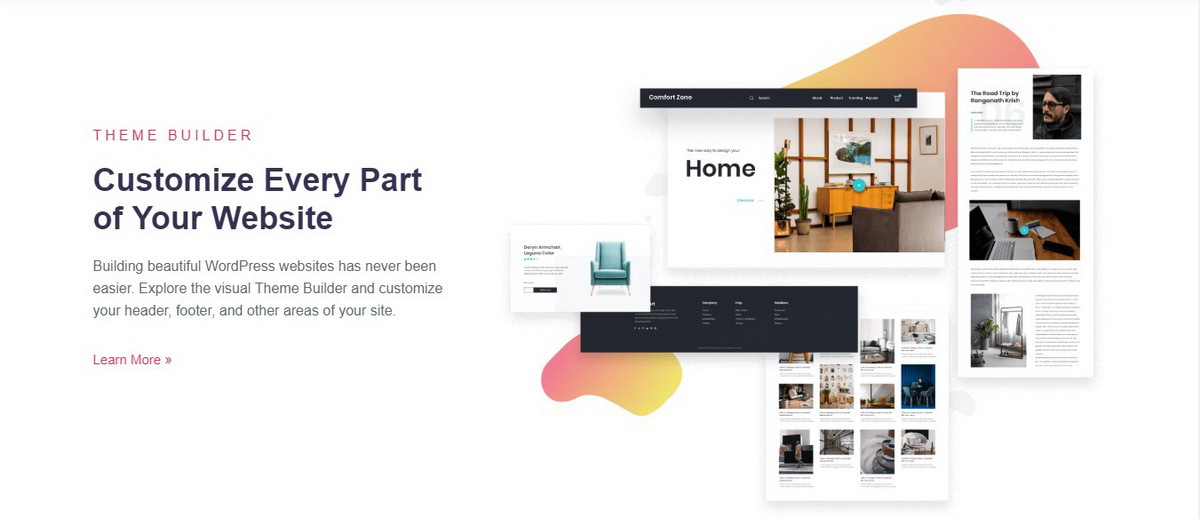 Elementor is one of the most famous page builders for WordPress to date. Even though it saw its release in 2016, the plugin already hit more than a million active installations.
The page builder offers a free version, that doesn't have as many features as the premium one. There are three premium plans to choose from: Personal, Business, and Unlimited.
The personal plan is $49 and only accommodates a single site. If you are someone who is just starting out, this deal fits you best. For three sites, you can get the Business plan for $99. The Unlimited plan, on the other hand, is okay to use on any number of websites for $199. All plans are annual.
Elementor's free version gives you 40 templates and 30 basic widgets. The free widgets include cool features like image carousels and custom HTML elements. Some elements are seemingly trivial but not available with the free plan, like Facebook elements, price lists, and navigation menus.
If you plan to open an online store, paid plans will suit you best. Along with 22 pro widgets, you also get 18 for WooCommerce. You can access Elementor's marketing integrations like MailChimp and HubSpot too.
Apart from the fantastic deals above, Elementor has some unique features. Responsive web pages aren't new, but with Elementor you can even hide elements in the mobile version of your site.
To make batch designing easier, Elementor lets you edit widgets that are present on all pages at once. This way, you don't need to change every page for those elements. You can also make header and footer templates to cut more time.
When you deactivate a page builder, it usually leaves shortcodes – the codes behind your widgets. Elementor does not leave any of those. However, it keeps the styling of your texts.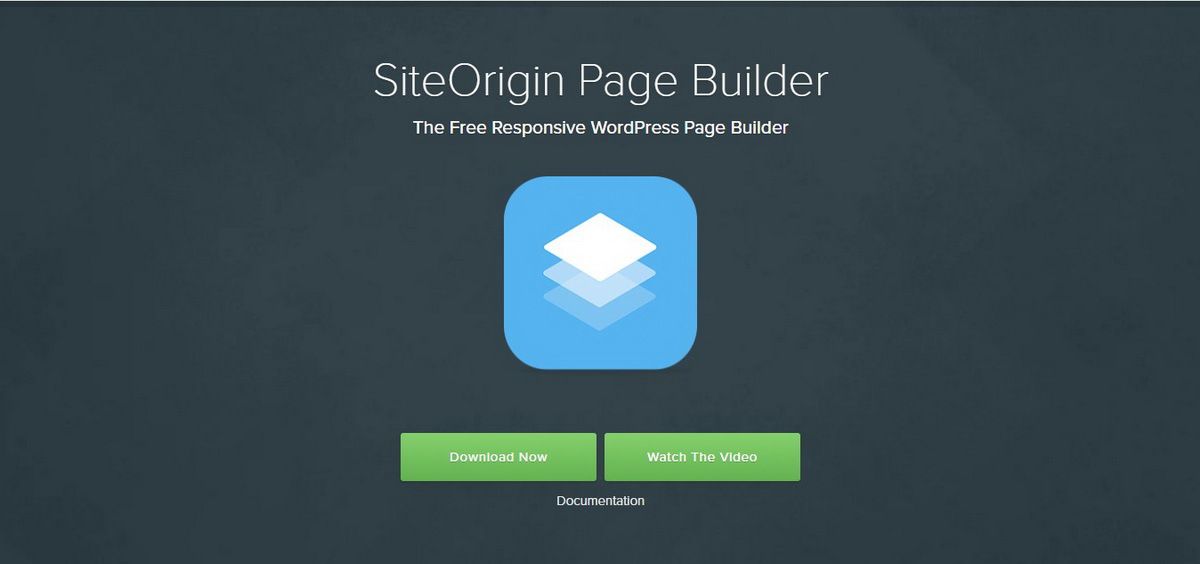 SiteOrigin is a lightweight and straightforward page builder plugin compared to Elementor. Nevertheless, it is one of the most prominent as it currently has more than a million active users.
SiteOrigin isn't just simple. It's free to use even though it offers a premium version. The free version has 23 widgets (including post carousel, image and video slider, and price table) and 25 templates. Some people may not be happy with the narrow selection of widgets that SiteOrigin gives. However, it is compatible with most WordPress widgets.
The premium version is a single payment of $29. A great deal, isn't it? Along with this purchase, you get 17 additional widgets, email support, and free future updates. Some of the additional widgets are enhancements of the free ones, while others are exclusive to the premium version. They include a parallax image slider, custom post type builder, and widget animation.
The unique part of SiteOrigin lies in its editor. Contrary to many other page builders, it has two. Firstly, you get the live editor, which allows you to see changes in real time. Apart from that, you can edit or add pages through the WordPress backend as well.
The live editor has two panes – editor and preview. You can't make edits in the preview pane, but with SiteOrigin you get the undo and redo features that aren't available in other page builders.
SiteOrigin is even better if you understand CSS (cascading style sheets). CSS is a programming language that changes the display of HTML elements. Whenever you edit a widget, you can add or modify its CSS styling.
Unfortunately, SiteOrigin does not clean everything when you deactivate it, and some buttons usually leave a shortcode.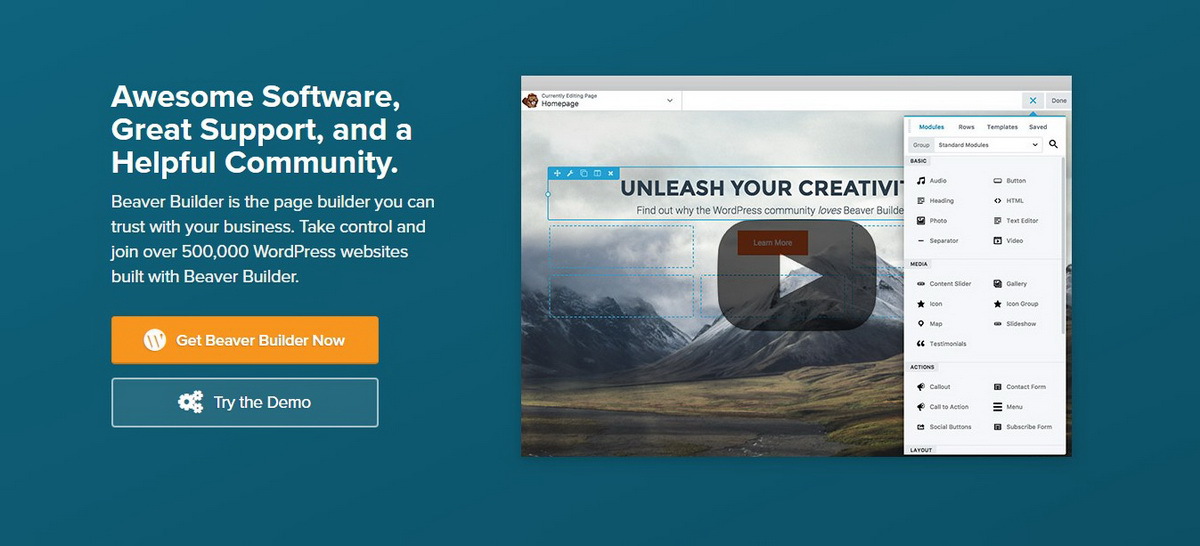 Despite not having as many active downloads as the previous two builders, Beaver Builder isn't a new name in the industry. More than 500 thousand WordPress websites use this page builder today.
There are two versions of Beaver Builder: lite and paid. The lite version is free; and even though it already includes some useful features, you only get five widgets – text editor, photo, video, sidebar, and HTML element. That last feature lets you use shortcodes to insert WordPress widgets. The lite version does not have any templates.
The paid version of Beaver Builder is available in three annual subscription plans: Standard ($99), Pro ($199), and Agency ($399). All of them let you use Beaver Builder for unlimited numbers of websites. However, the Pro plan adds multi-site capability; and the Agency plan has multi-site network settings and a white labeling feature.
Multi-site capability lets you re-configure the design everytime you create a new site with a few clicks. If that is not enough, the multi-site network setting gives you the same authority, but for a network.
The white labeling feature is good news for website design companies. With that, you can use Beaver Builder as your service by replacing any Beaver Builder texts and logos with your own.
The paid version has 24 additional widgets; including post carousel, post slider, and a subscription form. Plus, you get 56 templates to start off.
Like SiteOrigin, Beaver Builder allows you to get creative with CSS customization. Other than that, you can interact with the preview of your site in the visual editor. You can even edit texts directly in it.
Beaver Builder does not leave any shortcodes after deactivation.
Don't let Live Composer's lack of popularity fool you. It's definitely a tool worth checking out. It has more than 50 thousand active installs and a very high rating in WordPress' plugin directory.
For those who don't have a large budget, Live Composer is a good choice. This page builder is almost entirely free. You get a functional drag-and-drop builder that features a live preview and supports responsive web design, completely free.
The free version gives you 40 widgets, such as tabs, accordion menu, testimonial box, and more. In addition to that, you get a portfolio website template and a blank template.
There is an extension pack that has 12 premium widgets like custom post type and before/after image sliders. The price depends on the number of sites. The annual subscription will cost $49 for one site, $79 for five sites, and $99 for unlimited sites.
Besides the extension pack, you can find WooCommerce extensions as well. This one has the same pricing as the standard extension pack, and it helps create a full-fledged shopping website. You get unique templates for product pages, a product listing grid, checkout page, and customer account.
Apart from that, Live Composer can coexist with most WordPress themes and does not leave shortcodes in deactivation.

As the name says, this is a WordPress landing page builder. A landing page is where people "land" after clicking on any hyperlink or advertisements. The page should only contain the most essential information about your site, and it has to encourage people to stay and find out more. This is critical for improving marketing.
The PluginOps page builder comes in three deals. There is the Beginner plan, which is $3.66 per month for one domain; the Advanced plan, which is $4.99 for one domain as well; and the Business plan, which is $10.99 for three domains.
The difference between the Advanced and the Beginner plans is in the opt-in feature. With Advanced, you can create both popup and full-page forms for your visitors.
Apart from that, the page builder offers a visual editor with a drag-and-drop layout like the others in this list. No matter which plan you use, you get 28 widgets that include custom JavaScript, CSS, and shortcode areas.
Summary
Now you're ready to create a WordPress site with a page builder. Most of them, like the ones in the list above, offer a live editor feature, while providing different bundles of widgets in variable pricing. Because of that, you need to choose the one that fits your needs. If you have questions or would like to suggest other page builders, please leave a comment below!