Have products or services to sell? Want to earn from your WordPress site, but not sure how to start with ecommerce? In this WooCommerce tutorial, you will learn how to turn regular WordPress site to an ecommerce store.
Ecommerce has already taken the world by storm. It is nothing but a sustainable, profitable and scalable replacement of brick and mortar stores. It is a process which lets you establish your own online business, reach a wider target base, and make more successful deals compared to running a traditional business.
If figures are to be believed, 70% of the shoppers think that they will get better deals online, and further, at least 80% of the US population has purchased online, at least once! These figures are only going to increase with each passing year.
If you have been thinking of starting an ecommerce store, now is the right time to do it! And believe us, running an ecommerce store is no rocket science. This is perhaps why we thought of writing a WooCommerce tutorial: to help you run your ecommerce store in WordPress.
What is WooCommerce
To begin with, WooCommerce is an open source ecommerce plugin designed for WordPress. It is a quick platform for both small and large size online businesses alike. WooCommerce has a variety of functions such as different shipping and payment methods, variable products and much more. In this WooCommerce tutorial, you will learn everything needed to set up WooCommerce on your WordPress website and start selling your products.
Why choose WooCommerce to sell your products?
Built for WordPress. It allows seamless integration with WordPress and allows you to connect with millions of WordPress users.
Scalable with your needs. Small or large, few or many, WooCommerce can ride the wave with you.
Ensures security. WooCommerce protects your data from falling into the hands of any third party platform. It also secures the transaction between the consumer and you.
Audited by Sucuri. This ensures that WooCommerce sticks to the coding standards and best practices of WordPress.
A vast and ever-growing global community. There are more than 350 contributors and more than 1 million WooCommerce installations up to this date.
Well-documented. WooCommerce provides comprehensive documentation and guides that cover a broad range of topics like setup, SSL, theming, snippets and similar.
An array of free and paid extensions. The most defining benefit of WooCommerce is a large number of free and paid extensions. They allow you to customize your WooCommerce with a wide range of features and integrations.
With that being said, we're sure, by now you must be curious to how to start an ecommerce store using WooCommerce. Read our WooCommerce tutorial below to find out!
What you'll need
Before you begin this guide you'll need the following:
Access to WordPress admin area
Step 1 – Installing and Activating WooCommerce
As WooCommerce is a free WordPress plugin, it can be installed from the official WordPress plugins directory. Thus, first of all, you will need to login to your WordPress admin area by entering your username and password.
Secondly, follow these steps to install WooCommerce:
Select Plugins from the left side menu in your WordPress admin area.
In plugins page press Add New button.
Type WooCommerce in the plugin search bar.
Find WooCommerce plugin from search results and hit Install Now button
You will see that the installation of WooCommerce plugin is in progress. Once the installation is complete, click Activate button.
If you need more detailed instructions on how to install WP plugins, see this tutorial.
Step 2 – Setting Up WooCommerce
Once the installation is complete, you will see a welcome message from WooCommerce asking to run the Setup Wizard. It is the easiest way to setup WooCommerce, so press the purple button to begin. If you accidentaly pressed the Skip Setup button, you can still run the Wizard from WooCommerce -> Help -> Setup Wizard section.

Read through another welcome message from WooCommerce team and press Let's Go! button to begin the setup.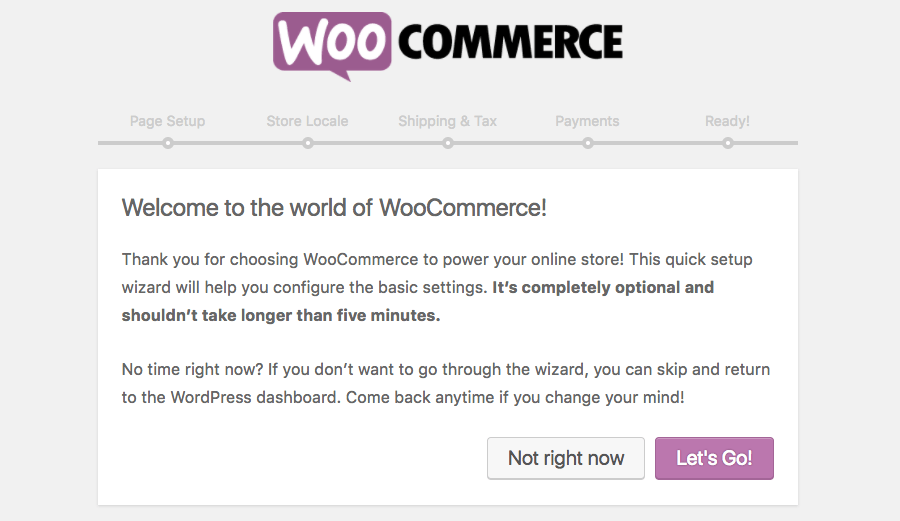 Step 2.1 – Page setup
On this step, you will be informed that WooCommerce will create main pages (shop, cart, checkout and my account) for your online store. These pages are necessary for WooCommerce to work properly. Read through this page and click the Continue button.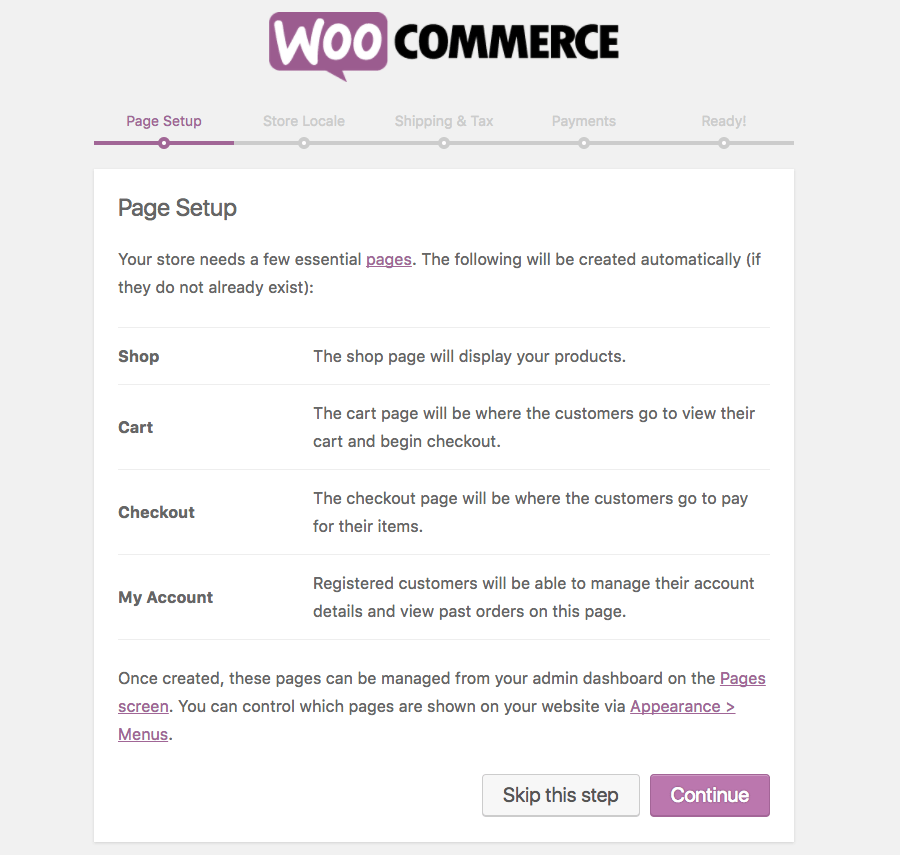 Step 2.2 – Store Locale
On this step you will have to set your store location, currency, weight and dimension measurement units. Set everything that suits you the most and hit the Continue button.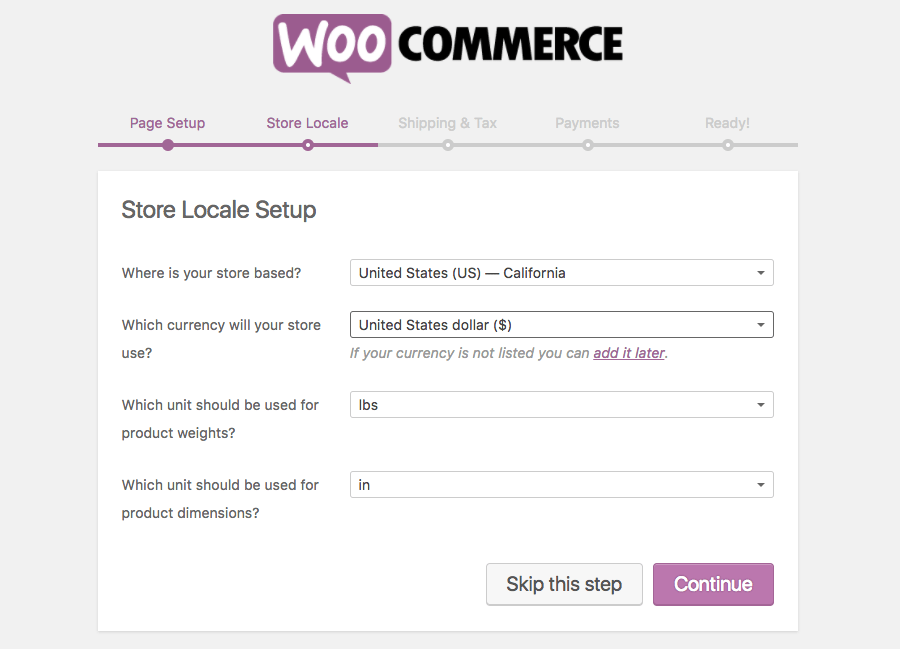 Step 2.3 – Shipping & Tax
Here you can configure whether you are going to ship items (deselect this option if you will be selling virtual goods) and enable/disable taxes. Depending on your needs, select the most suitable options and press Continue.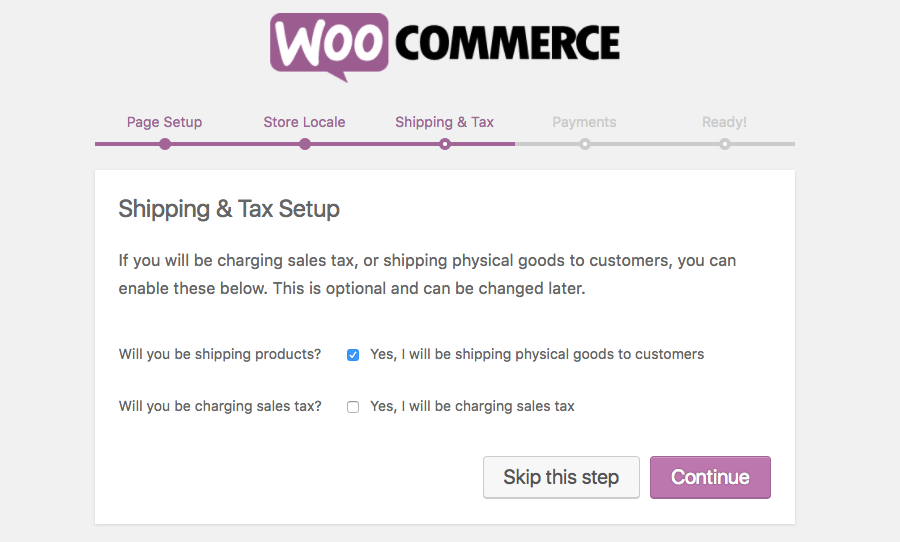 Step 2.4 – Payments
In this page, you can set the payment methods that you are willing to accept. We used PayPal as an example for our WooCommerce store.
Don't worry if you have to do some research first and decide what payment methods to accept, in the last part of this WooCommerce tutorial you will learn how to add payment methods manually. Hit Continue button when you are ready.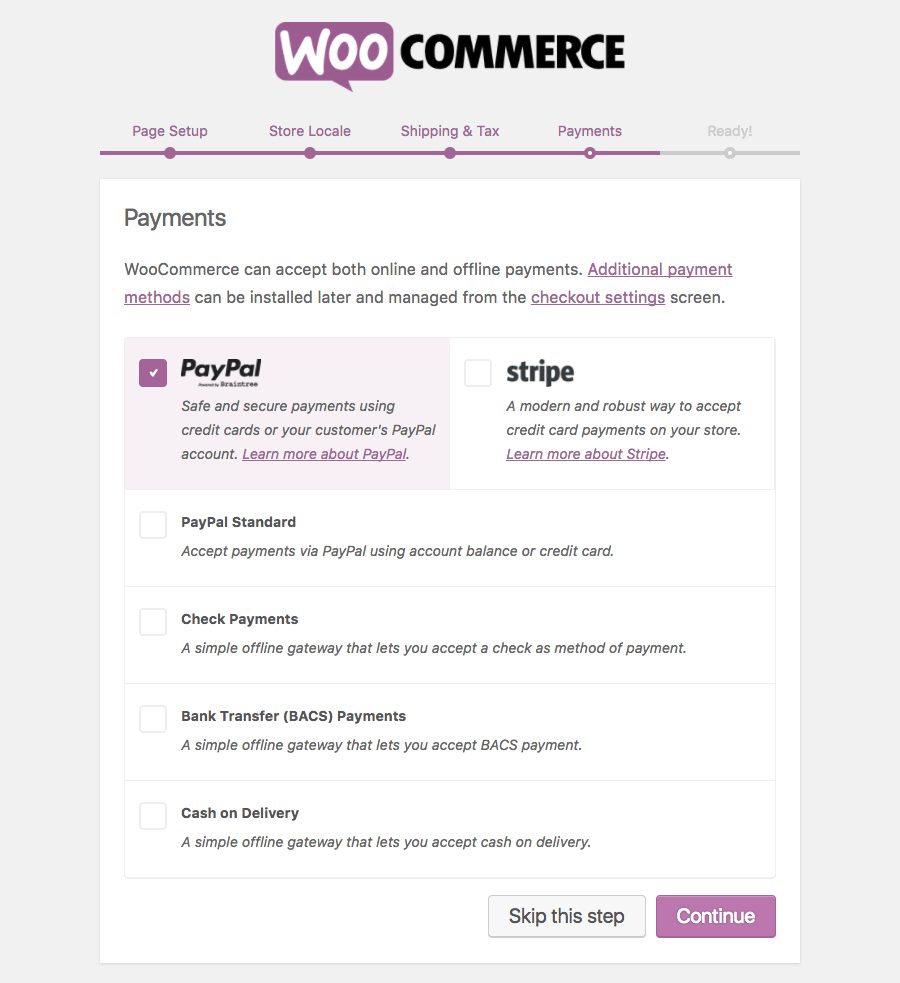 Step 2.5 – Ready!
Well done! You have finished WooCommerce setup. Now hit Create your first product! button to start adding your products or click on Return to the WordPress Dashboard.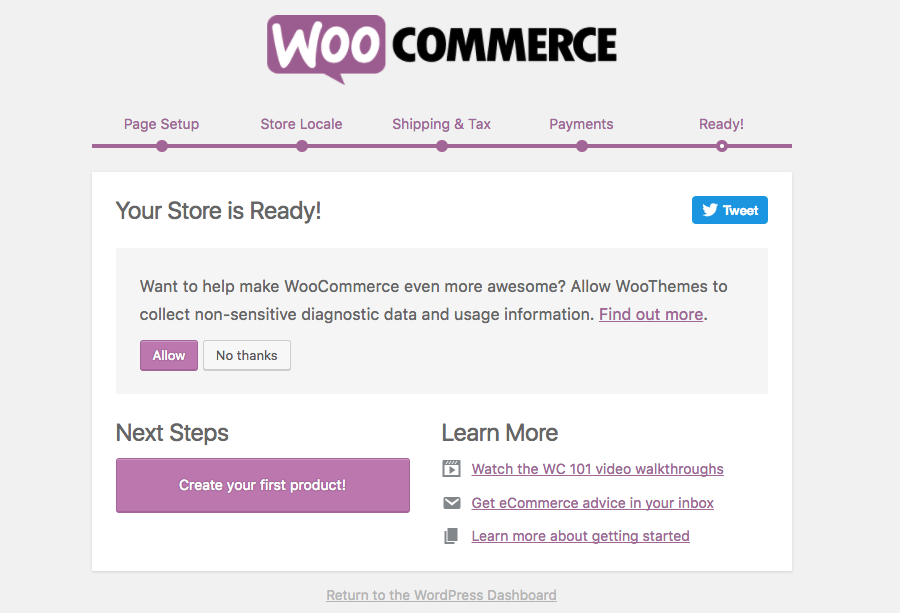 Step 3 – Adding and Managing Products
Step 3.1 – Adding Products
Undoubtedly, to run an ecommerce store, you first need to add products to it. But before we get into details, it is important to learn basics of WooCommerce and find out what product categories, attributes, and types are:
Product category – Product categories can help group your products. For example, if you sell apparels, 'top wear', 'bottom wear' and 'night wear' are product categories. They enable the shopper to quickly locate products from the same category. You can create as many categories as you want and edit them anytime.
Attributes – Attributes help in filtering the products. Size, color, fabric and the likes are product attributes and help the user choose desired products easily. You can either assign attributes independently to each product or set up a global attribute for the entire web page.
Product Types – WooCommerce saves your time by having predefined product types:

Simple – They are shipped without any options. For example, a physical book.
Grouped – They are a group of related items. For example, a dozen shot glasses.
Virtual – These are products that require no shipping, like services.
Downloadable: These are products that you can download. For example, songs, images, videos, e-books, etc.
External: You advertise the product on your website, but it is sold elsewhere.
Variable: These are products that have variable qualities like size, color, etc. Example, clothes.
With so many product types, it can be confusing to add products to WooCommerce depending on what you are selling.
But do not worry, adding products to WooCommerce is pretty much the same as posting a new post to your blog. To begin, go to the Products option and click on the Add Product or Create your first product! buttons.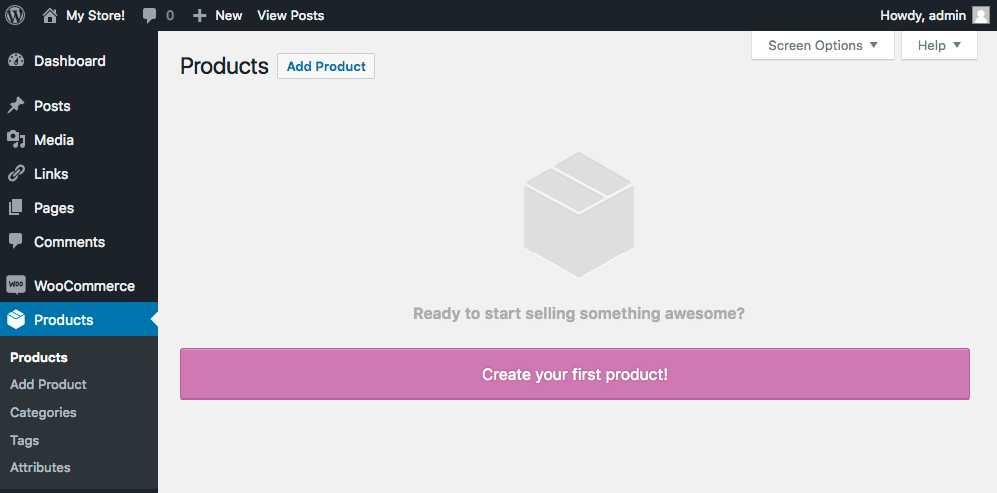 Now type in the title of your product and add a description. In the description include most important and relevant information about your product.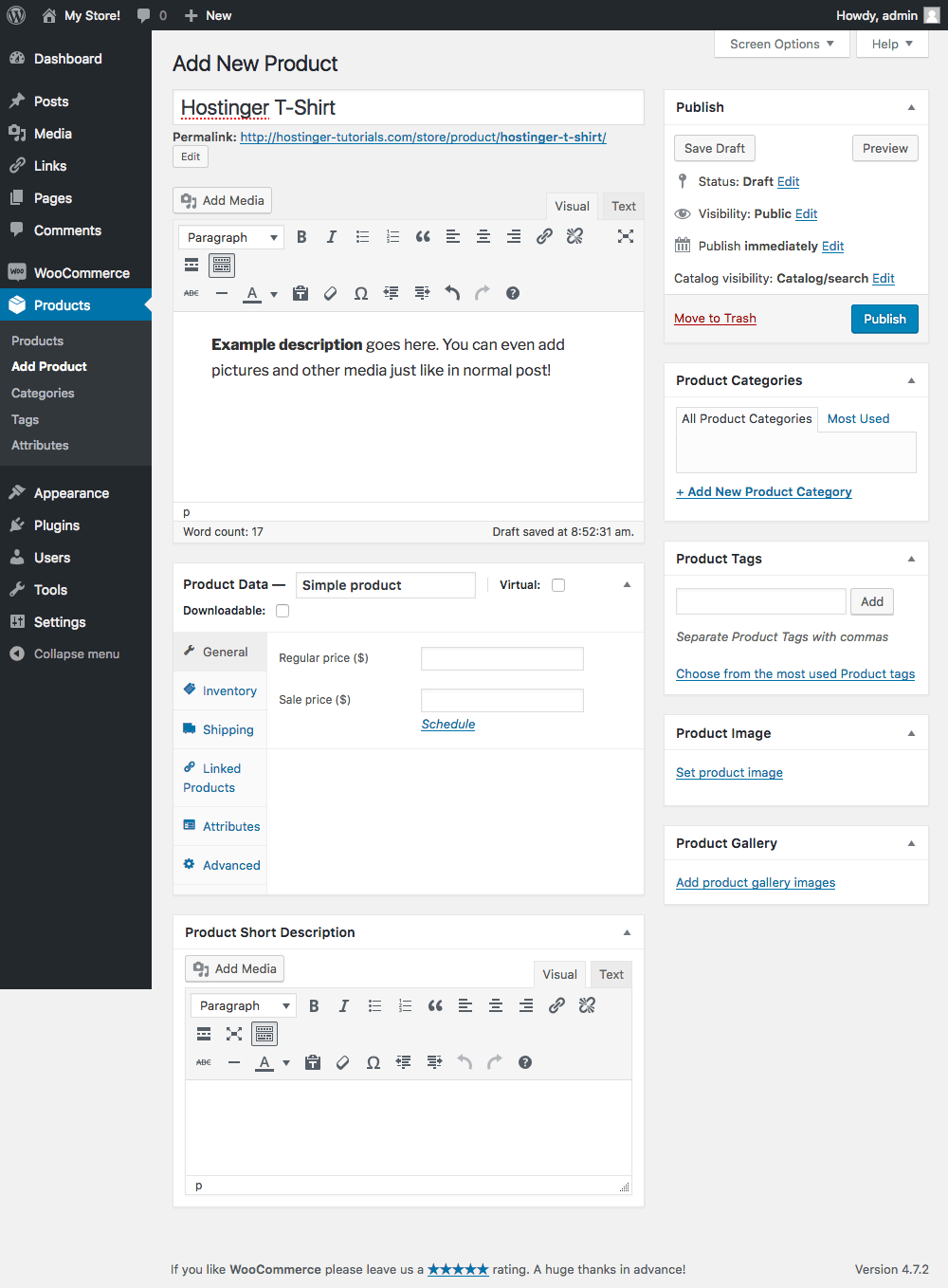 The Product Data section is where most of the work is done. In this section, you can customize your product. By using the drop down menu, you can change its type. We recommend starting with a Simple product to get familiar with this section. It has the following options:
In the General section, set the pricing of the product that you are planning to sell. You can also set a discounted price and even schedule sale dates.

The Inventory section helps you with inventorization. Provide your SKU (Stock Keep Unit) here, check whether this product is In stock or Out of stock. Check the Sold individually option if you want to sell your item only one at a time.

The Shipping section deals with shipping and logistics. Here you can provide the dimensions, weight and shipping class of your items.

The Linked Products section of the Product Data panel allows you to add linked product and market similar products to the user. This allows promoting your product by using up-sells and cross-sells. Simply search for a particular product and select it from the drop-down list.

The Attributes section allows you to add attributes to your product. For example, if you sell different colour t-shirts, you can specify colours here. The Custom Product Attributes option also allows you to create custom attributes for your individual products. Once you are done adding attributes, press Save attributes button.

The Advanced section allows you to create purchase notes for customers and enable or disable reviews. You can also specify menu orders here and choose custom ordering positions for your product.

Now you know how to add a simple product in WooCommerce. But what if your product is virtual, downloadable or even external? WooCommerce has covered it all:
Adding a Grouped ProductTo add a grouped product, select the Grouped option in Product Type. This will remove pricing and some other fields from the Product Data section. Next, you need to add a child product on the Group product. To add a child product, create a new simple product and in the Linked Product section, select the parent product from the Grouping drop-down.
External ProductTo add an external or affiliate product, choose the External/Affiliate option in the Product Type drop-down. It will then ask you to provide the URL to the destination site.
Variable ProductAdding a variable product is similar to adding a simple product. Choose the Product Type as a Variable. This adds an additional Variation tab to your product data section.
VariationsIn the Variations tab, you can add the details of the different variations and their differences.
Virtual ProductTo add a virtual product, all you have to do is tick the Virtual checkbox on the Product Type section.
Downloadable ProductSimply click on the Downloadable checkbox of a product to make it downloadable. You will also need to specify the file path of the download and the maximum number of times a person can download the file. For unlimited downloads, leave the download limit blank.
Once you set the product type and are done with entering product data, scroll to the bottom of the page, where you can add a short product description. It will be visible just below the title of the product.

On the right side of the page you can add product categories, tags, set featured image and product gallery images. These controls are almost identical to controls you see when creating a new WordPress post. The only difference is Catalog visibility option which has the following settings:
| Option | Explanation |
| --- | --- |
| Catalog and search | Product will be visible everywhere: search results, category and shop pages. |
| Catalog | Product will be visible only in shop and category pages, it will not show up on search results. |
| Search | Product will be visible only in search results, it will not show up on the shop page or category pages. |
| Hidden | Product will be visible only on the single product page, and it will not show up on any other pages. |
After you are done setting everything up, press Publish button and check product page. In our example, it looks like this: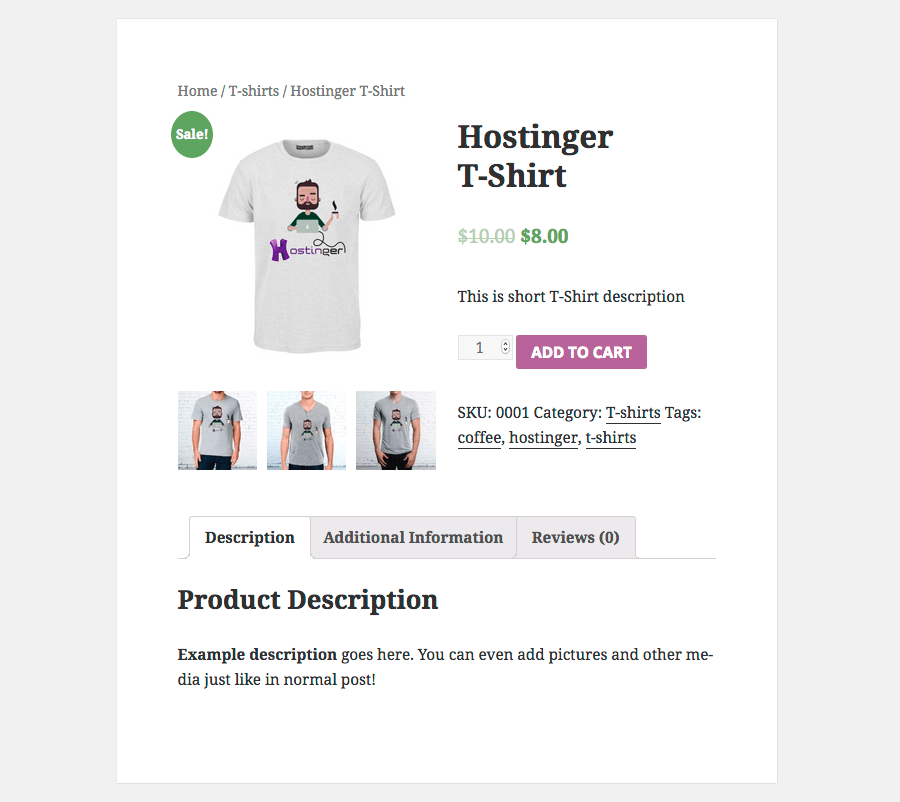 Step 3.2 – Managing Products
You can see all your products and manage them on the Products page. Here you can edit, delete, duplicate, feature a product. By selecting multiple products, you can apply bulk actions.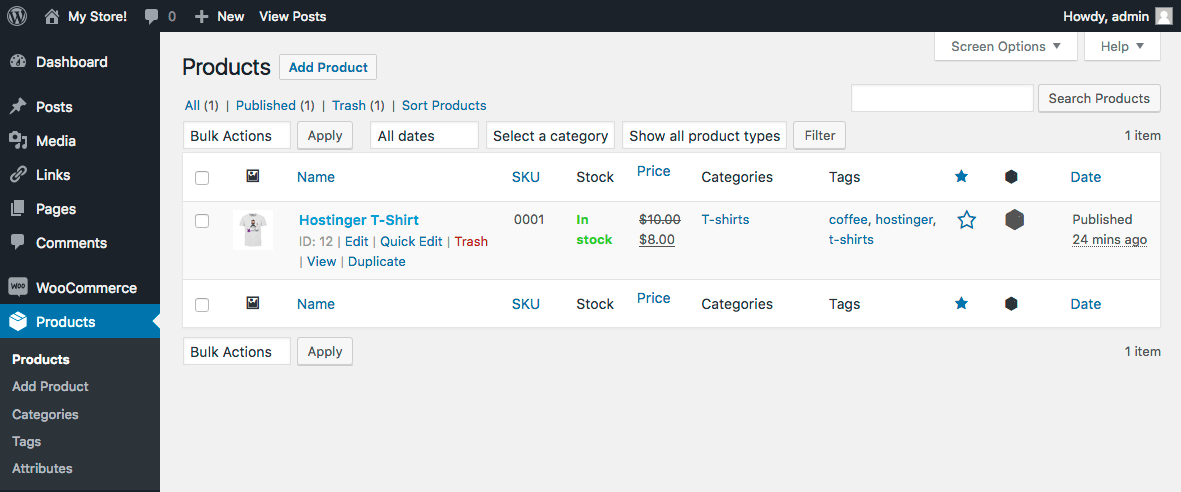 To duplicate a product, in the product section, find the product and click the Duplicate option. WooCommerce will create a new draft product for you and open it. It is super useful if you have a lot of similar items to sell!
You can also mark a product as featured. Click on the Star icon on the products option. Featured products can be displayed on your home page or be included into posts by using shortcodes.
To delete a product click on the Trash button that comes under the Product Name when you hover over it.
Step 4 – Managing WooCommerce
Step 4.1 – Managing Orders
A new order is created every time your customer completes the checkout process. You can view the orders by clicking on Orders in the left-hand menu.
Each order has its unique Order ID and is populated with a range of details – customer email, contact number, address, payment method and others.
To edit or view a single order click on Edit button under order number. You can easily update the order status from single order page and perform other tasks including modifying the ordered item, pricing, taxes and the likes.

Step 4.2 – Managing Coupons
Coupons are a great way to market and sell your products. With WooCommerce you may view already added coupons and add new ones in Coupons section. If you need to edit a coupon, click on its name and make the necessary changes.
Step 4.3 – Managing Reports
On Reports section you can see how successfully your store is performing. You can see a number of purchased items, gross sales, average daily sales and other stats.
You can even generate statistics for separate products, their categories, or coupons. Select the appropriate period for which you would like to create the report – last month, this month, last 7 days or any custom duration and click on Go to generate the report.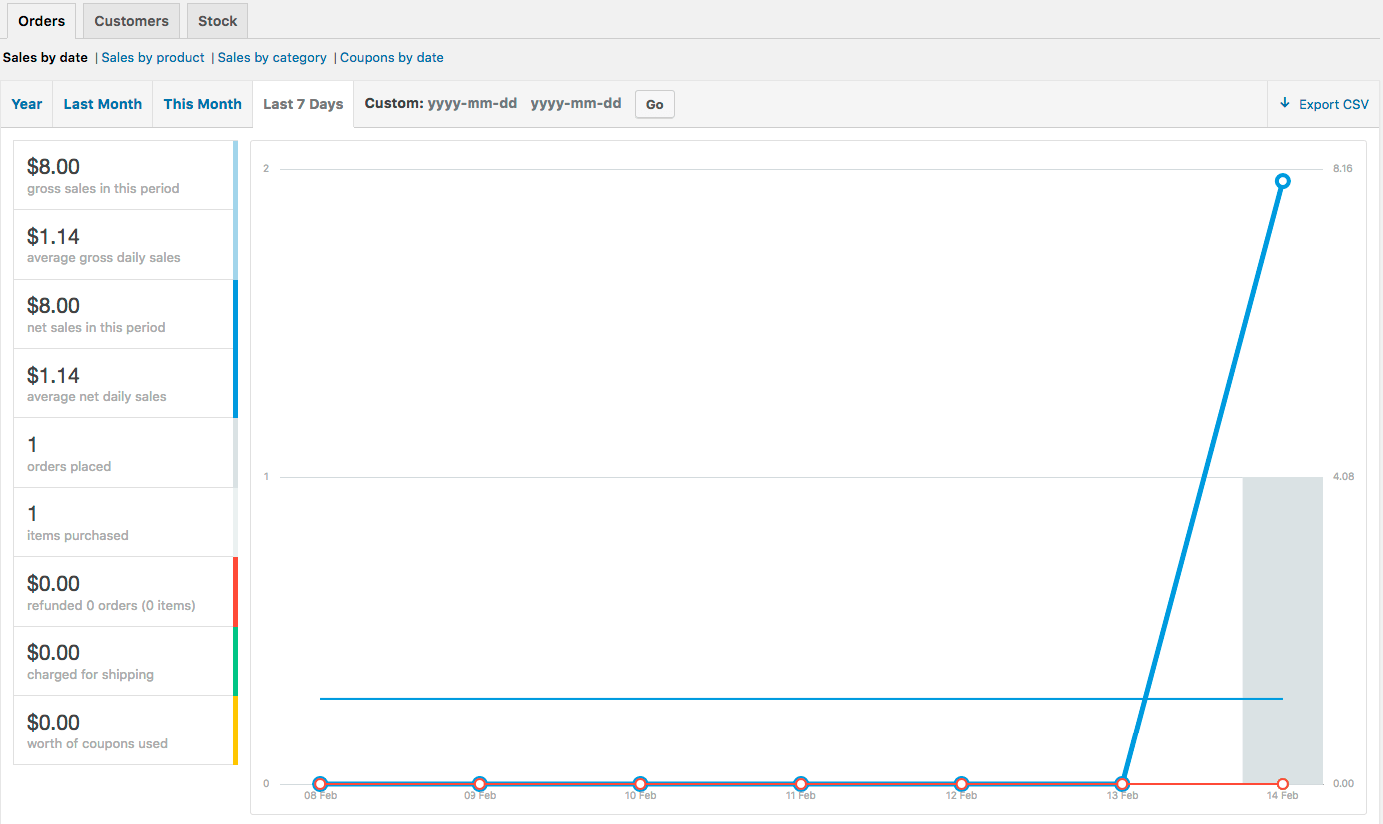 Step 4.4 – Settings
On Settings page you can change your store's core options. If you ever need to change location, currency or API settings, visit this section. But be sure to check WooCommerce Help section for detailed instructions and explanation of each setting before doing any major changes. Now let's go through available tabs and briefly overview what can be changed here.
General
On this tab you, can change store's main settings such as location, currency, enable/disable taxes, display notice for all your visitors and so on.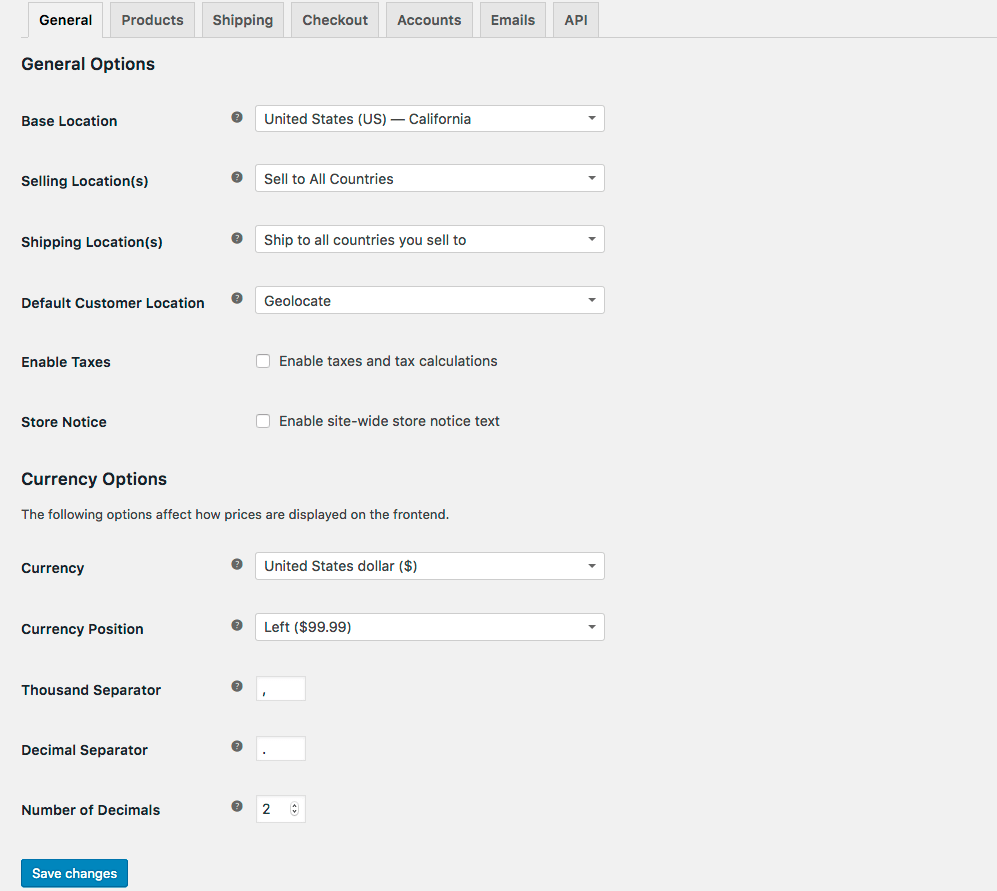 Products
Here you can change various product settings like measurement units, enable/disable reviews. On Display page you can change the default WooCommerce page, default product category, and size of product images. On Inventory section change default stock options, enable/disable stock management. You can also turn on the option to receive email notifications when a product runs out of stock. Configure file download methods and access restrictions if you sell downloads on Downloadable Products tab.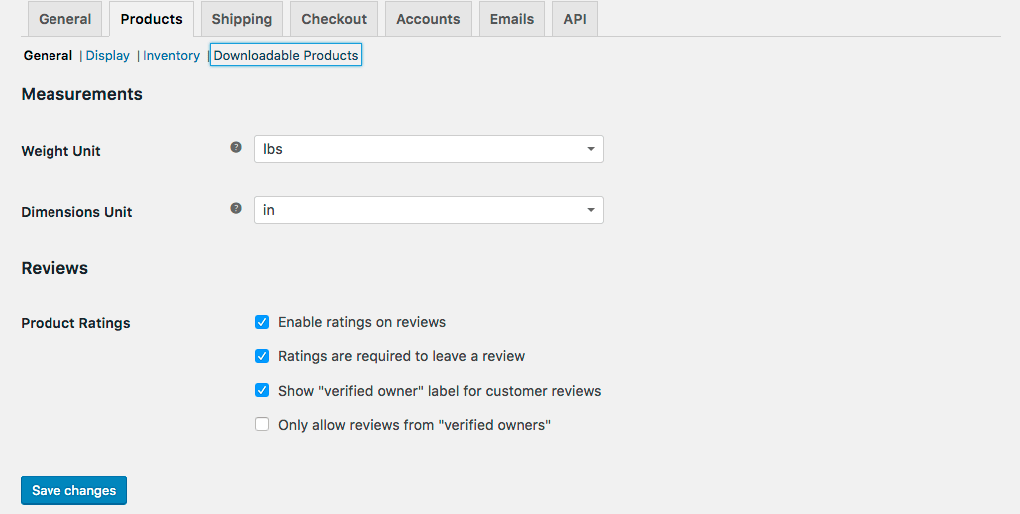 Shipping
You will love this section if you sell your goods worldwide. On Shipping you can add shipping zones, shipping methods, and rates. You can even set a different shipping rate for separate locations!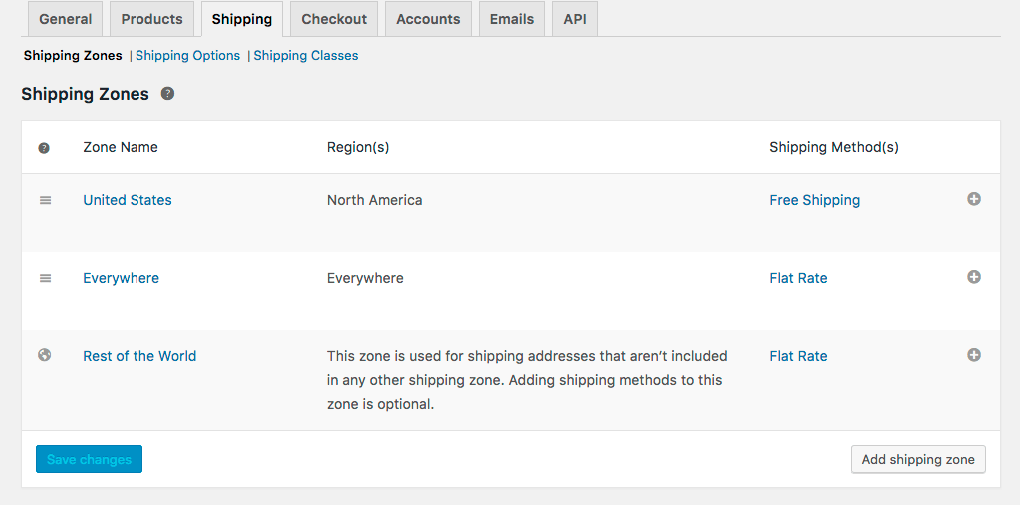 Checkout
On this tab you, can change checkout settings and add new payment methods. Default WooCommerce setup allows to choose from 5 payment methods, you can add more methods by installing extensions. We will cover this in the next section of our WooCommerce tutorial. You can also force HTTPS for your WooCommerce store and adjust other options on Checkout tab.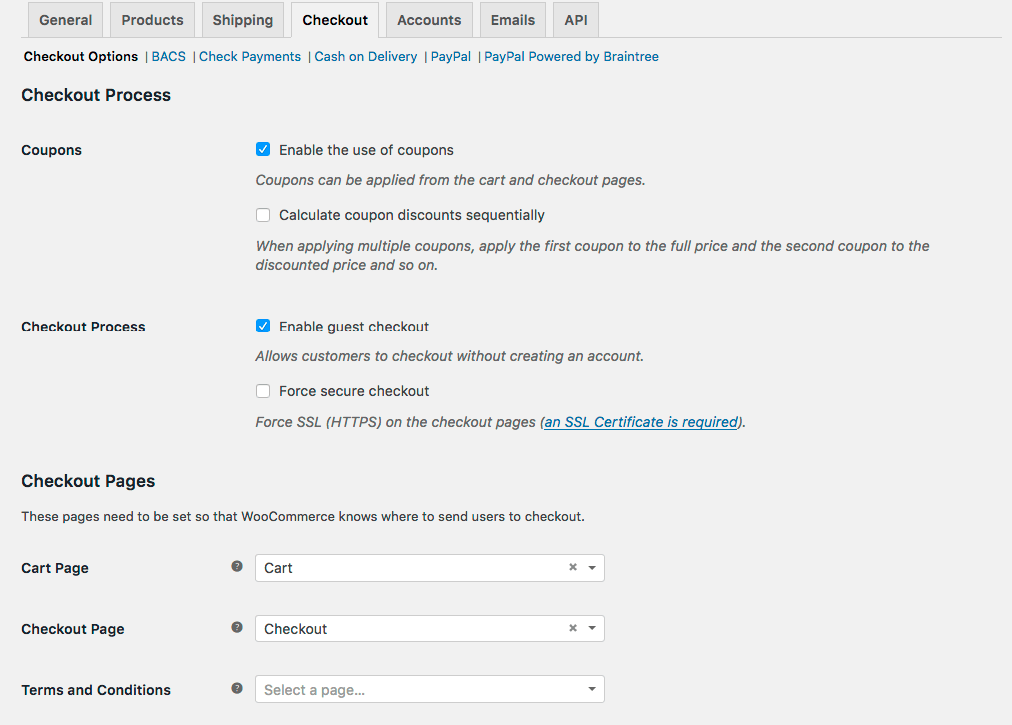 Accounts
Here you can change account page location, enable/disable customer registration and configure the overall account registration process.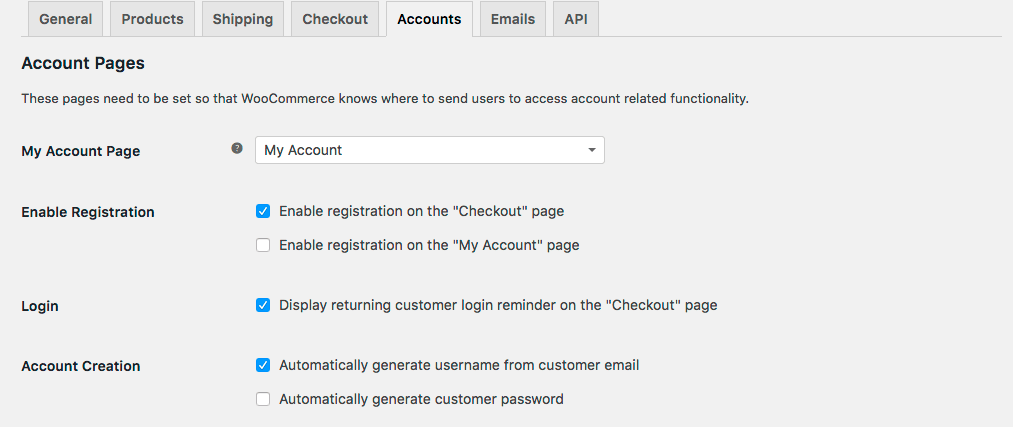 Emails
It allows you to configure emails that the buyers receive. On Emails section you can customize email templates and change email sender details. For more detailed instructions on how to customize WooCommerce emails see this tutorial.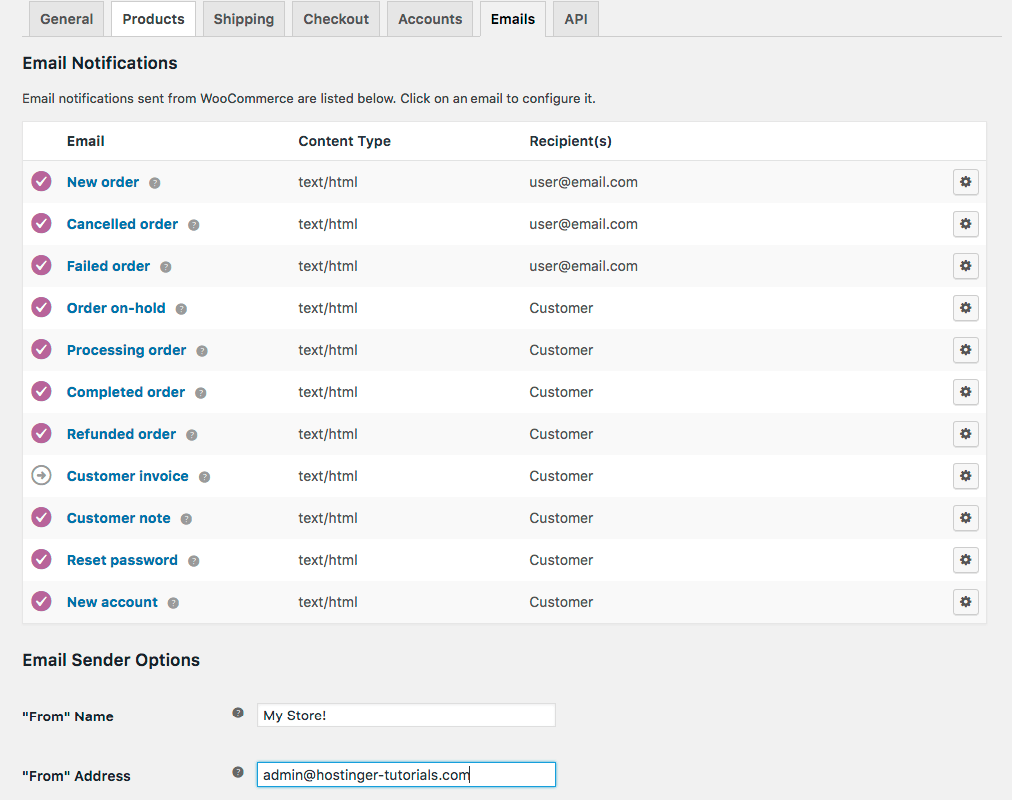 API
The last API tab allows to enable/disable WooCommerce API, enable access to external apps and set their permissions. Webhooks can be configured in this section as well.

Step 4.5 – System Status
System Status page is useful for checking the overall health of your WooCommerce store. From WooCommerce version to webserver type to PHP limits – you can see pretty much everything here. Get System Report button will generate a detailed report in case you need to provide it your hosting or WooCommerce support team. On Tools section you can clear WooCommerce cache, enable/disable debugging, reset user capabilities and so on. Logs tab retrieves log file with useful information for debugging or troubleshooting errors.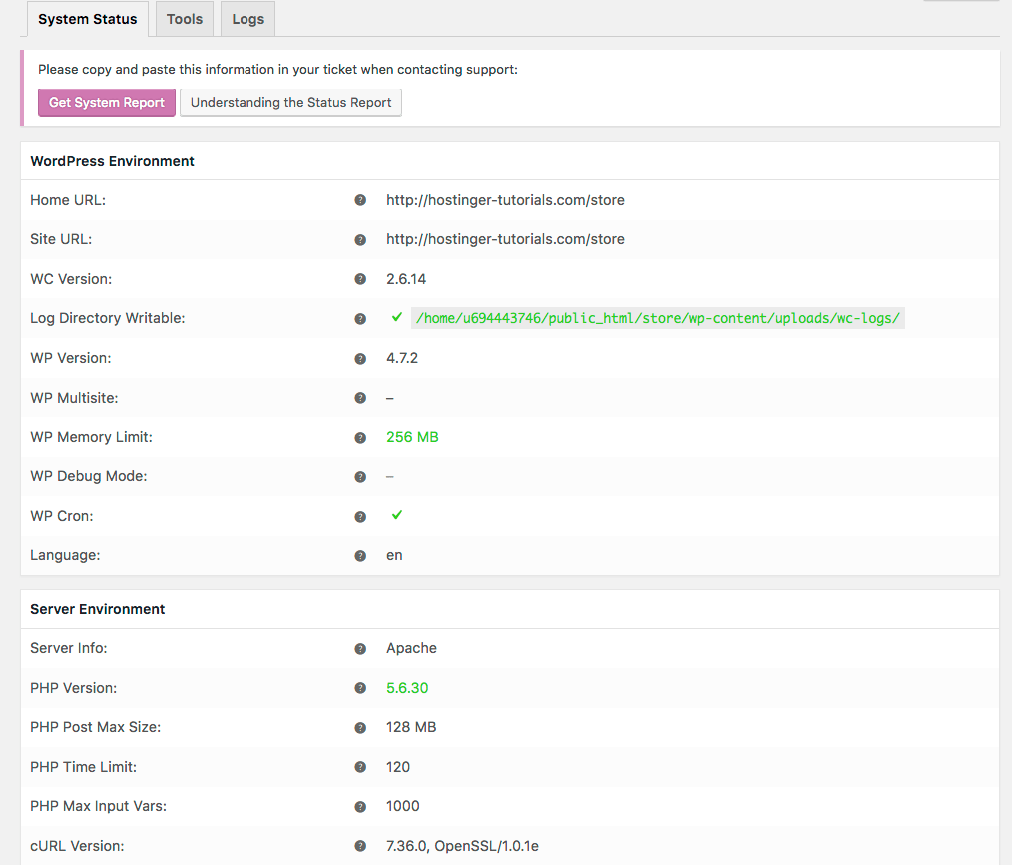 Step 4.6 – Extensions
Extensions are what makes WooCoommerce so flexible and easy to adapt. Similar to WordPress plugins, WooCommerce extensions can be installed from WooCommerce Extension store. Although most of the extensions are paid, they are worth every penny! By using an extension you can enhance your ecommerce store, add more payment methods, shipping methods, integrate tracking solutions and synchronize WooCommerce store with 3rd party services.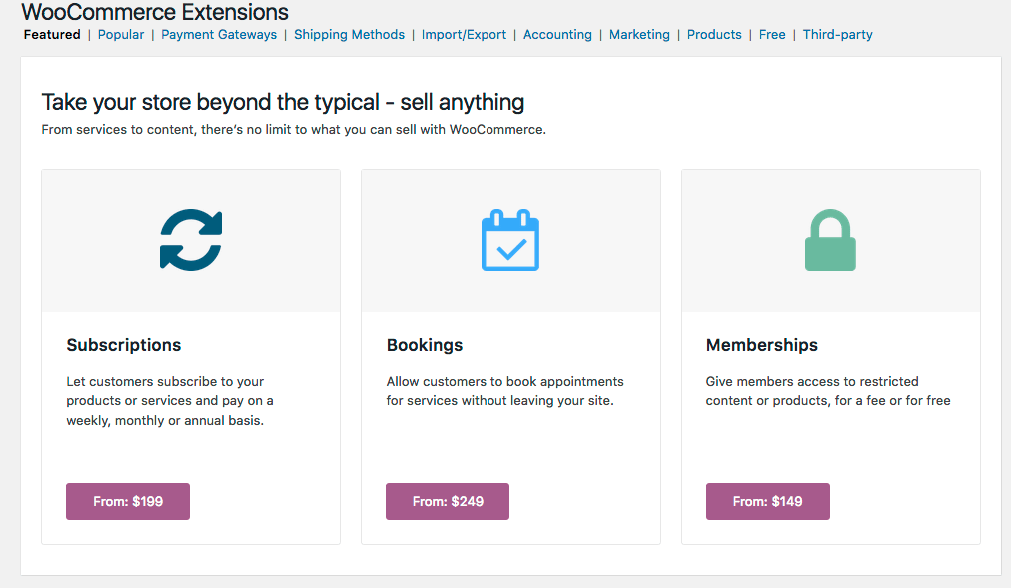 Bonus Step 5 – Customizing Your WooCommerce Store
In most cases, deploying your WooCommerce store in its default look isn't the best idea. Taking advantage of the wide array of customisation options given to you by WordPress, you should attempt at tailoring your site according to your needs. Therefore, to attain maximum interest of the users, we recommend going for a custom theme.
You can improve user experience even further by adding various WooCommerce extensions. Fortunately, a lot of themes and extensions come free of cost. Let's look at some of these more closely:
Changing Woocommerce theme
Just like any other WordPress website, you can elevate your WooCommerce store by installing a new theme. There are plenty of options – whether you want a classy and minimalist look, or want to go loud. Installing new themes on WordPress is also fairly straightforward – simple go to your admin area, and navigate to Appearance -> Themes. Hit the Add New button to install a new theme. Still having trouble? A step-by-step guide on installing WordPress themes is where you should be headed.
To get you started, we have compiled a short list of the most popular free themes for your WooCommerce store:
A good place to start, Illdy is a sleek, modern and minimalistic WordPress theme. Although geared primarily towards portfolio sites due to its single page design, it can also work well for a business site. It is also compatible with other popular plugins.
Zerif Lite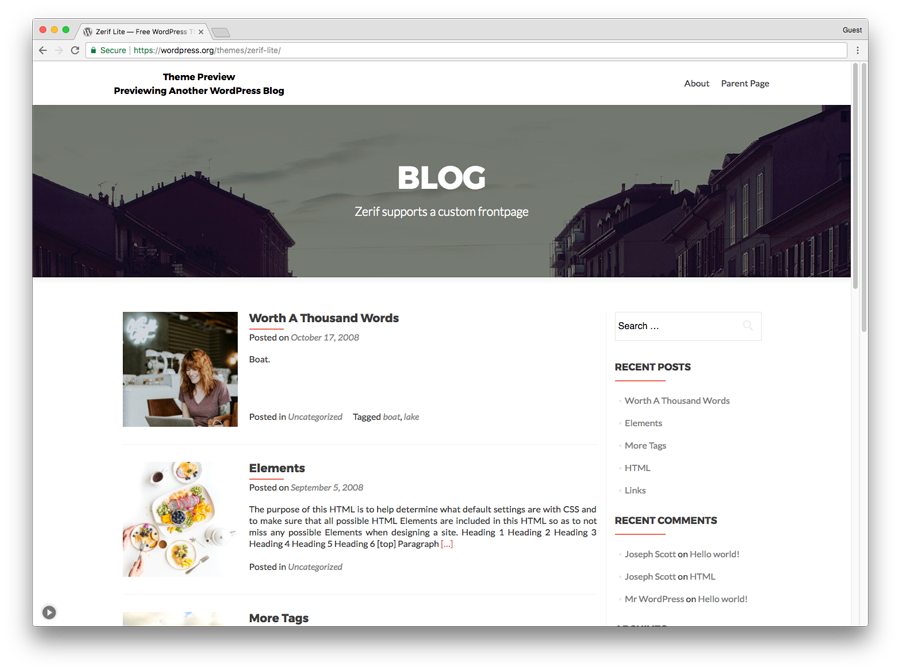 Developed by Themeisle, Zerif Lite is a multipurpose WordPress theme. As such, it can also be used in conjunction with WooCommerce to build a robust e-commerce site. It is currently used by more than 100,000 websites, which speaks volumes about its popularity. It has all the essential features for a modern theme, including a responsive design and good optimization. Being lightweight, it is ideal for websites that pay special emphasis on speed and performance.
Developed by WooCommerce itself, StoreFront is a collection of WordPress themes. It comes with various 'child themes', each of which is designed for a specific e-commerce site. For instance, the 'Galleria' child theme is perfect for a clothing and fashion store, while the 'Bookshop' theme is intended for an online book store. With more than 10 child themes to choose from, each with its own unique flavor and features, you can hardly go wrong with StoreFront.
Market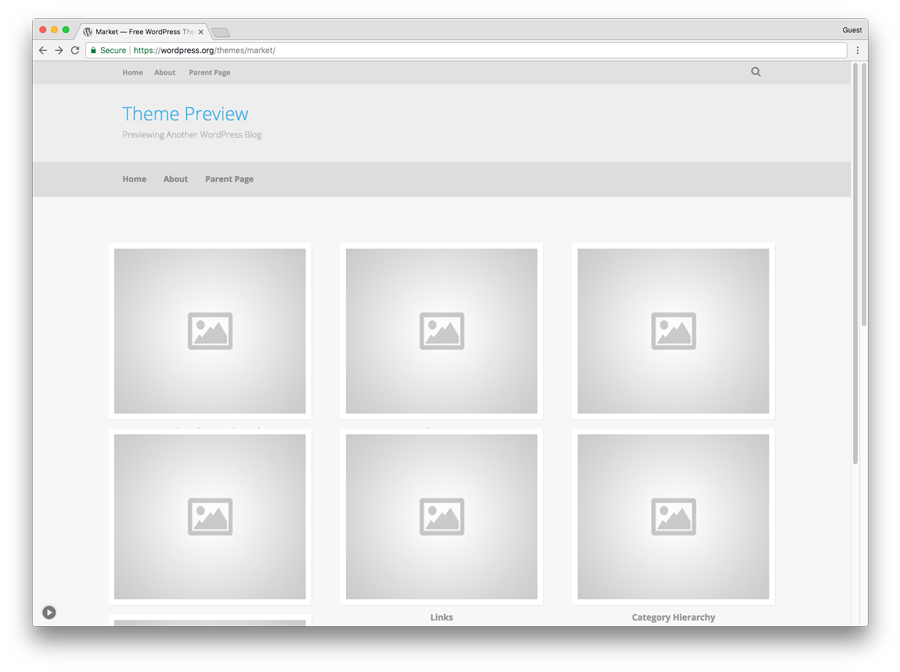 Market is another multi-purpose WordPress theme that works exceptionally well with WooCommerce. It makes it very easy to display products for sale, which is also pleasing to the eye due to its minimalist design language. It also comes jam-packed with features, including stellar animations that are rarely found on other e-commerce themes.
Make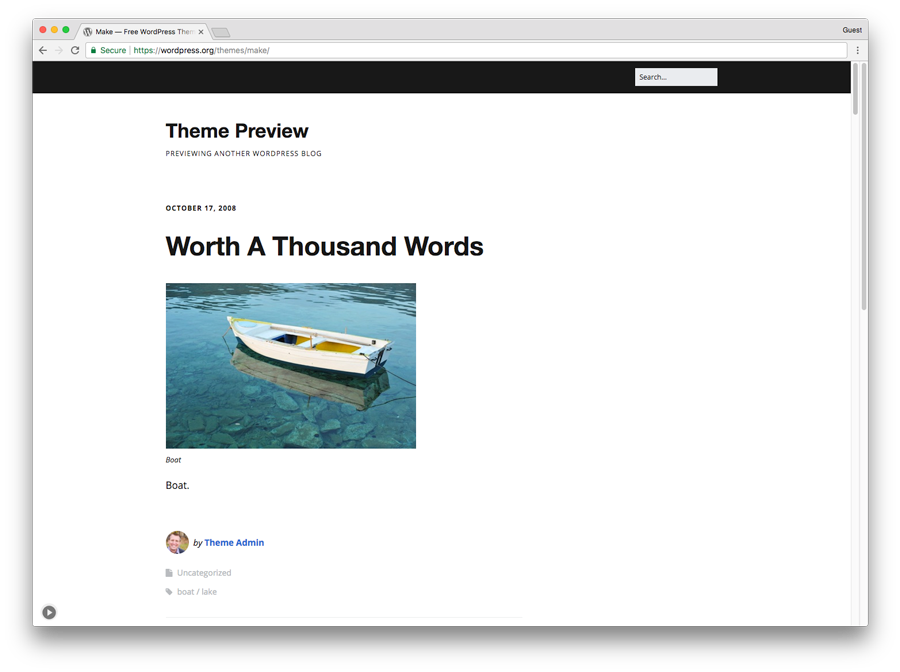 Last, but certainly not the least is Make. Giving developers plenty of customization options, Make is easily one of the most flexible WooCommerce themes available free of cost. The best part: you don't need to know anything about programming to take advantage of its features, as it has drag-and-drop functionality and tons of Customizer options.

Installing WooCommerce Extensions
As stated above in section 4.6, extensions are what make WooCommerce such a powerful e-commerce tool. You can pile on a ton of additional useful features on top of WooCommerce through these extensions. This ranges from enhances the user experience with more language and currency options, to making your own life easier with dedicated analytics plugins. To install plugins on WordPress, all you need to do is go over to the admin panel to Plugins -> Add New. Following is a brief list of some of the most popular extensions for WooCommerce:

A must-have for e-commerce sites that operate on a global scale, the Currency Switcher for WooCommerce is perfect for converting currencies on-the-fly.

Any e-commerce site is incomplete without an online payment solution. With PayPal, you get the world's most widely used payment system on your WooCommerce site.

An alternative to PayPal is the Stripe Payment Gateway for WooCommerce. This can be a better option for some, as it does not take the user to an external page for payment, rather integrates fully with your website. Supports Visa, MasterCard, American Express among others.

A self-described 'glue' for the WooCommerce and WPML (WordPress Multilingual) plugins, WooCommerce Multilingual allows you to translate every facet of your site to other languages. This includes product information, checkout and contact.
As the name suggests, the WooCommerce Product Filter extension filters out products based on various criteria like price, size, category etc. Product filtering is a staple of any e-commerce site, so you should definitely have this on your site.

Another neat plugin for enhancing user experience, the WooCommerce Menu Cart is a simple extension that displays the user's shopping cart on every page in a tiny window. It is important for users to know which items are in the cart at all times, so that they don't have to periodically check the cart manually.

Combining social media with e-commerce is always a good idea, and YITH seems to understand this very well. Its WooCommerce Wishlist plugin can be used by users to create an item wish list on your e-commerce site, which could then be shared on various social media platforms for all their friends to see. A win-win for both sides.

Keeping in touch with mobile design principles, Pushover for WooCommerce is a tiny yet highly useful plugin for enabling push notifications for your e-commerce business. Whether you want real-time notifications on inventory, sales or anything else, Pushover will come in handy.

FraudLabs Pro is a fraud prevention plugin. With this plugin you will be able to screen all order transactions and protect your WooCommerce store from fraud orders. It works by validating all order elements such as geolocation, proxy, email, blacklist, credit card, transaction velocity, etc. The plugin works behind the scene during checkout process. It also generates comprehensive reports in merchant area. This plug-in is a must to protect against fraud and chargebacks.
It's freemium plugin meaning you can get Micro Plan (less than 500 transactions)  free of charge.

Another gem of an extension by YITH, Infinite Scrolling eliminates the wait users have to endure for a new page to load. Instead, they can scroll indefinitely for new items. This is also useful for quickly comparing multiple items, as you don't have to switch between pages.

To separate yourself from other e-commerce stores, you can also add the option for users to gift wrap the items they have just bought. This makes sending gifts convenient, and can be especially beneficial for your business come holiday season. The plugin can also be configured to choose between multiple gift wraps.
These are just some of the plugins that you can add to your WooCommerce site. For more awesome plugins, see Beeketing's list of 10 WooCommerce plugins to increase conversion rates and sales.
Conclusion
WooCommerce is undoubtedly a great tool to turn WordPress into a fully featured ecommerce store. The best part of WooCommerce is that you do not require in-depth knowledge of programming to sell your products with it. We hope that the above WooCommerce tutorial helps you set up and manage your store.
If you have any query related to the above WooCommerce tutorial, do let us know in the comments!