WooCommerce Tutorial: How to Set Up eCommerce on WordPress
With over 5 million installations, WooCommerce is WordPress's most popular eCommerce plugin. It offers tools for creating online businesses of all sizes, from order management to different payment and shipping options.
However, creating a WooCommerce shop can be complicated, especially for beginners. With so many settings to configure and extensions to install, it's easy to get lost in the process.
If you want to transform a WordPress site into a fully-functioning online store, this WooCommerce tutorial will guide you through the steps. We'll show you how to properly set up WooCommerce and customize an eCommerce site to your needs.

WooCommerce Video Tutorial
Watch our video tutorial on how to create an online store with WooCommerce.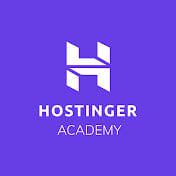 Subscribe For more educational videos!
Hostinger Academy
Subscribe
Why Choose WooCommerce?
While many eCommerce plugins exist, WooCommerce is often considered the best. Here's why:
Built for WordPress. It integrates seamlessly with WordPress and lets you connect with its global community.
Highly scalable. WooCommerce offers a rich library of free and paid extensions. They let you customize and add more functionality to your eCommerce site as it grows.
Affordability. No need to worry about paying license or subscription fees. You can install WooCommerce free of charge.
Security. WooCommerce secures the transactions between customers and your eCommerce store via tokenization. This method ensures that all credit card details are stored on the payment processor's servers rather than your site's database.
Full support. WooCommerce has comprehensive guides, from store installation to various troubleshooting methods. You can also contact the WooCommerce support team via email.
How to Set Up a WooCommerce Store
From installing the WooCommerce plugin to managing its extensions, this section will provide a step-by-step guide to help you create a successful online store.
Step 1. Install and Activate WooCommerce
Before you install WooCommerce, purchase a hosting plan and create a website.
We recommend our WooCommerce hosting, which lets you install WooCommerce with a few clicks.


After completing the installation, log in to WordPress and follow these steps to install the plugin:
Access the WordPress dashboard and select Plugins on the sidebar.
Click Add New and enter WooCommerce in the search bar.
Once you find the WooCommerce WordPress plugin, click Install Now.
Once the installation is complete, press Activate.
Step 2. Add WooCommerce Store Details
After installing and activating the plugin, the WooCommerce Setup Wizard will automatically appear.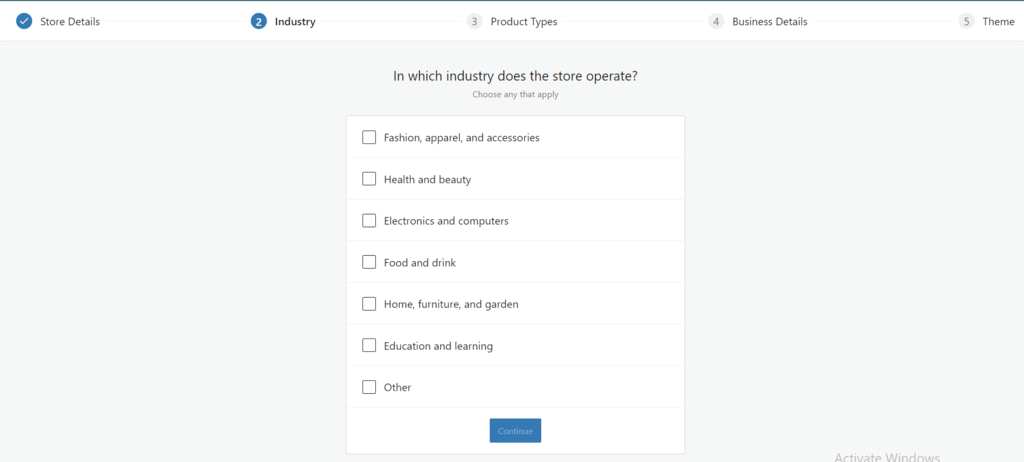 Follow the WooCommerce tutorial below to complete the setup:
Fill in the Store Details, including your country, address, postcode, city, and email address.
Select at least one Industry in which your WooCommerce store operates.
In the Product Types section, determine which physical and digital products your eCommerce shop offers.
Include more Business Details, such as the number of products and whether you're selling on other platforms.
For the final step, choose one of the available WooCommerce templates. You can always change the theme later.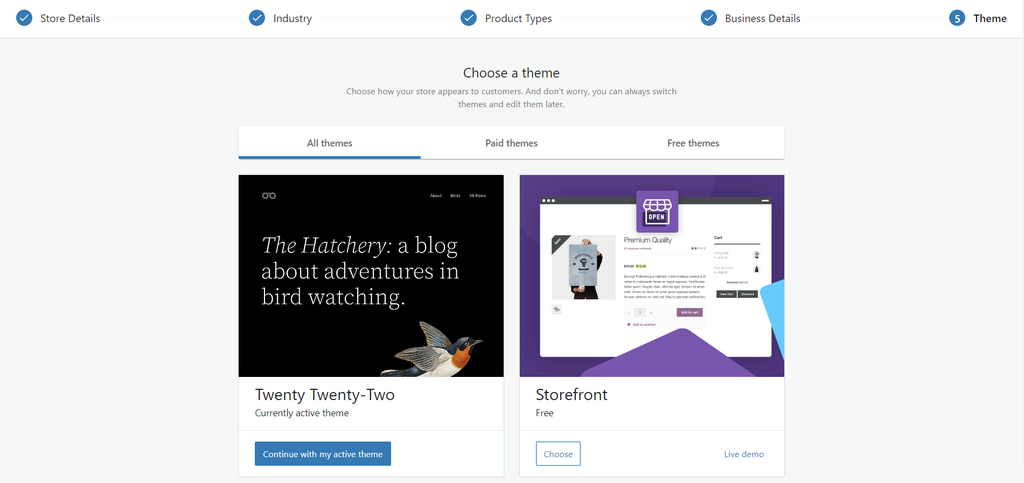 After the setup process, you will be redirected to the WooCommerce dashboard.
Step 3. Add New Products
Before adding new products to your WooCommerce website, it's essential to understand these terms:
Product categories. A group of different products within the same niche. For example, the apparel category can include tops, bottoms, and sports gear. Categorizing related items together enables shoppers to locate similar products quickly.
Attributes. This filters the products by size, color, fabric, and other features, helping customers choose their desired products. You can assign attributes independently to each product or set up a general one for the entire website.
Product Types. WooCommerce separates products into several types:

Simple product. A stand-alone item that is shipped without additional options. For example, one physical book.
Grouped product. A collection of related items, such as a dozen shot glasses.
Virtual product. Non-physical products that require no shipping, like software and services.
Downloadable product. Products that you can download, including songs, images, videos, and eBooks.
External product. Goods that are advertised on your WordPress website but are sold elsewhere.
Variable product. These items have varying qualities like sizes and colors. Shoes and clothes are prime examples of this product type.
Adding Products
Embedding new products to your eCommerce store works similarly to creating a new blog post. Here's how to add WooCommerce products via the WordPress dashboard:
On the left navigation bar, head to Products and click Create Product. You can also import products from a CSV file.
Enter the product's name and a detailed description.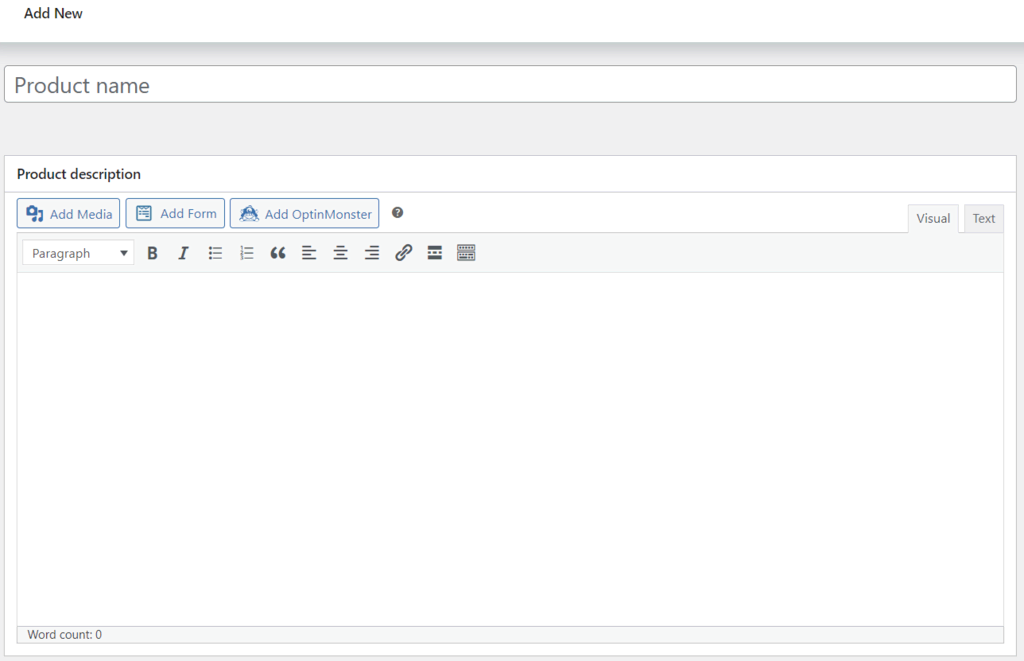 Head to Product data and select your product type.
Select Virtual if you sell non-physical products. Tick the Downloadable box for digital products like software and files.
Fill in the required information like the price, stock status, attributes, linked products, and brief product summary.

Choose the product category on the right menu. If you haven't created one, click Add new category.
Label your product using Product tags, so customers can find them easier.
Under Product image, upload your product's featured image. The maximum file size is 1 MB.
If you want to use multiple product images, upload them via Product Gallery.
Select your product's visibility in the Publish section – Public, Password protected, or Private.
Head to Catalog visibility and determine where your products will be listed – Shop and search results, Shop only, Search results only, or Hidden.
Make sure to click Save Draft and check the product Preview. If you're satisfied with the result, click Publish.
Here's an example of a product page: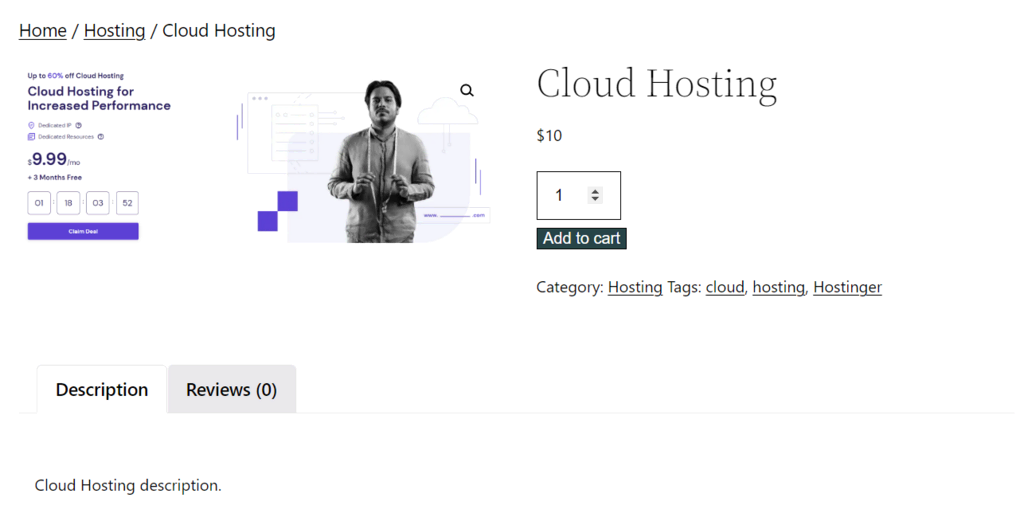 Managing Products
Once the store grows, you'll likely have to handle more products. This is where WooCommerce's inventory management feature comes in handy.
By accessing the Products tab, WordPress users can easily manage products:
Duplicate a product. If you have similar items to sell, this feature is very useful. Click the Duplicate button under each item, and a new, copied product draft will open.
Delete a product. Press the Trash button that appears under the product name when you hover over it.
Mark a product as featured. Click the Star icon to feature an item. This lets you display your best-selling product on the homepage or include it in posts using shortcodes.

Step 4. Set Up Payment Methods
Follow this step-by-step WooCommerce tutorial to add several payment options that users can select when buying your products :
Head to WooCommerce → Set up payments.
To set up PayPal on WooCommerce, click the Get started button next to the PayPal Payments option. WordPress will automatically install the WooCommerce PayPal Payments plugin.
Configure your PayPal account and click Activate PayPal.
Enter your login credentials to connect PayPal with your WooCommerce store.
Go back to Set up payments. Then, enable Cash on delivery and Direct bank transfer. For the latter, provide your bank details like account name, account number, bank name, and sort code.
If you want to add more options, visit the WooCommerce Extensions Store. It offers over 80 payment gateways and tools, such as Stripe, Amazon Pay, and Square.
Step 5. Set Up Tax
Tax calculations are complex, especially for business owners without accounting experience or knowledge. Thankfully, WooCommerce allows you to automatically include taxes during checkout. Here are the steps:
Access WooCommerce → Settings → General.
Tick the Enable tax rates and calculations box.
Click Save changes.
Once enabled, the Tax tab will be visible. Configure your tax settings in the tab:
Prices entered with tax. Decide whether the product prices are inclusive or exclusive of tax.
Calculate tax based on. Select the address for tax calculation purposes – customer shipping, billing address, or your shop location.
Display prices in the shop. This determines how visitors will view prices when browsing through the store. These settings should be consistent with the first option, or customers might encounter errors.
Insert tax rates. Enter the standard, reduced, and zero tax rates for specific regions.

Step 6. Set Up Shipping Details
If you sell physical items, the next step is to set up shipping zones. This enables you to charge shipping costs based on specific geographical areas. Here's how:
Head to WooCommerce → Settings → Shipping.
Select Add shipping zone.
Enter the zone name, select the regions, and add shipping methods.
Let's take a look at this example:
| | | |
| --- | --- | --- |
| Zone Name | Region(s) | Shipping Method(s) |
| Local Area | Florida | Local pickup and free shipping |
| United States | All states in the US | Free shipping |
| International | Countries worldwide | Flat rate shipping |
Next, configure the Shipping options. You can display the shipping calculator on the cart page, hide shipping rates until customers enter their address, and choose the default shipping address.
Moreover, WooCommerce also lets you group similar products using the Shipping classes feature.
Step 7. Customize Your Store
Install a theme that suits your brand identity to make your store more visually appealing. You can also customize the site further by installing WooCommerce extensions.
Fortunately, a lot of WooCommerce themes and extensions are free. You can find them via the WordPress dashboard or WooCommerce Extensions Store.
Let's look at some of them more closely:
Themes
Like any other WordPress website, installing an attractive theme is crucial to elevate your WooCommerce store's look.
To install a WordPress theme, go to the WordPress admin area and navigate to Appearance → Themes. Then, click the Add New button.
To speed up the selection process, we have compiled a list of the most popular eCommerce themes for your WooCommerce store:
If you haven't found the right theme yet, check out other recommended WooCommerce themes.
Plugins and Extensions
WordPress and WooCommerce offer plenty of plugins and extensions to enrich your eCommerce website. They range from user experience enhancements to additional languages, currency options, and dedicated analytics.
To install WordPress plugins, simply go to Plugins → Add New. And to install extensions, head to the WooCommerce store and purchase the ones you want.
The following is a list of recommended extensions and plugins for WooCommerce:
Step 8. Manage Your WooCommerce Store
Now that your WooCommerce store is ready, let's learn how to manage orders, coupons, customers, analytics, system status, and extensions.
Orders
Whenever someone makes a purchase, WooCommerce will automatically create a new order. To access them, head to WooCommerce → Orders.
Each order has a unique ID, payment date, order status, and total price.
Click the Order name to update the order status, apply a coupon, issue refunds, or modify the order details. The order details include the creation date, billing and shipping information, and customer email address.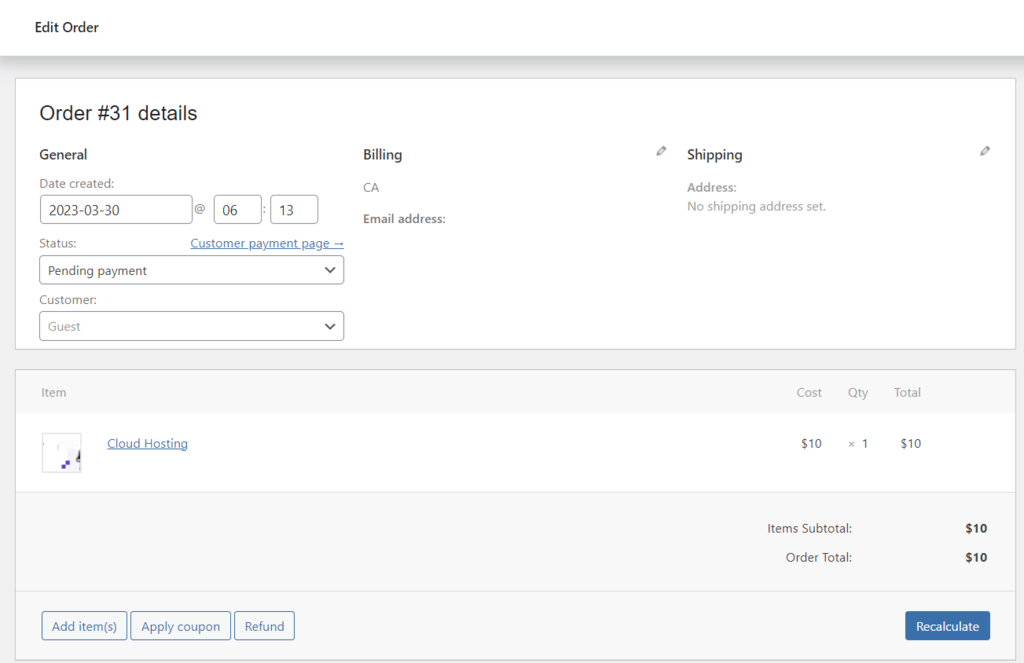 Coupons
Coupons are great for giving discounts and rewards to increase customer loyalty. Here's how to create a new coupon:
Head to WooCommerce → Coupons and select Add coupon.
Generate a coupon code and enter a brief description.
Choose the discount type – fixed cart, fixed product, or percentage discount.
Set the coupon amount.
Tick the Allow free shipping box to offer free shipping.
Set the coupon expiry date and click Publish.

To edit a coupon, click its name and make the necessary changes.
Customers
WooCommerce lets you view the following customer information:
Name
Username
Last active
Date registered
Email address
Total orders
Total spend
Average order value (AOV)
Country/Region
Click Download to turn this data into a PDF file.
Store Analytics
Understanding which product types customers like is important for growing a successful online shop. To view your top-selling products and categories, access the Analytics section.
It also comes with charts to help you monitor net sales and orders based on a selected period:
Today
Week to date
Month to date
Quarter to date
Year to date
Custom duration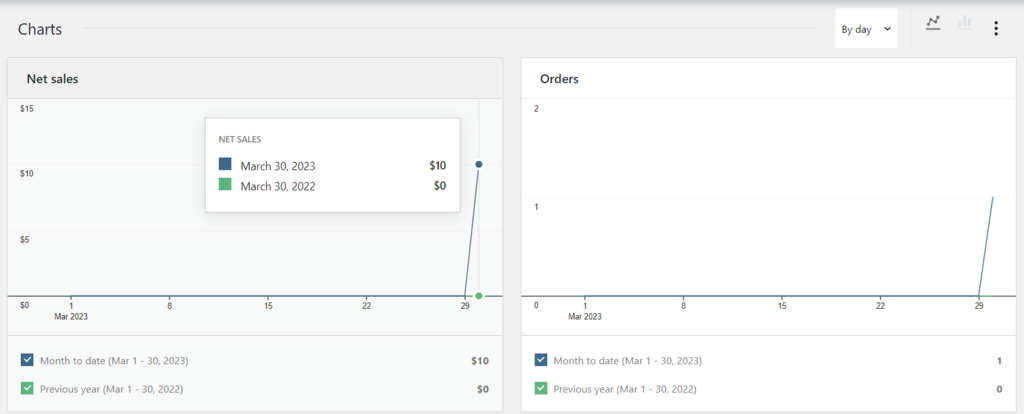 Settings
Visit WooCommerce → Settings to further customize the online store's options, such as default shipping destination, currency, and third-party integrations.
Before making any changes, make sure to hover over the question mark for a short description of each option.
Here are some WooCommerce settings you can configure:
General. Change the store's details, such as the address, default customer location, and currency. There is also an option to enable tax and coupon calculations during checkout.
Products. Customize the inventory management settings based on your selected product type:

General. Set your default shop page, select the measurement units, and turn on product reviews.
Inventory. Improve stock management by activating email notifications when your products are running low.
Downloadable Products. Configure file download methods and access restrictions if you sell downloadables.

Shipping. Add different shipping zones to determine the shipping costs and methods for geo-specific customers. You can also group similar products using the shipping classes feature.
Payments. Set up your store's payment options via PayPal, direct bank transfer, checks, or cash on delivery.
Accounts & Privacy. Personalize your store's account registration, guest checkout, privacy policy, and data retention.
Emails. Create a custom purchase note for customers. You can also configure email notification settings for new accounts, password resets, refunds, and pending orders.
Integration. Connect the WooCommerce shop with MaxMind Geolocation, a tool for locating and analyzing site visitors.
Advanced. Secure checkout pages, configure Webhooks, customize checkout page URLs, create an API key to grant external access, and enable usage tracking.
System Status
The System Status page is useful for checking the overall health of your WooCommerce store. This ranges from the WooCommerce software version to the web server type and PHP limits.
Click the Get System Report button to generate a detailed report of your WordPress site and server environment.
You can also move to the following tabs to set other options:
System status. An overview of your site's system status, such as API package, server environment, database, security, themes, plugins, settings, and pages.
Tools. Clear cache, enable or disable debugging, and customize other WooCommerce capabilities.
Logs. Retrieve log files with useful information for debugging or troubleshooting errors.
Scheduled Actions. Find a list of automatic actions with their details, including the scheduled date, status, recurrence time, and logs.
Extensions
WooCommerce extensions let you enhance the online store's functionality. This includes adding more payment gateways and shipping options, integrating tracking solutions, and synchronizing WooCommerce with third-party services.
To get started, head to the Extensions tab and browse WooCommerce plugins based on these categories:
Featured
Store Content and Customizations
Marketing
Payments
Merchandising
Shipping, Delivery, and Fulfillment
Store Management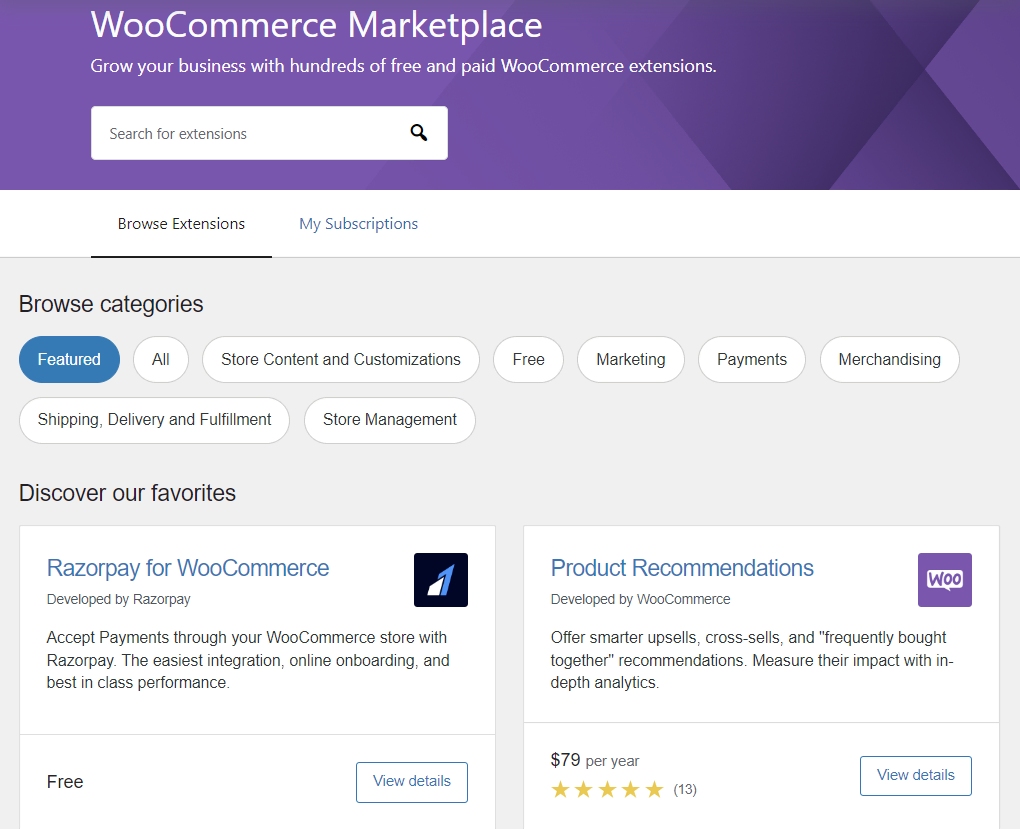 Clicking any of these entries will take you to the WooCommerce store. From there, visit the WooCommerce login page and create a new account.
After that, proceed with the purchase to install the extension on your site.
Conclusion
WooCommerce is undoubtedly a great tool to turn WordPress into a full-fledged eCommerce online store. The best part is you don't need in-depth programming knowledge to sell your products online.
We hope this WooCommerce tutorial helps you set up and manage your online store. If you have any queries, let us know in the comments section.
How to Use WooCommerce FAQ
Find answers to commonly asked questions about WooCommerce below.
What Is WooCommerce Used For?
WooCommerce is a WordPress plugin for creating eCommerce stores. Users can manage inventory, orders, shipping, and promotions in online stores of all sizes. WooCommerce also has its own shopping cart system, can handle various currencies, and supports payment gateways like PayPal, Stripe, and Square.
Is WooCommerce Easy to Set Up?
Yes, it is. After installing and activating the WooCommerce plugin, WordPress will automatically launch the WooCommerce Setup Wizard. Simply follow the steps to launch your online store.
Can WooCommerce Handle 5,000 Products?
WooCommerce is highly scalable, and there's no limit to how many products it can handle. Your store's performance mainly depends on the web hosting service. Thus, select a hosting plan that provides enough storage and bandwidth to handle many products and high traffic. 
How Can I Use WooCommerce for Free?
WooCommerce is an open-source plugin that's completely free to use. However, since it isn't a stand-alone platform, you must purchase a WordPress hosting plan to create a WooCommerce store. Plus, you might need to install premium extensions and plugins, which can increase the overall WooCommerce costs.
How Can I Make WooCommerce Perform Faster?
To ensure faster performance, choose a reliable hosting provider with pre-installed WordPress optimization plugins like Hostinger. Moreover, increase the upload size limit, compress images, clean up the WordPress database, disable cart fragments, and install a cache plugin like W3 Total Cache.