12 Best WordPress Contact Form Plugins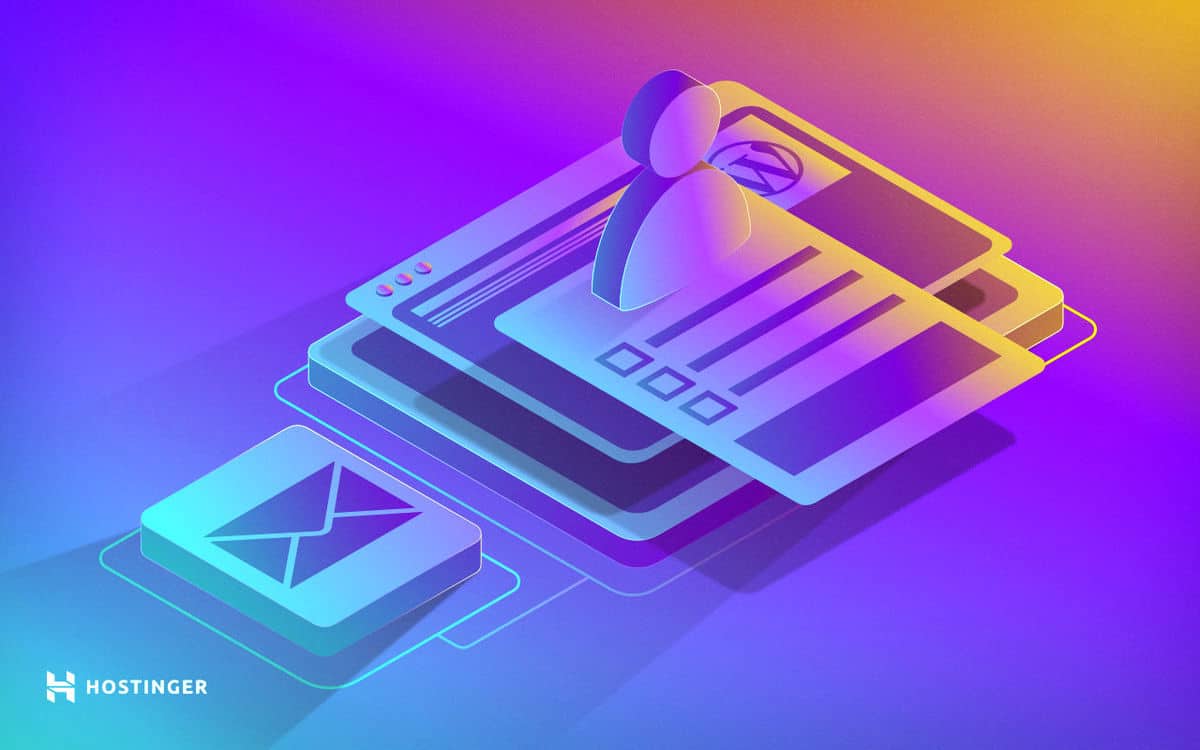 A contact form is a website section where visitors can send messages to the website owner. It can help reduce spam because submissions will be delivered as email notifications without you having to publicize the email address.
There is no shortage of tools to create a contact form quickly and easily. As one of the most popular content management systems, WordPress offers plenty of free and premium form plugins to use.
If you need help with picking the right choice, you've come to the right place. In this article, we'll take a look at the best contact form plugins to try.
7 Best Free Contact Form Plugins
Creating a high-functioning contact form doesn't have to be expensive. There are plenty of free contact form builder plugins to choose from. Take a look at some of our best picks.

Plugin Stats
Downloads: 4,000,000+
Rating: 4.9/5
Notable features: drag-and-drop contact WordPress form builder, hundreds of templates, easily embed contact forms
Best suited for: beginners who need an easy-to-use WordPress contact form plugin
Price: free
WPForms Lite is one of the best WordPress contact form plugins. In addition to being free, it has all of the essential features to create fully functioning contact forms in no time.
The drag-and-drop feature makes WPForms Lite easy to use. Users can start from scratch or use one of the three starter templates – a contact form, newsletter signup, or a suggestion form template.
There are a couple of pre-made fields with various tweakable settings. Users can easily mark them as required, change their name, size, or placement. Plus, there's a tooltip that provides information on more advanced options, like the CSS class categories.
Whether it's single or multi-page forms, WPForms Lite ensures a responsive and SEO-friendly user experience, thanks to its formatting and speed. Plus, shortcodes make embedding these forms on any posts or pages easy.
WPForms Lite also comes with anti-spam protection. Users can choose between hCaptcha and reCAPTCHA as a spam-filtering method.
If you need help with using WPForms Lite, you can go to the WPForms Lite Support forum.

Plugin Stats
Downloads: 1,000,000+
Rating: 4.4/5
Notable features: bookmark custom forms for reuse, create unlimited forms, the option to save submissions on WordPress database and email
Best suited for: beginners who need a simple tool to create basic, functional forms and don't mind paying for more features
Price: free (includes premium extensions)
The free version of Ninja Forms comes with lots of useful, beginner-friendly features. Just like most contact form builders, Ninja Forms has a custom, user-friendly interface.
This WordPress form builder plugin features a drag-and-drop editor. Plus, there are lots of customization options, from dropdown menus to checkboxes. Users start with three templates – Contact Us page forms, event registration forms, and quote request sections.
Ninja Forms is easy to use, as custom fields can be saved and favorited for reuse. Plus, there's no limit on how many forms you're able to make. Setting up a specific format for a field is possible with the custom input mask feature, too.
When it comes to security, users can implement the standard reCAPTCHA, built-in honeypot protection, or custom anti-spam question and response fields.
There's also an option to store form submissions in the WordPress database or send it to your email address, which provides multiple options to keep your data safe. This setting is enabled by default, though you can disable or change the redirect address in the Email & Actions section.
While the free version of Ninja Forms is great, most advanced features are only available in the premium version, starting from $49.50/year.

Plugin Stats
Downloads: 5,000,000+
Rating: 4.1/5
Notable features: open-source, extendable with other plugins, customization using codes
Best suited for: intermediate to advanced users who need more flexible customization using code
Price: free
While this form builder plugin's features are not as extensive as those of other contact form plugins for WordPress, Contact Form 7 has many useful functionalities.
Users can access templates, use field selections, and take advantage of spam protection. Not to mention, Contact Form 7 is also compatible with many WordPress themes, ensuring no conflict with new updates.
After the form plugin is installed, users can immediately insert a form by using the proper shortcodes.
However, as Contact Form 7 doesn't have a drag-and-drop interface, customization isn't very user-friendly.
You need to have some knowledge of CSS and HTML to tweak the contact form's attributes. As such, we recommend this WordPress form plugin for the technically-savvy.
The workaround for this is to use it with another free form plugin for WordPress called Contact Form 7 Style. With this add-on, you can change colors, layouts, and fonts with ease.
You can also integrate Contact Form 7 with other plugins, like Conditional Fields and Paypal and Stripe Add-On.
For spam protection, you can use Akismet and reCAPTCHA. It's also worth keeping in mind that Contact Form 7 doesn't have a built-in conversion tracker, but it's compatible with Google Analytics.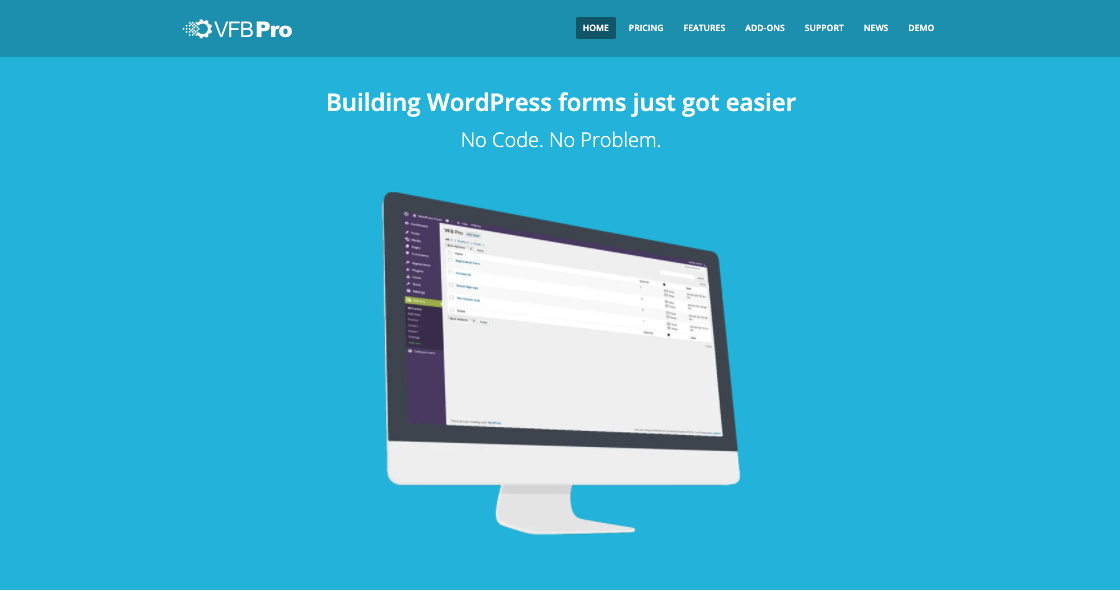 Plugin Stats
Downloads: 70,000+
Rating: 4.2/5
Notable features: drag-and-drop editor, multiple forms on one page, multiple field layout options
Best suited for: beginners who need a quick and easy tool to create a contact form
Price: free (includes premium add-ons)
The Visual Form Builder is another drag-and-drop form plugin for WordPress that's easy to use. The user interface is pretty straightforward, although a little bit clunky.
It's also important to note that the drag-and-drop feature of the free version is limited to reordering elements only. For more complex customization, you need to upgrade to VFB Pro starting from $29/year.
However, if you need to create simple form pages, the plugin's free version is more than enough. It offers many varieties of layout options, with fields that can be rearranged to suit your needs.
These include user text area, text input, section, dropdown menus, file upload, and other commonly used field types. Code-savvy users can also use CSS formatting to further tweak the overall design.
Another handy feature of Visual Form Builder is the ability to bulk export data into .CSV format. On top of that, users can also bulk delete and easily filter the form submissions they need. The data collected will be recorded with the date submissions and IP addresses.

Plugin Stats
Downloads: 200,000+
Rating: 4.3/5
Notable features: conditional logic, date picker for form scheduling, a free content delivery network for faster website speed
Best suited for: beginners to advanced users who want to create more dynamic contact forms
Price: free (includes premium extensions)
Caldera Forms is a user-friendly WordPress form plugin that offers lots of powerful features, even in the free version. It comes with robust features, such as multiple-part forms, file uploads, and calculation fields, all of which are customizable using the drag-and-drop form builder.
The starter templates of Caldera Forms include a basic contact form, a variable pricing form, and a registration form. What's great, users can also include a date picker field, which is useful for booking forms, event registration forms, or other types of forms that need the scheduling feature.
There are no limits on how many fields, submissions, or forms you can create with the free version of Caldera Forms. Plus, users can create as many automatic responders as they need.
Last but not least, this WordPress plugin is optimized for speed, as it comes with a free CDN you can enable in the General Settings.

Plugin Stats
Downloads: 5,000,000+
Rating: 3.9/5
Notable features: malware scanning, spam protection, real-time backups as part of Jetpack's overall modules
Best suited for: beginners and small businesses who only need simple form functions
Price: free
Jetpack is an all-in-one WordPress plugin created by Automattic. It's packed with modules that can enhance the overall functions, performance, and security of a WordPress website.
One of Jetpack's many features is the contact form builder plugin, which is a part of the plugin's Discussion and Community Tools.
While creating forms with the Jetpack Contact Form function is pretty straightforward, it's very limited in terms of customization.
Users can only add and remove the fields, and the functions are not extendable with add-ons. As far as the drag-and-drop interface goes, it's limited to reordering fields only. If simplicity is what you need, then this plugin will be ideal for you.

Plugin Stats
Downloads: 10,000+
Rating: 4.9/5
Notable features: lightweight, simple and clean interface, custom CSS for styling, and template tags to display forms anywhere on the website
Best suited for: intermediate and advanced users who need simple and lightweight contact forms
Price: free
True to its name, Simple Basic Contact Form is a WordPress plugin used to create simple but clean and fully functional contact forms. Complex customization with this form plugin is also possible. However, you need coding knowledge to create personalized CSS.
Users have the option to receive contact form submissions with a PHP or WordPress email address. This WordPress plugin is also optimized for speed, thanks to its standard-compliant code.
Other than that, the Simple Basic Contact Form plugin features a timezone setting, customizable confirmation messages, and the option to send submission copies.
5 Best Contact Form Premium Plugins
If you need to create a complex contact form, chances are, the free contact form plugins for WordPress won't deliver. In that case, consider going premium with these best contact form plugins for WordPress instead.

Plugin Stats
Rating: 4.5/5
Notable features: 30+ field selections, save and continue progress option, loads of integrations with third-party software and services
Best suited for: beginners and advanced users who need a feature-packed WordPress contact form plugin
Price: $59-$259/year
Gravity Forms is a WordPress form builder plugin with loads of features. It has over 30 form fields and tons of official as well as community-made add-ons. Plus, this plugin can be integrated with popular services, such as PayPal, Stripe, Mailchimp, and Zapier.
Thanks to the drag-and-drop form builder, users can easily create simple or complex forms in no time, whether they're starting from scratch or using a pre-made template.
The form fields can be categorized into four types – Standard, Advanced, Post, and Pricing.
Standard fields are the basic option that can be customized for any purpose. This includes fields for single-line texts, paragraphs, dropdown selections, and checkboxes.
Advanced fields are made for specific purposes, like file uploads and specific personal information.
If you need to include form fields for user-submitted content, use the Post fields. Meanwhile, the Pricing fields enable users to create eCommerce forms.
Another great feature of Gravity Forms is the option to accept guest posts. Visitors' articles can be saved as a draft from the front-end, which you can then read and decide whether to publish or not.
Plus, all submissions can be automatically redirected to specific email addresses based on their content, thanks to the form's conditional logic. This can save you lots of time and energy when it comes to managing user entries.
However, this abundance of features comes at a price. There's no free version of Gravity Forms, only a demo trial for 30 days.
To get the best out of Gravity Forms, you have to choose between the Basic plan for $59/year, the Pro plan for $159/year, and the Elite plan for $259/year.

Plugin Stats
Downloads: 300,000+
Rating: 4.9/5
Notable features: display form data, white-label forms, tons of powerful add-ons.
Best suited for: beginners to advanced users who need a feature-rich tool to create complex forms
Price: $49.50-$299.50/year
Formidable Forms is another great WordPress contact form plugin that's packed with powerful features. This tool covers a wide range of business needs, be it user profile forms, payment forms, order forms, or basic forms for a contact page.
On top of having a user-friendly drag-and-drop form builder, Formidable Forms' easy navigation makes form creation a breeze. Users can choose from the available templates and customize the elements, layouts, and colors to fit any WordPress theme.
In addition to the Bootstrap styling, WCAG and A11Y compliance ensures responsive and accessible forms.
Aside from easy customization, Formidable Forms also sports lots of data-driven features to create detailed reports with graphs and charts. It lets you increase conversion by tracking which pages users tend to visit last before filling a form.
You can also boost your branding by replacing the Formidable Forms label with your brand's logo. This option is available on all premium plans and can be activated through the WordPress dashboard.
The Formidable Forms packages come in four tiers. The first plan is Basic, which starts from $39.60/year. With it, you can create unlimited forms for one website and get support for one year.
The second plan is Plus, which costs $79.60/year. With this package, you'll get integration with AWeber, Highrise, MailPoet Newsletters, and Mailchimp.
If you need to create eCommerce forms, consider choosing the Business plan for $159.60/year. It integrates with PayPal, Campaign Monitor, and Constant Contact.
Last but not least is the Elite package, which you can purchase for $299.50/year. With this plan, you will get to unlock lots of great features and useful integrations, some of which include HubSpot, WooCommerce, and Salesforce.
All Formidable Forms plans come with a 14-day money-back guarantee. There's also a free version if you just need the basic functionality.

Plugin Stats
Downloads: 4,000,000+
Rating: 5/5
Notable features: seamless integration with WordPress dashboard, powerful email subscription forms, conversational forms
Best suited for: beginners and professionals who need more out of WPForms Lite or those looking for an easy-to-use contact form plugin for WordPress with comprehensive features
Price: $39.50-$299.50/year
WPForms is notable for having user-friendly, extensive features. For one, it integrates with a lot of email marketing services, such as Sendinblue, Drip, and Campaign Monitor. It also supports two major payment gateways – PayPal and Stripe.
As such, this WordPress plugin can be used to create a wide variety of forms, including payment forms, donation forms, and email subscription forms. You can also track submissions easily with instant email notifications.
Building a new form with WPForms is easy, especially with over 100 pre-made templates to choose from. There's no limit on how many forms users can make.
If you're worried about form abandonment, WPForms has a feature that enables you to collect partial submissions as leads. Or you can try to increase the form completion rate with WPForms' conversational forms.
To gather data in the form of surveys, WPForms can be integrated with a Surveys and Polls extension. It's fully customizable to include features like multiple choices, star ratings, and Likert scales.
The data collected can be compiled into a customizable graph, which is exportable to other formats, such as CSV or XML.
WPForms comes as a choice of four packages. The most affordable plan is Basic, which costs $39.50/year. With it, you get all of the essential contact form features, like advanced fields, multiple-page forms, as well as conditional logic.
Other WPForms plans include:
Plus plan for $99.50/year
Pro plan for $199.50/year
Elite plan for $299.50/year
If you're a part of a non-profit organization, you'll get a 75% and 66% special discount on the WPForms Pro and Elite licenses, respectively.
Refunds can be claimed within the first 14 days of purchase.

Plugin Stats
Downloads: 28,000+
Rating: 5/5
Notable features: fully translatable forms, lots of customization options, CSRF protection
Best suited for: professionals who need an affordable, advanced tool for form-building
Price: $29-$145/license
If your business needs an affordable WordPress contact form plugin, consider Quform. While the third-party integration is not as robust as other paid plugins on this list, you can still use it to create a wide variety of forms.
For instance, Quform doesn't have full integration with PayPal and Stripe yet. However, you can redirect a form to a custom payment gateway link. By using this method, you can create simple order forms for eCommerce websites as well.
Regardless of what form you want to make, Quform offers plenty of options for customization. It has 11 pre-made themes, button styles, animations, three label styles, and various radio fields with checkbox options.
Other than that, this contact form plugin also comes with translations to multiple languages and is secured against cross-site request forgery.
If you're interested in purchasing this plugin, there are only two licenses to consider. The Regular License costs a one-time payment of $29, while the Extended License costs $145. Both plans come with a 14-day money-back guarantee.

Plugin Stats
Downloads: 4,000+
Rating: 4.9/5
Notable features: slide-in animation, compatible with Contact Form 7 shortcodes, supports multilingual forms
Best suited for: beginners and advanced users who want to create stylish forms with simple animations
Price: $25/license
Ninja Kick offers templates with stylish and clean designs. They come with smooth transitions and animations applicable site-wide. Users can place their forms in different website areas, which visitors can trigger with a button, a link, or another similar element.
The user interface is intuitive and easy to navigate. Users can toggle and adjust the settings of the animations, color schemes, buttons, and labels from the dashboard. You can also test the forms within the test mode.
Ninja Kick comes with three templates, all customizable with CSS for more variations. Ninja Kick can also be used to personalize Contact Form 7 and Gravity Forms.
Last but not least, this plugin supports translation into multiple languages, such as English, Spanish, French, Italian, and German.
The Regular License of Ninja Kick Form will cost you $25. With it, you'll get automatic updates and technical support from the developer for half a year. If you want to extend the support up to 12 months, you need to pay an additional $7.50.
Why You Should Have a Contact Form Plugin?
There are many great reasons to have a contact form, such as:
Spam-protection. While it's impossible to remove spam completely, these WordPress plugins can keep spam bots from crawling your email address. Most form plugins come with CAPTCHA protection, which separates humans from bots.
Track and manage submissions. With a contact form plugin, tracking and replying to visitors' messages is much easier.
Decrease bounce rates. Visitors don't have to switch tabs to send inquiries from their email, increasing the time spent on your website. Many contact forms also enable redirecting visitors to specific pages that need more traffic.
Increase leads and conversions. With contact forms, you can get more people to sign up for your newsletters and subscribe to your mailing list. It can help you collect leads for future marketing campaigns, increasing the conversion potential.
Best Contact Form Plugins for WordPress in 2021
While all of the plugins above are great, we've picked the three best WordPress form plugins suitable for different requirements:
Best WordPress form plugin for money – Ninja Kick. Costing only $25/license, Ninja Kick can help you create stylish, responsive forms that can be localized into multiple languages.
Most beginner-friendly – WPForm. Both the free and premium versions come with an intuitive drag-and-drop builder interface, making it the best WordPress form plugin for beginners.
Most advanced – Formidable Forms. It comes with data-driven, comprehensive features, such as multi-page forms with progress bars, display form data, and interactive calculators.
Conclusion
We hope this article helped you to choose and install the best WordPress contact forms plugin for your business website.
If you have any questions or suggestions of plugins we missed, feel free to leave us a comment. We'd love to hear what you think.