How to Host a Website: 4 Simple Steps and Why You Need Web Hosting
Download eBook: Build Your First Website in 9 Easy Steps
When creating your website, one of the most important tasks is to get hosting sorted. Apart from choosing whether you will host it yourself or sign up for a website hosting service, it is also necessary to consider the different types of hosting available.
In this article, we'll discuss what web hosting is, the various approaches on how to host a website, and the crucial factors to consider before deciding on a web hosting plan.
To demonstrate what you need to look for in a web hosting provider, we'll review some of the most critical features and functionalities that an excellent web host should provide.
We also explore why going with a web hosting company instead of self-hosting is the most convenient and cost-effective way to host a website.
How to Host a Website – Video Guide
Are you in a hurry? Learn how to host a website and what to look for when choosing a hosting plan in our video tutorial.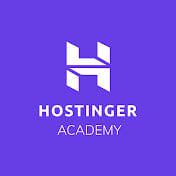 Subscribe For more educational videos!
Hostinger Academy
Subscribe
How Does Web Hosting Work?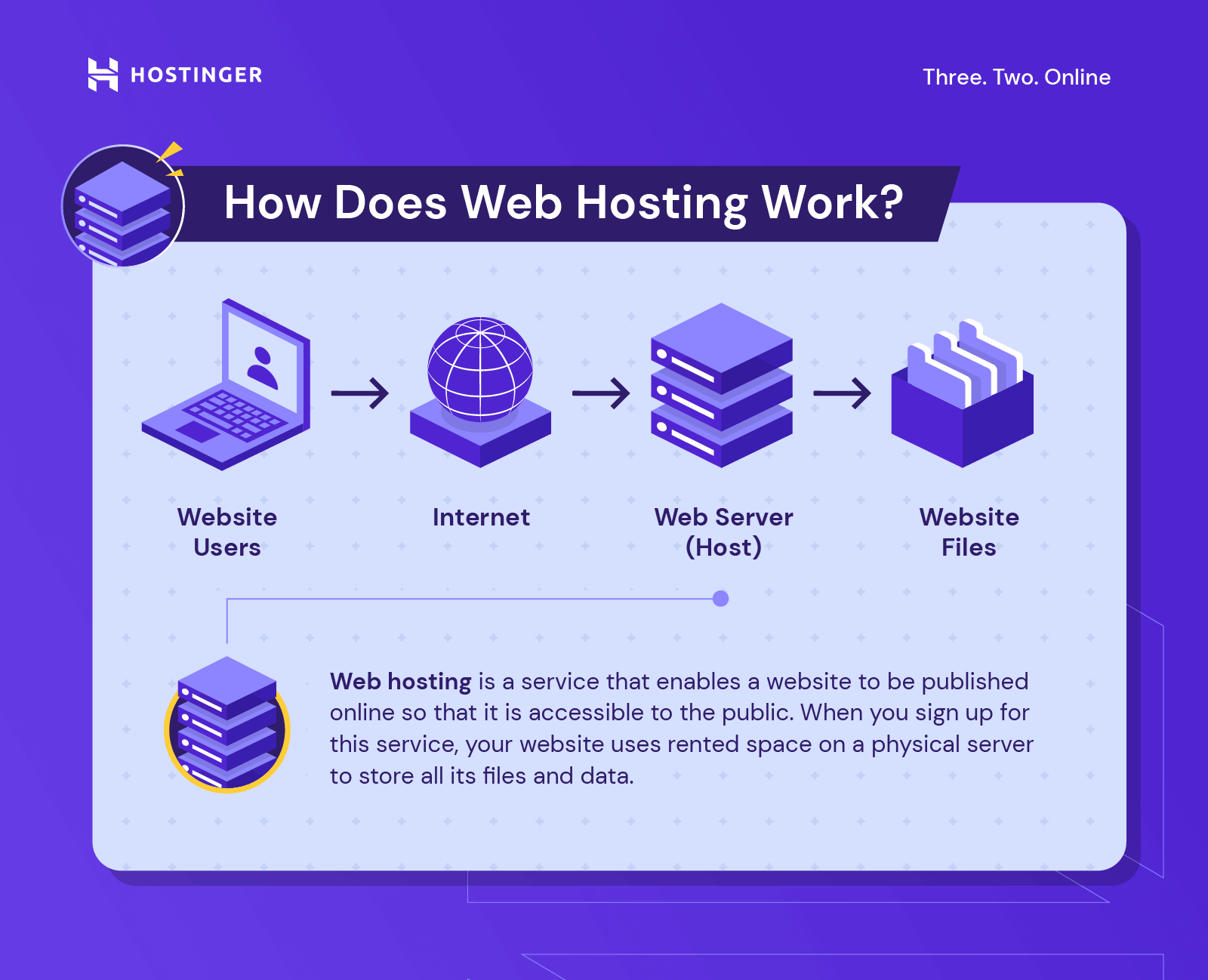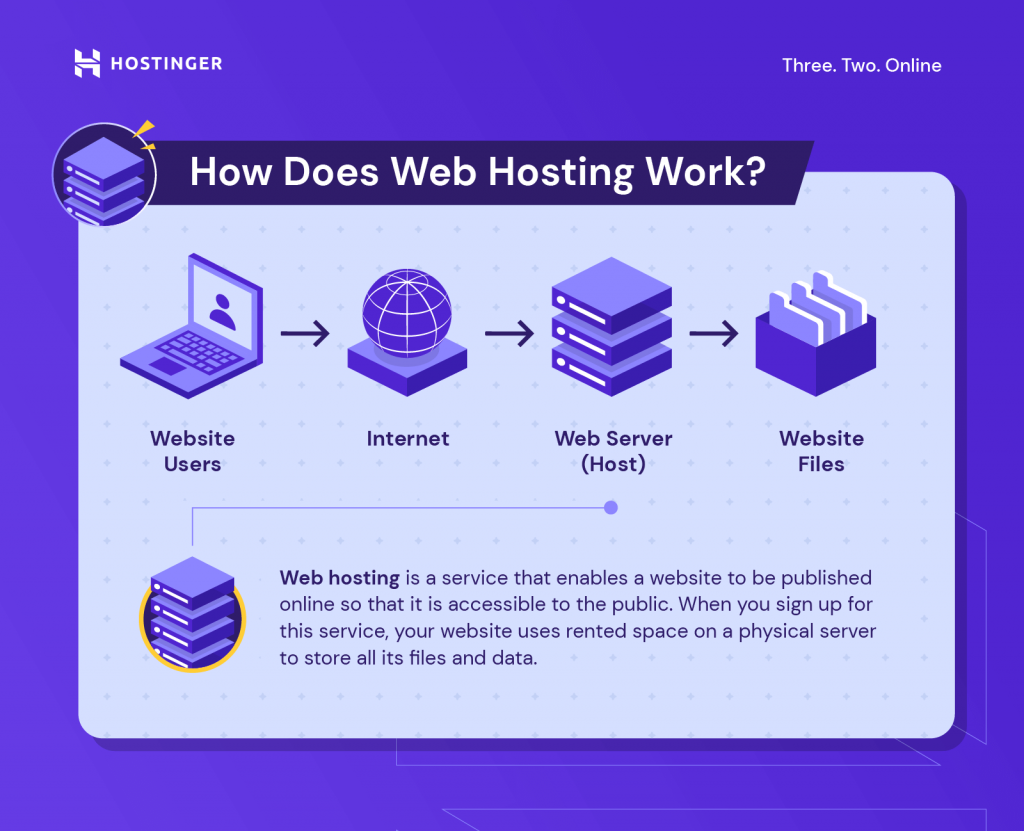 Web hosting is a service that enables a website to be published online so that it is accessible to the public. When you sign up for this service, your website uses rented space on a physical server to store all its files and data.
The server where a website's files and data are stored is a physical computer that runs continuously. This ensures that any websites hosted on that server are available and accessible on the internet 24/7.
A web host is a provider that rents out space on their physical servers to website owners. Web hosts also offer services to ensure that websites are secure and perform smoothly.
These services may include regular software updates, automated backups, and security monitoring.
Why Do You Need Web Hosting?
The most favorable way to publish a website online is to use a web hosting provider. It's a great option for beginners or anyone who wants a more convenient way to maintain their website.
A website hosting service is also a good choice if you're someone who prefers to focus your attention on the website's visual appearance and content instead of its technical aspects.
In most cases, hosting providers handle hardware and infrastructure maintenance, software updates, and security monitoring.
Having a hosting service provider is also a comparatively cheaper option than self-hosting, especially considering there are many added benefits on top of technical assistance. These often include round-the-clock customer support and continuous web performance monitoring.
What to Look For in a Web Host?
With so many options available, it's essential to go through an in-depth research process to find the right hosting service for your website's needs.
It's also helpful to think in the long term. A great web host offers different hosting plans with flexible customization to support website growth.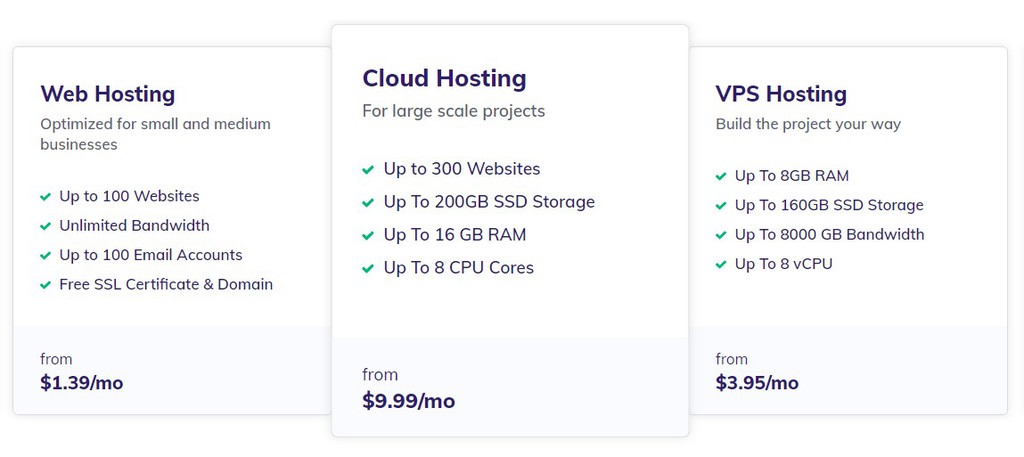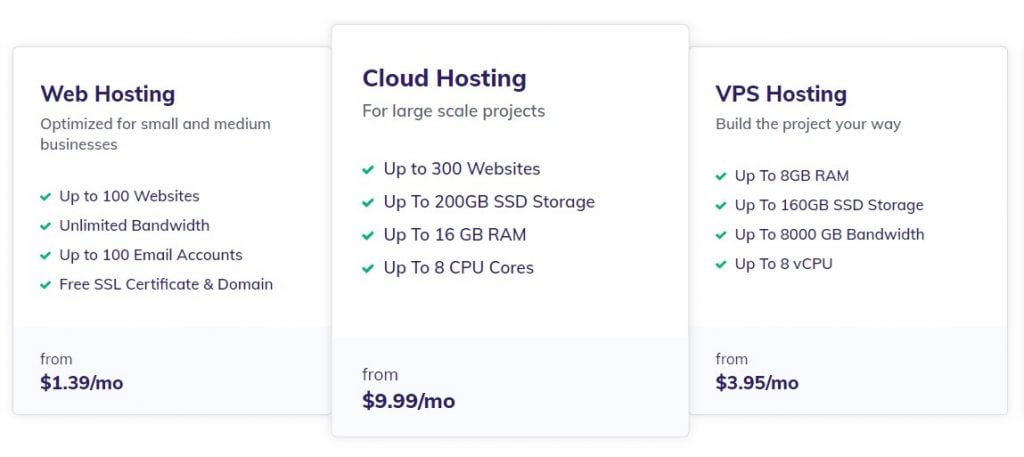 Reliable Performance
40% of people leave a website if it loads for longer than three seconds, which is why reliable performance is a crucial factor in a web host. Poor performance can also affect everything from a website's conversion rates to search engine optimization (SEO) strategies.
That's because Google penalizes sites with slow loading times and high bounce rates by ranking them lower in their search engine results pages (SERPs).
If you run an online business, poor website performance can even make or break a sale. Kissmetrics research also shows that a one-second delay in page response may reduce sales conversions by 7%.
To determine whether a web host provides reliable performance, look for factors such as high website uptime and regular maintenance processes like caching. Also, consider the following factors:
Time to first byte (TTFB). This measures a website's responsiveness according to the time a web server takes to respond to a website visitor's HTTP request. Ideally, this timeframe falls under 200 milliseconds.
Component loading time. This measures how quickly a web server loads cached content, which shouldn't take longer than a few milliseconds.
Hostinger provides a 99.9% server uptime guarantee. Since switching to LiteSpeed for our primary server, performance has significantly increased.
Using LiteSpeed cache also ensures fast loading speeds. That's why it comes pre-installed in all Hostinger accounts.
Additionally, a site testing tool like GTmetrix helps to quickly determine how reliable a web host's performance is. These reports give grades on overall performance based on different metrics.


For example, Hostinger has an "A" grade with a 99% performance result.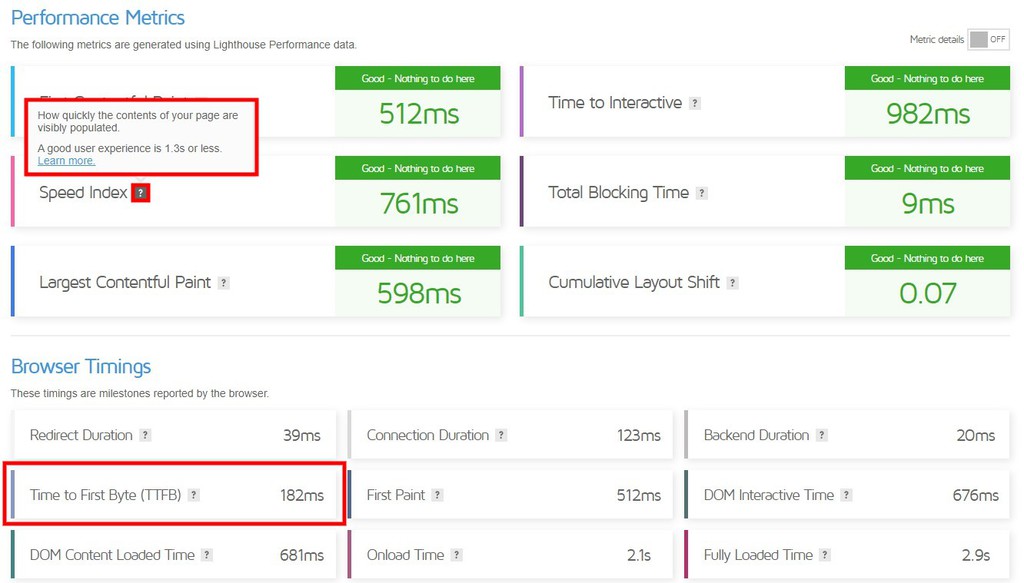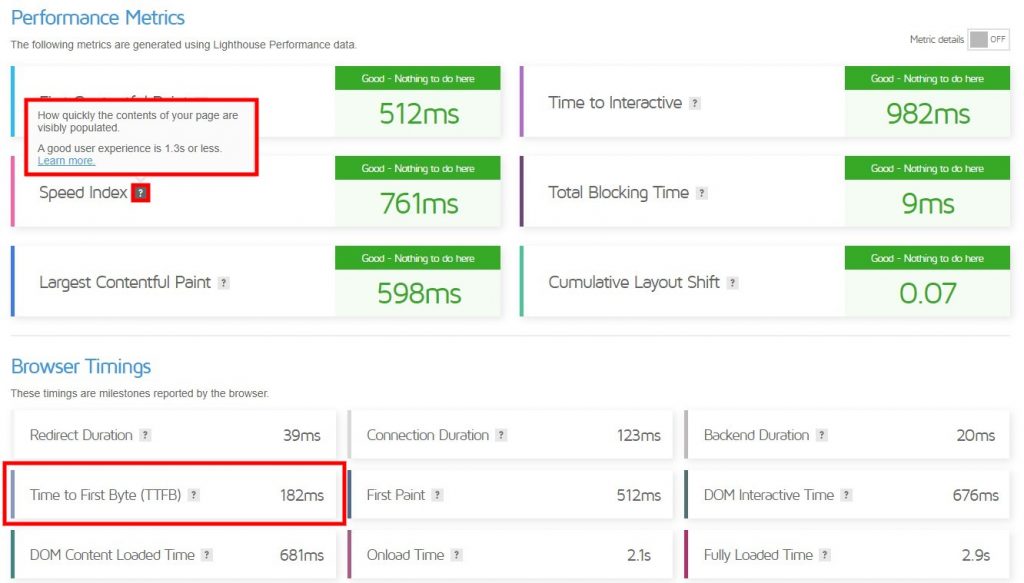 Hostinger's TTFB is 182 milliseconds, which falls within the ideal metric value.
Guaranteed Security
Clear and comprehensive cybersecurity protocols are a critical component of great web hosting providers. These include regular updates and backups, SSL certificates, firewall protection, and secure content delivery networks (CDNs).
Even the smallest websites can be prone to malicious attacks, considering 43% of cyberattacks tend to target small businesses.
Hostinger uses Cloudflare as a secure CDN in all hosting plans, resulting in better content distribution and greater security.
Using Cloudflare also helps speed up website response time while protecting against distributed denial-of-service (DDoS) attacks.
DDoS attacks occur when multiple requests overwhelm website capacity with false traffic volume, preventing proper functionality and sometimes causing site crashes.
Comprehensive Features
Regardless of your website's needs, choose a web hosting service that offers comprehensive features while allowing for flexibility.
For example, great web hosts offer such features as a 30-day money-back guarantee, free website transfers, and beginner-friendly website building tools.
Choosing a website hosting service that offers various resources also makes managing the site much easier because any tools or software you'll need are already provided.
Helpful resources to look out for include domain name registration, email hosting options, automated website backups, and software integrations with various CMSs.
User Experience
A great user experience is vital when choosing a hosting provider. Since you'll be accessing a web provider's control panel daily to manage a website, it's in your best interest to look for an intuitive user interface and well-designed tools.
For example, Hostinger is easy to use and has a user-friendly custom control panel, the hPanel.
hPanel is easy to navigate and offers convenience in managing your web hosting account. With an intuitive design, configure everything from FTP users, domains, site migration tools, MySQL databases, and email accounts all in one place.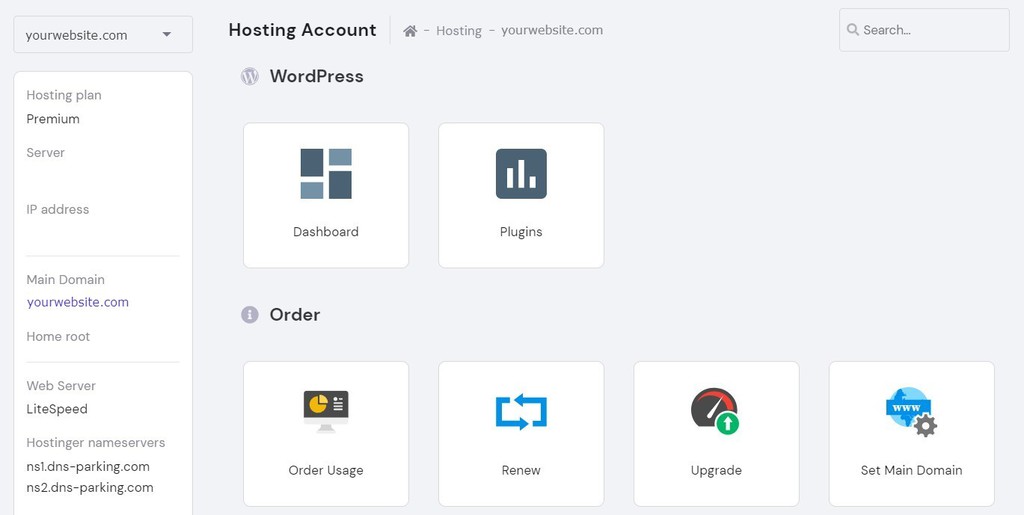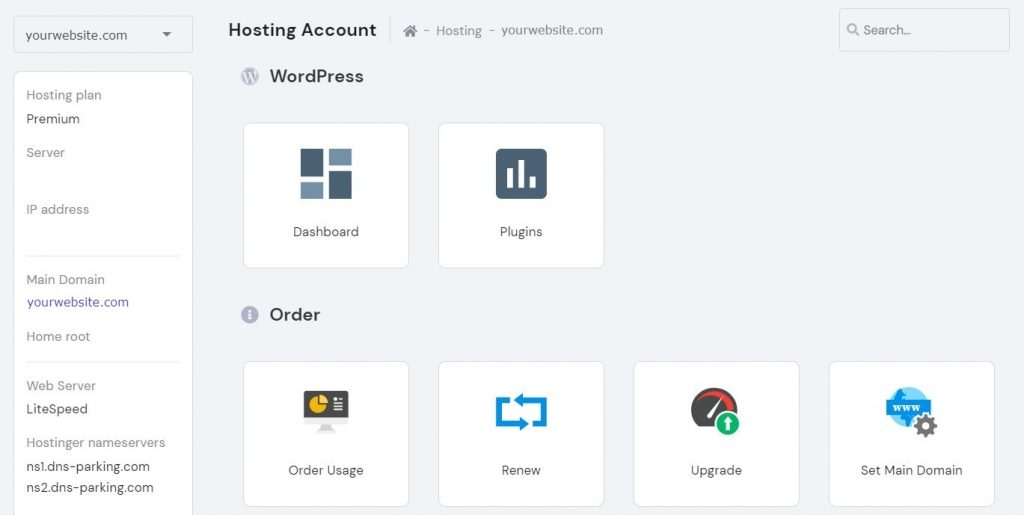 Value for Money
In addition to the web hosting service, other expenses like domain names, SSL certificates, and regular maintenance processes such as backups and caching add to the costs of hosting your website.
Therefore, choosing a web host that offers excellent value for money is essential so that you can afford to host your website in the long run.
For example, at $1.99/month, our Single Shared Hosting plan includes 24-hour customer support, a free SSL certificate, two MySQL databases, Cloudflare protected nameservers, 99.9% uptime, and a 30-day money-back guarantee.
24/7 Customer Support
An excellent hosting provider offers round-the-clock customer service. This is especially critical if your website experiences unexpected lags, crashes, or even security breaches.
However, it's important to choose a hosting provider that offers other support resources. These may include active customer support channels, tutorials, or even a live chat feature.
It's also useful to find a web host that provides an expansive database of general web hosting information to support customer learning.
Hostinger's database, for example, is filled with quick solutions to common issues, making it an excellent resource for customers who want to expand their knowledge of web hosting.
Scalability
Look for a hosting provider that offers scalability, so you can increase bandwidth, storage, traffic capacity, and other resources as needed.
With scalable web hosting, sustainable long-term growth is possible since features and resources can be upgraded gradually as a website expands.
For example, you can start with a simple shared hosting plan and work your way up to cloud or VPS hosting plans later on.
4 Steps to Host a Website
Now that you know how web hosting works and why you need it, it is time to check the four steps necessary to host a website:
Decide the type of website to build.
Research and choose a hosting provider.
Select a hosting plan.
Choose and register a domain name.
Let's take an in-depth look at each of them.
1. Decide the Type of Website to Build
In order to decide how to host a website, keep in mind that there are two main types of websites – static and dynamic.
A static website delivers the same page and content to all users. Examples include blogs, portfolio websites, and business websites. Static sites can usually get away with a more basic web hosting plan since they require less storage space and other server resources.
A dynamic website displays adaptive content that varies for each visitor based on their site settings or user behavior. Examples include social networking sites, eCommerce sites, and subscription-based websites like Netflix.
Dynamic sites often need a more comprehensive and customizable hosting plan with increased storage space, memory, and bandwidth.
Once you've determined what type of website to build, it becomes easier to narrow down web hosting services that offer adequate server resources.
Most web hosts offer a variety of web hosting plans for both static and dynamic sites.
In most cases, each web hosting plan has clearly defined features and functionalities, making it easy to determine which one suits your needs best. What's more, each hosting type is categorized based on who it's ideal for, from small blogs to large-scale businesses.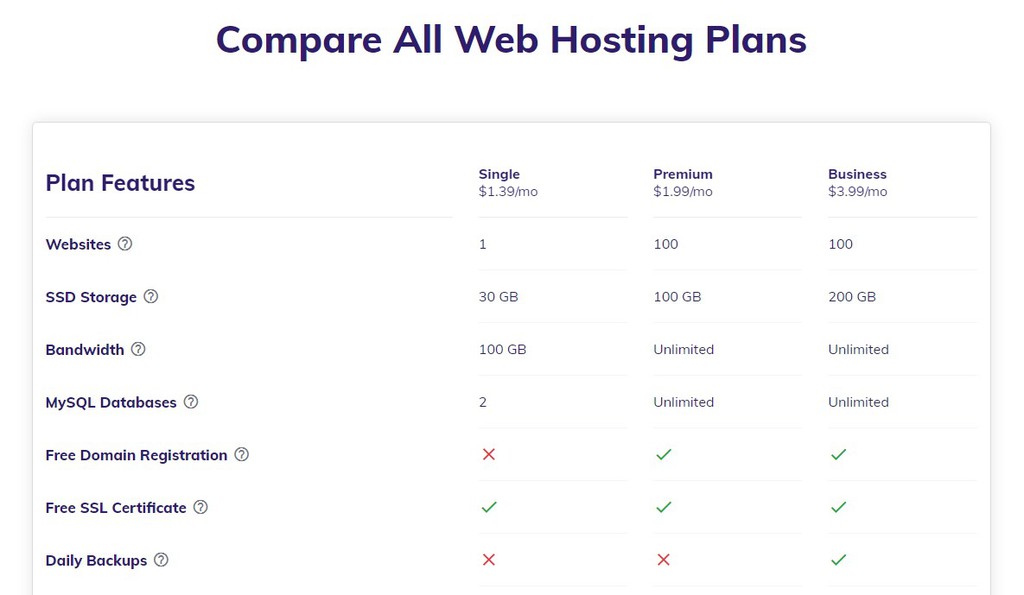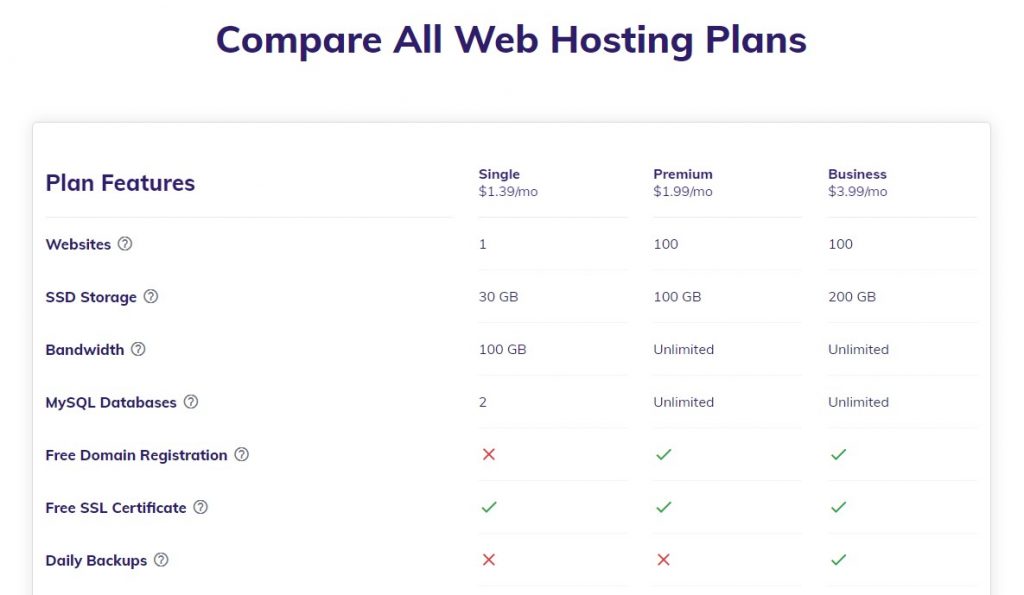 2. Research Hosting Providers
It's essential to thoroughly research web hosting providers, as they play a crucial role in the running and performance of a website.
Choosing costly hosting services doesn't automatically mean they are better suited to your website's needs. Also, going for more expensive web hosting may be redundant for smaller websites because the added features or storage space aren't needed.
It's also helpful to scan the internet for articles that compare the most popular web hosting providers, such as Hostinger vs Bluehost or Hostinger vs SiteGround. These in-depth reviews, which often include detailed comparisons of features, plans, and user experience, are a great way to weigh each hosting provider's pros and cons.
Before choosing a web host, consider how user-friendly their site-creation tools are. Aim for a hosting provider that offers easy integration with popular content management systems (CMS) like Hostinger's CMS web hosting or website builders like Zyro.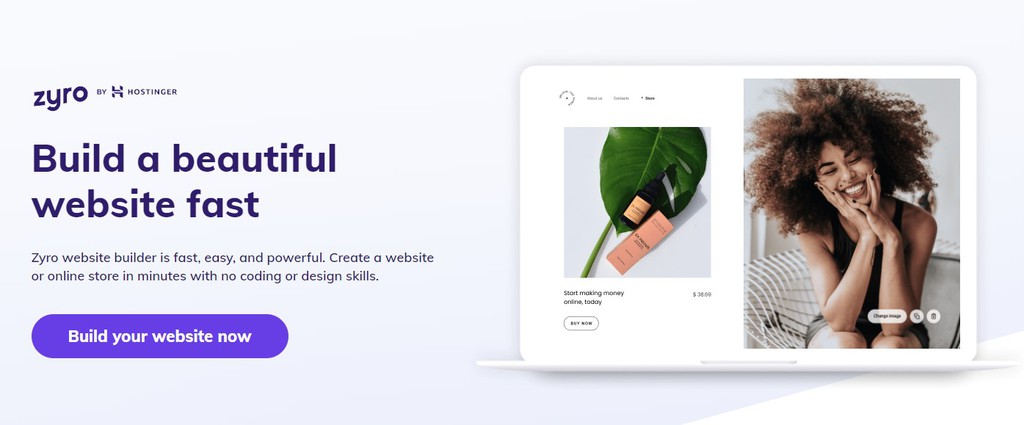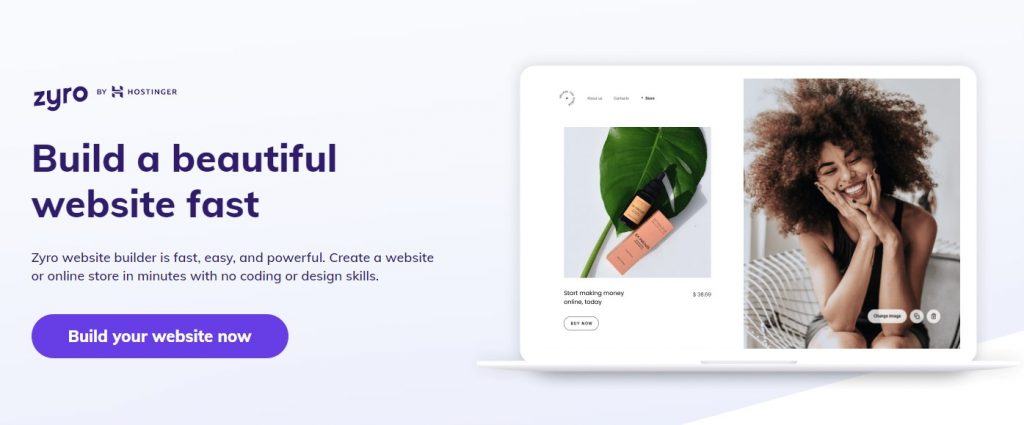 3. Select a Hosting Plan
Choosing a hosting plan is one of the most important decisions to make when creating a website since different plans and types of hosting offer different resources.
As a result, consider each hosting plan's storage, memory, and number of CPUs to determine whether it has the right amount of resources for your website. It's essential to note these factors as they directly affect site performance.
Shared Hosting
What it is: with shared hosting, a website shares one server and its resources with other sites. It's an excellent option for those prioritizing affordable hosting.
Ideal for: users with low to medium traffic websites.
Pros: shared hosting is very cost-effective and beginner-friendly. No technical skills are required to use this type of web hosting since the web host handles the server maintenance and administration.
Cons: with shared hosting, a website's performance is affected by the other websites hosted on the same server. This means that if another website on that server experiences traffic spikes, your site may slow down or even crash.
Virtual Private Server (VPS) Hosting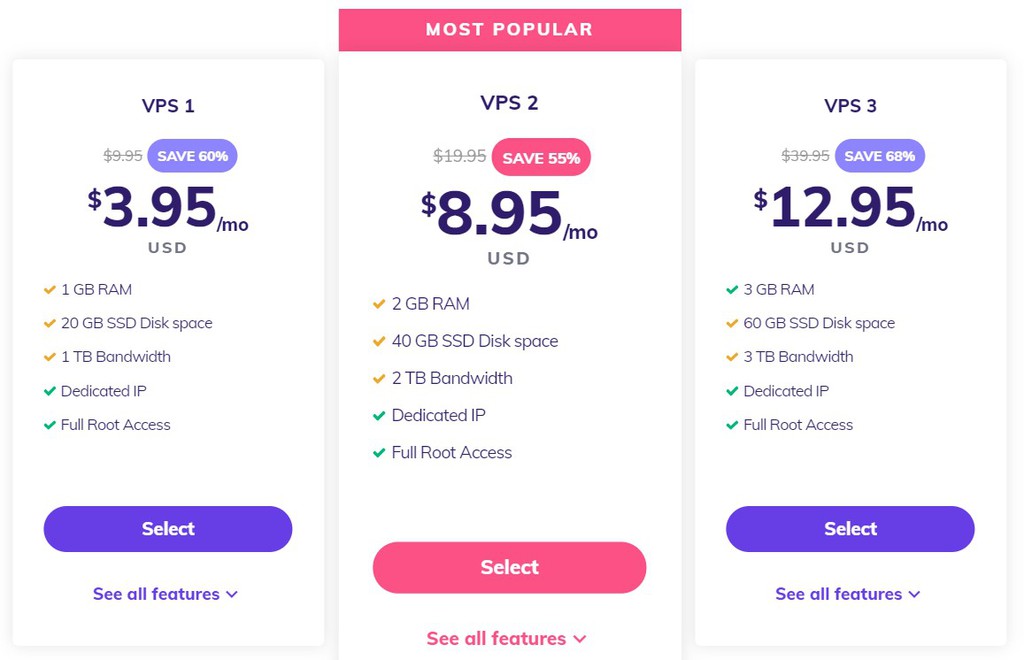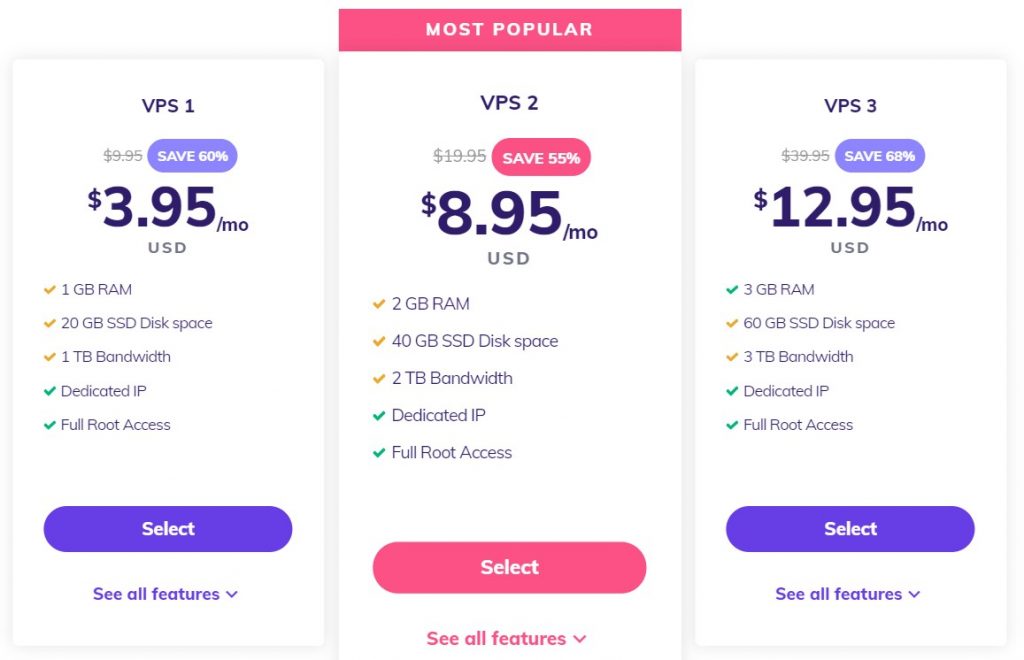 What it is: with VPS hosting, resources come from one dedicated server that is subdivided into several virtual servers, with each partition providing resources for a particular user.
Ideal for: medium-sized websites, eCommerce sites, and popular blogs. It's also an excellent option for those who want flexibility and autonomy over their server settings.
Pros: dedicated resources mean better performance than shared hosting, but still with an affordable price tag. VPS hosting plans also offer greater server control and flexibility.
Cons: it requires technical knowledge to manage the servers and operating systems. However, having a dedicated virtual server means it's more expensive than shared hosting.
Cloud Hosting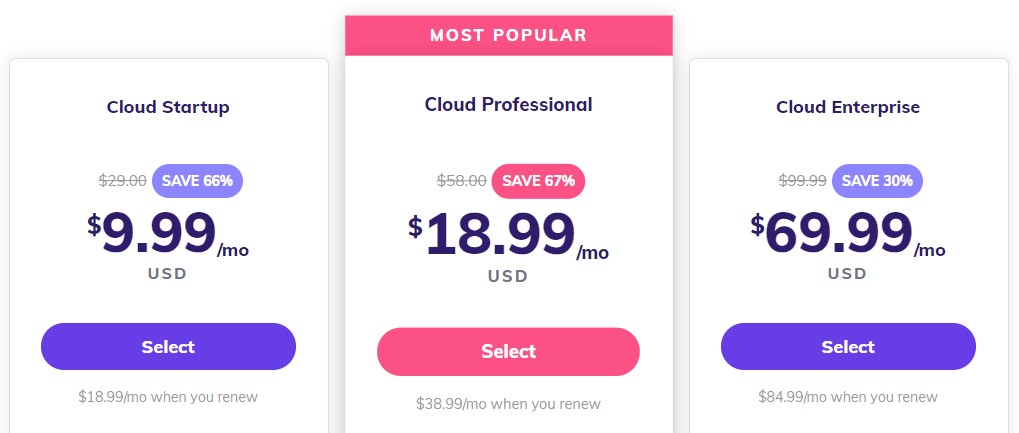 What it is: with cloud hosting, a website runs on multiple cloud servers instead of relying on just one physical server. If one server goes down, another takes its place.
Ideal for: busy websites that require resource flexibility. It's also a great option for those who want the ease of shared hosting and the performance of VPS hosting.
Pros: high uptime and greater scalability. Cloud hosting gives you dedicated resources while requiring minimal technical skills to manage it.
Cons: it is more expensive than shared hosting. Cloud hosting also offers website owners less autonomy over server settings compared to VPS hosting.
Dedicated Hosting
What it is: dedicated hosting offers an entire server and its resources to one website. This means fully dedicated resources, advanced server management tools, and complete operating software flexibility.
Ideal for: those with advanced technical skills and server management knowledge. Best for popular and large websites that require high-performance to handle high traffic.
Pros: dedicated hosting offers the highest amount of resources, deep customization, and better performance compared to other types of hosting.
Cons: it is the most expensive hosting type and requires comprehensive technical skills to manage.
Today, many web hosting platforms also offer managed hosting for popular CMSs, such as WordPress. This type of web hosting uses web servers specifically designed for such sites.
Managed WordPress Hosting


What it is: WordPress website hosting is a type of hosting optimized specifically for WordPress sites. These plans often come with pre-installed plugins to handle technical setups, software updates, and security measures.
Ideal for: beginners with small to medium websites. It's an excellent choice for those who specifically want to use WordPress as a CMS to build and manage their website.
Pros: no advanced technical knowledge is necessary, and most service providers handle WordPress core updates and backups.
Cons: WordPress hosting is slightly more expensive than shared hosting, and you also have less control when compared to other types of hosting like VPS.
4. Get a Domain Name for Your Site
Every website needs a domain name. It's the address that visitors type into their browser to access the site.
A domain name consists of two elements. Consider Hostinger.com, for example. In this case, "Hostinger" is the website's name, while ".com" is the domain extension.
Since domain names can't be changed once they're registered, it's important to brainstorm a few options and consider the following factors.
Study your niche. Survey popular keywords or search terms related to your branding or business, and consider incorporating them into a domain name. Using a domain name generator can also help with this process.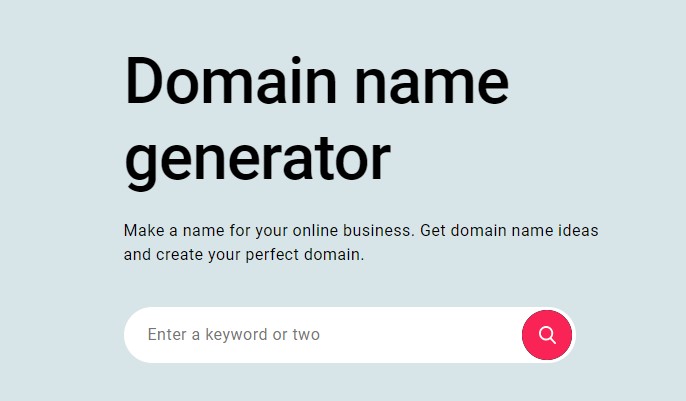 Choose ".com" if possible. It is the most popular domain extension and can help communicate website credibility.
Avoid numbers, hyphens, and other symbols. Using these elements makes a website name hard to remember and increases the chances of typos.
Aim for simplicity. Avoid lengthy words or sentences. An ideal domain name is short and catchy, so it's easy for visitors to find the website.
Check for originality. Choose a domain name that isn't tied to any existing company or brand.
Before finalizing your choice, check if the domain name is available. The easiest way to do this is using an online domain checker. If the chosen domain name isn't available, a domain checker can suggest alternative names or extensions.
Domain Name Checker
Instantly check domain name availability.
Next, it's time to purchase and register your domain name. Even though it is possible to get a domain name and hosting separately, the easiest way is to register through web hosting providers that act as domain name registrars.
For example, Hostinger is an accredited domain name registrar that offers added features like a domain privacy protection service. Many of our web hosting plans also come with a free domain name upon purchase.
Alternatively, simply search and purchase an available domain name through our domain name checker.
On the other hand, if you already have a registered domain name but want to host your website with us, simply point your domain name to Hostinger. You can also use our domain transfer service to migrate your domain name registration to Hostinger, but do bear in mind that this will require you to pay a domain transfer fee.
Can I Host a Website Myself?
You can host a website yourself, but it requires deep technical skills. Self-hosting requires you to use a physical location to set up a web server from scratch.
This means everything from equipment, infrastructure, hardware, and software must be provided and configured by you. It also means that you handle the website's storage, bandwidth, security measures, and regular maintenance.
If this sounds like something you're interested in, self-hosting could be for you. One of the pros of self-hosting is that you get total control over your hosting environment, which makes complete customization possible.
However, it's helpful to know that self-hosting a website is not common practice. Even Netflix uses Amazon as a hosting provider.
Unless you have your own physical server and possess advanced technical skills to deal with hosting a website, it's best to go with a web hosting company.
Can I Host My Website for Free?
Free hosting is a possibility. However, we don't recommend going this route, even if you're starting small. That's because the limited features and functionalities provided by free hosting services make long-term website growth more difficult.
Take WordPress.com, for example. It offers a free plan that includes website hosting services.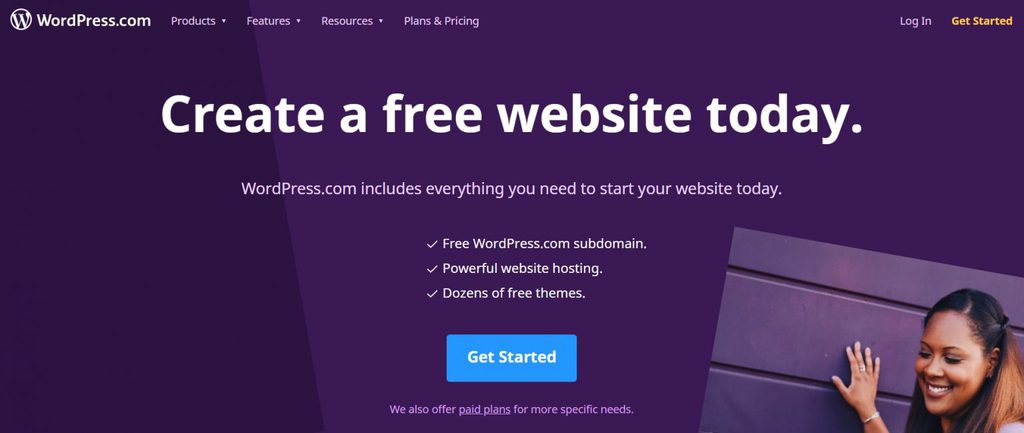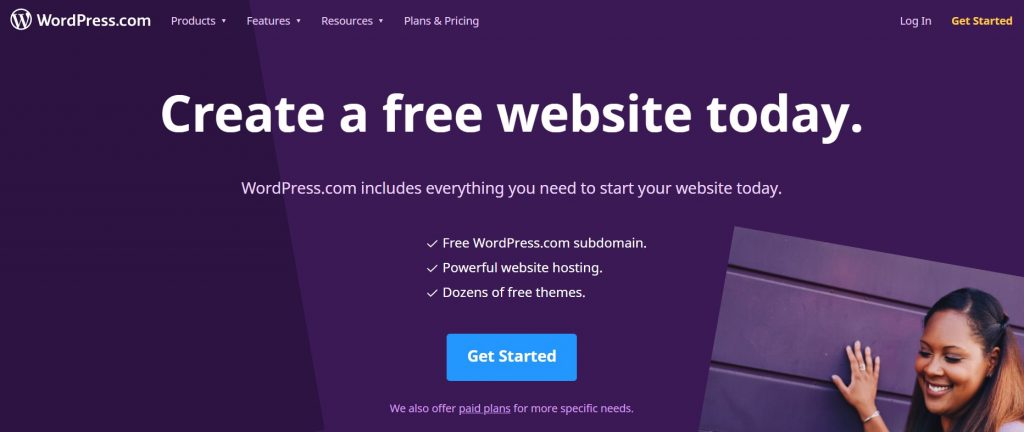 However, compared to paid hosting, WordPress.com free web hosting comes with many limitations. These include:
Limited performance. You'll be sharing a server with several other free websites, which can cause slow loading speeds and an unpleasant user experience.
Limited customization. You can't install plugins to expand the features and functionality of a website using the free plan. The look and design of a free site are also limited to a few dozen themes in the WordPress.com repository.
Limited storage and bandwidth. WordPress.com's free hosting services provide only 3 GB of storage. Coupled with low bandwidth, this can hinder the site's performance.
Limited freedom. Free WordPress.com hosting supports mainly blogs, which means creating an eCommerce site, for example, is not possible.
No monetization. You can't set up monetization tools like Google AdSense on a website with free hosting.
No custom domain. Your site's domain name will end in ".wordpress.com". For example – "site.wordpress.com." This might be okay for a small blog, but it is not ideal if the website represents a brand or business.
Amateur-looking. Ads will appear on the website, which is how a free web host makes money. Your site will also display "Powered by WordPress" at the bottom of each web page, making it look less professional to visitors.
High charges for additional features. More often than not, it's better to go with a service provider that charges a few dollars a month if that means you get more features.
Inconvenient in the long run. Website growth is limited with free hosting. With little to no migration tools, it may also not be possible to move your site to paid hosting in the future.
Conclusion
Going with a web hosting company is the most convenient and cost-effective approach to host your website. A great web host can also simplify the steps needed to start a blog or set up a site.
With an excellent hosting provider, the technicalities that are associated with running a website are handled by your web host. These can include hardware maintenance, software installation, resource management, bandwidth, and storage configuration.
A web hosting service provider also helps to ensure that a website has optimal performance and higher security protocols than self-hosting. It means website owners can dedicate more time to other site tasks, such as creating content for SEO.
We hope this article helps you easily decide how to host a website. Also, remember that it's crucial to conduct proper research to choose a hosting service provider. Consider factors like scalability, value for money, and security to determine a web host's reliability.
If you have more questions about how to host a website, don't hesitate to contact our customer support team.
Was this tutorial helpful?