hPanel vs cPanel: Everything You Need to Know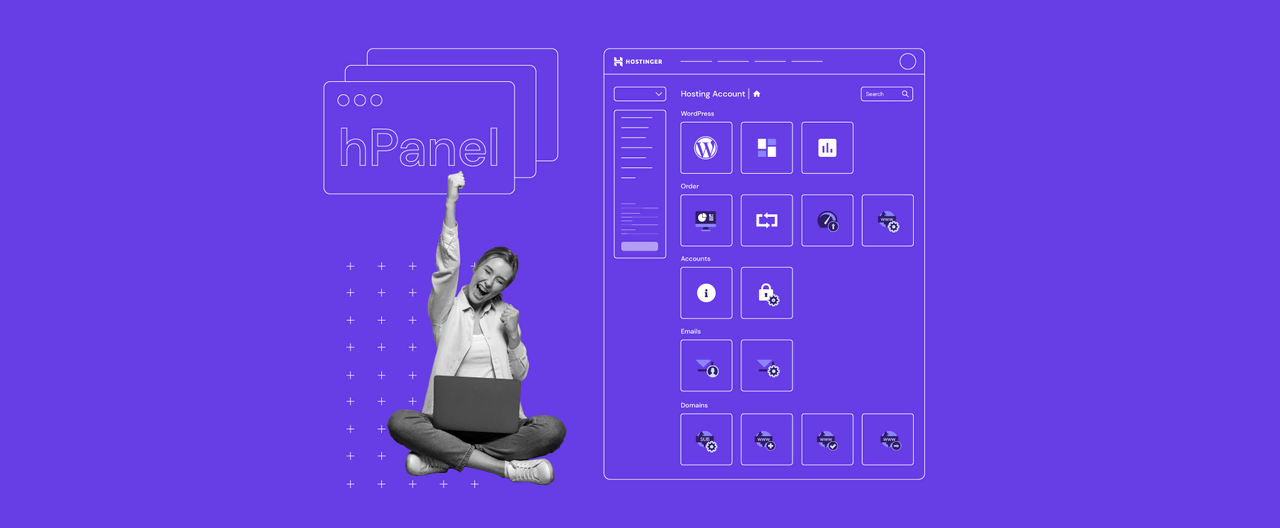 A control panel is one of the primary tools for managing a website's hosting package. It lets users manage their domain names and email accounts, install applications, and configure settings easily.
You can also do this by logging into a server directly, but the process requires some technical knowledge since a single mistake can break your entire site. So, using a control panel is a convenient solution for all-level users.
A panel serves as an intuitive, user-friendly, and straightforward way to save your time and resources. Even though cPanel remains the most popular option in the industry, more alternatives have appeared, including Hostinger's custom-built hPanel.
While cPanel has an active community and vast documentation resources, hPanel offers an easy-to-navigate dashboard, self-explanatory menus, and an overall pleasant feel. An internally developed panel can also help reduce fixed costs and provide extra flexibility for new features.
To help you decide between the two, we'll compare hPanel to cPanel in more detail. Furthermore, we'll go over hPanel's top menu bar, analyzing every section and its features.
What Is hPanel?
hPanel is our own custom-built hosting control panel created by our developers, UX engineers, and researchers. When accessing it, users can make the most of its primary functions, such as domain, email, as well as file and database management.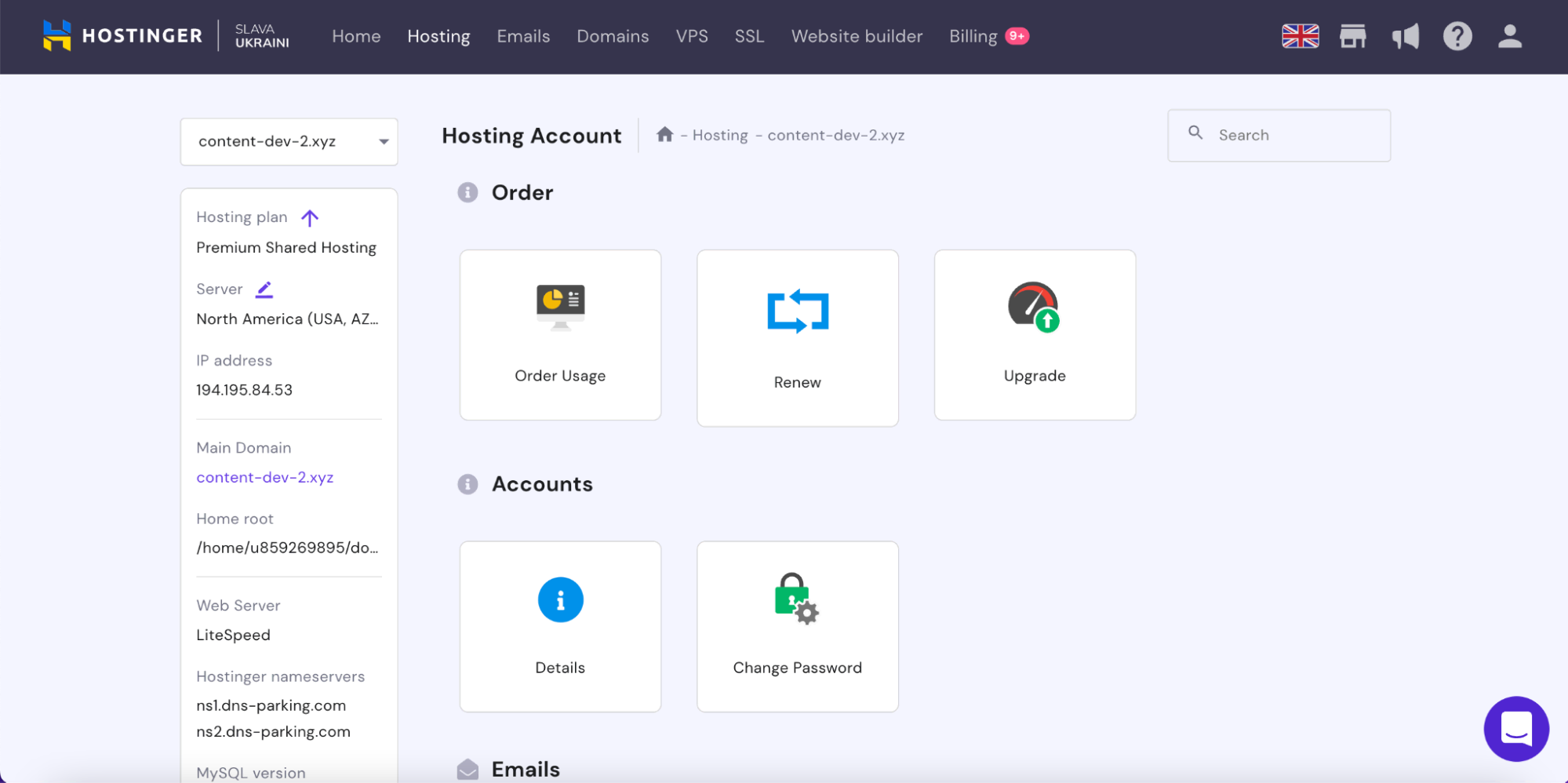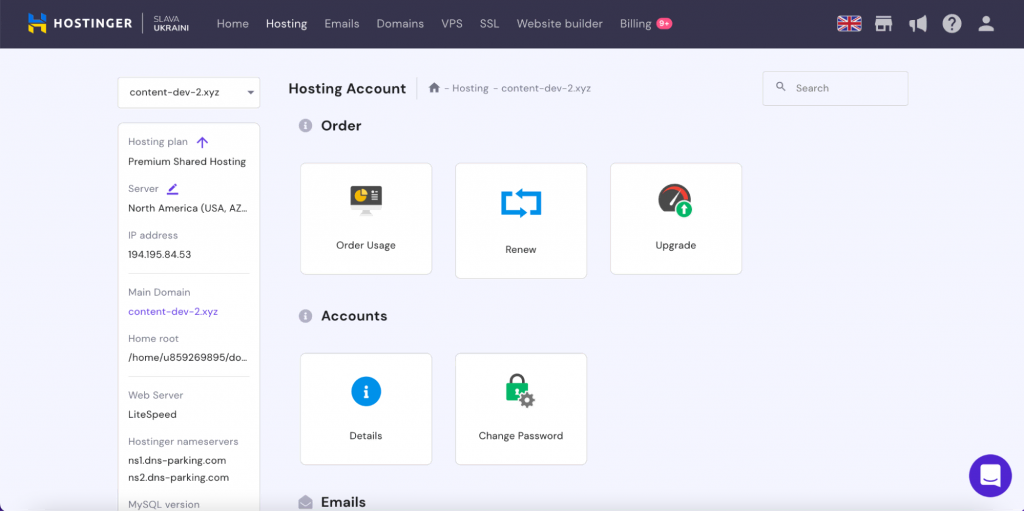 First and foremost, hPanel stands out from its counterparts due to its beginner-friendly and easy-to-use interface.
As a convenient tool, hPanel allows you to utilize the File Manager, Manage Hosting and Email Accounts, and FTP features. You can also easily monitor bandwidth and disk space, park domains, and install desired software like WordPress or Joomla.
Ready to give it a try? hPanel is available with all our web hosting plans. Alternatively, check out a live demo to see how it looks.
What Are the Pros and Cons of Using hPanel?
As with every control panel, hPanel has its own pros and cons.
Advantages of hPanel
Intuitive and minimalistic design
Simple navigation
Detailed management and overview settings
Useful information on technical elements like CPU, memory, storage, and bandwidth
Possibility to create backups to restore website files and databases
Tweaked per customer request
Continuous updates and features
Disadvantages of hPanel
Available for Hostinger users only
A graphics-led interface could be tricky to get around after cPanel's text-led approach
What Is cPanel?
cPanel is a Linux-based control panel that is currently an industry standard and widely used among developers. With the help of its interface, users can manage to host web accounts efficiently.
Like other well-known hosting control panels, cPanel comes with its pros and cons.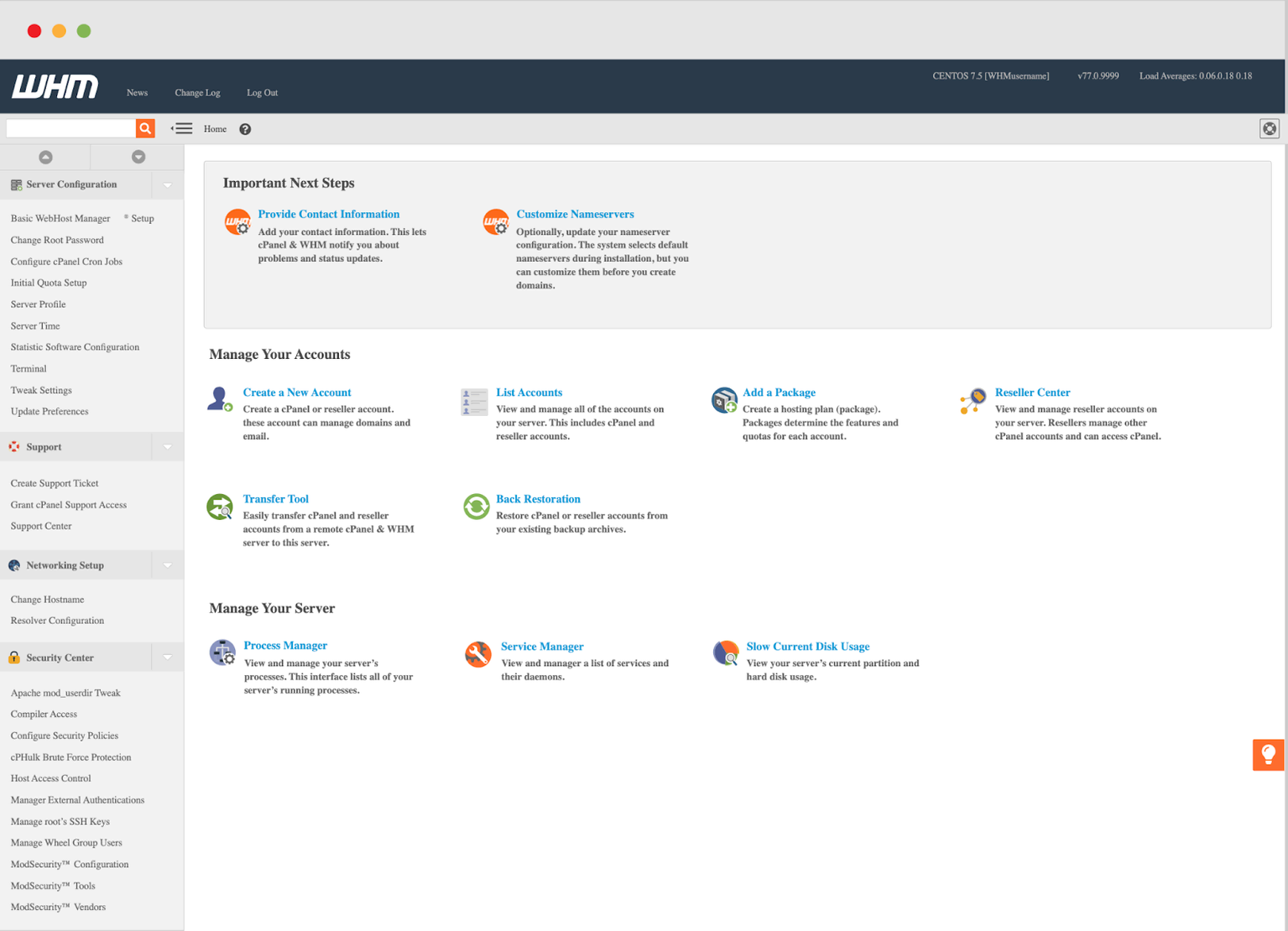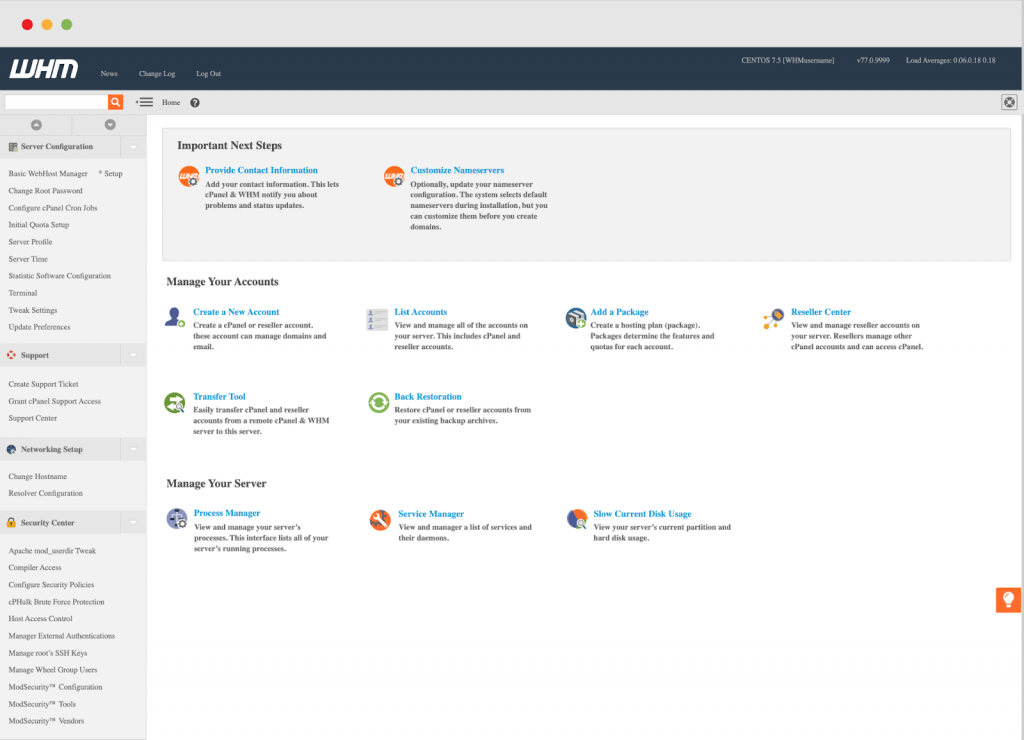 What Are the Differences Between cPanel and hPanel?
From easy-to-follow installations to MySQL databases, hPanel appears similar to cPanel. The main difference between the two is the developer – hPanel is an in-house tool developed by Hostinger to make every customer's online experience as easy and smooth as possible.
Here are the main hPanel's differences compared to cPanel and other web-based admin tools:
Cloudbase – the customer-facing part of hPanel is cloud-based and highly available (HA), offering considerable operational performance and helping maintain a clutter-free experience with its visual dimension, action queues, and great UI/UX features. All of these make the hPanel interface better organized and more visually appealing.
Speed – boosting speed and strengthening reliability, each server only has API end-points that connect to the front side of hPanel. Meanwhile, cPanel is fully hosted on each server individually, using its resources. As a result, there's no performance loss with hPanel.
Old vs new software – while cPanel offers updates, it runs on outdated legacy software. Meanwhile, we created hPanel from scratch a few years ago, and continue to apply the latest technologies and tools available.
For customers, hPanel's architecture allows a much faster response time due to multiple caching layers. Users can also host more accounts on a single server, reducing fixed costs.
Features of the hPanel Top Menu Bar
Now that you know both panels, it's time to review the primary features of hPanel in more detail. Let's dig in!
Home
Once you log into hPanel, you'll discover several menu options at the top. By clicking on the Hosting tab, a clear list of your websites will appear, including their hosting plans. From this point on, you can add new websites and renew or upgrade your hosting plan.
Hosting
All CTAs are appropriately marked with different options to make your life easier. You can get a clear overview of your active email accounts in the Email section. You can also see their expiration date and order a new plan.
Email
In this section, access a clear overview of your active email accounts. You can also check their expiration date and order a new plan.
Domains
The domain segment of hPanel contains all your Hostinger-registered domains. Here, you have several options, such as acquiring new parts, transferring existing domains, and changing nameservers or contact details.
VPS
In the server category, it is easy to compare the pricing, benefits, and features of VPS plans at a glance. This way, you can find the most suitable one for your needs. On the same page, you can also manage your virtual private servers, install operating systems and control panels, and track your server's resource usage.
SSL
As security is the highest priority at Hostinger, it shouldn't be surprising that it has a dedicated tab. In essence, SSL or HTTPS certificate is a protective cloak helping your website's credibility, ranking, and overall safety.
In the SSL section, you can manage and set up SSL certificates for your website in a matter of seconds.
Billing
As far as administrative and operational arrangements go, you no longer need to dig through your emails due to the new billing functions. There's an allocated part for billings that keeps you updated. You can find information on the status of your plan, payment history, and manage payment methods there.
Customer Success
Here at Hostinger, we work 24/7 to help you find the best solution to your online challenges.
One of the most valuable parts of hPanel is the customer support section. It offers access to the Knowledge Base, Hostinger Academy on Youtube, and Tutorials as well as allows users to contact our Customer Success team directly.
Additional Features
There are dozens of tools and services, from features and add-ons to upgrades like Cloudflare Protection, Daily Backups, and Business Email services. In addition, we constantly release their updates.
hPanel Capabilities
Let's get a more detailed overview and discuss the capabilities of hPanel. Navigate back to the Hosting section's first tab to access it. Then, click Manage on the relevant webpage.
Once you do so, the entire hPanel dashboard appears. You'll see a quick overview of your hosting plan on the left. The search bar is in the top right corner, and you'll see the controls in the middle.
The WordPress section allows users to control installations, oversee updates, and manage site plug-ins. You can also enable a secure website connection and turn on the maintenance mode.
The order section tracks daily website performance statistics, plan usage, and daily website data. You get access to every detail you need to monitor, from processing power and memory to website errors. This section also makes renewing or upgrading your current hosting plan easy.
The accounts icon leads you to all of your hosting technical information, such as nameservers, IP addresses, FTP details, and the like. Change a hosting plan's FTP or SSH passwords from here if needed. The Hostinger email service can create and customize email accounts. In addition, the service helps set up minor tasks like forwarders, catch-all emails, and auto-responders.
This part of the hPanel website has multiple options allowing control over various aspects of your website. For example, you can use the Auto Installer feature to install over 50+ different applications, including WordPress, automatically.
Hostinger users can import or migrate their websites from other hosts with a free and quick automated process. You can customize error pages, help your page rank higher with the SEO Toolkit, or delve into the coding world with Fiverr. 
Fiverr is an online marketplace for freelance services with low-cost providers worldwide. From WordPress and logo design to programming, you will find a person for any task.
Digital Marketing is the primary service offered by Fiverr, while Business Service is a premium service made for larger teams and businesses.
File Manager
This feature gives you direct access to website files and allows users to edit, delete, extract, or move within folders. Users can upload files directly to the server, too. Also, it calculates directory sizes and determines which ones use the most space.
Furthermore, we regularly introduce new features and updates. Create, import, and edit your databases using the most popular administration tool, phpMyAdmin. Then, connect to your databases remotely and implement changes on the go.
What previously seemed like a highly technical process is now a matter of a few clicks. You don't need to be a developer or a website expert to deal with the more technical aspects of your website.
The advanced section is dedicated to those not afraid to delve deeper. Everything can be accomplished here, whether you want to choose your PHP version, turn on extensions, manage time zones, or clear the cache.
The section also allows cron jobs to run scripts, connecting via SSH to transfer data automatically. You can edit, extract files, and install new software remotely.
It's also the place where you can deploy applications directly from the Git repository. And install and manage SSL certificates for better security.
Additional Features
Additional hPanel features include blocking IP addresses from accessing your site and protecting your website or page with a password. You can block direct access to specific file types of your website and check under the hood of folder indexing.
Here, you will find an activity log that keeps track of all actions taken on your websites. It's also possible to reset your account, wipe all the files and information from it, and go back to default.
You can even deactivate your account entirely and cancel files, emails, and all related websites without the possibility of restoring it. Everything is smooth, easily accessible, and user-friendly.
hPanel Updates So Far
Customers may not often check their hosting service's resource analytics. This way, they won't notice when their websites receive more traffic and start using more server resources. For this reason, we've implemented the Upgrade recommendation feature.
There are two upgrade options:
Upgrade without paying additional fees by changing the renewal date.
Pay for an upgrade to extend the expiration date.
When the plan resources limits are reached, we point them out and identify how long they lasted in the Order Usage section on hPanel. We recommend that customers upgrade to the next plan on the ladder based on a hit limit. However, you shouldn't upgrade if there is a minimum threshold and limitations are hit for only a short time.
Let's take a look at other hPanel updates we have recently launched:
File Manager
Recent updates increased file upload size and introduced a Trash folder, inodes, and size indicators for files and folders. Additionally, it improved the Download functionality so that users could select required download types.
Self-Transfer (Data Center Change)
As Hostinger has data centers worldwide, customers often ask our support agents to change the Data Center location. It is no longer needed – a new Self-transfer service is here so anyone can make the transfer independently. And yes, it's completely automatic and free.
This feature is most efficiently used with Website Access Logs. When you check where most of your visitors are coming from, you can transfer your hosting plan to the nearest data center location by yourself.
As of January, a Transfer recommendation feature went live. Based on your website visitors' traffic analysis every month, you'll receive a recommended transfer to the nearest location. As a benefit, you'll always have the fastest response time due to the shortest distance to the data center.

Hosting Activity Logs
This feature shows you the changes you made in the past and every action you make on your account in one place.
With the update, you can look closely at the type and number of requests your websites are getting, including data by hour, day, and week. Make the most out of it by detecting unwanted traffic and help mitigate security issues by identifying if users' websites are under a DDoS attack.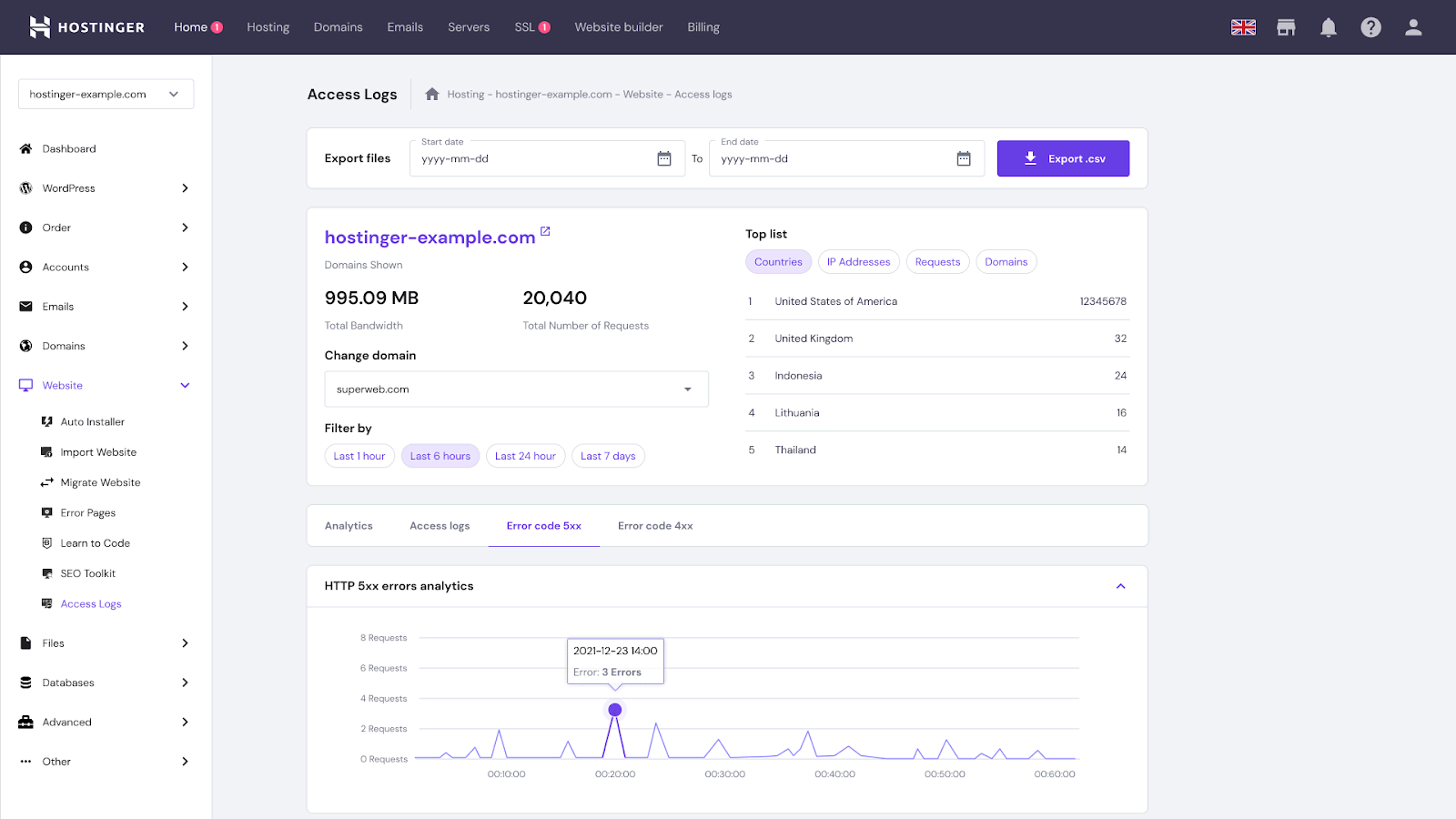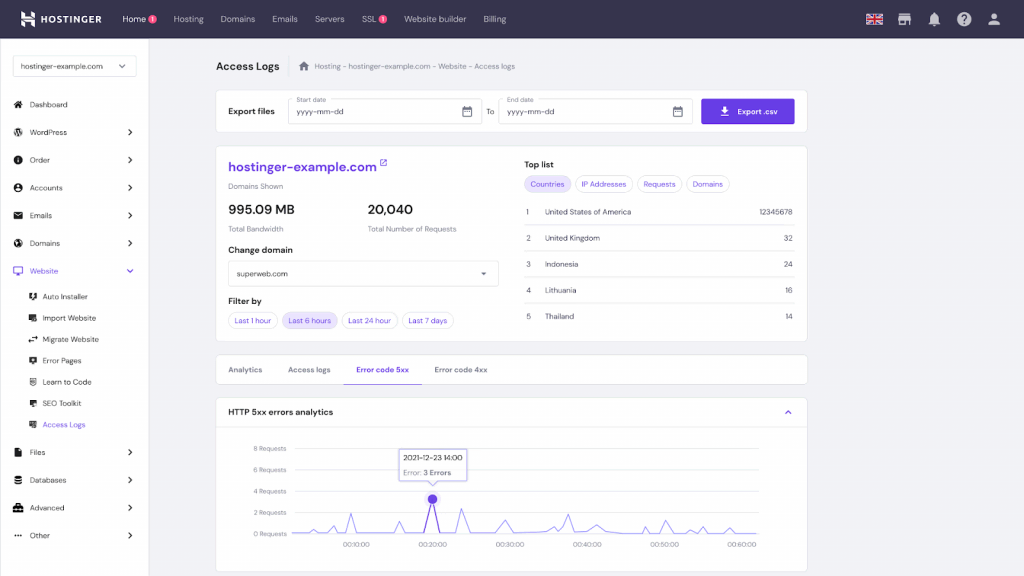 Automated Email Migration
Customers who are migrating to Hostinger can now import their email accounts from any other provider with ease. All you have to do is create an email account on Hostinger, to which you'll be making your transfer. Next, head to the migration tool and fill in the required details, including from which service and account your emails have to be migrated.
WordPress Staging
Staging serves as a separate environment for testing. The feature clones your whole production site into a subfolder. So, whether it's a theme update, plug-in removal, or a new feature, you can make any changes you desire without affecting the live version of your website.
With the next feature update, we will add a capability to deploy. When using it, you'll be able to deploy the changes made in a production environment with a single click.
New Features
We've been excitedly working on these hPanel updates behind the scenes that we can now share with you:
Hosting Dashboard Update
As the previous Hostinger Dashboard functionality created a lot of different tags, clients couldn't easily locate certain features inside the panel. Besides, the Features section was presented in a "scroll" page motion, making it more difficult to find relevant information. Thanks to our clients' feedback and usability tests, we have developed a new dashboard interface that's easier to navigate.
Create Website Onboarding
hPanel will have the option of onboarding. This step-by-step function will allow clients to collect survey data for their business goals and expectations. An exciting outcome of this is potential increased billings in renewals, a reduced amount of tags for adding a new website to the hosting plan, and an overall better user experience.
Website Guide
For new WordPress users, this guide helps to get your website up and running. You can see your progress in the form of completed steps. If you need some help on the way, you can refer to our specially-made tutorials.
Upgrade Database
This feature informs users when their database is about to reach its limits or has exceeded them. You receive a notification on top of your MySQL Database page telling you about the current status of your database.
A list of metrics is shown, including First Contentful Paint, Speed Index, and Cumulative Layout Shift, among others. Following this guidance, you can see what needs to be improved, test your website, and see the test history of a chosen domain.
Plan Boost
Some actions require more resources than anticipated. The Plan Boost feature has you covered. If you surpass your plan limits while importing files or receiving website traffic spikes, you will receive a notification on hPanel.
The Resource Boost buttons appear on the Order usage page. Alternatively, click on the arrow icon next to Hosting Plan on your homepage.
This feature temporarily unlocks the resources available for higher solution plans. So, for 24 hours, you increase the necessary resources for your website, explore what an upgrade entails, and do so for free.
Final Takeaways
While cPanel is convenient for its widespread use, its limitations lie in steadily rising prices, a friction-prone interface, and a lack of maneuverable functionality. But isn't that what matters most when using a tool?
With performance statistics, plan usage information, domain overview, database alterations, and advanced configurations, hPanel is where users can find everything they need to maintain an all-around healthy website.
hPanel is a custom-made panel, excited based on the latest technology and tweaked as per customer requests. Its flexibility is at the forefront. You'll be receiving continuous updates and features. And since no license fees are incorporated, its price is hard to beat.