Domantas G. & Leonardus N.
15 Best Domain Name Generators to Find the Perfect Domain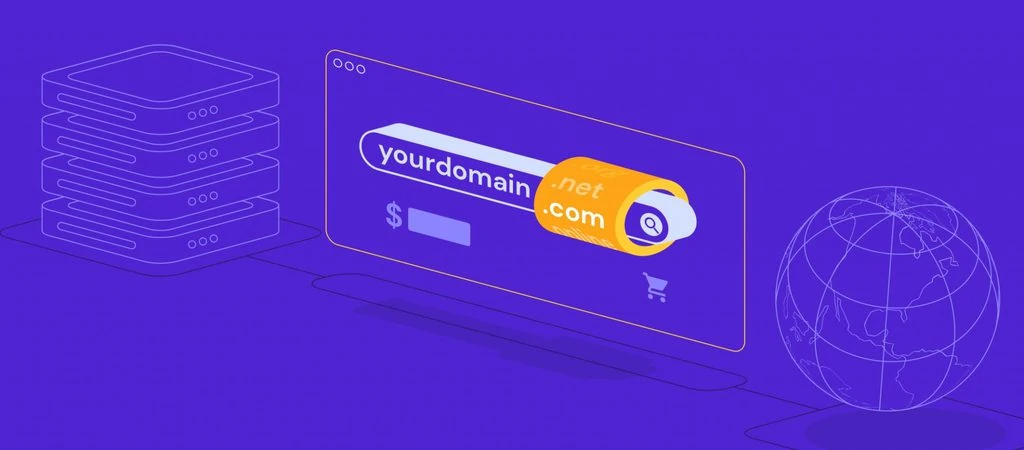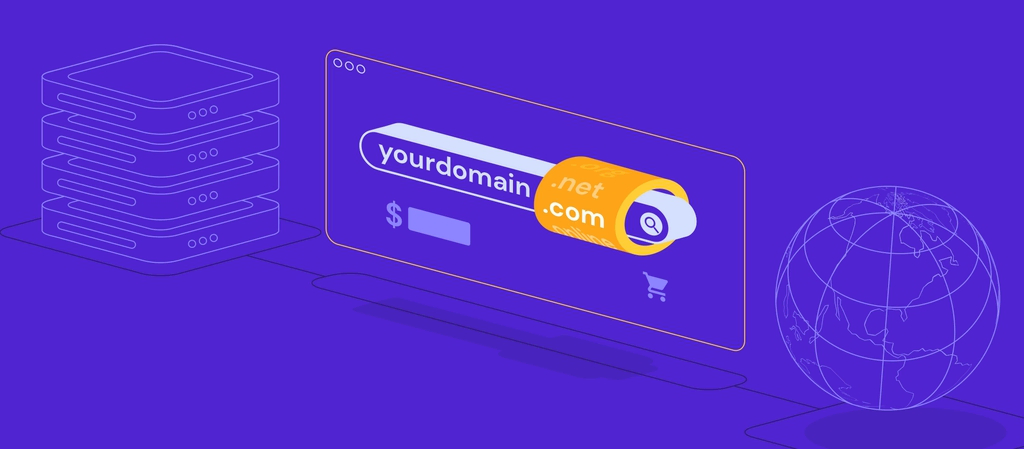 A domain name reinforces your business's online credibility and helps people remember your website's name. Therefore, having a meaningful and memorable custom domain name is essential.
Fortunately, domain name generators are handy for brainstorming a perfect domain name for your business. Moreover, these tools also check domain availability, suggest alternative names, and make the domain registration process more convenient.
This article discusses the 15 best domain name generators for finding the perfect domain name. We will also provide tips for picking the best domain name and answering common questions about the topic.
Download Website Launch Checklist
15 Best Domain Name Generators for 2024
Domain name generators let you check your desired domain name's availability. You can also enter specific keywords to receive domain name ideas.
Most domain name generators suggest names with the .com top-level domain (TLD) and other TLDs, such as .org, .net, or country-specific TLDs like .us and .uk. You can also filter the TLD options to narrow down the results.
Let's look at our list of the 15 best domain name generators for 2024.
1. Hostinger Domain Checker
Domain Name Checker
Instantly check domain name availability.
Hostinger's domain checker tool lets you check domain availability and purchase one easily.
Enter the desired domain name in the search field, and the tool will show you whether it's available or not. In addition, it offers several suggestions using relevant words with different TLDs, starting from the cheapest domain extensions.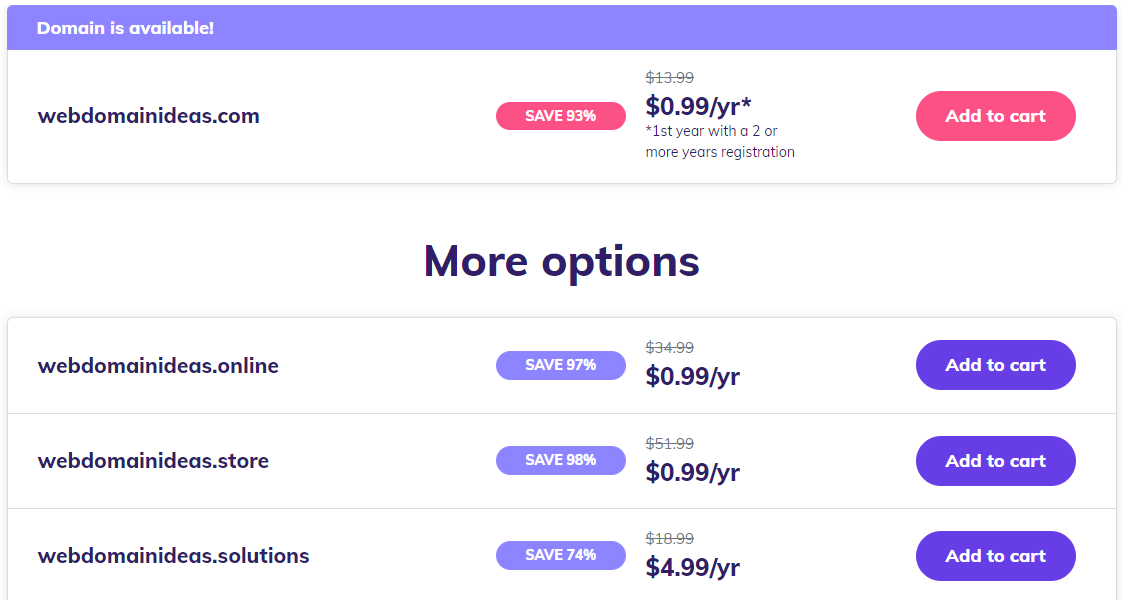 Hostinger supports various custom domain extensions, from popular choices like .net and .online to niche ones like .eu and .fm. Use the search filters to narrow down the results. You can also set the price range from $0.99 to $99.99.
The results show the prices and Add to cart buttons for each name. Simply click the button once you find a suitable domain name, and the domain checker will take you to the registration page.
Pro Tip
A free domain name registration for one year is included in most of our web hosting plans.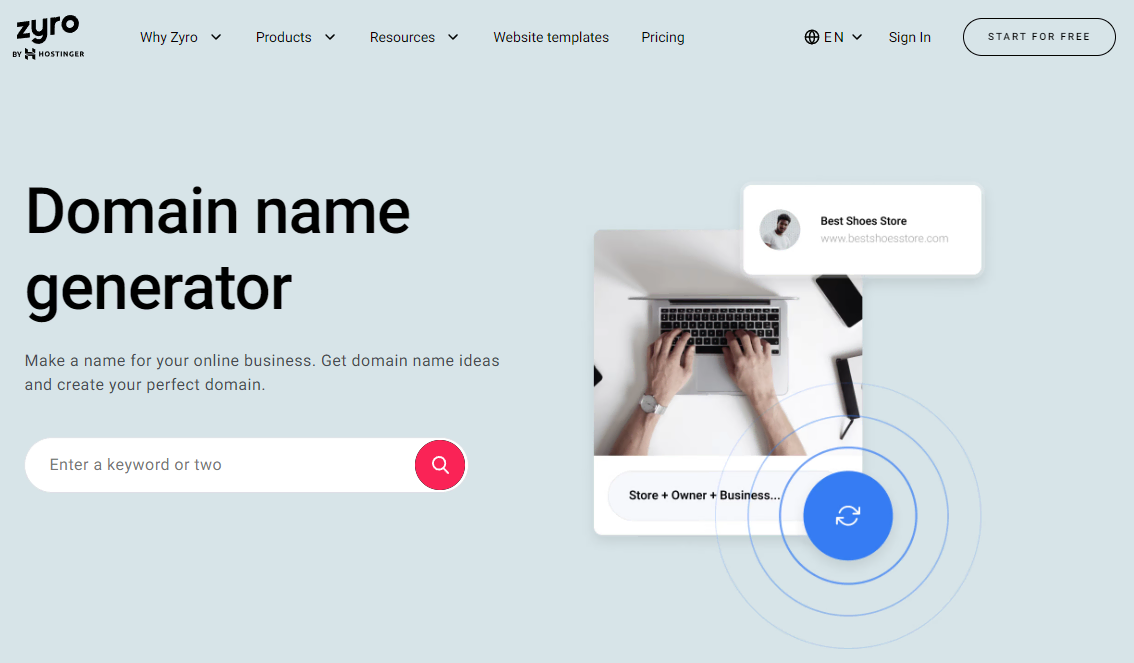 Zyro is a website builder that offers many AI-based tools, including a domain name generator. Type in the desired domain name or keywords in the search box, and the tool will check its availability.
If available, the search results will show the .com TLD at the top, followed by several other domain extensions.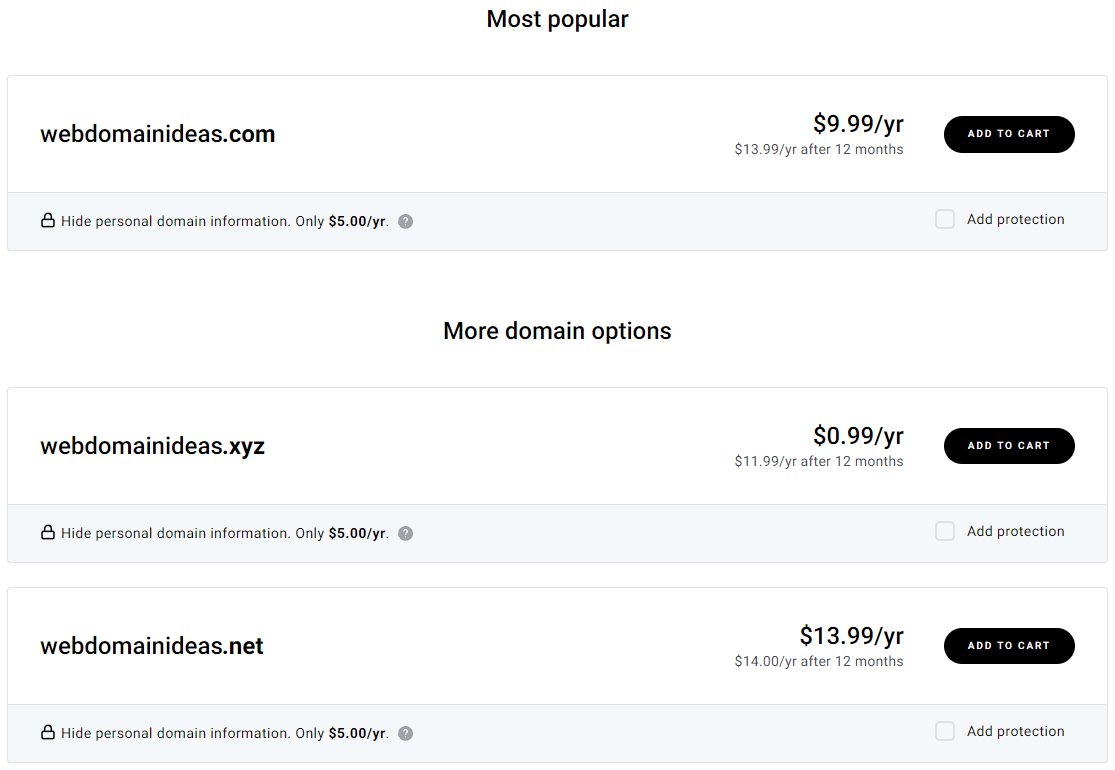 The results will show the domain registration and renewal prices, which are essential for budgeting or long-term planning. The Add to cart button takes you to the domain purchasing process.
The domain privacy protection layer is offered for free, this hides your personal information in the public WHOIS database.
However, this generator doesn't provide alternative domain names using other variations. Fortunately, you can use Hostinger's business name generator to help with this creative process.
Pro Tip
All Zyro plans include a free domain for one year.

Looka is one of the best business name generators for brainstorming company or website names. It's also one of the most comprehensive and feature-rich business or domain name generators.
Start generating ideas by typing keywords into the search field and determining the character limit. It will display three categorized results – Invented names, Compound names, and Multiword names.
If you click on any result, a pop-up sidebar will appear on the left side of the window. It will show detailed information about the name – its pronunciation, domain availability with various extensions, and social media username availability.
Looka also shows the name's search volume, helping you find a perfect name for SEO.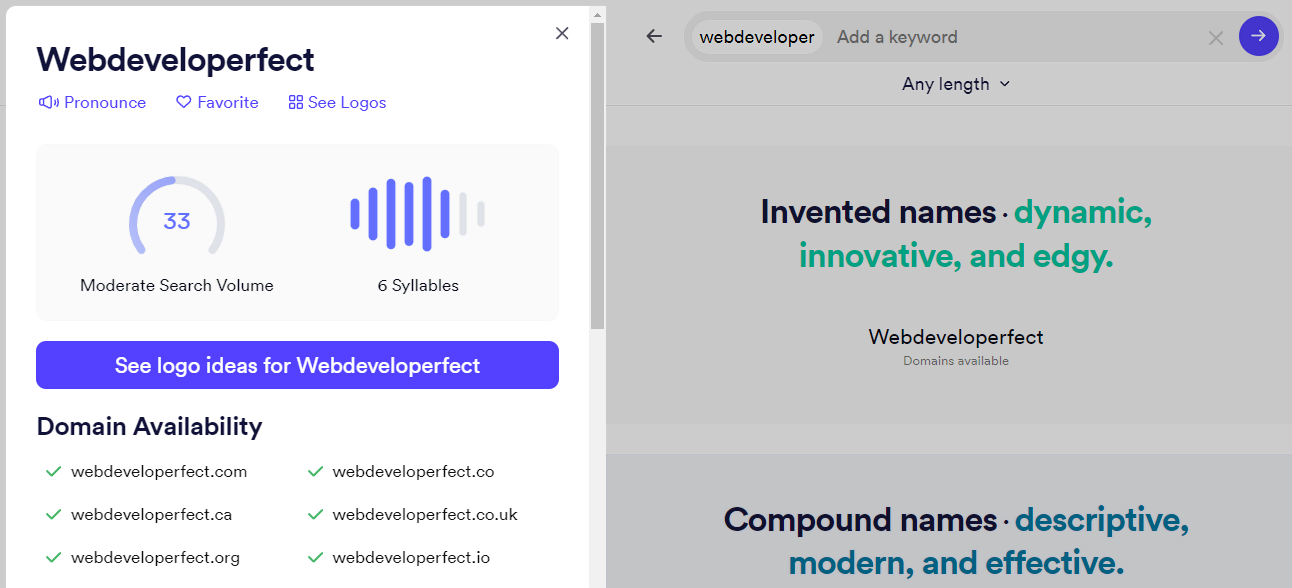 A link to the US Trademark Electronic Search System (TESS) lets you check whether the name is already registered. On top of it all, this tool also offers unique logo ideas for each result.
DomainTyper generates detailed results based on the keywords entered. It displays domain availability based on the extension and its price, comparing them between multiple domain registrars. There's also an option to add or edit extension filters to refine the results.
The Instant Domain Generator section shows available domains with various related keywords. If you click on any result, it will show the options for buying it, adding it to favorites, or setting it as the new search term.
Other unique features are domain hacks and the social media username checker.
The domain hacks display suggestions based on the keyword and extension overlap. For example, the keyword mysite overlaps with the .site extension, so the tool might suggest a name like http://my.site.
As for social media usernames, it shows their availability based on the keyword. This feature checks the availability on 30+ platforms, including Tumblr, Vimeo, and Pinterest. It's handy for building a consistent business brand across several social media platforms.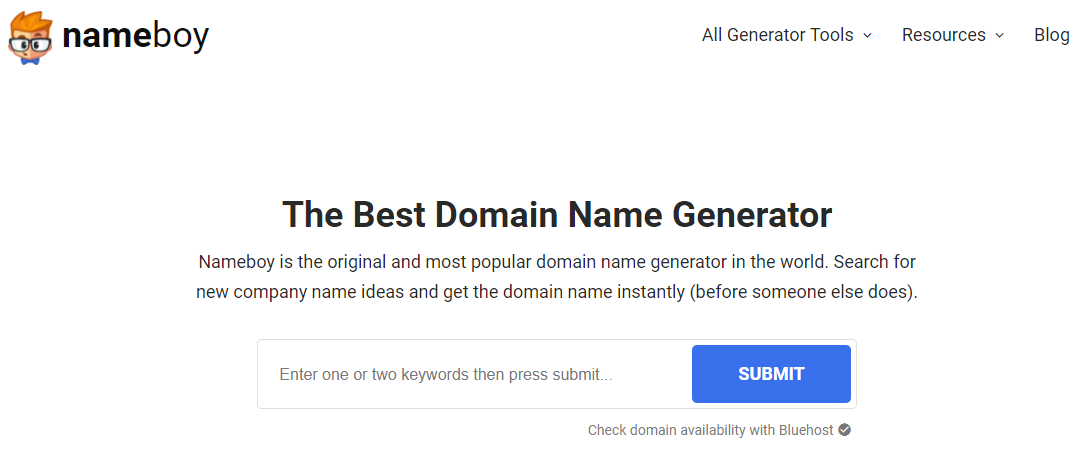 Nameboy is a domain name generator with an uncomplicated interface. The search box is right at the homepage – all you have to do is enter the keywords. Once you click Submit, the results will appear below the search section.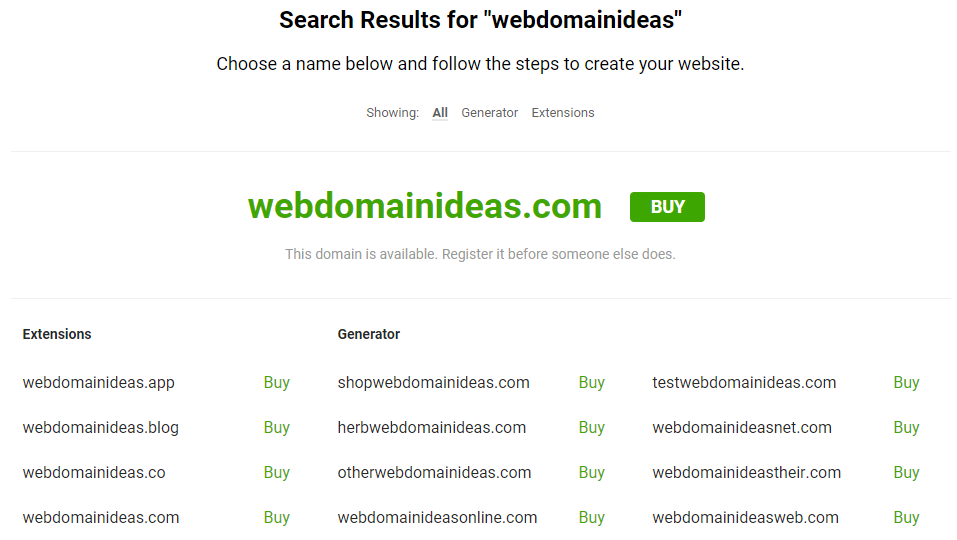 The search results are split into two categories – Extensions and Generator.
Under the Extensions section, you'll find the corresponding domain names with your exact keywords paired with various top-level domains, such as .org, .app, and .blog.
On the other hand, the Generator section contains domain name alternatives with different related keywords using the .com extension.
The Buy button next to the domain names will redirect you to Nameboy's domain registrar partner for the purchasing process.
If you don't find any suitable names, click on the Show more results button below the results to generate more suggestions.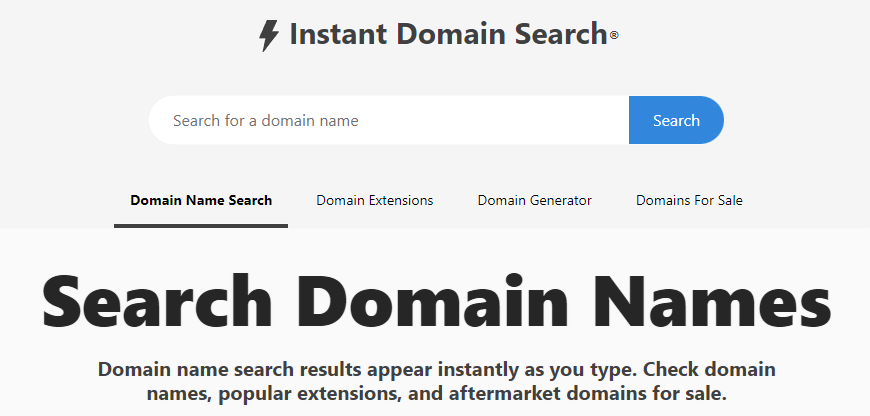 Instant Domain Search is a comprehensive live search tool that offers multiple ways to check domain availability and generate good domain name ideas.
The results will appear as you enter the keywords in the search bar. You'll find the main suggestion with the .com extension at the top. Other suggestions are divided into three columns – Domain Extensions, Generator, and Domains For Sale.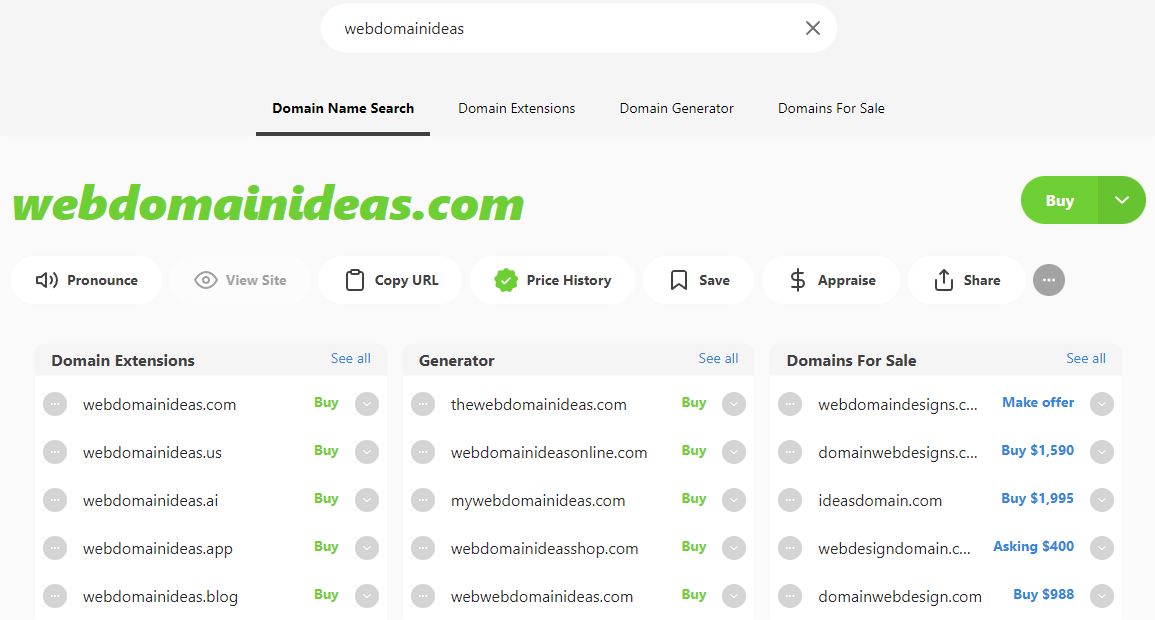 The Domain Extensions column contains domain names with the exact keywords and various top-level domain extensions. In contrast, the Generator column shows plenty of domain name suggestions that combine different related keywords. This is a great way to get alternative names if the original domain name idea is unavailable.
Finally, Domains For Sale lists the premium domains available to buy or bid on. It displays the price or the link to make an offer for each domain. Instant Domain Search partners with six registrars, making it easier to find the best deal.
This domain name generator uses a color-coding system on its call-to-action (CTA) buttons. It may seem trivial, but it's helpful when browsing many domain name suggestions.
The Buy buttons for available domain names are green, while the premium domain buttons are blue. As for unavailable domain names, the WHOIS button is red.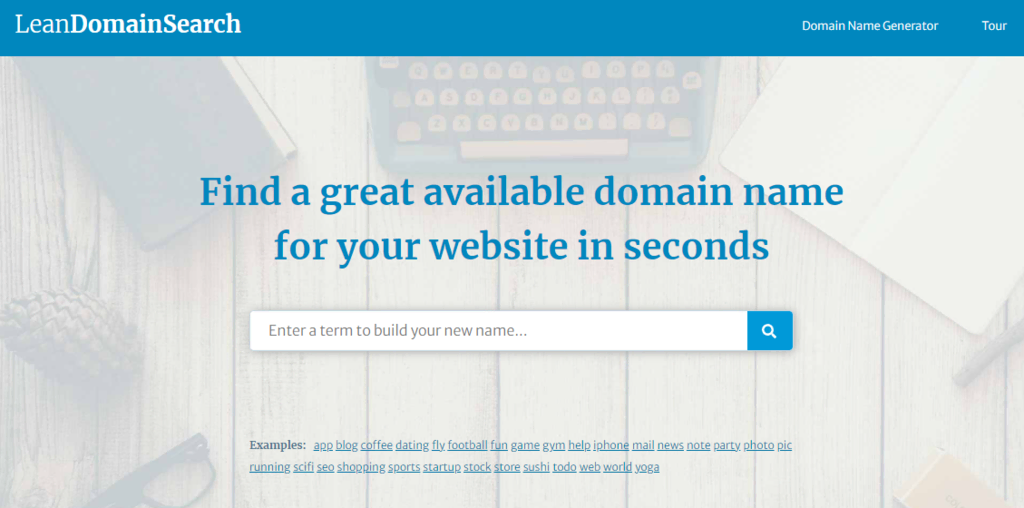 Lean Domain Search is an ideal domain name generator tool to get .com domain suggestions. Enter the desired keywords into the search box to find plenty of available suggestions containing those exact phrases.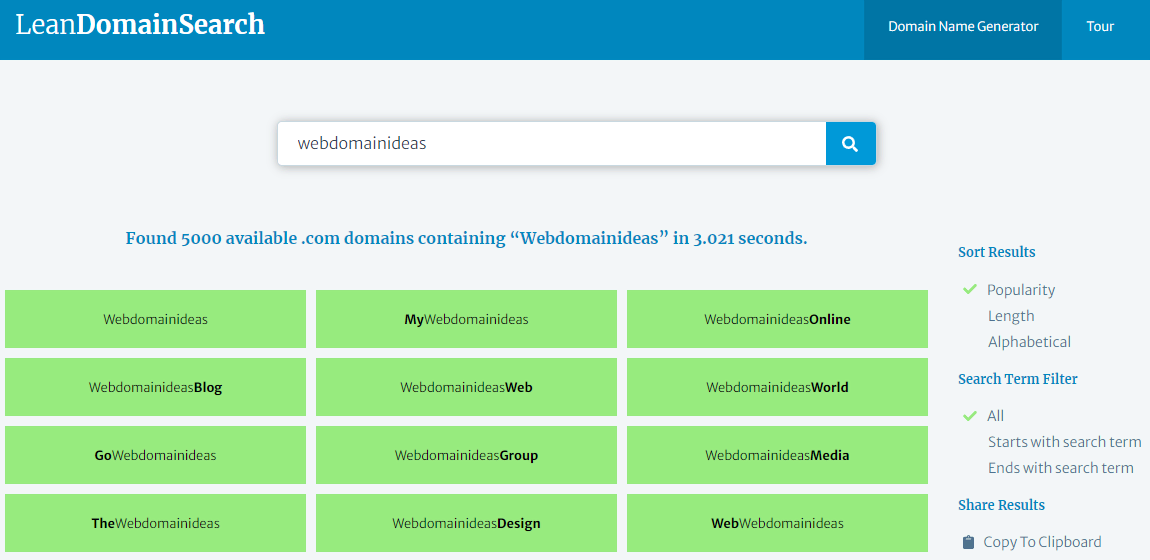 You can sort the results based on popularity, length, or alphabetical order. There's also a filter feature to choose between results that start or end with the entered keywords.
If you click on any result, a pop-up screen will appear where you'll be able to register the domain name. Another interesting feature is that this tool shows whether the domain names are also available as Twitter usernames.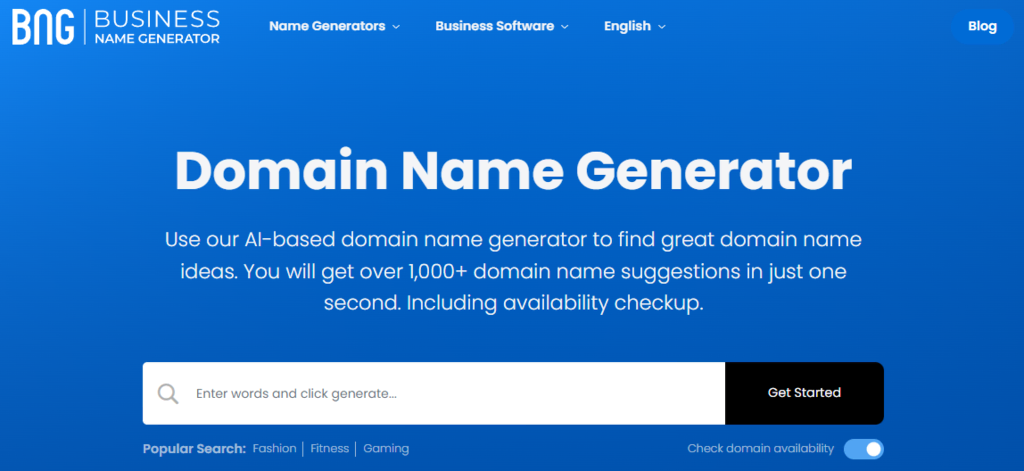 Business Name Generator offers domain name ideas and numerous filtering tools to narrow down the generated suggestions.
You can select the Industry that applies to your business, such as automotive, education, and travel.
The Filters setting applies to the domain name keywords. It lets you specify the maximum characters, word count, keyword positioning, and even word rhyming.
The Extensions setting is for the domain name extension. Business Name Generator supports many TLDs, from the popular .com and .net, to obscure extensions like .uno, .cheap, and .buzz.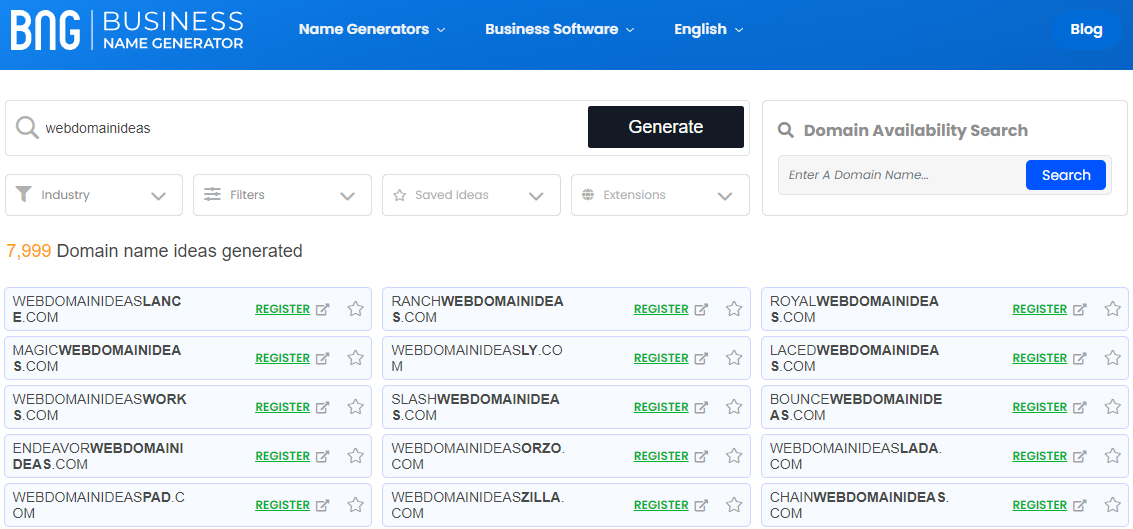 You can also save several domain suggestions and send them to your email by clicking the star icon.
Once you've found a name that suits your needs, the Register link will take you to a domain registrar to start the registration process.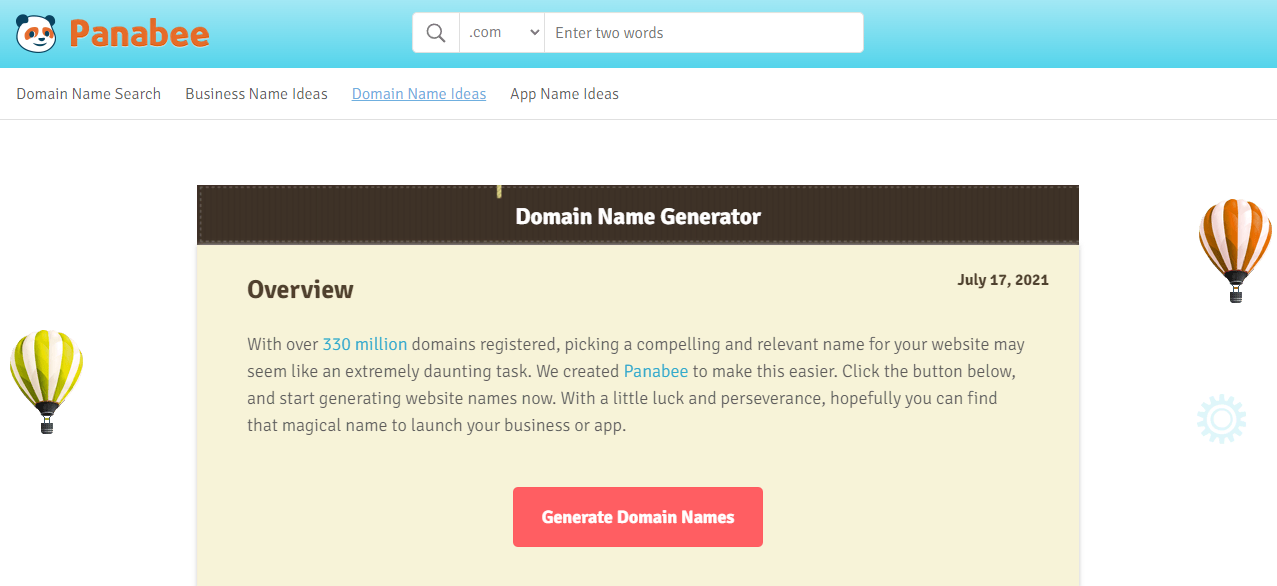 The Panabee domain name generator offers domain name ideas categorized by how the name is formed.
You have to enter two keywords in the search box and select your preferred domain extension from the drop-down menu. Alternatively, select the custom extension option and enter the exact domain name in the search box.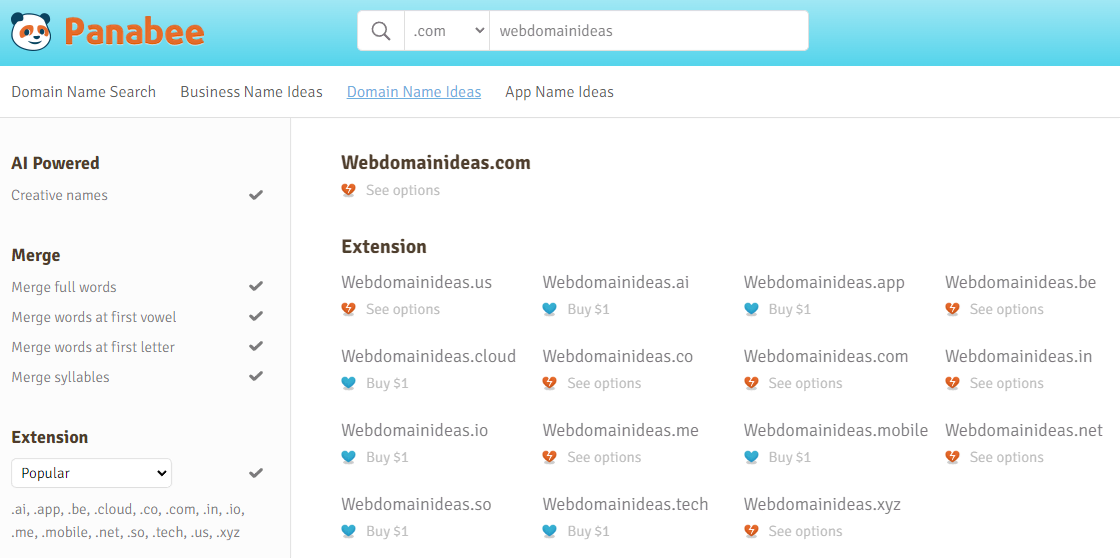 There are more suggestions under different categories. For example, the domain name suggestions under Extension use the exact keywords provided with various TLDs. The AI-Powered section contains alternative names related to the keywords you've entered.
Scroll down further to find domain name suggestions that rearrange the keywords. For example, it will merge keywords or spell them backward. It also suggests domain names by replacing certain letters, such as c with k or i with ee.
A filter feature on the left sidebar lets you refine the results. You can set the domain generator to find popular, startup, or commerce extensions. There's also a filter for setting specific rules for the name rearrangement.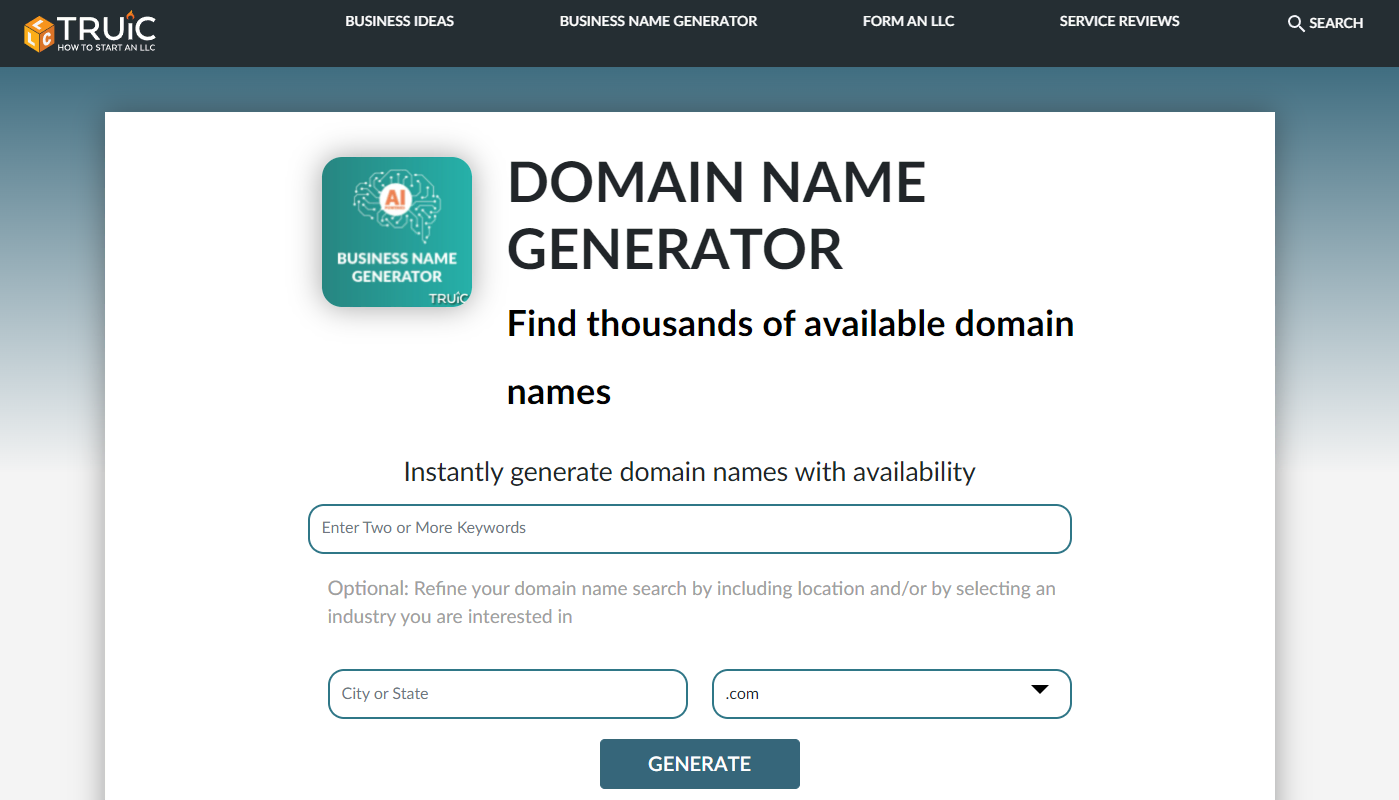 TRUiC is a free domain name generator that lets you find a localized domain name. Type two or more keywords and a city or state in the corresponding fields. Then, choose an extension from the drop-down menu.
The results will show the available domains based on the keywords, location, and alternative words. They will also display the business name each domain represents, which is useful for brainstorming creative company names.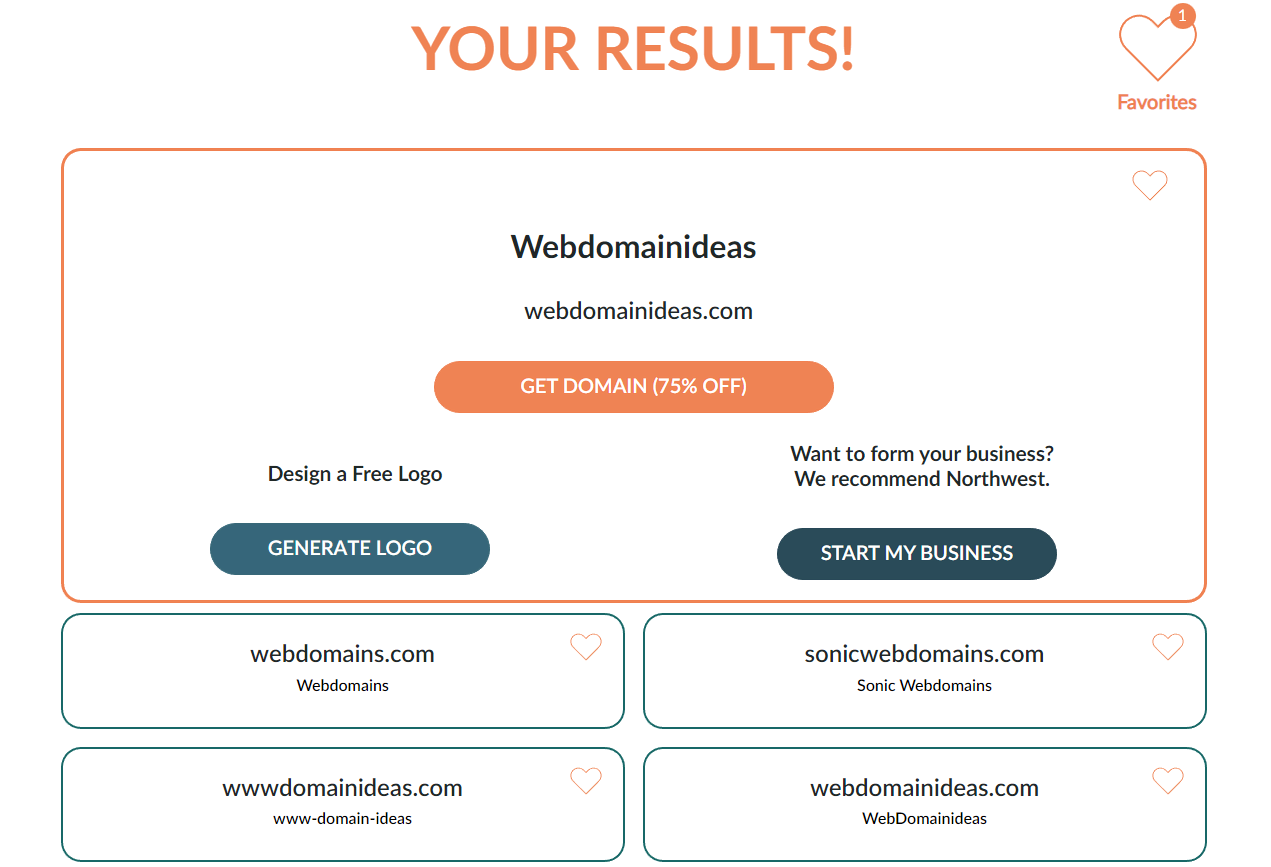 You'll have the option to see more domains or view all the results by scrolling down. Click the heart icon on any result to save the domain name options you like.
Domainr is a quick domain research tool with a simple and clean interface. The search bar is on the top-left corner of the homepage and will display suggestions as soon as you type in a query.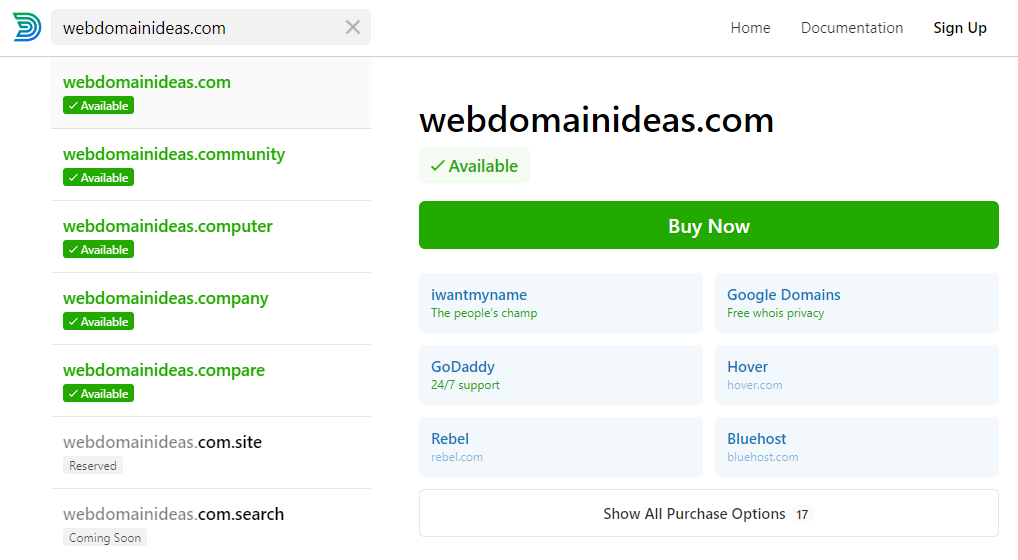 The suggestions generated by this tool include names with various extensions and related keywords. It also lists premium and unavailable domains that are up for bidding.
This domain generator tool doesn't have advanced features compared to others on this list. However, its simplicity makes it one of the best domain name generators for quick research.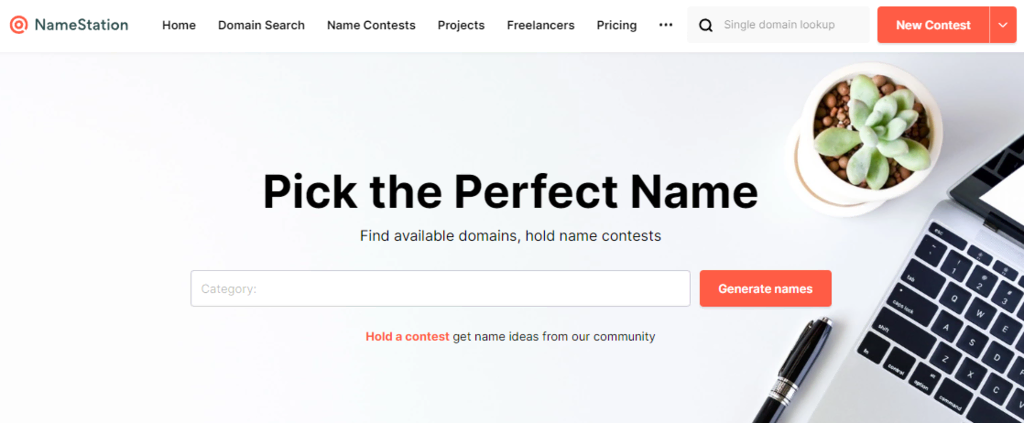 Unfortunately, you must create an account to use the NameStation domain name generator tool. Luckily, it's free, and you can sign up with a Google account in just a few clicks.
Once logged in, NameStation will provide a wide range of features to search for the perfect domain name effectively.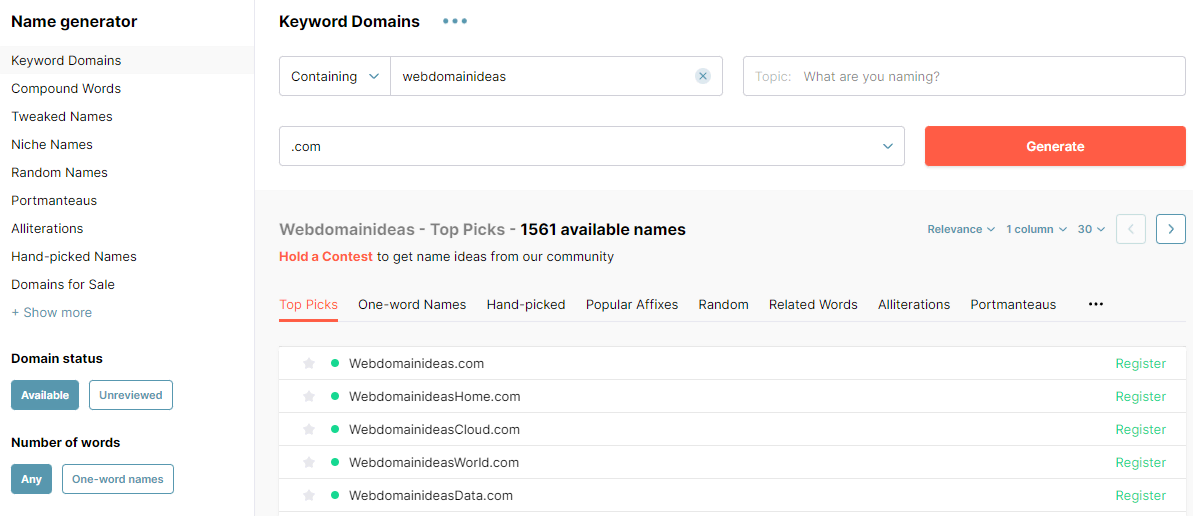 The basic keyword domain search allows you to specify whether the domain name should contain, start, end, or relate to the keywords.
There's also an option to specify the domain name's category and a drop-down menu to select a preferred extension.
Alternatively, pick other generator categories on the left panel:
Compound words – names with additional industry-relevant prefixes or suffixes.
Tweaked names – names with rearranged letters. You can specify whether to use predefined or random tweaks.
Alliterations – names containing words that repeat a similar consonant sound.
Domains for sale – relevant premium domains that are currently for sale or up for auction.
The unique naming contest feature lets you receive creative ideas from NameStation's community. You can hold a contest by providing a project description and preferred words.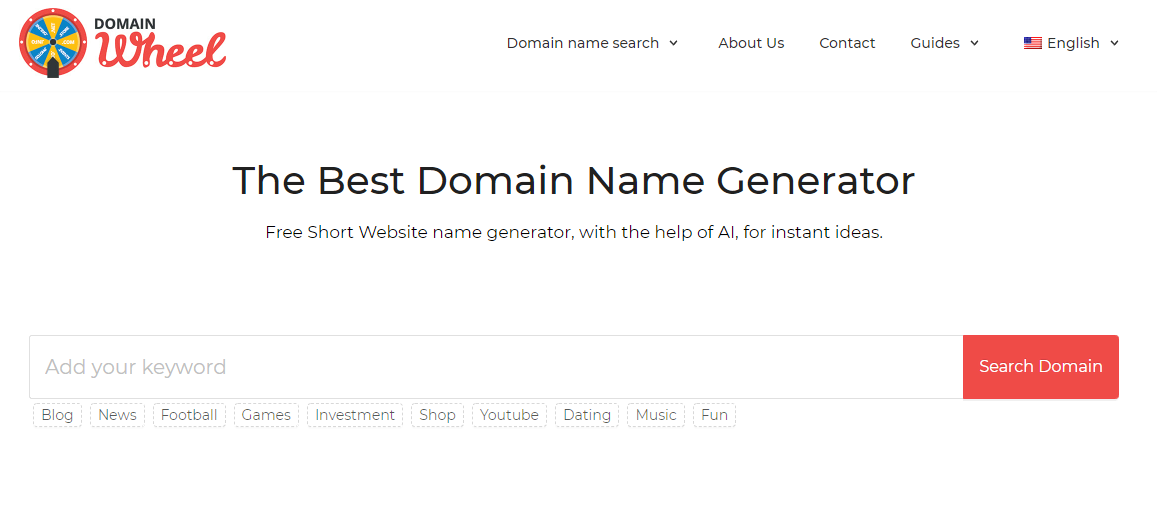 Domain Wheel is a rather straightforward domain name search tool. Simply enter the keywords and select the desired extensions on the drop-down menu next to the search box. This tool supports 15 extensions, including .blog, .us, and .online.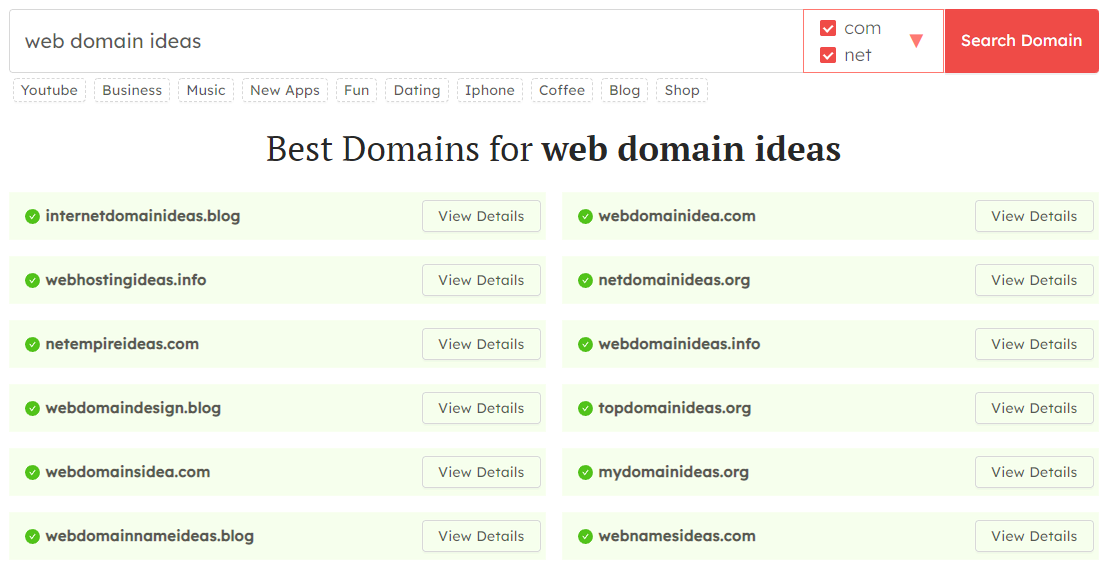 The results only list available domain names and suggestions that use relevant words. Clicking the View Details button will direct you to the affiliated domain registrar, where you can purchase the name.
If you don't find any suitable name, this tool also provides relevant keyword suggestions. Simply click one of the suggestions, and the tool will generate more domain ideas for the new keywords.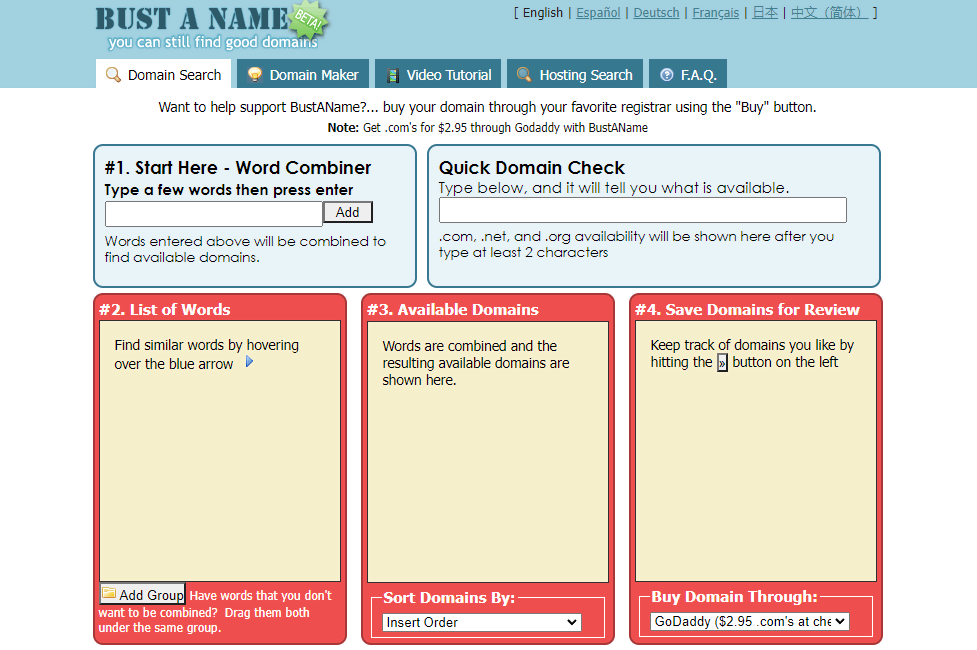 Bust a Name offers two tools to find the best domain name ideas – Domain Search and Domain Maker, available at the top of the page.
There are two methods to use the Domain Search tool. The first is by using the Quick Domain Check option – simply write a keyword to check domain availability for the .com, .net, and .org extensions.
The other method uses the Word Combiner feature – add a few words in the text field, and you'll see the generated domain names in the center column.
This domain suggestion tool combines the words entered to come up with new suggestions. You can adjust your preferences in the bottom section, such as the extensions, word combinations, or prefix usage.
On the other hand, the Domain Maker tool requires typing the word for the domain name's beginning or end. You'll also have to select the maximum amount of characters. Once all is set, the results will appear in the table.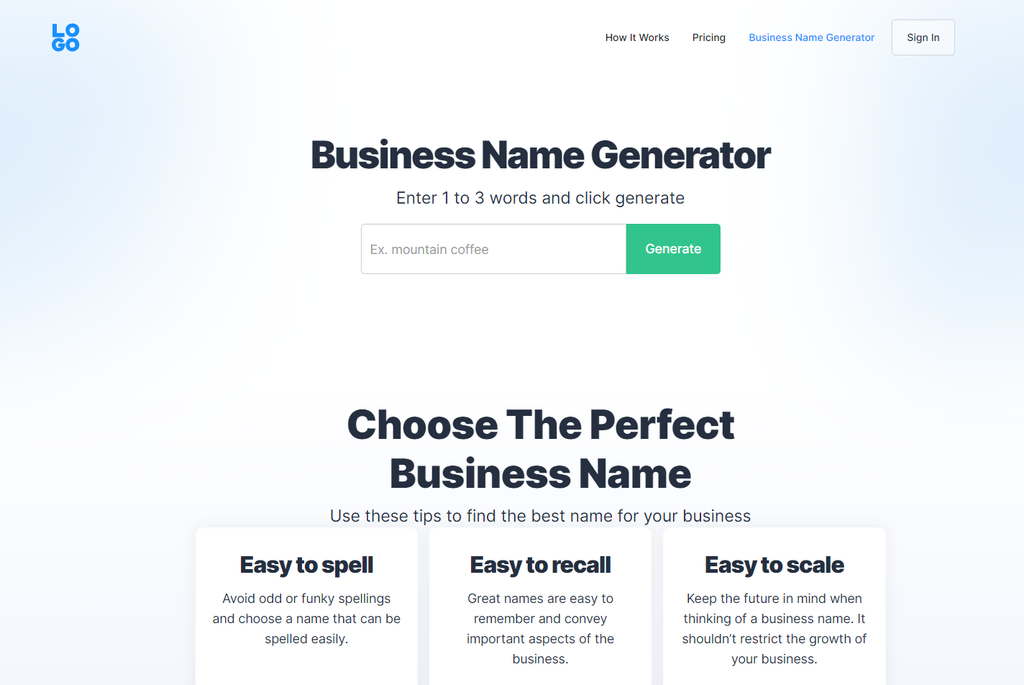 LOGO.com is a creative business domain name generator that includes complete branding tools. This generator is a great option for new businesses looking to create more consistent branding.
If you are still looking for a business name, LOGO.com offers advanced settings for your search. Using this generator, you can limit the search by adding character and word limits, choosing the preferred TLDs, and allowing synonyms.
In addition, specify your search by including and excluding certain words. For example, use double quotes to include specific keywords in your business name or a minus to exclude them.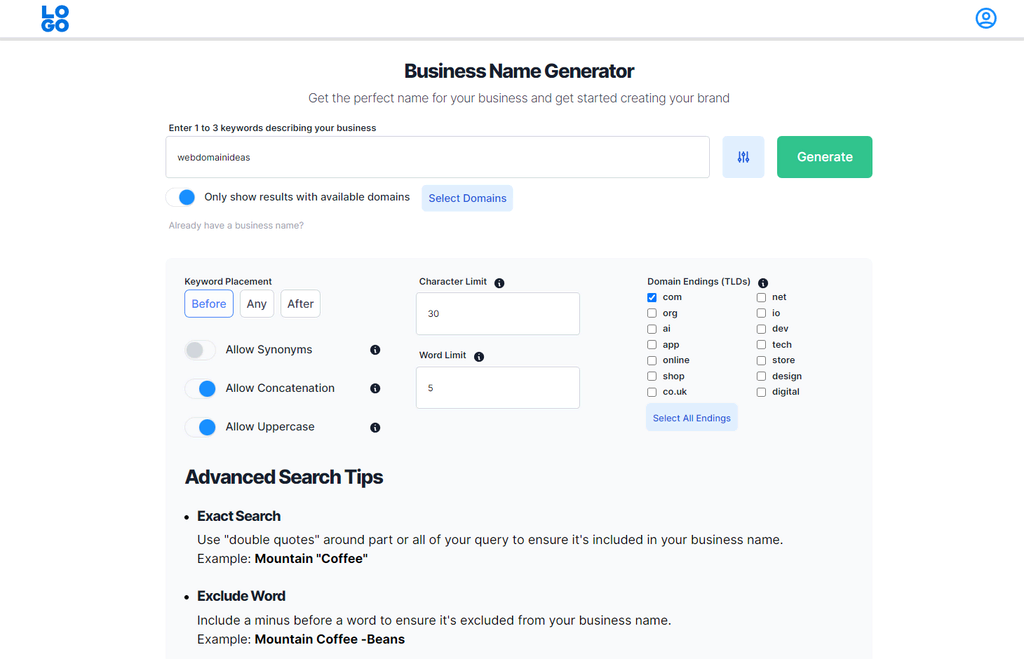 With LOGO.com, purchase a brand kit for $10/month to get a free domain name for the first year.
This domain name generator also offers various business name and logo inspirations for different industries. Overall, LOGO.com helps create all essential aspects of your business branding.
When you purchase the brand kit, you will be able to get the domain name first year free.
Input one or more words about your business
Generate unique business names based on your input
See your new business name on a logo to visualize the brand
See if the domain name for your new business is available
Refine the logo for your new business with our logo editor
Choose a logo package and get your domain name free for the first year
Launch your new business with branding in just a few minutes
Tips for Choosing the Best Domain Name
A good domain name builds credibility and makes the business stand out. While domain name generators can help with the brainstorming process and offer plenty of domain name suggestions, the final decision is entirely yours. Here are a few tips for picking the right domain name:
Keep it short – an ideal domain name should contain less than 15 characters or three words at most. Short domain names are more memorable and less prone to typos.
Use the right domain name extension – consider buying a relevant domain extension such as .edu or .shop if applicable. It gives users a better idea of the industry or location of your business.
Use a relevant keyword – a domain name that contains relevant keywords helps people know what the website is about. For example, musiclesson.com suggests that it's an educational website.
Create a brandable domain – include your brand name in the domain name when possible. If you use a business name generator to get new domain and business names, ensure it is not similar to an already registered trademark to avoid legal issues.
Avoid hyphens and numbers – it can be difficult to remember where to place hyphens or other symbols. We also recommend avoiding numbers, as people hearing your domain name won't know whether they should enter the numerals or spell them out.
Make it easy to spell and pronounce – whether you use a brand name or relevant keywords, the domain name should be easy to pronounce and spell to prevent mistyping.
Conclusion
Picking the right domain name for your website is the building block for creating a successful online presence. Hence, your domain name needs to be meaningful and easy to remember.
Domain name generators help you come up with a suitable name and check the domain name availability. All you have to do is enter the keywords, and it will check the name's availability and offer suggestions if the preferred one is already taken.
We recommend buying the domain name as soon as you find an available one before someone else gets an opportunity to take it instead. The competition for great domain names can be fierce. You may have to pay a premium price to acquire an already registered domain name.
Domain Name Generators FAQ
Now that you know the best domain name generators available, here are some frequently asked questions about the topic.
How Does a Domain Name Generator Work?
A domain name generator typically uses algorithms to generate random combinations of words, letters, and numbers to see if they are available as domain names. Some generators also use AI to suggest names based on keywords or themes that you provide.
How Much Does a Domain Name Generator Cost?
Most domain name generators, such as Hostinger's domain search tool, are available for free. However, some may charge a one-time fee or a monthly subscription.
How to Choose the Right Domain Name Generator?
When choosing a domain name generator, consider the features it offers, such as keyword suggestions, domain availability checks, and customization options. For example, Hostinger offers all of the basic features, with price comparison and a user-friendly interface.