Best 18 Domain Name Generators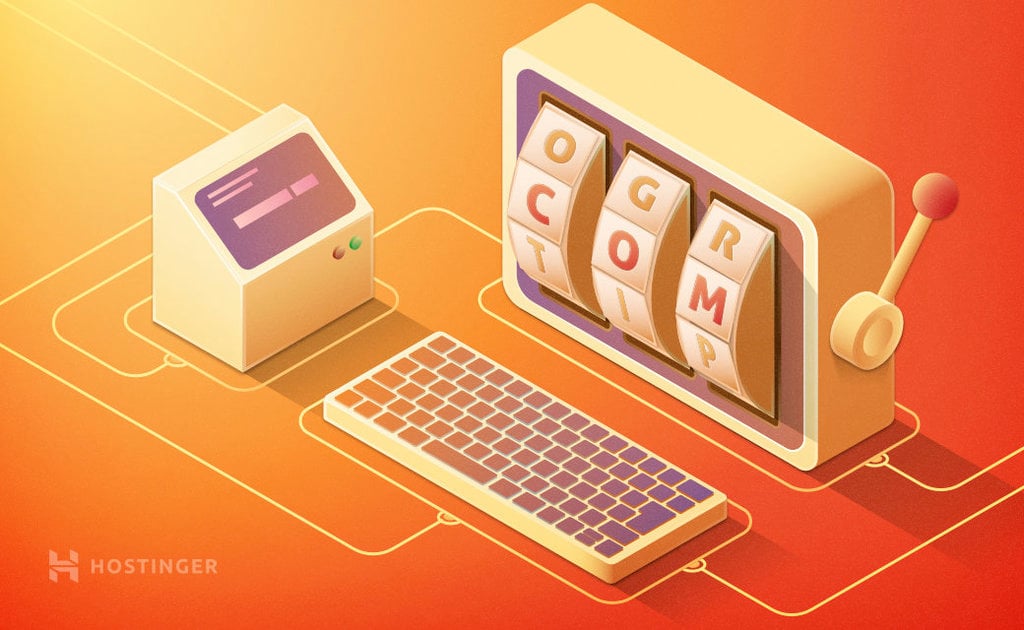 If you're planning on launching a website or blog, you need to buy a domain name to go with it. Coming up with good domain name ideas can be tricky. Luckily, you can use a reliable domain name generator for the job. In this article, you will find the best domain name generators for 2021.
What Is A Domain Name Generator?
A domain generator is an excellent tool that can give you domain name ideas and suggestions based on the words that you type in.
A domain name will define your brand in the long term. It needs to be catchy, short, easy to remember, and most important of all – available to use.
For example, you want your domain name to include the keywords "food", "tasty", and "cheap". Let's say you come up with www.foodtastycheap.com -–it's a pretty common domain name and it's can be too long to pronounce.
This is where a domain name generator will come in handy.
All you have to do is enter your keyword(s), then choose your preferred TLD (.com, .net, .org, etc.). The generator's algorithm will come up with many alternatives you can use – by scrambling the words, adding a prefix, and so on.
Now, all you need to do is pick the one you like. Consider these tips below that will help you choose the right domain name:
Make it short – shorter domain will be faster to type and easier to promote
Choose a suitable extension – aside from the popular ones, you can pick the one that suits your line of business or your targetted area such as .store, .edu, .design, .photography, .london, .nyc and many more
Choose the most catchy domain name – catchy names stick to the mind of your audience and they're easy to remember
No hyphen and numbers – when you pronounce your domain, the audience may confuse "0" with "zero" and they will land on "not found" page or even a website owned by other people
18 Best Domain Name Generators
List of the best domain name generators to help you find a new domain name: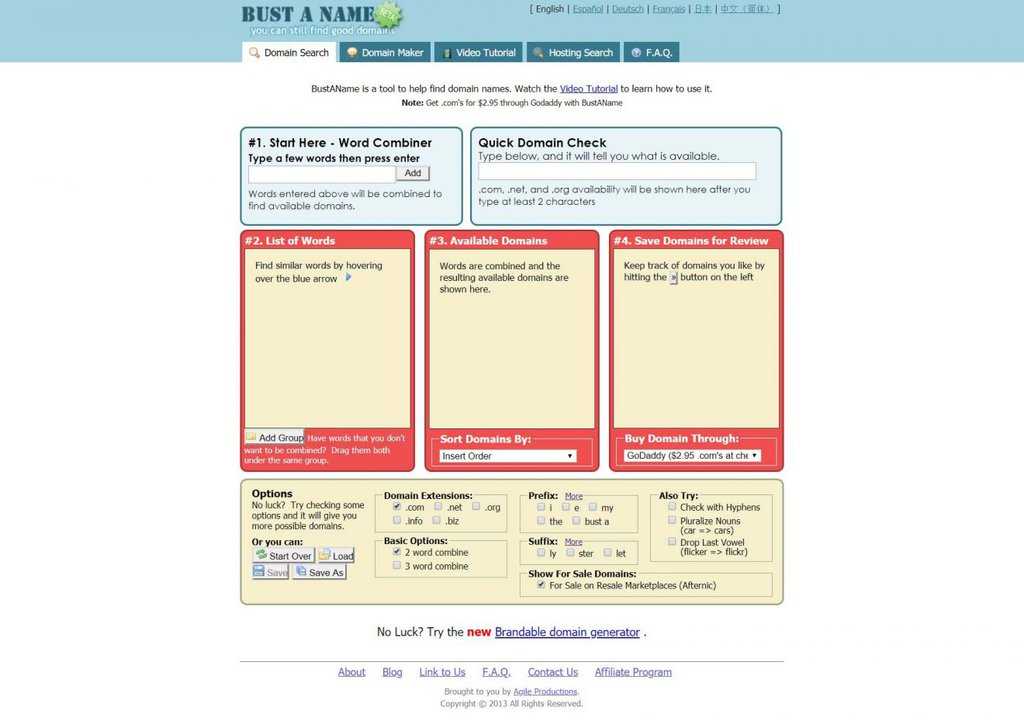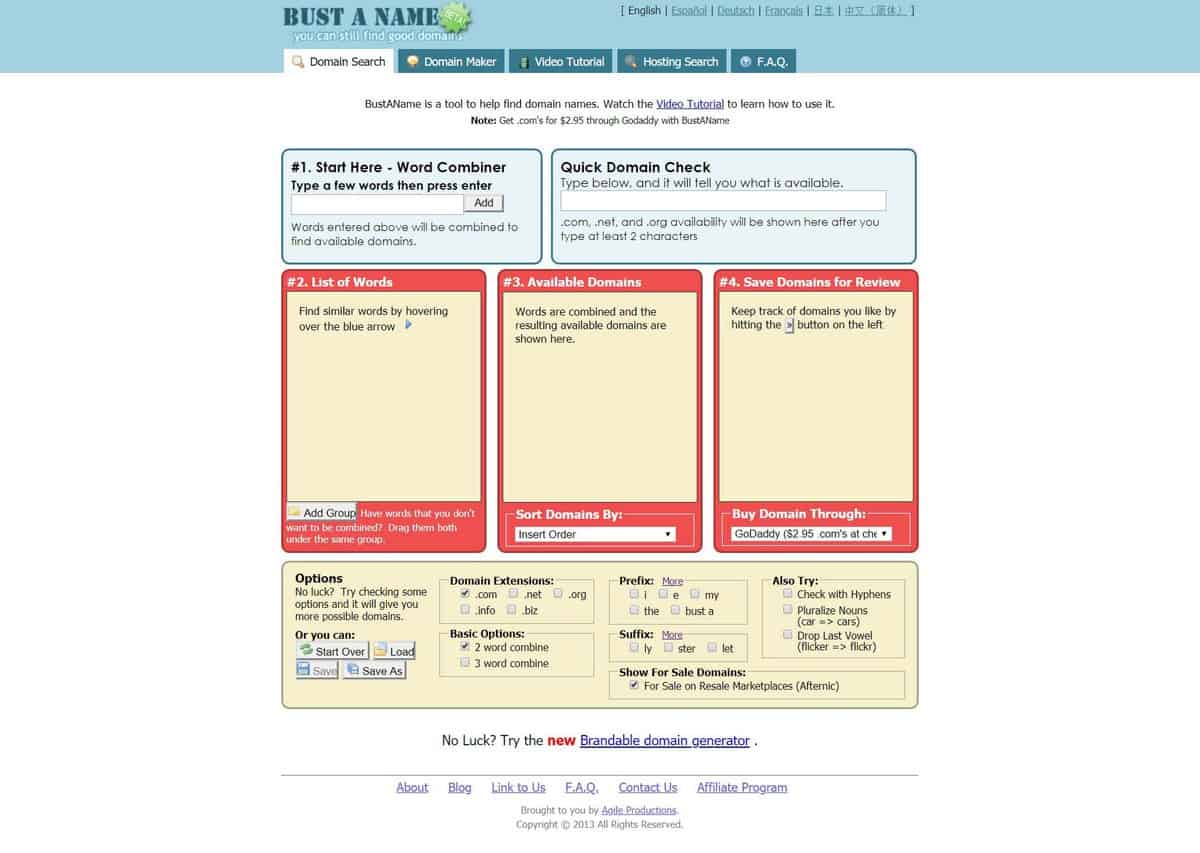 Bust A Name is a straightforward domain name generator. Put your keywords, and it will reorder the words into a variety of names. You can also opt for different extensions and three-word combinations.
Others features are including dropping the last vowel, pluralizing nouns, and the addition of prefix, suffix, and hyphen.
Still not satisfied? Try its domain maker tool. It will generate domains that sound natural based on the word you input – either at the start or at the end.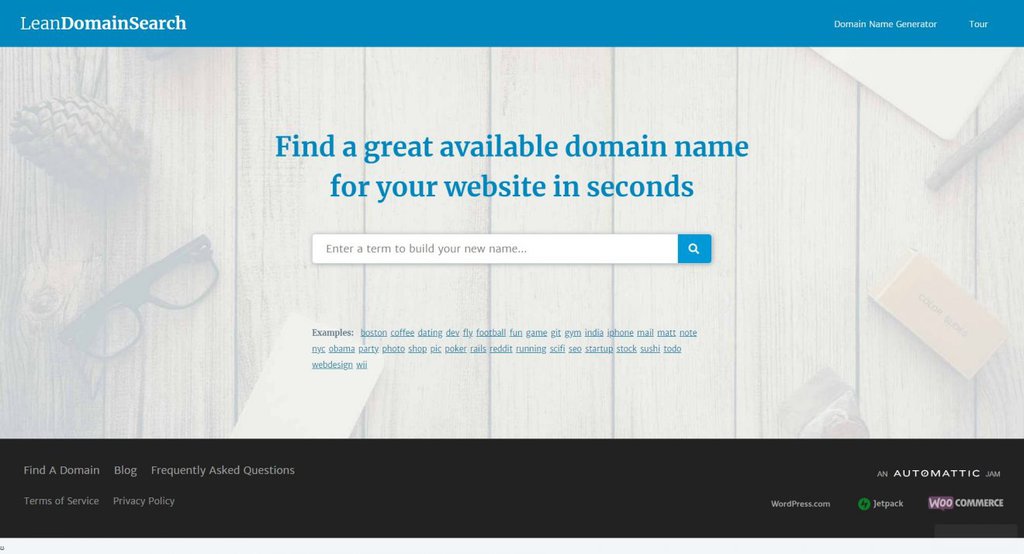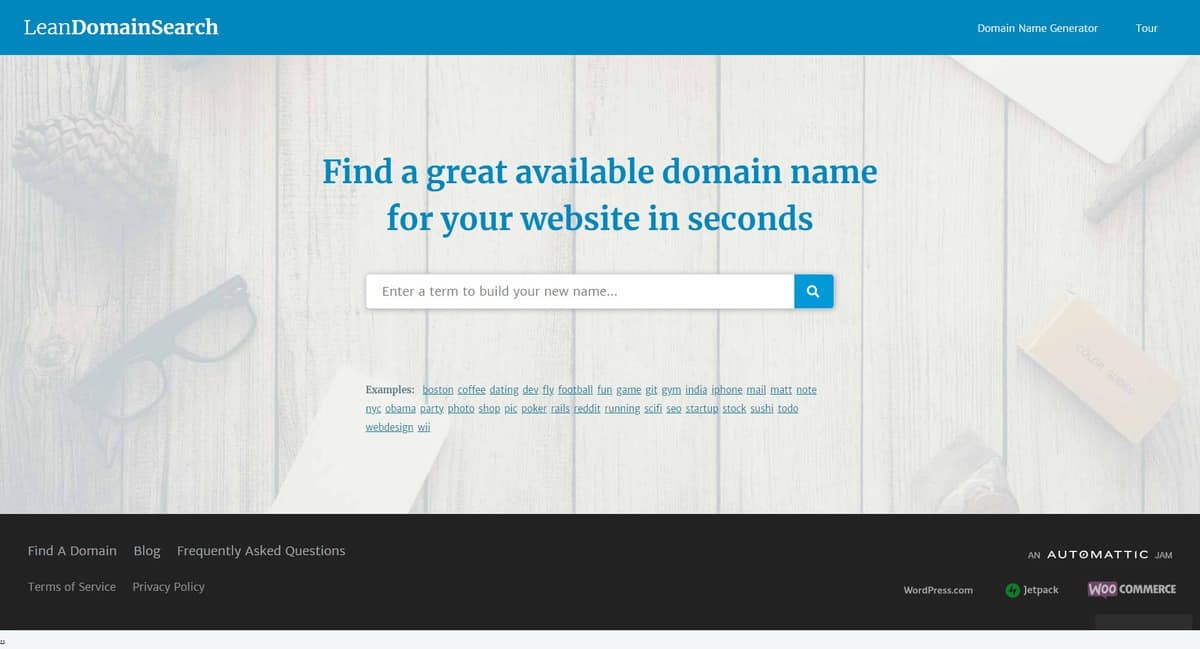 If you prefer picking from thousands of domains, you're in the right place. While it only shows the ones with .com extension, the sheer number of results give you tons of options to think about.
What is more, it also checks for Twitter username availability – two birds with one stone!


In addition to web hosting, Hostinger also offers you a domain checker feature. Simply input a domain name or keyword that you like, and we'll check its availability as well as providing other suggestions as alternatives. You can also see the price for each domain and purchase it directly.
Pro tip: Buy our shared hosting package for 12 months and get a domain name for free!
Other than the popular extensions, you can look for regional-based ones (.co.uk, .co.jp, .jp.net, etc.) and new top-level domains (.online, .shop, .site, etc).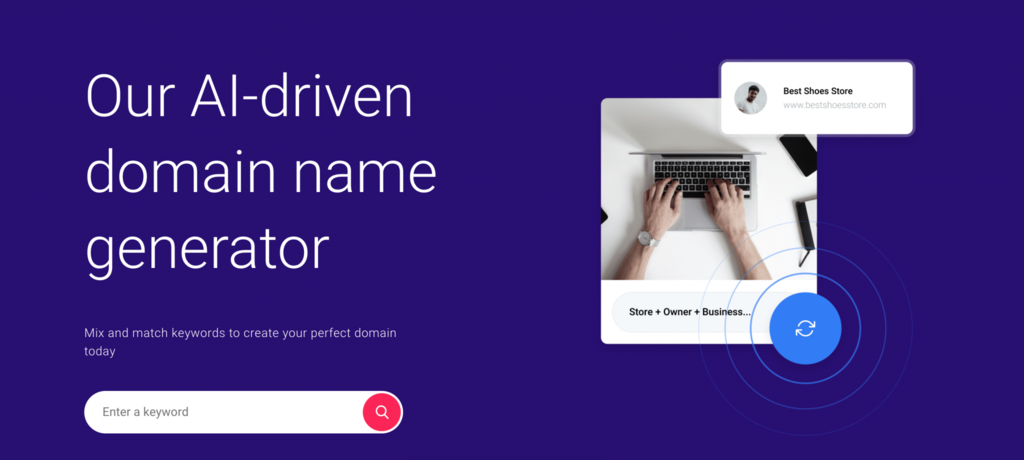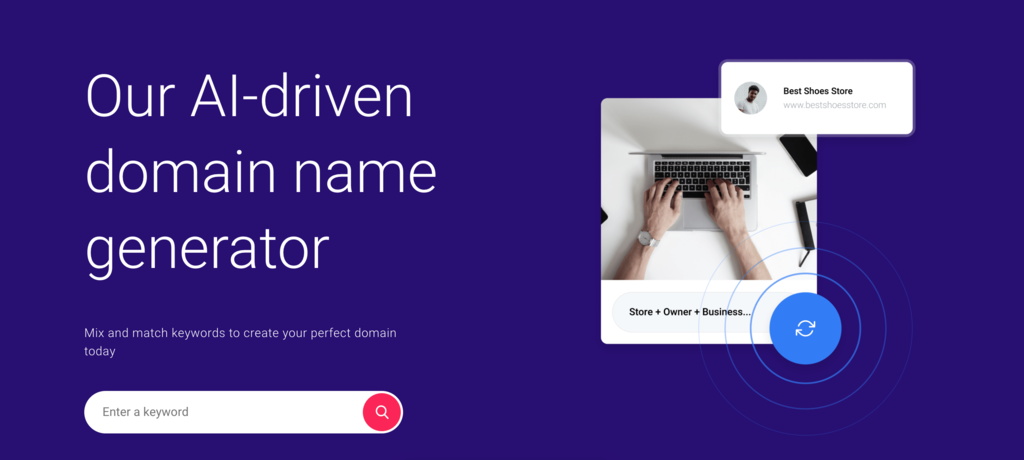 Looking for an easy to use platform to create your website and need to get a great domain name? Zyro's AI-powered domain name generator might be the solution for you. As the name implies, this domain name generator uses AI tech to provide users with domain name ideas based on the best naming practices in the industry.
Using the generator is incredibly easy – type in keywords related to your brand, click on the search icon next to the field, and you're ready to view the generated suggestions. Additionally, there's an offer that lets you claim a domain name completely free, if you opt for Zyro's Pro plan.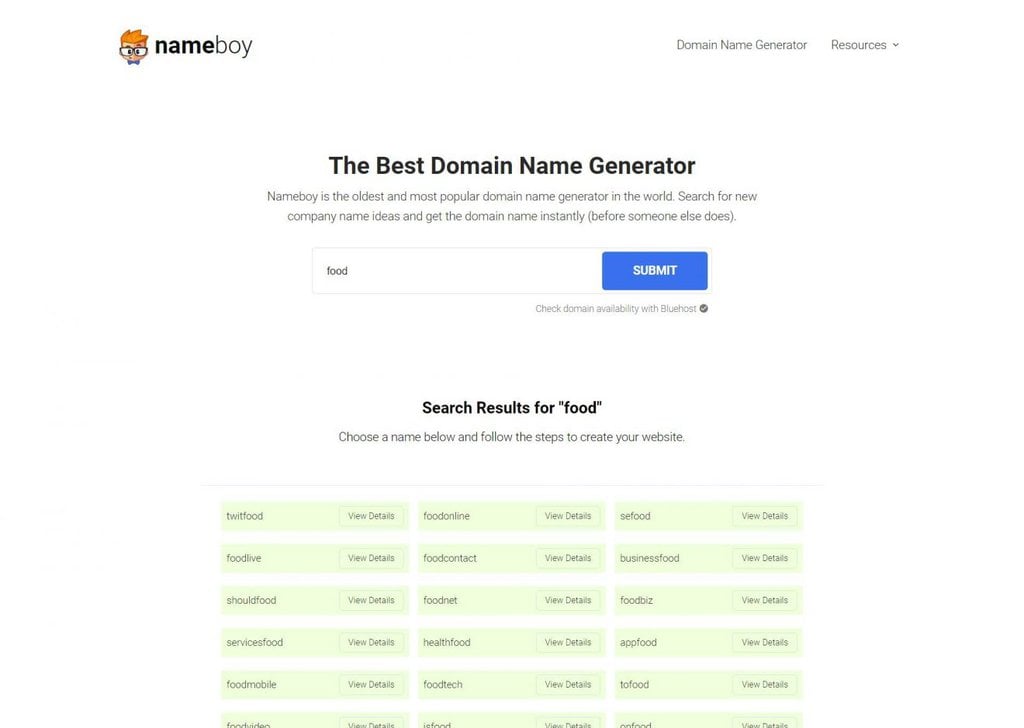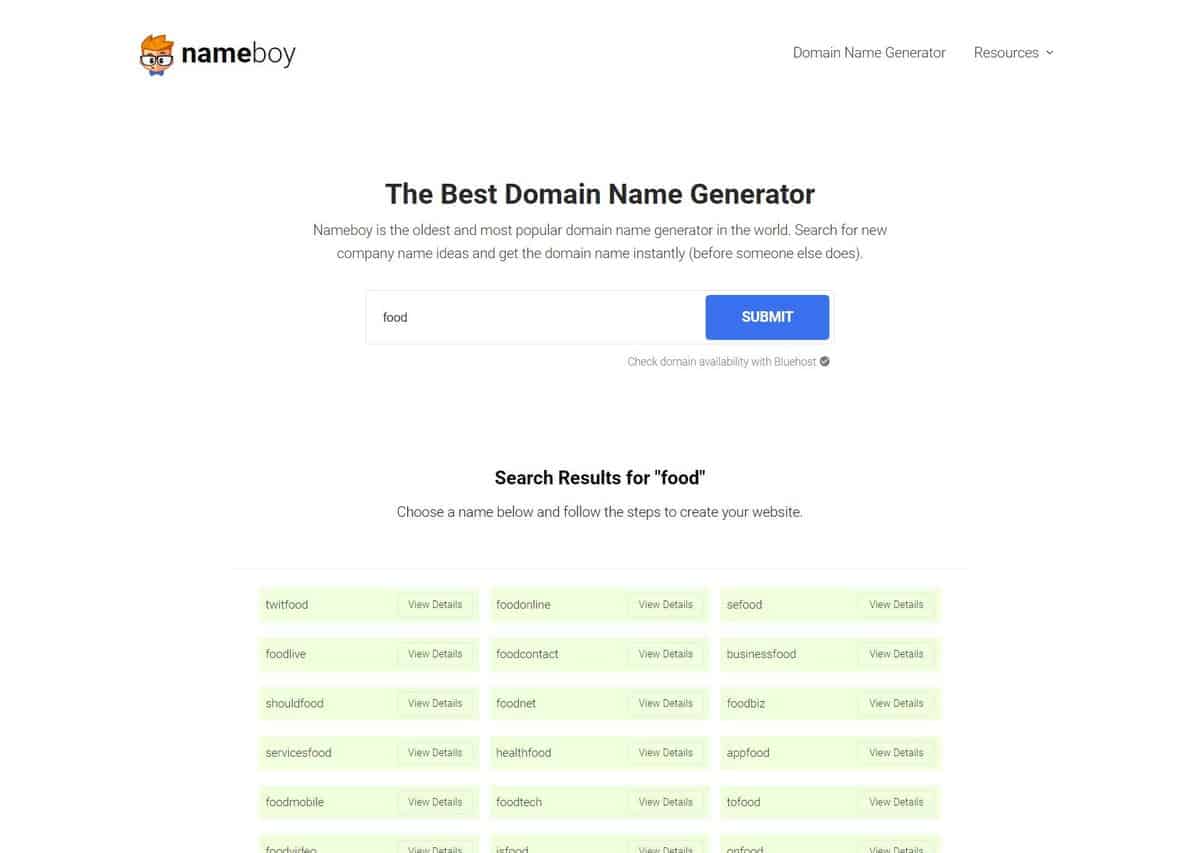 As one of the oldest best domain name generators out there, you can't go wrong with Name Boy. You can put one or two keywords and it will spring out domain name suggestions for you to pick from.
This tool adds relevant words to your inputted keywords. If you still haven't found one that you like, you can click "Show more results" for more catchy names.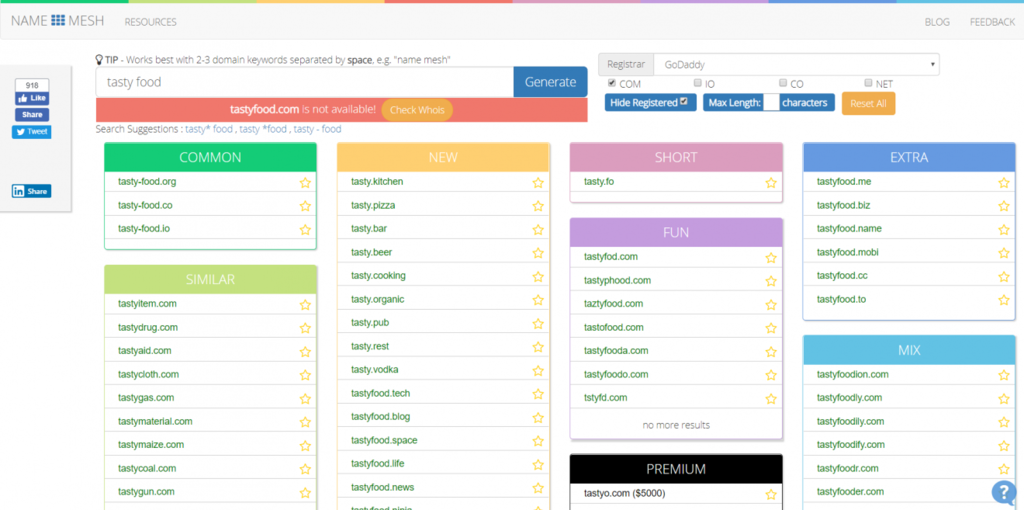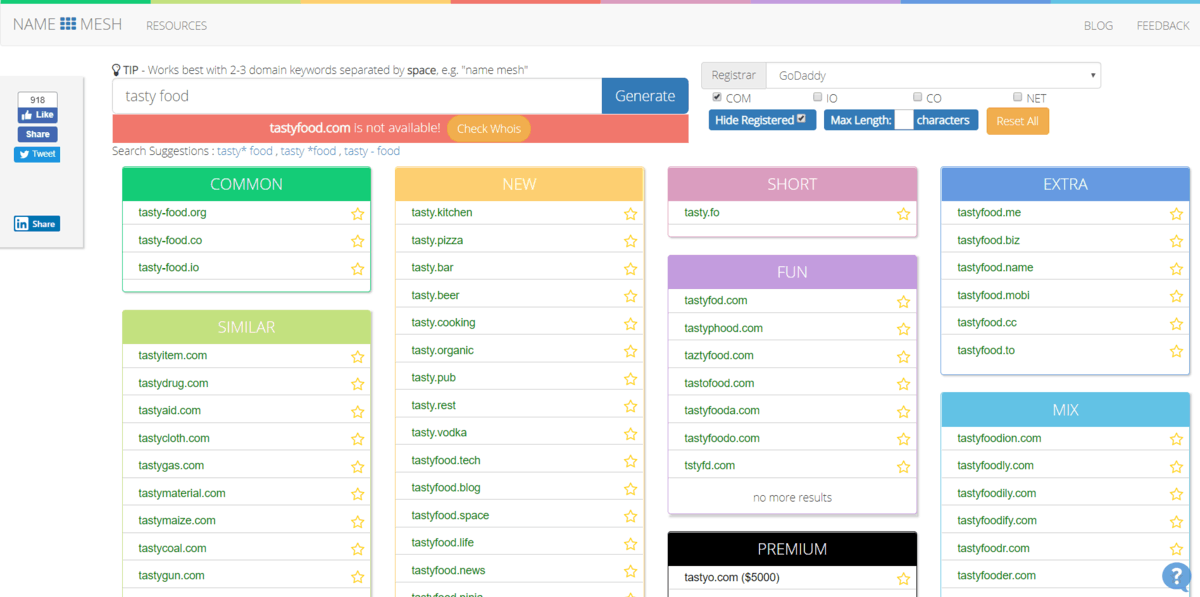 Name Mesh is a king of categories – all the results are split based on what you need your domain to be.
Need a fun-sounding domain? A short one? It's all available here. It also has a dedicated column for SEO-friendly domains, new TLDs, and even premium ones.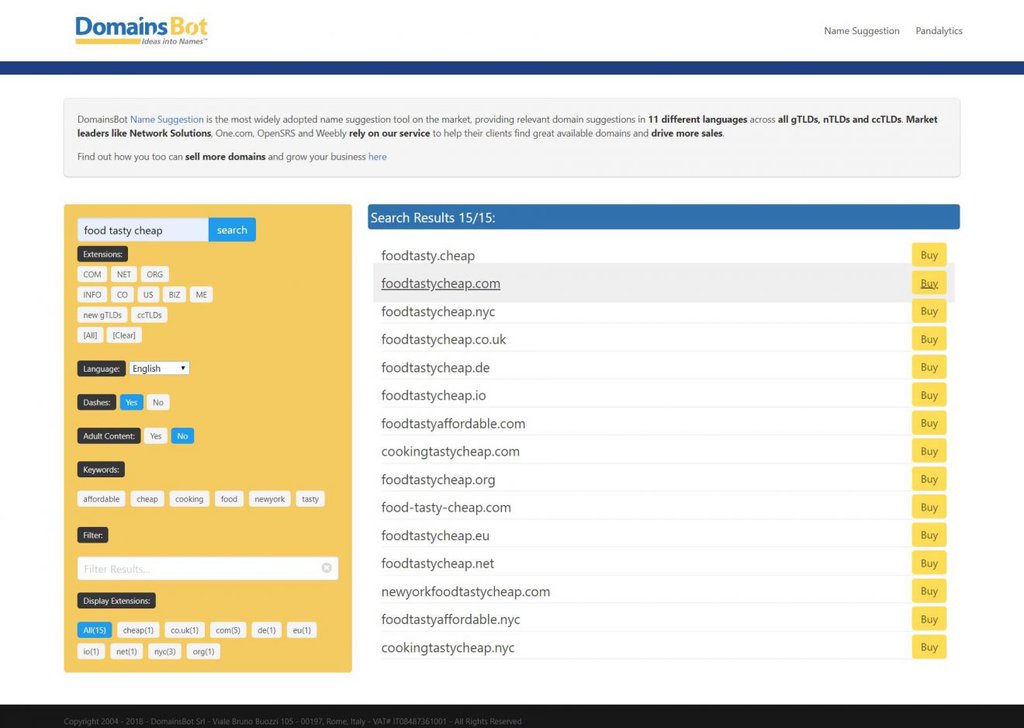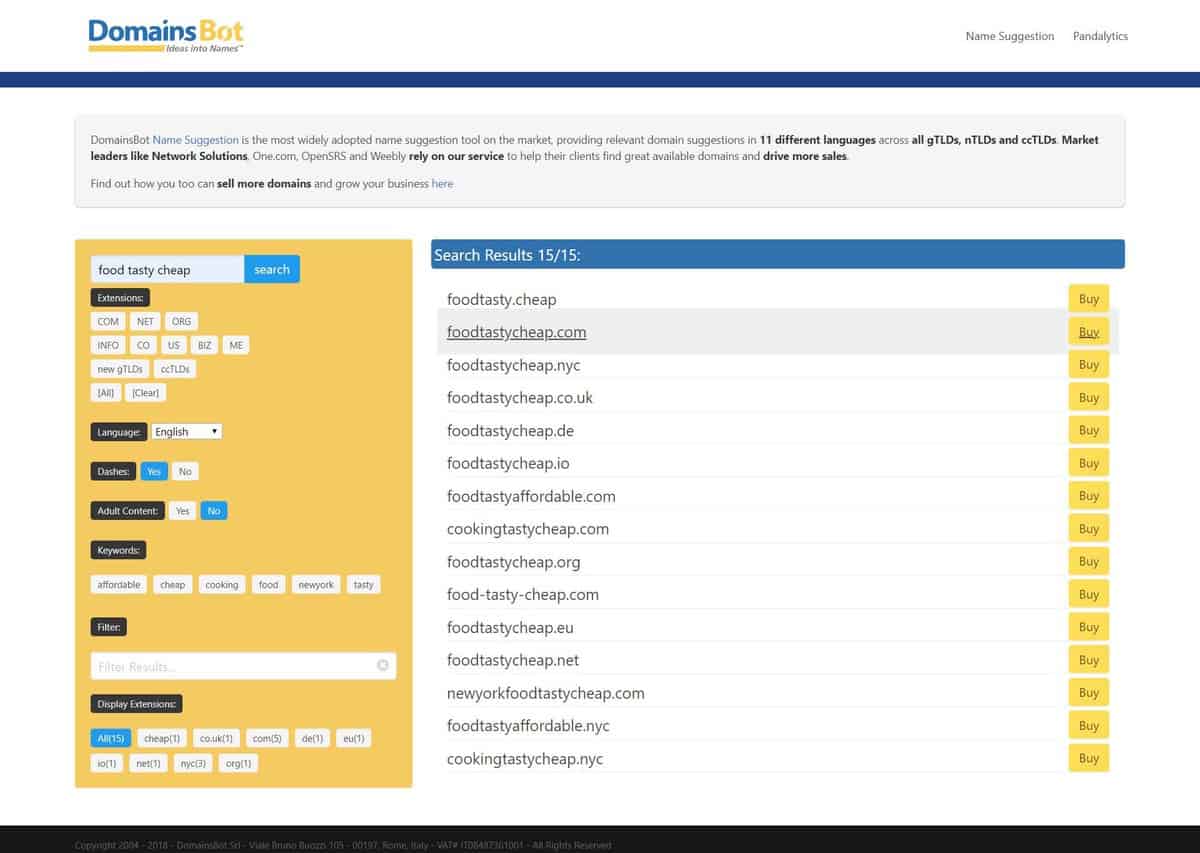 Get creative with Domains Bot – a tool that gives you flexibility in your search for unique domain names.
Tinker with the options to customize the results. It offers you 11 different languages and various available domain extensions. Further on, you can choose to exclude hyphens, hide adult content, and pick which TLDs to display.
The TLDs available are all gTLDs, new TLDs, and various country-code TLDs.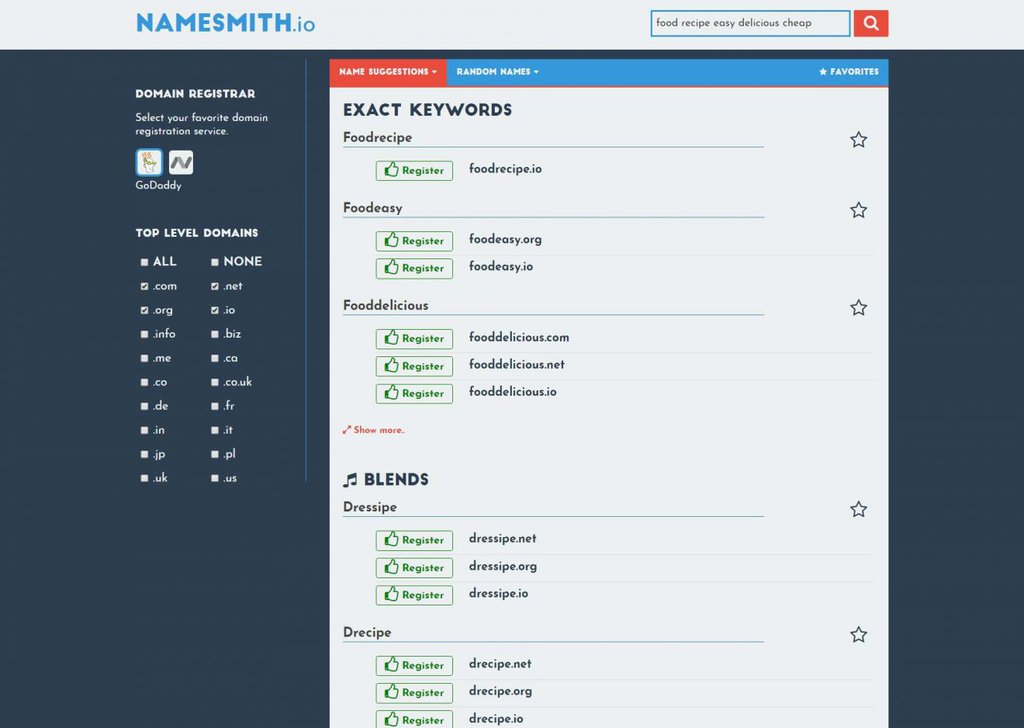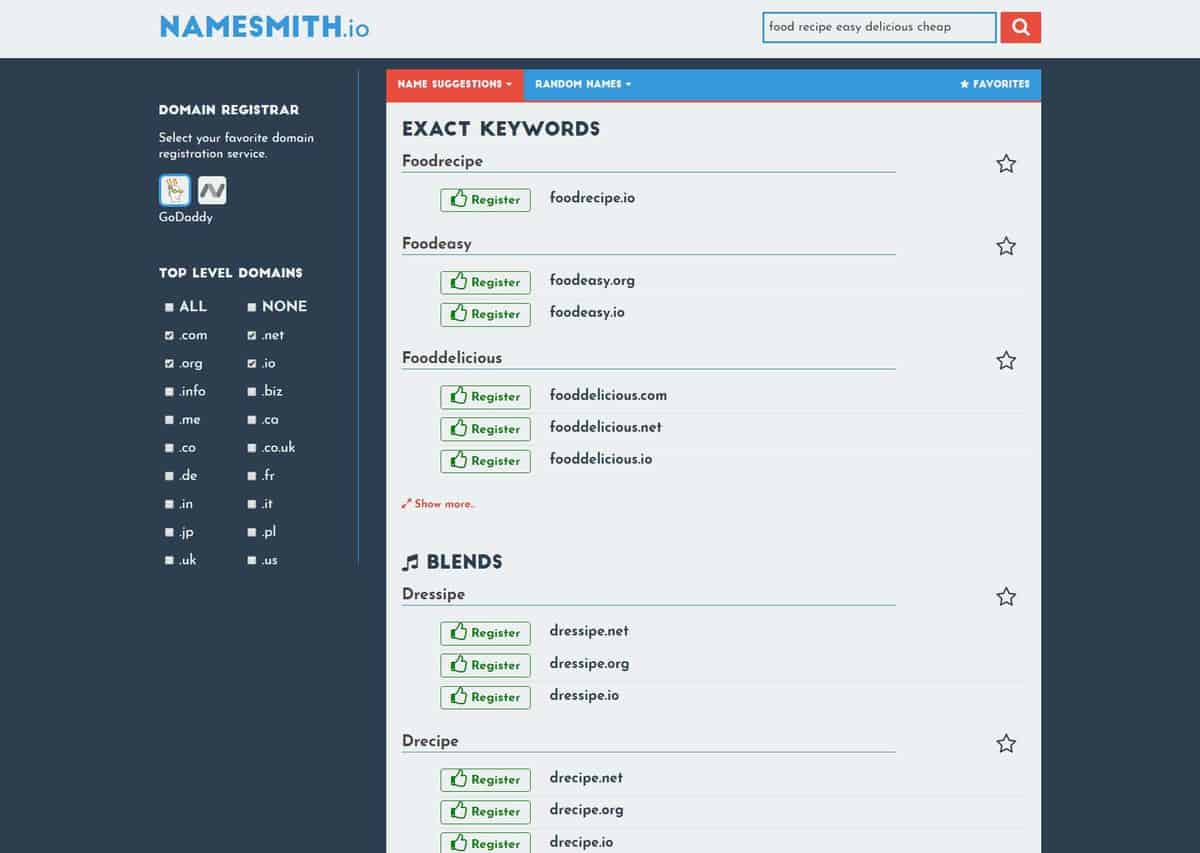 You'll feel right at home if you crave for innovative ways to look for domain names. Name Smith doesn't just reorder your keywords. You can also blend them to make up a catchy new word.
There are other unique features as well – rhyming, modification, and adding affixes.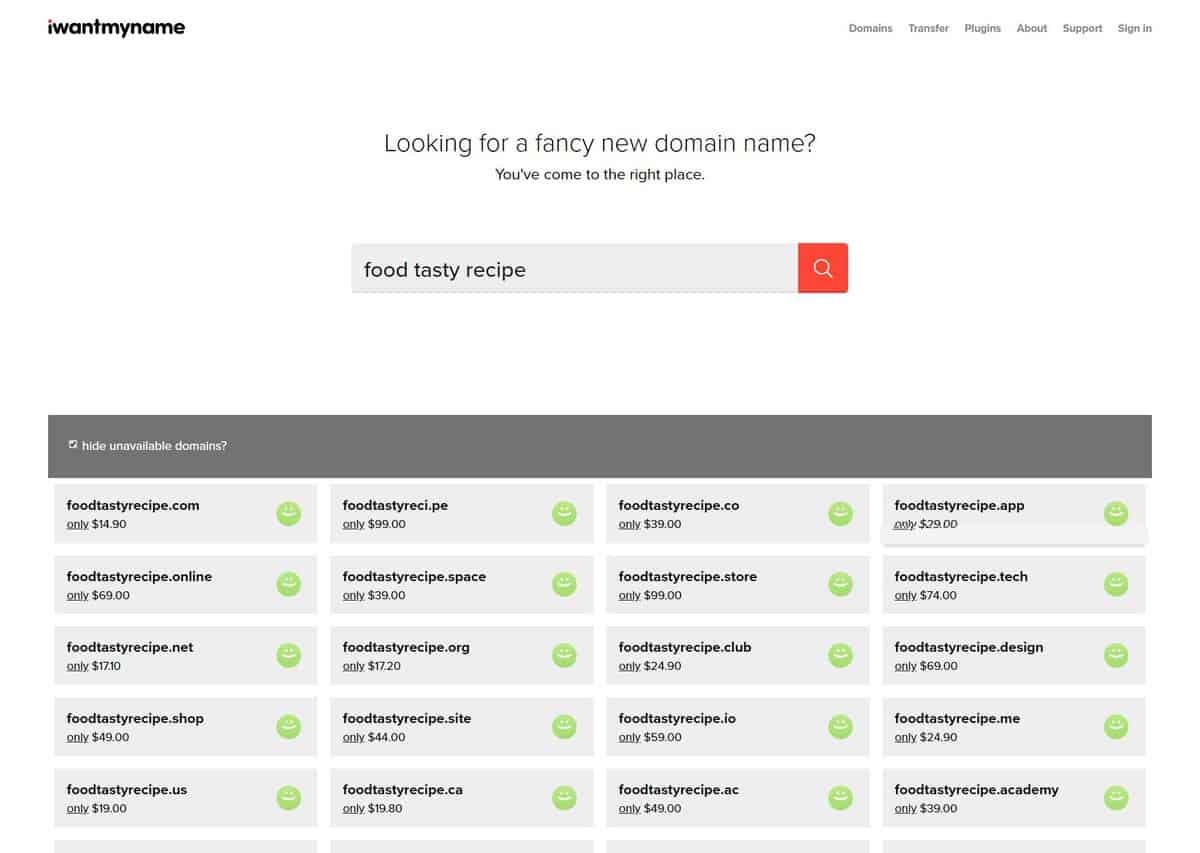 If you enter a domain name, this domain name generator will check its availability while also suggesting alternatives. You can also type in your keywords instead to see which TLDs haven't been taken.
From popular domain extensions, country code, to new TLDs, "I Want My Name" provides them.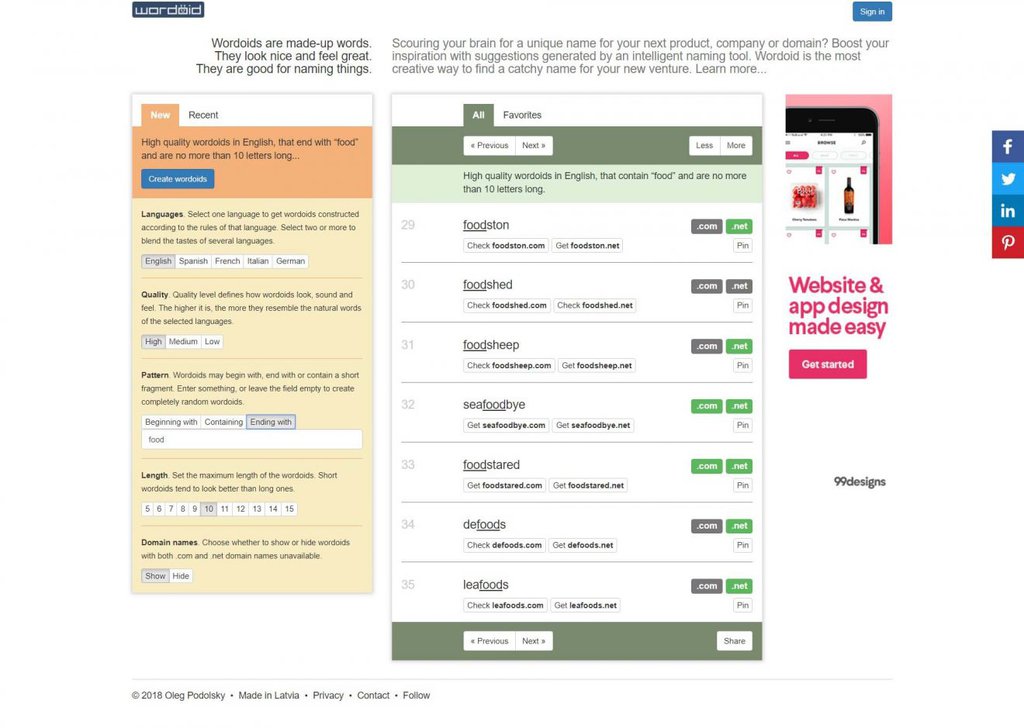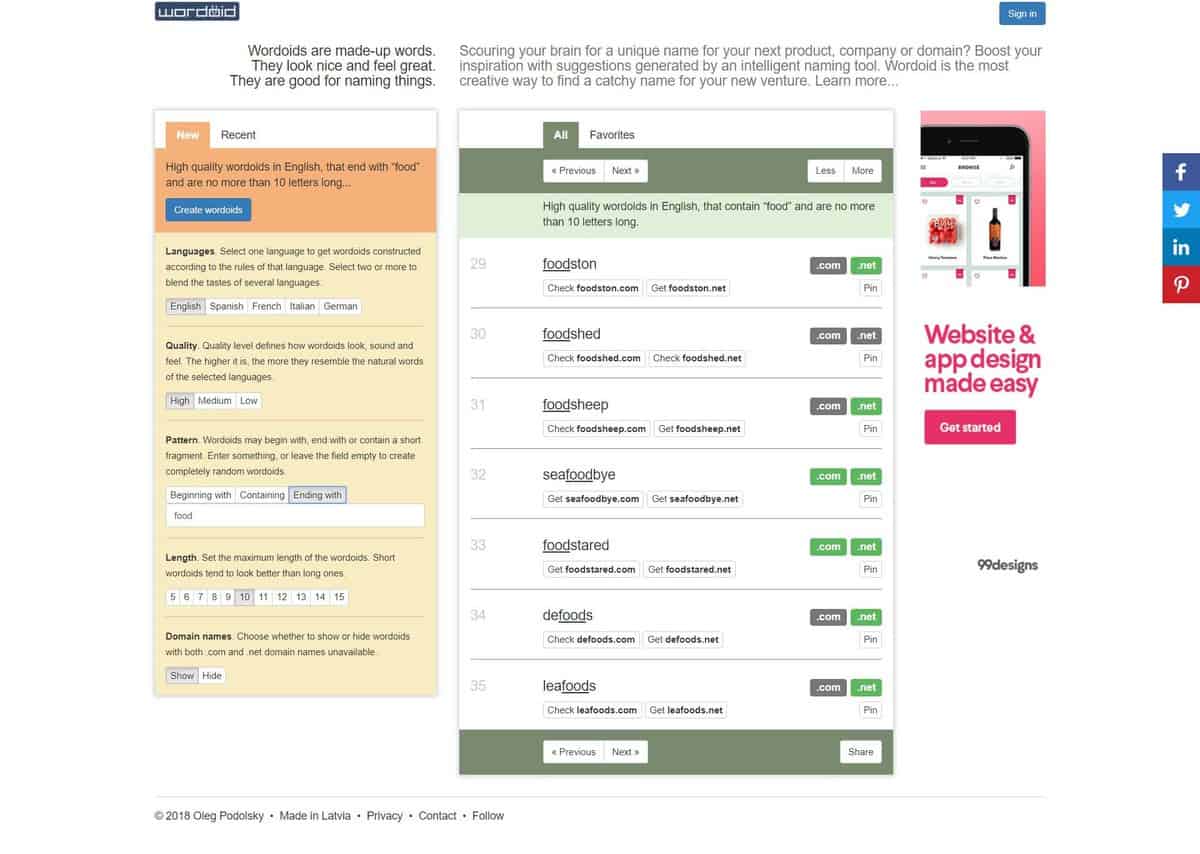 Wordoid is another domain name generator that can give you made-up words as domain names. You can make it follow a set of rules of the languages you choose, set the quality level, and set the maximum length.
Other than that, you can place your keyword at the beginning, middle, and the end. This much freedom is great for choosing a perfect domain name.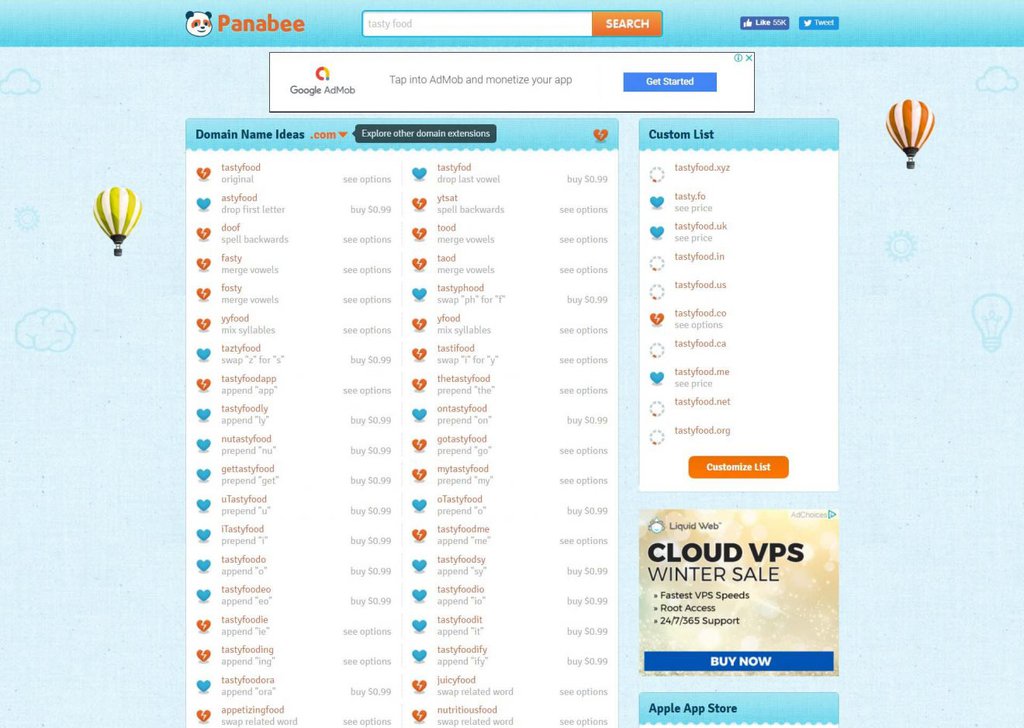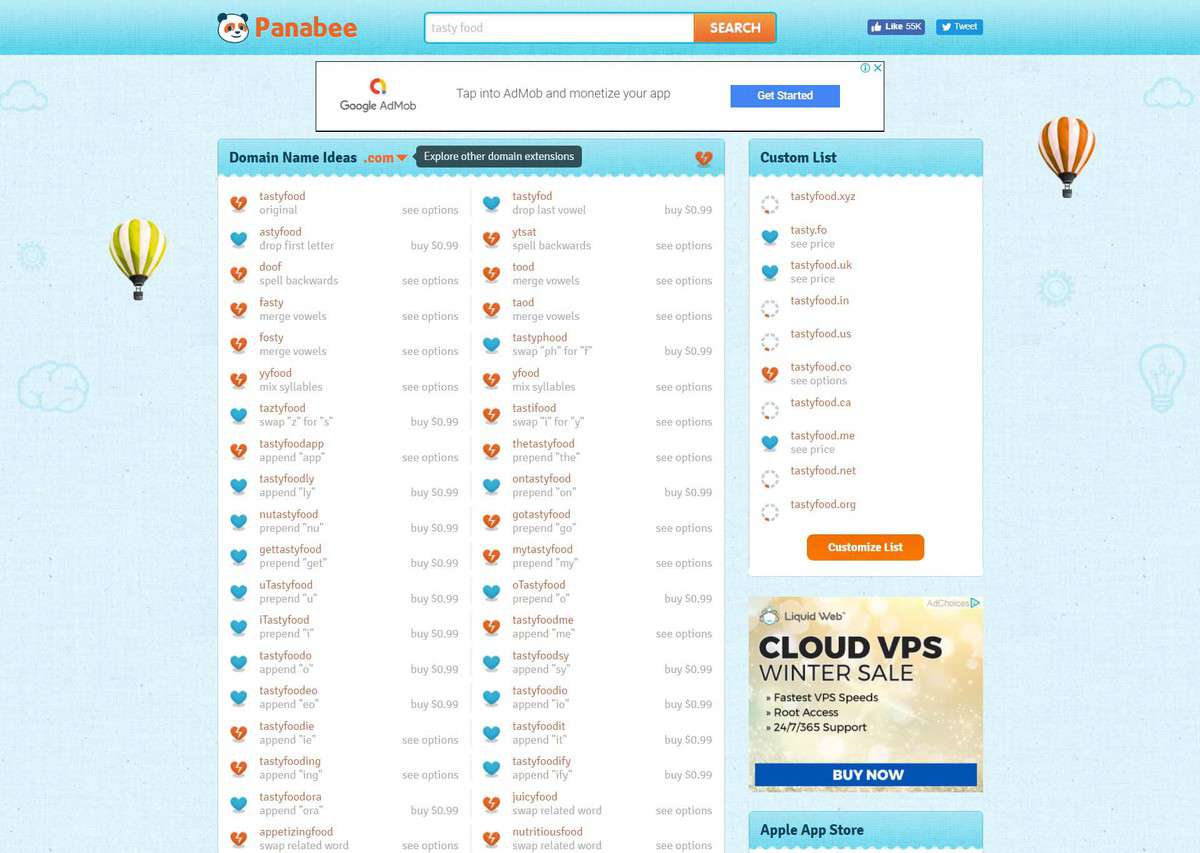 PanaBee will work its magic to turn two words into a wide array of domain names.
You will see many kinds of modification in this domain name generator – swapping the first letter, adding affixes, overlapping words, and so on. Besides domain names, Pana Bee will also check the availability for mobile app names and most popular social media usernames.
With so many features it offers, you can rely on Pana Bee to come up with unique domain names.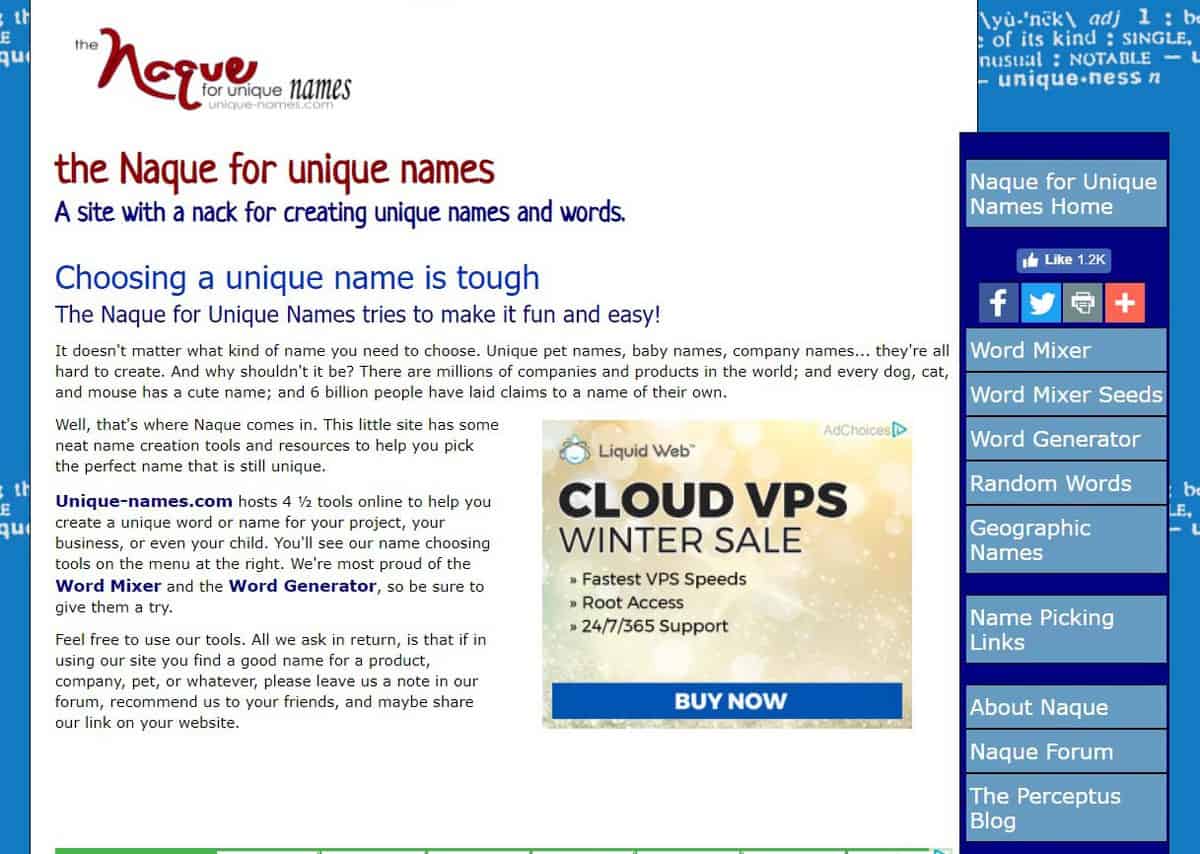 Do you know where the name Naque came from? They created it by mixing the words "name", "create", and "unique". No surprise, that this domain name generator creates unique sounding, creative domain names.
But what if you have don't even know what keywords to enter either? That's where Naque's Word Mixer Seeds come in. Pick a category, and Naque will randomly suggest a few words for you. Choose up to five words and it will mix them into a few appealing made-up words.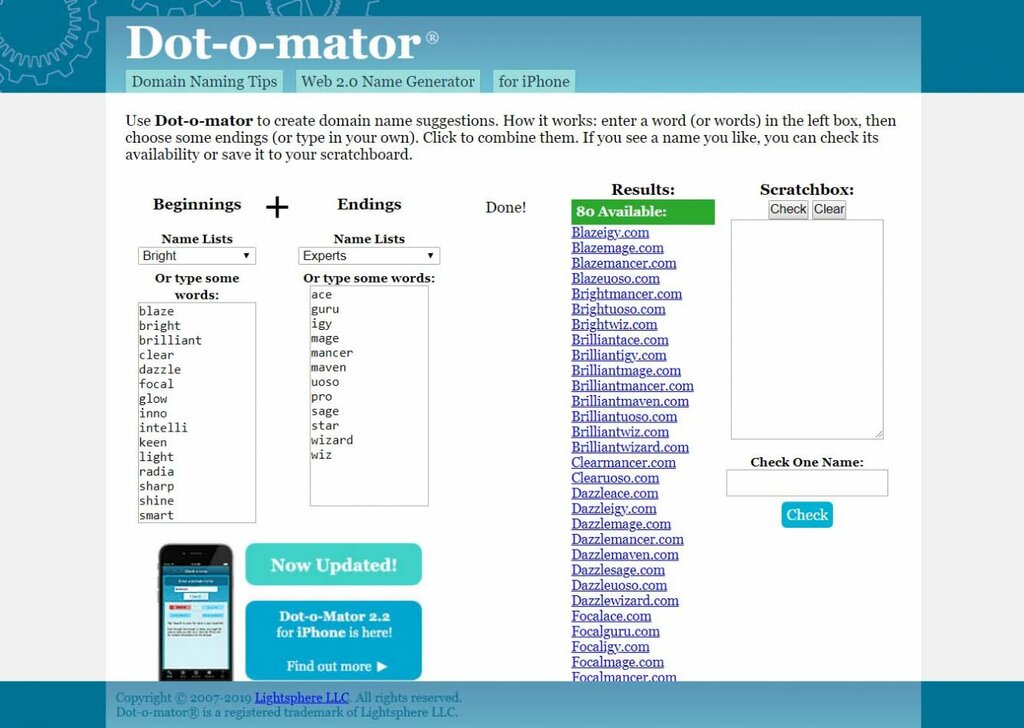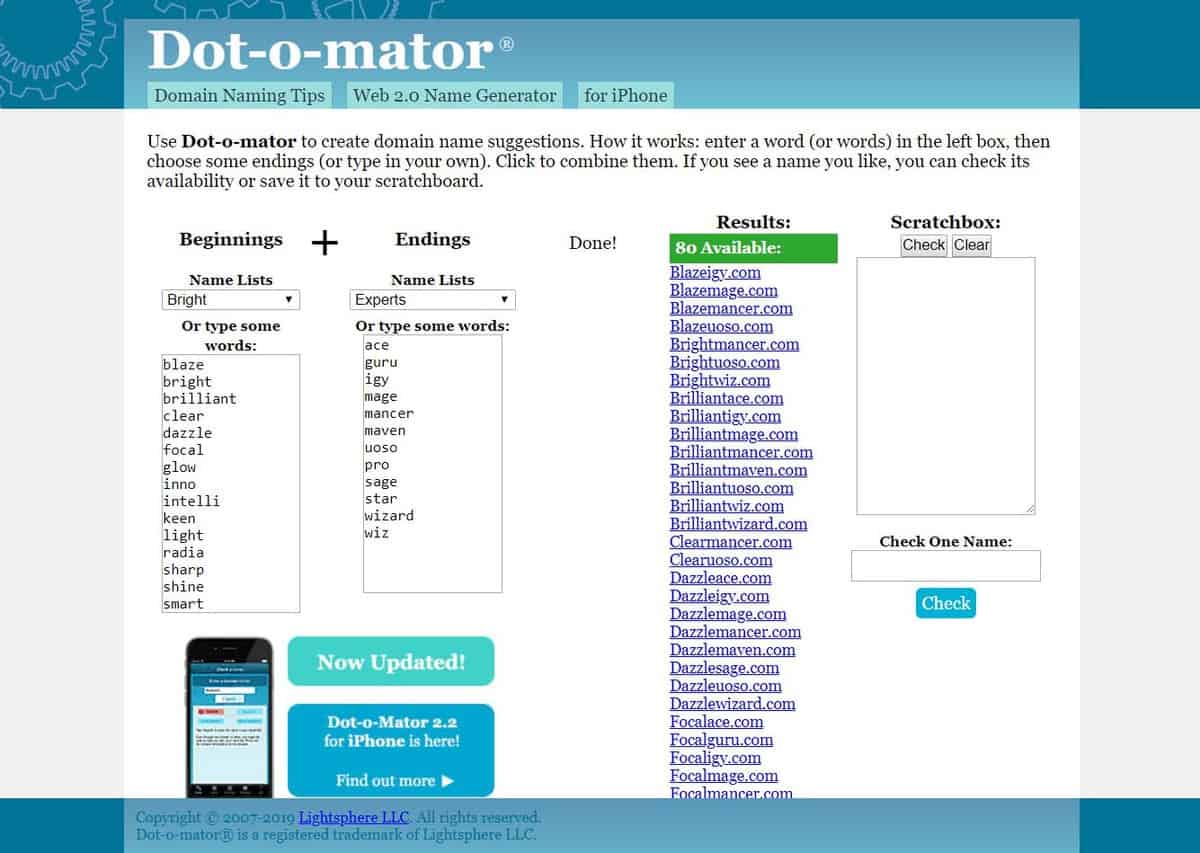 Using Dot-o-mator is simple – pick the beginning of a word, pick the ending, click Combine, and you're golden.
There is no limit to the number of words you can put. You can even choose from the available categories to generate random words for you. The result will show the available .com domains in alphabetical order. It's a very convenient tool for domain picking.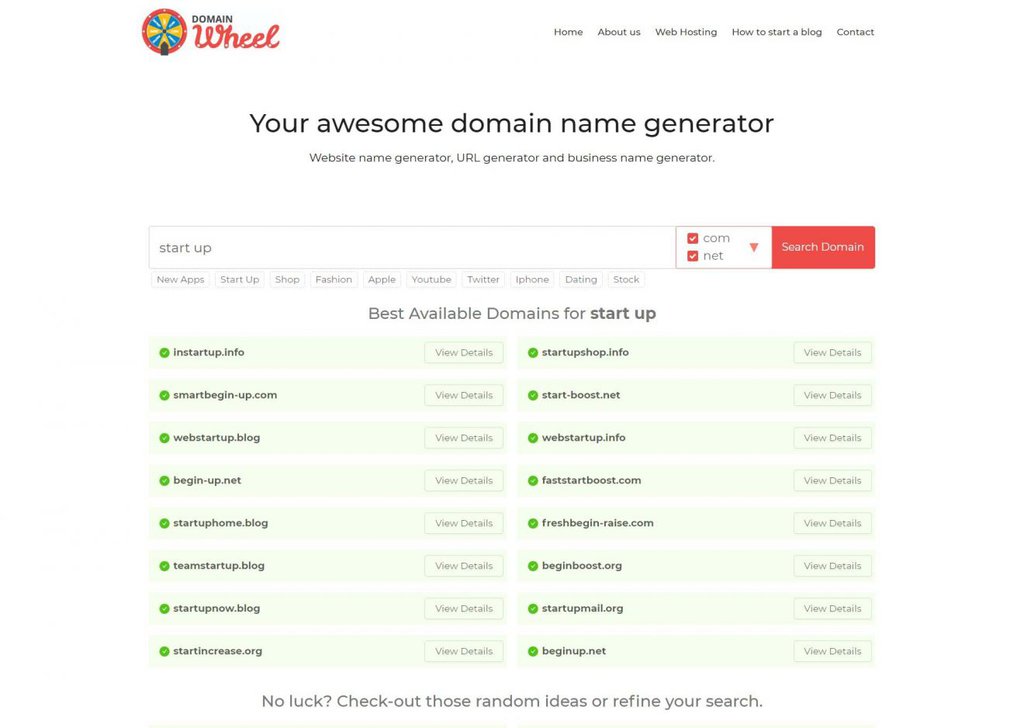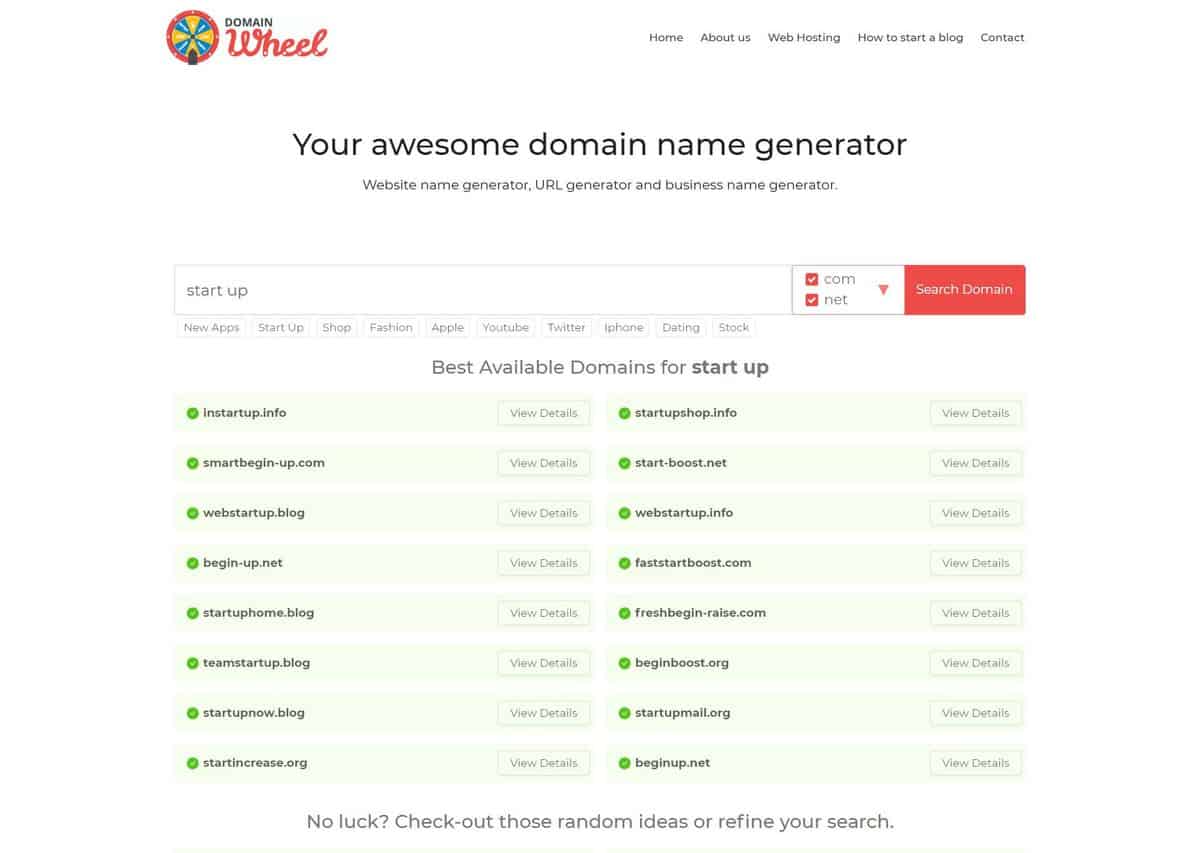 This domain name generator offers you 15 domain extensions – including the new ones like .info and .blog.
With Domain Wheel, you can never run out of suggestions. It gives you other keyword alternatives based on the word you put in – the sounds, the rhymes, etc.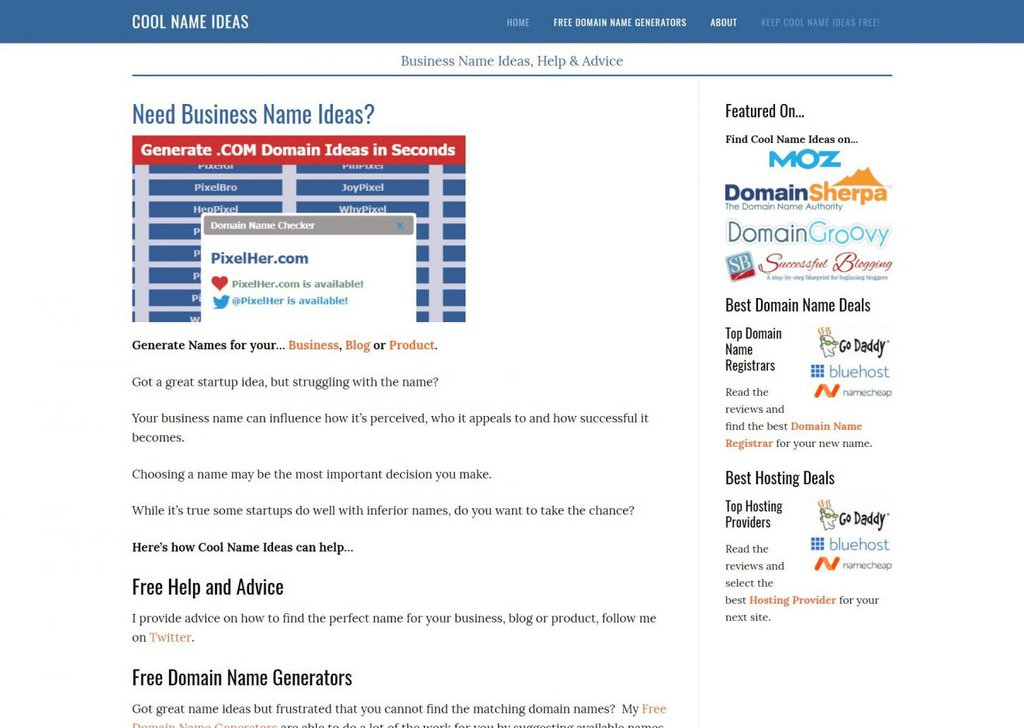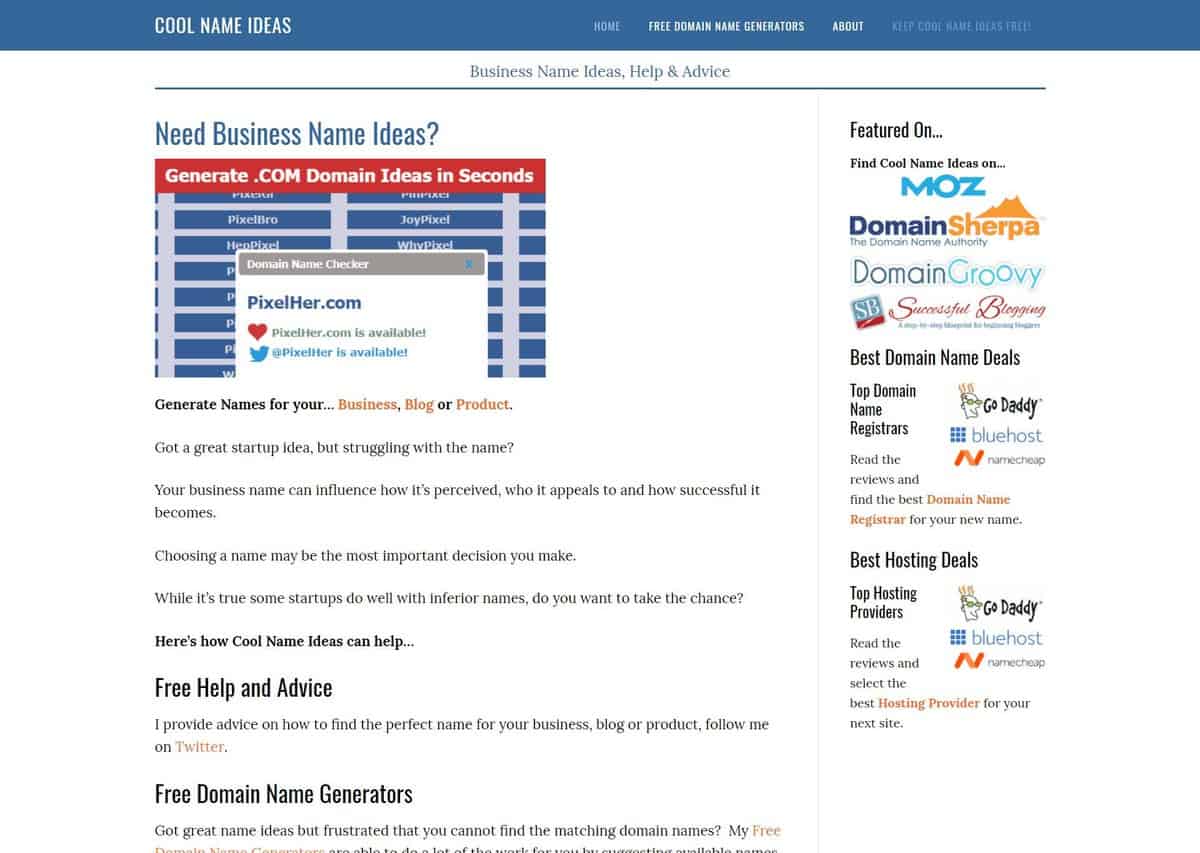 In finding the right domain name, relevancy is key. Cool Name Ideas will give a line of query about your business or product. It will transform your given information into relevant domain names.
Domain Typer really lives up to its name – everything is done in real time as you type! You will see useful information right away – the availability for each extension, the price, alternative domain names, etc. With a single click, you can even check if it's available on many popular social media.
What's more, Domain Typer allows you to make an offer to whoever owns – your targeted domain name. Or, you can visit the WHOIS page right from the interface just in case the owner contact is hidden.
Domain Typer is your go-to for a seamless experience in picking a domain.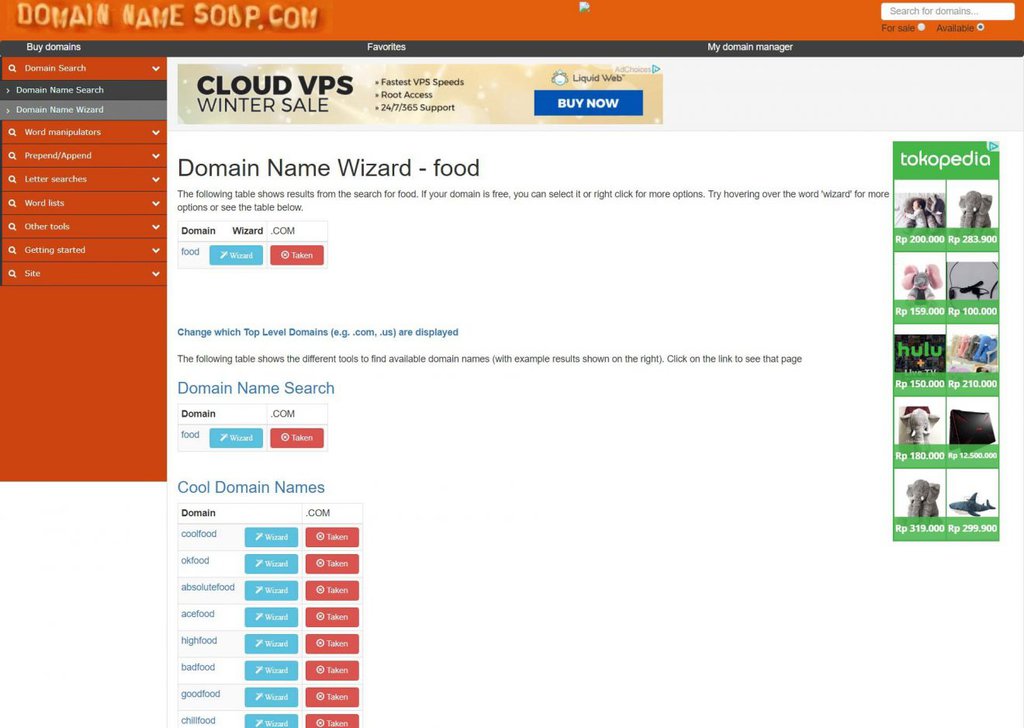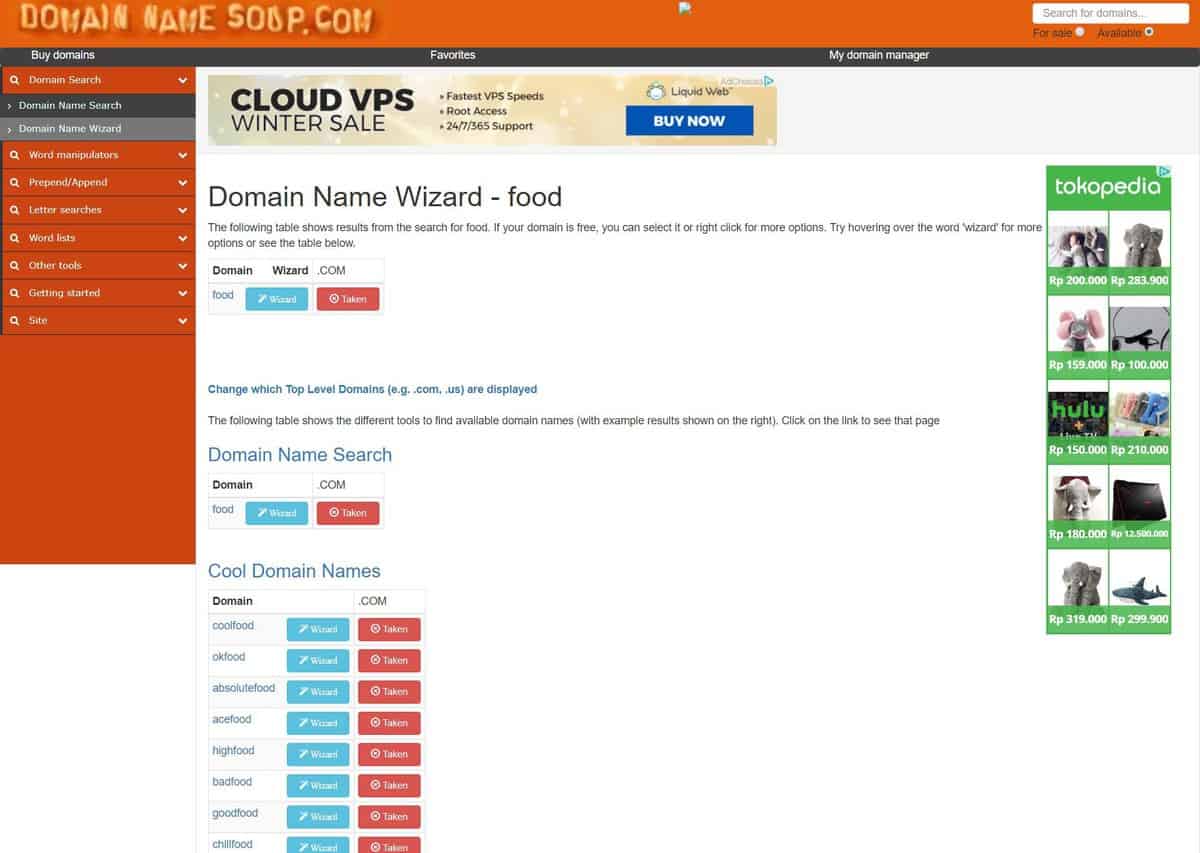 Whether you're looking for a great domain name or already have one, a visit to Domain Name Soup won't hurt.
It has many innovative features at its arsenal. You can specify the number of letters, combine and mangle words, and so on.
Take a spin on its best feature – Delicious Domain Names. It allows you to find a domain where the extension is a part of the word such as delicio.us, inter.com, etc.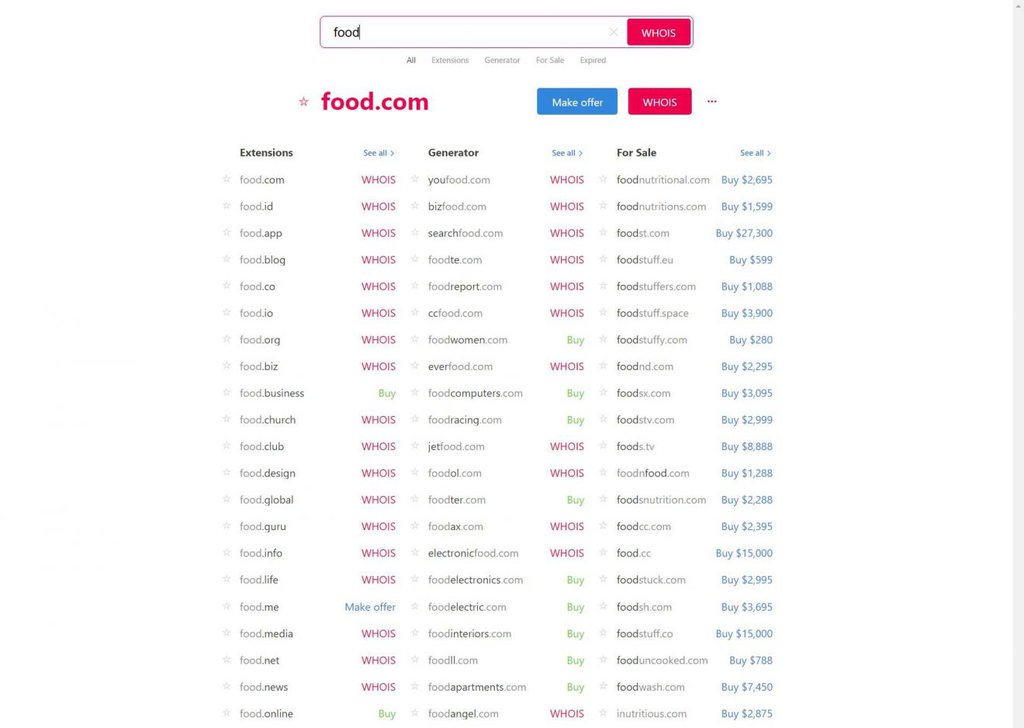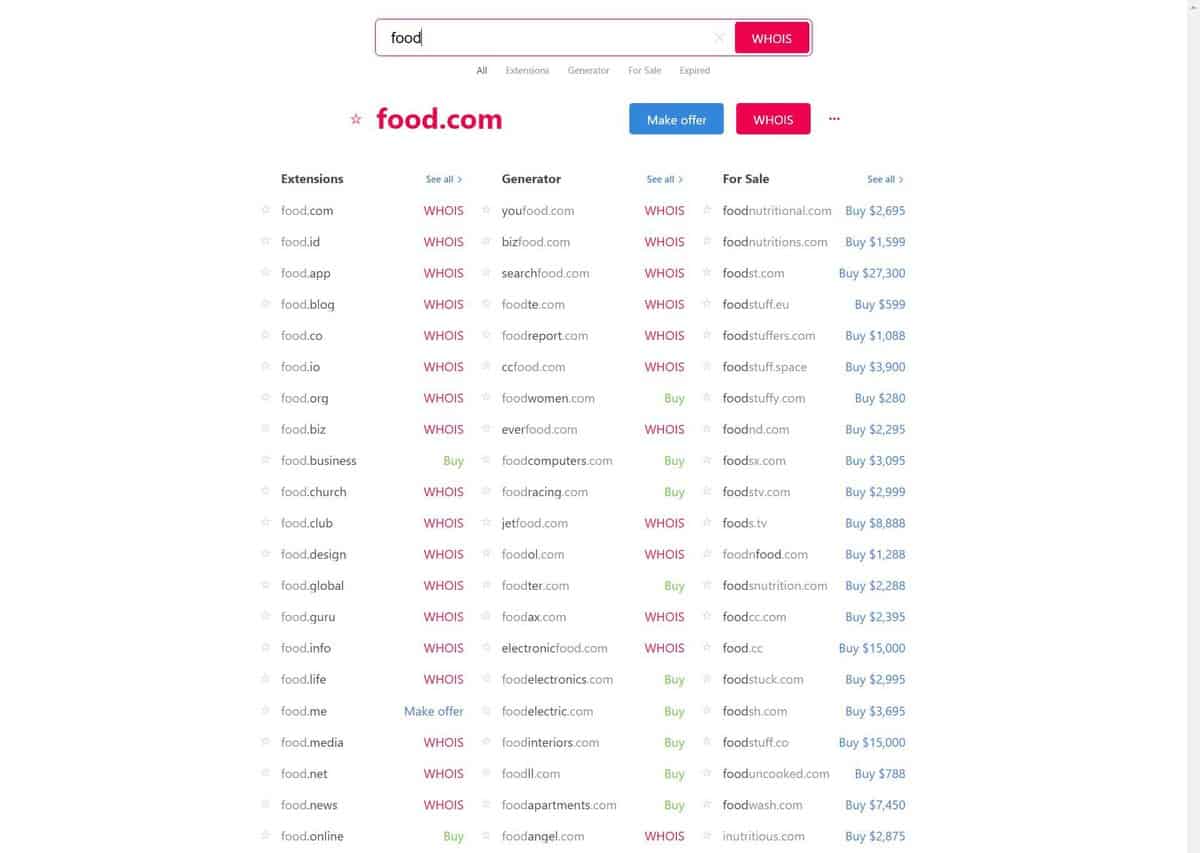 Similar to Domain Typer, this seamless tool allows you to check relevant information in an instant.
However, Instant Domain Search goes beyond that. It also checks for premium domains – the very valuable domain names that can drive much more traffic to your site.
Conclusion
Refer to these tips in generating a domain name for maximum results.
Do research for most-targeted keywords in your business
Use the keywords that are relevant to each other – don't mix the word "food" with "dirt" for example
The fight for catchy domain names can be fierce – grab one quickly before it's taken!
If the domain name you want isn't available, don't forget to check other extensions as well
If the domain name suggestions are not to your liking, be sure to check with other tools
Picking the right domain name will define your brand – it's only fair to take it seriously. We hope that our list can help you land on the best domain name you deserve.