How to Sell a Domain Name and Make Profit in 7 Steps
Perhaps you purchased a domain name for your website but have no time to maintain it, leaving the domain unused. Or maybe your current domain name is no longer relevant, and you would like to switch to a new one.
Either way, learning how to sell a domain name will help you make money online from these unused assets or even start a new business.
In 2021, it was estimated that almost 125 million domains were registered in the U.S. alone. Not only that, but premium domain names have been fetching impressive sales. For example, marketing.com was sold for $2.5 million last year.
Since it's such a competitive and valuable market, following the best practices is a must. This article will provide a step-by-step guide on how to sell a domain name effectively and offer useful tips and tricks to make it profitable.


1. Park the Domain Name
Domain parking involves registering a domain name without associating it with any online services. By parking a domain, you can reserve it for future use and reduce the risk of cybersquatting.
Interestingly, some domain parking services allow you to generate revenue by displaying advertisements on landing pages created for the domains. People who plan to create a business out of selling domains should consider this practice.
2. Appraise the Value of Your Domain Name
Before pricing a domain name and make money online, check whether it's valuable to the market. After all, people will be interested in buying a domain if it has the potential to generate revenue in the future.
Here are some suggested approaches to help you achieve an accurate estimated value for your domain.
Pro Tip
Trademark infringements can cost you a lot. Before selling or valuing a domain, ensure that the process is legal. For starters, you can check out USPTO to find information about registered and pending trademarks.
Ensure the Quality of Your Domain Name
When assessing a domain, several factors contribute to its value, such as:
Traffic. People are frequently drawn to domains with pre-existing traffic because they have higher chances of ranking well on search engines. Check out the most effective strategies to drive traffic to increase the market price of your domain.
Keywords. Keyword-rich domains tend to be more valuable since they can improve a website's SEO and increase click-through rates. Try using Google Trends and Google Ads Keyword Planner to gauge the popularity of your domain's keyword.
Top-level domain (TLD). Domains with solid extensions like .com or .net often cost more in the market due to their higher reputation and credibility. On the other hand, you could take advantage of the low prices of new domain extensions (like .live, .online or .xyz)
Length. Shorter domains are more appealing since they are more concise and easy to remember. Some of the most expensive domain names ever sold contain only five to eight characters, such as floor.com, which sold for over $3.1 million.
Assess Similar Domain Sales
Domain appraisal tools provide the easiest way to get information about your domain's value. Generally, these tools assess a domain's value by relying on SEO-related metrics, including backlinks and domain authority.
Since price estimates vary, we recommend using different tools to obtain a better assessment. Domainindex.com and Domain Value Checker are popular free domain appraisal tools where you can also check similar domains for comparison.

However, if you have no experience selling domain names, you should first learn about the domain name market. Here are some popular sites to look for resources:
NameBio. Offers searchable databases of past domain name sales. Look for a domain that has similar features or keywords to yours – it can help determine your domain's sales potential.
NamePros. An online forum for domain sellers and buyers. Here, you can connect with experts and discuss the best strategy on how to sell a domain name.
ShortNames. Provides up-to-date information on the sale and auction of short domain names across different marketplaces. Additionally, it has advanced search filters to let you track different short domain categories.
However, keep in mind that these resources and tools only serve as a general indicator. Other contributing factors such as trends and demographics also need to be considered.
3. Decide on a Pricing Strategy
After researching what your domain might sell for, it's time to determine a pricing strategy. Typically, there are two methods to choose from:
Fixed price. In this pricing strategy, the seller sets a specific price for the domain, and an interested buyer can purchase the domain immediately without negotiating.
Flexible price. This strategy works better for selling domains with an uncertain value. You'll receive an offer from a potential buyer. Then, you can start negotiating until you reach the desired price.
Let's consider this in practical terms. Assume that you list your domain with a fixed price of $3,000. Buyers who want to acquire the domain can't ask for a lower price.
On the other hand, flexible pricing allows buyers to bargain. Depending on the demand and the negotiation process, they might even pay more than $3,000.
In general, it's best to use fixed prices for lower-priced domains and flexible prices when selling a premium domain name.
4. Decide Where to Sell the Domain Name
One of the important aspects when selling a domain name is finding the right marketplace. Here are some options for selling your domain name.
Sell the Domain Name Privately
The first option is to sell domain names without involving any third parties. When making a direct sale, one of the best ways to inform buyers about the domain sale is by creating a landing page for the domain.
Add a "domain for sale" message and consider including a domain portfolio, an inquiry form, and contact details so potential buyers can reach you.
We recommend using a website builder to help build and maintain your landing page easily. Several templates are available for landing pages, and you don't need coding skills to use them. Most modern builders have a visual editor, so you only need to drag and drop elements to design the page.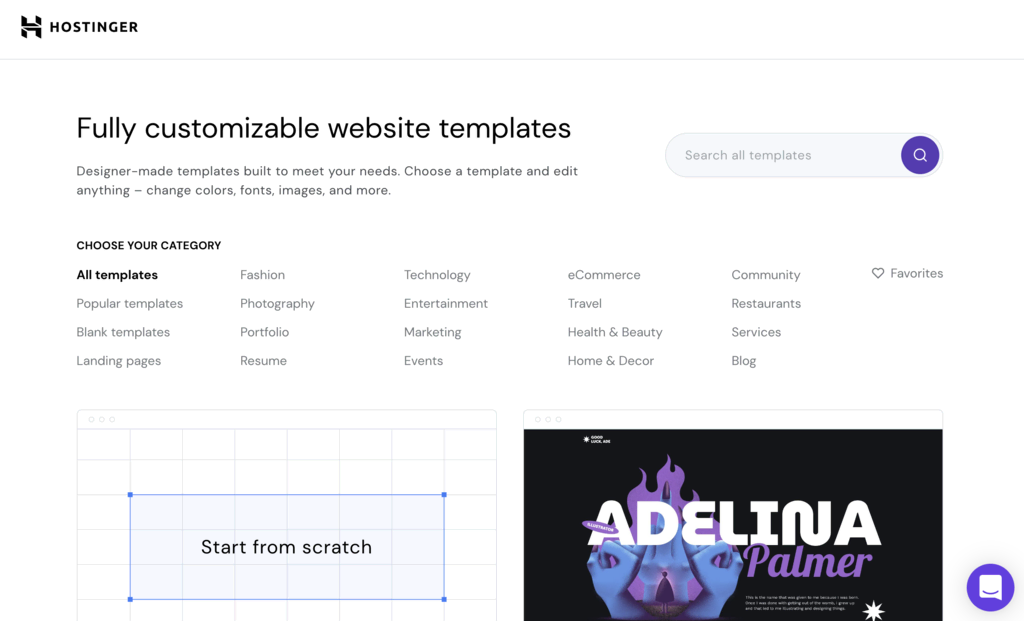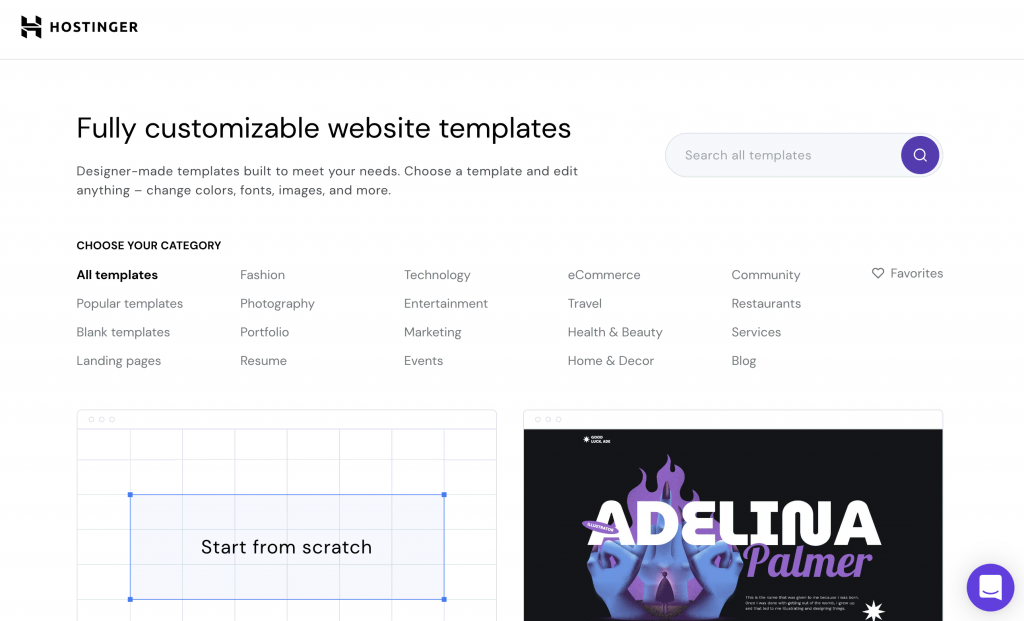 Sell on a Domain Name Marketplace
Another way to find buyers for your domain is to register it on a popular domain selling platform. Two of the best online domain marketplaces available are Afternic and Efty.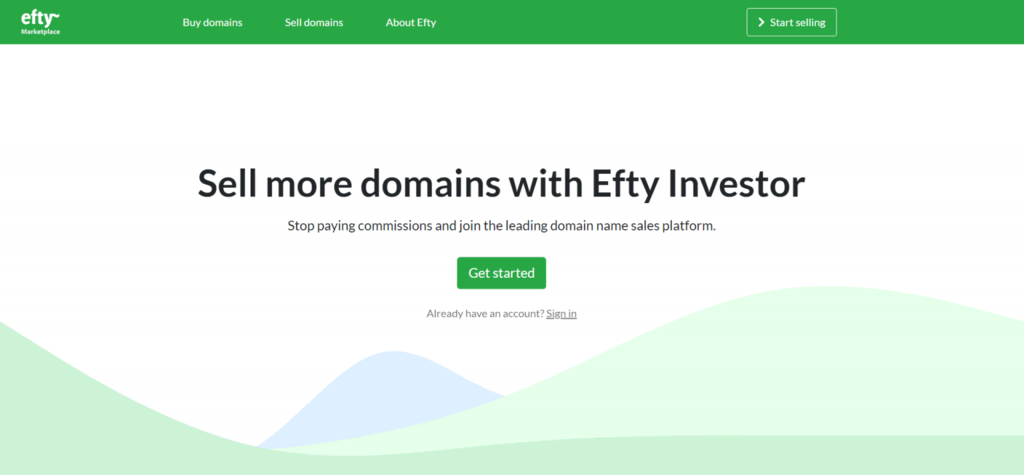 These sites offer beneficial features like integrated escrow services and a user-friendly interface, and have considerable web traffic, increasing your domain's exposure.
To list a domain for sale, simply set its price in the domain manager of the preferred site. At Afternic, domain sellers can set a fixed price or hold an auction. On the other hand, Efty requires sellers to set fixed prices.
Efty's plans start at $12/month for up to 50 domain listings. While Afternic does not charge a subscription fee, it has a 20% sales commission.
Sell on Auction Sites
Selling domains at an auction site is a great way to generate interest in your domain. Like a typical online auction, a domain seller makes a listing and sets a starting price. Then, the high bidder wins and becomes the new owner of the domain.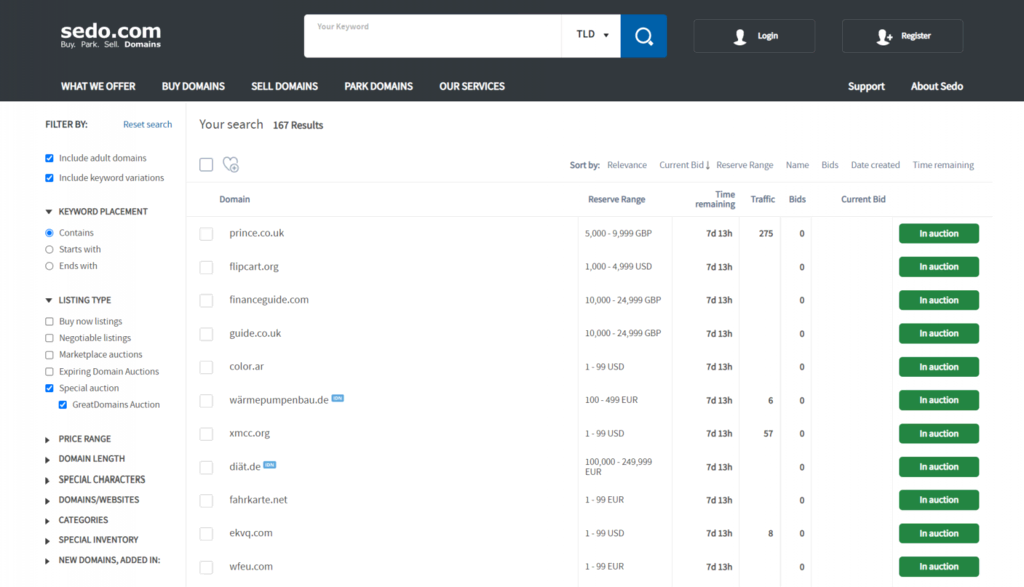 If the domain does not reach the reserve price, popular auction sites like Sedo allow sellers to counter-negotiate or lower the price during the auction period. In return, they will charge a 15% fee based on the domain's sale prices.
Flippa is another platform worth trying. While it's best known for selling websites, it also hosts domain name auctions for a 5 to 10% commission fee.
When using auction sites, we recommend raising the domain's price, preferably 5 to 15% from its actual price. This will allow you to retain your profit margin regardless of the fees or commission the site may charge.
Sell via a Domain Name Broker
When selling a highly sought-after domain, a professional broker might facilitate the sale and help you sell your domain name for the best price. MediaOptions and Grit Brokerage, for example, are well-known domain name brokers with solid reputations.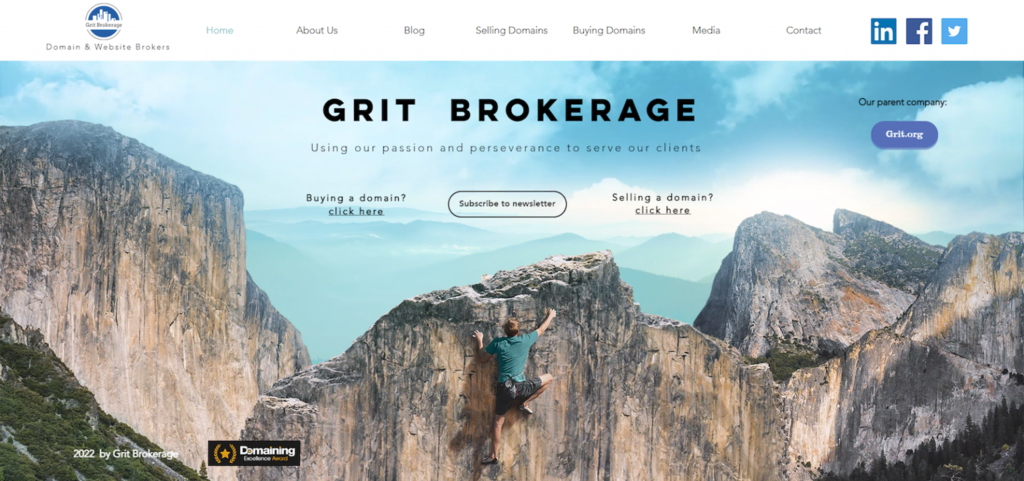 In most cases, domain name brokers work on a commission-only basis, meaning they get paid based on the final sales price. Thus, before entering into a contract with a domain broker, check the terms and conditions and whether there are upfront fees.
However, note that the domain broker might refuse to sell your domain name if its potential price is not high enough or they don't think there's great demand for it.
5. Optimize the Domain Listing
A well-optimized domain listing can grab the attention of potential buyers. Here are some ways to optimize your domain listing and obtain a higher price:
Advertise the domain's best features. Showcase important benefits of the domain to increase its price. For example, share current traffic statistics, how much ad revenue it generates every month, and if you're also selling the corresponding social media handles.
Create banner ads. Design a simple banner with minimal text – the domain price and a call to action – that leads to the selling site or your domain's landing page.
Update your information on the WHOIS record. A WHOIS record displays domain ownership information, including the owner's name and contact information. Using a WHOIS lookup tool, buyers will be able to reach out and offer to buy the domain.

Showcase the domain on social media. Set up social media pages for your domains, join domain selling groups, and network with other sellers. Regularly post useful content and join discussions on those pages for more engagement.
6. Use an Escrow Service to Protect Your Domain Name
An escrow refers to a trusted company that acts as a neutral third party. It connects the buyer and seller and ensures that both parties agree to the transaction terms.
In other words, the buyer will only obtain the domain name after paying the agreed-upon amount to an escrow account. Likewise, the seller will get the money once the buyer confirms they've received the domain.
You'll most likely get a free escrow service if you're selling the domain on marketplaces or auction sites like Sedo or Afternic. However, you may need to purchase an escrow service separately when making a direct sale.
There are a few online escrow services available online, including Escrow.com.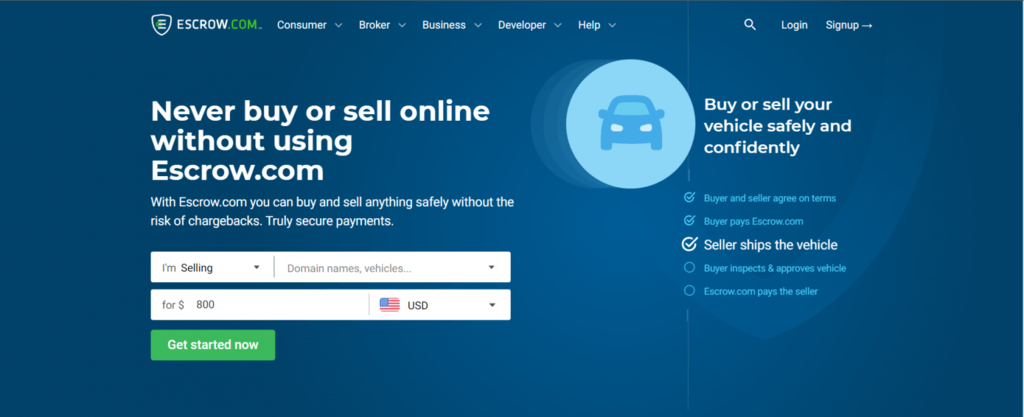 7. Transfer the Domain Name
After receiving the payment, proceed by transferring the domain to its new owner. However, before initiating the transfer process, make sure that it fulfills the requirements.
More than 60 days must have passed since the domain registration or last transfer. Also, it's not possible to transfer a domain name to a new registrar if you changed the registrant's name, organization, or email address within the last 60 days.
Then, the process varies depending on how and where it is registered. At Hostinger, it's easy to transfer a domain from any registrar. You just need to enter the domain name along with the EEP status code from your current provider and confirm the transfer. The process usually takes from 4 to 7 days.

Throughout the transfer process, ensure the buyer can easily contact you and answer all of the questions they may have. This will build your reputation as a reliable domain seller.
Tips for Selling Domain Names for Profit
Here are some tips to point you in the right direction when trying to buy or sell a domain name for profit:
Identify the domain's niche. Before selling a domain name, understand its niche. Generally, industry-specific domains are easier to sell as they cater to specific audiences.
Pick a strategic selling platform. If your domain is listed on a well-known platform with good ratings and reliable resources, buyers are more likely to purchase your domain. Before deciding on a marketplace, due your due diligence and look for user reviews on platforms like Trustpilot.
Use psychological pricing. Apply a psychological pricing strategy to entice buyers. For example, price it at $399 instead of $400.


Conclusion
Domain names are an important asset for individuals and businesses. Not only do they work as website addresses, but they're also a key branding element.
For that reason, buying and selling domains has also become a sought-after strategy to make money online.
You can earn money by listing parked or unused domains on marketplaces and auction sites or creating your own landing pages.
However, regardless of the platform, this requires understanding the domain market and following the best practices.
Here's a recap on how to sell a domain name effectively:
Park the domain
Know its value
Determine the right pricing strategy
Choose a platform to sell your domain
Promote the domain's best features
Use an escrow service to ensure a safe transaction
Stay responsive and engaged throughout the transfer process
We hope this article will help you start a new business or generate revenue from your own domain names. Good luck.
How to Sell a Domain Name FAQ
Now that you know how to sell a domain name, we'll answer a few common questions about the selling process.
How Do Domain Name Marketplaces Work?
Most domain name marketplaces enable sellers to list domains by setting a fixed or flexible price. Then, buyers either buy the domain at a price indicated by the seller or make an offer to start the negotiating process.
Is It Easy to Sell a Domain Name?
Yes. Knowing your domain's value and using the right pricing strategy and platform, it should be easy to find buyers for your domain name.
Where Can I Sell a Domain Name Fast?
If you want to sell your domain name quickly, list it on a well-known domain marketplace or auction site. These platforms typically provide valuable features that can increase your domain's exposure.