How to Create a Landing Page in 7 Steps And Generate Conversions + Tips and Examples
The goal of having an online business is to make a profit from selling products or services. For this, businesses need an effective marketing strategy to attract potential customers and encourage them to make transactions. That's where a landing page comes into play.
Businesses use landing pages for various online marketing campaigns, such as pay-per-click (PPC), social media, and email marketing. Knowing how to create a good landing page is crucial to ensure the success of these marketing campaigns.
This article will cover the six steps to build a high-converting landing page. We will also share tips to optimize the web page for conversions and provide several useful landing page examples for inspiration.


Why Create a Landing Page
Let's say you are a business consultant who offers marketing strategy and financial planning services. You want to launch an email marketing campaign to promote these offerings, attract your clients, and build an email list.
Creating landing pages for each of these services gives you various advantages. First, you can highlight the product benefits, provide customer testimonials, and include personalized CTAs.
Second, since most landing pages have a simple design, it will help you to deliver a seamless user experience. This will encourage your landing page visitors to focus on crucial elements, like the headline, copy, and CTA, to follow the intended consumer journey.
Furthermore, you can track the landing page's performance metrics, such as bounce rates and click-through rates, to measure the marketing campaign's effectiveness. The data is also beneficial for making improvements to your landing pages.
How to Create a Landing Page
Creating a good landing page requires careful planning and a well-executed strategy. In this section, we will go over the steps to help you make your first landing page.
1. Define Your Audience and Set Specific Goals
Defining the audience involves identifying specific groups of people who are likely interested in your product or service. That way, you can design targeted landing pages that convert.
To do that, incorporate the following practices:
Describe your product or service. It is essential to clearly understand your product or service and its benefits to your customers.
Analyze user demographics. Gather your audience demographics, such as age, income level, occupation, and location.
Conduct market research. Perform thorough market research to better understand your audience's pain points through surveys, focus groups, and social listening.
Create a buyer persona. Use the gathered information to make a detailed profile of your ideal customer.
After defining the target audience, set specific landing page goals based on your findings and business objectives. Decide if you want the landing page to increase conversion rates, generate leads, drive traffic, or build brand recognition.
We also recommend outlining the desired outcome, such as the rate of conversions you expect to achieve within the quarter. Doing so will help you set actionable goals and accurately measure if the landing page performs well.
2. Create the Landing Page
Once you have determined the target audience and have defined clear goals, you may start building the new landing page.
There are a few ways to create landing pages, from using a landing page builder to hiring a web designer or developer.
With Hostinger, you can utilize our AI-driven website builder or use a content management system (CMS) to build and publish a landing page.
Create a Landing Page Using Hostinger Website Builder
Using Hostinger's webpage builder is the easiest and most intuitive way to create any type of website, including landing pages.
It offers many benefits, such as:
SEO ready. You can optimize your landing page for search engines using built-in SEO tools as well as third-party applications like Google Analytics and Hotjar.
AI-powered solutions. Hostinger Website Builder offers AI tools like the AI Logo Design tool, AI Writer, and AI Heatmap to speed up the landing page creation process.
Advanced security features. Hostinger provides free unlimited SSL certificates, automatic backups, and Cloudflare-protected nameservers.
An easy-to-use editor. The builder has an intuitive drag-and-drop editor to help you design a landing page quickly without coding.
Value for money. Access Hostinger Website Builder from just $2.99/month with web hosting, 24/7 support, and eCommerce features included.
Due to the above factors, this tool is by far the best landing page builder for users wanting a powerful solution to create landing pages quickly.
To start using Hostinger Website Builder, follow the steps below:
Log in to your web hosting account.
Go to the navigation menu and click Websites.
Click the Create or migrate a website option to access the setup wizard.
Choose the type of website you want to build. Options include Business, Online Store, or Other.
Select Create a New Website and pick Hostinger Builder with AI.
Choose the custom domain name you want to connect and click Select. Then, wait for the process to finish.
The tool will now redirect you to the website builder. Here, you can choose to generate a landing page with Hostinger's AI Website Builder or design one using a pre-made template.
If you want to opt for one of the landing page templates, click on that option and follow the steps below:
Choose a landing page template that suits your needs. You can see how it will look on different devices by clicking Preview.
Once you find one you like, hit Start Building. It will redirect you to the editing interface.
Follow the Site setup checklist to get your landing page ready. This includes editing the heading, updating images, and adding paragraph text.
Alternatively, you can use the AI Website Builder option to quickly generate a fully-customized landing page:
On the top-left of the editing interface, hover your cursor over the arrow and click Try AI Website Builder. Then, hit Start Creating.
There will be a message warning that any previous changes will be deleted. Click Change Template to continue.
In the pop-up window, enter your brand name, select the website type, and describe your business in a few sentences.
Click the Create a website button to let the AI Website Builder start generating your custom site.
Once ready, you can personalize the landing page to your liking, just like you would with a pre-made template.


Create a Landing Page Using WordPress
Another method to build a well-crafted landing page is using this popular CMS. WordPress offers a block editor, professional-looking themes, and powerful plugins to help you design a website without touching a single line of code.
In this section, we will explain how to build a good landing page using WordPress' Site Editor:
Log in to your WordPress dashboard.
Navigate to Appearance → Themes → Add New.
Look for a landing page template or theme by typing the keyword landing page into the search bar.
Install and activate your preferred theme. For example, we used the Chuo theme.
Go to Appearance → Editor.
Customize the page template by adding relevant blocks, such as the site title, images, headings, paragraphs, and buttons.
3. Craft an Engaging Headline
A great landing page headline is a vital element to hook visitors' attention and encourage them to read the content.
Knowing how to create an effective one is important, so we highly recommend adopting the right strategy by ensuring the headline is:
Clear. Your headline should be concise and to the point to immediately draw the target customers' attention.
Relevant. The headline must be relevant to the business offerings and consumers' pain points.
Reliable. A successful headline must be reassuring, so customers are convinced that your product or service can solve their problem.
To craft a compelling headline, implement the following tips:
Focus on value. Highlight your product or service's main benefit that helps answer or solve the audience's problem.
Keep it short. The best headlines are often brief, so try aiming for 10 words or less.
Use attention-grabbing language. Your headline should be eye-catching, so write engaging descriptors to attract readers' attention. Use action words and punchy adjectives to draw people in.
Include keywords. Adding relevant keywords to the headline helps improve your landing page's visibility in search results. That way, you have a better chance to drive traffic and conversions.
In the following section, we will discuss several types of landing page headlines to give you a better understanding of how they should look.
1. Value Proposition Headline
A value proposition headline focuses on the product or service's selling point or main benefit.
Hostinger uses this type of headline on the Website Templates page, with the copy Website Templates Built for Success. The headline clearly states that Hostinger offers professionally-designed templates to help people create high-performing websites.
2. How-to Headline
The how-to headline type conveys how a product or service can solve the audience's problem.
The Hostinger Website Builder page shows a headline that says Create a Website With Ease. This communicates that Hostinger offers a powerful tool for creating websites without hassle, successfully attracting audiences like beginners and busy business owners.
3. Action Headline
An action headline contains phrases that motivate visitors to take the desired steps toward conversion.
Hostinger's VPS Hosting page implements an action headline that says Be in Full Control With VPS Hosting. Coupled with an actionable CTA like Start Now, the headline clearly invites readers to use VPS if they want ultimate freedom to manage their hosting resources.
4. Write Compelling Copy
The copy of landing pages is the written content that helps drive users to take a specific action.
Creating eye-catching and clear copy requires some creativity and strategic thinking. Here are several tips to help you get started:
Prioritize your audience. It is important to craft landing page copy that resonates well with prospective customers and addresses their needs.
Focus on benefits. Effective copy should present a clear and relevant connection between the product or service and the value it brings customers.
Use persuasive language. Incorporate active verbs and descriptive language to make the copy more engaging and persuasive.
For instance, check out Hostinger's Cloud Hosting landing page copy:
The text is concise and easy to understand. It also highlights the hosting service's main benefits with copy like Superior Performance and Powerful Control Panel while briefly elaborating on the points using persuasive language.
5. Add Social Proof
Social proof is a powerful digital marketing strategy that helps build customer trust and differentiate a company from its competitors. It also acts as evidence that the product or service does what it claims.
There are several types of social proof, such as:
Customer testimonials. They contain authentic reviews of your product from consumers. It is important to include positive testimonials on your landing page to show potential clients that your service is reliable.
Trust badges. You can add trust badges from third-party organizations or companies that vouch for your business. Adding them can boost your brand's credibility and help build trust with prospective clients.
Case studies. They contain real-life examples of how your product or service has helped customers solve a problem or achieve a goal. Adding this social proof to your landing page helps demonstrate the data-driven results of your product.
At Hostinger, we showcase clients' journeys with our hosting services via Client Stories. These customer success stories are examples of case studies you can implement on your own landing page.
We also incorporate customer testimonials and trust badges from other companies, such as Google, HostAdvice, and WPBeginner. That way, potential customers can see that Hostinger is a trustworthy and recommended web hosting company.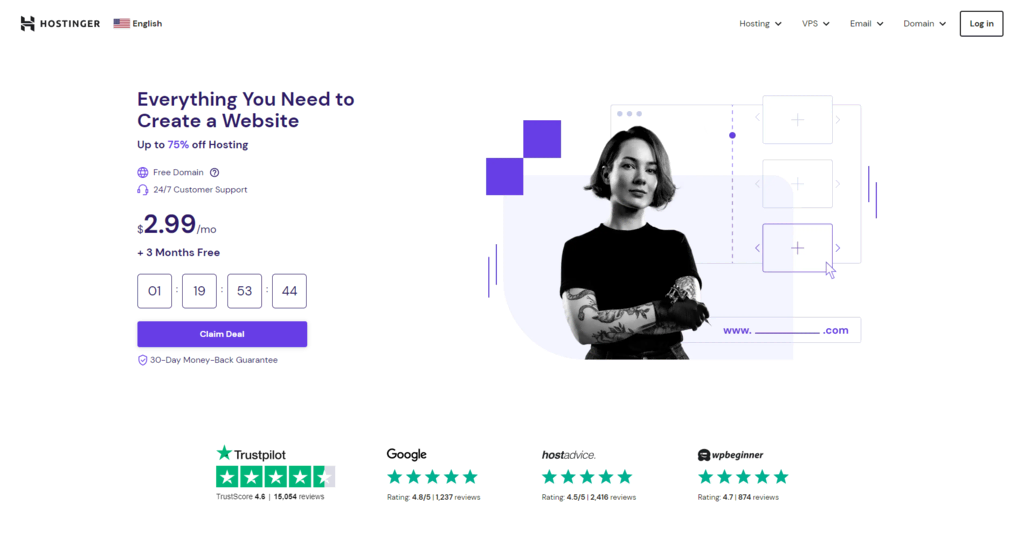 6. Publish and Test the Landing Page
Once you have finished designing your site and adding the landing page content, it's time to hit publish.
After that, we recommend conducting testing in production to gather the landing page's performance metrics. Doing so will help you make strategies for future improvements to boost the site's performance over time.
There are many production testing methods you can try, such as A/B testing, feedback tracking, and spike testing.
For example, we recommend the A/B testing method to experiment with your landing page CTA button. If you use WordPress, the easiest way to perform A/B testing is to install a plugin like Google Optimize, OptinMonster, or Nelio A/B Testing.
Best Practices for Creating a Successful Landing Page
Landing pages can perform well and generate great results if website owners implement the right optimization strategies, which we will explore in more detail below.
Maintain a Simple Landing Page Design
Keep your landing page design simple to avoid a cluttered look. This will also help visitors focus on the main aspects, like the product benefits and CTA button.
When looking for landing page templates, choose one with a minimalist design and ample white space. These types of landing page templates can help achieve a more seamless user experience, better responsiveness, and improved time on page.
Here are some elements to consider incorporating when designing a landing page:
Hero image. It's a great alternative to a text-based headline that can make your web page stand out from competitors.
Business logo. This is an essential element that will help establish your company's branding.
Custom illustrations. As opposed to stock photos, custom visuals are a great way to convey the uniqueness of your product or service.
Create Mobile-Friendly Landing Pages
Making your landing page mobile-friendly is important, as many people visit websites using mobile devices.
Before picking a template, preview whether it looks good on mobile devices. Ensure the template elements, such as images, text, and buttons, can fit and adapt to different screen sizes.
When customizing the landing page typography, choose a combination of two to three easy-to-read fonts. This will help improve readability on smaller screen sizes.
Furthermore, ensure that all images, including the hero image, render seamlessly on mobile devices. We recommend using an image compression tool like TinyPNG, Compress Now, or Optimizilla to help speed up loading time.
If you use WordPress, lazy loading is enabled by default to help reduce the page loading time. So, WordPress site owners don't always need to compress images.
Use Landing Page URL Categories
If you want to promote multiple services or products on a landing page, you can use URL categories to create separate sections for each offering.
Ensure each URL category has a clear and descriptive name. For example, if you are an entrepreneur selling design and copywriting services, create separate web pages like yourlandingpage.com/design-services and yourlandingpage.com/copywriting-services.
Also, add a navigation menu to make the URL categories accessible from any web page. This will improve navigability and help visitors quickly find the information they are looking for.
Make the Call-to-Action Button Stand Out
Optimizing your landing page CTA button is vital, as it can significantly improve lead generation and conversion rates.
Incorporate contrasting colors for the CTA button to direct focus toward it. For example, if your landing page design mainly uses soft blue and white shades, use stark yellow or red for the CTA button.
You can also utilize white space around the CTA and make the button large enough to draw visitors' attention. That way, users can easily spot the button even when scrolling quickly through the page.
Finally, it is important to place the CTA button strategically, such as under a pricing table or below the headline, to improve click rates.
Effective Landing Page Examples
For beginners, finding ideas to craft high-converting landing pages may seem challenging. Therefore, consider using the following five examples as inspiration.

Netflix's landing page features a clean design with a simple CTA that invites people to create or restart a membership.
This landing page example places a faded background image showing movies and shows available on the platform. It also has a FAQ section that addresses customers' common questions.
The enticing headline has great potential to capture visitors' attention quickly. Also, the CTA only uses a single form field, making it easier for users to create a new account and subscribe to a premium plan.
Google Workspace's landing page has a sleek and minimalist design emphasizing the headline, CTA, and visuals.
It has ample white space and an appealing headline that features a preview of user collaboration with Google Docs. The page also provides a short video showcasing Google's productivity and collaboration tools.
Furthermore, the CTA button is effective and attention-grabbing, immediately letting visitors know they can try Google Workspace for free.
Spotify Premium's landing page has a minimalist design using black and purple hues alongside appealing color gradients.
The page features a table that compares Spotify's Free and Premium plans to help encourage visitors to convert. It also showcases all four of Spotify's paid plans and each of their benefits.
Most notably, the landing page has an eye-catching headline and CTA button that say $0 for 3 months of Premium, providing an enticing offer for users who are still unsure of the platform's services.
Canva has a visually appealing landing page with moving images that demonstrate how the editor works.
The landing page example features social proof to show that Canva is a trusted platform by many well-known companies. It also highlights the tool's benefits with animated and attractive visuals.
Canva's premium pricing plans are placed right after the main visual so visitors can access it with a single scroll. If users want more information, they can click to expand the drop-down element and read about the included features.
Codecademy's landing page uses a sign-up form as the CTA. It has a simple design to let visitors focus on the main elements.
The page then highlights its popular programming language courses. It also has an interactive text editor to show potential customers what they can expect from the very first lesson.
Finally, the customer testimonials section showcases different customers' journeys after successfully completing courses from Codecademy.


Conclusion
Landing pages are crucial for a successful online marketing strategy. It helps you establish trust with visitors to generate more leads and conversions. Building and managing a landing page can also be cost-effective and straightforward with the right tools.
The following is a recap of the six steps on how to build a landing page:
Define your target audience and set specific goals.
Create the landing page.
Craft an engaging headline.
Write compelling copy.
Add social proof.
Publish and test the landing page.
Remember to also follow some landing page best practices, such as maintaining a simple design, making it mobile-friendly, optimizing the URL, and creating an engaging CTA button.
If you still have questions about landing pages, check the FAQ section or leave a comment below.
How to Create a Landing Page FAQ
This section will answer the most common questions regarding landing pages.