How to Create a Landing Page that Is Effective in 2023
As an online business owner, you need to create good landing pages for your website. It's an online marketing strategy to attract new customers and traffic to your site. In this article, you will learn how to create a landing page and get extra tips on how to optimize it.
What Is a Landing Page – Video Tutorial
Learn what is a landing page and what an effective landing page consists of.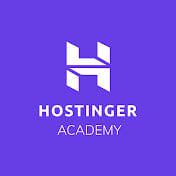 Subscribe For more educational videos!
Hostinger Academy
Subscribe
What Is a Landing Page?
A landing page is a static web page that focuses on getting leads through a specific action. It can be a stand-alone single page that links to your main site or integrated as a part of the website.
The focus of a landing page can vary depending on your type of business. The most common ones are prompting people to sign up for a free trial, weekly newsletters, or add products to carts and wishlists.
Why Do You Need a Landing Page?
If you don't have the knowledge on how to build a website properly, regular website homepage can be too cluttered. Having a landing page is beneficial for your business as the attention is on one simple action – conversion.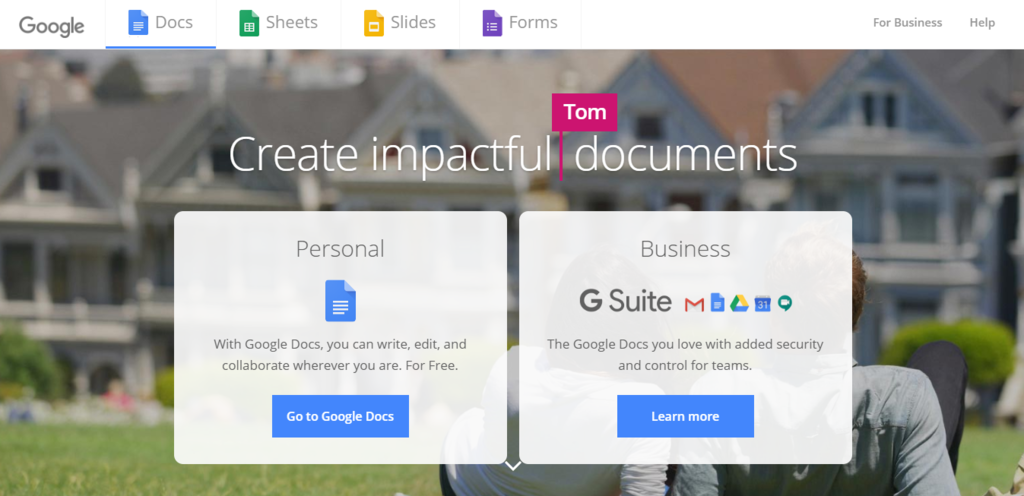 For example, as we scroll down Google Docs' landing page, all of the attention is focused on a clear value proposition and a call to action. It's encouraging us to use Google Docs services when it comes to creating online documents. A landing page increases the response rate of your visitors, performing the main action that you want them to do. On average, the conversion rate is 2.35%, with the top 10% of companies having three to five times higher than that.
Your marketing efforts, ad spend, and social media outreach will bring much better results if you direct them to a highly effective landing page when it's appropriate.
How to Create a Landing Page in 3 Easy Steps
Here are some necessary steps you need to take before you start building your landing page.
1. Define Your Conversion Goal
Depending on your type of business, decide what action will be most effective for your landing page.
What is your ultimate goal? Do you want visitors to make a purchase, sign-up for a monthly subscription, or download an app?
In order to achieve that goal, you will then need to break it down to smaller targets. You can encourage people to register for a free 30-day trial, get a free ebook, a weekly newsletter, or discount vouchers.
For example, Spotify's landing page directs you to sign up and use its free version. However, you will hear commercials in between songs. If you want a seamless listening experience, you will need to subscribe to its premium plans.
Know your audience and keep them in mind at all times. Analyze your target user and their behaviour. Define the average user and put yourself in their shoes. What do they need?
Your landing page should focus on the optimization of that conversion rate goal.
2. Write a Clear Direct Value Proposition
Next, you have to be clear with the benefit of performing the targeted action. Don't be general like "A better solution for you" or "You will find happiness".
Be short, powerful, and specific. It should be a clear message. If needed, add a simple tagline at most as long as it supports the main value proposition.
Back to Spotify as an example. It uses the tagline "Music For Everyone" with the addition of "Millions of songs. No credit card needed". Spotify's value proposition is to provide music for everyone. The benefits are its vast collection of songs and that you can listen to them for free.
3. Come up With an Irresistible Call to Action (CTA)
Every landing page should have a visible, clear, and understandable call-to-action. It's the key element that guides visitors to the next step or required action.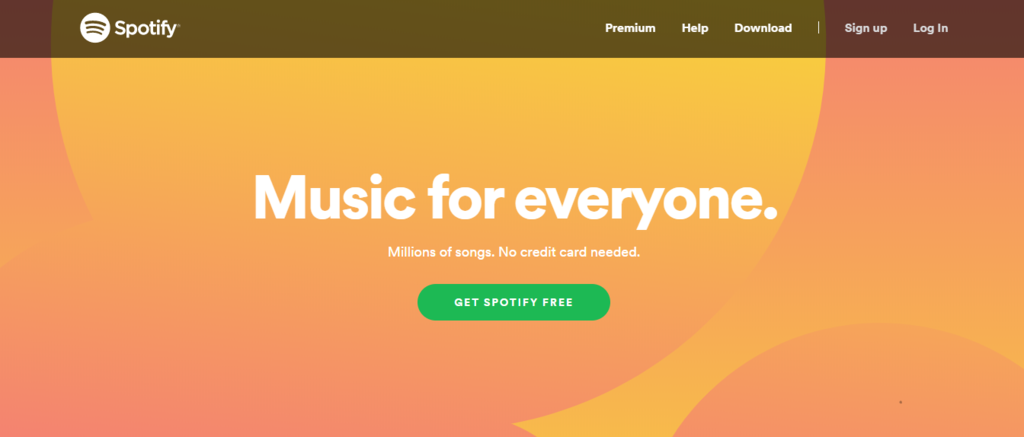 Whether it's a button or a form, make it stand out and easy to click on. Use bright colours in contrast to the landing page's main colour, like how Spotify uses green compared to its yellow and orange background.
It should include an actionable text that is short and to the point with a font size that is visible enough.
Make sure any images or design elements that you add support the main call to action and not stray attention away from it.
Here are some examples of commonly used CTAs:
Sign-up for our newsletter
Read more articles
Get started
Buy now
Free trial
Once you've come up with a layout, it's time to create your landing page.
How to Create a Landing Page With Hostinger Website Builder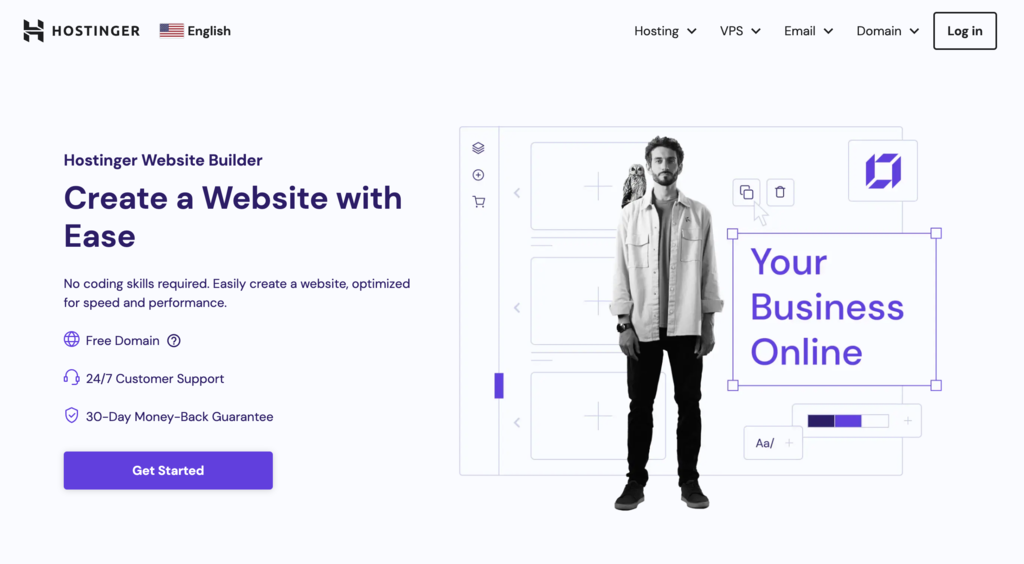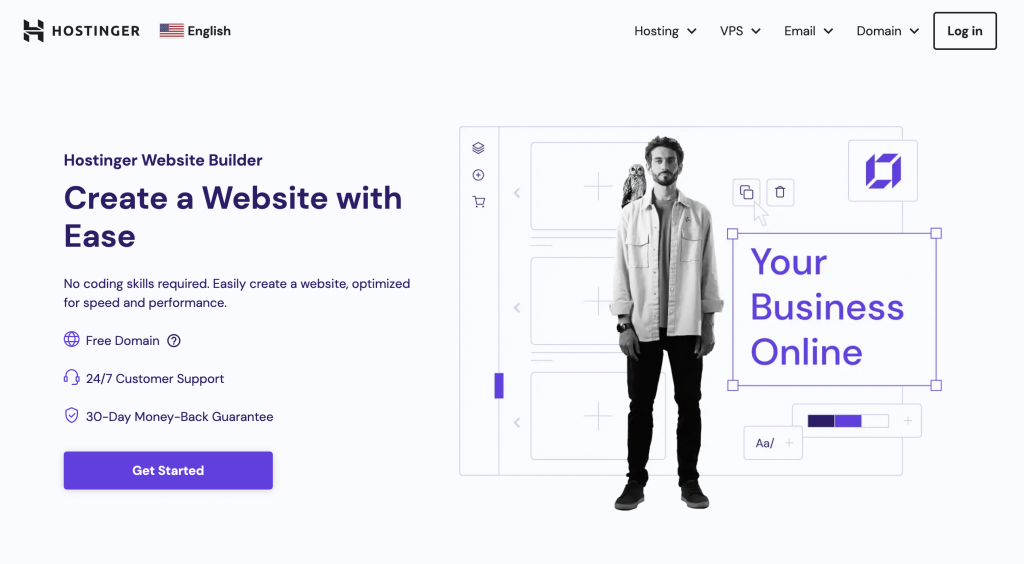 With the Hostinger Website Builder, you can make a stand-alone landing page for free. Other than it being a quick and easy solution, the platform is also optimized for creating sleek and highly converting landing pages.
You don't have to start from scratch as there are customizable designer-made templates ready for you to choose from. They are also SEO-friendly, so you won't have to worry about ranking low on SERPs.
The AI Heatmap is also useful for gathering insights such as where to place CTA buttons and the main information. If you have trouble coming up with the content, the AI Writer can help generate texts for you to use on your landing page. You can also integrate it with social media platforms for better visibility.
Here are the steps on how you can create a landing page with Hostinger Website Builder:
Get a web hosting plan, log in to hPanel and navigate to Websites. Choose to create a new site, and then choose a landing page template.
Customize your landing page. Edit the navigation, hide irrelevant pages, and insert CTA buttons, images, or texts by using the drag-and-drop feature.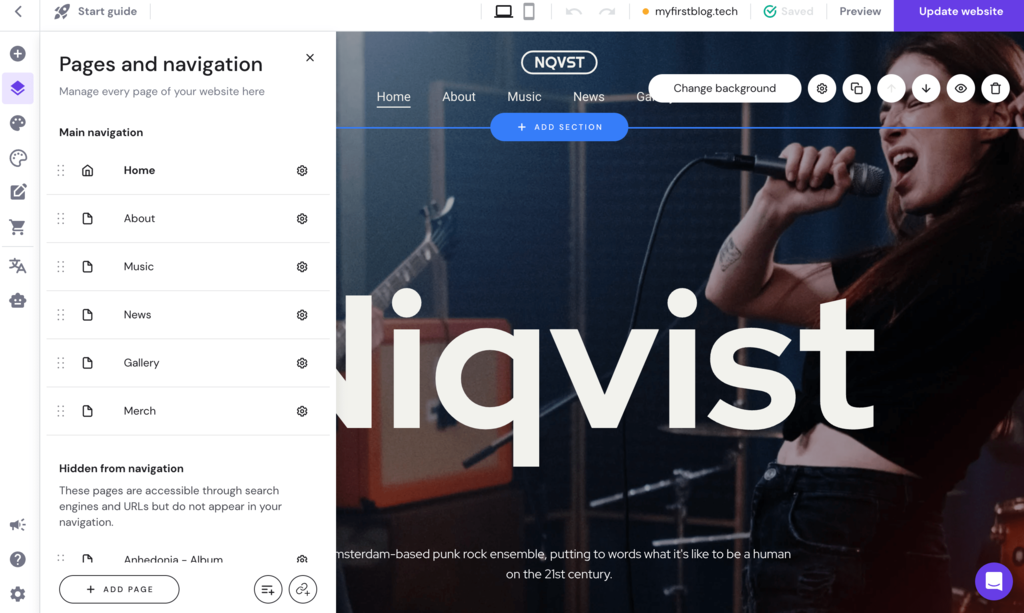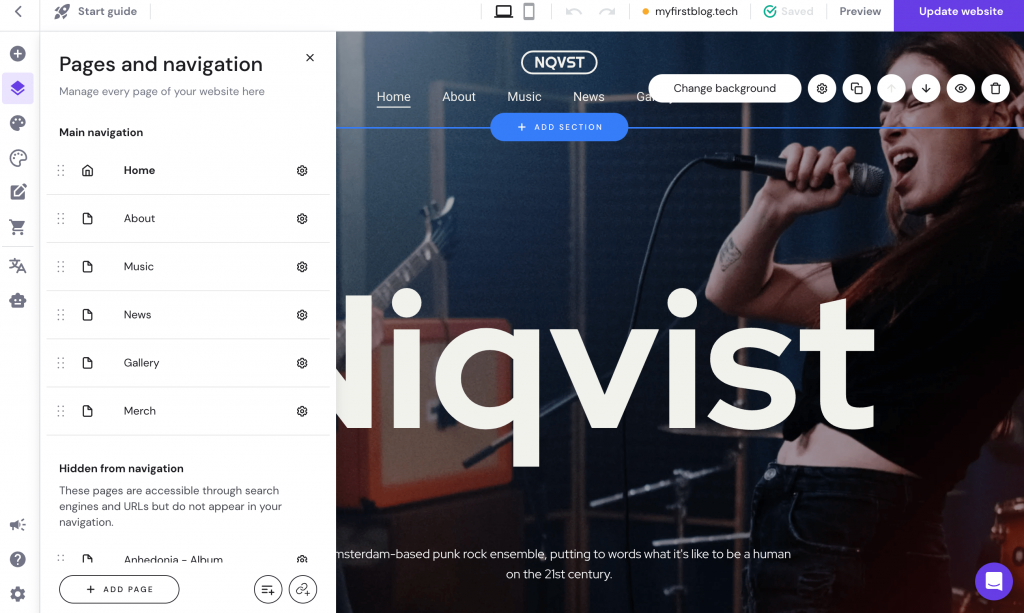 Preview the site on desktop and mobile, making sure that the layout is perfect for both.
Once you're happy with the results, press Publish site to launch your landing page.
How to Create a Landing Page in WordPress
In order to create a landing page in WordPress, you should follow the steps below:
On your WordPress dashboard, hover on Pages and select Add New. Or, you can simply choose to edit your Homepage.
Click the Add block button at the top left corner of the block editor. Insert in the elements of your landing page design — title, cover, texts, and buttons.

Publish the landing page and go back to your dashboard.
Hover on Appearance and choose Customize. Select Homepage Settings and pick A static page option. Set the landing page as the Homepage. Make sure that you have a blog page made for your posts.
Another option is to use a WordPress plugin like SeedProd, as a more straightforward way to create a landing page. SeedProd is a popular landing page plugin with a user-friendly drag-and-drop interface and over 150 landing page templates.
Pro-Tips for a Killer Landing Page
Once you've launched your landing page, you might want to be certain that it's converting. Here are a couple of tips on what should you do next:
1. Set Up Google Analytics to Track Conversions
Google Analytics is a great way to set up goals for your landing page. You can track how well it's performing by observing the conversion rates.
The tool has a reporting system that can help with the process, such as:
Realtime conversion reports where you can see the activities of your landing page.

Conversions Overview that has metrics on Goal Completions and Goal Conversion Rates.

Multi-channel Conversion Visualizer that displays information of the paths where the conversions came from.

Use Google Analytics to get insights that can be used for brainstorming sessions on how you can optimize your landing page.
2. A/B Test Your Landing Page
If you have a few versions of landing pages, you can compare them using an A/B testing tool. It can help you decide which designs to keep.
Google Optimize has an A/B testing tool that is integrated into Analytics and lets you run multiple versions of the same web page. It's quick and easy to set up as experiments can be launched in just a few clicks.
Change the colours and positions of buttons, or use different call-to-actions and see if you can squeeze in more conversions. Other than that, if you're losing visitors, Google Optimize can help you figure the cause by delving into your Analytics data.
You can also check if your landing page builder has a built-in A/B testing feature. Or, if you're using WordPress, you can use a free plugin such as A/B Testing for WordPress.

Conclusion
A landing page is a stand-alone site or web page that has the goal of converting visitors into taking the desired action like making a purchase or submitting contact information. It's a necessity for every business.
You can create and launch one using a landing page builder like Hostinger Website Builder or WordPress. Just make sure that it has a defined goal, a clear direct value proposition, and an inviting call to action.
To take it a step further, track the performance of your landing page using Google Analytics or an A/B testing tool if you have multiple landing pages. Good luck.