What Is Shared Hosting, How Does It Work, and What to Consider When Choosing It
Shared hosting is an affordable and user-friendly way to host a website, making it a great option for beginners.
If you've been thinking about getting shared hosting for your website, we'll discuss how it works and what factors to consider when choosing a plan. We'll also explain other hosting types and answer some commonly asked questions about shared hosting.
Download Website Launch Checklist
What Is Shared Hosting?
Shared hosting is a type of hosting service where a single server hosts multiple websites. The server maintenance cost is shared between users, so it's an affordable hosting option.
How Does Shared Hosting Work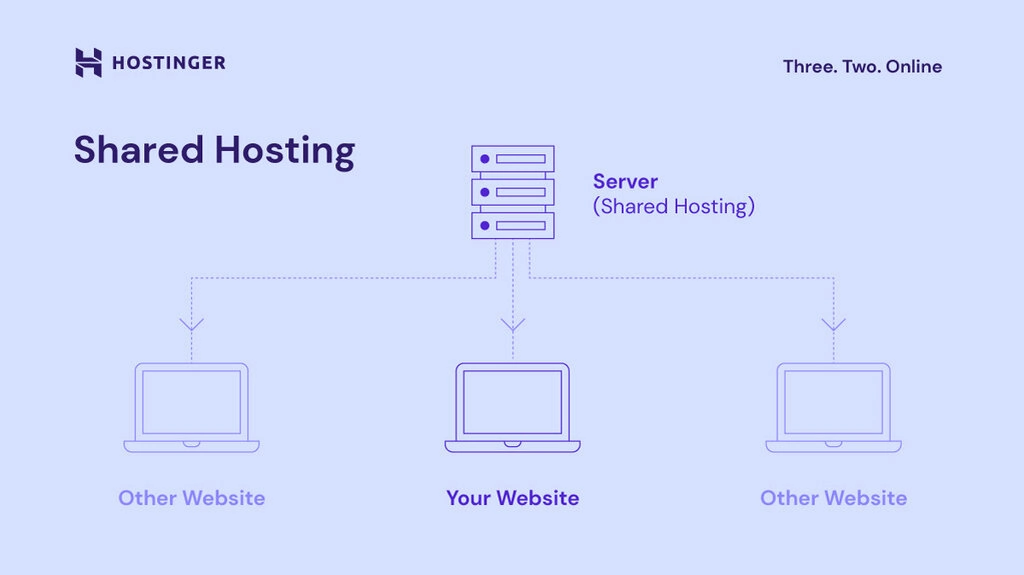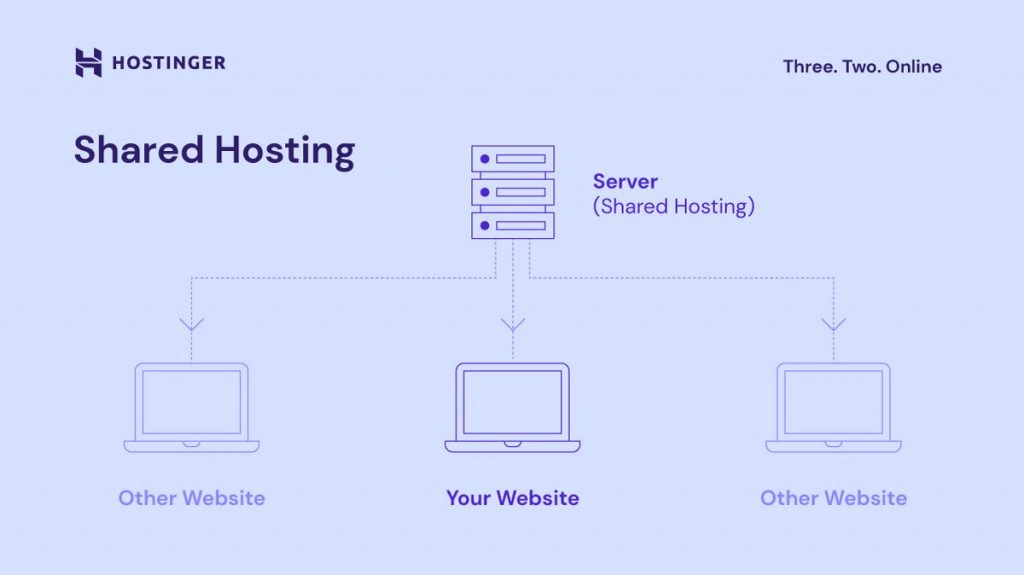 Apart from purchasing a domain name, signing up for a web hosting service is the first step toward building a website.
When buying a hosting plan, you rent space on physical computers called servers to host your website's data, like images, videos, text, and code.
Every time visitors type in your website's URL, their browser will send a request to the server that hosts its data. In return, the web server will transmit the requested content, enabling visitors to view your web pages.
Suggested Reading
In a shared hosting environment, the web host stores and manages data from more than one website. Since the cost is shared between multiple sites, it's usually a less expensive type of hosting. For instance, at Hostinger, the cheapest shared hosting plan costs only $1.99/month.
The hosting provider is responsible for setting up and maintaining the shared server, meaning the website owner can focus on other aspects of website development. Additionally, using a shared server doesn't require any technical knowledge.
However, purchasing a shared hosting package also means limited bandwidth, storage space, processing power, and little or no control over server configuration. For that reason, it is more suitable for small to medium-sized websites.
Suggested Reading
Factors to Consider When Selecting a Shared Hosting Provider
Beginners often rely on prices alone when choosing a web hosting provider. However, the provider plays an essential role in your site's performance and security.
In order to make an informed purchase decision and find the best web hosting solution for your needs, consider what the hosting company offers in terms of uptime, traffic, speed, and features.
Uptime
Website downtime refers to when your web pages become inaccessible or don't function properly, which can negatively impact user experience and your reputation.
Therefore, we recommend looking for hosting providers with a 99% uptime guarantee your website will be up and running at all times. Use review platforms like HostScore to check a web host's uptime.
Traffic
With shared hosting, high traffic on other websites on the same shared server can affect your website's performance.
Before signing up for a plan, calculate your potential monthly visits. Then, check the resources provided by each web host and plan, focusing on bandwidth, to determine which one suits your needs.
Speed
Website speed is another essential quality, as one in two visitors will abandon pages that take six seconds or longer to load.
When selecting a web hosting company, check its bandwidth capacity. The more bandwidth it provides, the faster your website will load. Additionally, check the web hosting technology used by the company.
Features
Select a hosting provider that offers features you need, such as free domain name registration, email accounts, unlimited bandwidth, third-party app integrations, and a money-back guarantee.
Additional features to consider are:
User-friendly interface. An intuitive and easy-to-navigate control panel enables easy website management.
Security. To protect your site from cyber attacks, consider robust security features like firewalls, SSL certificates, file backups, and regular software updates.
Technical support. Reputable web hosting companies should provide 24/7 customer support. In addition, check if the host has a comprehensive resource or tutorial page.
Data management. Many web hosting companies, including Hostinger, provide unlimited databases, File Transfer Protocol (FTP) accounts, and SSH access to help users manage files more effectively.

Advantages of Shared Web Hosting
Now that we've covered the essential factors a hosting provider should have, let's go over the advantages of using shared hosting plans:
Affordability. Since the cost is divided among many users, shared hosting is the most affordable hosting solution.
Easy management. Shared hosting providers usually offer a control panel, helping you easily set up and manage websites. At Hostinger, our custom-made hPanel comes with a minimalistic design, simple navigation, and a detailed overview of each setting.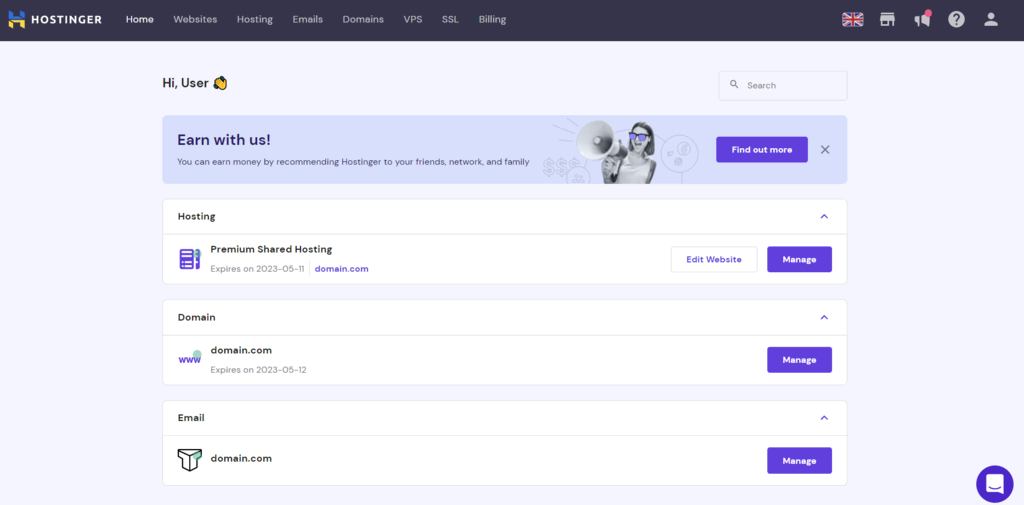 Simple maintenance. With shared hosting, the web host handles the technical aspects, including server maintenance tasks such as software installation and updates. You can focus on web design, search engine optimization (SEO), marketing campaigns, and content creation.
Flexibility. Most shared hosting providers offer scalable plans, enabling you to upgrade resources and features as the site grows.
Disadvantages of Shared Hosting
Despite its affordability and accessibility, shared hosting service also has a few drawbacks, such as:
Limited resources. Sharing resources with other websites means limited storage space, bandwidth, and CPU power. A sudden spike in traffic from neighboring sites can negatively impact your website's performance.
No root access. Root access gives you the highest level of access to the server. It lets you run an alternative operating system and install server-wide applications like Nginx and Apache. Usually, root access is only available on VPS and dedicated servers.
Shared IP. Apart from resources, you'll also share an IP address with other users. Unlike a dedicated one, you cannot use a shared IP to access your site when experiencing domain name issues.

Other Types of Hosting
If you plan to create high-traffic websites, purchasing a shared hosting plan might not be the best solution. In that case, consider other types of hosting with more resources.
VPS Hosting
Virtual private server hosting provides users with allocated space within a server. While you still share a physical server with other clients, it offers more flexibility and control for managing a website.
Unlike shared hosting, VPS allocates a certain amount of resources to each website, so traffic surges on other websites do not affect your site's performance.
However, this service requires technical knowledge to operate, and it costs more than a shared hosting plan.
Suggested Reading
Cloud Hosting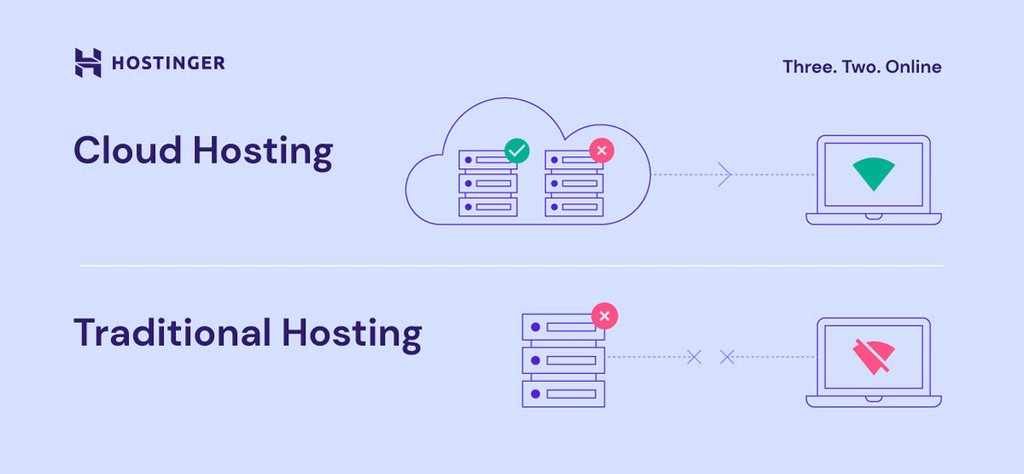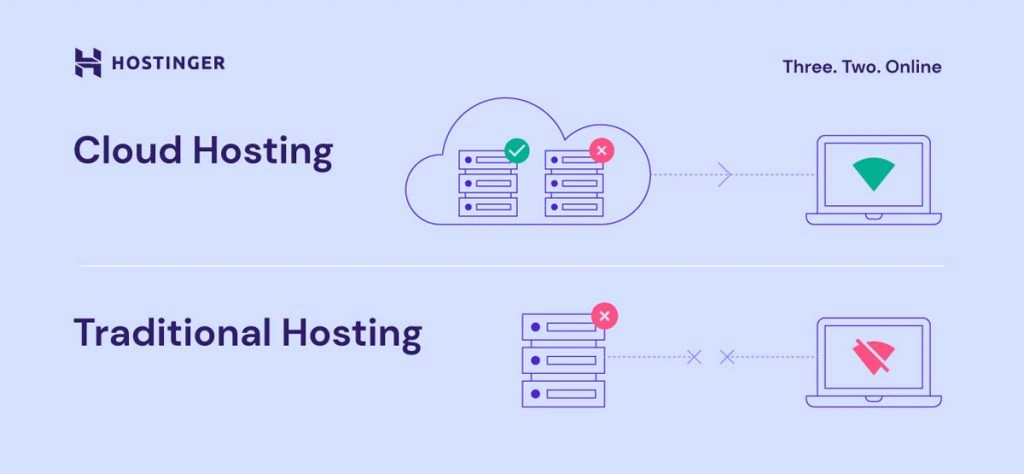 Cloud hosting combines shared hosting's friendly interface with VPS hosting's reliability.
Instead of a single server, cloud based server hosting uses a network of web servers to host your website. When one server experiences an error, another will take over to keep your website running.
This hosting solution works best for eCommerce stores and medium to large-sized businesses, ensuring stable website performance.
CMS Hosting
This type of shared hosting service is optimized for various content management systems (CMS), such as WordPress, Joomla, and Drupal.
For instance, our WordPress hosting plans come with pre-installed plugins and tools tailored to WordPress sites. It's a great option if you plan to build a website using this popular CMS. On the other hand, if your website is using Joomla CMS, there are web hosting plans optimized for Joomla.
Dedicated Server Hosting
Dedicated hosting gives website owners control over an entire physical server, offering flexibility to customize the operating system, install any software, and use all the available resources.
As such, this website hosting solution is suitable for large corporations and businesses that handle high-traffic volumes.
Given the unlimited resources a dedicated server provides, a dedicated hosting package has the highest price among other web hosting plans.
Conclusion
In a shared hosting environment, you share a server with multiple sites. This makes it an affordable option, great for those just starting their online journey.
Additionally, you don't need technical knowledge to use this service – the hosting provider will take care of the server administration and maintenance.
When choosing a shared host, consider their uptime, bandwidth capacity, traffic limit, and key features. Also, ensure it can accommodate your site growth as it gains more traffic, whether upgrading your plan or migrating to cloud or VPS hosting for more resources and features.
If you have any questions, check out the following FAQ or leave a comment below.
What Is Shared Hosting FAQ
This section will answer some of the frequently asked questions about shared hosting.
Who Should Use Shared Hosting?
Given its shallow learning curve, shared hosting is suitable for new site owners and users with little to no technical expertise. It also works best for small to medium-sized websites, including portfolio sites, small businesses, and blogs. 
What Is the Cost of Shared Hosting?
The average web hosting cost for shared hosting plans is between $2-$15/year, making it the most affordable option.
Is Shared Hosting Good for Blogging?
Yes, shared hosting services provide a great starting point for small blogs. Since it's a scalable option, upgrade to more advanced hosting plans with unlimited disk space and bandwidth once your blog acquires more traffic.