How to Choose a Web Host and Find the Best Hosting Provider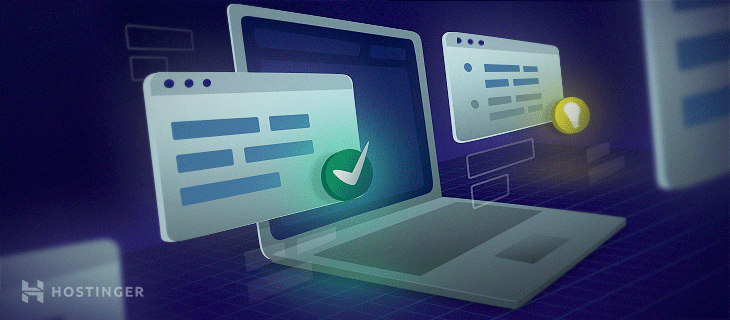 The first step of a website development journey is finding the best hosting provider for you. Besides storing the website files and data, a hosting provider plays an important role in the site's security and performance.
It's essential to choose a web hosting company that offers an excellent uptime guarantee to prevent your site from experiencing too much downtime.
It might feel tempting to choose the cheapest option available. However, you should analyze what the web host offers in terms of storage, ease of use, eCommerce infrastructure, and customer support options.
In this article, we'll share some tips to help pick the right web hosting service, whether you're starting a personal blog or launching an eCommerce site.


What to Consider When Choosing a Web Hosting Provider?
Different types of web hosting fit different projects and business needs.
To buy a web server for your site, it is essential to consider a few crucial factors:
Budget. Make sure to evaluate the costs of buying a domain name and getting premium themes and plugins. Plus, the more different types of websites you own, the more costly it will be.
Project scope. Do you want to build an online store, a personal website, or a corporate landing page? Estimate the potential website traffic as it will help you predict the resources needed.
Website-creation tools. Consider the platform you're going to use to build the website, such as a CMS or a online website creator, and check whether your chosen web host supports those options.
Features. Take into consideration bandwidth and storage needs compared to your website requirements. Consider the scalability of the plans as well – that way, you'll ensure that the website has plenty of room to grow.
Security. Check the security measures the provider implements, such as access management, SSL certificates, automated backups, and software updates.
CMS vs Website builder
When choosing a hosting provider, make sure it's compatible with the website creation tools that you want to use.
If you want to create a website, the most common alternatives to building a website from the ground up are using a content management system (CMS) or a website builder.
CMSs have a steeper learning curve because you will need to deal with such technical tasks as installing plugins or customizing themes with code. If you have no experience in website design, it can take a bit of time to create a website that fits your vision.
The most popular CMSs are WordPress, Joomla, and Drupal. To use them, you'll need to install and set up the chosen CMS on your hosting account. Some providers, including Hostinger, offer CMS web hosting that comes with a convenient auto-installer.

On the other hand, website builders don't require coding. Simply drag and drop elements, and the site will be ready in no time.
For example, Hostinger Website Builder comes with plenty of free, designer-made templates and customization options. Its grid system can help create pixel-perfect websites quickly and easily.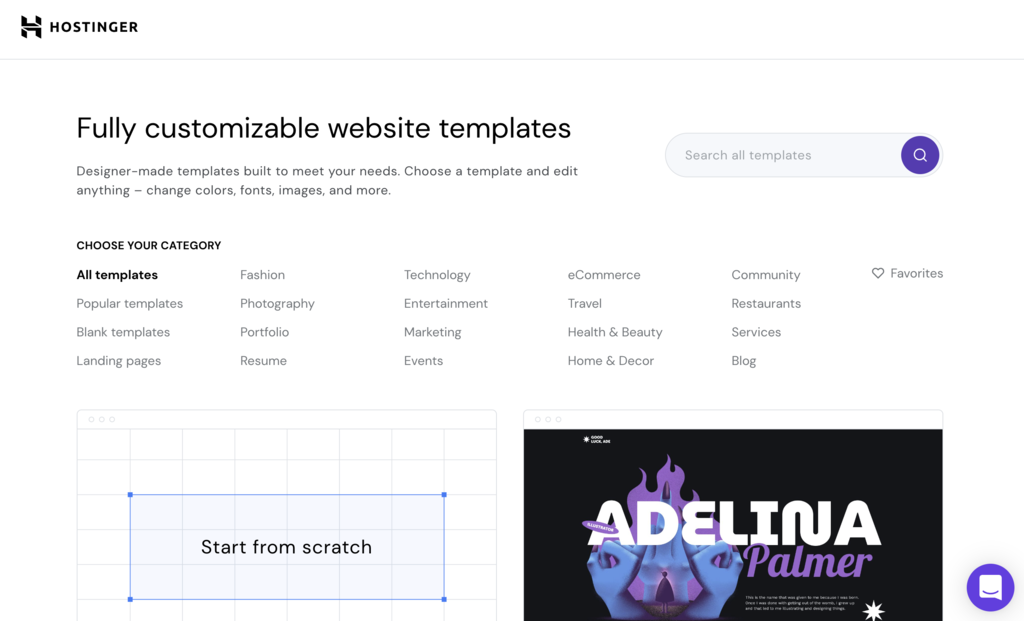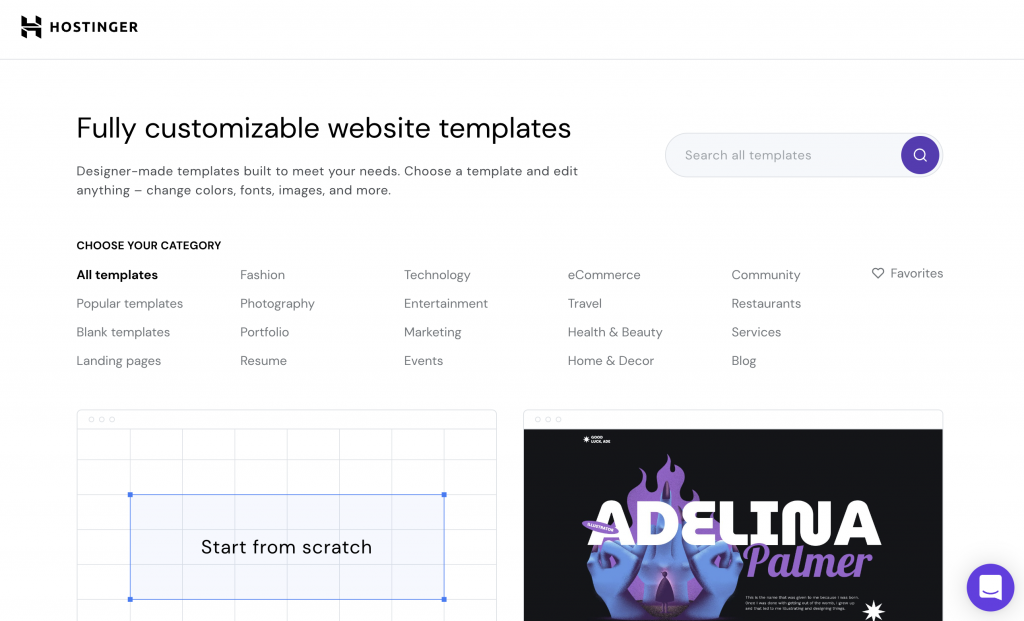 Hostinger's builder also offers an AI-text generator to create content placeholders to speed up work. If you need to improve the CRO (conversion rate optimization), the builder comes with SEO features and an AI-heatmap tool to predict user behavior.
Additionally, most website builders provide web hosting services, so there's no need to purchase a separate plan.
If you're starting an online business, you might be wondering how to build an eCommerce website as well. Here are some popular eCommerce platforms we recommend:
WooCommerce. An open-source eCommerce WordPress plugin offering feature-rich marketing tools and modules.
Magento. A PHP-based, open-source eCommerce software suited for creating online stores. While it has plenty of extensions, advanced customization can be somewhat overwhelming if you don't have the technical knowledge.
PrestaShop. Another open-source solution to build online shops. It's packed with helpful features and geared for small to medium-sized businesses.
Shopify. A website builder with a drag-and-drop editor and tons of built-in applications for eCommerce management.
When deciding which platform to pick, consider pricing and payment options. Make sure it's affordable and supports major payment gateways like PayPal or Skrill.
It's also important to consider what the platform offers in terms of inventory and order management, such as bulk upload and multiple shipping options.
Last but not least, make sure the platform is mobile-ready and SEO-friendly. You may also want an eCommerce platform with blogging features to improve customer engagement.
Regardless of which option you settle with, Hostinger supports a few major eCommerce platforms such as WooCommerce, PrestaShop, and Magento that comply with PCI Security Standards.
You can install more scripts by accessing the Website section of Hostinger's hPanel and clicking Auto Installer.
Storage and Bandwidth
Storage refers to space in the server where the site's files and data are stored. These files include but are not limited to images and videos.
It can be tricky to estimate the amount needed when you're just starting out. After all, it will depend on the type of content you post.
However, most website pages weigh about 2 MB on average. This, in comparison to the amount of disk space offered by most providers, is not much. As a reference, Hostinger's Single Shared Hosting provides 30 GB of disk space.
Keep in mind, though, that files such as videos, images, and ad banners will accumulate in size over time.
This also applies to bandwidth allocation and largely depends on how much traffic you'll get. Bandwidth is the data transfer limit of a website within a period, typically every month.
It's divided into two categories – metered and unmetered.
Metered bandwidth sets a monthly limit on how much traffic the website can generate. If that threshold is exceeded, your site might crash, and visitors can't access it.
The unmetered method doesn't cap your monthly bandwidth usage as the limit is only set on the server's capacity covered in the plan. Luckily, this is also the most common model used by many web host services.
A good rule of thumb is to pick a plan that offers 50% more resources than the amount your website currently needs. However, most plans are easily scalable, so you don't usually need to worry about that.
Still, it's a good idea to know to estimate the necessary amount of resources your website will need:
Check the average number of monthly visitors. You can easily find this using Google Analytics, for example.
Check the average page views. This number can be found in Google Analytics. If, for some reason, you don't want to use it, there are several alternatives.
Then, multiply all those numbers. For example, let's say the average size of your web page is 2 MB, with average monthly traffic of 3,000 visitors who open around two pages. The result will be 3000 x 2 x 2 = 12,000 MB or 12 GB/month.
Using the 50% tolerance rule, the website will need around 18 GB of bandwidth/month.
For comparison's sake, Hostinger's bandwidth for shared hosting plans starts at 100 GB and goes all the way up to unlimited as you upgrade the plan.
Important! It's good to keep in mind that "unlimited" here doesn't necessarily mean "limitless." It's just that the bandwidth threshold is so high that it will appear limitless for most users.
Speed and Optimization
Speed is crucial – you don't want the website to lag even a millisecond behind. This is especially important considering that loading time matters to SEO and overall user experience.
While many factors influence website performance, server speed also impacts website performance.
To test how fast a server is performing, take these two factors into account:
Time to first byte (TTFB). The time it takes the browser to send a request and recieve the first byte of the page. Google states that the ideal estimate is 200 milliseconds or less.
Component loading time. This measures how long a server loads the website's cached content. If the data is already cached, the server shouldn't take longer than a few milliseconds to distribute it across the page.
To test whether the web server is performing fast, you can conduct a speed test using such tools as GTmetrix or WebPageTest.
In addition, Hostinger uses LiteSpeed Cache as its primary web server to replace Apache, significantly improving website performance.
Security
When it comes to security, consider a few factors such as access management, an SSL certificate, firewall, network monitoring, and automated backups and updates.
A good web hosting provider should offer a robust and secure system to limit the admin and user privileges to the website. The back-end should be limited only to the IPs you use.
Next, consider the security measures the web host implements. It should offer multiple layers of firewalls to protect against DDoS attacks, encryption methods, and a way to detect malware.
Aside from using Imunify360 and Monarx to fortify and monitor servers, Hostinger utilizes additional layers of security while Wanguard detects and mitigates DDoS attacks.
Last but not least, the web host should perform regular site-level backups and automatically update the software whenever the latest version is out. This is to prevent possible loss of data and other vulnerabilities from outdated software.
Ease of Setup and Use
Always check what kind of user interface the hosting provider offers. Most popular hosting providers work with cPanel, which is a very popular control panel brand.
Hostinger uses hPanel as their control panel. It is intuitive and extremely easy to navigate. hPanel packs a ton of features while the interface is more streamlined and tailored for all types of customers.
The hPanel is very intuitive. It's very easy to do any task – from managing your domain names and hosting, to installing software or taking care of your files.
Aside from an intuitive user interface, a reliable hosting provider should offer an extensive library of information and knowledge base to help you get started.
Check whether the web host provides enough tutorials and glossary entries for their users. Notice whether they explain complicated terminologies in simple terms and offer straightforward methods to solve problems.
If you encounter a technical issue, you want to learn more about, visit Hostinger Tutorials or check out our Help Center page.
Customer Support
Customer service is the backbone of every successful business, and the same applies to web hosting providers. Therefore, you'll want a hosting provider that can provide a reliable support system.
Excellent customer support should be ready to answer your questions 24/7. It's also a good sign if the web host offers several means of contacting their representatives, such as live chats, email, or phone calls.
If you're interested in giving our service a try, our team works around the clock to serve you. While Hostinger doesn't offer phone line support, it uses live chat to attend to customer inquiries. Ultimately, you can always read the reviews to find out what people say about our services.
Also, if you still have some doubts and feel like a head-to-head comparison of the popular hosting providers could ease your search, check the brief reviews of our services vs:
Types of Web Hosting Services
Typically, you have to renew your subscription plan every once in a while, usually by the end of each year. Depending on the provider, this renewal fee can be pricey.
To help you understand how to choose a web hosting plan, let's look at shared, VPS, cloud, and dedicated hosting services.
Shared Hosting
With shared hosting, a single server hosts multiple sites, sharing resources such as memory, bandwidth, and disk space among all of them. This is usually the most affordable option among web hosting services.
It also requires the least technical knowledge because everything is pre-configured and managed by the web host.
Plus, most providers offer a beginner-friendly control panel to help manage the site. In the case of Hostinger, you'll be using hPanel.
Keep in mind that a shared server may experience issues when there's a significant spike in traffic on other websites, and it might cause your site to slow down or even crash.
However, it is an excellent choice for small to medium traffic sites. If you're creating a personal blog or website, shared hosting might be what you're looking for.
Hostinger provides three different shared hosting plans, each coming with a free SSL certificate and a 99% uptime guarantee:
Single Shared Hosting. Costing $1.99/month, it's ideal for people on a budget who only need to manage one website. You'll get 100 GB of bandwidth, 30 GB of storage space, one business email address, and 256 MB of RAM.
Premium Shared Hosting. By paying $2.49/month, you'll get 100 GB of disk space, a one-year free domain name, and unlimited bandwidth, email accounts, and websites. The allocated resources double compared to the previous plan.
Business Shared Hosting. For small business owners looking to create a professional website. With $3.99/month, you'll get the perks of the premium plan and other boosts such as 200 GB of storage and daily backups.
It's worth mentioning that our shared hosting is one of the cheapest options on the market. But, even so, we always offer different web hosting deals.
If you're still unsure, check out our buy hosting page to explore more options for your new site. Also, if you decide to go with Hostinger, don't forget to check Hostinger coupon codes to get additional discounts on your purchase.
Virtual Private Server Hosting
With VPS, your website still shares a server with other people, but it will have its own dedicated partition. Therefore, the allocated resources will be more stable and secure since you won't have to share them with anyone.
Being the middle ground between shared hosting and a dedicated server, VPS is ideal for medium-sized websites.
The downside when comparing VPS with shared hosting is the steep learning curve. However, if you have the needed knowledge to flatten it, you'll enjoy full root access and the ability to manage the properties of the server.
At Hostinger, the price for VPS hosting ranges from $3.49 to $77.99/month, depending on the resources the website needs.
With the VPS 1 option, you will get one virtual CPU core, 1 GB of memory, 20 GB of storage, and 1 TB of bandwidth. Meanwhile, the VPS 8 plan will give you eight virtual CPU cores, 16 GB of memory, 250 GB of storage, and 12 TB of bandwidth.
Cloud Hosting
Cloud hosting combines the user-friendliness of shared hosting with the capacity and reliability of VPS. It uses cloud technology to delegate the load on the website's resources to multiple servers.
That way, if one server goes down, the website can easily be hosted by another server, ensuring nearly constant uptime.
This plan is perfect for all types of businesses, regardless of their size. However, one drawback is that some providers don't give full root access. Even if they do, managing cloud hosting is difficult if you don't have the technical knowledge required.
Hostinger offers three cloud plans, all of which have unlimited bandwidth, dedicated IP, and a free domain name in the first year. However, they vary in how much disk space, RAM, and CPU cores they provide:
Startup. For $9.99/month, it comes with 200 GB of disk space, 3 GB of RAM, and 2 CPU cores.
Professional. You will get 250 GB of disk space, 6 GB of RAM, and 4 CPU cores, all for $14.99/month.
Enterprise. It costs $29.99/month and offers 300 GB of disk space, 12 GB of RAM, and 6 CPU cores.
Dedicated Hosting
Dedicated hosting grants the most control over the server because you'll be renting one exclusively. It is possible to decide how much resources to allocate, what software to install, and what security measures to implement.
As such, this plan is geared towards large enterprises that need maximum performance for large-scale projects. Needless to say, it's the most expensive type of all.
Aside from the rental cost, it'll be necessary to hire a professional or two for server maintenance and management.
WordPress Hosting
WordPress can technically work with any type of hosting. However, you can get faster and more secure performance with web hosting services designed specifically for it.
Aside from optimizing the server to host multiple WordPress sites seamlessly, the provider will also take care of any updates and technical adjustments. On top of that, you'll get hands-on support for WordPress-related issues.
All Hostinger WordPress hosting plans come with the LiteSpeed Cache plugin pre-installed, making the server perform up to four times faster.
As for security, Hostinger offers imunify360, among other protection measures, to monitor against malware and any other potential threats at the server level.
Professional developers can benefit from such tools as Git, phpMyAdmin, and staging environments provided by Hostinger.
Hostinger offers four managed WordPress plans to choose from, all of which come with a free SSL certificate:
Single WordPress. Suited for small websites, the plan costs $1.99/month and allows you to create a single website. It comes with 30 GB of storage and 100 GB of bandwidth.
WordPress Starter. Recommended for personal WordPress websites. For $2.49/month, create up to 100 websites, and get 100 GB of disk space, pre-installed free Jetpack plugin, and unlimited bandwidth.
Business WordPress. This plan is primarily optimized for small to medium-sized businesses and costs $3.99/month. Some of its notable features include 200 GB of disk space, free CDN, and daily backups.
WordPress Pro. You'll get 200 GB of disk space, Jetpack Personal, and all of the previously mentioned perks at $11.59/month.
Conclusion
In this article, we have discussed the factors worth keeping in mind when choosing a web hosting provider for starting a website or creating a blog:
Storage and bandwidth. It's essential that the provider gives you enough space to store all your files. Also, unmetered bandwidth helps guarantee that your website can handle high traffic.
Speed and optimization. Underperforming servers impact your site's TTFB and component loading time, negatively affecting its SEO and user experience.
Security. Check what the hosting provider offers in DDoS protection, encryption methods, and malware detection. Backups and updates are also essential.
Ease of setup and use. A user-friendly and easy-to-navigate interface will make managing your files, domains, and software much easier.
Customer support. Whether it's through live chat or emails, make sure the web host will be available to assist you.
When checking your options, make sure that the hosting provider supports the platform you want to build your website with. Keep in mind that, if using typical website builders, there's no need to find a hosting provider separately – the platform includes the service in their subscription plans.
However, if you are using a CMS, for example, you also need to consider the different types of hosting services available.
To recap, buying shared hosting is sufficient enough for a personal blog or small business website. You won't need to worry about server maintenance costs, as the provider will take care of that.
However, if you need more resources or expect high traffic from the get-go, you will probably need to invest a bit more and choose VPS or cloud hosting for your business site.
Besides being more expensive than other options, with dedicated hosting, it is necessary to add management and maintenance costs to the equation if you are not an experienced user.
We hope that you're more familiar with the options when it comes to choosing a web hosting service and can make an informed decision to grow your business further.