Hostinger Website Builder vs WordPress: Which One to Choose Based on Specific Site Needs
Creating a well-designed, fully functional website is essential for building a strong online presence. These days, website creation is easier than ever, and the real challenge lies in choosing a platform to build it with.
The discussion usually centers around two main options: a website builder and the widely popular WordPress. While both platforms are suitable for beginners, they have different characteristics that make them more fitting for certain users.
Hence, we will dive deeper into the WordPress vs Hostinger Website Builder comparison. This detailed guide will walk you through both platforms' features, benefits, and possible downsides, helping you make the right choice for your website's unique requirements.


Hostinger Website Builder
Hostinger Website Builder is a powerful, intuitive tool for creating professional websites. It offers a suite of features designed for simplicity and customization, making it a practical choice even if you don't know how to make a website from scratch.
Main Features
In this section, we will go through important Hostinger Website Builder features to help you understand this solution and decide whether it's the right option for your website.
We have grouped these features into three different categories: ease of use, customization, eCommerce, and other integrations.
Ease of Use
One of Hostinger Website Builder's main selling points is its ease of use. It offers a way for users to create a professional website quickly without typing a single line of code.
You can build and customize your website using the intuitive drag-and-drop editor. This tool allows for flexibility in moving elements around without being tied to a certain block.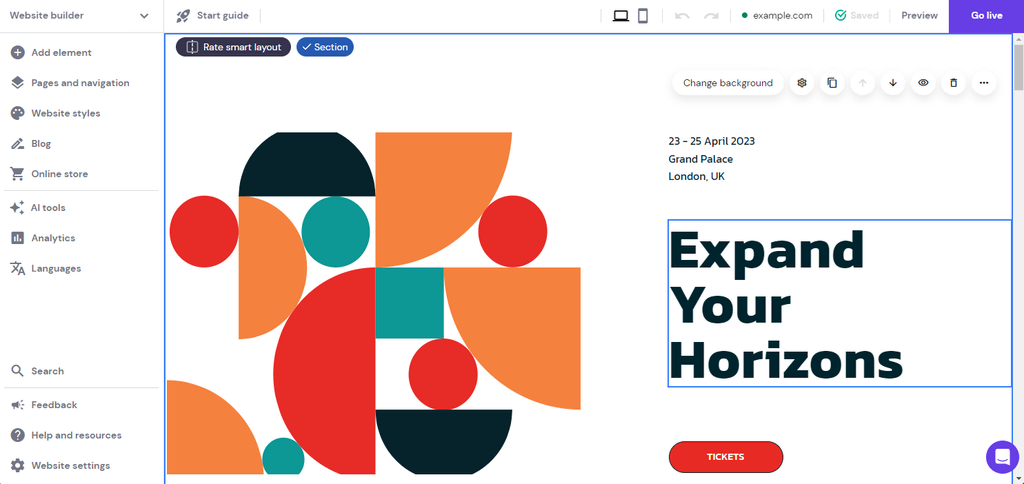 It also supports the Smart Layout, maintaining a proportional design, mobile viewing optimization, and adding new sections for more content. These features make it easier for users to create a mobile-friendly website and cater to more potential visitors.
Hostinger's drag-and-drop website builder also lets users access essential settings efficiently from the side panel.
Tasks like adding and removing pages, customizing the URLs, and creating a dropdown menu on your website are easy to do without navigating through different pages and setting menus.
Additionally, Hostinger Website Builder features advanced AI tools to help speed up the user's building process. The AI site generator leverages artificial intelligence to create a fully functional website in a few minutes, which you can further personalize in a few clicks.
All you have to do is describe your brand and what it does, then choose a specific industry for your website. With the AI Logo Maker, you can create a unique and stylish logo without needing any design skills. This tool enables you to generate a logo that aligns with your brand identity and enhances the overall visual appeal of your website.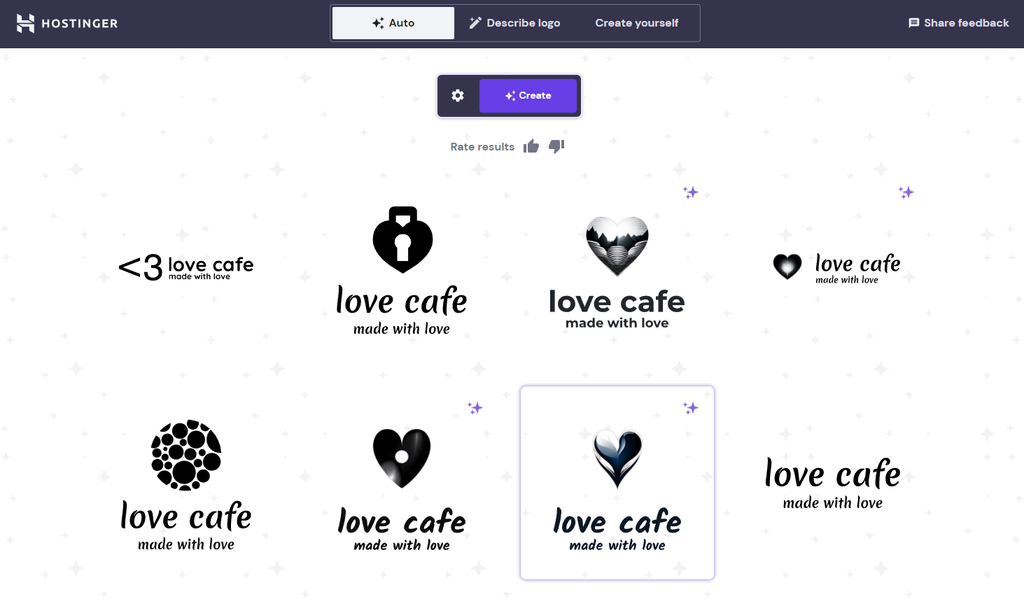 It's an excellent tool for those who want a quick and cost-effective solution to their branding needs.
The built-in AI Writer feature also makes it simple to create engaging written content like blog posts or product descriptions.
These tools and features make Hostinger Website Builder a great choice for those who prefer speed and efficiency when building a website.
Great Templates and Customization
One of the standout features of Hostinger Website Builder is its impressive selection of designer-made templates. These professionally designed templates are not only visually appealing but also fully responsive.
They cater to a wide range of industry categories, ensuring that every user, regardless of their niche, can find a web page template that suits their requirements.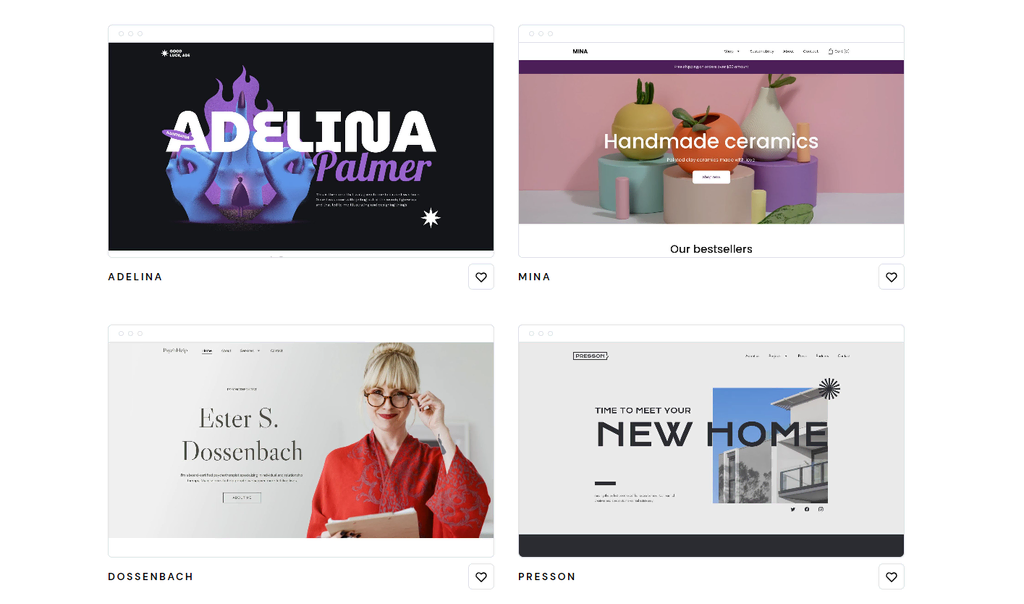 Hostinger's website design platform also offers a wealth of template customization options that empower users to shape their website's aesthetics to their liking.
You can select from various fonts, colors, button styles, and animated effects to infuse your website with your brand's unique personality.
Hostinger's website design platform stands out due to its flexible style customization feature. Whether you want to change the style of an individual element or overhaul the entire site's aesthetic, the choice is yours.
This unparalleled level of control ensures that your website aligns perfectly with your brand image and appeals to your target audience.
These features make it easy for users to create professional, tailor-made websites that truly reflect their brand's identity. Whether you're a novice dabbling in web design or a seasoned pro, Hostinger Website Builder provides the tools you need to bring your vision to life.
eCommerce Features and Other Integrations
For businesses looking to set up an online storefront, Hostinger provides comprehensive eCommerce features.
From adding up to 500 products to enabling more than 20 payment options, it ensures your online store is fully equipped to offer a seamless shopping experience.
You can configure shipping, customize the product page design, and even set discounts to entice customers. This beginner-friendly website builder enables the building of an efficient online shop that can cater both to small businesses and more extensive operations.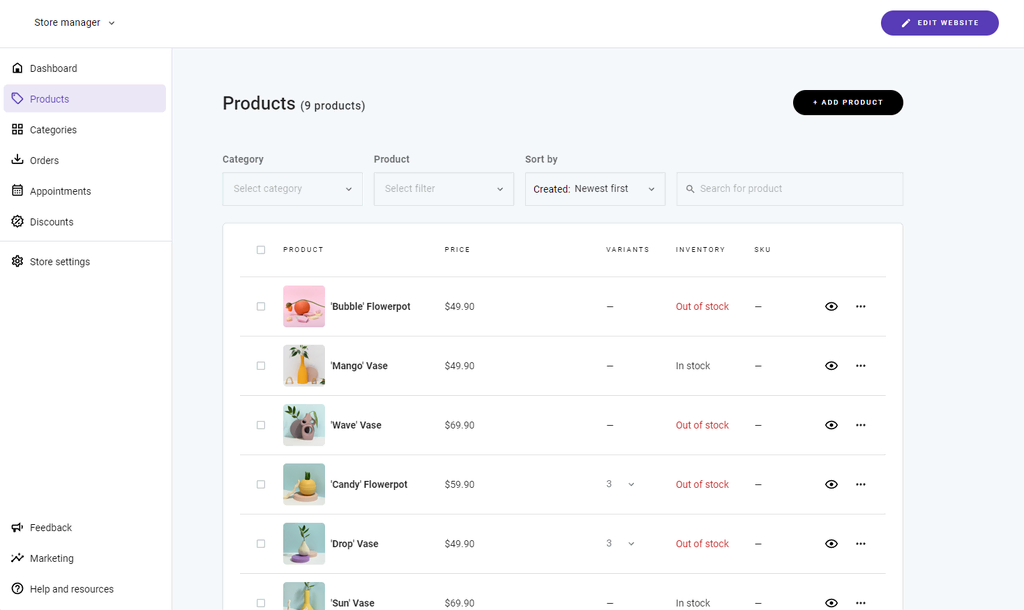 In addition, Hostinger Website Builder also incorporates robust SEO (search engine optimization) tools. These tools allow you to optimize your website for search engines, making it easier for potential customers to find you.
You can edit your website's meta title and description, generate a default sitemap, find the best keywords for your content, and add alt texts to images.
With its beginner-friendly website builder, Hostinger simplifies the world of SEO, offering a suite of easy-to-use tools that will improve your website's visibility.
Lastly, the power of third-party integrations on the Hostinger Website Builder platform should not be underestimated.
You can effortlessly connect your website with essential digital marketing tools. These include Google Analytics, Hotjar, Facebook Pixel, Google Tag Manager, Messenger Live Chat, WhatsApp, Google AdSense, and Google AdMob.
These features make Hostinger Website Builder a centralized platform where users can manage their website and efficiently improve their online marketing efforts. This makes it one of the best website builders for small businesses and other online ventures.


Hostinger Website Builder Advantages
Now that we know what Hostinger Website Builder offers, let's identify why this platform is a good choice for your needs. Here are the three main benefits of using Hostinger Website Builder.
Affordable
Hostinger Website Builder pricing plans cater to various needs while keeping your expenses in check. This makes it an attractive option for individuals, freelancers, and small businesses working within a tight budget.
One of the most recommended plans is Premium Web Hosting which starts from $3.29/month.
Purchasing this plan for a 24 or 48-month cycle will also include a free domain name for a year. Take advantage of the 30-day money-back guarantee to test all the features before committing to a long-term plan.
In addition to high-quality web hosting, every user will get access to all Hostinger Website Builder features at no additional cost.
The commitment to affordability ensures that everyone, regardless of budget constraints, can establish a strong online presence. This platform focuses on providing great value and enabling users to begin their online journey effectively.
Beginner-Friendly
With its AI builder and drag-and-drop editor, Hostinger offers a beginner-friendly website builder. You can easily create a website in minutes without coding knowledge.
Additionally, third-party integrations give users the tools necessary to grow their site's online presence.
Advanced users can also benefit from this intuitive platform to save time and resources in order to dedicate them to other productive tasks and further scale their businesses.
Good Performance and Speed
Websites created with Hostinger Website Builder load quickly and perform well thanks to the optimized technology. This results in a smooth user experience and improves SEO rankings.
You don't need to worry about frequent downtimes that will damage your site's reputation and cost you many potential customers. With the 99,9% uptime guarantee and 24/7 customer support, Hostinger can help you maximize your online presence.
Hostinger Website Builder Disadvantages
Despite its robust features and ease of use, Hostinger Website Builder might not be suitable for some specific scenarios and needs. Let's look at three limitations of using Hostinger Website Builder that you may want to consider.
Limited Functionality for Larger Websites
While Hostinger Website Builder covers the basics and more, it might not meet the needs of larger corporations.
For example, some corporate websites may need to list thousands of different products and manage them simultaneously, which requires a more advanced eCommerce dashboard.
Having said that, Hostinger Website Builder allows adding up to 500 products, enabling more than 20 different payment options, and configuring other aspects like shipping, product page design, and discounts.
These features should be more than enough for most small to medium businesses who want to sell their products online with no hassle.
No Code-Based Design Customization Option
There are more than 100 Hostinger Website Builder templates suitable for various website types, including blogs, portfolios, and online stores. Users can customize these templates easily with the drag-and-drop editor.
If you prefer a deeper customization option using a code-based editor, opt for other options like WordPress.
Limited Scalability
Hostinger Website Builder is fantastic for small to medium-sized websites, but it cannot scale indefinitely. As your business and website grow, you might need more advanced features and flexibility than the Website Builder can provide.
WordPress
WordPress is a popular open-source content management system (CMS) known for its versatility and various plugins and themes. When hosted on Hostinger, WordPress receives a considerable performance boost and access to many additional features tailored to optimize the WordPress experience.
Main Features
In this section, we will dive deeper into the main features of WordPress when coupled with a Hostinger plan. This will help you understand what you can expect from this solution and decide if it is the right option for you.
Flexibility and Convenience
WordPress is a highly adaptable platform that accommodates everything from a simple blog to an extensive eCommerce store. It offers the tools you need to create a powerful online presence, whether you're a solo blogger, a small business, or a large corporation.
Hostinger also provides many additional features for WordPress users to make their website building and management experience more convenient.
Customers can quickly install WordPress on their hosting with the auto-installer. This saves you time during the setup process since the system will handle most of the technical configurations.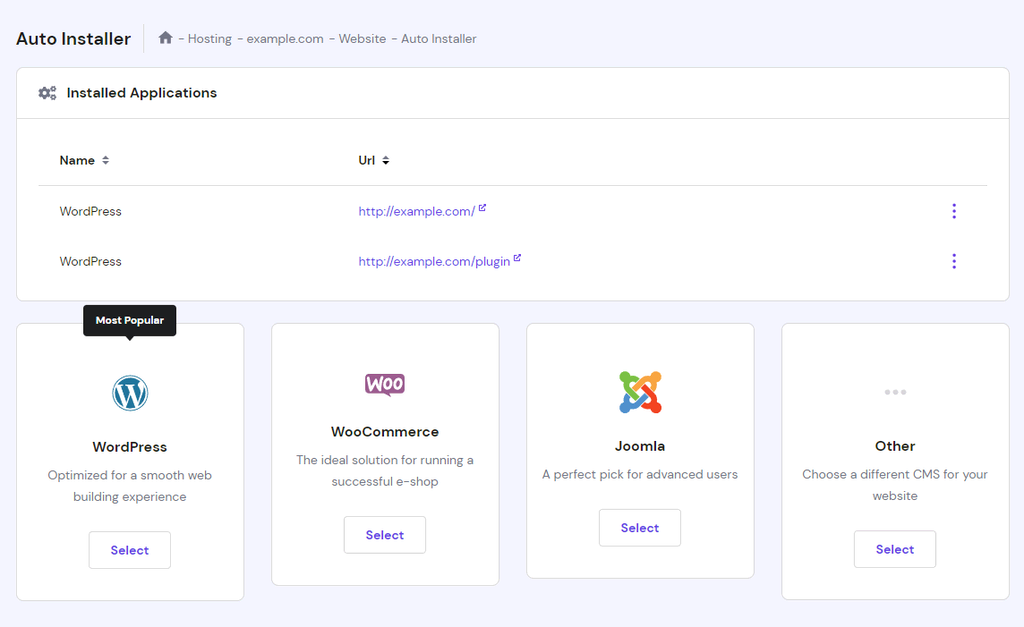 If you are hosting a WordPress website elsewhere and want to migrate it to Hostinger, you can submit a migration request. You only need to click one button and wait for the migration team to move your website in less than 24 hours.
Open-Source
The library of WordPress plugins and themes is extensive due to the platform being open-source, allowing users to modify its code. This ensures that no matter your needs, there's likely a plugin or theme that can help.
The auto-installer feature in Hostinger includes essential plugins in your WordPress installation, like LiteSpeed Cache, All in One SEO, and Monster Insights, to make your site more robust.
You can also access the default WordPress themes from the get-go without needing to install them manually.

Hostinger includes WordPress Command Line, which lets you handle tasks like updating plugins and changing configuration without using a web browser.
Fast and Secure
Your site's performance and security should be your top priority to ensure a great user experience. By hosting your WordPress website at Hostinger, you will get access to various features and add-ons to make your site more reliable and secure.
When you use Hostinger's one-click installation feature, your WordPress installation will include the LiteSpeed Cache for WordPress (LSCWP) plugin. This plugin uses exclusive server-level cache and optimization features to greatly improve your page load speed.
All WordPress hosting plans at Hostinger come with unlimited free SSL to protect your site. You will also get the built-in Vulnerabilities Scanner and auto updates to help your WordPress site be more secure and up-to-date.

WordPress Advantages
Having examined WordPress' main features, let's now discuss the benefits of using it with Hostinger. We'll highlight how hosting WordPress on Hostinger enhances customization, boosts SEO, and enables high scalability potential.
Highly Customizable
With access to thousands of plugins and themes, WordPress allows for an unparalleled level of customization. You can create a unique website that aligns perfectly with your brand.
Plus, with Hostinger's WordPress AI tools, like the AI content generator, you can take personalization to a new level.
SEO-Friendly
WordPress is well-optimized for SEO, and many additional plugins can further enhance your website's visibility.
With Hostinger, you also get the All in One SEO plugin that lets you easily take care of tasks like meta title and description editing, sitemap generation, keyword suggestions, and image alt text configuration, making it easier for your website to rank higher in search engine results.
High Scalability
WordPress users can scale their sites up or down depending on their needs. Hostinger helps you in that aspect by ensuring that your site stays fast and responsive, even as your traffic grows.
Hostinger offers a wide range of hosting and domain options to ensure you can tailor your website to your ever-changing needs. If your online business expands significantly and needs to manage more complex tasks, you can effortlessly switch to a higher-tier hosting plan.
The Cloud Hosting plan is a prime example, offering optimized performance and dedicated resources such as support for up to 300 websites per account, a dedicated IP address, and priority assistance.
WordPress Disadvantages
Despite outlining the numerous benefits of choosing WordPress on Hostinger, it's important to note that this platform may not suit everyone's needs and preferences.
In the next section, we will discuss the potential drawbacks of WordPress to help you make informed decisions when choosing a site-building platform.
Steep Learning Curve
WordPress has a steeper learning curve than Hostinger Website Builder. It's more complex and may be challenging for beginners to grasp initially. This may result in a longer adjustment period as users navigate through various features and functionalities.
However, Hostinger understands these challenges and aims to make the process smoother by providing comprehensive tutorials and guides tailored to assist users in mastering WordPress.
High Cost (Depending on Hosting and Plugin Fees)
WordPress can be more expensive than other solutions depending on your website's needs. The cost of premium themes, plugins, and good-quality hosting can add up.
However, Hostinger provides affordable WordPress hosting plans that can help mitigate these costs. You'll also get a complete toolkit, including WP-CLI, SSH (Secure Shell Protocol) access, Git integration, and PHP version control, which make this solution a great value for your money.
Security Concerns
WordPress is known for being a target for hackers due to its popularity. Hostinger mitigates this risk by offering a WordPress Vulnerabilities Scanner and providing regular security updates.
Other features, like enhanced DDoS protection, Cloudflare-protected nameservers, and the free domain WHOIS privacy protection, will also enhance your site's security.
Hostinger Website Builder vs WordPress Comparison
After we went through both platforms' detailed features, pros, and cons, it is time to look at WordPress and Hostinger Website Builder comparison.
We will present this comparison based on ease of use, design flexibility, suitability for large-scale websites, affordability, performance, speed, SEO options, and eCommerce integration.
Which Platform Is Easier to Use for Beginners
Hostinger Website Builder is designed with beginners in mind, featuring a drag-and-drop editor and AI-powered tools, making it easy for anyone to create a professional-looking website.
WordPress, on the other hand, has a steeper learning curve and might require some technical knowledge to fully exploit its capabilities. For beginners, Hostinger Website Builder is the winner.
Which Platform Offers More Design Flexibility
Both platforms offer a good degree of design flexibility. However, with its access to a vast array of themes, plugins, and the ability to edit your site with code, WordPress offers more advanced customization options.
But remember, Hostinger Website Builder also provides various customizable, designer-made templates. Given WordPress's complexity, Hostinger Website Builder offers sufficient design flexibility for most users.
Which Platform Is Better Suited to Large-Scale Websites
WordPress is highly scalable and well-suited to manage large-scale websites, making it the preferred option for sites with high traffic or complex functionality.
On the other hand, Hostinger Website Builder, while capable of creating beautiful sites, might face limitations with very large-scale projects.
In this category, WordPress is the winner.
Which Platform Is More Affordable
WordPress is a free website-building platform, but you will need to upgrade to get more advanced features. These include the cost of premium themes and plugins that can make using WordPress quite expensive.
In contrast, Hostinger Website Builder offers an affordable all-in-one package, including hosting, making it a more budget-friendly option.
Hostinger Website Builder wins in terms of affordability.
Which Platform Offers Better Performance and Speed
The performance and speed of your site depend not just on the platform but also on your hosting provider. Hostinger provides optimized hosting for both WordPress and its Website Builder, ensuring fast and reliable performance.
Given equal conditions, the two platforms can deliver similar levels of performance and speed.
Which Platform Offers Better SEO Options
WordPress, with its array of SEO plugins like Yoast and All-in-One SEO, gives you more control over your site's SEO.
However, Hostinger Website Builder also offers essential SEO tools, like meta title and description editing, sitemap generation, and image alt text capabilities.
For advanced SEO options, WordPress has the edge.
Which Platform Offers Better eCommerce Integration
Both platforms have good eCommerce capabilities. Hostinger Website Builder offers integrated eCommerce features, making setting up an online store easy.
On the other hand, WordPress relies on plugins like WooCommerce for online store functionality, which may offer more advanced features but also requires more setup.
For a beginner-friendly eCommerce solution, Hostinger Website Builder is the preferred choice.
Choosing Between Hostinger Website Builder and WordPress Based on Site Needs
The choice between Hostinger Website Builder and WordPress depends on your specific needs, technical skills, and budget. Let's dive into some specific scenarios.
You're a Beginner Wanting to Build Your First Website
If you're just starting and want to create your own website without coding knowledge, Hostinger Website Builder is your best choice. Its beginner-friendly, drag-and-drop interface will get you started in no time.
You're a Small Business Owner
If you're a small business owner looking for an easy, affordable way to build a professional online presence, Hostinger Website Builder is your go-to platform.
Using Hostinger Website Builder for small businesses means users can create a stunning website, complete with hosting and domain options, and start their online ventures without breaking the bank.
You're a Blogger or Content Creator
If you're focused on content creation, you might prefer WordPress. Its robust blogging features, including a wide array of content types and styles and comprehensive SEO tools, make it a great platform for content creators.
You're Planning to Build an eCommerce Website
Both platforms offer eCommerce integration, but the choice here might come down to the scale of your operations. If you're planning a large-scale eCommerce store with advanced features, WordPress with WooCommerce could be the way to go.
But if you're a small business owner who wants to add an online store to your website, Hostinger Website Builder's integrated eCommerce features are more than enough.
You're a Developer or Have Technical Skills
WordPress might offer you the flexibility and control you want if you're technically inclined or a developer. You can customize every aspect of your website with access to the site's code and a vast array of plugins and themes.
You're Looking for the Best Value for Money
If budget is your primary concern, Hostinger Website Builder comes out on top. With its affordable all-in-one package, you get hosting, a domain, and access to the website builder, making it a value-for-money choice.
Conclusion
Creating a website is an exciting process and it all starts with picking the right platform. This article has compared Hostinger Website Builder and WordPress in detail.
We've examined both platforms' main features, pros, and cons, considering important factors such as user-friendliness, design flexibility, scalability, cost, performance, speed, SEO options, and eCommerce integration.
Hostinger Website Builder is great for beginners, offering an easy-to-use interface, attractive templates, and simple customization. It's perfect for small businesses or individuals who want a stylish website quickly without learning code.
On the other hand, WordPress is known for its flexibility and a wide variety of plugins and themes. Though it has a steeper learning curve, it's suitable for those who want more control over their site and have the technical skills to maximize its potential.
Keep in mind that there isn't a one-size-fits-all solution when selecting a website platform. The ideal choice depends on your needs, abilities, and website goals.
Take time to think about what you need from a website builder and choose accordingly. Hostinger Website Builder and WordPress offer excellent features to help you create an impressive and functional website.
Hostinger Website Builder vs WordPress FAQ
We will answer some of the most frequently asked questions about Hostinger Website Builder vs WordPress.
What Is Hostinger Website Builder, and How Does It Differ From WordPress?
Hostinger Website Builder is a drag-and-drop platform allowing users to create a website without coding skills. It comes with designer-made templates, customizable design elements, AI tools, eCommerce features, and SEO tools.
On the other hand, WordPress is a content management system that gives users full control over their website's design and functionality. It's highly customizable with themes and plugins but requires some technical knowledge to use effectively.
Can I Use Both Hostinger Website Builder and WordPress Together?
While you can technically have a Hostinger website and a separate WordPress website, you can't use the two platforms on the same website. They are different systems and don't integrate with each other.
Can I Migrate My WordPress Site to Hostinger Website Builder?
Yes, you can migrate your WordPress site to Hostinger Website Builder. Hostinger provides a migration service that can assist you with the process. However, due to the structural differences between the two platforms, some elements of your site may need to be manually adjusted or recreated in Hostinger Website Builder.