How to Download a Backup of Your Website

Having website backups is always a relief in the event of data loss or server breakdown. Your hosting provider might provide you with an automatic one, but we recommend performing your own backups for increased redundancy. Hence, in this tutorial, we'll show you how to download a backup of your site through hPanel and cPanel.
Why Do You Need a Website Backup?
Something could always happen to your website, whether it's crashed hard drives, hacking attempts, human errors, and many more.
Those instances could result in corrupted files or, even worse, data loss. The time that should be used to grow your business is allocated to recover those files instead.
This is why you need to backup your website regularly. If one of those cases happen, you can avoid permanent data loss by restoring your website files.
Generating and Downloading a Full Website Backup via hPanel
Hostinger automatically creates weekly or daily backups, depending on your hosting plan. As such, you can easily download the backup files by following these steps:
Login to your hPanel and select the Backups menu under the Files section.
Upon entering, you will see a list of website files and databases.
Here's a quick break-down of each category:

File — tells you the name of the backup files.
Size — shows the size of each backup file.
Type — specifies whether the file consists of a MySQL Database or website files.
Backup Date  — the time and date the backup was created.
Action — used to prepare and download the backup files.

Press the Prepare Backup button next to your desired file. Wait for the process to be finished and click Download.
If you want to have the latest copy of your files, scroll down and click Generate a New Backup. 

Keep in mind that the new backup will override your old backup files, so proceed with caution!
Generating and Downloading a Full Website Backup via cPanel
cPanel offers several backup options for its users: automatic full backup, partial backups, and manual backup.
Option 1: Automatic Full Account Backup
This type of backup lets you create a full account backup, including website home directory, MySQL databases, emails, and DNS settings. It's mainly used to transfer your account to another hosting provider.
Start by logging into your cPanel, then follow these steps:
Head to the Files section and choose Backup.
Under Full Backup, press Download a Full Account Backup.
On the next page, head to the Backup Destination drop-down menu, and select Home Directory.
Click Generate Backup, and your backups will be generated automatically.
Press Go Back and check whether or not your files are ready for download. If it's still in progress, wait for a few minutes and refresh the page.
Click the file to download.
Option 2: Automatic Home Directory Backup
This backup is arguably the simplest of the bunch since it's only a click away. However, it only saves your website files and emails.
To download a home directory backup, simply login to cPanel and head to Backup > Partial Backup.
Then, select Home Directory under Download a Home Directory Backup, and the download process should commence automatically.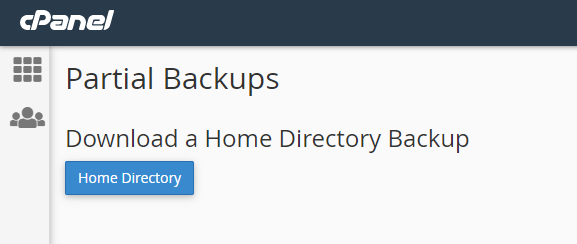 Option 3: Manual Website Backup
The last option allows you to backup selected files only. However, the steps are a bit more complicated.
Before proceeding, you need to know where all website files are located (root folder). It's usually the public_html directory, but it is also possible for your website to be installed in a subdirectory like /w/.
Here's what you need to do to start the backup process:
Log into cPanel and head to File Manager under Files.
Locate the root folder of your website and right-click to Compress.

Choose a Compression Type. We recommend either Zip or Tar, then click Compress File(s).
Close the Compression Results window and head over to the File Manager to locate the generated file.
Click the file and head to the upper menu bar to Download the files into your computer.
That's it! Now you've backed up all the necessary files of your website.
Conclusion
In this tutorial, we have learned how to download a backup of your website files through hPanel and cPanel. Here's a quick recap:
Generating and downloading backup files through the hPanel's Backups menu.
Creating an automatic full account backup in cPanel.
Downloading partial backups from cPanel.
Saving the website's root folder from cPanel.
So, what are you waiting for? Download your backup files and secure your website!