If you are thinking about building a site, you probably have quite a few questions. One of the most important one being how much does it cost to build a website?
There are a couple of factors the price depends on. Most prominent being what kind of website you want to build.
In this article, we will discuss how much you have to spend on building a website.
Key Points That Will Help You Get on the Right Track
The price of your website depends on quite a few factors. To help you stay on track and prevent you from overspending, let's discuss some of the things you need to consider before starting to build a site.
What is your Budget?
Developers initially build websites from scratch. However, this option is too difficult for people without technical knowledge.
However, there is software that makes website building easier – content management systems (CMS) and drag-and-drop website builders.
The expenses you will face vary from one building option to the other. For example, if you choose WordPress as your web builder, you might need to invest in themes, plugins and other features.
Below is a cost estimation of using WordPress (a popular CMS) and Weebly – a website builder. The WordPress site uses a premium theme and some premium plugins.
Similarly, the website of our choice is Weebly, and the cost involves a premium theme and plugins.
WordPress:

Premium theme: $20
Premium plugins: $20
Total: $40

Weebly website builder:

Premium plan: $25
Premium theme: $59
Total: $81
Depending on your budget and technical skills, you can choose between various options.
How to manage a Website?
There are two options when it comes to website management: doing it yourself or paying someone to take care of it for you. Each option has pros and cons.
Whatever your platform is, the website and its plugins need regular updates. CMSs and website builders usually let you do it with a few clicks. Custom websites, however, require manual updates.
If you are not familiar with coding, then most likely you will give the task to a developer. The developer cost depends on many factors. Should you ask help from an agency, the price will be higher.
On average, custom website maintenance costs start at $115 per hour.
Managing a non-custom website by yourself takes less money.
Additional Features
The kind of features that you need for a website affects its cost. By planning them, you can look for the necessary plugins.
For example, you want to use your website as a blog. You may want to install plugins for SEO, analytics, contact forms, and site caching for a start.
Features like image gallery, parallax background, and other appearance customizations may not be necessary yet. However, you might need them in the long term.
All these factors add up to additional costs, which you should count into your budget.
Hosting, Domains, Security and the Technicalities
The first thing to consider before setting up a site is the hosting service. These services don't have to be expensive to work great.
You should always look for a web host with good uptime. At Hostinger we offer great quality services – while offering 99.9% uptime.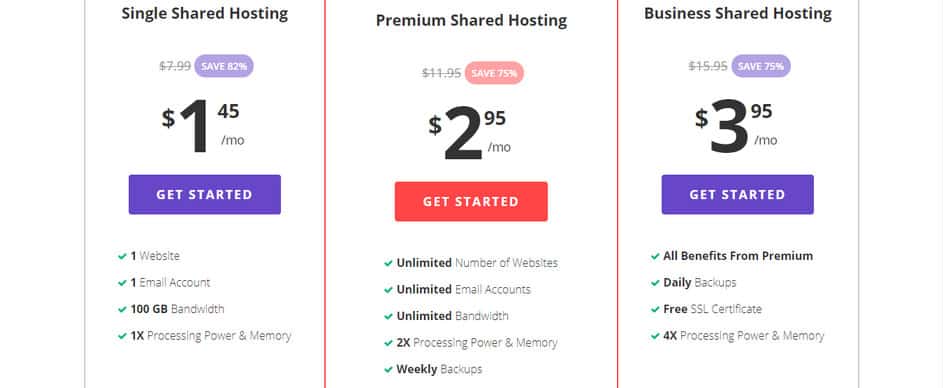 In addition to that, we have very competitive pricing. You can get hosting cost you as little as $1.45 per month.
And if you need better performance and more control, you can get VPS (Virtual Private Server) hosting which starts at $3.95 a month.

On top of hosting services, you have to choose a custom domain name. Different domain names have different prices. They usually cost between one or two, to twenty dollars, but some go beyond that.
Choosing a good, memorable domain name is important. You want a name that will reflect what your business does – something original and creative.
All CMSs and website builders are safe. But they need another layer of security. You need to get an SSL certificate for this reason. The price varies, but you can get it for $7.49 per year in Hostinger or for free if you grab the Premium plan and up.
The Type of Website Matters
As already mentioned, there are different types of website builders. The first one is a CMS. There are many CMS, and WordPress is the most popular option. You can add many features to a CMS site by using plugins.
Next, we have web builder sites. They usually have a collection of built-in features that you can use without downloading. You can also design your website easily using their drag-and-drop interface.
Other than the two above, you may use a custom site. You either build it from zero or customize a CMS or a web builder.
Below, we will show you how the price differs between the three categories.
It Comes Down to Resources
The way you manage a site affects your expenses. Hiring a web developer or a web designer means buying time. On the other hand, maintaining a website by yourself is free but takes up time.
Some CMSs like WordPress are free to use but have additional costs including plugins and themes.
Website builders come with a subscription fee. However, most of them offer many free themes and built-in features.
The cost of a custom website depends on whether you hire a web developer or not. Nonetheless, you still need to pay for the hosting service, domain name, and SSL certificate.
It's Best to Start Slow
Website creation is a skill that we cannot speed up artificially. Moreover, the project may not work out. Thus, it is not the wisest choice to spend thousands of dollars on the resources right at the stat.
It is more important to start humbly and only pay for the things you need. That way, you can spend realistically and will not lose a lot if the site does not meet your expectations.
A Glance at What to Expect
There are three ways to build a website. Below you will learn about the advantages of each.
Website Builders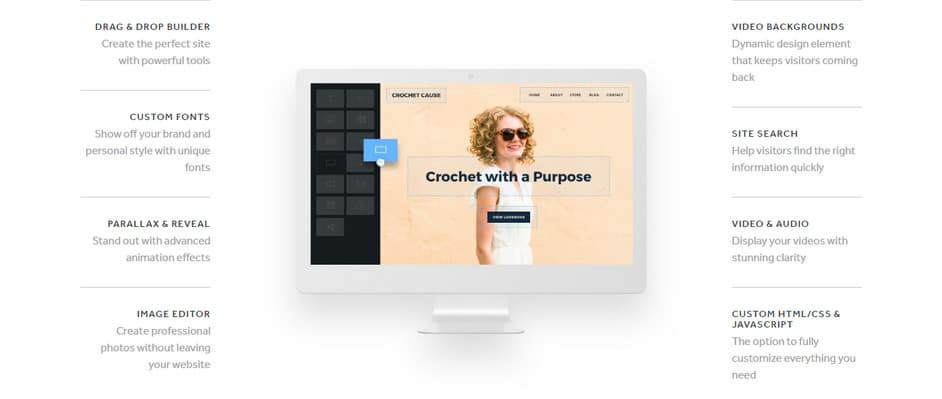 This option is the easiest to use, especially for beginners. Website builders let you choose a design template and modify it to your liking. What's even better, you get to see the changes as you make them.
Some website builders offer a free plan, but you can opt for a paid plan for more features. Their prices can range from $5 to $49. You do not need to get a hosting service since they are usually self-hosted.
With Hostinger, you get access to a free website builder. This feature is available for all hosting plans. You also get beautiful templates to start with.
Website builders are preferable if you want to create a website quickly without technical knowledge.
WordPress Based Website

WordPress and other CMSs may not be as beginner-friendly as website builders. Nevertheless, you can extend them with more features. WordPress, for example, has more than 50,000 plugins.
You can increase WordPress' flexibility if you can code.  Because the platform is open-source, you can edit its themes, plugins, and core files.
WordPress is free to use. However, you need to get a hosting service and a domain name to get your website online.
Should you need a quick start with WordPress, Hostinger's WordPress hosting starts at $1.45 per month. The deal includes hosting, a 24/7 WordPress support and a set of custom WordPress caching plugins. Your site will always be at its peak performance.
Custom Website
As the name says, a custom site is a type you build using custom solutions. Compared to the previous two categories, custom websites give an infinite amount of possibilities for those with web development skills.
For people with technical knowledge, creating a custom website is something that they can start working on at once. But if you do not, it is better to leave it to an expert or decide on another method.
The cost of hiring a website designer might be a steep one. Depending on what you want to achieve, the amount of time and money put into the creation will also rise. If you decide this is the route for you, it is safe to say that you need at least $6000.
Breakdown of the Website Costs
Now that we have discussed all the possible costs of building a website, let's take a look at the price range of building and maintaining a site (in rough estimation).
CMS
Web Builder
Custom
Initial Cost
Theme/Visual
free-$400
free-$800
$6000
Plugins/Features
(each, in general)
free-$200
–
$5000
Ongoing Cost
Maintenance
$5.25
–
$300-$2000
Hosting Service
free-$40
–
free-$40
Domain Name
free-$9.99
free-$9.99
free-$9.99
SSL/Security
free-$250
free-$250
free-$250
Conclusion
Again, the prices in the tables above are estimates. With that bearing in mind, it all depends on what kind of website you want.
The cost of making a custom site can be very different from what we estimate here; depending on the website developer that you hire and the amount of time they need to complete the project. Or like the fact that the design cost is much higher on a custom site.
However, you can use the estimation in this article to help plan out a budget. If you have any other questions regarding this topic, please leave a comment below!