10+ Best WordPress Donation Plugins in 2023
Online donations have been steadily growing in popularity in recent years. It's clear that online fundraising is still a viable and effective way to get support for your charitable cause.
If you're thinking of raising funds for a special cause, installing a WordPress plugin that turns your WordPress site into a fundraising platform may be the easiest way to do it.
This article will review some of the best WordPress donation plugins to help you create a compelling fundraising campaign.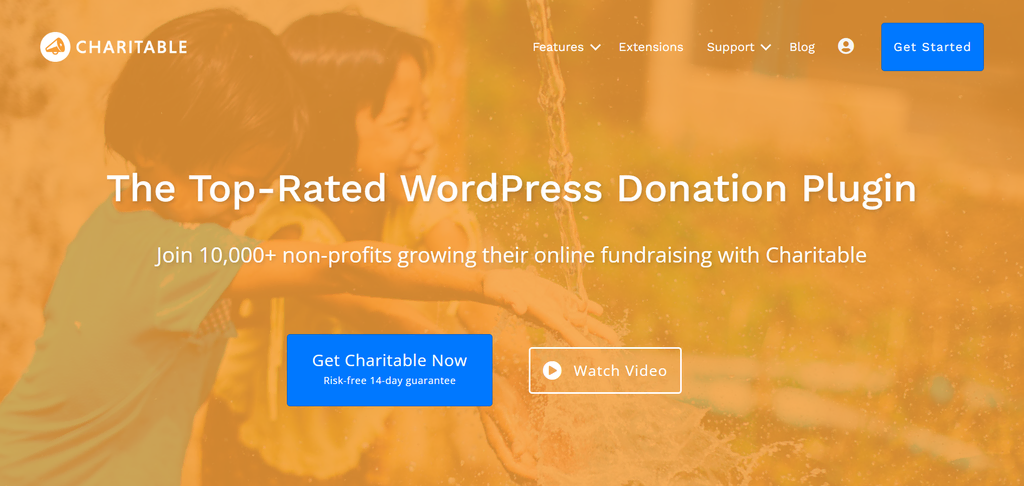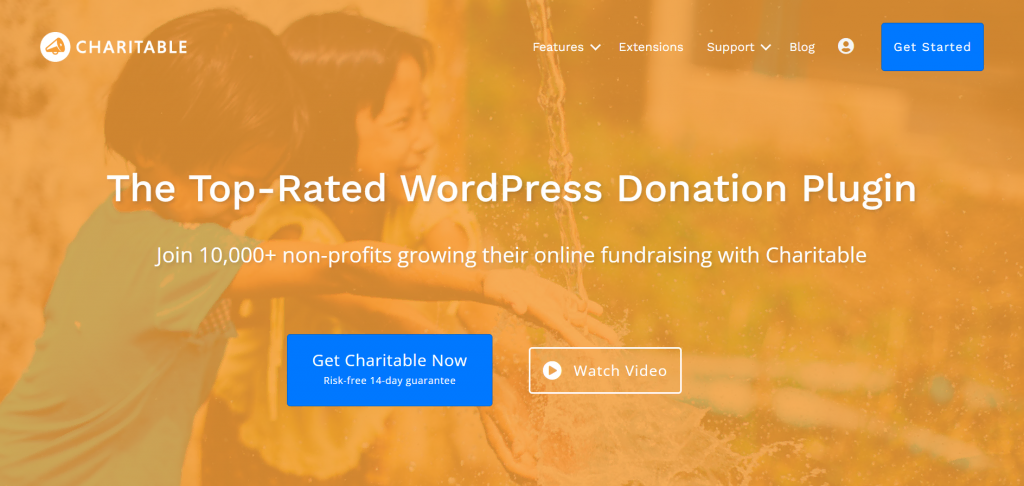 Plugin Stats
Downloads: 10,000+
Unique Features: Unlimited donation campaigns, offline payment methods, and GDPR-ready donation forms
Price: Freemium
Charitable is a robust donation plugin for WordPress. With an easy setup and GDPR-compliant donation forms, Charitable ensures people can quickly and safely donate to your cause.
The free version of this donation plugin comes with useful tools for creating compelling donation campaigns. You're able to set up unlimited and time-sensitive campaigns with designs matching your website's theme.
Charitable lets you connect the site to your PayPal account. Offline payment methods via cheque and bank transfer are also available with detailed instructions, further easing the donation procedure.
Usability-wise, Charitable provides a versatile donation management system that lets you sort and search specific donations and export the records into a CSV file. Furthermore, Charitable provides automated donation receipt generation and custom email tags for personalized emails.
The best part is that Charitable charges no platform fees.
For more functions like recurring donations, peer-to-peer fundraising, and more payment gateway integrations, consider getting the Charitable Pro version ranging from $99–$499/year.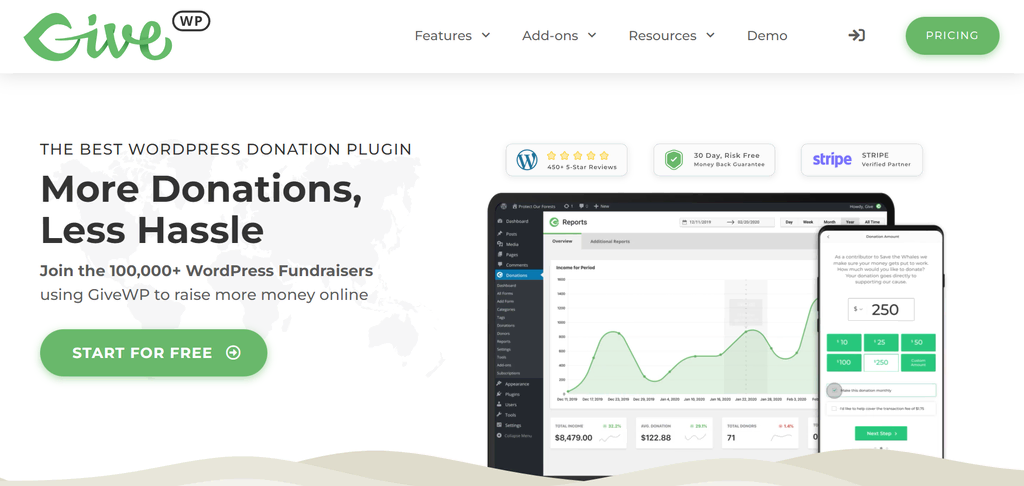 Plugin Stats
Downloads: 100,000+
Unique Features: Custom goals, recurring donation subscriptions, and advanced reporting
Price: Freemium
GiveWP is one of the best WordPress donation plugins on the market. It lets you accept one-time and recurring donations via multiple payment gateways, like PayPal and Stripe.
This WordPress donation plugin provides complete payment history and donor management features. It facilitates donor registration and lets donors keep track of their donations.
You also have insights into your top donors and forms of donations.
Be it a button or a pop-up, the GiveWP donation plugin offers various customizable donation forms. The custom goal feature is also useful for encouraging donors to fulfill the donation goal.
Promoting your WordPress donation campaigns is more manageable with fundraising marketing add-ons. The GiveWP donation plugin supports Mailchimp and Constant Contact integrations.
Other functions that GiveWP offers include encouraging donors to have their company match their donations and customizing a "thank you" message for the confirmation page.
GiveWP is free to download, but you can get access to more features by purchasing one of the premium plans. The price ranges between $149-$599/year.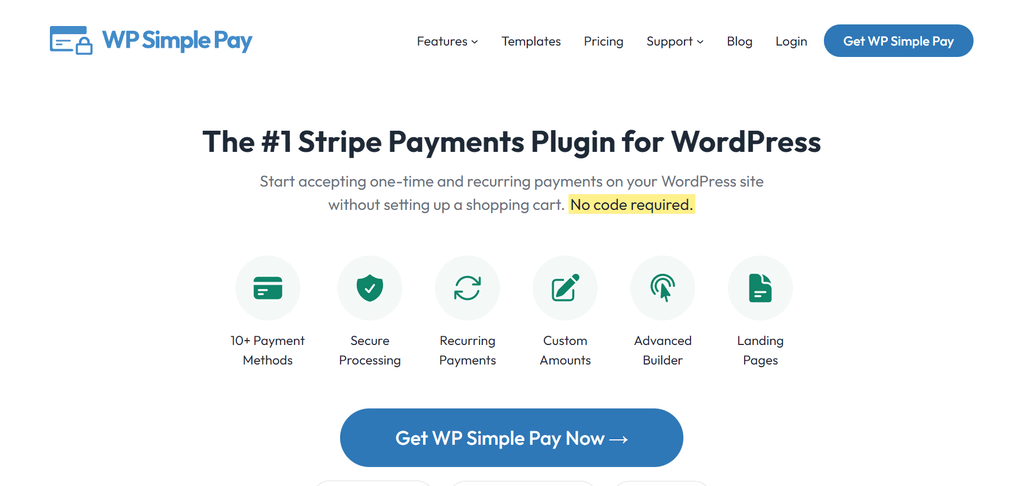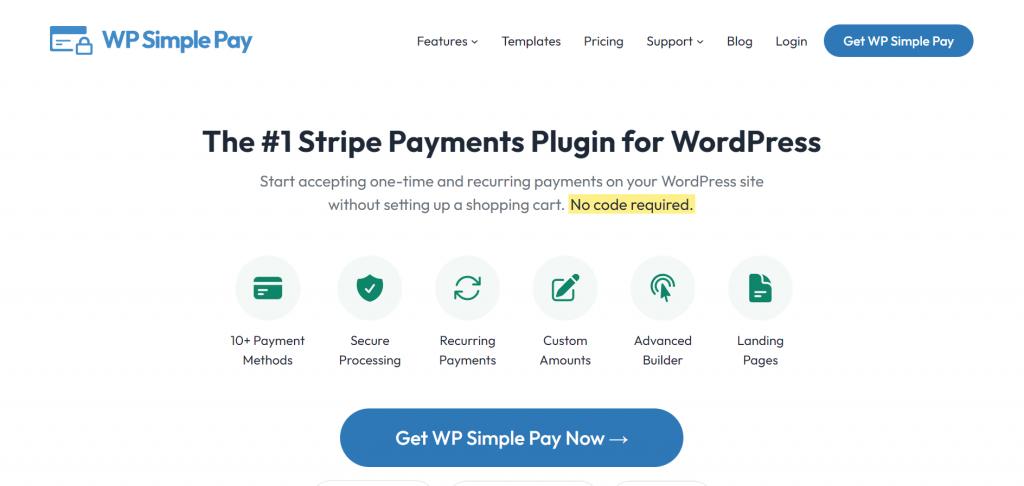 Plugin Stats
Downloads: 14,000+
Unique Features: Multiple pre-made donation form templates and Test Mode feature
Price: Freemium
If you plan to use Stripe to accept donations, consider WP Simple Pay. The setup is easy – simply install the plugin, connect an existing Stripe account, and choose a payment button or form to display on your WordPress website.
The free version gets you a general Donate Button, which visitors can use to transfer their money in a single click. On the other hand, Pro users get pre-made donation form templates for a wide range of use cases, including alumni services, disaster recovery, and support for content creators.
Customizing the form templates is simple. Feel free to change the Form Field names and order using the drag-and-drop editor. Edit the pre-set price options, add a custom donation amount for visitors to enter themselves, and set payments as one-time or recurring.
This WordPress donation plugin also has a Test Mode. It lets you do trial transactions before launching the payment button or form live.
The free WP Simple Pay plugin accepts credit cards, Apple Pay, and Google Pay with Stripe checkout. Upgrading to one of the Pro plans unlocks more payment methods like Klarna, Afterpay, and Alipay. The pricing plans cost $49.50–299.50/year.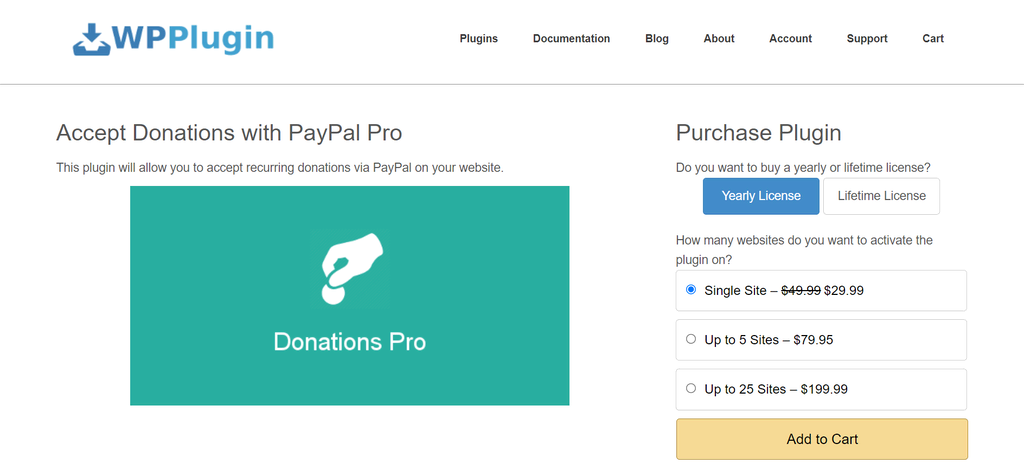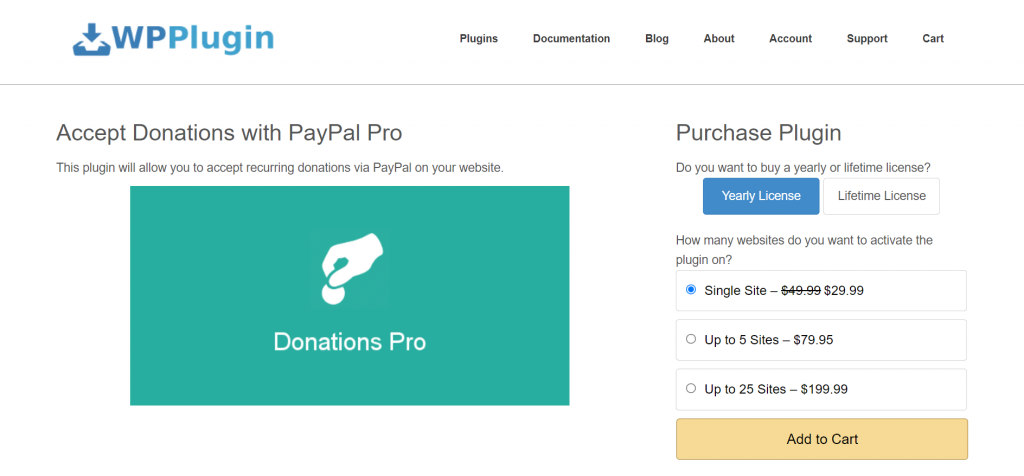 Plugin Stats
Downloads: 20,000+
Unique Features: Translation-ready, PayPal Sandbox account, and multiple donation button styles
Price: Freemium
If you're looking for a PayPal-related donations plugin, PayPal Donation may be a good fit. It lets you accept payments via the "PayPal Donation" button placed within your site, connecting to PayPal accounts hassle-free.
PayPal Donation gives you the ability to create a PayPal Sandbox account. You can test your donation campaign page for any issues before launching it for the public.
Its page/post shortcode inserter and donation widget make it easy to put PayPal Donation buttons anywhere on your WordPress site. There are various buttons to choose from, each accepting one-time or recurring donations.
On top of that, this fundraising plugin supports 18 languages and 25 currencies, allowing you to accept donations from donors across the world.
If the free version isn't enough, consider opting for the Pro version, ranging from $29.99/year to $199.99/year. Lifetime licenses are also available.
Keep in mind that PayPal charges a 2.2% + $0.30 transaction fee per donation in the United States. If you enable the recurring donation option, the 2.9% + $0.30 per donation rate will apply.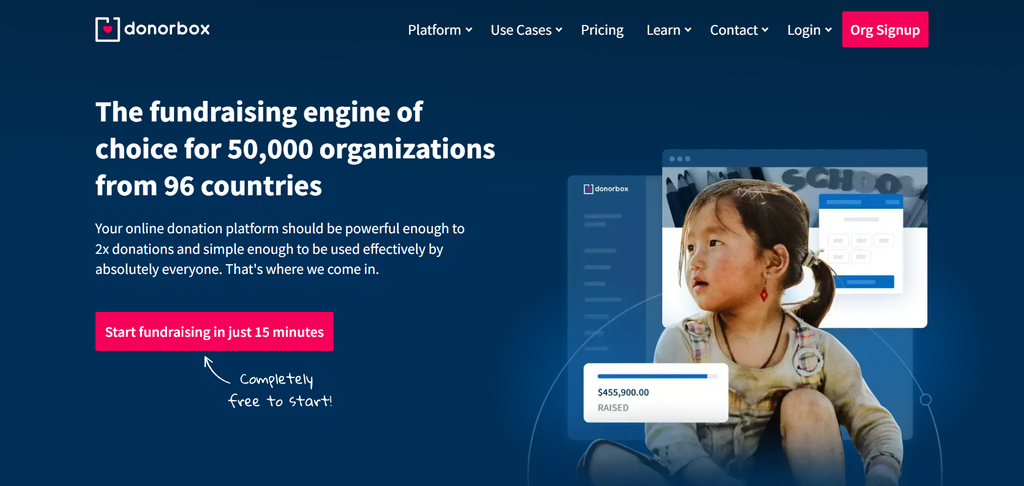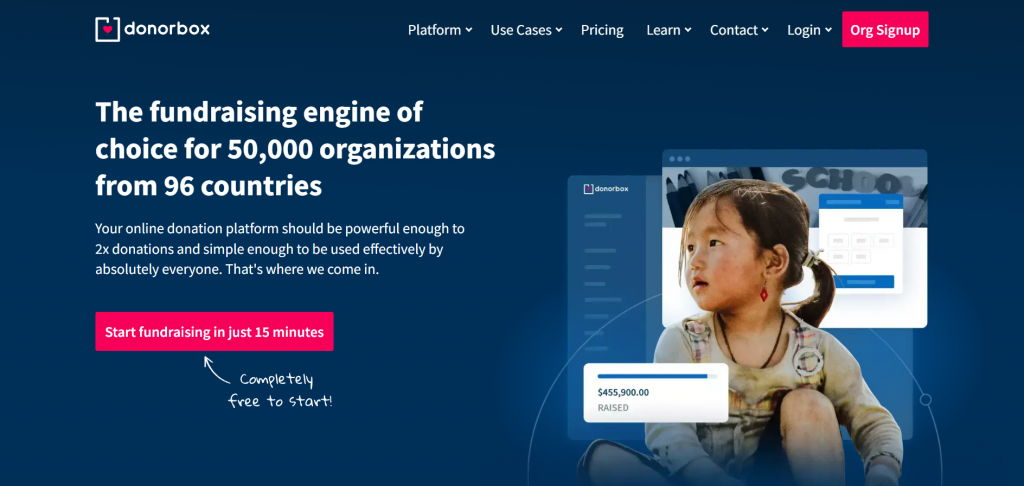 Plugin Stats
Downloads: 10,000+
Unique Features: Employer donation matching, auto-detect localization, and cross-device compatibility
Price: Freemium
Donorbox is one of the best WordPress donation plugins if you're making your first donation campaign. This free donation management plugin packs everything you need to launch a cost-effective donation campaign.
The donation forms are fully customizable, allowing you to change their color scheme, style, and language settings to suit your site's design.
Donorbox is also able to auto-detect donors' preferred language for maximum reachability. Efficiency-wise, you can set donation amount options for donors to select a faster payment process. Regular donors will get their login details where they can monitor their transactions.
This free WordPress plugin lets you accept multiple currencies via popular payment gateways, such as PayPal, Stripe, Google Pay, and bank transfers. You're also able to accept offline donations by cash and checks.
Donorbox ensures all credit card info is encrypted and safely stored via Stripe. The payment processor will transfer your donation amount directly to your account.
Donorbox is free to download, but it charges platform fees ranging between 1.75%-2.95%. You can also get the Pro version for $139/month, with a flat platform fee of 1.5%.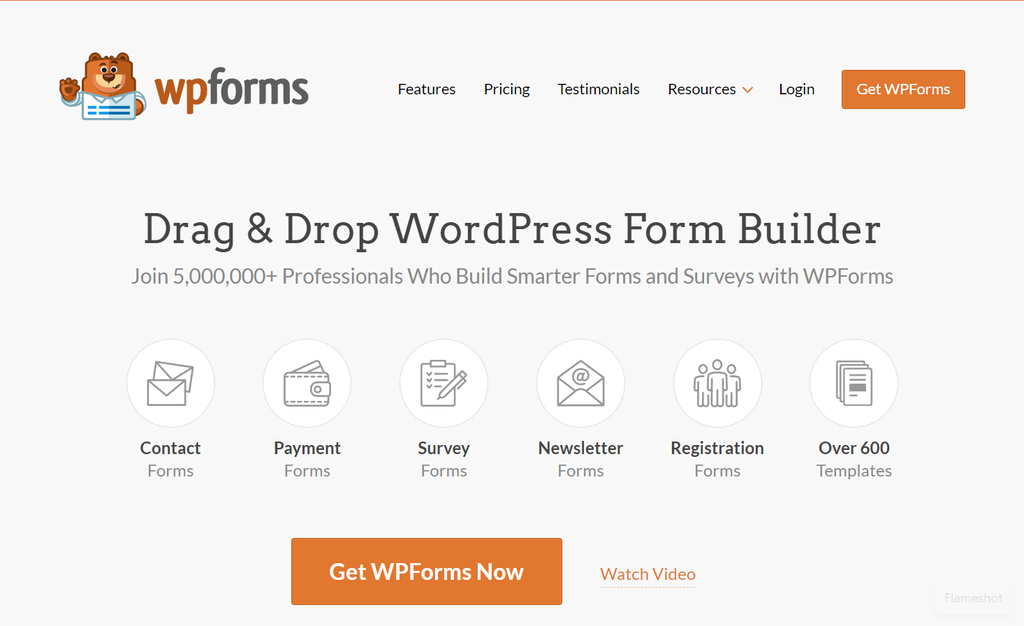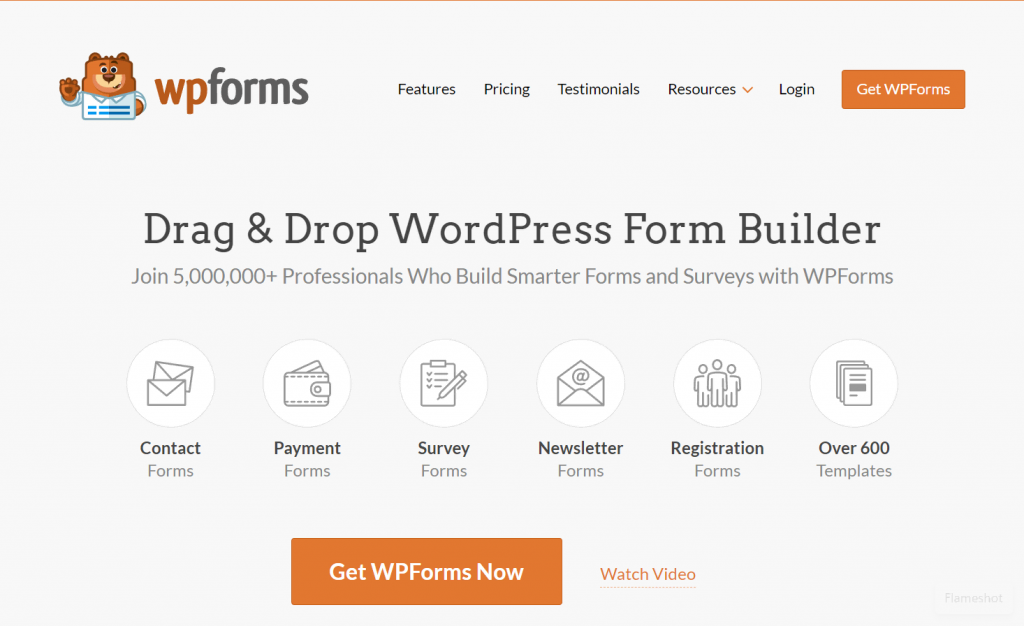 Plugin Stats
Downloads: 5 million+
Unique Features: A drag-and-drop donation form builder, instant notifications, and mobile-friendly forms
Price: Freemium
Unlike other WordPress donation plugins on this list, WPForms doesn't specialize in providing a standalone donation system. This popular WordPress drag-and-drop form builder can be used to create a large variety of forms.
First and foremost, WPForms lets you create personalized fundraising forms hassle-free with its pre-built templates. The PayPal, Stripe, and Authorize.net payment gateway integrations make it easy to accept donations that are transferred straight to your account.
Additionally, this WordPress plugin lets you create other types of forms to support your donation websites, such as contact, survey, and registration forms. All forms include spam protection, ensuring that all submissions are valid.
The supported email marketing add-ons, like Mailchimp and AWeber, help you grow your email list, further expanding your campaign's reach. Meanwhile, the form abandonment add-on lets you turn partial entries into potential leads.
WPForms comes with a free and premium version. To get past the free version's limitations, consider opting for the premium plans ranging from $49.50 to $299.50/year.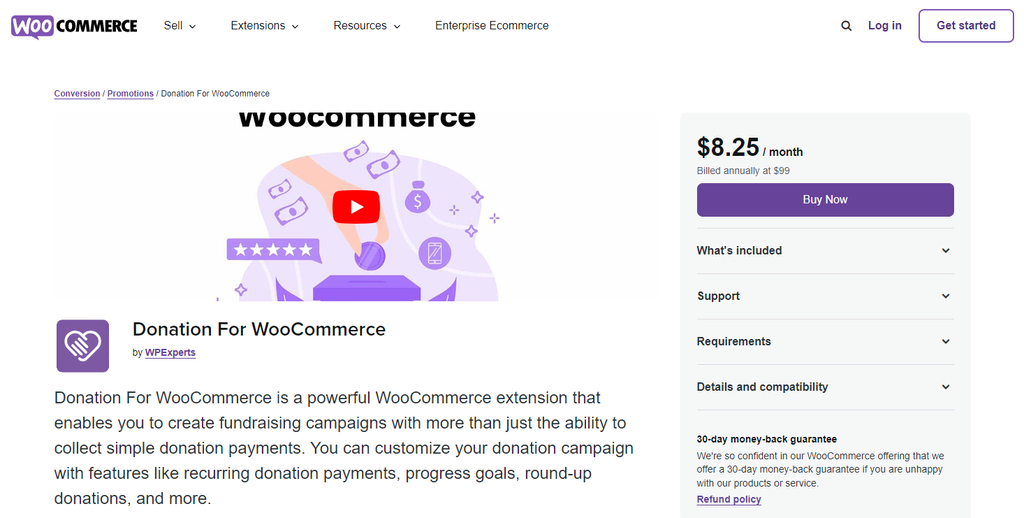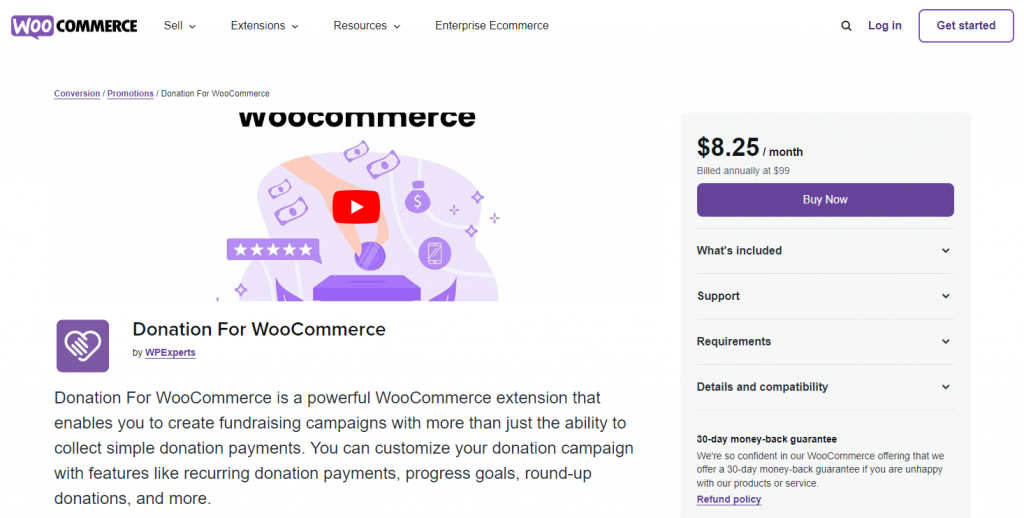 Plugin Stats
Downloads: 2,000+
Unique Features: Donation payment limits, multiple campaign donations, and round-up donations
Price: $49/year
The Donation for WooCommerce plugin lets you raise money for a good cause through your online shop. So if you already built an eCommerce store with WooCommerce, this may be the perfect WordPress donation plugin to get.
This WordPress donation plugin can create multiple donation campaigns and collect recurring donations per month, week, or even per day. People can choose the "pay what you want" option or select one of the pre-defined donation amount options you previously set up.
What makes this plugin different is the features that integrate your store with the ongoing donation campaigns. For example, the round-up feature encourages customers to round up their bill amount and donate the difference, which benefits both the business and the nonprofit events.
What's more, you can show a list of charities for customers to choose from. This way, donors can pick the cause they believe in, boosting the chances of successful campaigns.
Donation for WooCommerce has a donation widget you can place anywhere within the eCommerce site using a shortcode. Additionally, the donation widget and form are fully customizable to your liking.
While WooCommerce is free to use, the Donation for WooCommerce plugin costs $8.25/month. Consider getting the Currency Switcher for WooCommerce plugin as well, costing the same price, to allow customers to switch between their preferred currencies.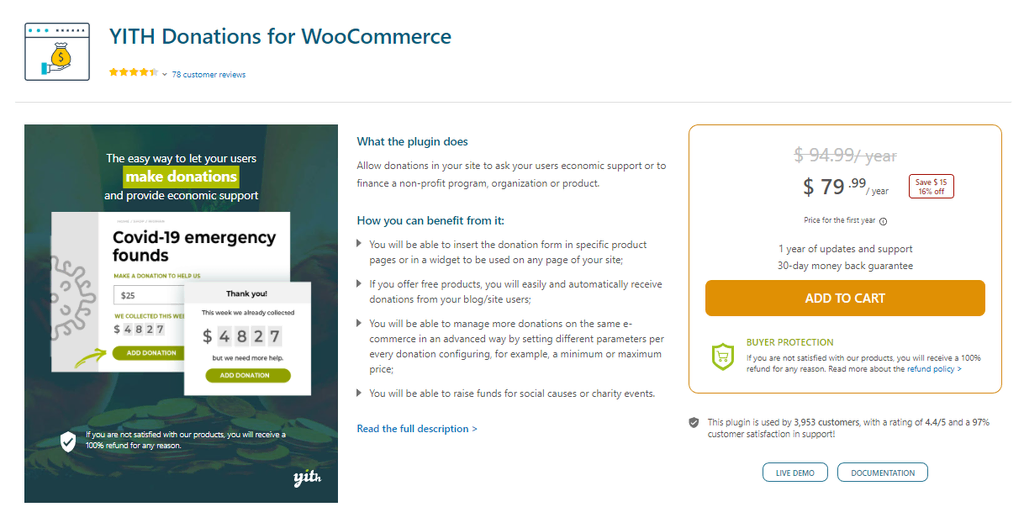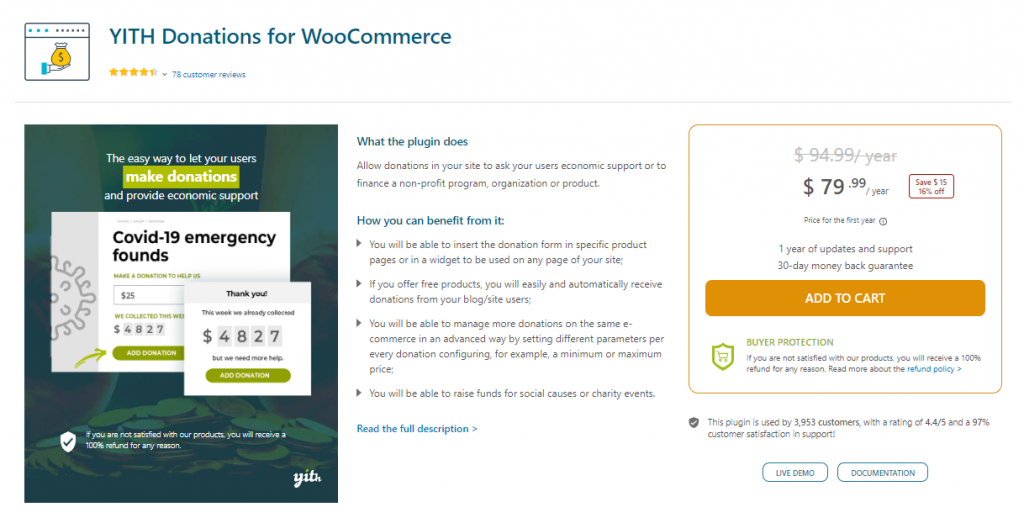 Plugin Stats
Downloads: 3,900+
Unique Features: Multiple payment methods, mandatory donation via product page, and WPML compatibility
Price: $79.99 for the first year, then $94.99/year
YITH Donations for WooCommerce is another WordPress donation plugin that can be integrated into your online store. It allows full customization of the donation form, which can be easily embedded using a shortcode.
It also lets you attach donation forms to the shopping cart and product pages. This can potentially encourage people for more impulsive donations, raising the chances of meeting your goals.
Multiple payment gateways are available for customers to choose from, ranging from PayPal and direct bank transfers to offline payments by checks. You're also able to set a minimum and maximum donation amount.
Furthermore, you can integrate a donation campaign with a specific product and make it mandatory. Meaning, customers may only purchase the item if they support your cause.
Additional features include a customizable "thank you" email and WPML integration for a personalized user experience.
YITH Donations for WooCommerce costs $79.99 for the first year. If you want to continue using the plugin after that, the price will go up to $94.99/year. All in all, this WordPress donation plugin is an ideal solution for WooCommerce store owners who want to make use of their platform to support a good cause.

Plugin Stats
Downloads: 7,000+
Unique Features: Tribute donation, Gift Aid integration, and multiple currencies
Price: Free
If you're looking for a reliable yet straightforward WordPress donation plugin, Seamless Donations may be right for you. With an easy setup process, as well as Stripe and PayPal integrations, this free WordPress donation plugin makes it easy to accept donations from across the world.
First and foremost, Seamless Donations charges zero platform fees, making it ideal for website owners with a limited budget. Donors can make recurring donations via desktop and mobile devices and get a personalized "thank you" email in return.
The tribute feature lets you raise funds in memory of a deceased person. You're also able to contribute to the Gift Aid tax incentive if you reside in the UK.
Seamless Donations is free to download, but it offers paid add-ons for additional functionality and access to premium responsive donation forms. Each premium add-on costs $19.95/site.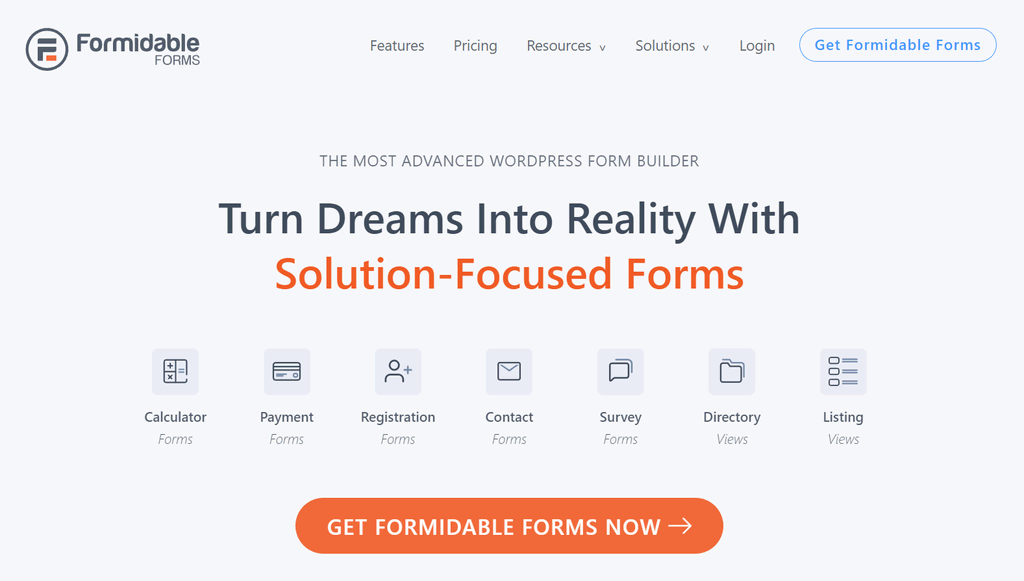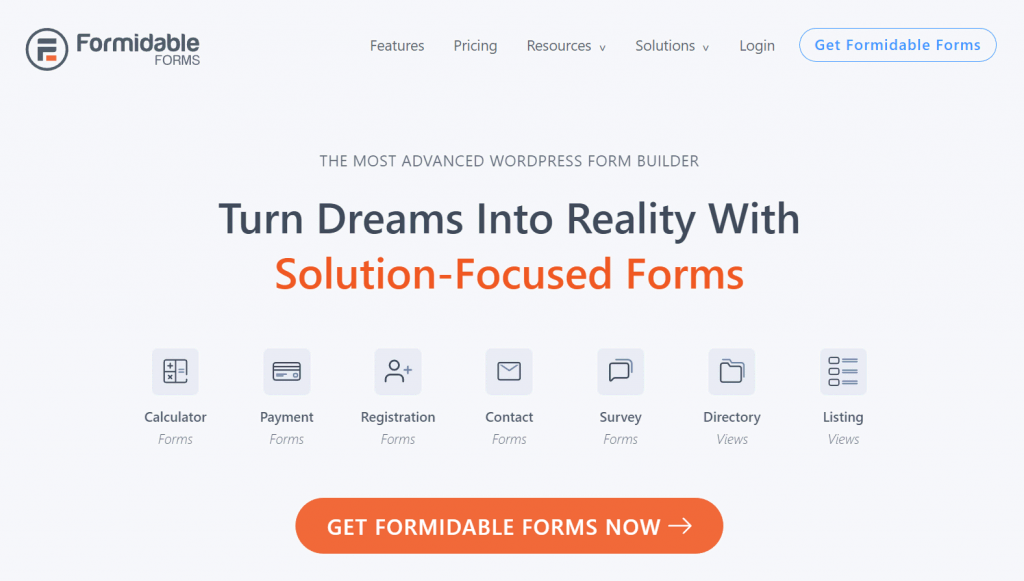 Plugin Stats
Downloads: 300,000+
Unique Features: Multiple form types and templates, Bootstrap styling, and robust spam protections
Price: Freemium
Formidable Forms is another versatile WordPress form builder you can use to collect donations online. Featuring a drag-and-drop form builder and a visual styler, Formidable Forms allows you to create all types of forms that match your website's theme.
Lots of form templates are available to ease the overall design process, including donations and payment forms, as well as WooCommerce forms. You can also customize these forms with Bootstrap and custom HTML codes.
Similar to WPForms, Formidable Forms can help to grow your email list for more exposure. It supports integrations with various email marketing tools, like Mailchimp and AWeber, while the SMS notification feature will notify you when a donation has been made.
Payment-wise, Formidable Forms accepts credit card payments and recurring donations via PayPal, Stripe, and Authorize.net payment gateways. At the same time, spam protection options, like honeypot, reCAPTCHA, and Akismet are ready to protect your donation campaign from fraudulent donors.
You can download this WordPress plugin for free or purchase one of its plans ranging from $39.50-$299.50/year.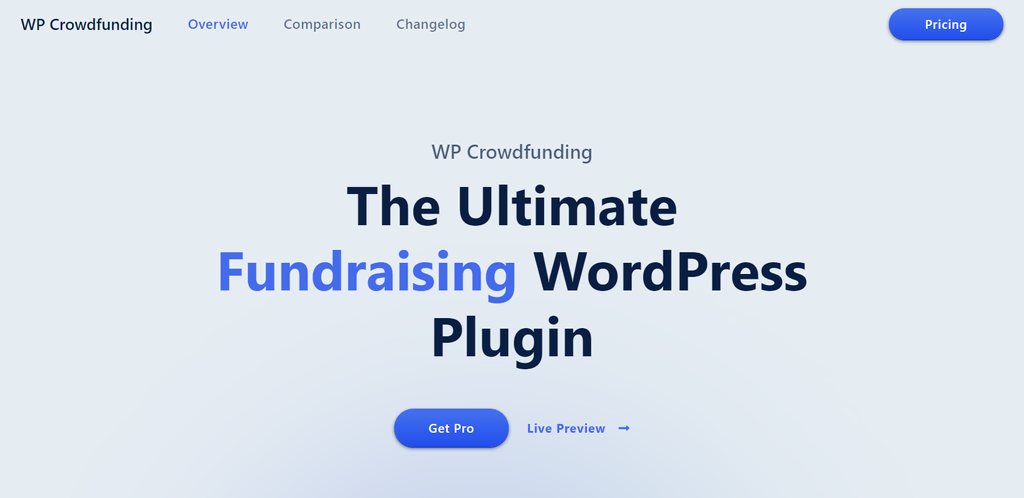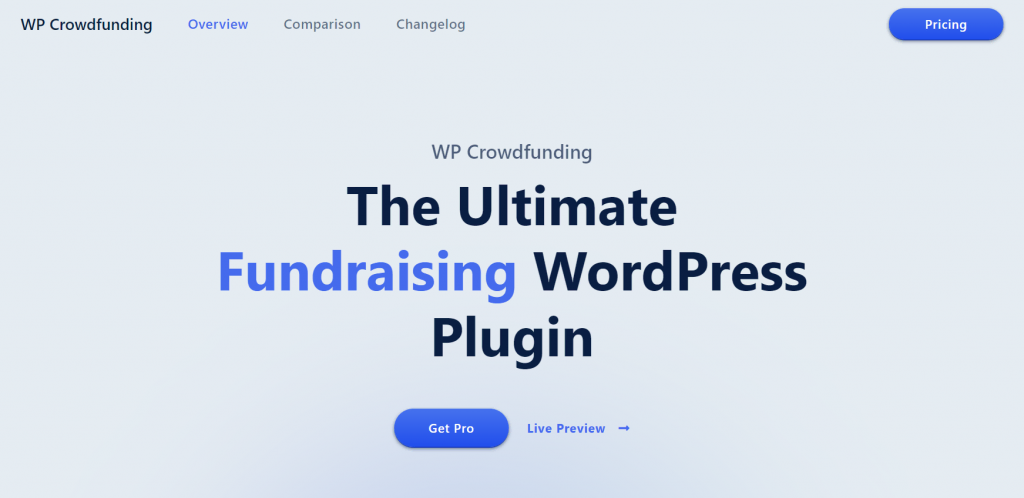 Plugin Stats
Downloads: 5,000+
Unique Features: Native wallet system, Stripe Connect, and unlimited rewards
Price: Freemium
WP Crowdfunding is an excellent WordPress crowdfunding plugin for funding projects through a collective effort of backers online.
Powered by WooCommerce, WP Crowdfunding has a native wallet system that lets you accept and manage multiple donors' pledges. As the administrator, you can approve the withdrawal requests once the goal has been reached.
Sending the funds to the project owners is hassle-free with the Stripe Connect payment gateway. Other payment methods include PayPal, Skrill, and credit cards.
While the Basic version covers a crowdfunding system's basic functionality, the native wallet system and Stripe Connect integration are only available within the Pro version, ranging from $149 to $299/year.


Plugin Stats
Downloads: 3,000+
Unique Features: Customizable vector-based design and easy integration
Price: Free
Donation Thermometer is a great complementary plugin for other WordPress donation plugins. Using a "thermometer image" to display the number of donations you have collected, this plugin makes an excellent motivator for people to support your cause.
While the design is fully customizable to your liking, Donation Thermometer uses vector-based images, meaning that the metrics will be of high quality across all screen sizes. However, advanced CSS customization is possible.
Integrating a donation campaign with the plugin is hassle-free as it supports shortcodes from other plugins. Thus, you won't have to update the value periodically.
The best part is that the plugin is free to use.


Plugin Stats
Downloads: 400+
Unique Features: Donation progress bars, email notifications, and multisite installation
Price: $19-$95/license
Green Donations for WordPress offers a simple yet powerful donation system with no platform fees.
This donation plugin for WordPress supports PayPal and Stripe integrations and is optimized for SEO. Multisite installation is also available to promote donation campaigns on multiple WordPress websites.
You can easily embed a donation form using a shortcode or via a widget. Donors will receive an automated notification email once you have received the payment.
The plugin offers "Goals" and "Top Donors" features. They display the donation progress and a list of top donors for each campaign, further encouraging donations.
Green Donations offers its functions from $19/license to $95/license.


Plugin Stats
Downloads: 3,000+
Unique Features: Multiple cryptocurrencies support and QR code payments
Price: Free
Take advantage of the rising popularity of cryptocurrency by installing this free WordPress donation plugin. Cryptocurrency Donation Box accepts donations in over 20 major cryptocurrencies, giving people more options for donation.
The donation process is easier as you can convert the payment address into a QR code. Plus, this free WordPress plugin lets you customize the donation box to match your WordPress theme and embed it anywhere within your post, page, or sidebar.
Last but not least, the plugin supports the Metamask cryptocurrency wallet for secure, hassle-free transactions.


What to Look For in a WordPress Donation Plugin
Picking out the best WordPress donation plugin is essential to ensure your fundraising campaign is successful. If this is your first time doing so, we have prepared a checklist of all the fundamental functions a WordPress donation plugin should provide:
Donor management. Allows you to accept donations, keep track of donors, and gain insights into your donation campaign's performance via data analysis tools.
Donation receipt generator. Provides proof of payment, notifying donors that you have received their donation.
Customizable donation forms. Offers multiple customization options to create a personalized donation form or page.
Online payments. Supports major payment gateways for better reachability and ease of use.

Conclusion
With so many WordPress donation plugins available, picking out the right one may be challenging. Here are several factors to consider when choosing a donation plugin for WordPress:
Functionality ‒ make sure the plugin includes all the tools and features you need.
Payment gateways ‒ the plugin should support the payment methods preferred by your target audience.
Currencies ‒ having the ability to accept donations in multiple currencies will expand your fundraising's reachability.
Ease of use ‒ a good donation plugin should be user-friendly for both you and potential donors.
Responsiveness ‒ making your donation page accessible via additional add-ons will increase your traffic and the possible donation you may collect.
Customizations ‒ you should be able to design a donation campaign best suited to your needs and place it anywhere on your site for maximum visibility.
Affordability ‒ pick out a plugin within your budget. Be careful with upsells, as some donation plugins for WordPress tend to sell additional essential functionality as add-ons.
Support ‒ verify whether the plugin has a support team available in case you need help.
We hope this WordPress tutorial has helped you to find the best donation plugin for your campaign or nonprofit organization.
Is there your favorite plugin we forgot to mention? Let us know in the comments section below.