The built-in WordPress visual editor is a very powerful tool. It allows you to create rich and beautiful content without any additional coding skills. However, there are some things the visual editor can't do. One of those is creating a table.
Sometimes you need a table to present and organize your data. Now, you could hand code a table using HTML and CSS, but for most, this is not a feasible option, and you may end up with a funky, ill-formatted table.
Luckily, there are a number of WordPress plugins that can help you create a functional and attractive table quickly. Below we dive into one of the most popular WordPress table creation plugins, TablePress, along with a few alternatives for you to consider, so you'll know the ins and outs of how to create tables in WordPress.
Adding Tables to WordPress with TablePress
TablePress is an extremely popular WordPress plugin, and for good reason. It currently has over 500,000 installs while maintaining a 5-star rating. Something like that is quite difficult to achieve.
Below, we explore why you'll want to consider using TablePress and the steps to take to create your very own WordPress table.
What is TablePress?
TablePress is well coded, has stellar documentation, and some key features that make it one of the best WordPress table plugins. It lets you easily create, manage, and edit your tables, all with no HTML experience necessary. Some of its most useful features are highlighted below:
Import features. With TablePress you can easily create tables from scratch, but you can also import any existing CSV, Excel, HTML, and JSON files you might already have. If you already have your data this will simplify the table creation process, and avoid you having to input all of your data by hand.
Export features. Once you've created your TablePress table your data isn't locked in forever. With the handy export feature, you can export your data into CSV, HTML, or JSON format. If you ever migrate your site being able to take your data with you can be very important.
Formula support. If you're used to creating tables in Excel, then you'll be right at home with TablePress. This plugin supports formulas, so you won't have to do your calculations offsite, you can do them within the plugin itself.
Extensions. Finally, there are a number of add-ons that extend the functionality of the plugin even further. These extensions will add more features like responsive tables, table filtering, table to PDF download, row order control, and more. Most of the plugins are free, but the premium plugins come with a requested donation during download.
Pros and Cons of TablePress
TablePress is one of the best WordPress table plugins on the market. Below we highlight some of the pros and cons of this plugin:
TablePress Pros
It offers multiple import and export data formats.
You can add a user search bar to any table you create.
You can add pagination to any table you create.
You can create forms rather quickly.
The basic styling of the forms looks pretty good, even without advanced styling.
There's a number of free extensions available that can greatly extend the functionality of this plugin.
TablePress Cons
The tables you create with this plugin aren't responsive right out of the box, however, you can utilize an extension to make your tables responsive.
Styling your forms can be difficult if you don't know, or aren't comfortable with CSS.
The editor can be confusing to use right from the start. Once you create a few forms you'll get the hang of its features, but there is a bit of a learning curve.
How to Create and Add a New Table
The first step to creating a WordPress table is installing the TablePress plugin. To do it, navigate to the Plugins › Add New section from your WordPress dashboard. Search for TablePress, install and activate the plugin.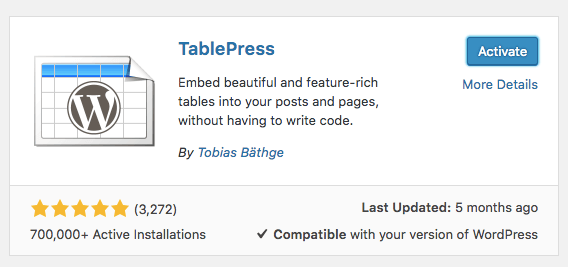 With the plugin installed navigate to the TablePress menu on the left-hand sidebar.

This page is your table creation control panel. You'll be able to manage your tables, create a new table, import data, export data, and even add additional extensions.
To create a new table click on the Add New button. This will bring up a page that'll let you name your table, create a description, and specify the number of rows and columns.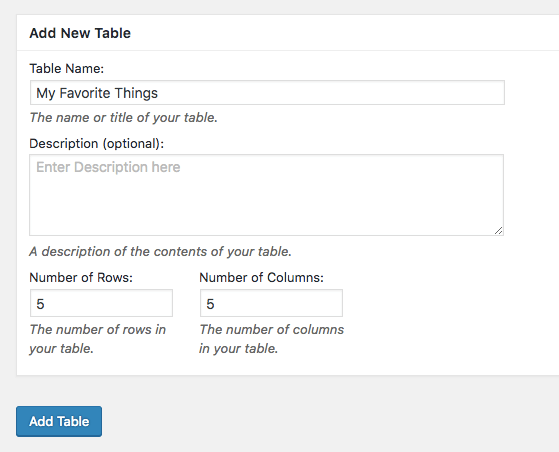 Once you've done that, click the blue Add Table button.
The next page will give you a shortcode that you can then place on your site, wherever you'd like your table to appear.
You can also start populating your table with the relevant information. Filling out your table is quite simple and similar to creating an Excel spreadsheet.

Towards the bottom of the page, you'll have more styling options like the ability to add and change CSS classes, duplicate rows, and columns, manage your sorting options, add links and images, and a lot more.
Once you've finished filling out your table and customizing it to your liking, hit the Save Changes button and insert the table into an existing page or post using the given shortcode.
If you want to see what your table will look like before it goes live on your site, hit the Preview button to get a general sense of your final table. It won't let you see any styling options you've added, however, as those options will be dependent on your current theme.
How to Add a Table to WordPress Post or Page
You have two different options to add a table to your WordPress site.
The first is using the shortcode that's associated with your table. Just copy and paste the shortcode into any existing page or post and the table will show up.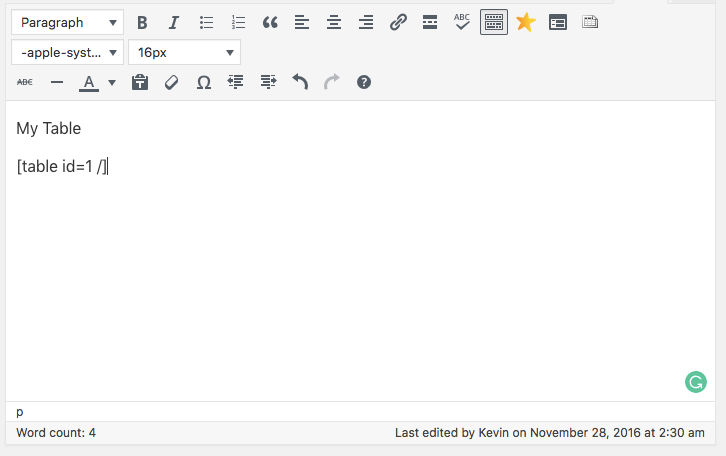 The second option is using the Insert a Table from TablePress button within the toolbar.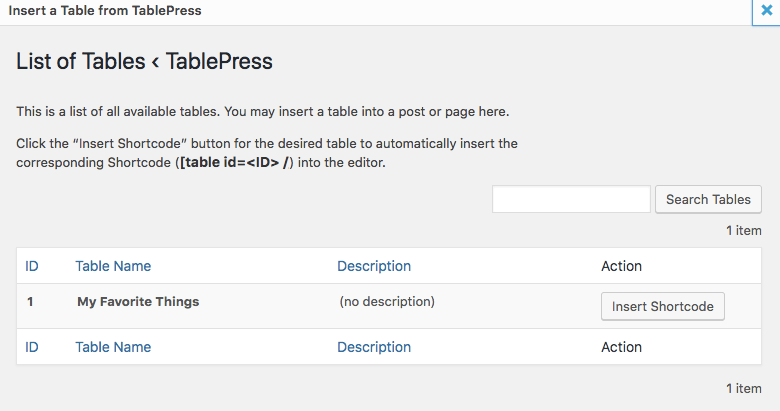 Whenever you're creating a page or a post, just select the button highlighted above, select your table, and it'll automatically insert into your page.
How to Import a Table in WordPress
If you already have your table data ready from another source, like an Excel spreadsheet, then you can import that data into TablePress.
To import your table data navigate to TablePress › Import a Table.

Here you'll be able to select the location and type of data you're importing (via URL, direct upload, a file on your server, or copy and paste the data). You can also choose to create a new table with your data, replace the data in an existing table, or even add it to an existing table.
Once you've specified your settings click the Import button.
With your data imported, you can now edit your table as you would for any other table. The only difference is now you'll notice that most of your data fields are now populated. All you have to do is customize the look and display options of your table.
Adding a table to your site then follows the same process as above. You can either copy and paste the table's shortcode into any post or page, or use the button within the visual editor.
How to Export a Table in WordPress
There's also a built-in option to export your table data, so you can have
To export your existing table data navigate to TablePress › Export a Table.

You'll have the ability to choose which format you want your data exported in, whether that's CSV, HTML, or JSON. If you choose the CSV option, then you'll also have to specify the CSV delimiter.
Then, click the Download the Export File button, and you're all set.
Configuring Your Plugin Options
The final tab gives you table options for further customization. As you can see, the built-in customization options are pretty limited. However, you can add more extensive customization options via add-ons.

To do real customization you'll need to enter custom CSS code into the box shown above. Even if you're not comfortable with CSS there's a great documentation guide on how to write custom CSS for the plugin.
Other WordPress Table Plugins to Consider
Beyond TablePress there's also a wide range of both premium and free WordPress table plugins to choose from. Below we highlight five of our favorites.
Ultimate Tables is a very easy to use and intuitive plugin. Especially if you only need to create small and basic tables, and not rely upon massive datasets.
The table creation page is easy to use. Just specify the size of your table and start filling in the boxes. Once your table is complete copy and paste the shortcode into a page or post to preview the table, as there's no built-in preview option.
There are a few included skins to customize the appearance, but that's as far as you can take the customization. Finally, it's not responsive, so it won't atomically adjust to smaller screen sizes.
wpDataTables is a premium plugin, but it packs in the features to make it well worth the price. It has an extensive ability to import a wide range of existing datasets.
However, you must have existing data to import into the plugin, as you can't create a data table directly within the editor itself.
There's a massive amount of customization options, and if you can get over the fact that there's no built-in front-end editor, then this could be a plugin worth using.
JTRT Responsive Tables is a unique table creation plugin. It allows you to create simple responsive HTML5 tables without any knowledge of HTML or CSS.
If you have an existing CSV file, then you can convert it to an HTML table with a couple of clicks. With the WYSIWYG backend editor, you can easily customize your table and do things like, add links and images to your table, including table sorting, filtering, or pagination, and even add a hover feature.
WP Table Manager gives you a complete Excel spreadsheet experience in the backend of your WordPress dashboard. If you're used to creating tables and data sheets in Excel, then this plugin will make you feel right at home.
It's equipped with 6 different themes that can help you create a specific type of table, or you can create your own from scratch.
You can also use the visual editor to add images and other customizations to each cell. Plus, you can sync your table to an existing spreadsheet, so the table will update automatically.
It's a premium plugin, but well worth the price if you love the experience of Excel, and want additional features like the ability to create and embed charts into your content.
League Table is a premium plugin that was built with sports websites in mind, however, it can still be used to create any kind of table.
It's simple to use and acts as an easier to use Excel. Just set the number of rows and columns, name your table, then start filling in the table cells. You'll also be able to customize things like the color of rows and add a logo.
You can also set specific display and responsiveness settings, depending on the screen size it's viewed upon.
However, there is no existing import or export option, so you have to create your tables directly in the plugin, and you can't take your data with you.
Final Thoughts
TablePress is one of the best WordPress table plugins on the market. Hopefully, you now have a better understanding of how to create a table in WordPress using the plugin. And if TablePress isn't the right solution for you, then consider the some of the other plugins mentioned above.
Have any questions about how you can make TablePress work with your WordPress site? Please share your experience or questions in the comments below.