By using WordPress, you can set up a professional-looking website for your business quickly. However, what the platform doesn't do is provide you with tools to help you manage clients, follow up on business leads, send invoices, and so on. For that kind of functionality, you'll need to use a Customer Relationship Management (CRM) platform, which is where WordPress plugins come into play.
With the right plugin, you can set up a powerful WordPress CRM. In this article we'll introduce you to eight top options, including:
WP ERP
Zero BS WordPress CRM
WooCommerce Customer Relationship Management
Brilliant Web-to-Lead for Salesforce
WP-CRM
UkuuPeople
UpiCRM
vCita
For each WordPress CRM plugin, we'll discuss what features it offers and talk about who should consider using it. First, let's talk about what a CRM can do for you!
What Is a CRM (And How It Can Help Your Business)?
Customer Relationship Management (CRM) software varies widely, but as a general rule it provides functionality that's critical to most businesses. For example, one key aspect of many CRM platforms is that they enable you to store customer data, organize it, and look up that information when you need it.
That's about as basic as CRMs get, however. These days, most CRM tools pack a lot of additional features, helping you:
Separate leads from existing customers. With a CRM, you'll be able to filter prospective customers from existing ones, so you can target each more efficiently.
Store contact information. Keeping track of how to contact each of your customers is essential to any business' success.
Manage accounting tasks. Some CMSs enable you to keep track of your income, expenses, and even customer invoices.
Measure key analytics. With a solid WordPress CRM, you'll be able to get a bird's eye view of your business' health and analyze customer behavior.
If that sounds like a lot of functionality for a single application to handle, you wouldn't be wrong. These days, businesses invest a lot of money on CRM platforms to keep their operations going strong. Here's a quick example of what a dashboard in Salesforce – one of the most popular CRMs in the world – looks like: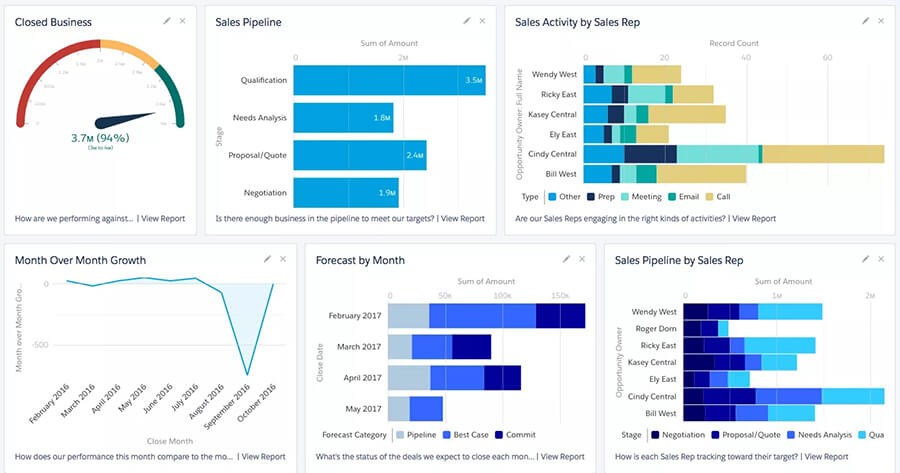 Plus, this is just one tab. For a company that does a lot of business, a CRM can be a true total-package solution.
The problem is that most CRM solutions are rather expensive since they cater to large businesses and provide so many features. That means you'll need to get creative if you want to set up a CRM on a budget. For example, while WordPress doesn't include CRM functionality out of the box, you can set up a WordPress CRM using the right plugin. This will save you a lot of money in the long (and short) run.
Before we introduce you to some of our favorite WordPress CRM options, you'll want to consider if your business really needs to use this type of software. If you juggle multiple clients, for instance, then a CRM can definitely help you out. However, for smaller companies with a modest customer base, using a CRM might be overkill.
Of course, it never hurts to start using a CRM from the get-go, as long as it fits into your budget. That way, you can keep things organized as your business grows in size and scope.
8 WordPress CRM Plugins to Help You Manage Your Business
If you decide that a CRM might be valuable to your business, the next step is to look for the right software. In the following sections, we're going to introduce some standalone WordPress CRM plugins, as well as some tools to help you integrate the platform with third-party services. Let's get to it!
1. WP ERP

WP ERP is one of the most popular CRM solutions for WordPress. It's also one of the only plugins that offers what you might consider a 'full-fledged' CRM system. That system includes basic CRM features, human resource management options, and even accounting functionality.
To put it another way, with this plugin you can manage your customers and employees, and keep track of where the money's going to and coming from. That's a lot for a single plugin to handle, but WP ERP is up to the task.
What you don't get with this plugin is a fancy interface, like most premium CRM platforms offer you. However, for a free plugin, it provides a lot more functionality than you might expect. Plus, it even offers a collection of paid extensions if you want to take your WordPress CRM to the next level, although the features included by default will be plenty for most small businesses.
Key Features:
Manage your customer relations through your WordPress dashboard.
Keep track of employee files and information.
Track incoming and outgoing expenses.
Support over 44 currencies for your business expenses.
Manage multiple branches from a single dashboard.
Price: This is a free solution, with premium extensions available
2. Zero BS WordPress CRM

Not only does this WordPress CRM plugin have a catchy name, but it backs that up with plenty of advanced features. As the name implies, the Zero BS WordPress CRM is easy to set up, yet it's practical for both small and large businesses.
This plugin enables you to keep track of all your customer information within WordPress. You can store locations and contact information, and even add personal notes for each customer. However, where the plugin really shines is when it comes to accounting.
With Zero BS WordPress CRM, you can see your gross and net revenue, track discounts, check up on unpaid invoices, and more. The plugin even enables you to keep tabs on how much money you're averaging per customer. Overall, this is an excellent solution if you're the kind of person who likes to check up on their numbers often.
Key Features:
Store your customer information using simple forms.
Track all your business expenses and income streams, divided into categories.
Check up on unpaid invoices.
Monitor how much money you're bringing in per customer.
Price: This is a completely free solution.
3. WooCommerce Customer Relationship Manager

If you're using WooCommerce to power your online store, it stands to reason that you can benefit from a CRM. Depending on your store's size, you might be doing dozens, hundreds, or even thousands of sales per month. With that kind of volume, tracking customer information becomes more important than ever.
WooCommerce Customer Relationship Manager gives you access to several customer-specific metrics, so you can always see who your best buyers are. It also enables you to contact them easily, and you can even assign workers to do customer outreach through the plugin.
Our favorite feature, however, is the fact that this solution enables you to add custom fields to your customer database. That means you can choose exactly what kind of information you'll store, based on the types of products or services you sell.
Key Features:
Gain access to advanced metrics for each customer.
Assign workers to follow up with clients or potential leads.
Add custom fields to your customer files.
Price: This is a premium plugin, and will cost you $70 for a single-site license.
4.  Brilliant Web-to-Lead for Salesforce

So far, we've checked out several fully-featured WordPress CRM plugins. Now, let's talk about a tool that enables you to integrate your website with a third-party CRM, which in this case is Salesforce.
The plugin itself is called Brilliant Web-to-Lead for Salesforce, and it enables customers to enter their data on your WordPress website. Then, the plugin sends that data over to Salesforce so it can be stored and processed.
Users provide their data using a simple contact form, which you can customize. By default, it only includes fields for phone numbers, names, and client emails. However, you can also enable address fields if you want to save that type of data as well.
As far as WordPress CRM plugins go, they don't get much simpler than this. All you have to do is customize your form and place it on any page you want using a shortcode. You will also need a Salesforce account, so you might want to look into its plans before installing the plugin.
Finally, one quick word of warning – although the plugin is popular, it hasn't been updated for a while. Its key functionality should still works fine, but you'll want to test it out just to be sure.
Key Features:
Connect your WordPress website with your Salesforce account.
Enable customers to send you their data using a simple contact form.
Customize the fields you want your contact form to include.
Price: The plugin is free, while Salesforce plans start at $25 per user per month.
5. WP-CRM

WP-CRM is pretty straightforward, especially when compared to the other WordPress CRM plugins we've seen so far. It enables you to add custom attributes to your WordPress users, and filter them according to that data.
Unlike the other plugins we've discussed, however, WP-CRM enables you to create any custom attribute you want. For example, if you run a business where you need to contact people via phone, you can save information about the best contact times for each user. When it comes to custom attributes, your imagination is the limit.
The plugin also automatically generates charts that show you a breakdown of the attributes you'll want to keep an eye on. Overall, it's an excellent option for maintaining a user database. However, if you want access to more advanced functionality, you'll need to purchase premium add-ons, so it's best to keep that in mind.
Key Features:
Create a customer database with custom attributes.
Set up any type of custom attribute you want, and use it to filter the information you need.
Get access to simple graphs representing your customer breakdown.
Price: The WP-CRM plugin is free, but its add-ons do require you to purchase licenses.
6. UkuuPeople
First, it's important to explain that UkuuPeople is both a plugin and a platform. Anyone can install the plugin, but to use it, you'll also need to sign up for an UkuuPeople plan. This starts at $179 per year for the most basic option.
That being said, UkuuPeople does provide a lot of bang for your buck. It enables you to save your customer and user information, and segment those people into any categories you want. Once they're in the system, UkuuPeople will keep track of all your contacts automatically.
To do that, UkuuPeople integrates with several popular platforms and tools, such as Gravity Forms, MailChimp, Google Apps, and more. If you interact with your users through any of those solutions, UkuuPeople will record that information.
Aside from that, the platform also enables you to assign specific tasks to your team, schedule meetings, and save payment information if your customers agree to it.
Key Features:
Save your customer information to the UkuuPeople platform.
Segment your customers according to any metric you want.
Integrate your UkuuPeople account with other WordPress plugins and third-party platforms, such as MailChimp.
Assign specific tasks to your team and schedule meetings.
Price: The UkuuPeople plugin is free, but a basic account on the platform will set you back at least $179 per year.
7. UpiCRM

The UpiCRM plugin is all about leads management. Each time someone signs up to your website or fills out one of your contact forms, the plugin will enable you to assign that 'lead' to anyone you want.
With this plugin, you can also sort your leads according to their status, ranging from the Received to the Closing and Revenue stages. In total, there are ten different stages you can assign to each lead, so the plugin is perfect if you like to keep things organized.
Ultimately, the UpiCRM plugin is all about helping you analyze the effectiveness of your conversion process. However, it's not the best option if you're looking for a WordPress CRM plugin with advanced relationship management options.
Key Features:
Save your WordPress sign-ups and contact form submissions as leads.
Categorize your leads using ten different statuses.
Assign leads to anyone on your team.
Price: This plugin is free to download and use.
8. vCita

Last but not least, let's look at the CRM & Lead Management Plugin for WordPress by vCita. That name is a mouthful, though, so let's agree to call it vCita. Just like the Salesforce plugin, this tool enables you to connect your WordPress website to a third-party CRM. In this case, that CRM is vCita, and it's a pretty decent alternative to Salesforce.
With this CRM, you can store customer data, schedule appointments, and even set up company-wide events. vCita also enables you to collect credit card payments, send invoices, and track receipts. In short, it's a complete package solution.
Overall, vCita offers a lot of the same features other major CRMs like Salesforce do. This begs the question, why use it over a more popular option? The chief benefit is that vCita is easier for beginners to pick up. It also offers a $59 per month plan that supports two additional users besides you.
With Salesforce, for example, a similar plan would cost you $75 per month. Therefore, you can save some money by using vCita instead.
Key Features:
Connect your WordPress website to your vCita account.
Store all your customer information on one central database.
Collect credit card payments, submit invoices, and track receipts.
Schedule customer interactions and office events.
Price: The vCita plugin is free, but an account on the platform will cost at least $29 per month.
Conclusion
One of the toughest aspects of running a business (offline or online) is keeping track of all your customer information. What CRMs do is provide you with the tools you'll need to keep all that client data in one place. Usually, they also offer additional features to make your life easier, such as built-in invoicing, revenue tracking, and more. With the right CRM for WordPress plugin, you can add all that functionality to your website in a matter of minutes.
Do you have any questions about which WordPress CRM plugin is right for you? Let's talk about them in the comments section below!