17 Best WordPress Live Chat Plugins to Improve Client Relationships (2024)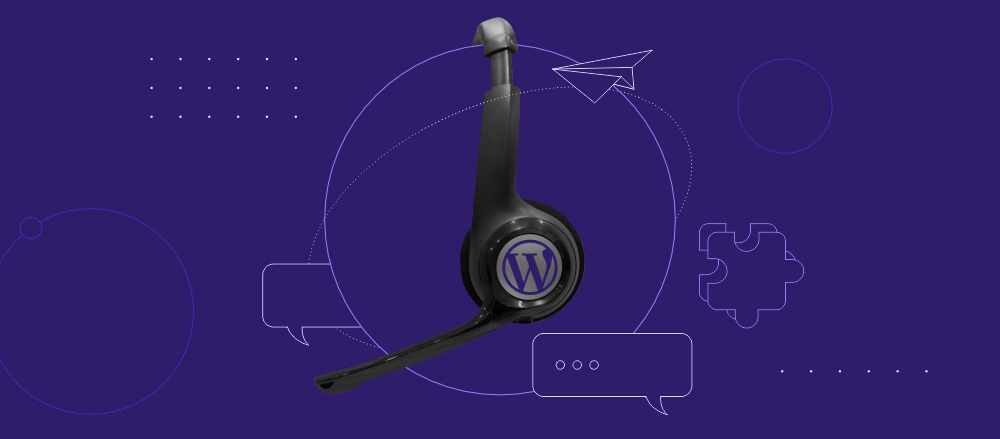 The ability to communicate seamlessly with customers can improve your website's user experience and sales. One of the best ways to fulfill this need is by adding a live chat function to your website. In fact, nearly 80% of online customers prefer this communication channel due to its immediacy.
There are numerous WordPress live chat plugins that allow visitors to reach the support team or ask for product details more quickly. However, choosing the best WordPress plugin can be difficult, considering the wide range of available choices.
In this article, we've listed the 17 best live chat WordPress plugins along with their key features, pricing, and rating to help you decide which live chat solution is right for your WordPress website.

Top 17 WordPress Live Chat Plugins
There are thousands of plugins available to download on the official WordPress plugin page, making it tricky to choose one that fits your needs best. Therefore, we have tested and listed the 17 best WordPress live chat plugins together with details like their key features and pricing models to help you decide.

1. 3CX Live Chat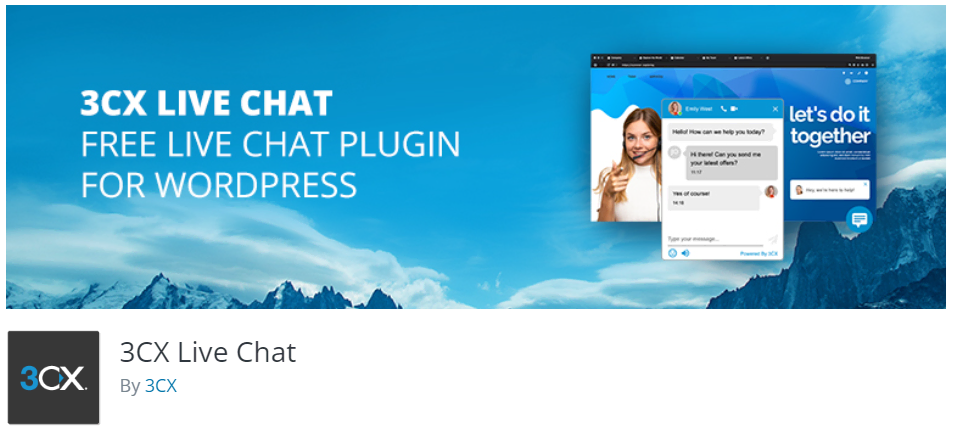 3CX Live Chat stats:
Downloads: 2 million+
Rating: 4.6/5
Best for: budget-conscious businesses
Pricing model: freemium
3CX is a WordPress chat plugin that offers multiple ways to communicate with website visitors in real-time, including live messaging and voice or video calls. Users can access and manage these features through a centralized web-client dashboard.
The installation process is relatively easy, and an intuitive wizard guides most of the setup process. Start by creating an account on the 3CX website and integrate it into your WordPress website by entering the live chat URL to the WordPress dashboard, then click Save Changes.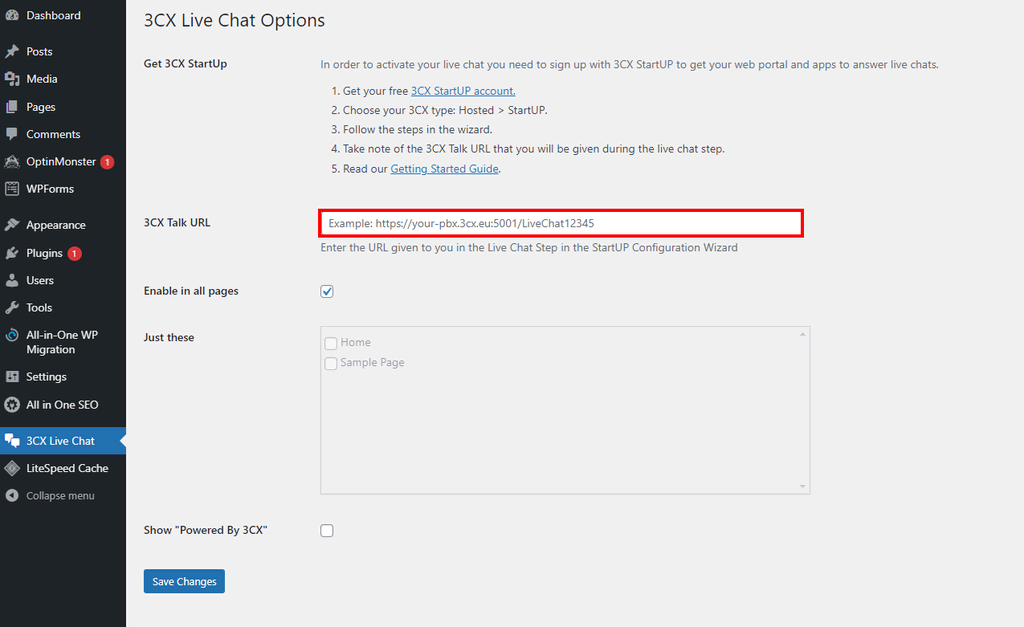 3CX offers various customization and settings for your live chat functionality, like setting up office hours and changing the chat window's appearance.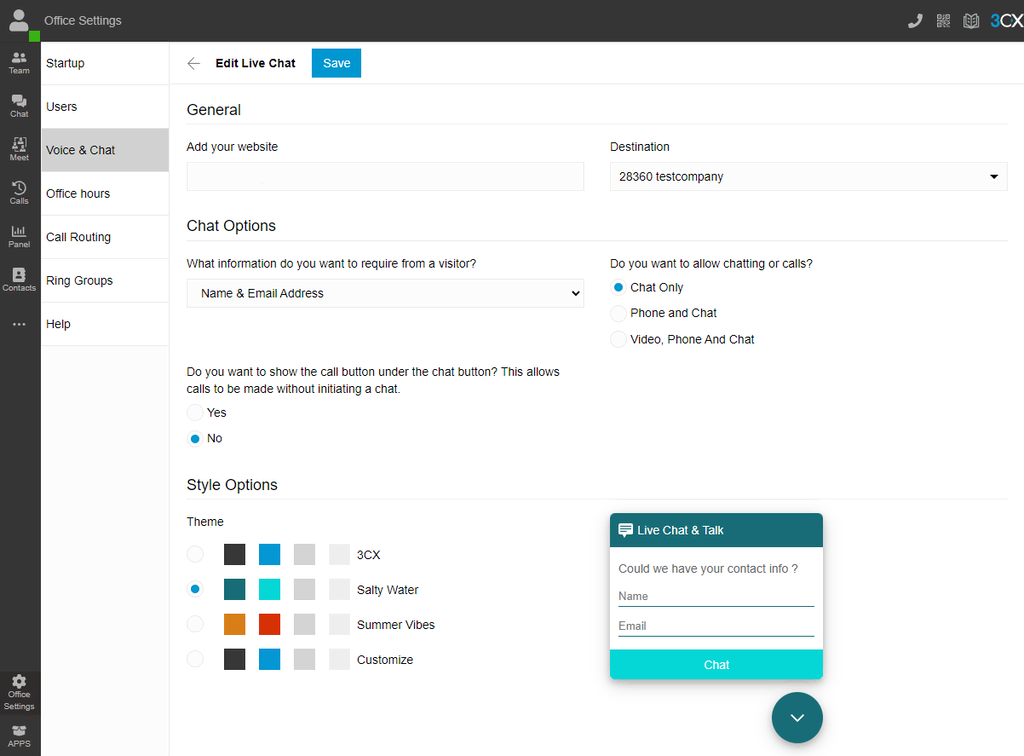 Furthermore, you can identify and add customers to your contact list by requiring them to input information like their names and email addresses before accessing the live chat for WordPress widget. This web client also acts as a dashboard where you can reply to chat or answer calls.
From this dashboard, you can also easily perform essential tasks such as assigning a chat to a certain person, accessing chat history, and marking solved issues.
The free plan of 3CX Live Chat allows you to include up to 10 users, suitable for smaller businesses with a limited budget. Alternatively, opt for one of its premium plans starting from $145/year, depending on how many users you want to add and your preferred hosting method.
Key Features
Integrated voice and video call feature
Multi-channel chat
Extensive chat-routing capabilities
2. Tidio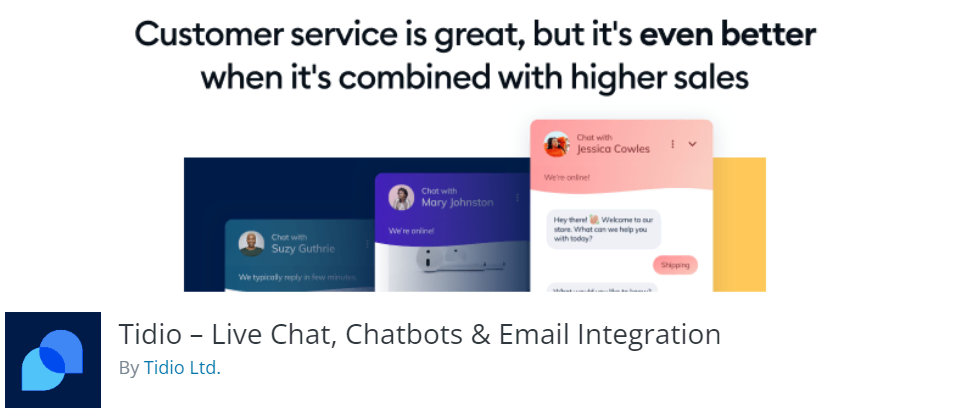 Tidio stats:
Downloads: 1 million+
Rating: 4.8/5
Best for: small businesses
Pricing model: freemium
Tidio is a simple yet powerful communication solution for your online business. It offers many integration options that can help improve user experience and your overall marketing efforts.
Installing and configuring Tidio is beginner-friendly and suitable for those who want to avoid the hassle of technical terminologies during setup.
Once you create your Tidio account, the installation wizard will guide you through the remaining steps, such as configuring the agent name, live chat window appearance, and language.
The live chat dashboard is intuitive and can help your agent to engage customers quickly and effectively. You can also check user details such as their email address, location, IP address, and viewed pages on your WordPress site.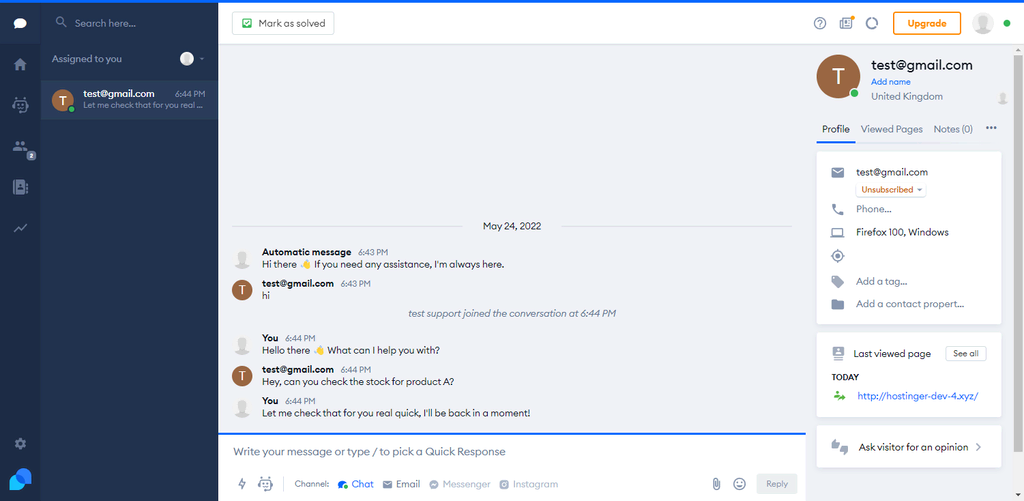 Tidio offers integration into other communication platforms like Facebook Messenger and Instagram. It also lets you link your Tidio account to various online marketing tools, including Mailchimp, Google Analytics, and Hubspot.
Additionally, the live chat experience provides features like quick response and a built-in AI chatbot. Tidio has a wide range of templates for chatbot responses, such as greetings, answers to frequently asked questions, or news and updates.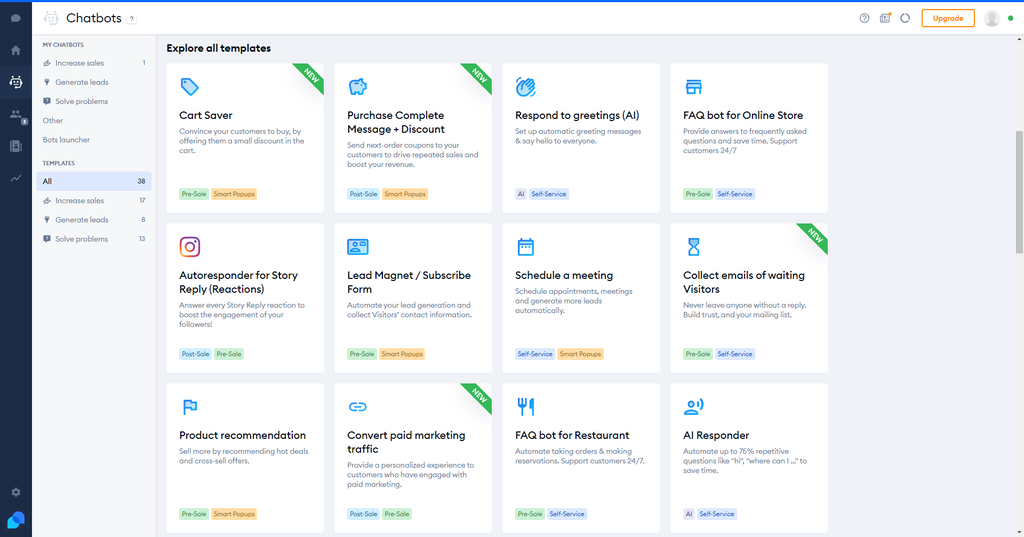 Furthermore, you can configure the chatbot to carry out various marketing automation tasks, including lead management, converting paid marketing traffic, and offering discount codes to visitors.
Tidio has a free plan that includes most of its most powerful features but with some limitations. If you want to use this live chat for WordPress software for your mid-to-large scale business, it offers premium plans starting from $19/month.
Key Features
Beginner-friendly
Sleek and highly-customizable chat box design
Versatile chatbot with marketing automation capabilities
Integrated chat analytics
Ability to monitor visitor details and behavior through the control panel
3. Pure Chat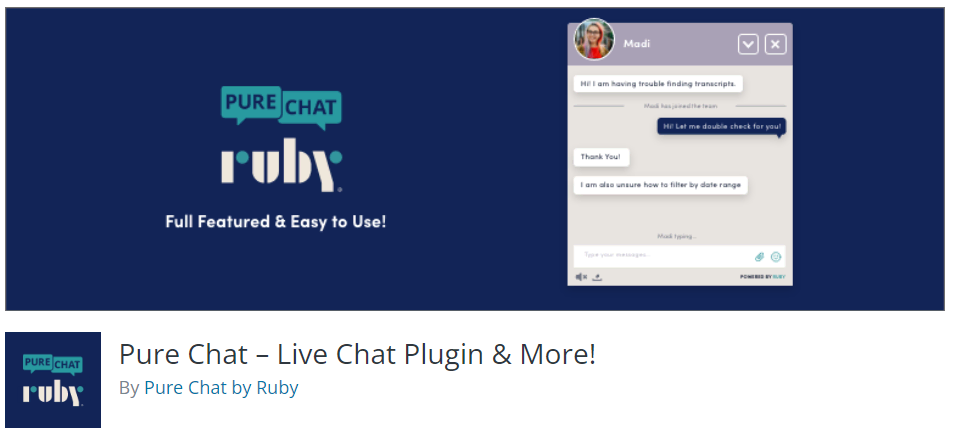 Pure Chat stats:
Downloads: 200,000+
Rating: 4.1/5
Best for: businesses looking for a simple and easy-to-use live chat plugin
Pricing model: premium
Known for its simplicity and versatility, the Pure Chat widget offers all the necessary features for instant messaging. This live chat plugin also provides users with user-tracking capabilities and a dedicated report page.
Once you install and activate Pure Chat on your WordPress site, a new menu for the plugin will appear on your WordPress dashboard that directs you to create an account. The registration and setup process is simple and beginner-friendly.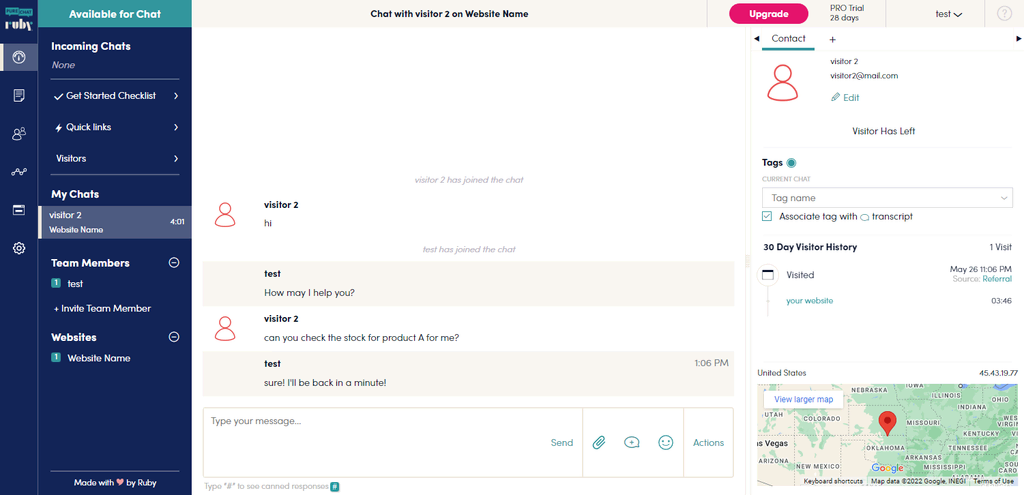 After that, the setup wizard will direct you to the dashboard, where all configurations are located. Users can access and manage chat rooms, invite team members, and track active visitor numbers on their websites.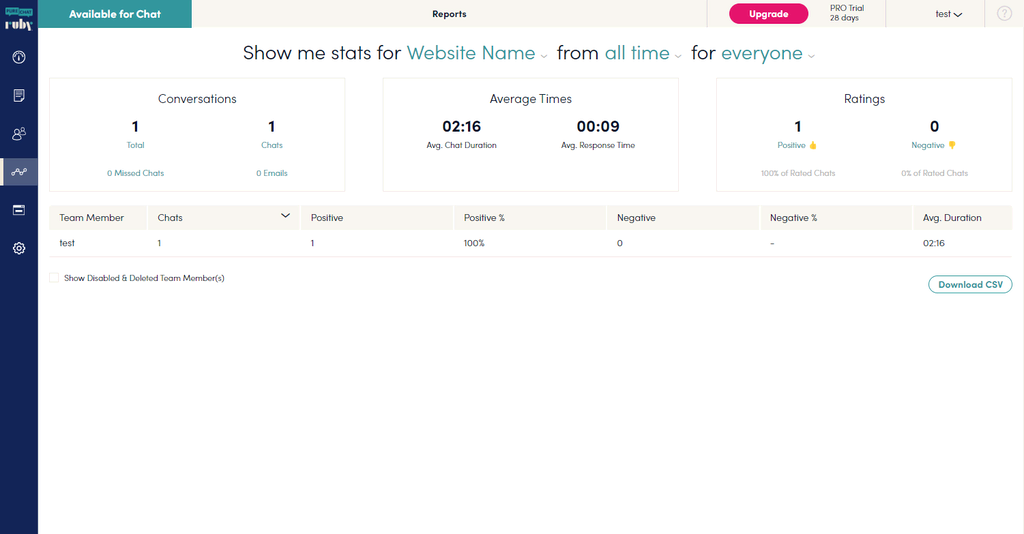 This live chat widget has robust analytics features to track important metrics such as total conversations, average response time, chat duration, and ratings. Users can export these analytics results into a CSV file for report purposes.

Pure Chat gives you access to unlimited chat history and allows you to send chat transcripts via email. Last but not least, this WordPress chat plugin also allows you to customize the live chat box appearance to match your website theme.
Pure Chat's pricing plan starts from $39/month for the annual plan, which allows a maximum of four live chat agents or operators. However, it also offers a 30-day free trial for those who want to try all its features.
Key Features
Access to the chat transcript
Easy installation process
Robust analytics capabilities
Customizable chat box
4. Tawk.To Live Chat
Tawk.To stats:
Downloads: 200,000+
Rating: 4.6/5
Best for: budget-conscious businesses
Pricing model: free
Tawk.To is a live chat software that offers unlimited free conversations and other customer interaction features to enhance your website experience. This WordPress live chat plugin offers various features to help you stay connected with your customers, gain insights, and increase conversions.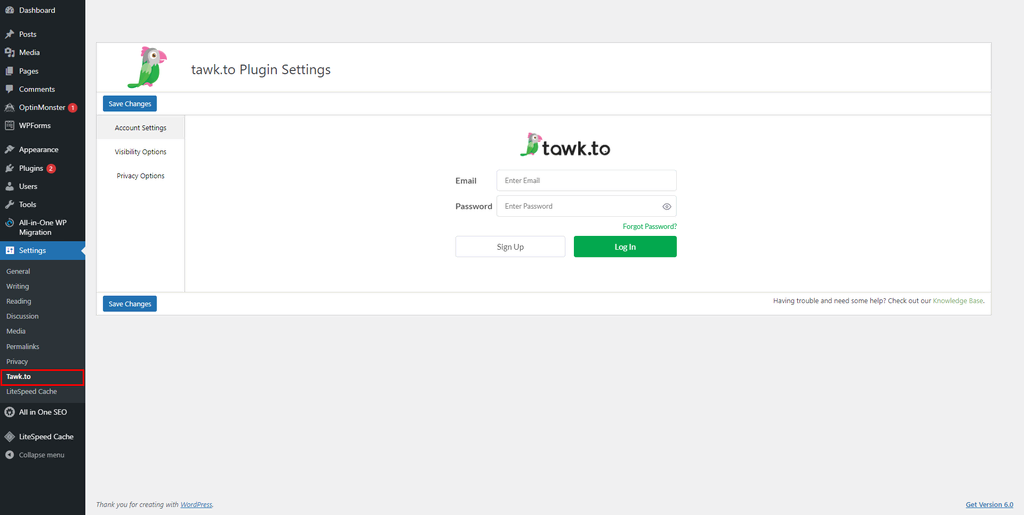 Once you install and activate this live chat plugin, head over to Settings -> Tawk.To menu on your WordPress dashboard to start creating your new account and configuring the chat widget.
During the setup process, users need to create Properties and chat widgets that will be associated with their WordPress website. After that, head back to the WordPress dashboard to choose the property and widget you want to use.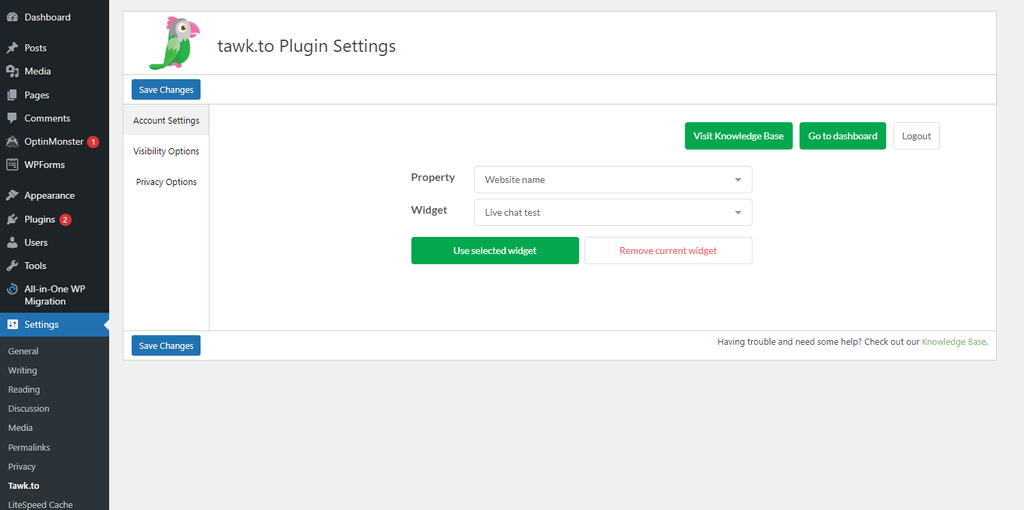 After successfully configuring your account and integrating the chat widget into your site, you will gain access to the Tawk.To dashboard. This is where users operate their live chat widgets and access additional features such as visitor monitoring and analytics.
Tawk.To allows users to create an integrated knowledge base that visitors can access via the live chat window. This can help improve the quality and efficiency of your customer service.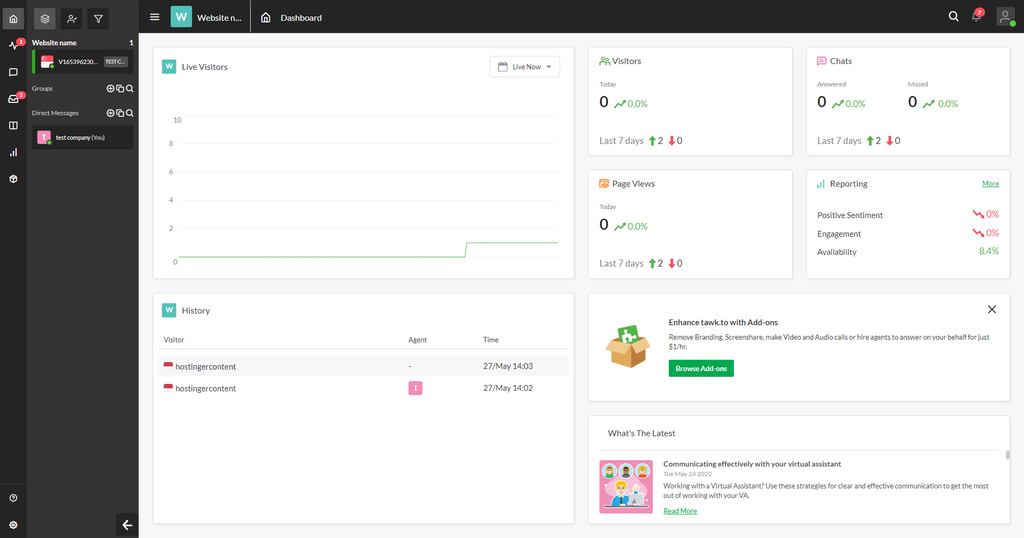 All of these live chat functions are available for free. All you have to do is to create an account on the Tawk.To website, and you are ready to go.
Users can also pay for add-ons to enhance their sites' live chat features. These include hiring live agents or virtual assistants, removing branding from the chat box, and enabling video and screen sharing in the live chat session.
Key Features
All key features are available for free
Users can create an integrated knowledge base
Built-in analytics tools
5. Live Chat by Formilla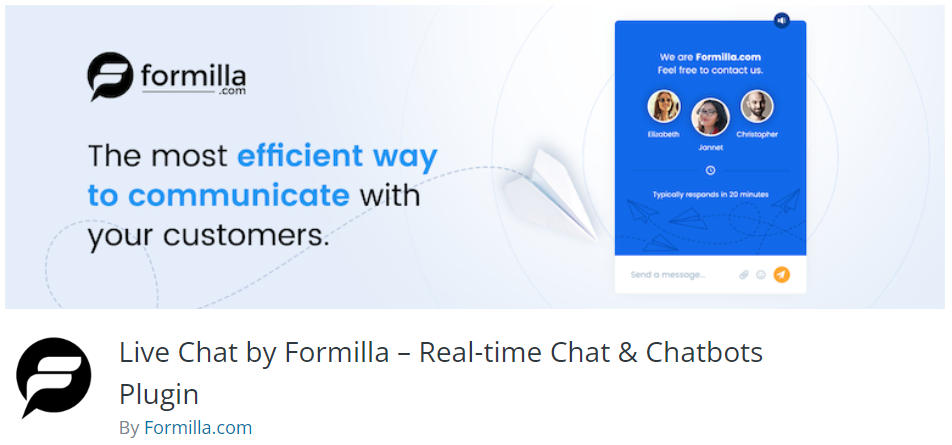 Live Chat by Formilla stats:
Downloads: 150,000+
Rating: 4.8/5
Best for: gaining and collecting data and analytics
Pricing model: freemium
Formilla Live Chat focuses on providing a hassle-free live chat for WordPress experience with features like chatbots and multi-channel communication. These features are all accessible from a simple and intuitive dashboard that is accessible from both desktop and mobile apps.
Users can use Formilla Live Chat immediately after installing the plugin and signing up for the service. This live chat plugin offers core live chat functionality, including custom canned responses, proactive chat features, and the ability to create group chats.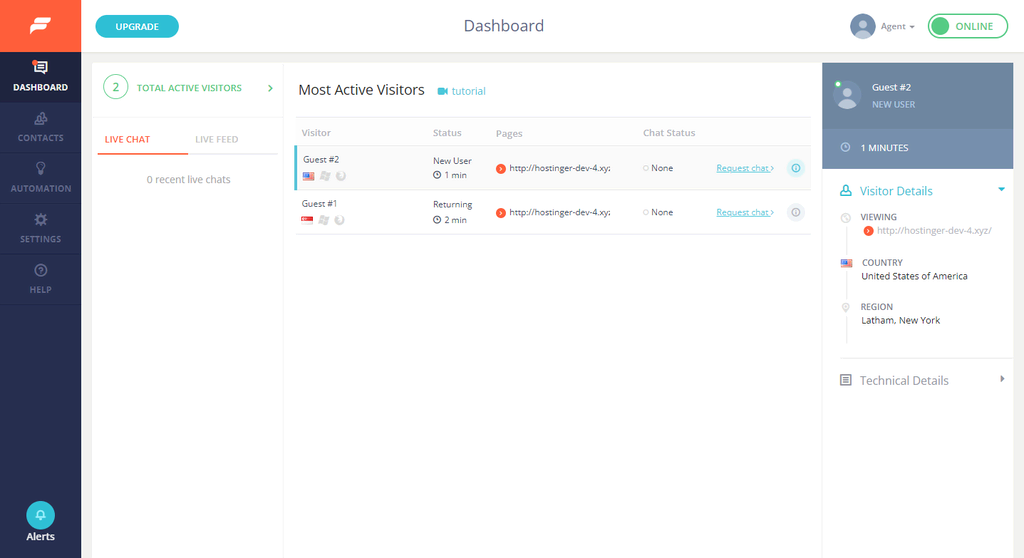 The main highlight of Formilla is its AI-powered chatbots that allow you to provide live chat support more effectively.
Users can set up automated responses to common questions using the Helper Bots or create a Custom Bot to handle common sales and support tasks.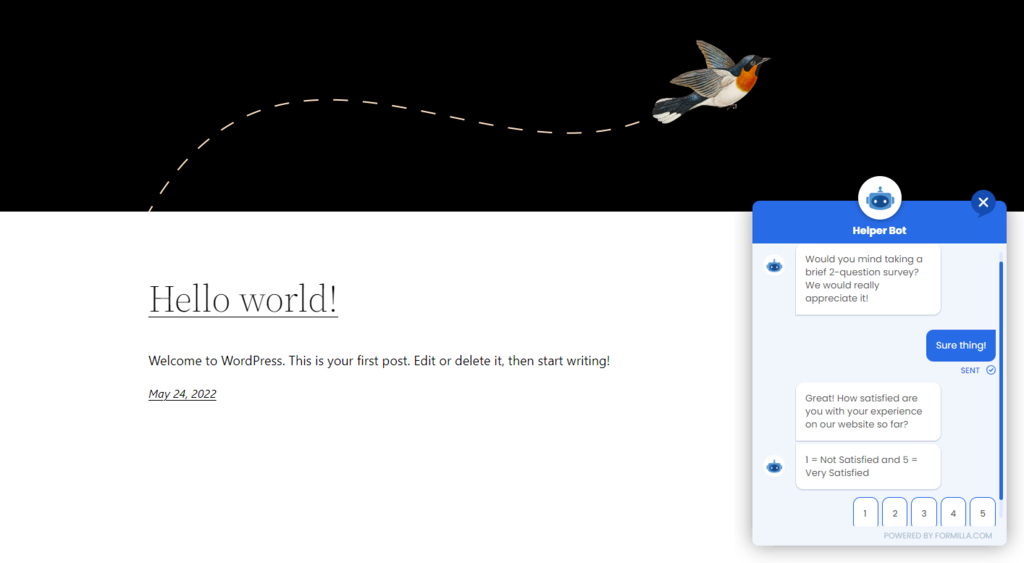 Formilla also offers more than just live chat support functionality. Real-time visitor monitoring and contact management can be used to increase conversions. Additionally, it provides marketing capabilities such as email and in-app messaging.
Keep in mind that most of these features are only available for premium plans that start from $17.49/month for a two-year subscription. However, Formilla also offers a free plan for small businesses with unlimited chats and one chat agent per account.
Key Features
Instant installation process
Advanced chatbots
Robust marketing automation features
6. Smartsupp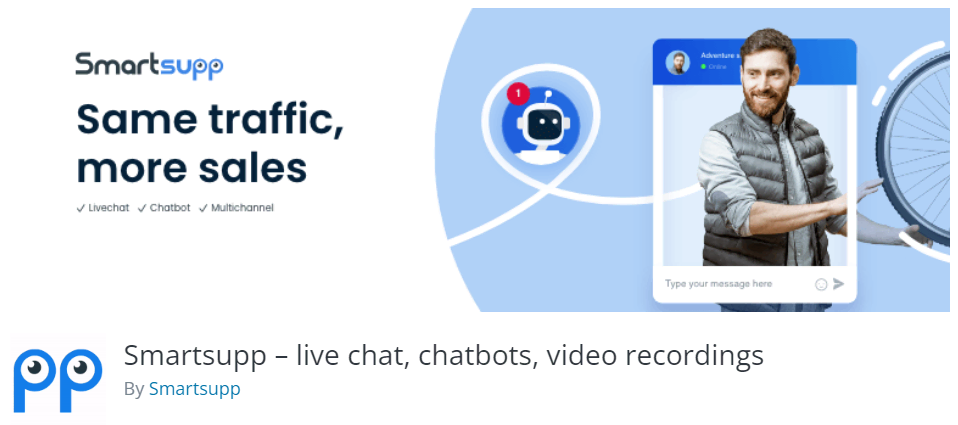 Smartsupp stats:
Downloads: 190,000+
Rating: 4.8/5
Best for: eCommerce websites
Pricing model: freemium
Smartsupp is a good choice for those who want to provide live chat support for their online shops. This simple live chat plugin offers essential communication and customer support features to improve your visitors' experience.
With an easy setup process, you can use this WordPress plugin right away. Simply access the Smarsupp dashboard, and you will be able to open live chats and messenger, monitor website visitors in real-time, and read conversation statistics.
This is also where you can create and configure chat automation using AI-powered chatbots. These chatbots can carry out various tasks, including proactive messages, online shopping guides, or answers to FAQs.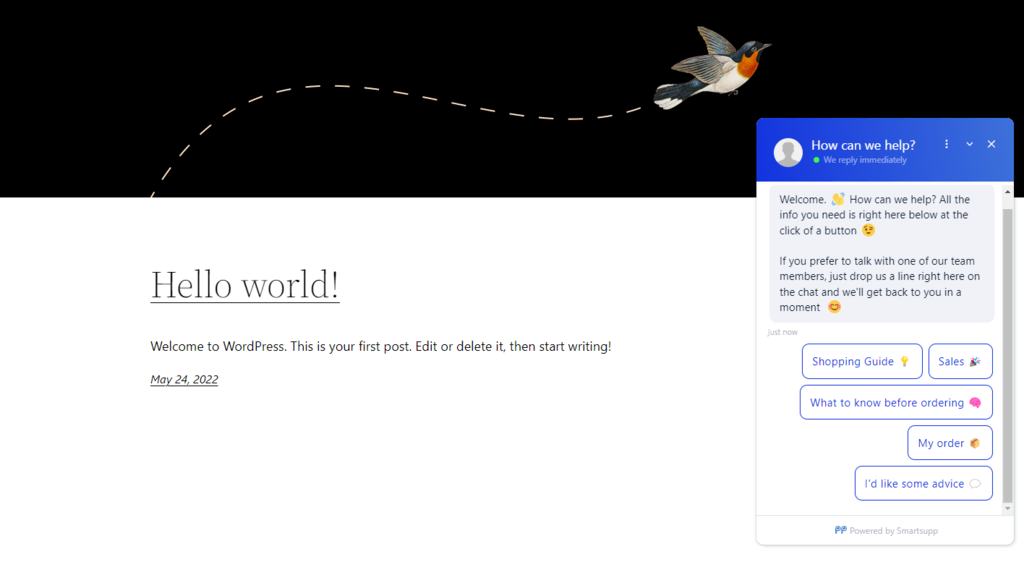 Another unique feature of Smatsupp is its ability to allow site visitors to submit their screen recordings to you. It allows for easier support since agents can see how visitors navigate your site and pinpoint where they get lost.
Last but not least, Smartsupp complies with the EU's General Data Protection Regulation (GDPR). This is important since most WordPress chat plugins can collect data from visitors and potentially violate their privacy. Smartsupp makes sure that your WordPress site is GDPR compliant.
Most of Smartsupp's core features are included in the paid plans starting from $19/month when billed annually. Consider trying out these features with the 14-day free trial. Smartsupp also offers a free version with some limitations, which might be suitable for personal sites or freelancers.
Key Features
Screen recording capabilities
GPDR compliant
Integrate seamlessly with Facebook messenger
Chat routing
7. Crisp
Crisp stats:
Downloads: 300,000+
Rating: 4.6/5
Best for: budget-conscious businesses
Pricing model: freemium
Crisp is a suitable option if you are looking for a hassle-free and straightforward live chat for WordPress solution with unlimited free conversations.
This WordPress live chat plugin offers an intuitive setup process and a simple yet professional-looking chat box.
In this box, users can access essential real-time support functionalities like live chat, contact form, and mobile and desktop apps simply by signing up for a free plan.
Meanwhile, live chat agents can read messages from customers through an intuitive interface and complete other essential tasks like resolving issues or transferring chats easily.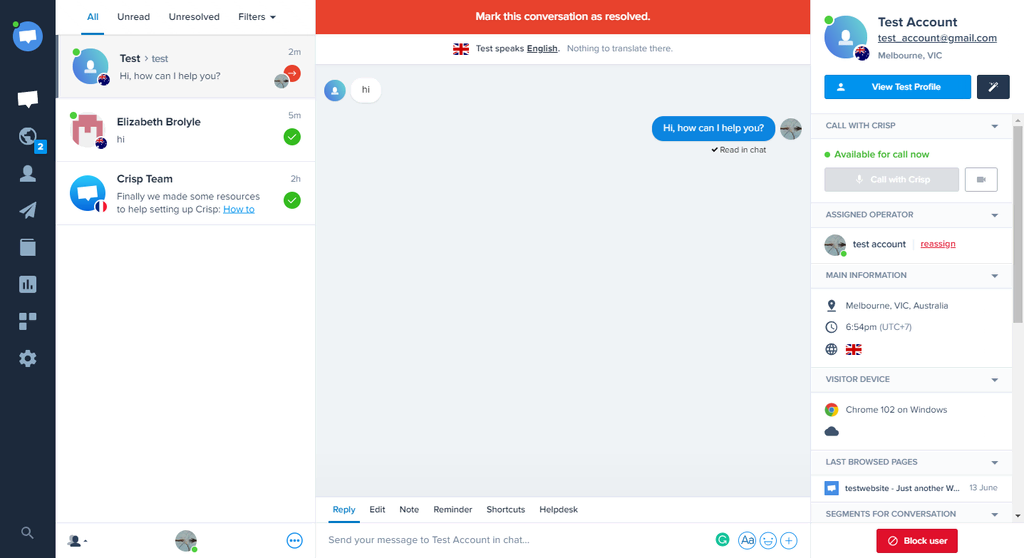 What is more, this live chat plugin provides other useful features, including chatbots and email marketing automation.
Crisp Helpdesk, for example, allows you to create knowledge resources to better support your website visitors. Gain valuable insights into your customers' characteristics and preferences by accessing the built-in analytics tool.
This feature lets you improve support efficiency by evaluating core metrics such as chat responsiveness and customer satisfaction.
This live chat software also offers various additional features in the form of plugins, which include integration into third-party applications or access to a dedicated email IP address.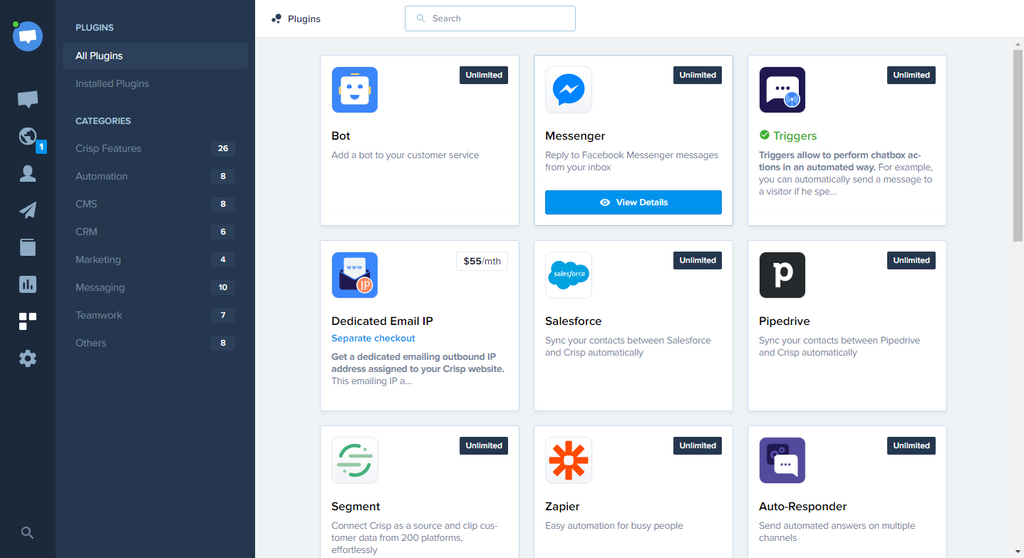 The free version of Crisp is a great choice for small businesses since it gives you slots for two live chat agents. However, you can opt for the paid plans starting from $25/month to gain access to the advanced features of this WordPress chat plugin.
Key Features
Free unlimited chats
Integrated knowledge base
A robust chat analytics tool
8. Facebook Chat Plugin

Facebook Chat stats:
Downloads: 1 million +
Rating: 3.5/5
Best for: integrating with Facebook and Instagram
Pricing model: free
The built-in instant messaging feature was one of the factors that made Facebook stand out from its competitors. It eventually became a dedicated live chat software called Facebook Messenger, accessible via the website and mobile apps.
Nowadays, many online businesses use Facebook Messenger to communicate and provide live chat support to their customers. You can also integrate this service into your website using its dedicated WordPress live chat plugin.
Remember that you have to own a Facebook page before using the chat widget on your WordPress site. Once you create one, install and activate the WordPress chat plugin, then head over to Settings -> Facebook Chat on your WordPress dashboard to connect the widget.
Set up the live chat plugin by connecting it to your Facebook page and configure some live chat functionalities like automation, greeting messages, and chat box appearance. Click on the Publish button once you're done, and the live chat bubble should appear on your site.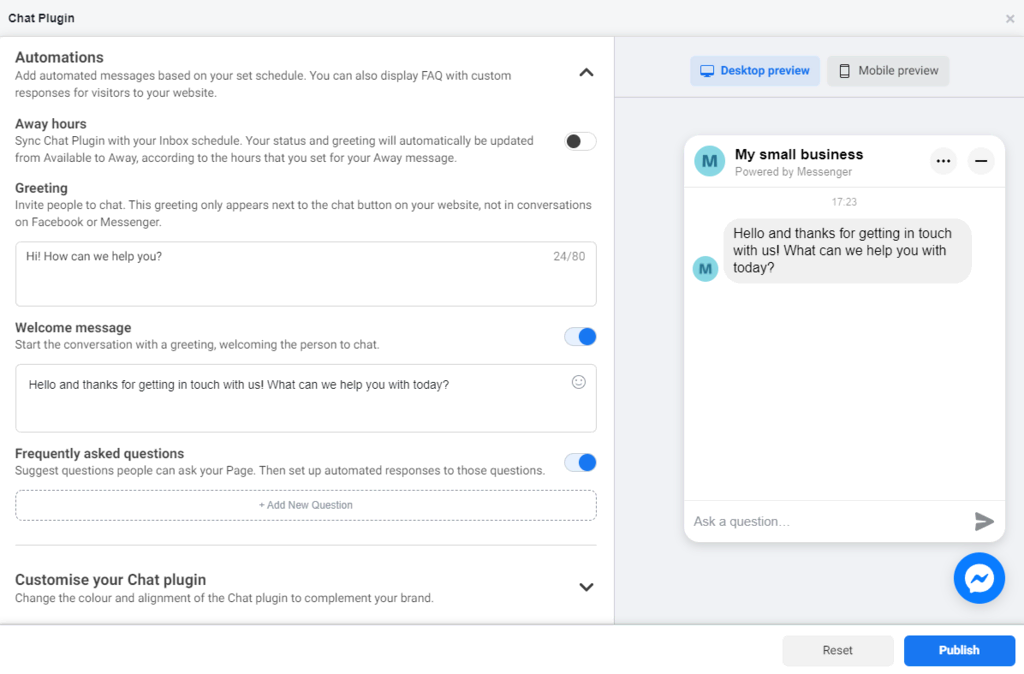 Navigate to your Meta Business Suite to access and respond to messages from various platforms, including the WordPress live chat plugin. This dashboard also lets you manage other features like a planner and Facebook Ads.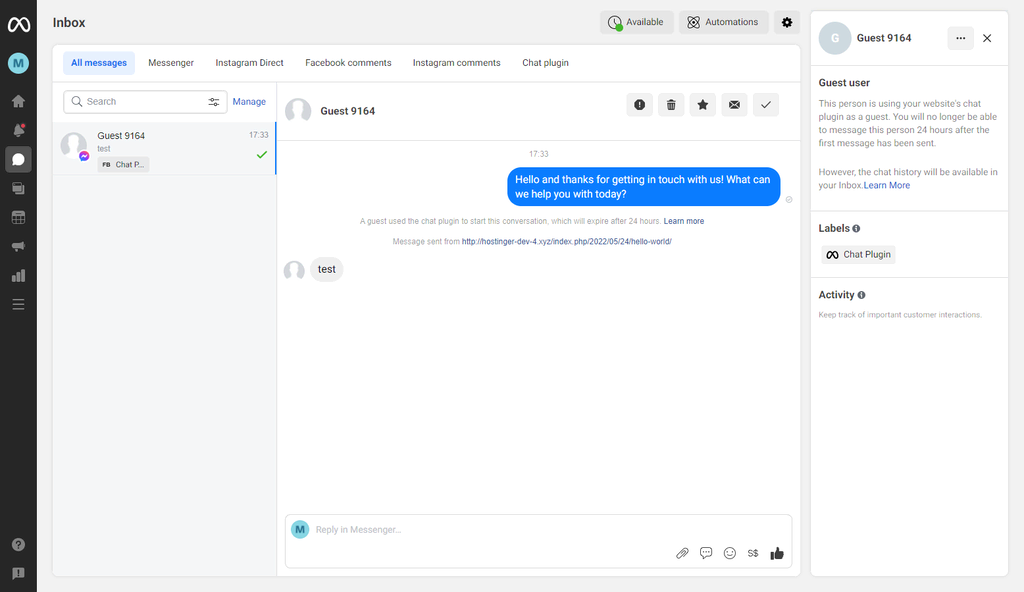 Facebook Messenger plugin offers various useful live chat features, including availability notifications and three automatic replies.
This live chat plugin allows visitors to get live chat support even if they don't own a Facebook account.
Facebook Chat is a completely free plugin. You can use all of its features as long as you have a Facebook Business account and a dedicated page for it.
Key Features
Seamless integration with Facebook and Instagram accounts
Access to Facebook Ads and analytics tool
Customizable chat box
9. WSChat


WSChat stats:
Downloads: 70+
Rating: 4.8/5
Best for: WordPress users looking for AI-integrated live chat and direct WooCommerce integration
Pricing model: Freemium, $69/year
WSChat is a specialized live chat plugin designed for WordPress, offering a range of user-centric features to revolutionize customer support interactions. The plugin's integration with ChatGPT brings the power of AI into live chat interactions.
Through ChatGPT, users can expect automated responses, grammatical error checks, and the conversion of text into a professional business tone, ensuring a consistently high standard of customer service.
Additionally, the integration with Google Dialogflow AI empowers businesses to configure automated responses tailored to their specific requirements. WSChat's suite of advanced features includes the ability to view active visitors on the website, initiate chats, send files, and record and send videos.
WSChat not only provides a comprehensive live chat solution for WordPress but also extends support for advanced functionalities and integrations, ultimately enriching the overall customer service experience. It offers a powerful, intuitive, and AI-driven platform to interact effectively with customers, streamline support processes, and enhance customer satisfaction.
Key Features
Live chat widget optimized for WordPress.
WooCommerce integration.
ChatGPT and Dialogflow AI integration.
Monitoring live visitors and multi-agent support.
10. LiveAgent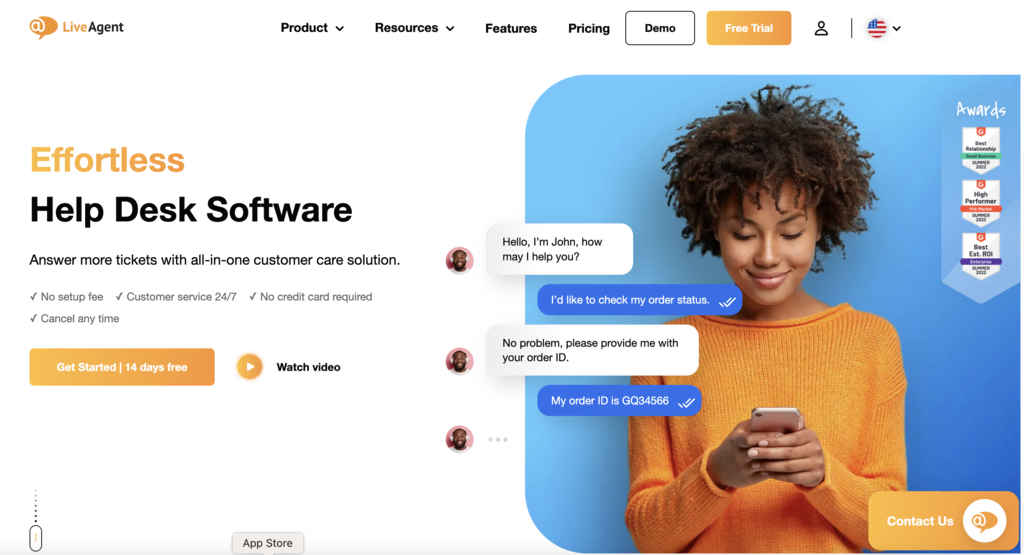 LiveAgent stats:
Downloads: 50,000+
Rating: 4.7/5
Best for: customer support management
Pricing model: freemium
LiveAgent is a customer support solution for businesses of all sizes, offering a comprehensive WordPress live chat plugin to enhance customer communication. Its set of features and integrations make it an ideal choice for companies looking to streamline their support process and improve customer satisfaction.
Installing and configuring the LiveAgent plugin is simple, with an intuitive interface guiding you through the setup process. Once installed, you can easily customize the chat widget's appearance, set up automated responses, and manage support tickets from a centralized dashboard.
The multi-channel support feature lets you manage customer inquiries from various sources like email, social media, and phone calls, all in one place. The real-time typing view displays what your customers are typing in the chat window, helping agents respond more effectively.
The built-in analytics and reporting tools provide valuable insights into your customer support performance, helping you make data-driven decisions. Moreover, the advanced automation and routing features ensure that customer inquiries are directed to the most suitable agents, enhancing efficiency and response times.
LiveAgent offers a 14-day free trial to test its features and compatibility with your business needs. After the trial period, you can choose from several paid plans starting at $9/agent per month, depending on the features and level of support you require. Although there are some limitations, users can also opt for the plugin's free version.
Key Features
Multi-channel support management
Automation and routing capabilities
Real-time typing view and visitor monitoring
Integrated analytics and reporting
11. WP Live Chat by Chaport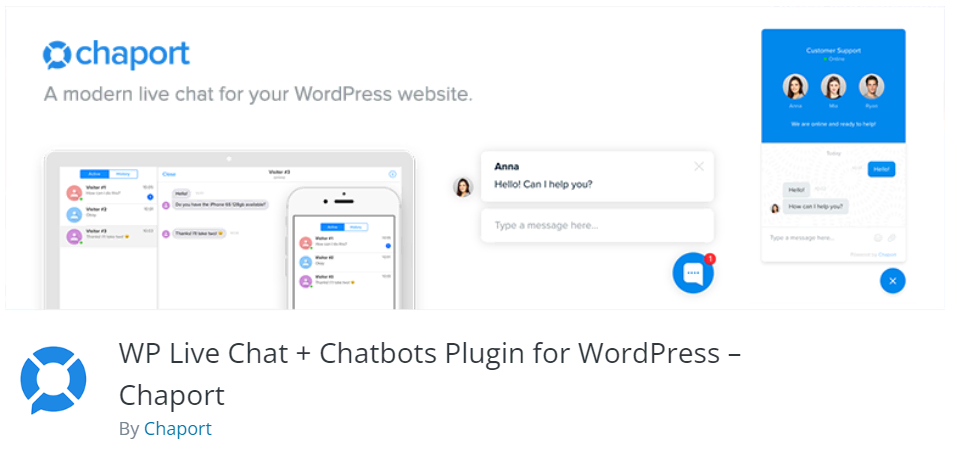 Chaport stats:
Downloads: 18,000+
Rating: 5/5
Best for: budget-conscious businesses
Pricing model: freemium
Chaport offers a great solution for those looking for an easy and enjoyable way to communicate with their customers. It has an easy installation process without any technical configuration, which makes this live chat plugin an excellent choice for beginners.
Start by creating a Chaport account on their website and access the live chat dashboard. Navigate through Settings -> Installation Code and click on Copy App ID. After that, paste it to the Chaport section under your WordPress dashboard settings.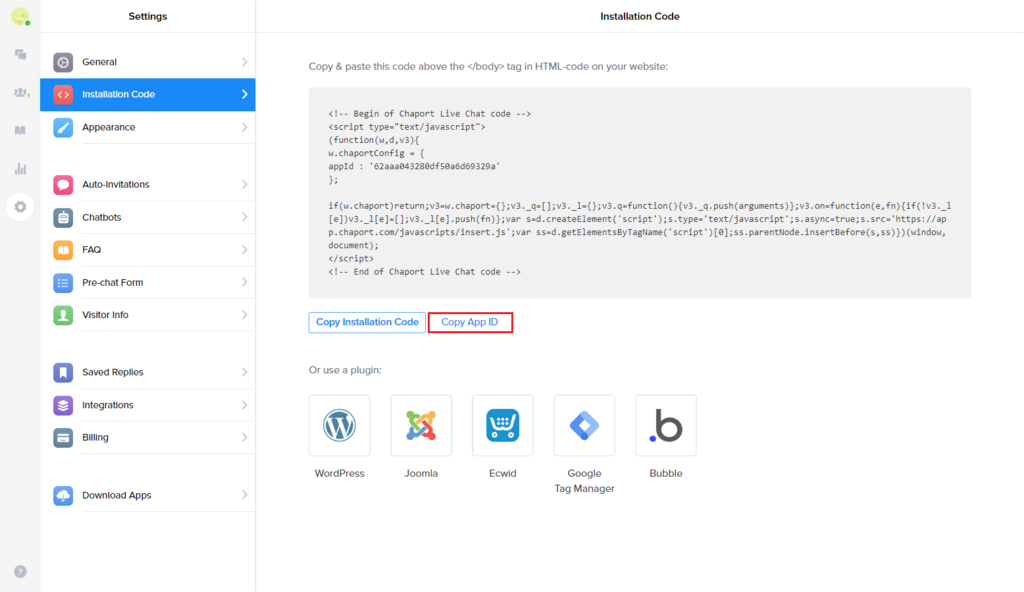 This live chat plugin offers multiple features to make your live chat support experience more effective. Users can utilize chatbots to help your support team answers FAQ more efficiently, boosts conversion, and capture more leads.
It allows multi-channel communication by connecting your live chat widget with services like Facebook Messenger, Telegram, or Viber. Chaport lets you receive messages when all operators are offline and send messages to your visitors even if they left your website using offline messages.
It is also possible to invite multiple support agents and make group chats. Last but not least, the Chaport chat widget is accessible through web, desktop, and mobile apps.
Users who opt for Chaport's free plan get access to basic features like unlimited chat, a 60-day chat history, and basic widget customization. If you want to use more advanced features, consider choosing the premium version starting from $19/month.
Key Features
Reliable and easy-to-use chatbots
Unlimited chats and websites
Multichannel live chat
12. REVE Chat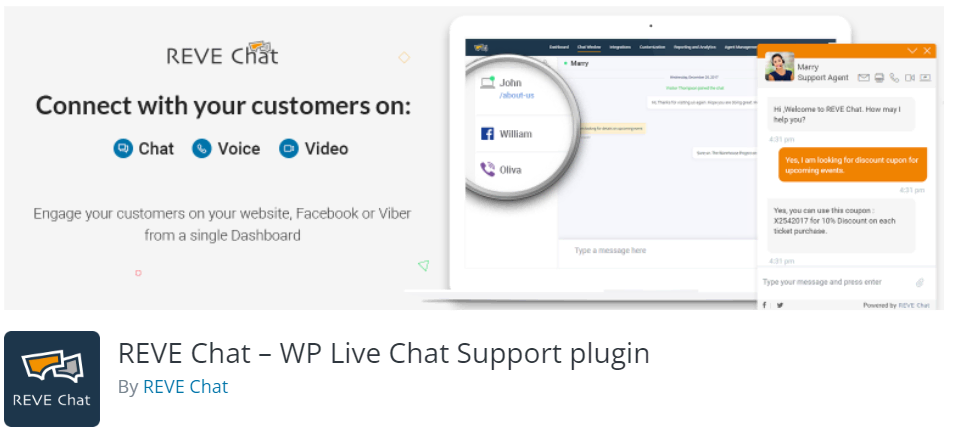 REVE Chat stats:
Downloads: 20,000 +
Rating: 4.5/5
Best for: advanced automation
Pricing model: premium
Reve Chat is a versatile WordPress chat plugin with numerous advanced features to help you step up your customer service quality. It allows multi-channel communication and a wide range of third-party integrations.
This live chat software lets you provide real-time support more efficiently with auto triggers and canned responses. Users can utilize the chat routing feature to direct chats to the right agent automatically.
The drag-and-drop chatbot builder is a great tool to enhance your live chat widget since it can speed up responsiveness and increase your support availability.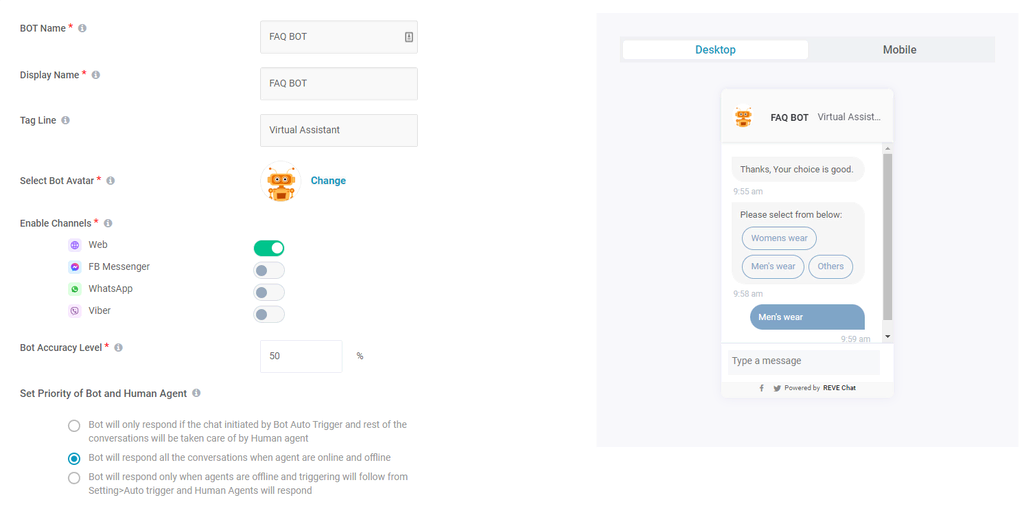 There are nine ready-to-use chatbot templates for various functions, including FAQ, feedback collection, and lead generation.
Reve Chat allows you to add free voice and video chat, co-browsing, and screen-sharing functionality to your chat window. These features let you help solve clients' problems when navigating your WordPress site.
The live chat widgets are highly customizable. You can change elements such as color theme, widget icons, and chat widgets' styles to make them look more appealing and professional.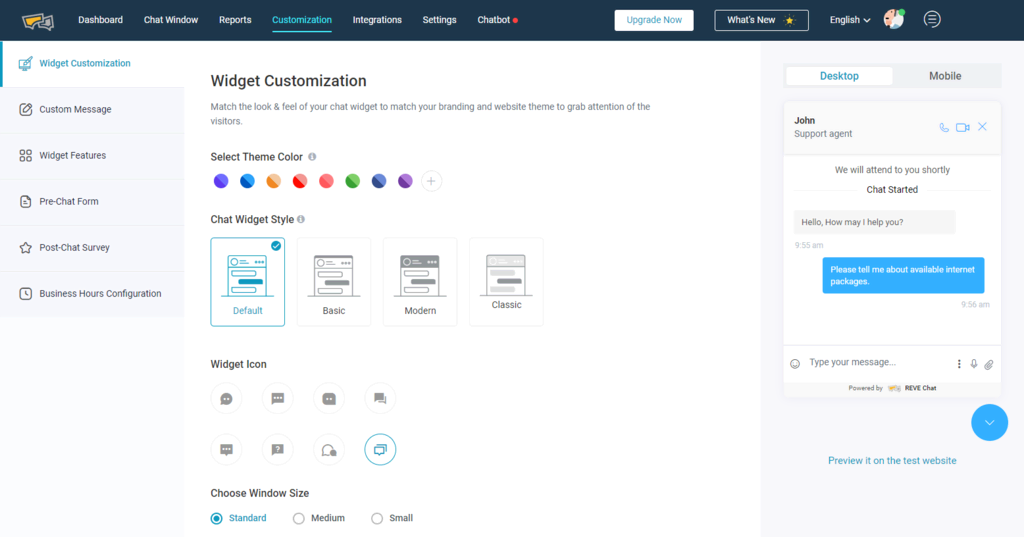 This WordPress live chat plugin also provides a robust analytics tool to help you improve customer engagement and potentially increase conversions.
Reve Chat's live chat features' pricing starts from $12/month per agent for a two-year plan. Users need to pay an additional cost to use the chatbot features, starting from $39/month for the two-year plan.
Make sure to take advantage of the 14-day free trial before subscribing to this WordPress chat plugin.
Key Features
Free video chat and screen sharing
Intuitive chatbot builder
Customizable live chat widgets
Built-in analytics tool
13. LiveChat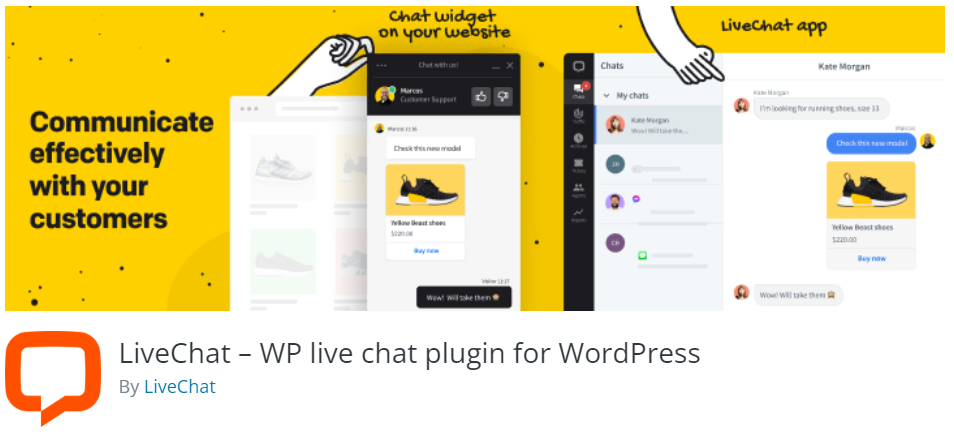 LiveChat stats:
Downloads: 700,000+
Rating: 4.7/5
Best for: eCommerce websites
Pricing model: premium
LiveChat is a feature-rich WordPress plugin that includes proactive chat invitations that automatically send personalized messages to people.
Some features like canned responses, personalized messages, and post-chat surveys allow you to engage clients and improve customer support more effectively. These features are also highly customizable to fit your preferences.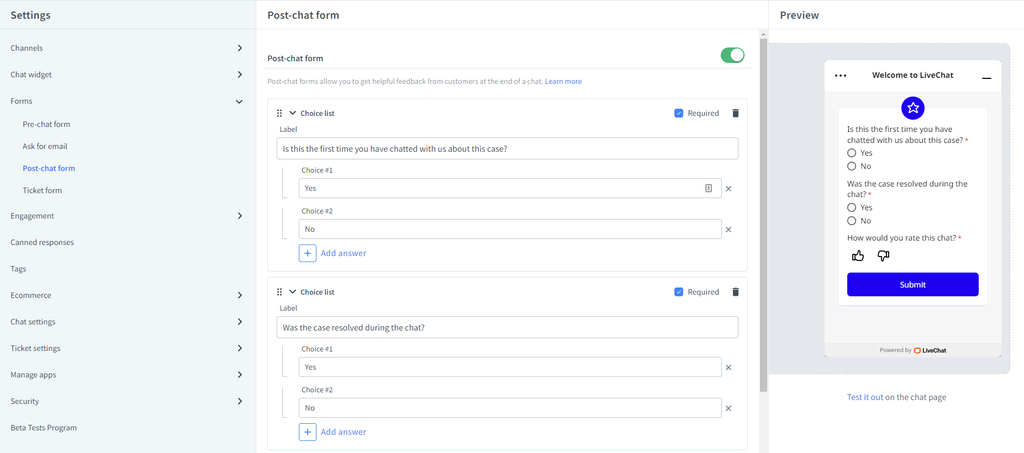 Users can create professional-looking chat boxes easily with its chat widget customization options. This WordPress plugin allows you to change various elements, such as widget appearance and positions.
Furthermore, this live chat plugin makes customer support more efficient. LiveChat can hold multiple chat sessions simultaneously, tag chats, send canned responses to FAQs, and send files through the chat window.
The chat widgets can also be added to any page on your site, including the checkout page.
What is more, this WordPress live chat plugin is easy to use. It is compatible with the leading WordPress page builders like SiteOrigin and Beaver Builder.
Also, LiveChat works well with any WordPress theme without requiring any additional modifications. In addition, it is compatible with major eCommerce platforms, such as BigCommerce, WooCommerce, and Ecwid.
When it comes to marketing, LiveChat integrates with popular third-party apps, such as Mailchimp and Salesforce, as well as social media platforms like Facebook and Twitter.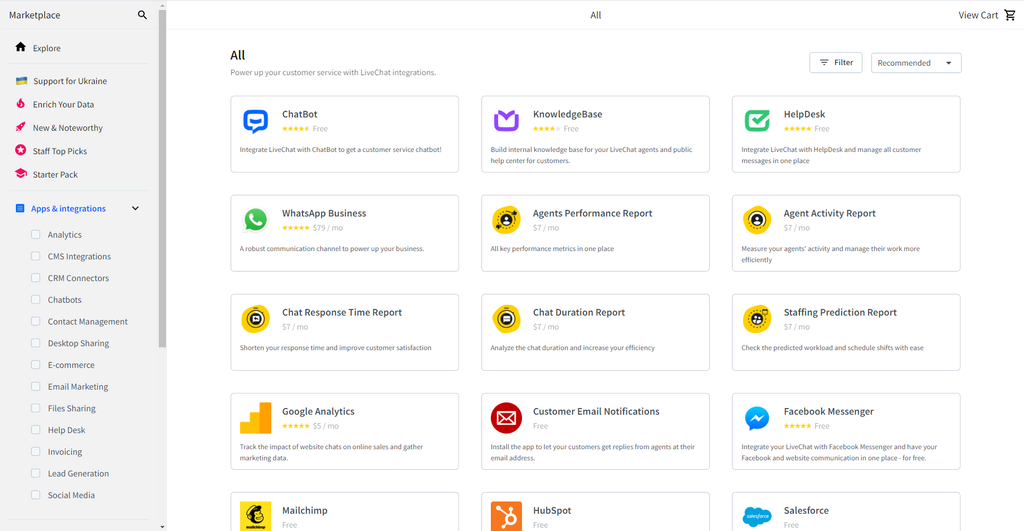 LiveChat plans' prices start from $16/month to $50/month, billed annually with an option to create a custom plan. LiveChat also offers other add-on applications, such as chatbots and a help desk, for an additional cost.
Key Features
Unlimited concurrent chats
Wide range of third-party integrations
A built-in chat analytics tool
14. JivoChat Live Chat
JivoChat stats:
Downloads: 300,000+
Rating: 4.9/5
Best for: budget-conscious businesses
Pricing model: freemium
JivoChat offers more than just a communication solution to WordPress site owners. This WordPress plugin enriches your customer engagement experience with other marketing capabilities.
Like most WordPress chat plugins, JivoChat makes communicating with clients easier by providing essential live chat features. These include offline messages, voice calls, and chat routing – all of which are easily accessible through the dashboard.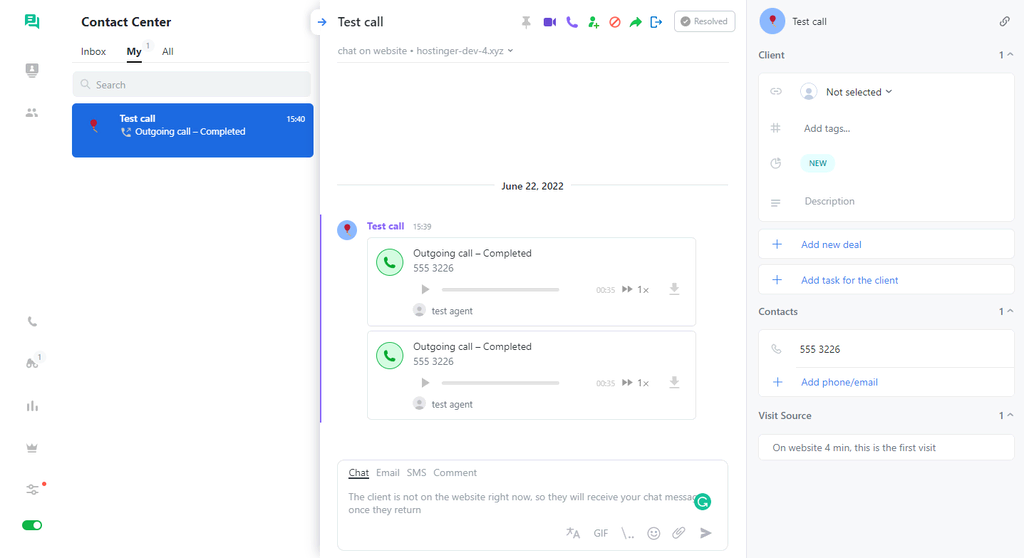 Call and chat history are stored automatically so the agents can access them easily to help resolve issues. Keep in mind that the free version limits the archive storage to two months, while the pro version gives you access to unlimited chat history.
This WordPress plugin can help improve your support agents' productivity with features like quick phrases and canned responses. Your team can also utilize its internal chat capability to eliminate the need to use additional collaboration tools.
Another selling point of JivoChat is its built-in CRM tool. It allows you to track statuses with your clients, attach comments, and funnel them. The CRM features are also available for the free plan, although with some limitations.
This live chat software also supports integration with various third-party CRM tools if you prefer using them.
Users can access JivoChat's basic features by using the free version. However, consider choosing the pro version, which starts from $19/month, if you want to get its advanced features.
Key Features
Built-in CRM tools
Voice call feature
Visitor monitoring and Smart Triggers
15. Chaty by Premio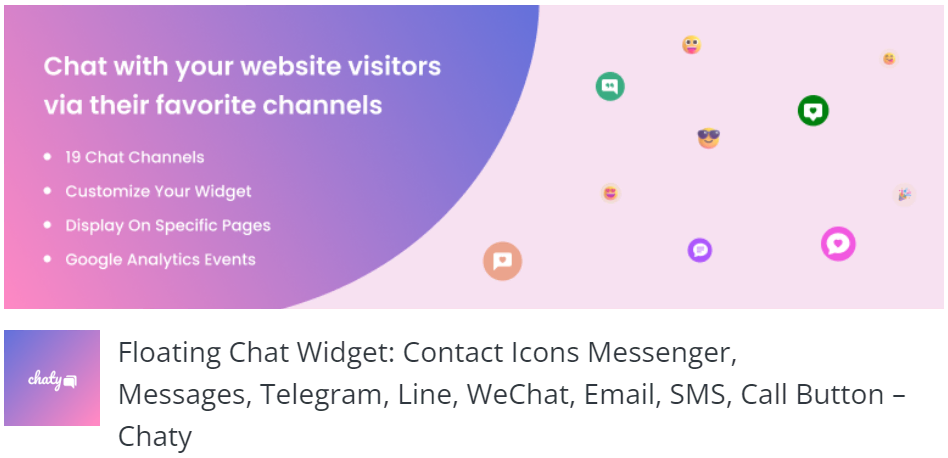 Chaty stats:
Downloads: 1 million +
Rating: 5/5
Best for: startups looking to scale their businesses
Pricing model: freemium
Chaty is one of the WordPress chat plugins that offer a multichannel communication platform with its free version.
This WordPress chat plugin lets potential customers contact you via their favorite channels, such as Facebook Messenger, WhatsApp, Viber, Slack, and Telegram. This way, customers can continue getting live chat support even after they leave your WordPress website.
Moreover, this live chat widget lets you display various buttons within the chat box, such as email and Google Maps. If your business offers a call option, your website will show a phone icon for visitors to click and call directly.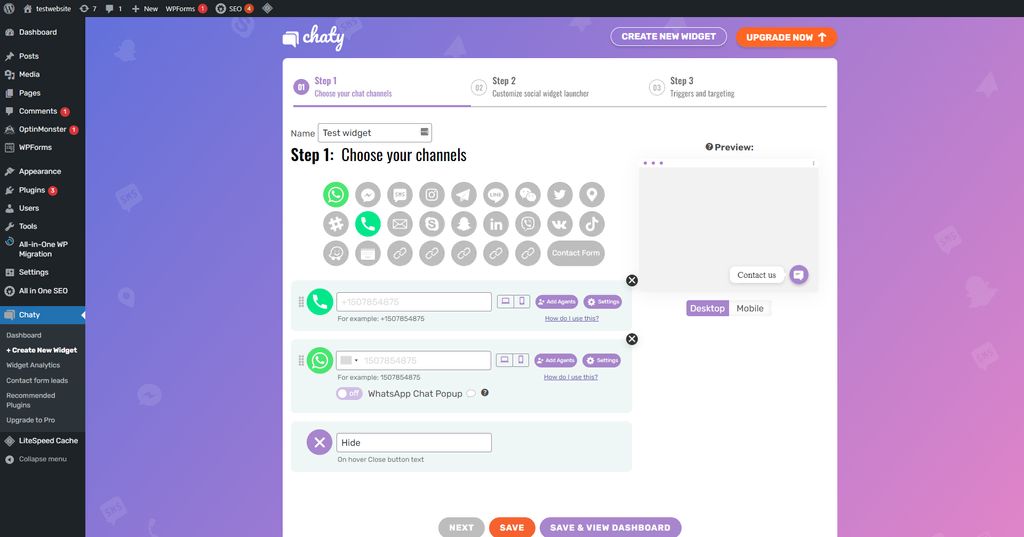 A new menu will appear on your WordPress dashboard once you install and activate this WordPress plugin. Here, you can set up the chat widget and choose which channels you want to integrate with it.
Keep in mind that Chaty doesn't offer standalone live chat capabilities, unlike other WordPress plugins in this list. Instead, this plugin needs to connect to one of the available channel options.
However, it is possible to connect Chaty to other WordPress live chat solutions, including Tawk.To, Tidio, Chatra, Formilla, and Zoho using JavaScript.
Chaty allows you to add a custom call-to-action message near the chatbox to potentially increase the engagement rate. Moreover, you get to decide the display frequency to make sure it's efficient to grab visitors' attention.
The live chat box is fully customizable. You can change chat icons, colors, and text effects. Other than that, you have the option to select the chat window location and whether to show the chat buttons vertically or horizontally.
Besides the free plan, Chaty offers pro plans starting from $9/month.
Key Features
Wide range of available channels
Easy integration with other live chat solutions
Voice call directly to your phone number
16. HubSpot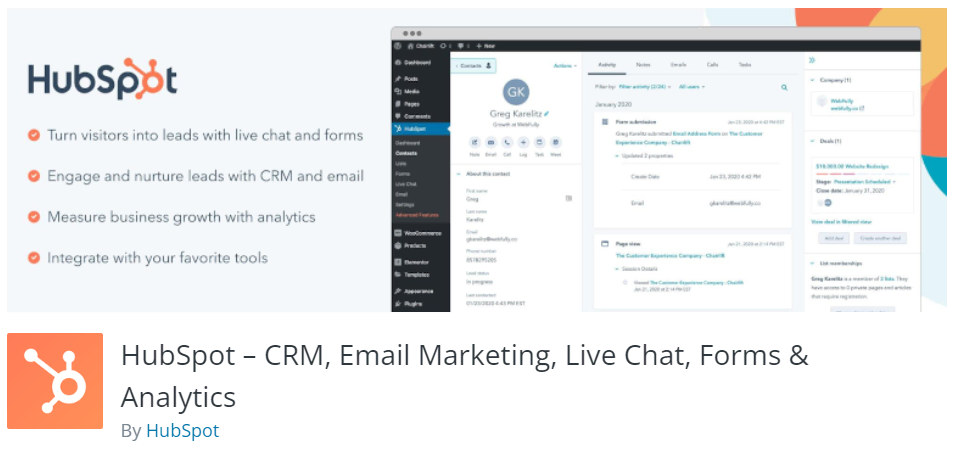 HubSpot stats:
Downloads: 7 million +
Rating: 4.4/5
Best for: those wanting an integrated marketing solution
Pricing model: freemium
HubSpot is an all-around toolkit and a complete marketing package, including customer service tools, analytics, and live chat software.
Some notable features include automatic conversation saving that saves and stores each interaction. It also provides marketing automation that sends an automated email when visitors first reach out.
Moreover, you can respond to chats directly from the conversation inbox. This makes follow-ups a bit easier as it allows you to take notes, create support tickets, and schedule calls.
This live chat WordPress plugin lets you respond to customers on the go as it comes with over 500 apps integration, which includes live chat software like Facebook Messenger and Slack.
HubSpot has a simple installation process. Once it is installed and activated, head over to HubSpot -> Live Chat on your WordPress dashboard to set up the live chat widget. Users can configure the widget's appearance, welcome message, and availability time.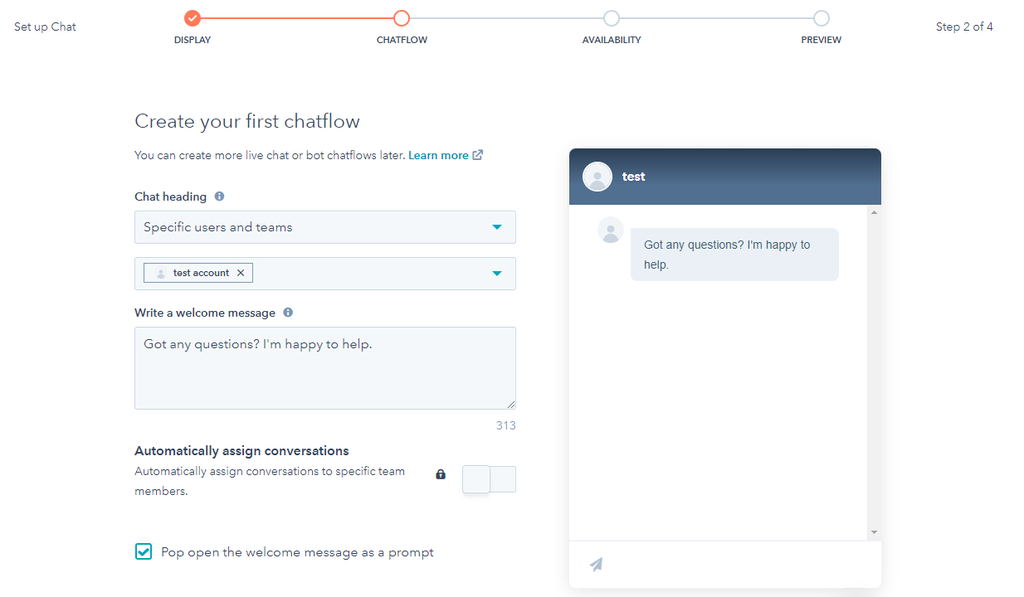 While HubSpot places some settings under the WordPress dashboard, you will need to open its dedicated dashboard to access most of its functionalities, including the live chat inbox.
It is easy to operate and has essential live chat features like contact details, file attachments, and a ticketing system.
HubSpot bundle plans start from $45/month with annual billing if you want an upgrade. However, the software's pricing is scalable as you can add more functionality for more cost.
Key Features
Versatile customer management tools
Robust chatbots
Integrations with more than 500 applications
17. Zotabox

Zotabox stats:
Downloads: 400,000+
Rating: 4.5/5
Best for: those wanting an integrated marketing solution
Pricing model: premium
Zotabox is a WordPress plugin that allows you to provide customer support using Facebook Messenger as the live chat platform. It connects easily with your Facebook page and offers customization options for the widget.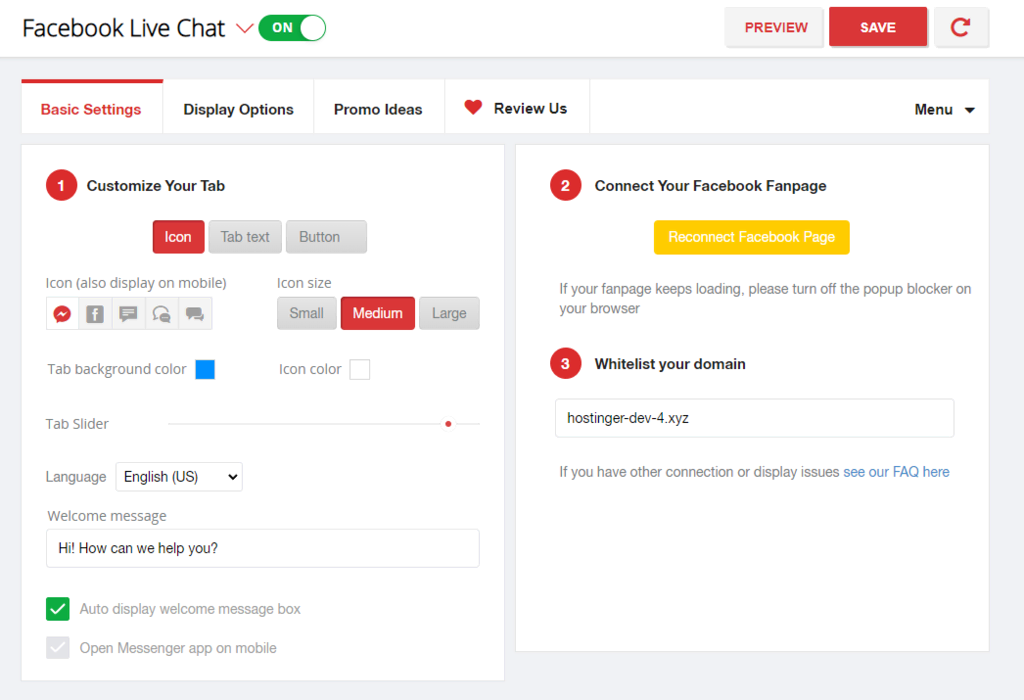 All you need to use this WordPress plugin is to install and connect it to your website and Facebook page. Since it uses Facebook Messenger as the live chat solution, most of the management can be accessed through the Meta Business Suite.
Aside from the live chat feature, Zotabox also comes with other useful functionalities. These include a contact form builder, landing page builder, and integration with various third-party platforms.
Zotabox's pricing plans start from $9.09/month for the annual billing if you expect fewer than 5000 monthly visits to your WordPress site. This plan already includes all of the features offered by Zotabox. Don't forget to also use the 30-day free trial before you decide to subscribe.
Key Features
All-in-one marketing tool
Easy integration with Facebook Messenger
Our Top 5 WordPress Live Chat Plugins
Here are our favorite picks for the best WordPress chat plugins on this list:
1. Tawk.To – best free live chat plugin
2. HubSpot – best value for money
3. Tidio – best for personal needs or small businesses
4. Chaport – best multichannel WordPress live chat plugin
5. Pure Chat – best for beginners
What to Look For in a WordPress Live Chat Plugin
When researching and testing WordPress live chat plugins, we mainly focused on the following four factors:
Features. Each live chat plugin may offer different functionality that can help you stand out from the competition. Features like access to chat history, automation, and multi-device compatibility can increase a plugin's value.
Ease of use. Most WordPress plugins are designed to be intuitive. However, each plugin may have a different installation method or compatibility.
Price. WordPress plugins range from free to premium with various pricing plans. If you are running on a budget, free WordPress chat plugins might be your best option. But if you have enough resources, consider choosing premium plugins since they typically provide more features and better user support.
Update. A WordPress plugin update typically comes with bug fixes and security patches that help it work better and safer. Therefore, make sure to check the last update of the live chat plugin before installing it. If the chat plugin hasn't been updated for a while, it may possess numerous vulnerabilities that can put your site at risk.
Conclusion
Installing a WordPress live chat plugin is one of the best ways to connect with your customers, improving your website's user experience, sales, and revenue.
Feel free to explore these WordPress live chat plugins more thoroughly and let us know which one you decide to go for. Don't forget to check out our other WordPress tutorials for more useful tips and tricks.