Forums are one of the mainstays of the web. Although people spend most of their time on 'regular' websites, forums are some of the most engaging types of platforms you can create. In fact, a lot of modern social media websites are basically forums with additional features on top. The problem is, creating a WordPress forum can involve a fair bit of work, since the platform itself wasn't developed with this in mind.
Fortunately, we're here to help you out. In this article, we'll walk through the three steps required to set up a WordPress forum, including:
Setting up and configuring the Asgaros Forum plugin.
Craft your WordPress forum structure.
Test your forum's functionality.
For your forum to work, we'll need to add an entirely new set of features to WordPress. That's potentially a lot of work, so let's get to it!
Why You Might Want to Start a WordPress Forum

Regardless of your hobbies, chances are there are plenty of online forums set up explicitly to discuss them. Simply put, forums are websites where you can submit new topics or 'threads' and have people reply to them. They're the perfect place to have in-depth discussions about almost any topic you can imagine. For example, there are entire forums dedicated to web hosting, for example, cooking, and even niche hobbies, such as knitting.

You'll often find most of the content comes from the user discussions. Compare that to the Hostinger tech blog, for example. While each article has a comments section, the main attraction is the content.
If you're a forum user, you've probably noticed that a lot of features cross-over with social media. Take Facebook, for example. Aside from uploading pictures and keeping up with friends, one of the main selling points is the ability to share content and discuss it with others, much like a forum.
In fact, if you take a look at the five most popular websites on the web, you'll notice two of them offer forum (or forum-like) functionality. We've already mentioned Facebook, but Reddit is also basically a forum with a lot of extra features.
Overall, running a forum offers a different set of challenges than a website, although it also has its benefits. For example, with a forum, you don't have as much pressure to post original content. They're also better when it comes to fostering discussion and engagement, which keeps a lot of users coming back.
However, forums aren't a viable option for most web projects. For example, if you want to set up a portfolio, you obviously will have next to no use for forums and would be better served by building a standard website.
However, if you're running a website with a strong social component, or you offer services online, setting up a forum can be a good idea. You can even run one alongside your regular website and use it to foster discussion about your content and services.
Setting up an online forum usually requires you to use specialized software. With WordPress, you can add forum functionality to your website using plugins, and there are plenty of options. In the next section, we'll discuss a couple of popular plugins, then introduce you to one of our favorites!
3 Popular WordPress Forum Plugins
Firstly, let's check out some of the more popular solutions available when it comes to WordPress forum plugins. These are often the 'go-to' choices for many WordPress users, so it's worth discussing them before getting onto one of our favorites.
1. bbPress

When it comes to WordPress forum plugins, bbPress is arguably the most popular option around. In fact, it's the software that powers WordPress.org's own support forums, so it comes with a stellar pedigree.
As such, bbPress is highly customizable. You can extend its functionality further with other plugins, and even set up dedicated themes for your WordPress forum. Overall, it's a great option if you're looking for a forum plugin with a lot of advanced functionality, although when it comes to style, it does look a bit outdated.
2. wpForo

Next, wpForo offers an experience that's somewhere in between bbPress and the next plugin (Asgaros Forums) in terms of features. It's a bit more complex to set up than the latter and it packs a lot of advanced functionality. The plugin even offers its own set of add-ons, although not as many as bbPress does.
When it comes to style, wpForo scores high marks. It looks just as sleek as Asgaros Forum, although there's more going on visually. If you want to use a forum plugin that offers advanced features and manages to look stylish in the process, this one is a great pick.
3. Asgaros Forum

Let's now take a look at the solution we'll feature throughout the rest of this article. Asgaros Forum is one of many WordPress forum plugins available for free. However, it stands out thanks to its ease of use. In practice, it should only take you a few minutes to set up the plugin and have a fully working WordPress forum ready.
If you want more control over your forum experience, the plugin also offers a lot of settings you can finetune. Once the plugin is active, you'll be able to set up a dedicated WordPress forum page on your site. You can then use much like any other online forum and create threads, comment on existing ones, set up subforums, and more.
You can also add individual forum sections to practically any page using shortcodes, which can be useful if you don't want to set up an entire discussion board. Moreover, the plugin also includes basic moderator functionality. This means you can remove content if needed, and even ban users for repeated infractions. Should your WordPress forum grow, you can also designate other users as moderators so they can help you keep things in check.
Finally, Asgaros Forum enables you to customize your forum's style using themes, and it supports multiple languages out of the box.
Key Features:
Lets you set up a fully-working WordPress forum in minutes.
Enables users to comment as guests.
Lets you moderate your WordPress forum's content and designate other users to help you.
Offers reports on specific posts and ban users if needed.
Although it's simple to use and to set up, Asgaros Forum is by no means lacking when it comes to functionality. It offers practically all of the features you'd expect from any modern forum in 2018. Unless you're looking for some highly-specific feature, you can't go wrong with Asgaros Foruma.
How to Set Up a WordPress Forum (In 3 Steps)
For this section, we're going to show you how to set up a WordPress forum using the Asgaros Forum plugin. Although the other plugins we've featured will have similar steps, they (obviously) could differ. This means you may need to consult the documentation for specific guidance.
Step #1: Set Up and Configure the Asgaros Forum Plugin
Of course, you'll first need to install and activate the plugin itself. Head to your WordPress dashboard, and jump to the Plugins > Add New tab. Search for the Asgaros Forum plugin: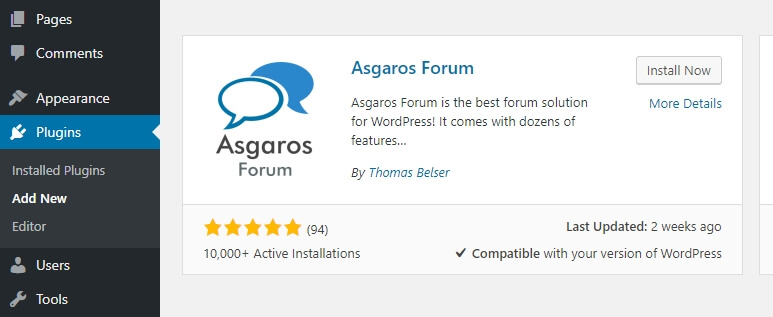 Click on the Install Now button next to the plugin's name, then click the blue Activate button. At this point, a new Forum tab will show up on your WordPress dashboard.
Here, you'll find a Settings option. You'll want to configure on which page to set up your WordPress forum. You can do this using the drop-down menu listing all of your pages. While you're here, you can also configure how many replies and topics you want to show on each page:

Generally speaking, the defaults are fine to stick with. However, you can safely increase the number of replies per page, if you wish. Next, the Asgaros Forum plugin uses its own built-in editor for new topics and comments, which is enabled by default. We'll show you how this works in a minute, so we recommend keeping this setting turned on.
Further on down, there's an option to enable the use of shortcodes within the editor, which we recommend you disable as it can pose security issues:

Next, you can configure the plugin to highlight moderator and author names within each topic. This is usually a good idea, so users know who to contact in case of problems, so let's keep both settings turned on. While we're at it, let's also turn on post counters as they incentivize users to be more active:

Keep scrolling, and you'll find some options to display login, logout, and registration buttons for your forum. We recommend turning these settings on, so the buttons will be easy for your users to find:

The next section includes settings that deal with your forum's basic functionality. Here, you can enable user mentions, reactions, and a display showing who's online. You can also turn on guest posting, although we recommend not to since it makes it easier for people to spam your forums:

Next, you'll find the option to enable post subscriptions for your users. This means they'll get notifications when there's new content on the posts they're subscribed to:

We just have two more sections left to cover now. The first one includes profile-related settings. In most cases, you'll want to enable users to create profiles since it's a functionality that people expect. You can also configure whether logged-out users will be able to see those profiles, which is up to you:

Finally, if you scroll all the way to the bottom of the Settings page, you'll find the option to enable reports and receive notifications when users submit them. This should make it easier for you to moderate the forums, so we recommend turning both on:

If you like to keep a clean inbox, we recommend setting up an email just to deal with forum-related issues. Otherwise, the more users you have, the more difficult it could be to locate forum notifications in your inbox.
That's about it for your new WordPress forum settings. Go ahead and save your changes, then move on to step number two!
Step #2: Build Your WordPress Forum Structure
Now you've configured the way your WordPress forum will work, we can get to work on its basic structure. To do this, go to the Forum > Structure tab within WordPress. Inside, you'll see the plugin has already set up a basic forum for you:

Right now, the forum is empty. If you view it from the front-end, it should look like this: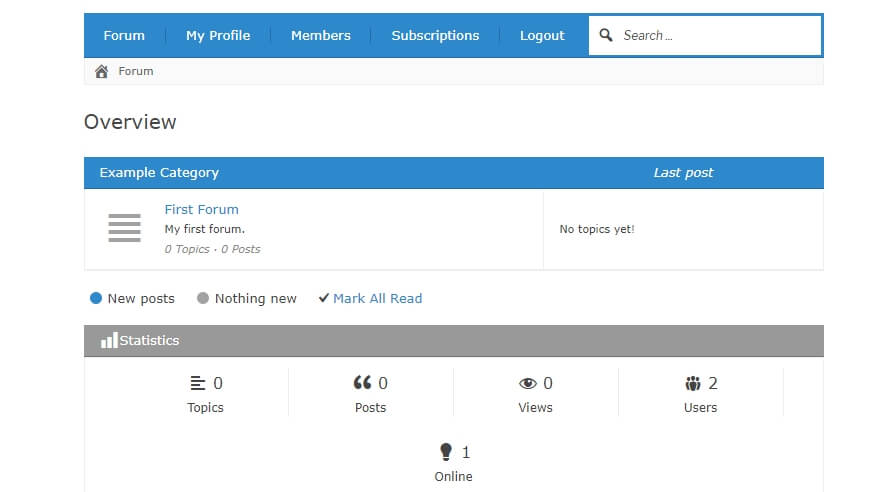 At this stage, you can already post new topics within the forum and people can reply to them. However, any serious forum you run into will have several unique sections to keep things in order. For example, you can set up a Welcome forum where people can introduce themselves, which is what we're going to do now. Click on the Add Forum button to get started:

To add a new forum page, you just need to pick a name for it, a description, and choose a parent if you want to make it a subforum:

You can also configure the order in which the plugin will display your forums using numbers: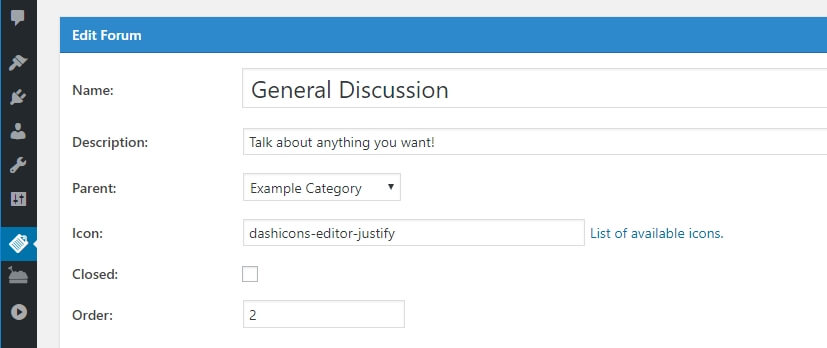 Now let's edit the forum already set up for us, so we can actually use it. To do that, click on the Edit Forum button to the right of its name. Go ahead and change its name and set a description for it. While you're here, you can also assign it a new number under the Order field.
Now you have two working forums set up and you know how to create new ones if you want to. Go ahead and set up any other forums you want. If you'd like to create a subforum, click on the Add Sub-Forum option to the right of its parent:

When your forum structure is ready, you can move on to the final step, where we'll test if everything is working correctly.
Step #3: Test Your Forum's Functionality
The first thing you'll want to do is create a new topic to check if everything is working correctly. To do this, click on the New Topic button on the right-hand side of a specific forum.
As we mentioned earlier, the Asgaros Forum plugin uses a stripped-down version of the WordPress editor. Here, you can set a title and type the body of your new topic: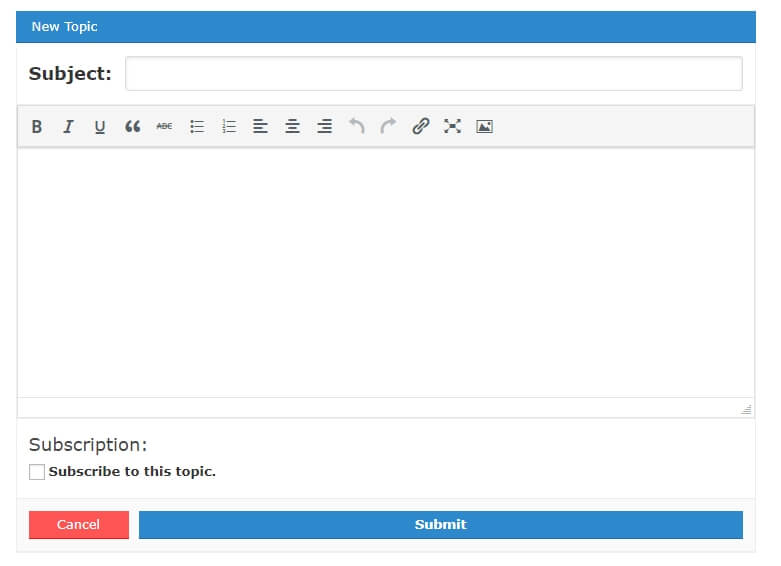 Since this is a test topic, you can type anything you want. While we're at it, hit the Subscribe to this topic option so you can test if the plugin's emails reach you correctly.
Once your topic is up, here's what it should look like: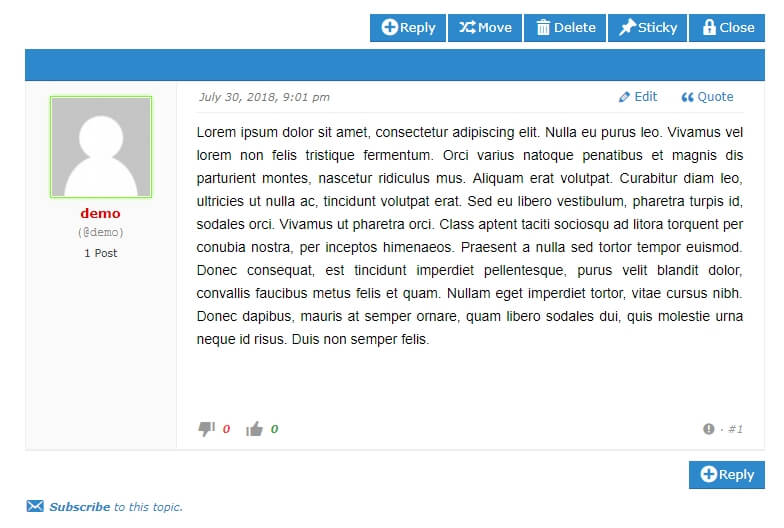 Notice there are multiple options for how to interact with your topic. As an administrator, you can sticky, delete, and close threads, which is something regular users can't do. You can also reply to any topic on your WordPress forum by clicking on the button to the bottom right, which will again launch the editor.
If you can both publish new topics and posts, you know the forum is working correctly. All that's left now is to tell your users about it so they can sign up!
Conclusion
When people think about WordPress, forums aren't usually the first thing that comes to mind. However, with the right plugin, anyone can set up a WordPress forum. You have a lot of options to choose from, but if you're looking for something straightforward, Asgaros Forum should be right up your alley. With this plugin, you can set up a working forum in a matter of minutes, including all of the features you'd expect.
And if WordPress is not your cup of tea, there are loads of other options you can pick. For more information, check out our article on the best forum software solutions for online community building.
Do you have any questions about how to set up a WordPress forum? Let's talk about them in the comments section below!