How to Create a WordPress Slider (And 5 Top Plugins to Do It)

Sliders are one of those elements you see on almost every website. They're easy to implement, and they almost always look great, as long as you use compelling images. Plus, you can do some fun things with a WordPress slider, such as adding transition effects to it.
Sliders aren't a functionality WordPress includes out of the box, however, so you'll need plugins to add it. In this article, we'll teach you how to do that in just three steps:
Set up your WordPress slider, and add the media you want to use.
Configure your WordPress slider.
Place your new slider wherever you want it displayed.
Once that's done, we'll also introduce you to some top WordPress slider plugins, so you know what your options are. Let's get to it!
When You Might Want to Use a WordPress Slider

Sliders (or carousels) are actually pretty simple features. A slider is a collection of images that you rotate through, either by using buttons or by waiting for them to transition automatically. In other words, it's a slideshow of images.
However, there's a lot more you can do with a slider. You can also add fun transition effects to it, modify its text, create unique buttons, and much more. In short, there are plenty of ways to go from a boring, commonplace slider to something that really makes your web page stand out.
As for when it makes sense to use sliders, it depends on your website and goals. A lot of sites use what are called 'hero' sliders, which spread across the top of a web page as an alternative header. You can see an example of this in action at the beginning of this section.
Aside from hero sliders, you can also create testimonial and client carousels, like this one:

Ultimately, sliders make a perfect addition to almost any website. However, they're best used to fulfil a practical purpose, such as showcasing a lot of images in a small space, rather than just as decoration. They also add a bit of welcome interactivity to your website, which is a great way to increase user engagement.
How to Create a WordPress Slider (In 3 Steps)
Throughout the next few sections, we're going to teach you how to create a WordPress slider using Master Slider. We chose this plugin because it's easy to use, offers a lot of fun features, and enables you to set up as many sliders as you want.
Afterwards, we'll introduce you to some more WordPress carousel slider plugins you can use, and we'll talk more about Master Slider itself. For now, go ahead and install Master Slider, and then you're ready to get started!
Step 1: Set Up Your WordPress Slider and Add The Media You Want to Use
Once you activate the Master Slider plugin, you'll find a new Master Slider tab in your dashboard. There, you'll see a list of all your existing WordPress sliders (which should be empty right now). Go ahead and click on the Create New Slider button: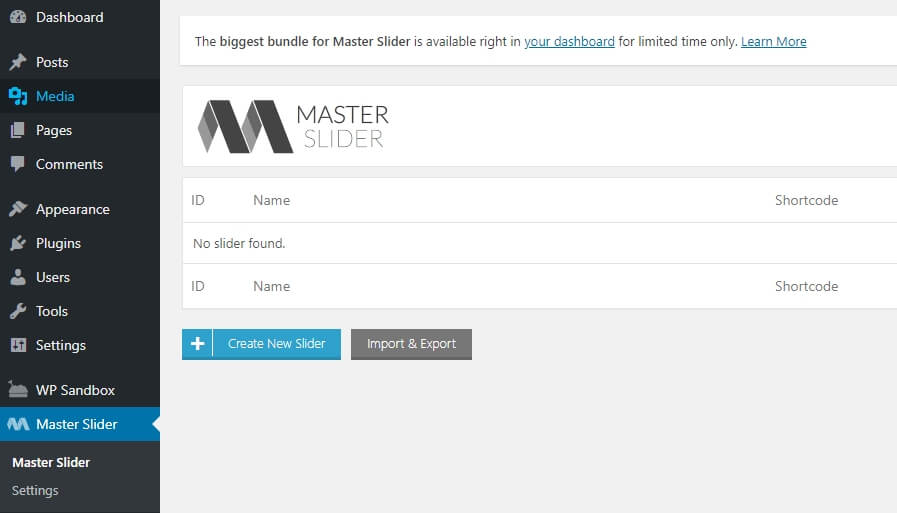 The plugin will ask you what type of slider you want to set up. You have eight different varieties to choose from, including horizontal sliders with and without thumbnails: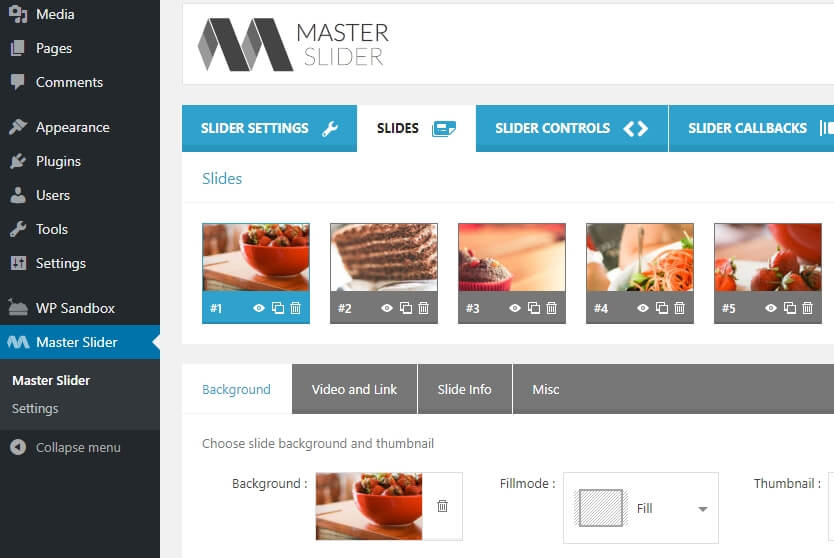 For this tutorial, we're going to set up a simple custom slider so you can see how the entire process works. So pick that option, and hit the CREATE button.
Next, the plugin will send you to your new element's SLIDES tab. Here you can add all the images you want your slider to include using the WordPress media uploader or select existing images from your library: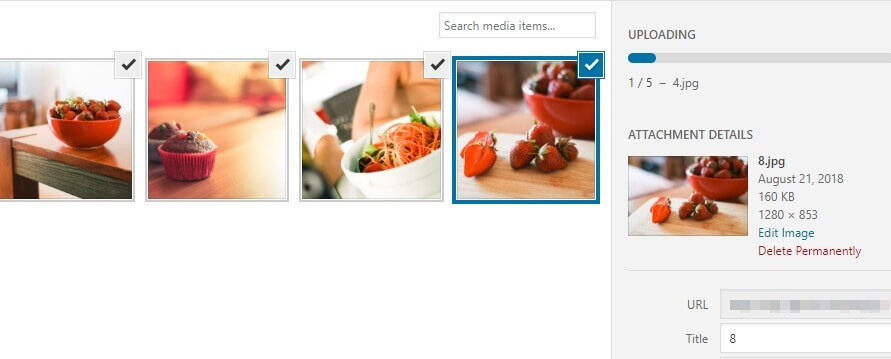 Once you've added in a few photos, your SLIDES tab should look something like this: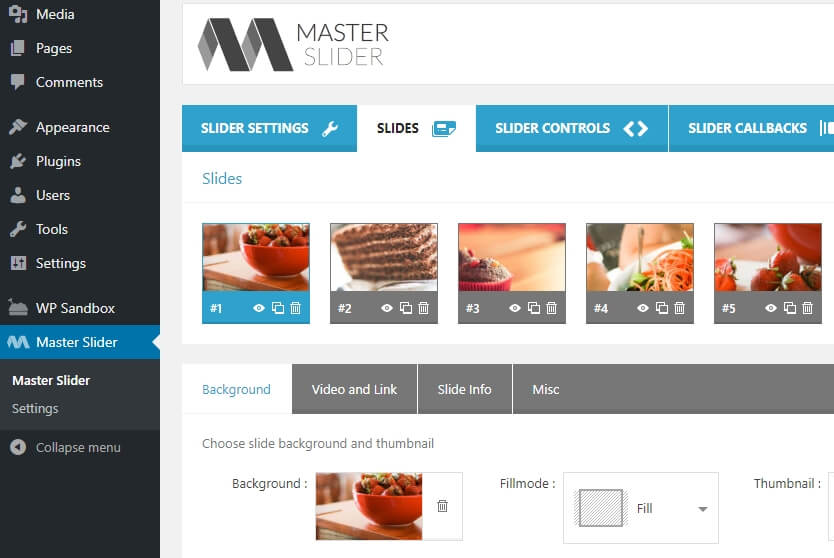 Your images are ready to go now. Keep this tab open, and move on to the next step.
Step 2: Configure Your WordPress Slider
Next up, you can configure the way your WordPress slider will work. To do that, scroll down to the Background section of the SLIDES tab. For each of your slides, you can configure a unique background using a chosen image, along with whatever colors and text you like:

Right now, we'll just set up a simple WordPress slider using all the images we uploaded. If you scroll down, you can see how each image will show up on the slider. There's also a Preview button, which you can select to see how your WordPress slider is shaping up:

When you're done here, you'll want to jump over to the SLIDER CONTROLS tab. There, you can choose what type of controls you want your slider to use. The default setting is called Arrows, and you can probably guess what those look like: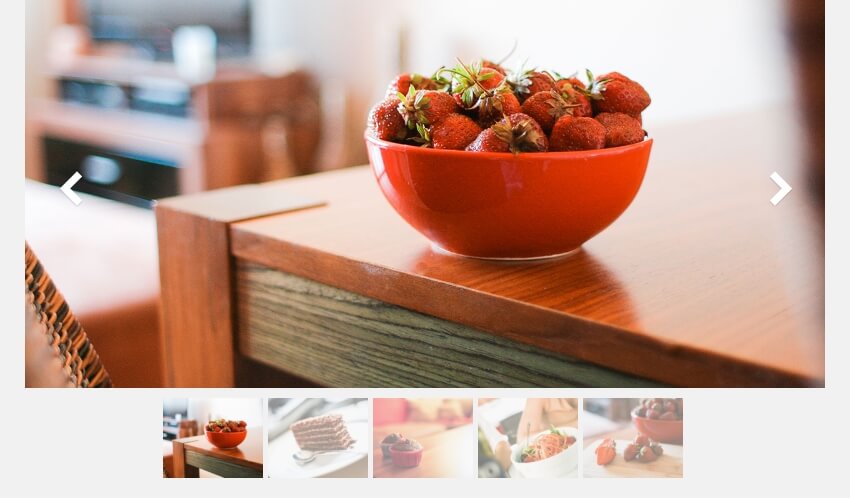 Of course, you're free to choose whatever control scheme you prefer. Then you'll want to navigate to the SLIDER SETTINGS tab, where you can tweak your WordPress slider even further.
You'll find options that let you adjust your slider's width and height, for example. You can even set a name for it, which will appear in the Master Slider tab:

If you scroll down a bit further, you can also add simple transition effects to your slider. Keep in mind that the free version of Master Slider only includes two effects: Normal and Fade. We recommend the former since it offers a clean-looking transition for your WordPress post slider:

Finally, you can also play around with skins by scrolling down to the Appearance section. These are slider templates that enable you to alter its appearance.
We've been showing the default skin so far in our examples, but there are other great options you can play around with. You can even add custom CSS to WordPress sliders if you're into that sort of thing: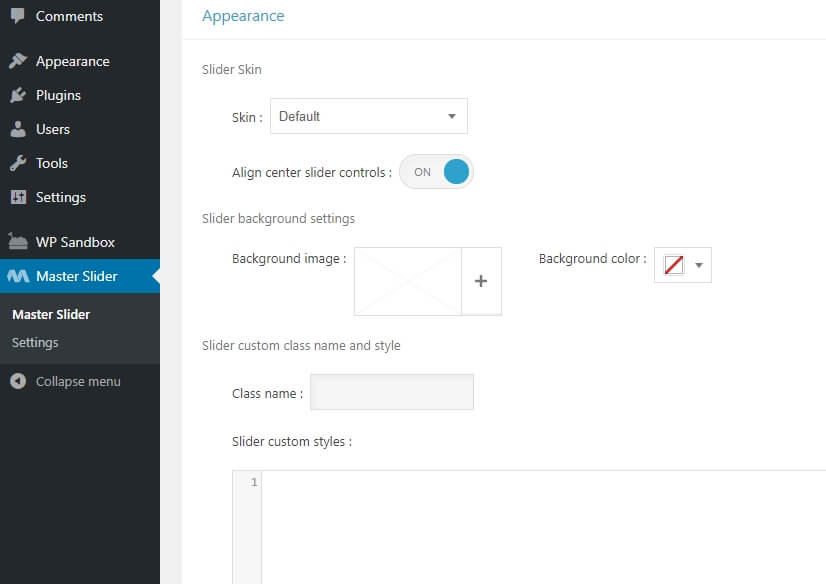 Once you're done tweaking your WordPress slider's style, hit the Save Changes button and move on to the last step.
Step 3: Place Your New Slider Wherever You Want It Displayed
Your WordPress slider is ready now, so all that's left to do is place it on your website. This process is simple, since the Master Slider plugin generates a shortcode for each slider you create.
To find those shortcodes, go to the Master Slider tab in your dashboard and look under the Shortcode column:

Copy the shortcode for the slider you want to place on your site, and then open the editor for the page or post where you'd like it to go. Simply paste in the shortcode wherever you want your WordPress slider to show up, as in the example below: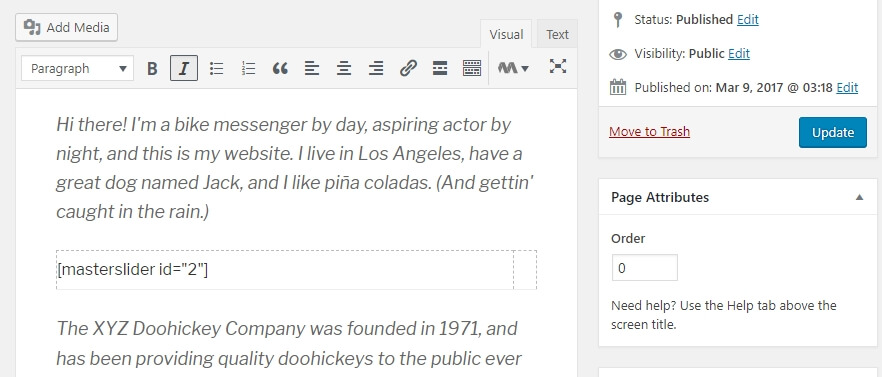 If you check your page out on the front end, it should now look something like this: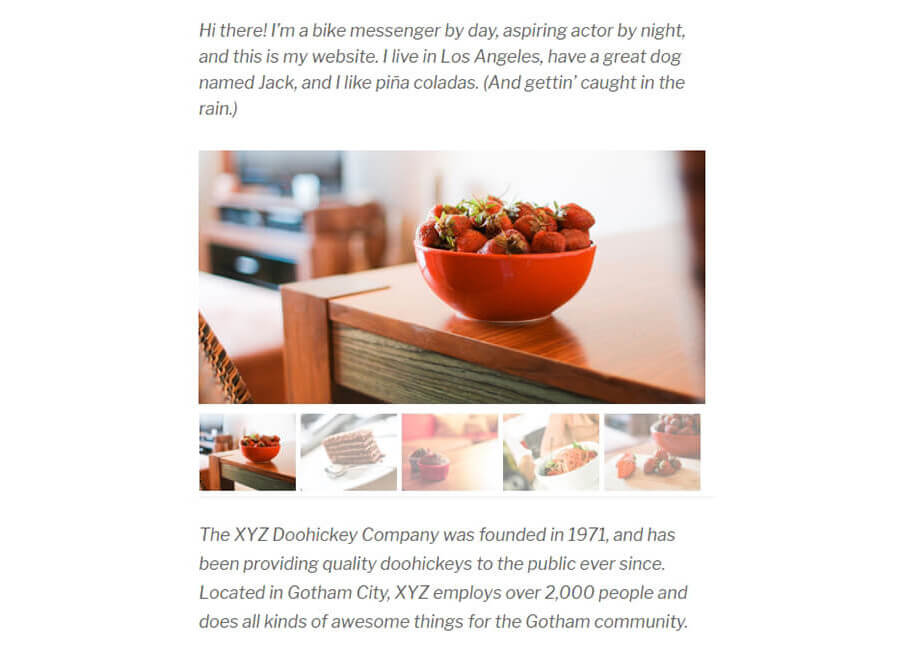 Remember that you can create as many sliders as you want using the Master Slider plugin. You can even delete those you don't want to use anymore from the Master Slider tab, by selecting the delete button next to any one of them:

Now, you can get to work creating the best WordPress slider for your site! Before we wrap up, however, let's explore a few alternative plugin options.
5 Best WordPress Slider Plugins Compared
We've already seen one of the best WordPress slider plugins in action. However, we didn't get the chance to introduce you to all of its features yet. Let's do that now, and then show you a few other top solutions you can use if Master Slider isn't to your liking.
1. Master Slider

You're already acquainted with Master Slider, so let's jump right into what you may not know about the plugin. Along with enabling you to create WordPress sliders, this plugin also makes sure they're fully responsive. It works with touch navigation, so it's perfect for mobile-friendly websites, and it's built to be very search engine-friendly.
Key Features:
Create as many sliders as you want.
Add sliders to your WordPress pages using shortcodes.
Customize your sliders' style and transition effects.
Ensure that your sliders are fully responsive, with no additional configuration needed.
Optimize your sliders' content for search engines.
Pricing: You can either try out the free version of Master Slider or opt for the full premium version.
2. Smart Slider 3

Smart Slider 3 offers a lot of the same features Master Slider does. However, it also features a live drag-and-drop editor you can use to build your sliders. If you're the kind of person who likes to tweak your site's elements using a page builder rather than lists of settings, this plugin can be an excellent option.
Aside from that feature, Smart Slider 3 also ensures that your sliders are responsive out of the box. Plus, it includes several templates you can use to set up compelling sliders in a hurry.
Key Features:
Create WordPress sliders using a drag-and-drop builder.
Use third-party page builders such as Divi and Beaver Builder alongside the plugin.
Set up fully responsive sliders out of the box.
Choose from several templates to get your sliders up and running quickly.
Add multiple fonts to your slides' content.
Pricing: Smart Slider 3 offers a free base version, as well as several paid tiers.
3. MetaSlider

As far as WordPress slider plugins go, few are as popular as MetaSlider. With almost 1,000,000 active installations at the time, we published this article, it sits at the top of the plugin food chain.
While MetaSlider doesn't feature the slick interface of the other plugins we've covered so far, it does shine when it comes to ease of use. Adding slides is easy, as is reordering them, adding text, and even optimizing their metadata. With other plugins, all this work can take a while, but MetaSlider keeps things simple thanks to a clean and intuitive interface.
Key Features:
Set up multiple WordPress sliders.
Quickly add slides and reorder them.
Add text to your slides and tackle Search Engine Optimization (SEO), all from the same screen.
Tweak your sliders' transition effects.
Add sliders to any of your pages using shortcodes.
Pricing: MetaSlider is free in the WordPress Plugin Directory, or you can get a premium license with a few extra features.
4. Slider by WD

If you're the kind of person who likes customizing every tiny detail of your website, Slider by WD might be up your alley. It features a lot of the functionality we've seen so far from other slider plugins, such as support for multiple slides, responsive design, and more.
Where the plugin really shines is how many settings you can tweak for each of your slides. For example, you can play with their size, colors, and transition effects. You can even import and export sliders, so you can copy them from one site to another. Finally, the plugin includes an option to watermark your images, which can come in handy if you need to protect your original work.
Key Features:
Set up mobile-friendly WordPress sliders.
Gain access to a broad range of customization options for your slides.
Watermark your slides to protect them from theft.
Import and export slides, so you can copy them from one site to another.
Pricing: The free version of Slider WD is a solid tool, although you can also upgrade to a premium license.
5.  Slide Anything

So far, all the slider plugins we've talked about are primarily focused on images. However, as we mentioned earlier, you can also use WordPress sliders for other purposes. You create client testimonial carousels, showcase reviews, and a lot more.
The Slide Anything plugin enables you to set up sliders using almost any type of content you want. Along with images and text, it also let you use HTML and even shortcodes, which can make for some fun combinations. Plus, this plugin includes some fun features such as infinite scrolling (so that your slider loops around), a whole collection of cool transition effects, and more.
Key Features:
Set up sliders using any type of content you want.
Choose from several transition effects for your slides.
Use shortcodes within your sliders.
Pricing: You can use Slide Anything Pro for free, or get access to a few additional features (such as popups) with the premium version.
Conclusion
There's a reason why sliders are so popular. All you have to do is pick a few images, add a transition effect or two, and potentially include some text, and you have an element that looks great anywhere on your site (particularly as a header). With WordPress, you can easily set up a slider using your favorite plugin. We're partial to Master Slider due to its wealth of features, but there are a lot of excellent options out there.
Do you have any questions about how to set up your first WordPress slider? Ask away in the comments section below!
Was this tutorial helpful?