Education is the cornerstone of human society. And while fundamentally, it hasn't changed for hundreds of years. It definitely found a new median – the Internet. From painting classes to coding, we can find many online courses offered by professional educators around the world. If you are an instructor who wishes to educate more people, this is also a great opportunity. We'll be talking about what we think is the best way of doing so. That would be using WordPress with an LMS (Learning Management System) plugin. But first, you need to know how to take your class online.
WordPress as an Online Teaching Platform
There are many ways to begin teaching on the internet, but we highly recommend starting with WordPress. Why? WordPress allows you to create a website at no cost. Furthermore, it has a huge worldwide user base and is known for having advanced plugins that are usually paid on other platforms. We already mentioned that the type of plugin you need is called LMS. These plugins do not only turn your WordPress website into a professional-looking one. They also help you to organize courses, manage your students, schedule assignments and handle membership payments.
Top 4 LMS Plugins for WordPress
There are numerous LMS plugins for WordPress. Some of them require you to pay, while others are free. To start off, it's best practice to go for a free one. There are several free plugins that are more than capable to do the job. More importantly, you need to pick one that you feel is most useful in your situation. Once you use an LMS, it is difficult to go back to not using one.
However, top-rated premium LMS plugins usually have more in-depth features that take your courses to the next level. Below are some of the best LMS plugins for your WordPress site that are worth considering; regardless of their price. In this list, we will compare them with these keywords in mind: course building, monetary system, student engagement, and pricing.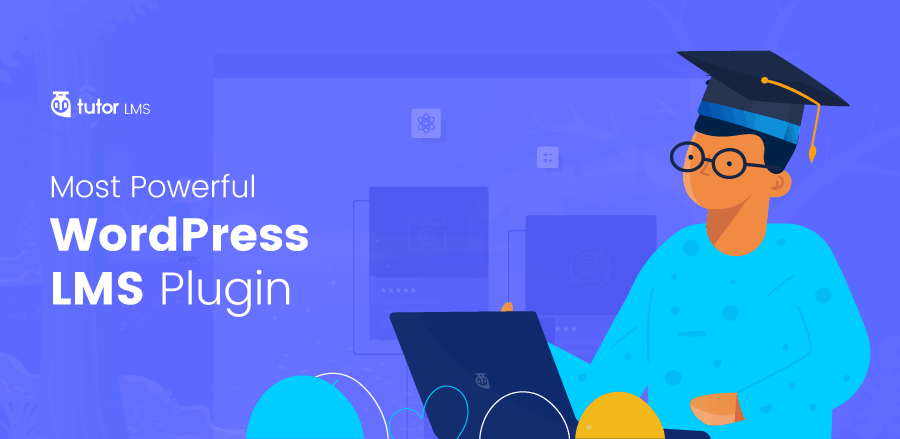 Tutor LMS is a WordPress LMS plugin that caters to all levels of online learning. Whether you're a single instructor, educational institute, training center, Tutor LMS brings all the functionalities of course creation in a single package. It's complete with a drag & drop interface, quiz creator, useful addons and features required to alleviate your educational site to the next level.
Course Building
Course creation is made into a very simple process in Tutor LMS. The drag & drop course builder in Tutor LMS lets you create unlimited lessons and publish courses in a single place. It's multi-instructor ready. Craft resourceful courses with multimedia attachments, videos and more. Build interactive yet challenging quizzes with 10 unique question types. You can limit quiz attempts, set a passing grade, review questions, include quiz timers, and more with Tutor LMS.
Monetary System
Selling courses and transactions is seamless in Tutor LMS. It's integrated with the globally renowned WooCommerce and Easy Digital Download system. The whole monetary system is very well-structured. You can track your purchase history right from the dashboard. Allocate commissions and set a minimum withdrawal amount. The versatile options enable you to make any changes easily so that you're able to boost sales.
Student Engagement
Tutor LMS is a complete UI based plugin that aims to promote simplification while being interactive. It offers beautiful certificate templates and a Q&A section where students can freely communicate with instructors. The Email addon allows admins to stay in touch with students through customizable email templates. There are other little quirks such as reviews, ratings, social share options and more that promote student interaction.
Pricing
Tutor LMS is a freemium plugin. You can get the free version of the plugin from the WordPress directory as well as the Themeum.com website. The premium version of Tutor LMS is priced at $149/yr single license, $199/yr for 5 license packs and $299/yr for unlimited licenses. Also, the lifetime plan is priced at $399 for a single license, $599 for 5 licenses and $999 for unlimited licenses.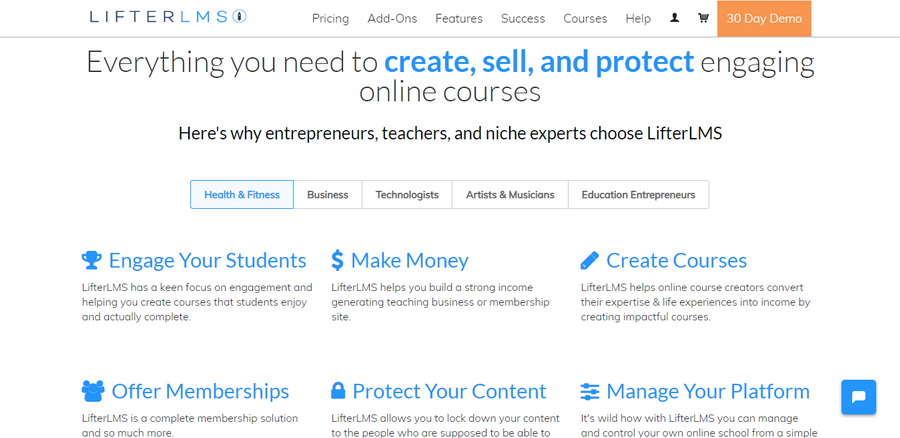 LifterLMS garners a massive amount of users. This plugin is used by industry giants across the board. LifterLMS is integrated with Beaver Builder and Divi to provide a content builder with a drag-and-drop interface that doesn't require any prior knowledge of coding or plugin management.
Course Building
With LifterLMS you can upload textual, audio and video based content. Having a variety of different media will most likely attract more users to your site. You can keep your students focused on their progress by using the plugin's content dripping feature as well. This enables you to release materials in stages; while the students eagerly wait for new things to come out. You can set prerequisites for your lessons, meaning that advanced lessons can be locked off until you pass the basics first. The best thing is that LifterLMS has an import and export feature to help you migrate contents into or from another LMS.
Monetary System
LifterLMS enables you to create custom pricing models. By default, your subscribers can do a one-time payment, recurring payment, or an individual course purchase. You can manage transactions through three gateways: PayPal (default), WooCommerce (free integration), and Stripe (comes as a $99 plugin).
Student Engagement
Students can get badges whenever they achieve a milestone during their progress. If you offer a course bundle as a degree, your students can receive a fully functional certificate at the end of the study. LifterLMS also provides everyone with a user profile and discussion forums. You can even do one-on-one sessions.
Pricing
LifterLMS offers a 30-day trial for $1 for those who want to have an overview of the plugin. The premium plan starts at $99 per add-on. However, the basic plan is a better choice since it is $299 and already includes the core features of LifterLMS. If you want the full arsenal, the "infinity" plan is available for $999.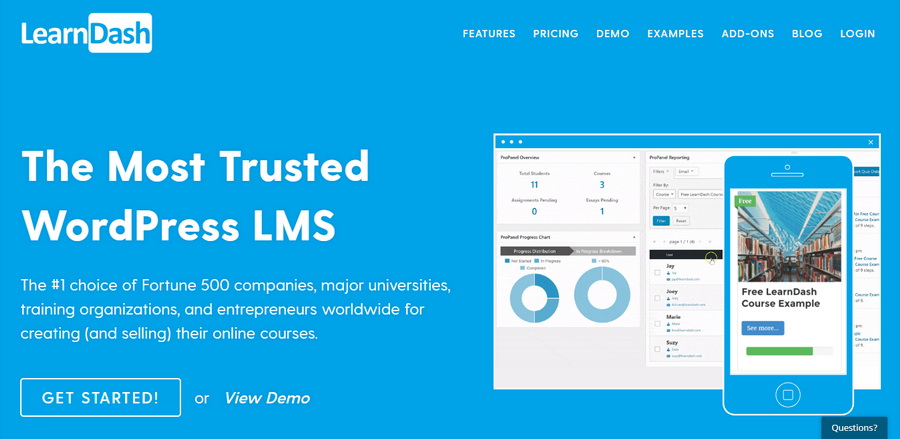 LearnDash brings its years of experience to show off what industry experts can create. Like LifterLMS, LearnDash also uses a drag-and-drop interface for its content builder;  but the functionality is built into the plugin itself. Nevertheless, there are some key features that you only find in LearnDash.
Course Building
In LearnDash, teachers can diversify their quizzes and tests with eight different types of questions. Apart from that, you can find features that LifterLMS also has. You can drip-feed course contents, build question banks to automate quizzes, put a timer on lessons, and more.
Monetary System
LearnDash offers multiple ways of monetizing your online course site. Your subscribers can buy lessons individually or in a bundle, pay monthly, or get everything in a single purchase. With LearnDash, you can license your classes for further marketing purposes. A good example is when someone sells his or her course for company training.
Student Engagement
One interesting feature from LearnDash is the ability to expire user's access to your lessons. This is useful in encouraging your students to keep up with everyone's progress. Other features related to student engagement include a report book, student and instructor profiles, discussion forum, and email notifications.
Pricing
LearnDash is a paid LMS plugin. It has three plans, although all of them have the same features. The difference being that each can support a different number of websites. For a single site, you need to pay $159. The second option is $229 for ten sites. The last plan requires you to pay $369 and in return, you get twenty-five sites. Considering that, LearnDash is perfect for schools or colleges that want to take their services to the web.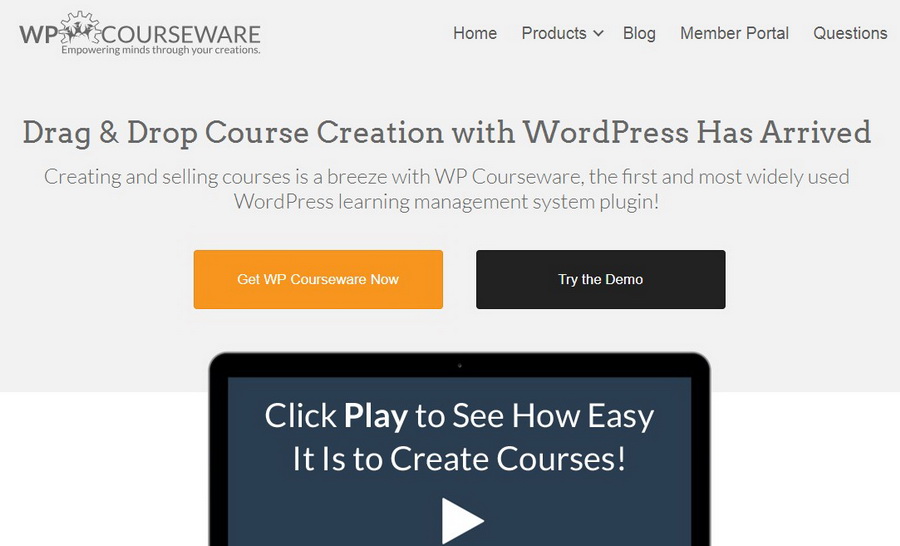 WP Courseware might be one of the most venerated LMS plugins for WordPress. Their flagship plan is $129 per year and has the same features as the more expensive ones. Because of that, WP Courseware fits those who want a quality LMS plugin without spending too much. Plus, there is a demo site if you would like to check out the features it offers.
Course Building
Like other LMS plugins in this list, WP Courseware has a drag-and-drop content builder interface. It also allows content dripping to schedule course release. The outstanding feature in WP Courseware is the ability to limit the number of quiz retakes. For further security, your course contents can only be accessed by students who are registered in your program. However, WP Courseware does not only protect your content through the front-end. If you lead a team of instructors, you can assign each one with different roles and authority.
Monetary System
Like other LMS plugins, WP Courseware has flexible payment options for students. However, you can get ahead in marketing your online course by offering demo courses, so that people can test out your services before finally subscribing.
Student Engagement
Engagement wise WP Courseware shares most features with other LMS plugins. Completion certificates, a discussion forum, and email notifications that depend on the students' activities are all there.
Pricing
WP Courseware divides its product into three types: teacher, professor, and guru. The teacher plan is for two websites and is available at $149. For $169, the professor plan allows you to use WP Courseware in ten different sites. Lastly, the guru plan accommodates twenty-five sites for $249.
Conclusion
We've introduced four WordPress LMS plugins that are most definitely worth your attention. You should look into the pricing, the offered features and the style of each plugin. At that point, think of what your needs are and finally choose a plugin that best works for you. There may be others out there that are waiting to be discovered. If you know other amazing LMS plugins for WordPress, let us know by leaving a comment!