Content selling is not a new industry. With the ease that the internet gives, today everyone can start a membership website. In this article we'll share the top 5 WordPress membership plugins, their pros, cons, and features you should look out for.
Benefits of having a membership site
Whether you are a content creator or someone who offers products or services, having a membership site is useful. With many businesses going online today, people will rarely discover you if you do not use the same approach.
Take online courses as an example. Not just a growing industry, but also a media for skillful tutors who previously could only share their knowledge with people nearby. With the help of a membership website, they gain loyal followers and start a profitable side job.
By having a solid fan base, the public's trust in you increases. Let's say you run an Asian culinary blog and you wrote a book consisting of the best recipes and information from your posts. People will regard you as an expert in a particular topic when they see your blog.
What platform to choose for a membership site
To start helping people and get followers you need to create a website first. If you want a site with the ability to generate memberships, WordPress is one of the best platforms to make it. You can find many more plugins to create a membership site in WordPress than any other website builder.
What membership features to look for
Many WordPress membership plugins come with great features. Which one should you choose? To save you from confusion, we list some features that are a must for a WordPress membership plugin.
Membership levels
Most websites have premium or free users, but you might want to have more tiers. This is great for different pricing plans for an online course. It's also useful to control what free users can do.
Content restriction
If you want to bar users in certain membership levels from accessing particular content, you need this feature. Most membership plugins have it, but considering how much control do I have over content restriction, might be a deciding factor.
Content dripping
It means that instead of making all content available immediately, you release them in parts, on a schedule. You may want to know the flexibility of this one.
Integrations
WordPress plugins usually integrate other services. A common feature is email marketing and payment services. Meanwhile, certain things may not be useful. Thus you may want to choose a plugin with appropriate features
Discount coupons
Using discount coupons might be a useful tool to increase conversions. Different plugins offer different options – percentage or flat rate discounts. You can also choose whether a plugin allows selling coupons individually or bundled with a product.
Export/import ability
Some reasons make you want to move to another membership plugin. It is essential to know if the plugin you use allows data exporting. That is if you need this feature.
Top WordPress membership plugins
Now that you know what to look for, here is a list of the best free and paid membership plugins for WordPress.

Restrict Content Pro is one of the most prominent WordPress membership plugins. It is from the same developer that created Easy Digital Downloads, another popular WordPress plugin for selling content. Restrict Content Pro is also known for its ease of use. Free version of Restrict Content is available on official WordPress plugin directory here.
With Restrict Content Pro, you can create unlimited levels of membership. It also allows trial periods. For the premium memberships, you can create different pricing models. If you charge premium members $30 per month, you can offer them a yearly fee of $200.
Restrict Content Pro makes it possible for users to change to different membership plans without canceling their membership. They will immediately get the appropriate pricing as well.
There are a couple of payment services that you can integrate with this plugin, including WooCommerce, PayPal, and Braintree. For discounting, you can choose a flat rate or percentage.
Content Restrict Pro is available in four plans: personal, plus, professional, and ultimate. The personal and plus plan only get 12 free add-ons, while professional and ultimate get an addition 17 add-ons that are worth $1020. The free add-ons include downloading simple tools like a download monitor and a strong password enforcer. By getting the premium ones, you also get a pro email marketing service, math verification on sign up, and a membership expiration date.
You can only use the personal plan for one site, while the plus plan allows five sites. The professional and ultimate plans give you unlimited websites.

As you can guess from the name, LearnDash is a WordPress membership plugin for selling online courses. Some prominent universities in the United States use LearnDash for their online content. The University of Florida and the University of Michigan are to name a few.
Along with features that membership plugins usually have, LearnDash includes core functionalities of an online learning platform. Designing your lessons is much more comfortable with a drag-and-drop course builder. You can also easily create quizzes with the answer bank option. Once you fill in the options, LearnDash will generate quizzes automatically.
To provide you with user-to-user engagement, LearnDash gives the ability to create user profiles. These profiles contain not only your members' statistics but become a way to communicate in learning groups.
The content dripping feature is also different from most other plugins. Instead of opening access at specific dates, you can set the length of time it takes to give users the content after their enrollment.
You have more flexibility in monetization with LearnDash too. By default, you can apply a one-time or recurring payment and individual course purchases. You can decide on custom payment options as well.
LearnDash's pricing depends on the number of licenses that you get. The basic plan can only accommodate one site for $199. While the plus package is $229 for 10 websites, the pro package gives 25 licenses and is available for $369.

s2Member is an excellent membership plugin for WordPress offering a free and premium plans. Even though its free version has an incomplete set of features, it is still an offer that you do not want to miss.
In addition to restricting posts or pages, s2Member allows you to restrict by post category and specific parts of posts. You can control users' access over media files in your site. The free plan also provides an easy-to-use email campaign tool that lets you create appealing marketing emails.
However, s2Member's free plan only allows four membership levels. It does not supply you with content dripping and discount coupons either. Your payment options are limited to PayPal, while the premium version has Stripe, Authorize.Net, and ClickBank as well.
s2Member only have two premium plans. The first one is for one site and is worth $89. The more expensive one is $189, and you can use it with an unlimited number of websites. However, you will be happy to know that you only pay for them once.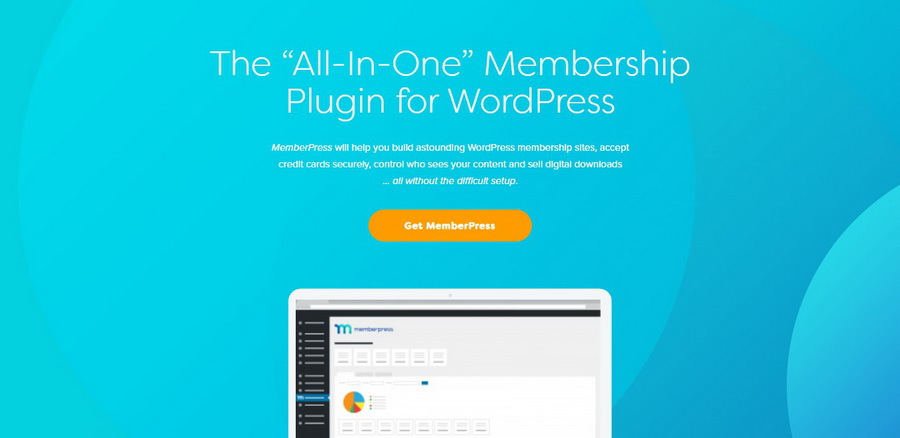 MemberPress is another outstanding WordPress membership plugin. It shares a lot of the features with the previous list entries.
When it comes to content restriction, this plugin can restrict more than individual pages or posts. Whether it is a small part of a post or a post category, MemberPress can do it. The feature is also not limited to that since you can have control of your users' downloads.
If you want unlimited membership levels at all types of the pricing plan, you can rely on MemberPress. Along with that, you can get more creative by grouping certain membership levels to encourage users to upgrade.
Last but not least, you can integrate MemberPress with LearnDash. That means you can get the best of membership plugins and online course builders!
There are three plans that you can choose: basic, plus, and pro. You can use one site with the basic plan, including 10 add-ons, for $258. The plus plan is available for $498 and gives you a license for 5 sites, while the Pro one is $698 and allows you to use it on 25 websites. The price for this plugin is a yearly rate.

MemberMouse may seem like most other premium membership plugins for WordPress, but it has its own set of unique features. Apart from the ability to make unlimited membership levels, you can opt to sell posts or pages individually. The plugin also has a mode where you can preview your website as a user to check its functionality.
MemberMouse lets you restrict posts, pages, and categories. However, you can set users to only see posts which are available after the date they register. From the user side, they get a widget that shows what content is restricted or will be available soon.
Another feature exclusive to MemberMouse is the capability to A/B test your pricing models. With this, you can tend to your users better.
Despite the cool features, MemberMouse has a few drawbacks. First, the plugin is not a GPL (General Public License) software; which means that you cannot modify the code. Secondly, MemberMouse limits the number of users you can get.
Its starter plan charges you $19.95 for a thousand members. Since it may not be suitable for bigger community website like an online learning platform, you should get either the advanced or premium plan. For the advanced one, you get a limit of 50,000 members with a monthly fee of $99. The premium one is $299 per month and upgrades you to 100,000 members.
Conclusion
There are many excellent WordPress membership plugins out there, and the ones in this list are the highlights in our opinion. We like discussions, so leave your comment below if you have other suggestions!