18 Best WordPress Membership Plugins to Strengthen Your Online Community
Running a WordPress website can be a great way of generating income. One of the more popular ways to monetize a website is by turning it into a membership site.
This method is ideal for content creators who have a passion for entrepreneurship but don't necessarily want to operate an eCommerce store. Instead of selling products, you can offer exclusive content managed through a membership system.
If that sounds like something you'd be interested in, this article is for you. Here, you will find a selection of top free and premium membership plugins for WordPress.
We will help narrow down the best plugins for your WordPress site, including membership functionality based on your budget and needs.

Best WordPress Membership Plugins – Video Tutorial
Find out what's the best WordPress membership plugin for new, medium-traffic, and high-traffic websites in our video tutorial.
Why Should You Use a Membership Plugin?
Having a membership website is one way to adopt a recurring revenue model. Branding-wise, this model will boost your credibility and will provide you with a stronger relationship with your community.
Similar to an eCommerce website, a membership site requires the relevant features and functionality to operate correctly. This is where WordPress membership plugins come into play.
Here's what such a plugin can do to help with your membership-based business:
Set user permissions. This feature allows you to publish exclusive content for certain groups of users based on their membership level.
Collect membership payments. Members and new users will be able to purchase a subscription plan or renew their membership without leaving your website.
Distribute coupon codes for discounts. This is particularly useful for encouraging purchases and further marketing of your brand.
Reminder automation. Members will know when they should renew their membership by merely accessing their account, saving you the time and effort of contacting them one by one.
Control content drip. Allows you to release a specific amount of content periodically in order to retain subscribers.
Develop multi-level subscription plans. This makes it easier to provide tiered content or offer a membership-free trial to new users.
Top 10 Premium WordPress Membership Plugins
While many free WordPress membership plugins are more than capable of helping you build a membership site, they generally come with limited features and support.
Thus, opting for a premium membership plugin will ensure that you have all the tools necessary to provide your members excellent user experience.
To narrow down your search, we have compiled a list of the best premium WordPress membership plugins worth investing in.
Plugin Stats
Downloads: undisclosed
Rating: 4.6/5 (G2 review)
Notable features: affiliate program, automated billing systems, and Zapier integration
Price: $179–319/year
This robust learning management system and membership plugin is more than capable of creating a professional membership site specifically for online learning.
MemberPress boasts an easy setup process and extensive content restriction capabilities, allowing you to limit access to pages, posts, files, and even categories. You can also personalize your pricing pages using the pre-built templates code-free.
Besides supporting content dripping, MemberPress lets you set content access expiration dates. Furthermore, MemberPress's automated billing systems make it easier to grant and revoke memberships based on the payments.
MemberPress can help boost your membership retention rate by supporting various WordPress forum plugins like bbPress, allowing you to create a password-protected forum. You're also able to generate and customize coupon codes to encourage subscriptions.
Furthermore, the plugin's integration with Affiliate Royale lets you launch affiliate programs to grow your community further. You can easily monitor your site's growth through the reports generated by the membership plugin.
The best part is that MemberPress supports Zapier integrations, meaning that you're free to expand your site's functionality using various web apps provided by the automation tool. Thus, it's entirely possible to create the best membership site with this WordPress plugin.
You can unlock all these MemberPress features by purchasing premium plans. Prices range from $179–319/year.
Plugin Stats
Downloads: 100,000+
Rating: 4.5/5
Notable features: support and updates for unlimited sites, free add-ons, and a Memberlite theme
Price: $247–697/year
Paid Memberships Pro is one of the best WordPress membership plugins in the market today. Despite charging a rather steep price for its single-site license, the plugin packs useful features to create the best possible membership experience.
Its core functionality allows you to restrict various content types and provide a sneak peek to encourage subscriptions. Since it supports content dripping, you're able to drip-feed access to exclusive content based on the starting date attributed to each membership level.
The plugin allows you to create unlimited membership levels with special pricing for each level and also offers child account capabilities linked to a parent account for organizations. The mail communications feature makes it easy to connect with users and automate payment reminders.
Paid Memberships Pro's flexible membership pricing makes it easier to offer paid membership subscriptions for a one-time price or a recurring payment from the business perspective. The supported payment options vary, ranging from online payment services to offline methods like checks.
The plugin can generate sales and revenue reports to help you make better business decisions. You may get better insights into membership signups and cancellations, member activity, and your most loyal members.
With its AffiliateWP integration, you get to create an affiliate program and turn members into partners. It lets you reward members who bring in newcomers with coupon codes and special membership rates.
Finally, creating a membership site is made easier with other top plugins supported by Paid Memberships Pro. For example, Mailchimp integration lets you build an email list for email marketing campaigns.
Paid Memberships Pro has three pricing options – Standard, Plus, and Builder. You can get started for $247/year and support up to five websites. To get past this limitation, consider upgrading to the Plus plan for $397/year or the Builder plan for $697/year.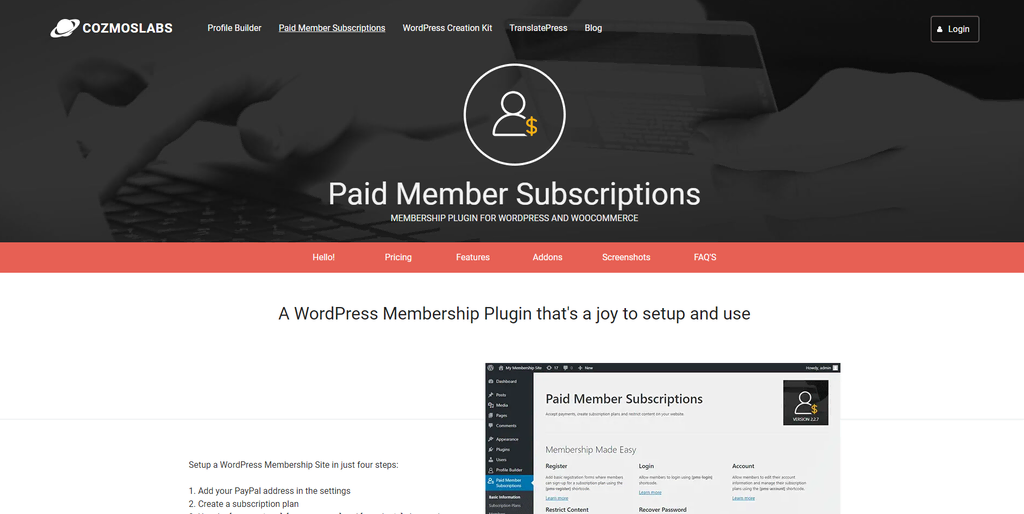 Plugin Stats
Downloads: 10,000+
Rating: 4.7/5
Notable features: content restriction, hierarchical subscription plans, and WooCommerce integration
Price: €69–149 one-time payment
Paid Member Subscriptions is a user-friendly plugin that offers complete membership features. Using this plugin, you can accept member payments, manage members, create subscription plans, and restrict access to premium content.
This plugin can integrate seamlessly with your website by adding the [pms-register] shortcode on a new page for member registration.
In addition, the Paid Member Subscriptions plugin also integrates with WooCommerce to customize visitors' access restrictions. For example, you can restrict non-members from purchasing certain products or offer special discounts based on specific subscriptions.
With this plugin, you can create a plan-based hierarchy to determine their access and benefits. New users can choose a plan during their registration process. This plugin lets members upgrade, renew, cancel, or abandon their subscriptions.
The content restriction feature also helps regulate access to posts and pages depending on the member's status.
The Paid Member Subscriptions plugin accepts PayPal payments from subscribers. It gives detailed payment logs, such as the status and subscription plan. You can also configure subscriptions to have a free trial period when users sign up.
There are two premium pricing options available with Paid Member Subscriptions – the Basic plan for a single site, which costs €69 one-time payment, and the Pro plan for an unlimited number of sites and nine premium add-ons, which costs €149 one-time fee.
Plugin Stats
Downloads: undisclosed
Rating: 4.9/5 (Trustpilot)
Notable features: custom post types, Profile Builder, payment services integrations
Price: $43/year or $999 one-time payment
The JetEngine plugin is a great option for users looking to create a dynamic membership website structure.
It has 19 modules to help you manage the site members while ensuring great performance. With the Profile Builder, for example, you can create user profile pages with custom blocks, fields, and layouts. To have even better results, use this module along with the JetFormBuilder plugin.
For creating listings, the building blocks of any custom-generated section or page can be easily designed using Gutenberg. There are 13 dynamic blocks for Gutenberg to design and display not only listings but any kind of layout which uses dynamic data.
The Calendar widget lets you display default or custom post types and fields in the calendar. It's a perfect solution for events and other time and date-related posts or fields.
If you don't want members to see all sections of your website, activate the Dynamic Visibility module. It allows you to fine-tune the dynamic visibility of sections and listings, depending on several factors, from the user's role to the URL or post status.
JetEngine works seamlessly with all the other Crocoblock plugins, as well as third-party WordPress themes and plugins. It's also compatible with WooCommerce, so you can create any kind of dynamic membership website.
The plugin's plans start at $43/year. If you wish to access all the developer's plugins, the full package is available at $199/year or $999 as a one-time payment.
Plugin Stats
Downloads: 10,000+
Rating: 3.5/5
Notable features: prorated upgrades and downgrades, data export, and customizable reports
Price: $99–249/year
Restrict Content Pro is another excellent WordPress membership plugin worth checking out. This popular plugin provides easy-to-use tools for newbies who want to build a professional WordPress membership site from scratch.
To offer the best possible experience, Restrict Content Pro provides a customer dashboard that displays each member's account details, including PDF invoices for each payment.
Similar to previous plugins, Restrict Content Pro lets you create unlimited membership levels as well as free, trial, and paid member subscriptions. It also supports integration with WooCommerce as well as various payment gateways, like PayPal, Stripe, and 2Checkout.
What makes Restrict Content Pro different from the rest is its "proration feature." Members need to pay for the price difference between membership levels if they decide to move up. It helps you build strong relationships with members as you only charge for the content consumed.
Restrict Content Pro is also capable of generating detailed reports of monthly site performance and revenue as well as transaction tracking in a digestible format.
For more functionality, Restrict Content Pro provides a selection of great add-ons. Some let you drip content, create group memberships, set membership expiration dates, and process membership data with REST (representational state transfer) API.
If you're interested in Restrict Content Pro, this plugin comes with two pricing plans. You can purchase the yearly plan for $99–249 or make a one-time payment of $499 to get lifetime updates and support.
Plugin Stats
Downloads: 5 million+ for WooCommerce
Rating: 4/5
Notable features: conditional membership, content dripping, members-only store
Price: $199/year
If you already have an online store built using WooCommerce, you should consider using this membership plugin. As WooCommerce Memberships specifically caters to WooCommerce shops, you can integrate your membership perks with the store to encourage subscriptions and purchases.
WooCommerce Memberships provides essential membership features, such as content dripping and restrictions. You may also assign memberships manually and export the member list to a CSV file.
What makes WooCommerce Memberships unique is its ability to offer membership plans as part of product purchases. This feature allows you to give customers better value for money, boosting your store's credibility in the process.
This WordPress membership plugin also lets you create a separate section in your store for members. You can drip product access so members can purchase your products before they're available for the public or offer free shipping as part of the membership perks.
Membership sites that target companies and organizations may purchase the Teams for WooCommerce Memberships add-on to expand their membership system's scope. Keep in mind that this is a different product, costing $129/year.
Having to pay $199/year may seem challenging for webmasters who are just starting out. Despite this, it is one of the best WordPress membership plugins to get if you're planning to integrate your membership site with WooCommerce.
Plugin Stats
Downloads: undisclosed
Rating: 4/5 (G2 review)
Notable features: focus mode, drag-and-drop course builder, bulk access
Price: $199–799/year
Professionals who want to monetize their skills should consider opting for this plugin. LearnDash is arguably the best WordPress learning management system plugin in the market, making it easier to sell online courses and create a full-fledged learning portal.
In terms of eLearning, LearnDash packs plenty of great features to create the best online learning experience. For example, the "Focus Mode" feature lets you develop a distraction-free environment for users. You can also craft various course types using pre-built templates and a drag-and-drop builder.
Membership-wise, this WordPress plugin has a different model compared to the rest. Instead of offering subscriptions as stand-alone products, you get to sell access to a series of online courses for a one-time price or a recurring payment.
Managing an eLearning site becomes hassle-free with tools like group management and detailed reporting. The plugin even lets you assign, comment, and grade assignments, create a grade book for students, and drip-feed courses.
LearnDash supports integration with popular apps and platforms for a better learning experience, such as PayPal, Slack, Easy Digital Downloads, and Zapier.
This learning management system and membership plugin costs between $199–799/year. In addition, free, premium, and third-party add-ons to expand its functionality are also available.
Plugin Stats
Downloads: 100,000+
Rating: 3/5 (G2 review)
Notable features: vast customization options, content archive, and onboarding system
Price: $149–347/year
Being one of the oldest WordPress membership plugins in the market, WishList Member manages to stay in the competition by offering a robust and trustworthy membership management system.
WishList Member gives you total control over the number of membership levels. You get to create targeted promotions for specific paid member subscriptions and automate various actions using a logic-based system.
Not only can you restrict access to content, but you can also archive it to encourage subscriptions. That way, only users who have subscribed before specific content is archived can access it.
With WishList Member, creating a membership site is made easier by using multiple payment setups and integrations. Besides supporting numerous learning management systems, page builders, and email marketing tools, the plugin makes over 2,000 integrations available via Zapier.
Its member management system is no less impressive, ensuring that all data stored in the system complies with GDPR. The email integration system lets you send notifications to members, keeping them informed about your latest products and promotions.
WishList Member's pricing plans cost $149–347/year and can support up to 5 sites.
Plugin Stats
Downloads: 16,000+
Rating: 4/5 (G2 review)
Notable features: one-click upsells, auto-lock shared accounts, and social media login
Price: $29–199/month
When talking about the best WordPress membership plugins today, we must mention MemberMouse. This excellent WordPress plugin not only equips you with tons of features but also makes sure you get the best experience out of it.
MemberMouse boasts a fast activation process and a simple member import feature, easing data migration from another membership platform via a CSV file. You get to customize your registration and login page and enable the "forgot password" functionality.
Besides letting you restrict content, MemberMouse gives you the ability to upsell exclusive content for more revenue. Members can share parts of their favorite content on social media, further boosting their brand exposure.
Security-wise, MemberMouse lets you set a maximum number of login attempts. Additionally, the membership plugin can lock shared accounts to reduce security risks.
To ease your work, MemberMouse offers various automated functions regarding member engagement, support, and marketing. Newcomers can also use their social media login details to access your protected content.
Maintaining the membership retention rate is easier with the abandoned cart recovery feature. You get to offer the option to downgrade a user's membership to prevent them from canceling the subscription altogether.
MemberMouse's pricing plans are somewhat pricey, costing $29–199/month. However, considering the perks and functionality it offers, MemberMouse may be an excellent investment in the long run.
Plugin Stats
Downloads: 80,000+
Rating: 3/5 (G2 review)
Notable features: login redirection, custom error pages, and guest purchase
Price: $97–207 per plan
Magic Members is another excellent WordPress membership plugin with years of experience in the industry. It packs all the vital features you need to build a membership site, such as content restriction, payment integrations, and flexible membership models.
Automation-wise, Magic Members supports various integrations with WordPress autoresponder plugins. Some of the most popular ones are Mailchimp, Constant Contact, and AWeber.
The plugin lets you limit access to not only published content but also downloadable ones based on membership levels. Additionally, the pay-per-post and pay-per-view features give non-members the ability to consume your content without purchasing a subscription.
You can provide a personalized experience for each member using Magic Members' login redirection feature. Design several welcome pages to greet different membership levels and create custom error pages to maintain the site's credibility during technical difficulties.
Magic Members includes a built-in subscription expiration reminder feature in the system to help maintain the subscription retention rate. Furthermore, you're able to generate unlimited coupon codes to attract newcomers.
This membership plugin is available for $97–207 per plan (one-off payment) to support an unlimited number of sites. All plans come with one-year support and updates.

Top 7 Free WordPress Membership Plugins
Before installing a plugin, you may want to test the waters first. We have compiled a list of some of the best freemium and free WordPress plugins for creating a membership site worth checking out.
Plugin Stats
Downloads: 200,000+
Rating: 4.5/5
Notable features: drag-and-drop form builder, member directories, and developer-friendly workspace
Price: freemium
Ultimate Member is a robust WordPress membership plugin with extensive features. It lets you create a personalized member registration and login page using conditional logic for its fields, easing the entire process for you and your members.
Besides taking care of the membership system, the plugin also provides forum and job board functionality via JobsBoardWP and ForumWP integration. Both of these extensions make it easier to expand your membership site's functionality and the ways it can benefit your users.
Other free add-ons include Google reCAPTCHA and a Terms and Conditions (T&C) agreement – useful for reducing spam and protecting the rights of all parties involved.
Since this is a freemium membership plugin, you can upgrade to the Extensions Pass plan for $249/year to get premium features like real-time notifications, a private messaging system, and member bookmarks.
Alternatively, you can opt for the Extensions and Theme Pass plan for $299/year and gain the use of the Ultimate Member's theme to create an even better experience. This theme is compatible with the Beaver Builder page builder, and it works perfectly on popular browsers and mobile devices.
This plugin is ideal for small to medium-scale websites that want to try out how a membership system can benefit them. Its free version is already packed with all the essential features, providing you with great value without committing to a payment plan.
Plugin Stats
Downloads: 5,000+
Rating: 4/5
Notable features: unlimited membership levels, email notifications, and membership setup wizard
Price: freemium
If you're planning to have multiple membership levels on your site, ARMember will help you manage them. This WordPress membership plugin lets you create unlimited membership levels with a trial period and multiple payment cycles, giving newcomers the chance to see what you have to offer before committing.
Additionally, ARMember supports dripping content out to members based on a set schedule. You can also earn revenue from guests using the content restriction and pay-per-post features, allowing you to monetize posts or courses outside your subscription plans.
The plugin supports payment gateway integrations with PayPal, Authorize.net, and Stripe. There's also an option to receive payment via local gateways provided by WooCommerce.
Usability-wise, ARMember provides an easy member management system that lets you manage users' membership status hassle-free. The membership setup wizard also eases newcomers' registration process, creating an excellent experience from the get-go.
Furthermore, the plugin's built-in security features are no less extensive than its membership functionality. All installations come with brute force login protection, CAPTCHA anti-spam mechanism, and site access restrictions.
While ARMember is free and open-source, buying its single-site license for a one-time payment of $59 will let you use premium features, like social media configurations, multiple memberships subscription, and developer API.
ARMember is a strong contender for the best WordPress membership plugin for users who want to build a full-fledged membership site but don't have a big budget to spend.
Plugin Stats
Downloads: 40,000+
Rating: 4.5/5
Notable features: unlimited member access levels, multiple payment gateways, and teaser campaigns
Price: free
True to its name, Simple Membership is an easy-to-use membership plugin for WordPress sites packed with essential features and a user-friendly interface. Newbies who don't have experience in web development can still build a membership site hassle-free.
This membership site plugin can help you create unlimited subscription levels for free and paid membership plans. Simple Membership's billing features are also flexible, allowing you to sell digital content like online courses for a one-time price or a recurring payment.
To further ease the registration process, Simple Membership provides email confirmation features to activate free memberships. As for the paid ones, the plugin gives you access to the membership payments log, where you can monitor all purchases made by your members.
While this plugin is made to be beginner-friendly, experienced web developers can still utilize it to their needs. The plugin comes with a developer API and various shortcodes to add additional functions, including adding and customizing a member login widget and content protection messages.
Other notable features include WordPress theme compatibility, member filter, translation-ready, and custom post types protection. You can also manually approve membership registrations and import WordPress users as members.
All in all, Simple Membership is a cost-effective option for users who want to start monetizing their WordPress website using the membership system.
Plugin Stats
Downloads: 5,300+
Rating: 3.5/5
Notable features: multiple content restriction types, global post and page protection, and password-based global site protection
Price: freemium
WP Private Content Plus is an all-in-one solution for protecting your site content. This WordPress membership plugin has a robust content restriction feature, allowing you to limit users' access to specific posts, pages, custom post types based on their login status and user role.
WP Private Content Plus's free version comes with WooCommerce integration. If you want to build a members-only store, the plugin can restrict access to certain products for some members.
Consider purchasing one of the WP Pro Content Pro licenses for $69–179/year for a more comfortable payment collection. Besides accepting multiple payment options supported by WooCommerce, the premium version allows you to create and manage unlimited free and premium membership levels.
Creating a membership site is made even easier with the private page dashboard feature, which lets you communicate privately and share files directly with a user. Other premium features include user group management and content restriction, Mailchimp email marketing integration, and premium support.
In short, WP Private Content Plus is more than capable of helping you build a professional WordPress membership site. Once you get the hang of this plugin, you can upgrade to WP Pro Content Pro for a better membership experience.
Plugin Stats:
Downloads: 2,000+
Ratings: 4.8/5
Notable features: Easy registration and user management, built-in order system, WooCommerce integration
Price: Free or $49.17 – $164.67/year
Masteriyo LMS is a comprehensive learning management system (LMS) WordPress plugin with built-in membership features. Thus, it's a powerful tool for creating and managing online courses, memberships, and e-learning platforms.
Masteriyo simplifies the registration process for both students and instructors on your eLearning site. Moreover, it provides a dedicated account page for each registered member, enhancing their user experience.
Furthermore, Masteriyo has a content drip feature that lets you schedule content instead of delivering it all at once. Thus, you can gradually provide course content to members over a specified period, ensuring a structured learning experience without overwhelming them.
Besides, Masteriyo LMS integrates with popular payment gateways, enabling you to charge membership fees and accept payments securely. You can set up recurring payments for subscription-based memberships or offer one-time payment options.
The plugin also offers user management features, allowing you to manage and monitor your members' activities. You can track progress, view enrollment details, and manage member profiles from the WordPress admin dashboard.
Masteriyo LMS is a freemium plugin. Thus, you can download the plugin for free for the basic LMS features. However, you need to opt-in to its premium plans for the advanced and extended functionalities.
Whilst the plugin is free, the starter plan costs you $49.17/year for 1 site. The most popular plan is the Growth plan, costing you $98.67/year for 5 sites. Likewise, the Scale plan costs you $164.67/year for 99 sites.
Plugin Stats
Downloads: 290,000+
Rating: 4.5/5
Notable features: unlimited membership levels, drip content, and WordPress user access control synchronization
Price: free
Restrict User Access is another excellent free WordPress membership plugin that is no less feature-rick than paid plugins. It has versatile user restriction features that allow you to create an unlimited number of access levels and redirect unauthorized users to a page or a custom link.
Alternatively, you can tease exclusive content and create custom messages for non-members to encourage subscriptions. Retaining members is also easier with the drip content feature, allowing you to release content periodically for new members.
If you already use custom roles for the site access control, the plugin lets you synchronize them with your subscription levels. You can control membership durations as well, making Restrict User Access perfect for selling online courses and other digital products.
Regardless of your installed plugins or themes, Restrict User Access will automatically support their taxonomies and custom post types. It also includes built-in support for popular WordPress plugins like bbPress, Easy Digital Downloads, WooCommerce, and WPML.
While the plugin itself is free, you can expand its functionality by purchasing add-ons – prices range between $39–79/year.
To summarize, this plugin is one of the best membership plugins for users who want to build a drip-feed membership site.
Plugin Stats
Downloads: one million+
Rating: 4/5
Notable features: downloadable file and audio protection, recurring subscriptions, PayPal buttons
Price: freemium
If you're looking for a popular membership plugin for WordPress, s2Member is a strong contender. This plugin provides all the essential features you need to create a full-fledged membership site, such as content restrictions and recurring subscriptions.
The plugin lets you offer free subscriptions and synchronize user roles with the new membership system. Users who own a business can take advantage of s2Member's file protection feature to sell download keys that allow access to digital content like eBooks and online courses.
You can customize the content restrictions using simple shortcode conditionals provided by the plugin. This also applies to the login and registration page design, email marketing template, and membership options page.
While the free version supports PayPal Payments Standard integration, we recommend getting the s2Member single-site license for $89 (one-time payment) for more options. The premium version supports Stripe, PayPal Pro, Authorize.net, and Plus ClickBank integrations via one-step checkout.
Another benefit of purchasing the license is offering a trial period for paid member subscriptions and drip content for a limited time only. Meanwhile, the s2Member Pro API for Remote Operations makes it possible to create member accounts using your own custom code.
All in all, the free version of s2Member is sufficient enough to help you build a membership site, and you can upgrade at any time if you want to access the premium features.
Plugin Stats
Downloads: 80,000+
Rating: 4.5/5
Notable features: custom registration, a vast selection of action and filter hooks, and teaser content
Price: free
WP-Members is another free membership plugin for WordPress sites that offers simple yet fully functional and expansive features.
This plugin can restrict content, integrate member profiles into the installed WordPress theme, and automatically generate teaser content. WP-Members also lets you create a custom registration page and approve member registrations manually.
More experienced web developers may customize the plugin's functions to suit their needs with shortcodes and API functions. You can find the complete documentation on the plugin's support site.
WP-Members' free version offers a limited number of free extensions to enhance the membership management experience. To access premium extensions like Mailchimp email marketing integration, Download Protect, and Salesforce integration, consider getting the Pro Bundle for $125.
All in all, WP-Members is arguably the best membership plugin for newbies who want to experiment with a membership system risk-free.
What to Look for in a Membership Plugin?
With so many excellent membership plugins available in the market, picking out the right one for you may seem overwhelming at first.
Here are several factors to consider when picking the best WordPress membership plugin for your site.
Ease of Use
An excellent membership plugin for WordPress should not only pack all the tools you need but also ensure they're easy to use, even for beginners.
Additionally, make sure the plugin integrates properly with your site and is compatible with other plugins and themes installed. Otherwise, you'll risk facing technical difficulties when developing your membership site.
Inclusions
Like buying any other product, you want to get the best value for your money. Suppose you opt for a premium membership plugin. In that case, it's best to pick the one that not only caters to your needs but also includes additional resources to enhance your membership management experience further.
Some of the inclusions you ought to consider are supported integrations, web templates, content dripping ability, and system automation. Having these perks included in your plan will help reduce additional system development costs and ease your work.
Payment Gateways
The goal of building membership sites is to generate revenue. Thus, your site should have the technology required to accept payments online.
As each membership plugin provides different payment gateways, make sure to consider your target audience's preferred platforms and supported currencies.
If your membership site caters to an international audience, it's best to pick a membership plugin that supports popular payment gateways for international payments. Some of the most popular ones are PayPal, Stripe, and Authorize.net.
On the other hand, membership sites that target local communities may benefit from opting for a plugin that provides integration with local credit card processing companies as well.
Support
Plugin and server configuration conflicts are some of the more common issues you may encounter when setting up a plugin on your site. To guarantee smooth installation and system maintenance from the beginning, it's essential to choose a membership plugin with reliable customer support.
Besides having the product knowledge to solve plugin-related issues, good support should be reachable via multiple channels and available whenever needed. As downtime may cause revenue loss and member dissatisfaction, you'd want to avoid it at all costs.
That said, be careful with membership plugins that sell their customer support as a separate product. As support plays an integral role in your membership system, the plugin's developer ideally should not be monetizing it in the first place.

Which WordPress Membership Plugin Is Best for You?
The answer to this question differs greatly based on the needs of your website. To narrow down your search, we compiled a list of the best WordPress membership plugins for new, medium-traffic, and high-traffic sites.
Brand New Websites
Websites that belong to this category are assumed to have low traffic and a limited budget. Therefore, the plugins suggested here are easy to use, making them suitable for webmasters with no experience building a membership system.
ARMember. Has a free version that comes with robust built-in security features.
Simple Membership. A free WordPress membership plugin with multiple payment gateways.
Restrict User Access. Offers versatile user restriction features.
Medium-Traffic Websites
Here are the best WordPress membership plugins for medium-traffic sites with a medium budget to spend:
MemberPress. Has automated billing systems and supports AffiliateWP integration.
s2Member Framework. Capable of protecting downloadable files and audio.
Restrict Content Pro. Supports prorated upgrades and downgrades to ensure user retention.
High-Traffic Websites
Here are the best membership plugins to invest in if you have the budget to spend and previous experience in developing or managing a high-traffic website:
MemberPress. Has extensive content restriction capabilities.
MemberMouse. Offers multiple upsell features and social media integration.
LearnDash. Packs all the tools required to build a full-fledged learning portal and sell online courses hassle-free.
Conclusion
You have seen some of the best membership site plugins for WordPress and learned which factors to consider when choosing one. Ideally, the best plugin suits your goals, budget, and abilities. You also want to make sure the plugin has good reviews and is frequently updated to avoid any security breaches caused by plugins.
That said, the best way to pick the right plugin is to do extensive research and take your needs and budget into consideration. Good luck!