You run a WordPress website and want to dabble with affiliate marketing to promote it? Did you quickly find out that managing your own affiliate program is not as easy as it looks? We've got you covered! In this article, we will cover 10 best WordPress affiliate plugins that could solve all your affiliate problems.
We hope you're as eager as we are to see the choice of plugins, let's get started!
WordPress Affiliate Plugins – Why Use Them?
Before we get to the actual list, let's take a few steps back and discuss affiliate marketing as a concept for the sake of being thorough.
In short, affiliate marketing is a method for merchants to gain conversions and sales by commissioning affiliates to do a promotional campaign via social media and personal websites. The commission rate is determined by the number of successful sales and traffic made through the referral link.
Check out this article to know more about the ins and outs of affiliate marketing.
Considering how more and more people become accustomed to surfing the web on a daily basis, it's no surprise that this marketing method took off and became the go-to strategy in promoting businesses and products for companies all around the world.
In spite of this fact, managing your own affiliate marketing program can be laborious without the proper tools.
This is where a WordPress affiliate plugin comes into play. Being one of the most popular CMS in the market, WordPress has a wide selection of plugins that help users in managing their affiliate programs.
Acting as an affiliate management system, those plugins and software offer standard features such as:
Affiliate Management — track your affiliates' commissions and performance
Sales and Conversions Reporting — see how many sales and conversions are made through your affiliate program
Referral Link Generator — create your own referral links to allow easy access to the marketed website, products, and services
Given these points, using a WordPress affiliate plugin will make your life easier in the long run.
Our 10 Favorite WordPress Affiliate Plugins
Considering how many WordPress affiliate plugins exist for the platform, we took the liberty of listing our top 10 most favorite affiliate plugins based on their features and value.
As one of the best WordPress affiliate plugins, AffiliateWP has to be on our list. Created by the same team who built the Easy Digital Downloads ecommerce plugin, AffiliateWP has a robust affiliate manager system capable of managing your affiliates, commissions, and referrals among other things.
To provide a smooth onboarding process, AffiliateWP's user interface adopts WordPress dashboard's appearance to create a familiar working space. Furthermore, AffiliateWP's ability to seamlessly integrate with various WordPress ecommerce, form, and membership plugins is fantastic.

AffiliateWP's essential features include:
Automatic affiliate creation — build your affiliate network by enabling automatic affiliate account creation for users who register a new WordPress account on your website
Affiliate URLs — create customized URLs for your affiliates using their Affiliate ID or WordPress username
Developer tools — add custom features and functionality using custom coding to implement hooks and templates
Affiliate area — give your affiliates the ability to track their performance and manage their campaigns
The premium WordPress affiliate plugin divides its services into four different plans with their price ranges from $99 – $249 per year. You can also make a one-time $499 payment to get life-time plugin updates and email support among other features.
If you aren't familiar with affiliate marketing yet, Affiliates Manager is a great option to test the water. As open-source software, Affiliates Manager is completely free to make use of their features.
Despite being a free WordPress affiliate plugin, Affiliates Manager has a lot of perks that are no less powerful than that of premium plugins.
The WordPress affiliate plugin allows you to not only manage an unlimited number of affiliates but also obtain real-time reports as soon as a sale or conversion happens.
Affiliates Manager's essential features include:
Ecommerce integration — expand your management scope by integrating the WordPress affiliate plugin with popular ecommerce solutions like WooCommerce, Simple Shopping Cart, and iThemes Exchange
Individual commission rate — choose how you want to pay and reward your affiliates using Paypal as the method of payment
While Affiliates Manager offers a free plan, you can upgrade it to a premium one to get technical support and the ability to install the plugin on various sites. The price of Affiliates Manager's premium plans ranges from $39 (Single Site) to $97 (Developer License).
If you want total control over your affiliate links, ThirstyAffiliates is worth considering. Aside from controlling your affiliate program, ThirstyAffiliates has features that allow you to manage your affiliate links in an organized fashion.
As a result, you get to promote your business and avoid annoying your audience altogether using well thought-out referral links. We'd say that's the dream of every merchant in the market!
ThirstyAffiliates essential features include:
Autolink keywords — use keywords to trigger the use of referral links in every post
Smart uncloaking — make your referral links aesthetically-pleasing and memorable using the link cloaking feature
Proactive link fixer — ensure your links are always up-to-date and not encountering 404 error
Geolocation link — set alternate destinations for international clicks by targetting the visitor's country
While ThirstyAffiliate offers a free plan, you'll need to upgrade it to a premium one to use all of the ThirstyAffiliates features. The price of ThirstyAffiliates premium plans ranges from $49 – $149 per year depending on what features you opt-in.
WooCommerce expands its service in the ecommerce sector by launching the YITH WooCommerce Affiliates WordPress plugin. Due to its foundation being a well-established ecommerce plugin, YITH WooCommerce Affiliates can give you a lot of benefits when integrated with other WooCommerce plugins like YITH WooCommerce Subscription and YITH WooCommerce Account Funds.
Additionally, YITH WooCommerce Affiliates is more than capable of functioning on its own. The plugin particularly focuses on creating a mutual relationship between the merchant and the affiliate by offering various features that could benefit the latter.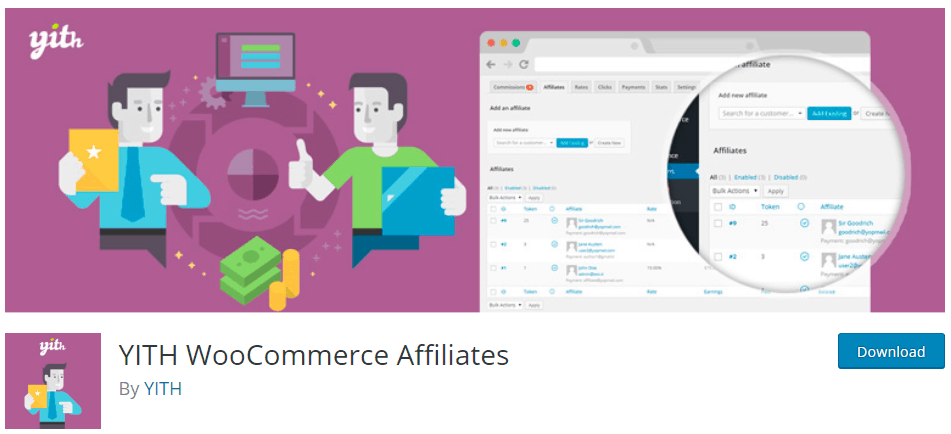 YITH WooCommerce Affiliates' essential features include:
User-affiliate permanent association — after a purchase is made via an affiliate's referral link, the same referral's future purchases will be credited to that affiliate
Payment request — allow your affiliates to request a withdrawal of their commissions
Commission management — add or remove an affiliate when managing an order when necessary
Similar to Affiliates Manager, you have the option to use a free plan or buy one of their premium plans. The price of YITH WooCommerce Affiliates' premium plans ranges from $69.99 – $169.99 per year.
Affiliates is another free alternative of great WordPress affiliate plugins that could help you manage your affiliate program. Thanks to Affiliates' flexible template-based dashboard, you can customize the design and facilities for your affiliates according to your need and preference.
The highlight feature is the ability to integrate with all kinds of platforms, including but not limited to ecommerce, memberships, and lead generation. In addition, light integration with other Affiliate plugins like WooCommerce and eShop are also available.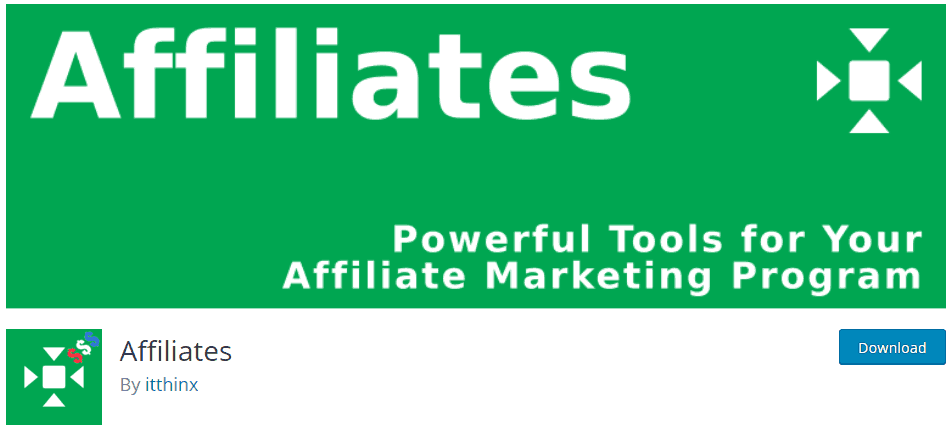 Affiliates' essential features include:
Automatic affiliate registration — recruit affiliates automatically even without having user accounts prior to the recruitment process
Intuitive affiliate dashboard — customize the best dashboard for your and your affiliates' needs
Mass payments — distribute all commissions simultaneously based on accumulated totals
While Affiliates offer a free plan, you can subscribe to other additional plugins to optimize the overall performance of your affiliate program. The price of a single plugin ranges from $19 – $399 per year.
Do you want to earn extra money through your WordPress site? Try using Amazon Auto Links! Depending on your site's niche, this WordPress affiliate plugin will generate links of the newest products from the category of your choosing.
In order to use Amazon Auto Links, you need to sign up for Amazon Associates first. That's because the generated links will be tagged with your Amazon Associates IDs. Check out this article for further information about Amazon's affiliate marketing program.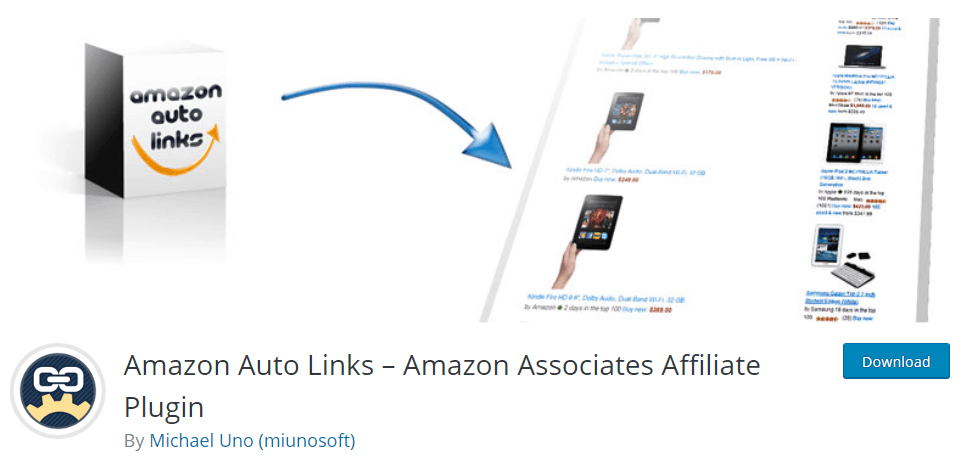 Amazon Auto Links' essential features include:
No JavaScript dependence — run the adds even on JavaScript-disabled browsers
Automatic insertion — decide where you want to show the links yourself
The WordPress affiliate plugin's core features are available for free. However, you can upgrade it for the price of $57.98 – $297.98 per year depending on what functionality you're looking for.
Why limit your affiliate's role as your partner when they can also generate revenue as a customer? Taking this sentiment into account, Ultimate Affiliate Pro offers various unique features that allow affiliates to spend their commissions into your website with a specific flat discount.
Furthermore, Ultimate Affiliate Pro can help you gain brand awareness and sales much faster by turning your affiliate network into a multi-level marketing system. Using the ranking system, you'll get to classify your affiliates into different ranks and reward them accordingly.
Ultimate Affiliate Pro's essential features include:
Performance bonuses — set difference bonus commissions for each rank
Allow own referrals — affiliates can earn commissions from their own referrals
Affiliate custom slug — allow affiliates to hide their identity or company name behind a custom slug
Ultimate Affiliate Pro's lifetime license costs $36 per website.
Unlike other affiliate program plugins, ReferralCandy's affiliate program aims towards customers as their potential affiliates. Correspondingly, ReferralCandy allows you to reward customers who refer people to your site with cash, discounts, or free products.
The refer-a-friend program negates the registration process as everyone can be your affiliate. Coupled with the use of personal referral links, you'll get double-win by rewarding your repeat customers and gain new ones at the same time.
ReferralCandy's essential features include:
Automatic reward distribution — give an immediate reward in the form of a coupon, cash, or custom gift to your customers
Referrals and engagement tracking — document every referral, purchase, and share made from your referral program
Fraud protection — prevent self-referrals and unverified referral sales
In order to use all of these features, you have to buy ReferralCandy's premium plan which starts from $49 per month or $3999 per year for their enterprise plan.
Affiliate Royale is an affiliate management system capable of tracking affiliates and managing commission distribution among other things.
In terms of features, Affiliate Royale has a lot of similarities with AffiliateWP. Also, the WordPress affiliate plugin can connect to shopping carts, membership sites, and various payment services like Paypal and Cart66.
Affiliate Royale's essential features include:
Dedicated admin panel — keep track of affiliates' performance, share media for promotions, and generate reports from one place
Affiliate area — allows affiliates to monitor their performance and commissions
Affiliate Royale offers two different premium plans that will be paid as a one-time payment. The Merchant Edition costs $85 while the Developer Edition costs $165.
Post Affiliate Pro is another powerhouse in the affiliate marketing sector. This software has the ability to perform tracking using various tracking methods and direct link tracking. Thus, you're guaranteed to get the most accurate report an affiliate tracking software could offer.
Furthermore, you also have the ability to set different types of commissions. Reward your affiliates based on their performance and the number of successful sales and conversions made through their referral links.
Post Affiliate Pro's essential features include:
Split commission — reward all affiliates who participate in particular sales instead of the first or last referrer only
Ad channel tracking — discover the best promotional strategy for your website using advanced traffic tracking methods
Private campaigns — create private campaigns that will be visible to selected affiliates only
The price of Post Affiliate Pro's premium plans ranges from $97 – $477 per month.
Conclusion
Affiliate marketing is getting more and more popular these days due to its high success rate and long-lasting results. Therefore, it's not surprising to see that affiliate program software take off as it has a significant role in the entire marketing process.
Here are our top five WordPress affiliate plugins based on their highlighted features and value:
AffiliateWP — robust affiliate program system with developer tools
ThirstyAffiliate — total control over affiliate links
Ultimate Affiliate Pro — support multi-level marketing system
ReferralCandy — bring word-of-mouth marketing to the next level
Post Affiliate Pro — accurate tracking reports thanks to advanced traffic tracking methods
Remember to consider what you need and the value you get for your hard earned money before deciding what affiliate plugin you want to go with.