How to Create an Amazon Affiliate Website: 6 Steps to Starting an Affiliate Business
Affiliate marketing is one of the most popular ways to make more money online. All you have to do is promote products from other companies on your website. You will receive a commission when a sale is made using one of your affiliate links.
Amazon is one of many companies that offer affiliate partnership programs. As one of the largest online affiliate networks, Amazon has 900,000+ active affiliates.
This article will delve deeper into the Amazon Associates program, why it's so popular, and how to build an Amazon affiliate site that will succeed.


What Is an Amazon Affiliate Marketing Site?
Amazon affiliate sites monetize their traffic by directing their visitors to buy Amazon products. The site owners place Amazon affiliate links in their content and automatically receive money in their bank account from qualifying purchases.
Moreover, adding affiliate links to your website is easy since Amazon provides you with the tool to do so.
You can build customized text links, text and image links, or image-only links to Amazon products. You also have the option to add the text links directly to your blog posts or make ad banners or dedicated product listings.

The Amazon Associates program has different commission models depending on the product category.
For example, Amazon Games products have a fixed commission income rate of 20%. So, if a visitor buys a $50 game through your affiliate link, you would receive a $10 commission.
However, some products require specific bounty actions and customer types to qualify for commission. For instance, a visitor must register for Amazon Music Unlimited's free trial through your affiliate link for you to be eligible for the $3 commission.
Make sure to review these commission models and rules to understand which program fits your website's niche and target audience.
The Advantages of Creating an Amazon Affiliate Site
Creating an Amazon affiliate site is a great way to monetize your content and jumpstart your online business.
Compared to other affiliate programs, Amazon has several advantages. Let's examine the three main benefits of running your own Amazon affiliate business.
Trusted Brand
Amazon's brand popularity and reputation allow its affiliate sites to operate at a steady level of effectiveness. You don't need to worry about the quality of your affiliate products. Also, your audience is likely more confident when purchasing a product via an Amazon affiliate link.
Joining the Amazon Associates program can also improve your site's credibility. Since your site partners with a reputable brand like Amazon, your website visitors can safely assume that your content is trustworthy.
User-Friendly and Supportive
The Amazon affiliate program allows content creators and website owners to join and gain revenue regardless of technical expertise.
Take advantage of WordPress plugins like the AAWP and Amazon's dedicated link builder. With these tools, you can easily add and display products on your WordPress site.

Members can email Amazon Associates' customer service if they have questions about the affiliate partnership. You can also find knowledge base materials that cover many topics, from how to get started with the affiliate program to how to grow your business.
A Wide Range of Niches
Since Amazon sells 12+ million products, you can find a category that fits your site's target audience. For example, niche sites like travel blogs can promote bags and suitcases, while book review blogs can promote newly-released novels or nonfiction books.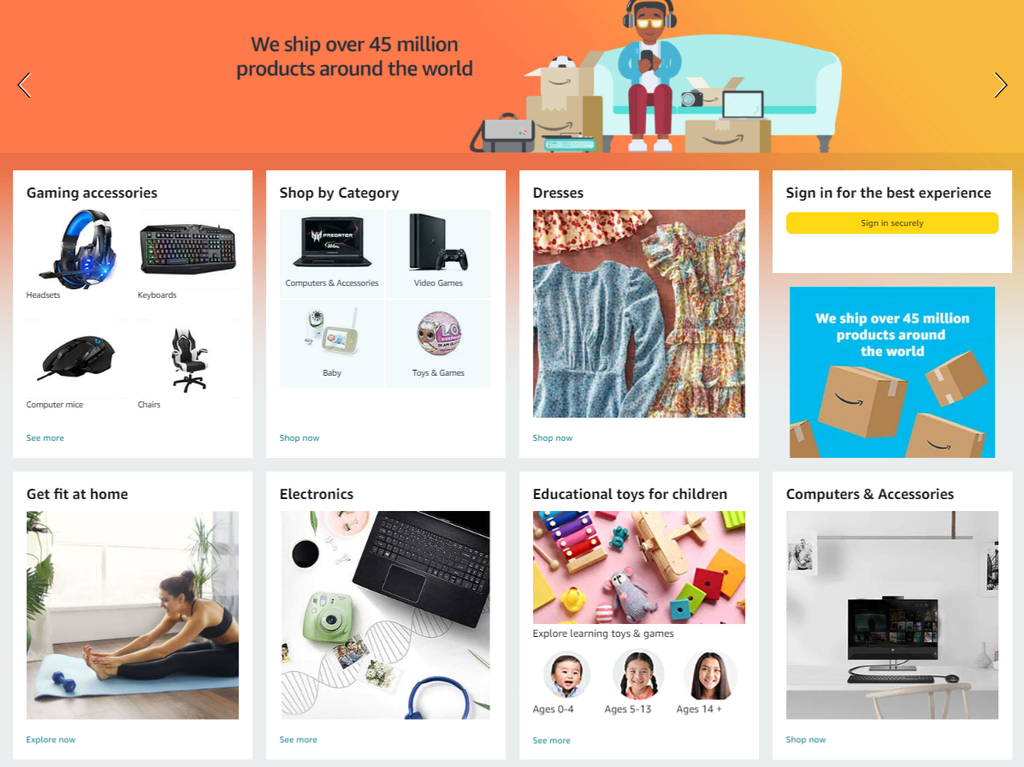 The key is understanding your audience's demographic and choosing a product category that will pique their interest.
Another option is to promote services and products you personally use and enjoy to make your recommendations more personal and genuine.
Disadvantages of Building an Amazon Affiliate Website
Unfortunately, running an Amazon affiliate store has some downsides. Before joining the Amazon affiliate program, let's examine its three disadvantages.
Low Commissions
While running an Amazon affiliate store is an excellent way to make extra money online, you shouldn't treat it as your primary income source. This is because Amazon's affiliate commission rate is relatively low compared to other affiliate programs.
Revenue from affiliate marketing, in general, is also highly unpredictable. Various factors determine how much money you will make, and you may not get the expected revenue immediately.
24-Hour Cookie Lifetime
With the 24-hour cookie lifetime rule, you can only get a commission when someone clicks on your affiliate link and adds the item to their cart within 24 hours.
Since not every visitor will purchase immediately after reading a blog post, this rule makes gaining revenue from Amazon affiliate links more challenging.
Fortunately, Amazon saves the cookie for another 90 days until a successful checkout is made after the customer adds a product to their cart.
Can't Cloak Links
Link cloaking is an excellent method to personalize your affiliate links and make them more visually appealing. Unfortunately, Amazon doesn't allow link cloaking in their affiliate program. If you insist on cloaking your affiliate links, Amazon may ban your Amazon Associates account.
This is mainly due to the Federal Trade Commission (FTC) rule, which states that you must fully disclose each affiliate link on your website.
Fortunately, it is still possible to shorten all your affiliate links using the built-in feature.
6 Steps on How to Build an Amazon Affiliate Website
To build a successful Amazon affiliate store, you must first know how to create a website. Let's examine six essential steps and tips to make lucrative Amazon affiliate sites.
1. Choose a Good Niche
The online business space is highly saturated. Therefore, targeting a specific niche is essential. A niche site has a particular target audience, helping you engage with potential loyal followers more effectively.
Your niche determines the content production process and how profitable your affiliate site will be. There are numerous affiliate marketing niche ideas– the key is to choose the one you understand and enjoy the most.
Choosing a niche you're already familiar with can help build your reputation as an expert in the topic. This high level of authority will encourage your audience to trust your niche site and product recommendations.
Conduct thorough research on your target market niche and look for audiences' behavior and preferences. Your niche site must be able to fulfill an untapped demand in your field.
Choosing a popular topic with many competitors is not always the best option. Nonetheless, it's important to consider your potential niche competitors and note how you can improve your own site.
An excellent example of a successful niche affiliate website is NerdWallet.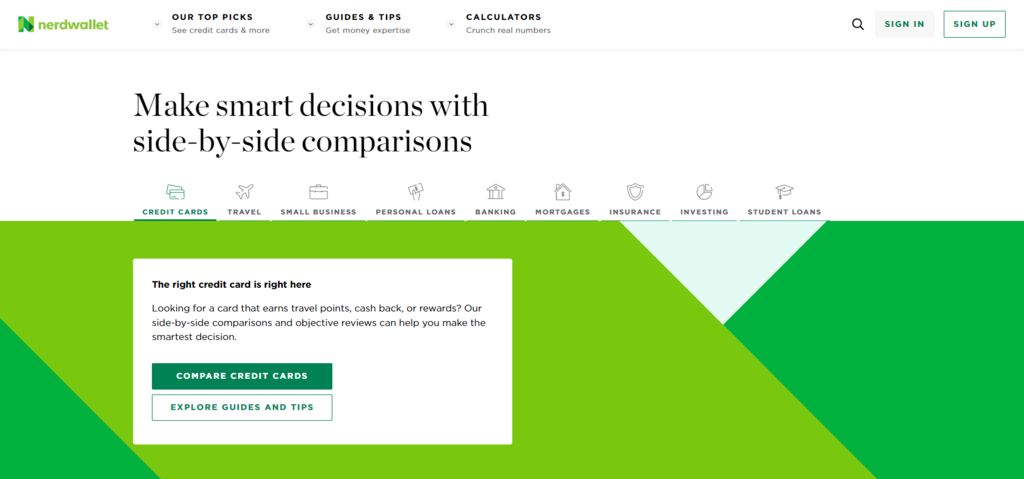 NerdWallet's content revolves around financial products. They provide reviews and tips for topics such as insurance, credit card, and investing. NerdWallet's deep understanding of its niche allows them to build a helpful and credible website that fulfills its audience's needs.
2. Choose a Web Hosting Service Provider
Hosting is the backbone of your website – it determines its overall performance.
You'd want your affiliate website to load quickly and always be accessible to visitors. As such, choosing a good web hosting provider is crucial when building a successful website.
There are several factors you should consider when choosing a hosting provider for a new site:
Your budget – the amount of money you are willing to spend on website hosting. Premium hosting plans are more expensive but offer more flexibility and features.
Website size – the hosting plan you choose should depend on what kind of website you want to run. For example, an online store requires better server specifications and tools than a small blogging website.
Hosting features – hosting companies often include features that help make website building and management much easier. For instance, Hostinger lets you install WordPress to your hosting account with one click.
Website platform – choose a hosting plan that supports the website building platform you want. If you use the WordPress content management system (CMS), the best option is a specialized web hosting with WordPress optimization.

Make sure to research each web host option thoroughly. Read their websites and customer reviews to check if their services are up to standard.

3. Select a Domain Name
One of the factors of a successful affiliate website is its domain name. It acts as your website's address and its identity. Therefore, choosing a good domain name before you become an Amazon affiliate is essential.
A good domain name should be short, memorable, and easy to spell. Avoid choosing a complex domain name that may confuse potential visitors.
Another crucial aspect is the URL's top-level domain (TLD). This is the last bit of your website address that often indicates the site's purpose. For example, eCommerce websites may use .store as their TLD, while government bodies usually use .gov.
Choose from the list of top level domains the extension that fits your affiliate site's characteristics to help visitors recognize it more easily. Popular TLDs like .com or .org can help build your site's credibility.
However, finding an available domain name with a popular TLD tends to be more challenging. These domain names are also typically more expensive. Make sure to check the domain availability and price after you brainstorm an idea.
Domain Name Checker
Instantly check domain name availability.
Some hosting providers and website builder services include a free website domain with their plans. This is an excellent option if you want to avoid the hassle of registering your domain on a separate site.
4. Decide on a Website Design
Website design is vital in attracting and maintaining visitors' attention. It only takes around 0.05 seconds for users to form an impression about your website based on its appearance. If they don't like your site's design, they are likely to leave immediately.
A well-designed website also has a good user experience (UX). As such, good Amazon affiliate websites should be easy to navigate. Avoid hiding your core content behind unnecessary menus and including too many widgets.
Include only the essentials to keep your website simple. Hyer is an excellent example of a simple, easy-to-navigate, yet aesthetically pleasing website.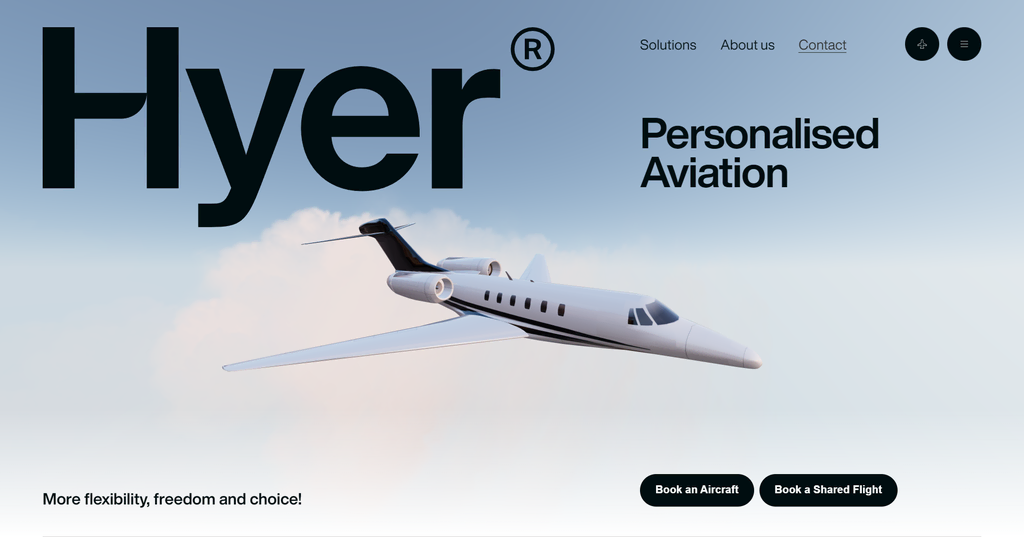 Depending on your website type, you may also want to consider making a one-page website.
Your website also needs to have a responsive design. This means it should be able to adapt to various displays and devices, such as tablets and smartphones.
Lastly, your site design should not sacrifice the page load speed. A stunning design doesn't matter if users leave before the site is fully loaded.
WordPress and website builders have premade themes that instantly let you achieve good website design. However, consider tweaking some elements to give your affiliate site more personality.
5. Create Content for Your Amazon Affiliate Site
Content is an integral part of your affiliate marketing business. Since content is where you put most of your affiliate links, it needs to be attractive and engaging to your target audience.
In relation to your website niche, your content needs to cater to your target audiences' preferences, too. Understanding the types of affiliate content that work best for your situation can get you ahead of your competitors.
Some of the most popular content types for affiliate marketing are product reviews, listicles, tutorials, and comparisons.
No matter what content you decide to create, the main focus is to provide useful information for your audience. Creating content only to add affiliate links can negatively affect your credibility, and fewer people will trust your opinions and recommendations.
Finally, don't forget to offer a variety of content to keep your audience interested.
6. Work on SEO to Get More Visitors
Search engine optimization (SEO) is one of the most popular methods to drive organic traffic to your website. It involves processes such as keyword research and implementing those keywords into your website content.
SEO can help you create blog posts that are relevant to your target audience and works well with search engines. Your keyword research must be rooted in a deep understanding of your website niche. Therefore, following the latest updates and trends in your niche is essential.

Tools like Google Analytics, Google Trends, and Yoast SEO can help you implement SEO methods to your Amazon affiliate store more effectively.
How to Become an Amazon Affiliate
There are some qualifications your site must fulfill to join the Amazon Associates program.
First, you must complete and submit the Associates Program application accurately. This application asks for detailed information about your website.
Next, Amazon will determine if your website suits the affiliate program. If it is, they will proceed with the application. Remember that Amazon will deny your site if it promotes or contains forbidden content, such as illegal activities, violence, or sexually explicit content.
To ensure your site is eligible, thoroughly read the Associates Program Policies page on the Amazon website before signing up.
Once you're sure that your site complies with the rules, follow these steps to become an Amazon affiliate:
Amazon affiliate:
Visit the Amazon Associates website and click Sign up on the top banner.

Log in to your existing Amazon account or create one if you don't have it already. You don't have to make a dedicated Amazon affiliate account.
Follow the registration steps. You will need to input such information as payment and contact details, website or mobile app URLs, and your preferred store ID. It is also possible to input your blog or YouTube channel. Whichever platform you input, ensure it's active and has an audience.
Once all fields are completed, click on the Finish button at the bottom right corner of the page.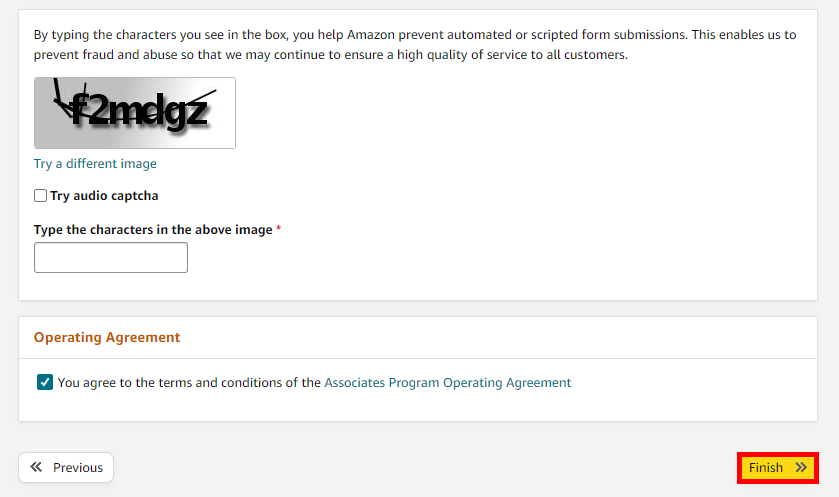 Amazon will review your application and inform you if it suits the affiliate marketing program.
Once accepted, you can start adding affiliate links to your website content.

Conclusion
Becoming an Amazon affiliate is an excellent way to earn money online. It involves adding product links in your content that direct visitors to the Amazon site.
Joining the Amazon partnership program has several advantages. You will be affiliated with a trusted brand, have access to a range of intuitive features, and have the flexibility to build almost any niche affiliate business to fit your audience's preferences.
However, it also comes with some disadvantages, such as the relatively low commission rate, the 24-hour cookie lifetime, and link cloaking restrictions.
Building a website for affiliate marketing purposes is a pretty straightforward process. There are six essential steps:
Choosing a good niche.
Getting a suitable hosting service.
Selecting a domain name.
Deciding on a website design.
Creating content.
Implementing SEO methods.
Although you can build an affiliate business in one day, maintaining and growing your online business is a continuous process. Hopefully, this article has helped you figure out the first step in building a successful Amazon affiliate site.