15 Reasons You're Not Making Money With Affiliate Marketing + Tips to Change That
Affiliate marketing is a popular method to make money online. Most affiliates earn commissions from promoting products or services on their platforms using unique links.
In fact, successful affiliate marketers can make around $100,000/month. While this amount might sound appealing, some struggle to earn anything when they start affiliate marketing.
This article will explain the 15 most common reasons why you are not making money with affiliate marketing. We will also give tips on generating a decent income as an affiliate marketer.


1. Copying Others
Creating original content is essential to stand out from the competition as the affiliate marketing world grows yearly. For example, the Amazon Associates program alone has over 900,000 active affiliates.
Finding inspiration in other affiliates can be helpful in the brainstorming process. However, copying content will only reduce your audience's trust.
Here are some helpful tips to avoid copying other marketers when creating content:
Create solutions. Give valuable information on how the product or service can help your audience with their specific problems.
Find missing content. Conduct market research or ask an audience directly to understand the content they are looking for before creating your affiliate website.
Give updates. Increase your credibility by sharing changes or new information on the affiliate products or services.
Share personal stories. Share how the product or service has helped you personally to connect better with the audience.
Lucie's List is an excellent example of how sharing personal experiences can generate traffic faster. They immediately reassure the readers that all information comes from parents and state that there is no necessity to "buy all that stuff".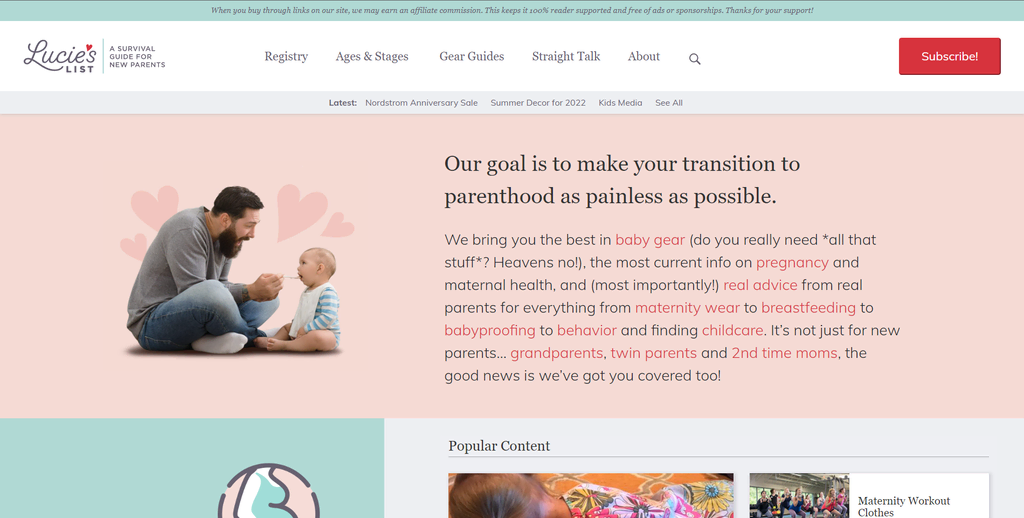 2. Not Having Product Knowledge
Research is essential in increasing affiliate marketing success. Audiences will more likely follow the recommendations from affiliates that show great product knowledge.
For this reason, choosing an affiliate niche and products you are passionate about can ease your research process.
First, look into the business website and social media platforms. During your research, we recommend finding answers to the following questions:
What makes this product or service unique?
How did the business start?
What are their values and main mission?
Where does this business operate?
Many affiliates also use the product or service to provide a first-hand experience. Note any missing information that might be useful for your audience.Finally, showcase that you have researched extensively before promoting an affiliate product or service. For example, Verywell Fit displays the number of expert writers covering evidence-based topics on their affiliate website, which helps strengthen the website's credibility.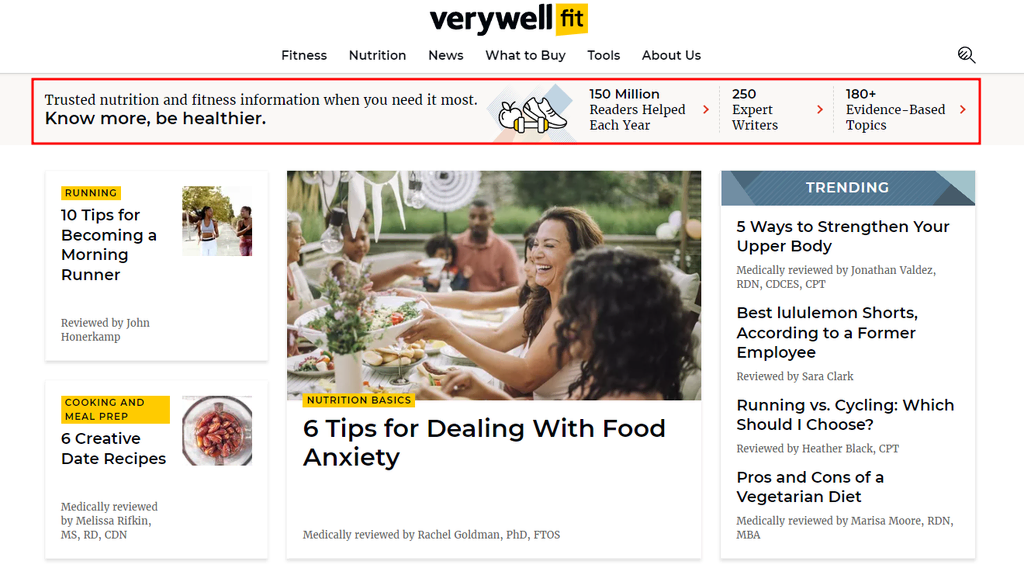 3. Not Investing in Affiliate Marketing Tools
The right affiliate marketing tools help drive more traffic and increase conversions. When choosing a tool, consider its ease of use, pricing, and support. Make sure that it suits your needs and budget.
Some tools to consider include:
Some affiliate tools are available for free, suitable for beginners and smaller websites.
Then, start investing in premium options once your website gets larger. Expect to pay an average of $50-$500/month for affiliate marketing tools and a better hosting package, depending on your website size and needs.
4. Not Doing an Affiliate Marketing Training
Learning from others helps strengthen your strategy and increase conversions when you first start affiliate marketing. Affiliate marketing courses are a great investment to avoid common mistakes and start making money right away.
You can expect experienced affiliate marketers to share their successes, failures, and main strategies.;
Voluum, for example, offers various free affiliate courses with certificates. On the other hand, the premium courses can cost around $90-$4000, with more detailed lessons and greater support.
Choosing the right affiliate marketing training can be time-consuming. Therefore, consider the following elements to find a suitable one for your needs:
Syllabus. Look for a course that matches your knowledge level. For example, beginners can benefit more from general courses, while more advanced affiliates should take specific ones.
Reviews. Check third-party reviews about the course, platform, and instructor to see if previous students were able to learn new information.
Price. Choose a course that is under your budget. Note that higher prices do not always mean better quality.
Date. Trends in affiliate marketing continue to change. Make sure that your training is up to date with the latest trends.
5. Lacking Strategies That Work
Having the right strategy is essential to building a successful affiliate marketing business. If you struggle to make affiliate marketing work with the current strategy, try using a different method.
First, find the main issue with your current strategy. Here are some elements to consider:
Business niche. Try changing or expanding your topic within the same industry.
Platform. Check whether your current platform suits the affiliate product or service. For example, different social media platforms have their own target audiences.
Content type. Find the most suitable type of content to get the best engagement. For instance, start creating YouTube videos in addition to your blog posts.
Target audience. Make sure that your current traffic turns into conversions. If you have been targeting the wrong audience, choose a different strategy when researching keywords.
Competition. Some topics can have too much competition for beginners. Start targeting a smaller market first before competing with bigger websites.
Pro Tip
Give your strategy at least three months before changing it.
6. Not Monitoring Data
Affiliate marketing data shows your progress and measurable results. Monitoring certain information also helps affiliates notice any issues right away.
Some programs show the essential information on the affiliate dashboard. Additionally, you can also use an analytics tool like Everflow or LinkTrust to monitor data.
Here are some key indicators to monitor with affiliate websites:
Conversion rate. The percentage of affiliate link clicks that turn into a purchase. This metric shows the effectiveness of your current strategy.
Cost per affiliate sale. Determine how many sales are necessary for your affiliate business to start making money.
Return on investment. Adjust your spending by subtracting your monthly affiliate income from the costs.
Overall engagement. Understand your audience better by checking how much traffic, views, and bounce rate your website gets monthly.
Check the data regularly to help you make necessary changes to your affiliate website and strategy.
7. Using a Scam Network
Another reason you are not making money with affiliate marketing is using the wrong network.
Most affiliate marketers use a network to get information on available programs and opportunities. Unfortunately, not all affiliate marketplaces are trustworthy. For example, scam networks might not be transferring affiliate income accordingly.
As a newbie marketer, be aware of the following affiliate marketing scams:
Fake products or services. Scammers often create products or services that do not exist. Avoid any affiliate network that only has overly positive reviews and blurry images.
Get-rich-quick schemes. Do not trust an affiliate network that promises more money with less effort. Getting a stable income with affiliate marketing takes time. Therefore, it is better to look for programs with clear payment plans.
Pay-to-join programs. Avoid joining an affiliate network that asks for payment to join, as most legitimate ones are free.
Use a resource tool like Offervault to avoid scam affiliate networks and find the best legitimate deals.
8. Not Improving Conversion Rate
Most affiliate programs use conversions to determine your earnings. Higher conversion rates mean better chances of earning more money.
Therefore, here are some essential factors that influence your conversion rate optimization (CRO):
Call-to-action. Direct visitors to the right pages using buttons, headers, and images for better affiliate sales.
Hosting. Some hosting companies offer specific features that can highly influence your conversions. For example, Hostinger uses LiteSpeed Web Servers for better website performance.
Mobile-optimization. Consider conversions from your mobile visitors by checking the marketing funnel from a smaller screen.
Security. Include security measures to make visitors feel safe about purchasing using your affiliate link.
Remember to track your conversions regularly to see whether your current CRO strategies are working.
9. Relying on One Affiliate Program
With affiliate marketing, giving multiple options is a great way to build credibility. Many affiliate marketers fail because they only rely on one program.
Visitors might move on from websites that rely on one affiliate program as it seems too subjective. On the other hand, readers find websites that promote products from multiple affiliate programs more useful.
Therefore, we recommend joining multiple affiliate marketing programs to give your visitors more options.
Here are some tips to consider when looking into multiple programs:
Same niche. Every affiliate program should target the same niche to keep the website focused. For example, a lifestyle blog should only join affiliate programs related to the topic.
In-house affiliate programs. Avoid getting scammed by joining in-house affiliate programs, as they are often more trustworthy.
Use a management tool. Organize your affiliate programs using a management tool to save time.
Important! Some affiliate programs do not allow their marketers to promote similar or complementary products or services. Therefore, always check the rules before joining multiple programs.
10. Relying on High Commission Affiliate Programs
High-commission marketers can earn larger passive income. These programs give at least $500/sale depending on the product or service.
Some marketers use this option to earn more profits from fewer sales. Although it seems like a great deal, relying on high-commission affiliate programs can prevent your online business from making any money.
Some of the main reasons why relying on high commission affiliate programs do not work are:
Smaller target audience. Few people can afford what you are offering. Therefore, high commission programs often have smaller targeted traffic.
Few conversions. High-commission programs rely on fewer people converting, making it harder to make money with affiliate marketing.
High competition. Many high-commission affiliate programs already have marketers with high credibility and strong branding. Therefore, entering the market will be harder.
Instead of relying on high-commission affiliate programs, we recommend giving your audience more options.For example, ConsumerSearch promotes high commission products like technologies and affordable ones like simple sports equipment.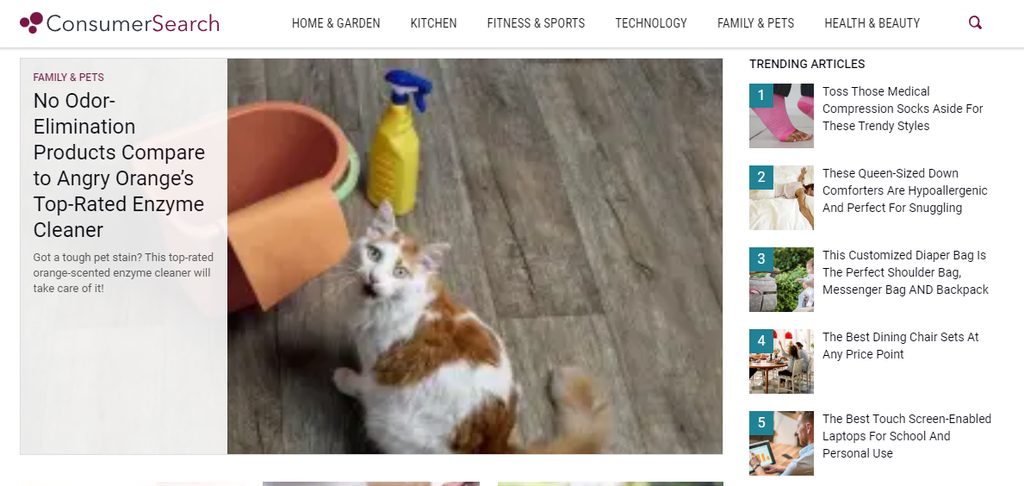 11. Not Applying an SEO Strategy
Optimizing your website helps with getting more targeted audiences. Search engine optimization (SEO) refers to getting organic visitors to your site, which is essential to your affiliate marketing success.
SEO can help make money with affiliate marketing by guiding your content better. Here are some optimization tips to increase your SEO traffic:
Do keyword research. Always research the appropriate keywords before creating a blog post. Targeting the right keywords helps drive traffic to your site.
Insert meta title and description. Every page and post should have a customized meta title and description. Otherwise, the search engine will automatically insert your metadata which might be subpar.
Include alt-text. Increase ranking by making your images more accessible. Every alt-text should describe the image content, and those that include keywords may rank on search engines as well.
Use webmaster tools. Submit your sitemap to various search engines, such as Google and Bing, to keep them updated on any changes.
Use schema. Attract more audience using schema markups. Schema can be used for events, recipes, movie listings, and reviews, often located above the organic results. Therefore, we recommend optimizing your website using schema.
The right SEO strategy can help get more consistent traffic and generate more sales. Even the most comprehensive and well-researched content requires SEO to reach the audience.Nerdwallet is a great example of an affiliate website that implements SEO strategies to increase rankings on search engines.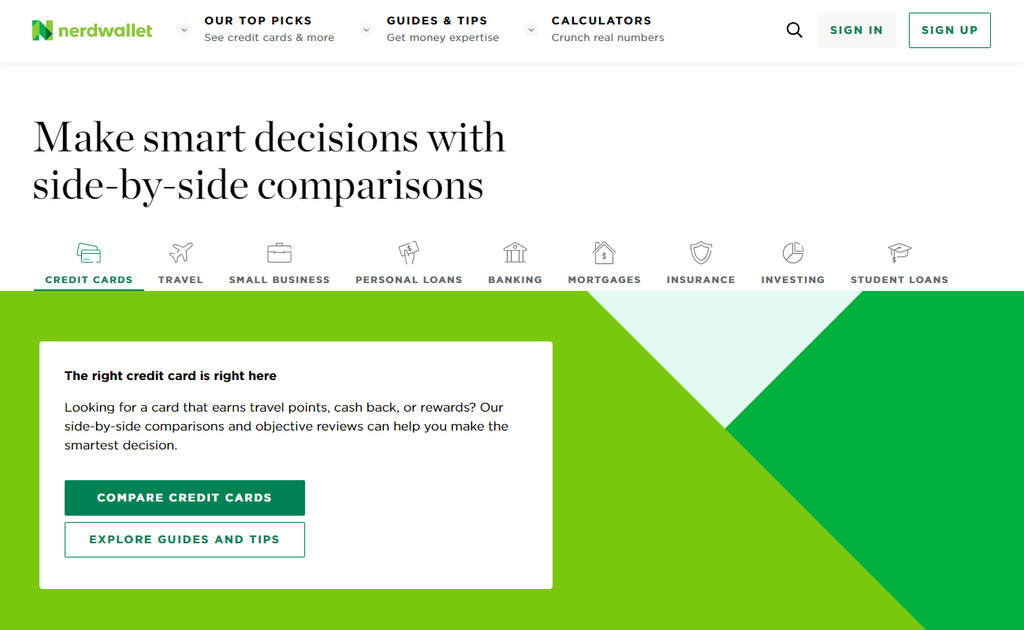 12. Not Building Trust With Your Audience
As a business model, affiliate marketing relies heavily on trust to make money. Therefore, showing that you are genuine when promoting products and services can help build trust. Having your audience's trust can also help with retention by gaining more loyal customers.
Here are some methods to build trust with your audience:
Be honest. Include both pros and cons with every recommendation to help the audience get the full information.
Give options. Offer different types of products or services within the same industry.
Engage with your audience. Reply to comments and try to get your readers' opinions on your piece.
Give proof. Show that you have seen or used the product or service before promoting them.
Ask experts. Use the opinions of industry leaders when giving reviews to show better credibility.
13. Not Disclosing Affiliate Links
Links play a central role in getting your affiliate income. First, always disclose affiliate links on your website for full transparency. The audience must know if you are making money from commissions and clicks.
Doing so also maintains ethical practices following the Federal Trade Commission (FTC) rules. Here are some tips for disclosing any unique affiliate link effectively:
Use clear and direct language. Make it clear every time you are making money from an affiliate link.
Locate in an accessible and prominent place. The audience needs to be able to see your disclosure.
Personalize the disclosure. Use your own words to connect with your audience better.
There are various options to disclose an affiliate link. For example, Fatherly includes a disclaimer under specific articles about its products.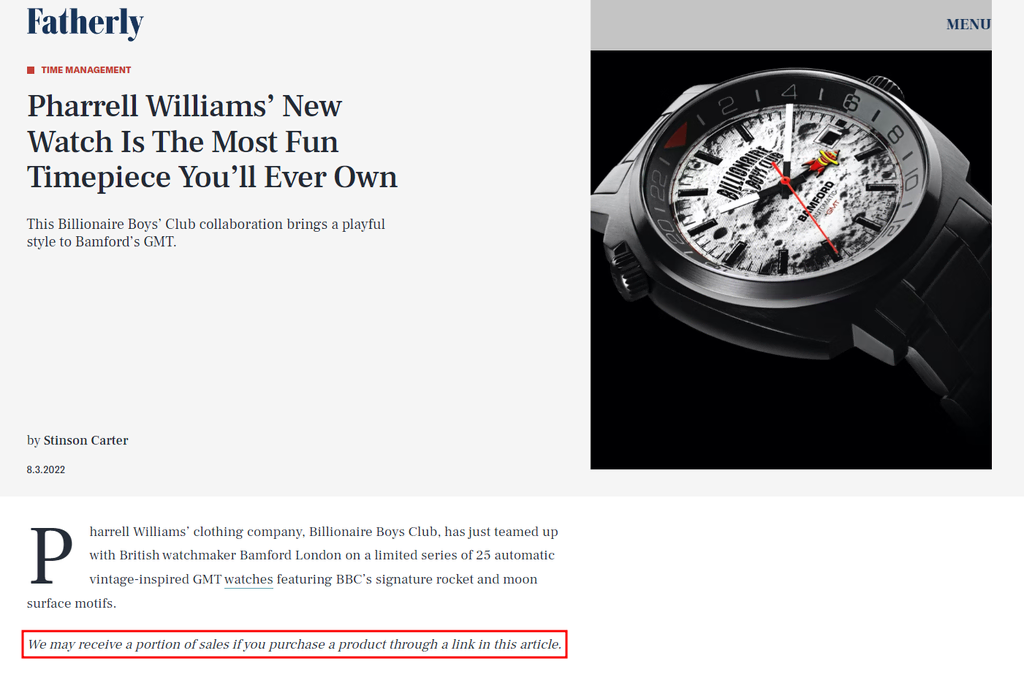 Another option is to include the disclaimer on the homepage. For example, Trusted Reviews has explained that they only get commissions from affiliate links and advertising, not their reviews.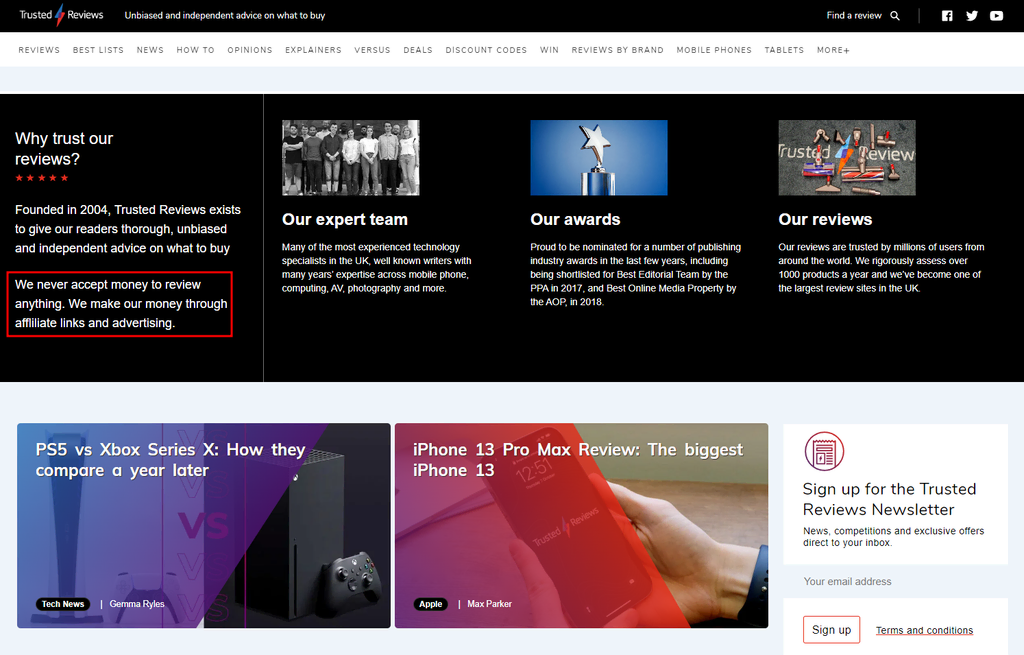 14. Not Having a Target Audience
Choosing the right target audience can increase your conversion rate. It is essential that the products or services that you are promoting have the same target audience as your affiliate website.
Having a target audience also helps keep your marketing efforts focused, from researching keywords to writing metadata.
Here are some methods to reach your target audience:
Create customer profiles. Keep the right audience by providing direct information frequently. For example, interested visitors can create a customer profile to get more information on the topic.
Identify main issues. Check what problems the business you are promoting solves and whether they help with your current audience's issues.
Evaluate competitors. Look for any niche markets that don't have much competition yet.
For example, Gear Patrol has an option for newsletters and to create memberships. These options allow it to share more products and services with its target audience.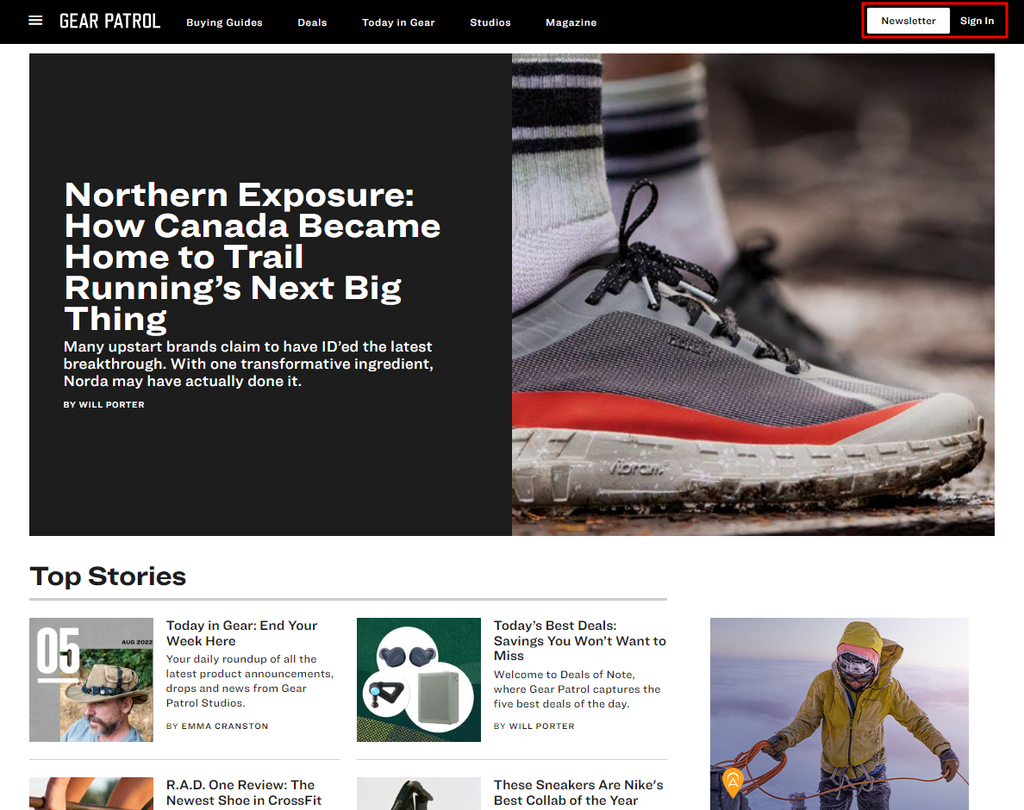 15. Not Providing Social Proof
Lastly, an affiliate marketing website also needs to show social proof to increase visitors' trust. In fact, 93% of potential customers would consider online reviews first before deciding if they want to purchase a product or not.
Adding customer reviews can be done using customer testimonials, product reviews, or industry certifications. Using the right social proof can highly boost your branding and convince more visitors to convert.
Without providing social proof, you are asking visitors to blindly trust your content. While this method can work with well-known brands, many new affiliates struggle to gain trust. On the other hand, adding social proof shows transparency and adds credibility to your brand.
Here are some methods to provide social proof on your affiliate website:
Add customer testimonials. Include customer reviews to strengthen your content.
Work with influencers. Collaborate with influencers or other marketers to give testimonials to one another.
Include ratings. Use numbers to show measurable proof of what most audiences think of the product or service you are promoting.
Marketers should add affiliate links with honest reviews of the products or services. For example, Headphones Addict shows their professional review and user ratings as social proof of each product they promote.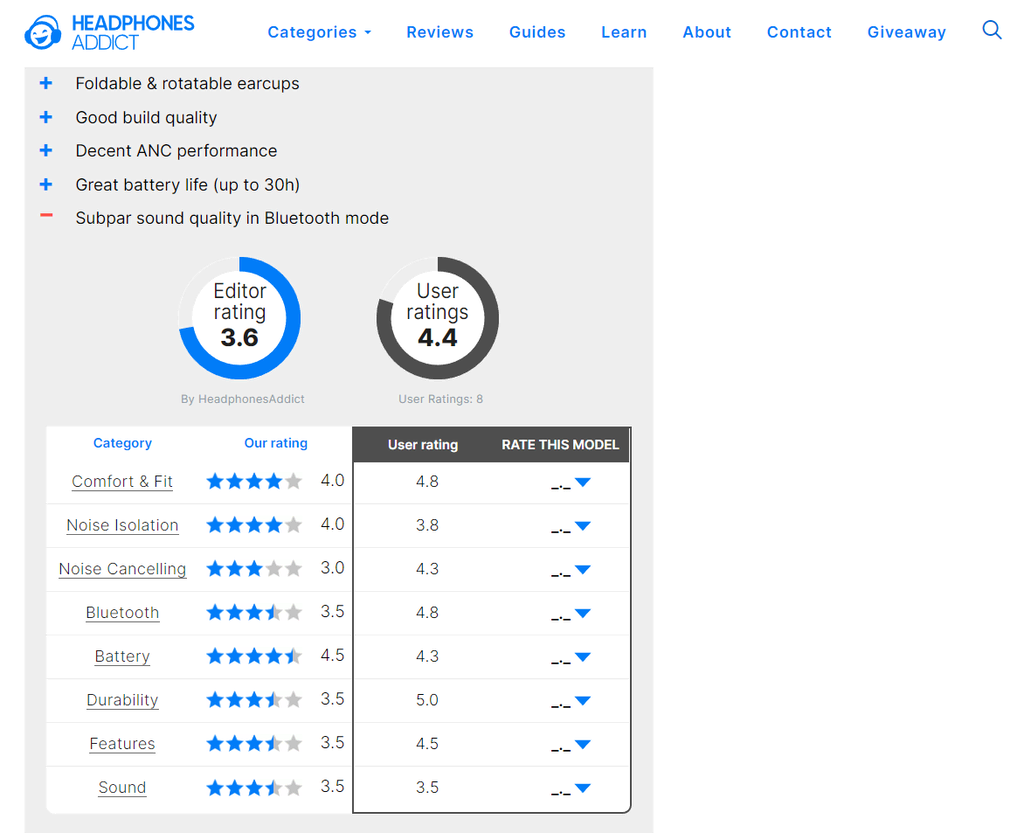 Conclusion
Affiliate marketing is a great way to make passive income. However, some marketers still struggle to earn anything from this business model. In this article, we have shared 15 reasons why you are not making money with affiliate marketing.
Some of the main reasons are:
Not having product knowledge. Research is essential to increase the credibility of your affiliate website.
Not investing in affiliate marketing tools. Choose a tool for different purposes to help optimize your affiliate marketing strategy.
Relying on one affiliate program. Increase affiliate sales by joining multiple programs within the same niche.
Not disclosing affiliate links. Inform customers that you are making money from promoting the product or service using clear language.
Not providing social proof. Share previous customers' reviews on the product or service to increase trust.
When resolving your issues, give enough time to see the progress or changes with your affiliate marketing. Should you have any more questions, don't hesitate to leave a comment below.