Top 10 Affiliate Marketing Courses to Get You Started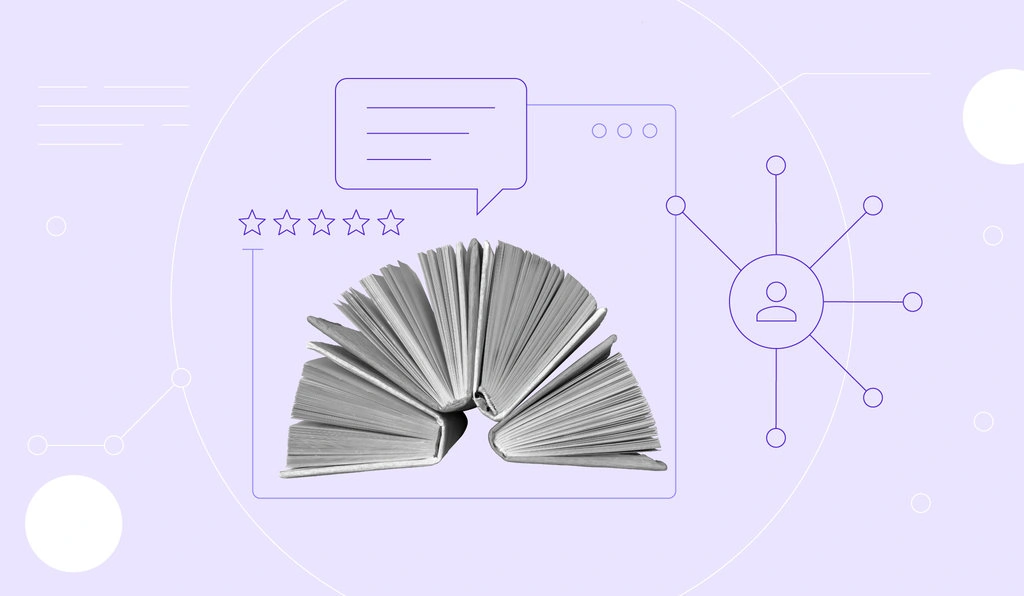 Joining an affiliate marketing course is crucial for building a profitable online business. It lays out the blueprint set by successful affiliate marketers, enabling you to learn from their successes and failures.
This article will cover the 10 best affiliate marketing courses to help you understand how the industry works, avoid affiliate marketing mistakes, and monetize your site. In each entry, we'll provide an overview, price, key features, and drawbacks.


The 10 Best Affiliate Marketing Courses
Affiliate marketing can be a highly lucrative way to monetize your website or social media presence, but it can be tough to get started without guidance. To help you succeed in this field, we've compiled a list of the top 10 affiliate marketing courses available online today.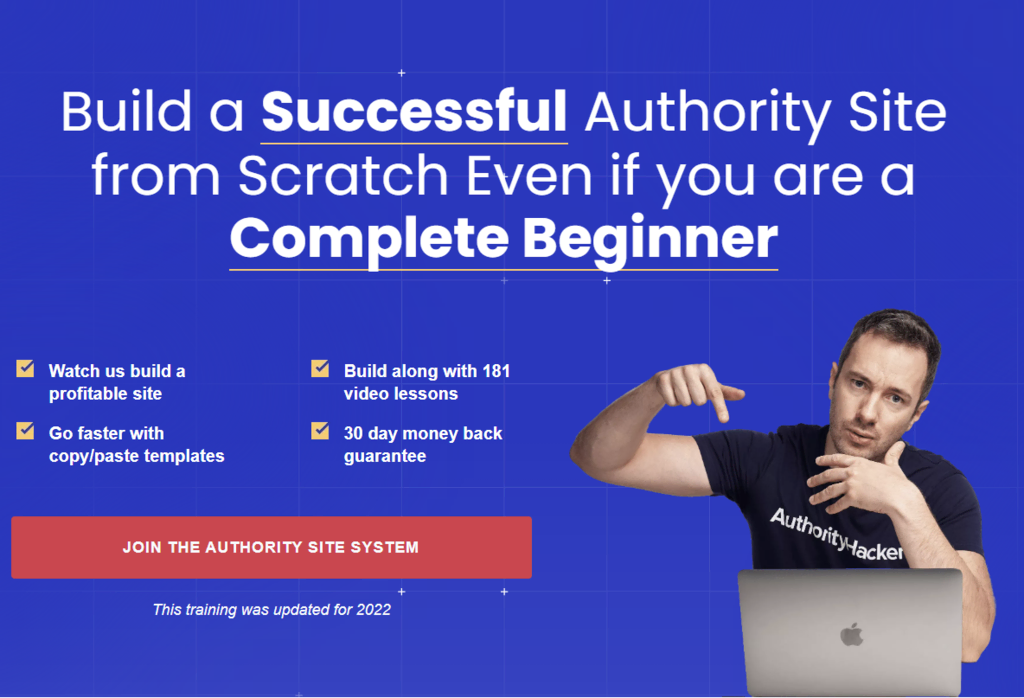 The Authority Site System Stats:
Best for: anyone looking to make money online through websites
Price: $997 (one-time payment)
If you're looking to start an affiliate marketing business, we recommend taking The Authority Site System (TASS) course. Hosted by Mark Webster and Gael Breton, two professional online marketers with more than 10 years of experience, this affiliate marketing course offers proven strategies to build authority sites from scratch.
Providing 181 tutorial videos across 15 in-depth modules, The Authority Site System guides you through the three stages of building a brand new authority site. The first lessons teach you how to generate organic traffic and earn affiliate commissions. Later courses will reveal ways to gain paid traffic and diversify your income through display ads and product sales.
The primary value of this affiliate marketing course is its simple yet effective learning structure. Each module is broken down into small, manageable tasks to keep users motivated and help track their progress.
You can enroll in TASS by purchasing its lifetime access for $997. Alternatively, you can pay the sum in six installments of $249. While not cheap, this course is worth investing in, judging by the number of positive reviews.
Key Features
Clear road map – get access to the step-by-step modules broken down into small tasks for easy completion.
Content templates – prebuilt templates make it easy to create different types of content, such as articles or marketing emails.
Real case studies – learn from the success stories of other students.
Active community – free lifetime Facebook community access. Ask questions and get feedback from experienced members.
Regular updates – all future updates to the program are free of charge.
Money-back guarantee – if you're unsatisfied with the course, ask for a refund within 30 days.
Drawbacks
The Authority Hacker affiliate marketing course is too reliant on premium tools, which can end up costing you more money. Some students might also find it overwhelming due to the abundance of information.
[SIGN UP]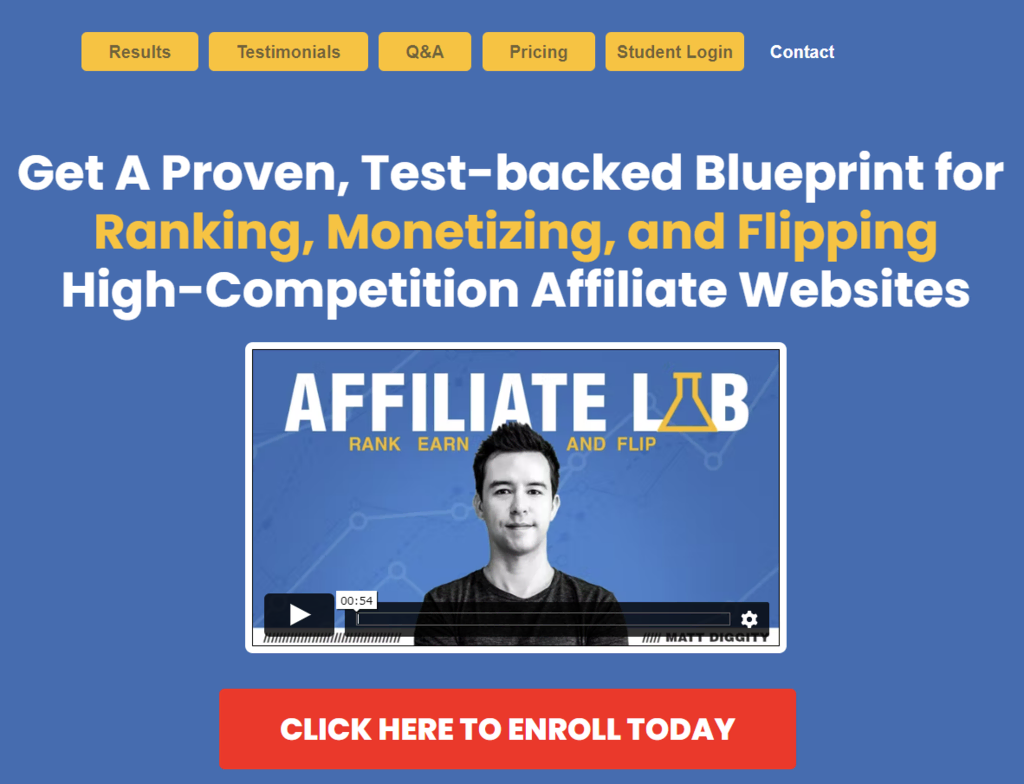 The Affiliate Lab Stats:
The Affiliate Lab is one of the best affiliate marketing courses for boosting organic traffic and your conversion rate. Founded by Matt Diggity, this course aims to help affiliate marketers rank, monetize, and flip their websites.
As a former engineer, Matt relies heavily on data and testing to find new techniques that work. As a result, The Affiliate Lab course contains proven SEO strategies to build a successful affiliate marketing website without resorting to paid traffic.

After signing up, you'll get lifetime access to 45+ hours of video training, six plug-and-play tools, and a members-only Facebook group. By the end of the course, you'll learn all the necessary skills of a successful affiliate marketer, from researching keywords and creating engaging content to optimizing your site and increasing conversion rate.
Another key feature is the regular updates. Users don't need to worry about outdated lessons as Matt continues to explore new SEO strategies based on the latest Google algorithm.
The Affiliate Lab offers two payment plans. You can either spend $997 once or pay $597 in two installments. Unfortunately, there's no money-back guarantee.
Key Features
Comprehensive tutorials – this course offers a complete guide to building a high-traffic affiliate website comprising 210+ videos.
Plug-and-play tools – allows you to select a niche site project category, research keyword opportunities and get the optimal anchor text ratio.
Progress tracker – keep track of your optimization progress using the available checklists and standard operating procedures (SOP).
Lifetime access – free access to future updates.
Active community – an active Facebook group where you can get valuable insights from Matt himself and other students.
Drawbacks
Unlike TASS, The Affiliate Lab doesn't offer a money-back guarantee, and the payment plan isn't as flexible. There are also extra costs for buying a domain, hosting, and a keyword research tool.
[SIGN UP]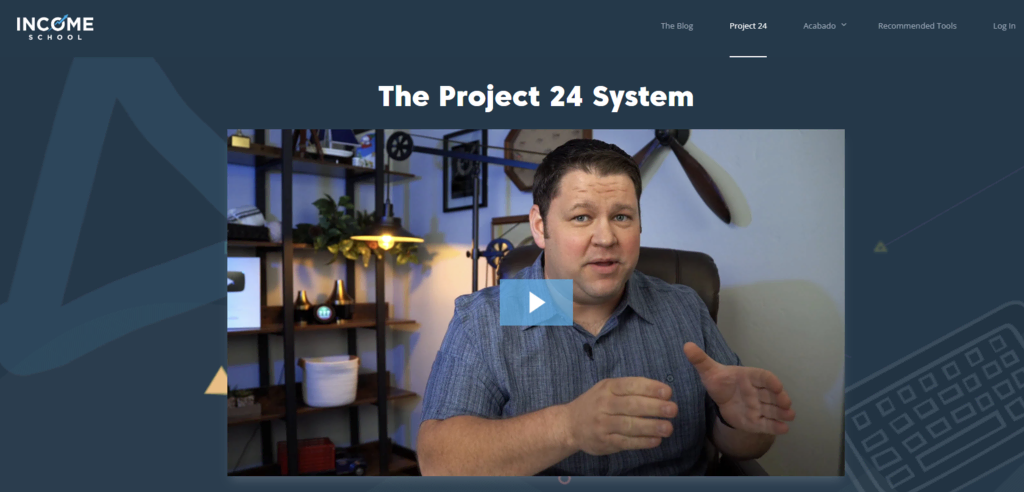 The Project 24 System Stats:
Best for: beginners who prefer a less technical course
Price: $449 for the first year and $249 for each additional year
If you want to generate income through a blog or YouTube channel, The Project 24 System is your best bet. Its goal is to help people replace their regular job with an online affiliate marketing business within 24 months.
This course will teach blogging enthusiasts how to select a niche, set up a site, research keywords, create content, and monetize the blog through affiliate marketing and ads. A YouTube class is also present, showing you how to pick exciting topics, make high-quality videos, and grow your viewer count.
Its transparent approach separates The Project 24 System from other affiliate marketing courses. Income School openly reveals the successful niche sites they possess and how much money their own affiliate sites make. Its hosts share their successes and failures, helping students to avoid the same mistakes.
Unlike most entries on this list, The Project 24 System's plan is based on annual membership. You need to pay $449 for the first year and $249 for the second, totaling $698 if you decide to stay for the full 24 months.
Key Features
Shallow learning curve – this course is less technical than others, containing easy-to-follow video tutorials which are excellent for beginners.
Multi-platform classes – grow your audience from websites and YouTube.
Battleship Method – extract critical data from published articles and videos to optimize future content.
Monthly podcasts – listen to its members-only podcast, where the hosts talk about their experiences and affiliate marketing industry trends.
Interactive classes – besides the video courses, The Project 24 System also provides live classes that include content workshops, regional member meetings, and expert Q&A.
Drawbacks
Similar to The Affiliate Lab, this course doesn't offer a money-back guarantee. Moreover, the subscription model means you'll have to spend more money in the long run, compared to joining a one-time fee course.
The lack of advanced SEO modules is another huge disadvantage. Income School is against using paid keyword research tools and link-building strategies, potentially limiting your growth options.
[SIGN UP]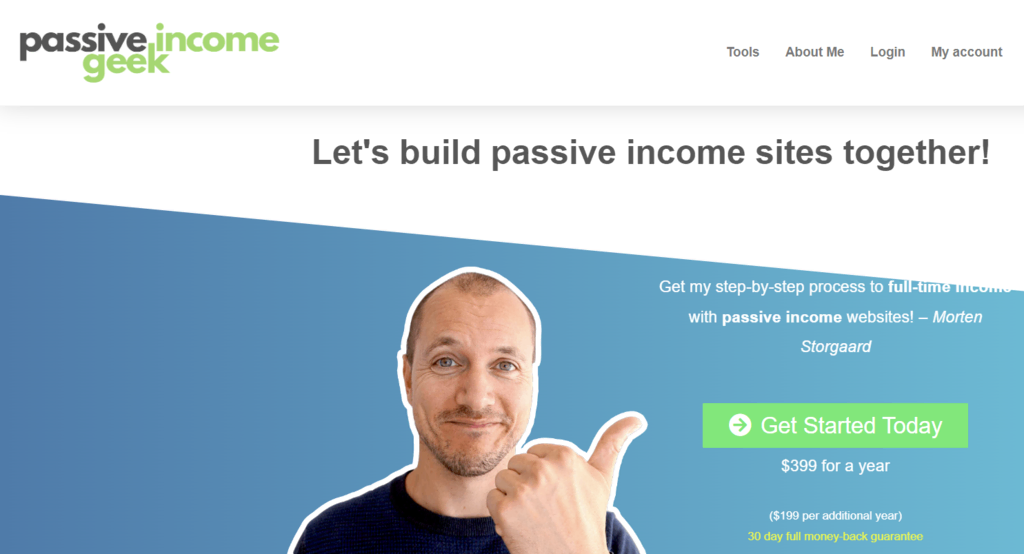 Passive Income Geek Stats:
Best for: beginners with basic website knowledge
Price: $399 for the first year, $199 for each additional year
Morten Storgaard is a seasoned affiliate marketer with around 15 years of experience in website building and monetization. Through Passive Income Geek, he shares his knowledge to help people create their first successful affiliate website.
Influenced by Income School, this course doesn't rely on paid SEO tools. Instead, Passive Income Geek focuses on content research and optimization using free resources on Google. Morten also uses a subscription model, charging $399 for the first year and $199 for each additional year.
However, Morten still changes things up a bit. For instance, his advice on selecting a niche and domain name is fresh and unique. The link-building strategy also diverges from Income School and other online courses, teaching students how to gain passive backlinks from platforms like HARO.
Another key feature is the Build With Us module. Students can watch how Morten builds a site in real-time, from niche and domain selection to content creation and monetization.
Key Features
Build With Us module – watch over 15 hours of video where Morten builds a website from scratch.
Multi-media modules – the presentation contains a mix of text, videos, and tools, providing students with diverse options.
Fresh advice – Morten's in-depth modules on selecting a niche, choosing a domain name, researching topics, and building backlinks are unique and original.
Outsourcing content – learn how to hire the right writers and editors, helping you to produce high-quality content quickly.
Forum-style community – with nearly 400 members, the community works together to help each other succeed.
Drawbacks
The course is relatively new, so there aren't many success stories yet. The content creation module also lacks in-depth lessons.
[SIGN UP]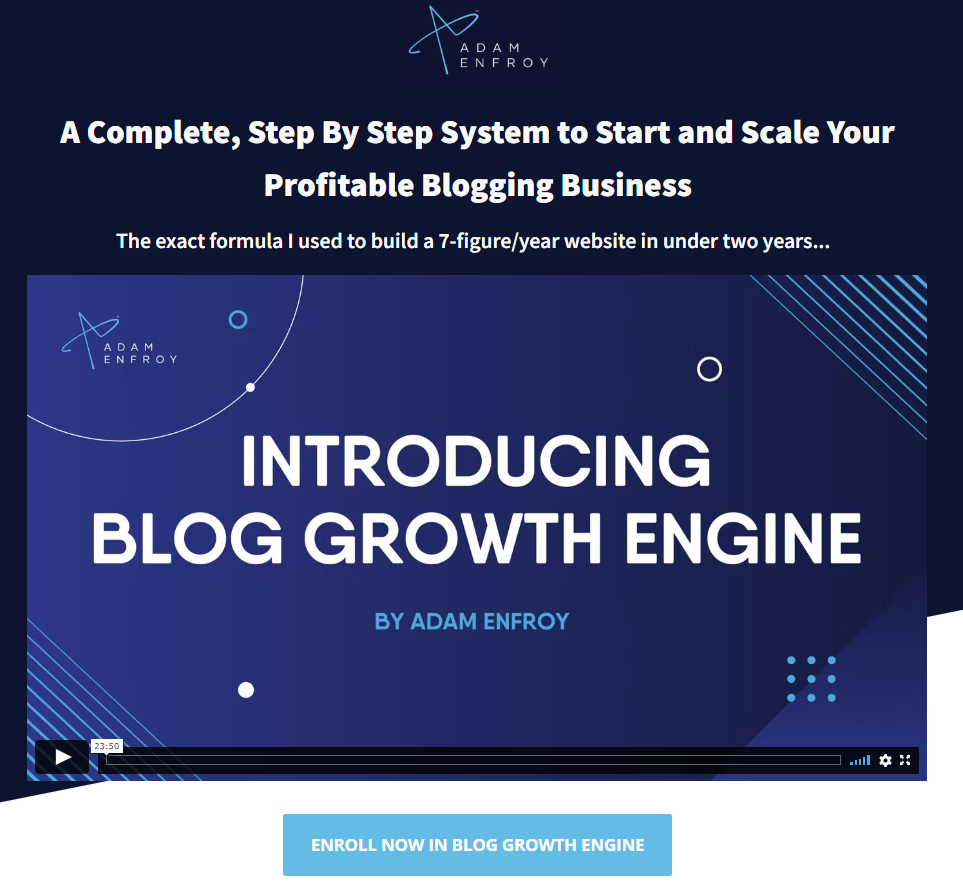 Blog Growth Engine Stats:
Best for: bloggers looking for monetization opportunities
Price: $3297 (one-time payment)
Adam Enfroy is a blogger who successfully built a profitable site within two years. He founded the Blow Growth Engine course to help fellow bloggers earn money online through affiliate marketing.
The lesson structure is simple and easy to navigate, containing over 50 videos across 10 sections. The course mainly focuses on content optimization, link-building strategy, site authority scaling, personal branding, and blog monetization.
One key feature worth mentioning is the unlimited one-on-one calls, offering users personalized guidance. While the sessions aren't with Adam, you'll still be getting professional advice from other affiliate marketing experts.
The only downside of Blog Growth Engine is its price. It costs $3297 for lifetime access, which is higher than most affiliate marketing courses.
Key Features
Simple learning structure – learn the ins and outs of blogging through 50+ hours of video lessons across 10 different modules.
Blog templates – access to different templates that ease your blog creation process.
One-on-one sessions – get unlimited calls with an experienced coach from Adam's hand-picked team.
In-depth content marketing lessons – learn how to rank high on Google, from building links to creating quality content.
14-day money-back guarantee – despite being shorter than most providers, the money-back guarantee provides a sense of security in case you'll find the online courses lacking in quality.
Drawbacks
Blog Growth Engine is the most expensive course on this list. Without enough success stories and stand-out features to back it up, beginners should consider other more affordable programs.
[SIGN UP]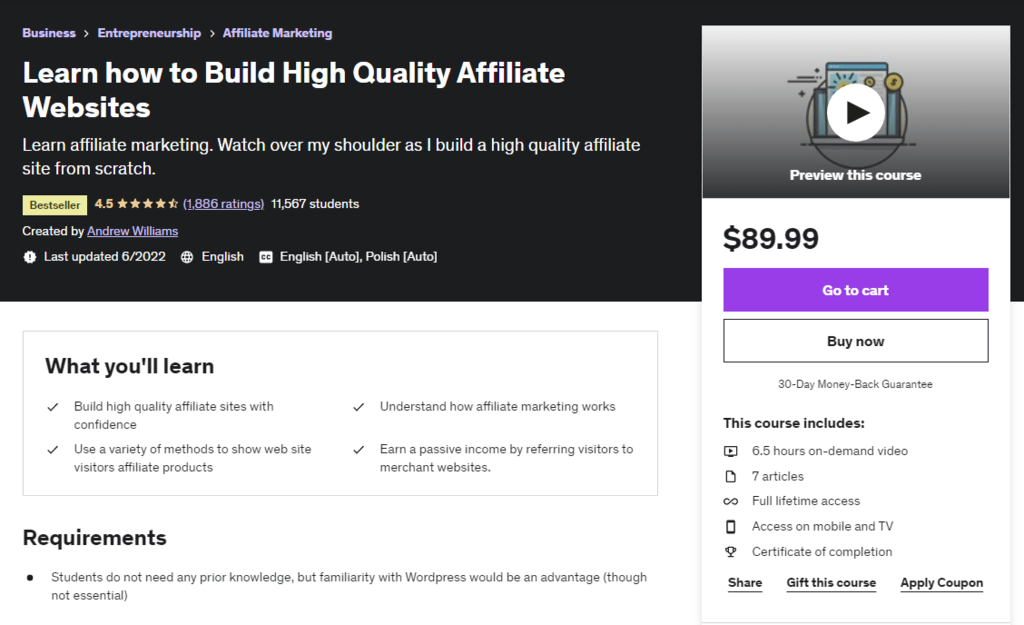 Learn How to Build High Quality Affiliate Websites Stats:
Best for: beginners looking for a valuable yet affordable course
Price: $89.99 (one-time payment)
With an average rating of 4.5 and completed by more than 11,000 students, Learn How to Build High Quality Affiliate Websites is one of the best affiliate marketing courses on Udemy.
Hosted by a former school teacher, the video course is well-paced and concise, helping beginners understand the subject quickly. Content-wise, the lessons offer actionable affiliate marketing tips on choosing a niche, selecting affiliate products, writing blog posts, and referring visitors to merchants.
Basic WordPress familiarity is necessary to join this class, as you'll learn the technical aspects of setting up a WordPress site. That includes installing plugins, creating an author bio, and optimizing pages.
At $89.99, the course provides an excellent starting point for those who aren't ready to spend money on more advanced programs.
Key Features
Fast learning phase – the course will provide all the essential insights you need about affiliate marketing in just a bit more than six hours of video content and seven articles.
Lifetime access – access the content whenever you need a refresher in the future.
Certificate of completion – the certificate might help when applying for an affiliate marketing role.
Drawbacks
Some cons we found in this course include some outdated information, complicated parts that don't flow well, and the lack of detailed information about generating revenue.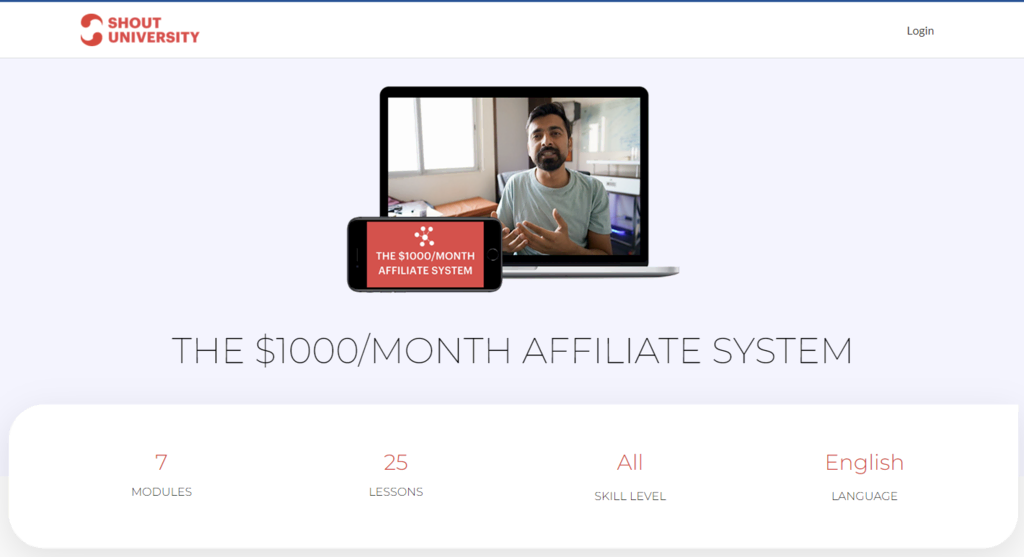 The $1000/Month Affiliate System Stats:
Best for: website owners who want to generate side income from affiliate marketing
Price: $249 (one-time payment)
Not everyone is committed to becoming a full-time blogger – some are just looking for side hustle ideas. If you're one of those people, we recommend checking out The $1000/Month Affiliate System by Shout University.
The instructor, Harsh Agrawal, started his journey in 2008 and has earned millions of dollars in revenue from his blogs. Today, he uses his experience to teach people the basic skills needed to succeed in affiliate marketing.
By joining The $1000/Month Affiliate System for $249, you'll get seven affiliate marketing modules, regular updates, a pass to its Facebook community, and limited access to premium tools like Semrush and SocialPilot.
Note that having your own site is necessary, as this course won't get into the basics of website setup. Instead, it will directly show the digital marketing strategies to earn your first $1,000.
Key Features
Affiliate Adventures – learn from Harsh Agrawal's mistakes and experiences in the industry.
Premium tools – time-limited access to premium tools like Semrush Guru Plan and SocialPilot Pro Plan.
Top affiliate programs – this module will reveal the best affiliate marketing programs available to help with your selection process.
Private group – similar to other platforms, Shout University also has its Facebook group, where you can learn from students sharing the same goals.
Drawbacks
As good as the learning material claims to be, we couldn't find any student reviews and success stories about this course.
[SIGN UP]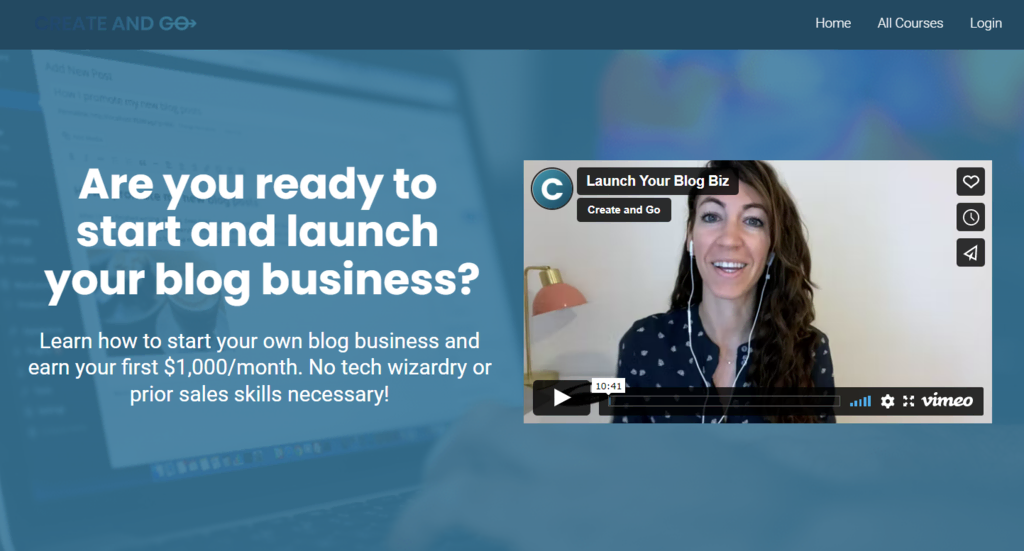 Launch Your Blog Biz Stats:
Best for: aspiring bloggers looking to launch an online business
Price: $297 (one-time payment)
Launch Your Blog is an affiliate marketing training course to help you create an online business within a month. The founders are Alex Nerney and Lauren McManus, two successful bloggers who run multiple six-figure/month websites.
Through this course, they'll teach you how to set up a WordPress site, write content, build your audience through an email list, and monetize the blog via affiliate marketing and sponsored posts. The course also offers email templates, a support group, and tips on choosing the best affiliate marketing program.
This affiliate marketing training course costs $297, providing a great way to learn affiliate marketing without breaking your bank. Plus, it comes with a 30-day money-back guarantee if you want a refund.
Key Features
Comprehensive modules – learn all about the blogging business, from setting up and designing a WordPress site to implementing SEO basics and monetizing the blog through sponsored posts, ads, and affiliate marketing.
Affiliate program list – find the best affiliate program without getting lost browsing the internet.
Multi-platform traffic generation – learn how to generate traffic from organic searches, Facebook groups, Pinterest, and YouTube.
Email funnel templates – optimize your first email marketing strategy using available templates.
Checklists – the roadmap and checklists help you stay on track and complete the course in time.
Drawbacks
Launch Your Blog Biz doesn't cover some fundamental aspects of WordPress setup, such as website security and plugin tutorials.
[SIGN UP]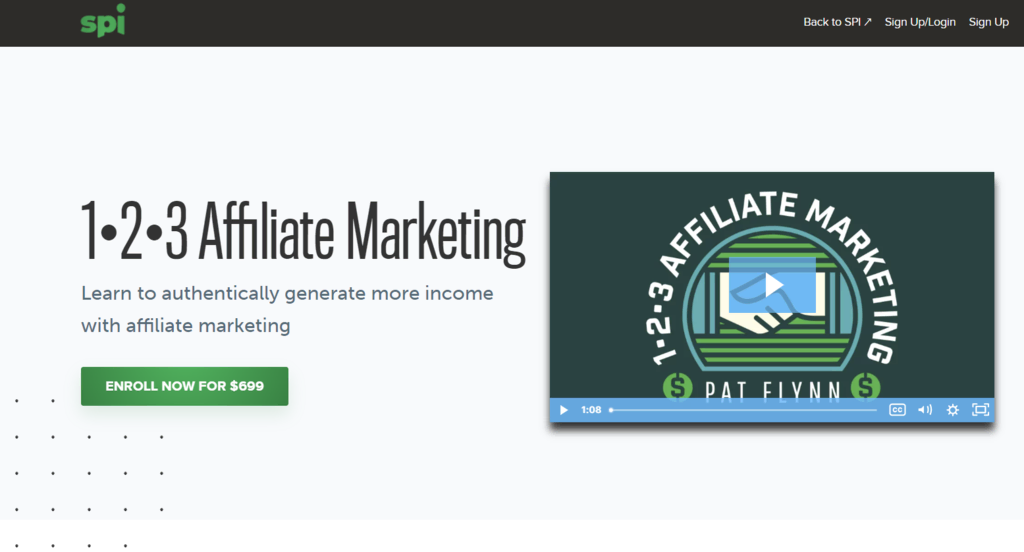 1-2-3 Affiliate Marketing Stats:
Best for: intermediate affiliate marketers with an existing audience
Price: $699 (one-time payment)
If you already have experience with affiliate sites and want to generate more income, the best affiliate marketing course for you might be 1-2-3 Affiliate Marketing. The course's instructor, Pat Flynn, is an affiliate marketing expert with around 12 years of experience in this field.
Through 23 video lessons across five modules, Pat will show you how to choose the right products, pick the best platforms, gain trust using social proof, and build long-term relationships with affiliate partners.
By purchasing its lifetime license for $699, you'll get access to a weekly Zoom call and private community on Circle, where you can ask questions, gain insights from Pat Flynn, and interact with other students.
Key Features
Step-by-step guide – the course provides a step-by-step guide on how to start an affiliate marketing campaign.
SPI Academy – free access to its private Circle community where students can interact with each other.
Weekly office hours – ask questions and receive feedback directly from Pat Flynn.
Drawbacks
1-2-3 Affiliate Marketing doesn't cover some important aspects of affiliate marketing, such as choosing a niche, building backlinks, and implementing SEO best practices.
[SIGN UP]

Affiliate Academy Stats:
Best for: beginner affiliates with a limited budget
Price: free
Voluum offers one of the best affiliate marketing courses called Affiliate Academy and it's completely free. This program suits beginners who want to learn the ins and outs of affiliate marketing but aren't ready to invest in paid courses yet.
The course is short, consisting of three modules that guide you through the process of setting up an effective affiliate campaign. The method includes choosing a niche, joining an affiliate program, gaining traffic, and implementing the right affiliate marketing strategies to scale up your business.
After completing the online affiliate marketing training, you'll receive a certificate that you can share on your LinkedIn profile or portfolio site to showcase your qualification.
Key Features
Comprehensive material – while free, the course still provides valuable lessons for beginners, consisting of 38 videos and 42 reading materials across three modules.
Knowledge tests – every module has several knowledge tests to see how well you understand the topic.
Tool discounts – get special deals from affiliate networks and software like Voluum, Mobidea, Zeydoo, and PropellerAds.
Drawbacks
Affiliate Academy's tool recommendations are mostly limited to Voluum and its partners. Besides that, we couldn't find any reason not to join this course since it's free.
What to Consider When Looking for the Best Affiliate Marketing Course
However, with many options available, choosing the right provider can be time-consuming. To narrow down your choices, consider the following factors:
Learning materials – select a training program that caters to your affiliate marketing knowledge level. For instance, an all-in-one course helps beginners understand the broader picture of the subject, while more specific lessons with practical examples might benefit experienced marketers.
Reputation – look for instructors with a proven track record – people who have successfully earned income through affiliate marketing. Also, seek online reviews to confirm whether the students were satisfied with the course.
Price – set your budget first before choosing an affiliate marketing course. Then, compare available providers and select the one with the highest value for money – an expensive affiliate training program isn't necessarily better than more affordable ones.
Conclusion
Affiliate marketing courses come in all different shapes and sizes. Some programs cover a broad range of topics, while others are more niche-oriented. When choosing affiliate marketing courses to pick up, consider their price, track record, and their key features.
Despite providing a good starting point, joining courses alone won't guarantee instant success. Keep up with the latest industry trends, learn from other affiliate marketers, and try out different strategies to grow your affiliate business.
We hope this article helped you decide on the best affiliate marketing course based on your personal needs and budget. If you have more questions, don't hesitate to leave a comment below.
Best Affiliate Marketing Course FAQ
Here are a couple of the most frequently asked questions regarding affiliate marketing courses:
Are Affiliate Marketing Courses Worth It?
Yes, affiliate marketing courses are usually worth their price since they enable you to pick up the necessary skills early before creating your first website. They also let you save money and time by learning from other people's mistakes.
What Is the Best Free Affiliate Marketing Course?
While there are tons of free resources on YouTube, the abundance of options might be overwhelming. We recommend taking courses from well-organized platforms like Voluum and Udemy.