How to Start Dropshipping Business in 2022 – A Comprehensive Guide
Dropshipping businesses are increasingly getting more popular, with estimates suggesting that the dropshipping industry will reach a market size of $557.9 billion by 2025.
That's because this retail strategy is one of the easiest ways to start and run a successful eCommerce business.
In this article, we'll cover in more detail what dropshipping is, how the dropshipping business model works, and why it's a great way to start your own business.
Download Guide To Writing Business Plan
Dropshipping Video Tutorial
If you're looking for a quick tutorial regarding this topic, check out our video.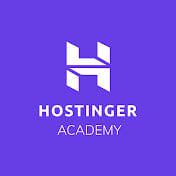 Subscribe For more educational videos!
Hostinger Academy
Subscribe
How to Start a Dropshipping Business and Create a Profitable Dropshipping Business Plan
1. Pick a dropshipping niche
2. Do a market analysis of the industry
3. Find a dropshipping supplier
4. Sort out your dropshipping finances
5. Build your dropshipping business store
6. Register your dropshipping business
7. Market and optimize your dropshipping business
1. Pick a Dropshipping Niche
Like any other business model, filling a gap in the market is an essential aspect of a successful dropshipping store. Therefore, start by defining your niche and target audience.
A niche market, also known as a small market segment, is a specific subcategory of a broader industry that aims to satisfy specific market needs, also defining price range and product quality.
For example, if the industry is centered around outdoor and recreational goods, your niche market might be snowboarding gear. Similarly, iPhone cases are a niche of the gadget accessories market.
Finding a dropshipping niche is an integral part of standing out from the competition, especially with so many dropshipping companies out there.
Thus, here are a few things to consider when deciding on dropshipping business ideas:
Determine your interest or passion. Choose a niche you're interested in. Knowing the products you sell can make the process of managing a business more enjoyable.
Find a solution. If you're struggling with a problem, other people may also experience the same issue. Providing unique solutions to common problems can lead customers to gravitate towards your business.
Research best-selling products. There's a better chance to make money dropshipping by selling trending products. Do a quick Google search or use online tools like Google Trends and TrendHunter to see what people are searching for.
Sell products that people need. Commodities such as food, toiletries, and organizational products are household staples. These goods are always in demand, which means there's a good opportunity to make sales.
Therefore, make sure to consider your dropshipping business idea thoroughly to develop a profitable business model.
2. Do a Market Analysis of The Industry
The next step is to conduct market research and thoroughly assess the industry you're entering.
This analysis should include an evaluation of both your competitors and target market. This information can help build proper marketing and growth strategies for your brand. The data you gather is also valuable to estimate revenues, profits, and pricing.
To kick-start your market analysis, here's a brief compilation of factors to consider:
Research the industry value and market size. Gather detailed statistics on the size, trends, outlook, and growth rate of your niche. You need to know if there are enough customers interested in the products you plan to sell.
Know your target audience. Consider your niche demographics, such as age range, gender, income level, hobbies, and occupation.
Determine customer buying habits. Observe consumer behavior and see what drives their demand for products. By knowing your customers and their preferences, reaching out to them will be an easy task.
Research and understand your competitors. Use tools like Similarweb and Alexa to find competitor sites and examine their performance. Study what makes them unique and if there are any market gaps.
Do a SWOT analysis to see competitor strengths and weaknesses. Short for strengths, weaknesses, opportunities, and threats, a SWOT analysis helps you benchmark your brand and learn from competitors.
3. Find a Dropshipping Supplier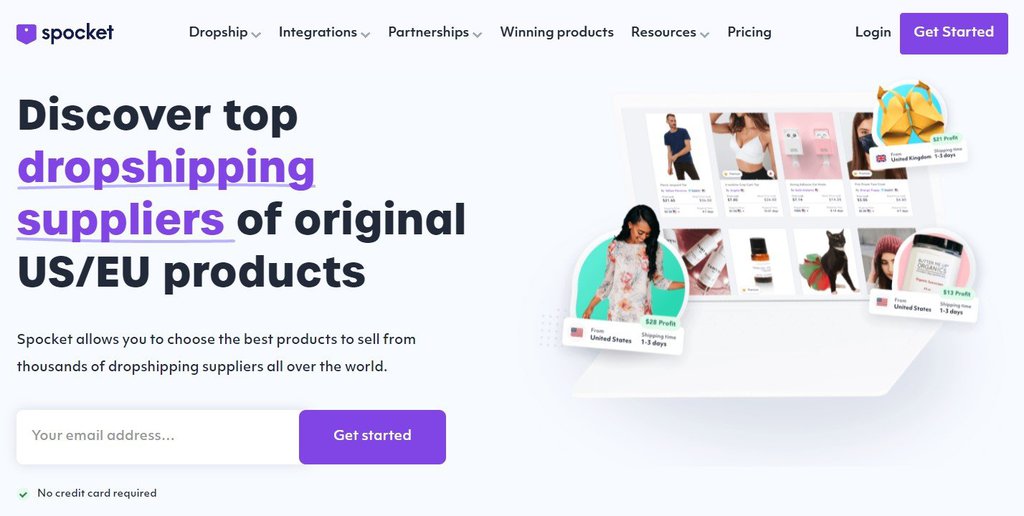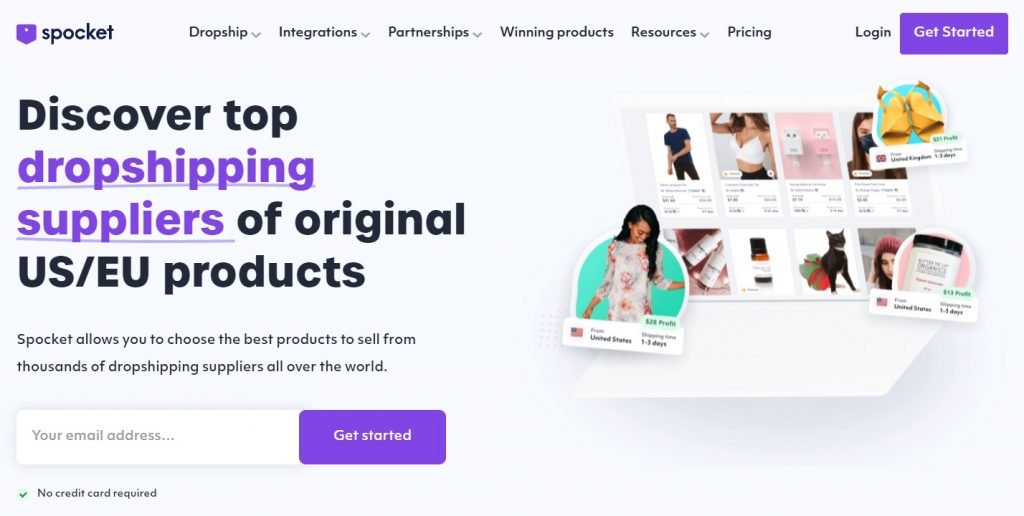 Finding the perfect dropshipping supplier can make or break your business. Since dropshippers don't produce their products, they rely heavily on the suppliers' product and service quality.
If you choose a bad supplier, your customers may receive badly-made products, damaged packaging, and delayed shipping. Inevitably, these customers will hold you accountable for sub-par performance, which will reflect poorly on your brand.
Therefore, it's necessary to be highly selective when choosing a supplier for your dropshipping store.
Ensure they are reputable and legal. Find suppliers that are industry-approved with a solid reputation. To avoid scammers, ask for the supplier's business license and check if they have a good client list.
Review their online presence. Sort through suppliers' websites and look up reviews to check the quality of their service.
Test their customer service. Call the supplier and ask questions to check whether they provide responsive and professional customer service.
Review the product quality. Order a few samples and review them. Do they look like the photos on the supplier's website? Does the description on the site match the product?
Check if the packaging is presentable and secure. Try ordering a fragile item and sending it to a few different addresses to see if the supplier is consistent with packaging and shipping.
Make sure the order fulfillment process meets your criteria. How long does it take for them to process and deliver an order? Do they handle returns well?
To help you get started on finding reliable suppliers, check out some dropshipper websites like SaleHoo, Modalyst, and Spocket.
These sites help connect you with the right suppliers by categorizing them based on niche. Many also offer integrations with popular platforms like Shopify, BigCommerce, and WooCommerce.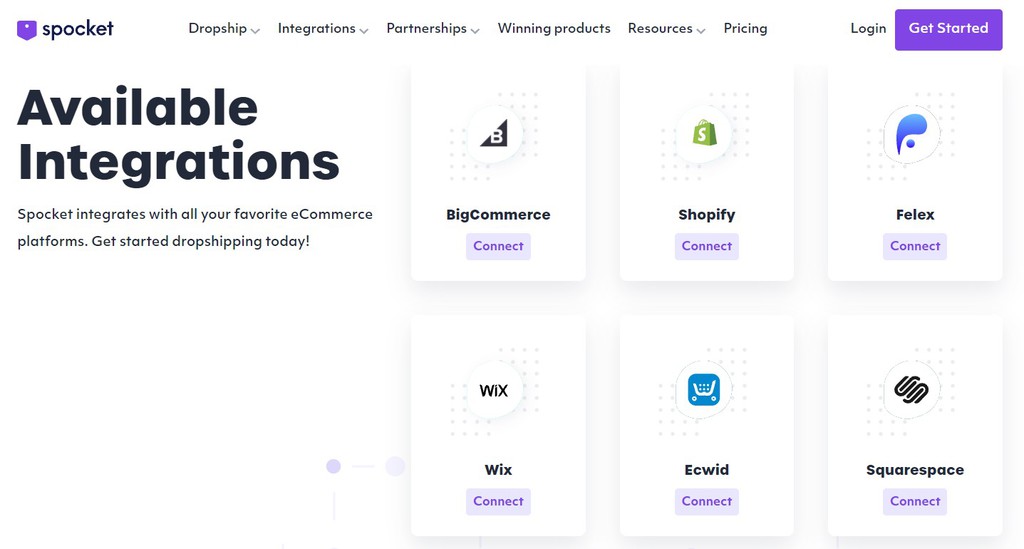 4. Sort Out Your Dropshipping Finances
When running any type of business, it's essential to separate your personal finances from your company's. Not only is this good for accounting and legal processes, it also makes managing investments and revenue much easier.
In this section, we'll cover the steps you should take to sort out your dropshipping business' finances.
Open a business bank account. Open a bank account and set up a business credit card registered under your dropshipping store name. Make sure to use it only for business transactions.
Apply for local permits. Set aside some money and check with your local government office about the costs for a tax permit and resale certificate.
Collect sales tax from customers. In most countries, it's a requirement for businesses to collect some form of consumption or sales tax from buyers. Remember to check it with each local government office and review the laws surrounding its sales tax nexus.
Pay tax to suppliers. If your dropship supplier is in another state or country, you need to consider interstate commerce tax. Check if your dropship suppliers have a sales tax nexus in other states or if they offer tax exemptions for those with resale certificates.
Set aside money for maintenance. Consider factors like platform fees and marketing costs, which you'll need to maintain and grow your business.
5. Build Your Dropshipping Business Store
The success of your dropshipping business significantly depends on where you sell. That's because the platform you choose can significantly affect customers' perception of your store, which in turn influences sales.
This is where you need to decide between two main options – selling on an established eCommerce marketplace or starting your own eCommerce website.
Both have their pros and cons, so we'll cover them in the sections below.
Sell On an eCommerce Marketplace
Opening up a shop on an established eCommerce marketplace is a route that many dropshipping eCommerce businesses start with.
For one thing, it's an excellent option for beginners. In most cases, it's simply a matter of signing up, naming your dropshipping business store, and listing your items for sale. There's also no need to spend time designing your storefront or adding shopping features.
The simple setup and store management process also make eCommerce marketplaces an excellent option for those wanting to start a dropshipping business as a side-hustle.
Pros and Cons
Aside from ease of use, some other advantages of selling on an eCommerce marketplace include:
High traffic volumes. Platforms like eBay, Amazon, and Etsy already have a large number of users. While it is not guaranteed that all traffic will reach your store, some of these customers are likely to come across it while scrolling through the platform's website.
An established customer base. These platforms have dedicated teams and a large budget to invest in marketing strategies to attract and keep customers, meaning many users are regular shoppers and come back looking for new offers.
A strong infrastructure. eCommerce marketplaces already have the infrastructure in place to process transactions. They are also likely to have multiple payment and shipping methods available, so you can sell your products internationally.
However, it's important to note that this option also comes with its downsides:
Platform fees. Even when there are no signup fees, eCommerce marketplaces usually take a cut from every sale you make. They often categorize this as platform fees, handling fees, or transaction fees.
Limited control. This applies to elements like branding, payment methods, and shipping services.
Competition. The competition is fierce on large eCommerce marketplaces since there's a chance that many other merchants sell similar items.
Lack of individuality. With a set template for merchant storefronts, you might find it hard to stand out from the crowd and establish your brand's individuality.
Lack of trust. Some people view eCommerce marketplaces as platforms consisting of amateur merchants, meaning that some may be skeptical about the quality of items listed.
Best eCommerce Marketplaces
With that said, let's review some of the most popular platforms to start a dropshipping business.
Amazon. Amazon is the most well-known platform on this list, with 89% of eCommerce shoppers revealing that they're more likely to buy here than from other online marketplaces. It's a great place to start dropshipping since they have a huge loyal customer base, with more than 150 million Amazon Prime members.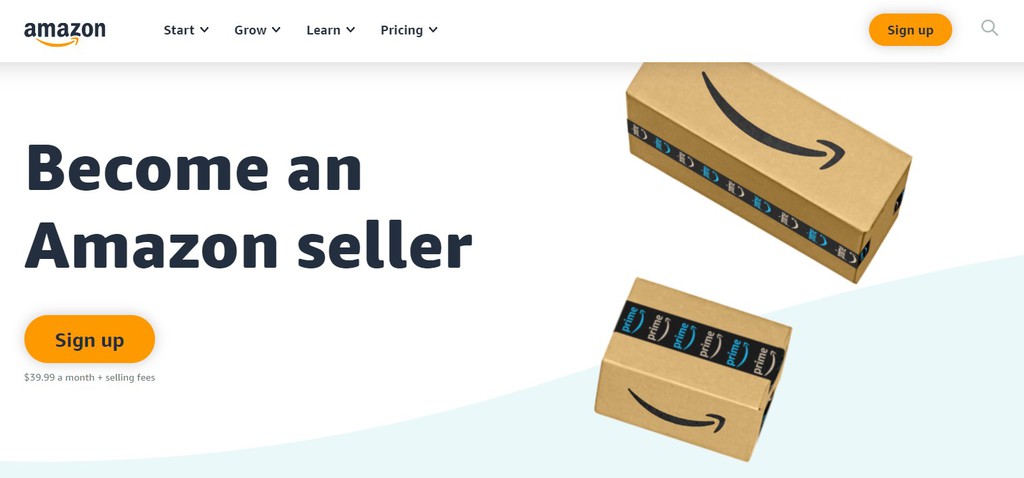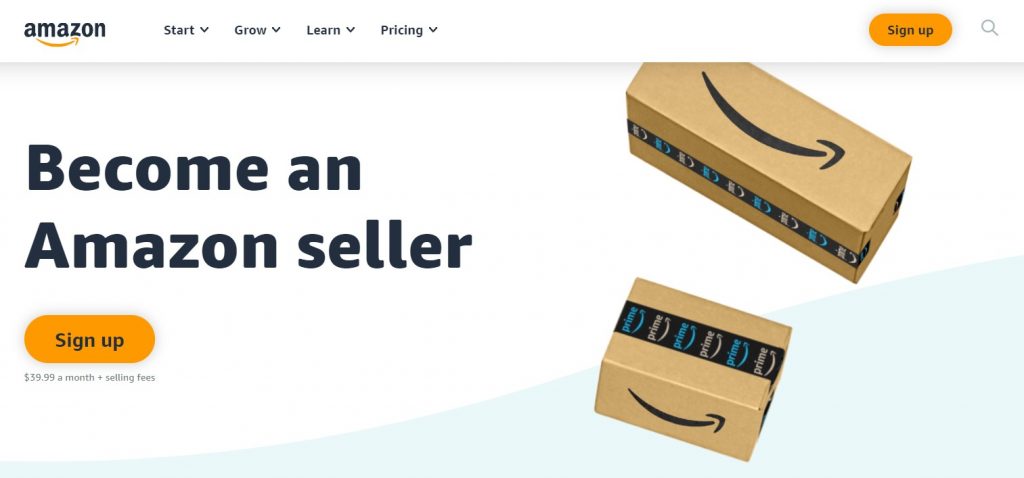 The fees to sell on Amazon vary greatly. They depend on factors like the item categories you sell, the selling plan you choose, and the number of products you list. Most sellers pay Amazon 15% for each sale.
Those on an Individual plan can expect to pay $0.99/item, while those on a Professional plan pay $39.99/month regardless of the number of units sold. Note that this doesn't include additional selling and platform fees.
eBay. Another huge contender, eBay has over 180 million active buyers, making it a great place to start a dropshipping business. This online retailer implements consumer-to-consumer sales and has an auction system where potential buyers can bid on items.
Just like Amazon, online stores need to pay to sell on this platform. eBay takes a 10-15% cut of each item sold and charges its merchants a $0.35 insertion fee for every listing you add after surpassing 250 listings/month. Also consider shipping costs, which vary depending on the courier partner you choose.
Etsy. With over 81.9 million active buyers, Etsy's a great place to start a dropshipping business if you sell handmade goods, art, fashion, vintage designs, or unique accessories. Around 65% of Etsy merchants created an account to supplement their income, and now 30% of Etsy sellers consider this their main occupation.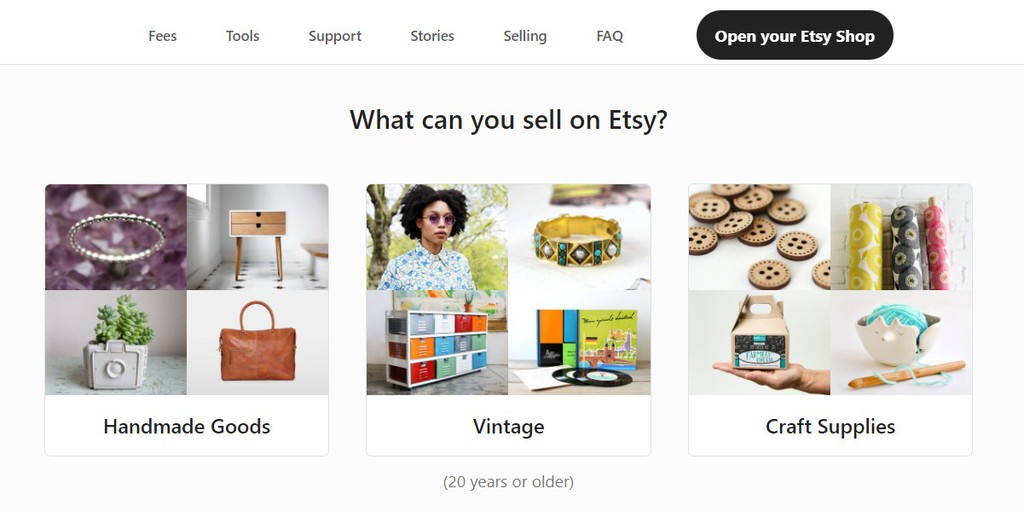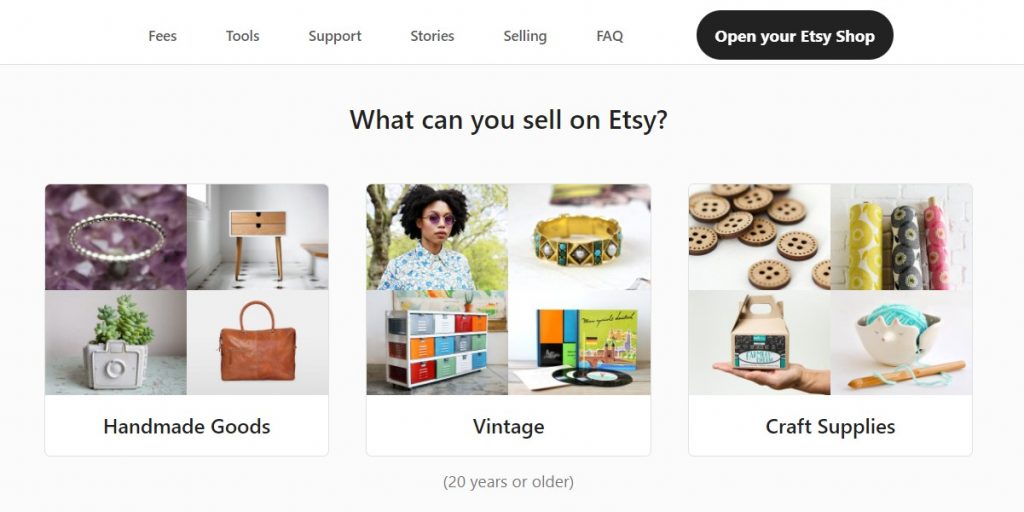 Etsy charges merchants $0.20 per listing, and each listing on your shop lasts four months or until the item sells out. They also add a 5% transaction fee plus a 3% + $0.25 payment processing fee for every transaction made via Etsy Payments.
For those who want access to premium seller tools and resources, the platform offers the Etsy Plus subscription plan at $10/month.
AliExpress. Similar to Amazon and eBay, AliExpress is another online retailer where you can start a dropshipping business. Although it's one of the newer platforms on this list, AliExpress is available in 220 regions and has more than 150 million customers.
However, keep in mind that this platform is not known to offer high-quality products. AliExpress is known for its affordability, which means that competition can be tough. Also, their shipping times tend to be longer than other eCommerce marketplaces.
AliExpress takes a commission of 5–8% of each item sold, depending on the product category. Note that you will also have to pay for shipping fees, which vary depending on courier and region.
Sell On Your Own eCommerce Website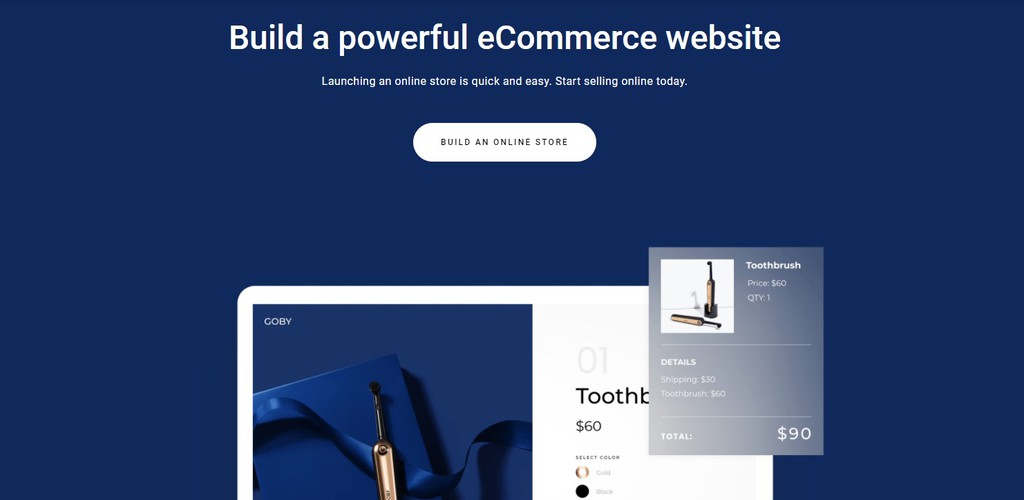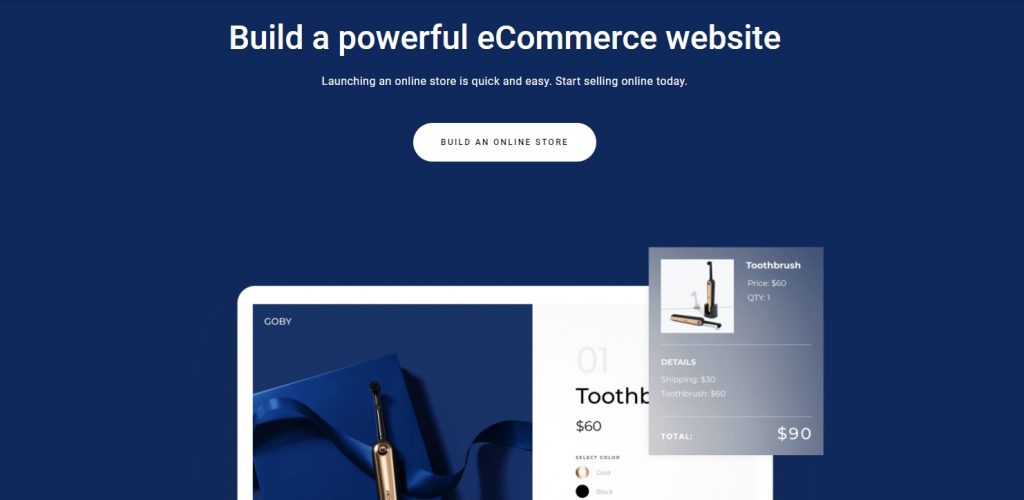 If you want to dropship and establish a strong brand in the long run, consider expanding operations and creating your own eCommerce site.
Although it requires a higher initial investment, running a website is the best option to build a dropshipping business that lasts. The process also doesn't have to be that complicated as long as you choose the right platform.
Best of all, you can do it at your own pace. Build your website while simultaneously running an account on an online marketplace. That way, you're investing in the future of your business but not losing any potential sales.
Before we get into the process of starting an online store, let's look at the pros and cons of this approach.
Pros
Better branding. You'll have complete creative agency over the look and feel of your site, the themes it uses, and the features it offers.
Ultimate control. Define the prices, which product pictures to upload, and the payment and shipping methods to use according to your business strategy.
Higher profit margins. Since you're not paying marketplace platform fees, expect to earn all of the revenue you make from sales.
No direct competition. On a completely independent platform, all the traffic your site receives is from potential customers.
Cons
Higher initial costs. These include fast web hosting, domain name registration, and adding eCommerce features to the site.
No guaranteed traffic. You'll need to work on marketing and search engine optimization (SEO) strategies to rank on search engines.
No established market. You miss out on the large existing customer base of eCommerce marketplaces.
CMS vs Website Builder: Things to Consider
To start selling online, we recommend using a content management system (CMS) or an eCommerce-based website builder like Shopify, BigCommerce, or Zyro.
Website builders are great for anyone who wants an all-in-one solution. They offer all the tools necessary to create a fully functional online store. Examples of built-in features include shipping integrations, payment systems, contact forms, and buy buttons.
Using this option also means that the technicalities of setting up a website, like web hosting, security protocols, and site maintenance, are included and taken care of for you.
We recommend Zyro's eCommerce plan if you plan to go with a website builder. At $9.90–$14.90/month, they offer inventory and tax management, SEO tools, a live chat feature, and a free domain for one year.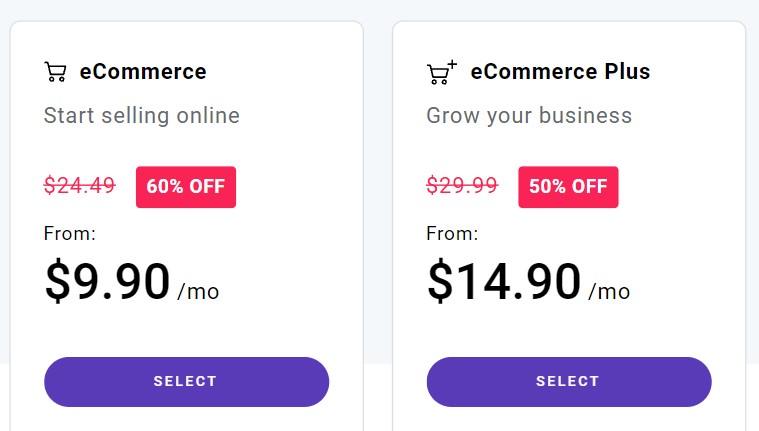 If you want to use a user-friendly and feature-rich eCommerce platform to build your website, consider creating an online store with PrestaShop. This free and open-source platform offers business analytics tools, a large collection of themes and modules, and robust marketing features. It is also available in over 70 languages.
Alternatively, use a CMS like WordPress and install an eCommerce plugin – we recommend WooCommerce. It's beginner-friendly and integrates perfectly with your WordPress dashboard, which is why it's so popular among online sellers.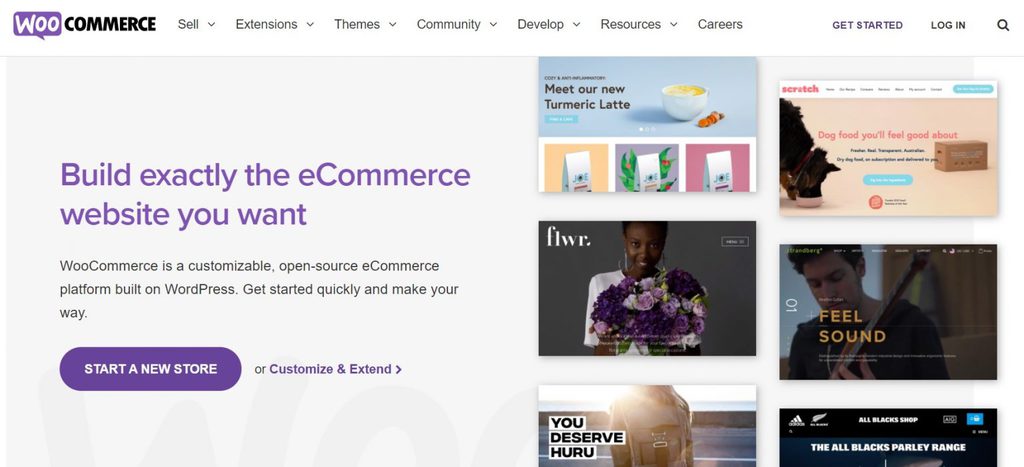 WooCommerce provides inventory management, payment processes, and other necessary eCommerce features. You can add more functionality to your site with various extensions, such as marketing and store management tools.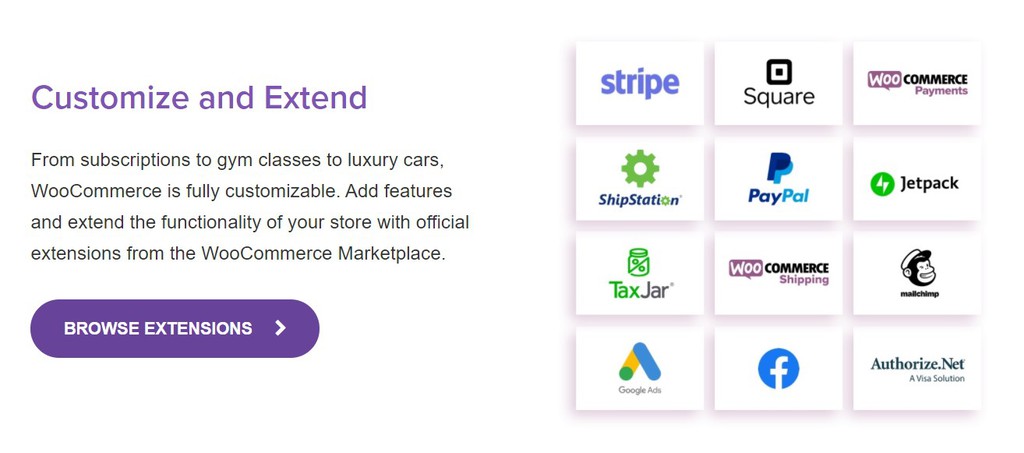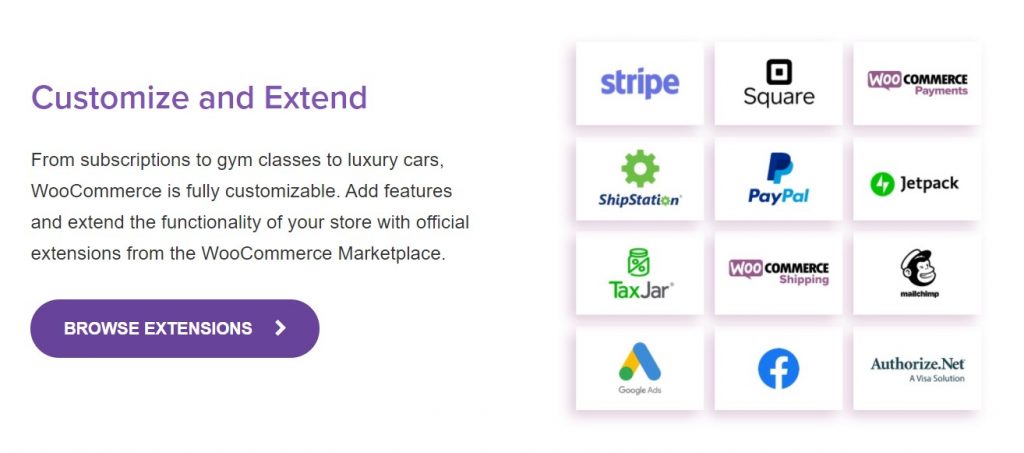 The great thing about this option is that both WordPress and WooCommerce are free to use. It also means that you're not restricted to the set features that come with website builders since you can expand the store's functionality with plugins.
However, note that this is a self-hosted option, meaning that you'll need to find a hosting service first. We recommend managed WordPress hosting since this option provides servers and features specifically optimized for WordPress sites.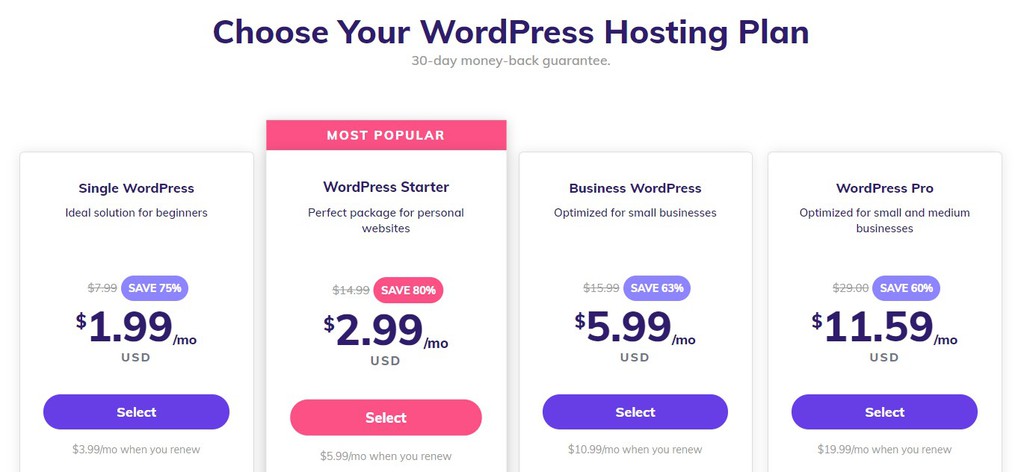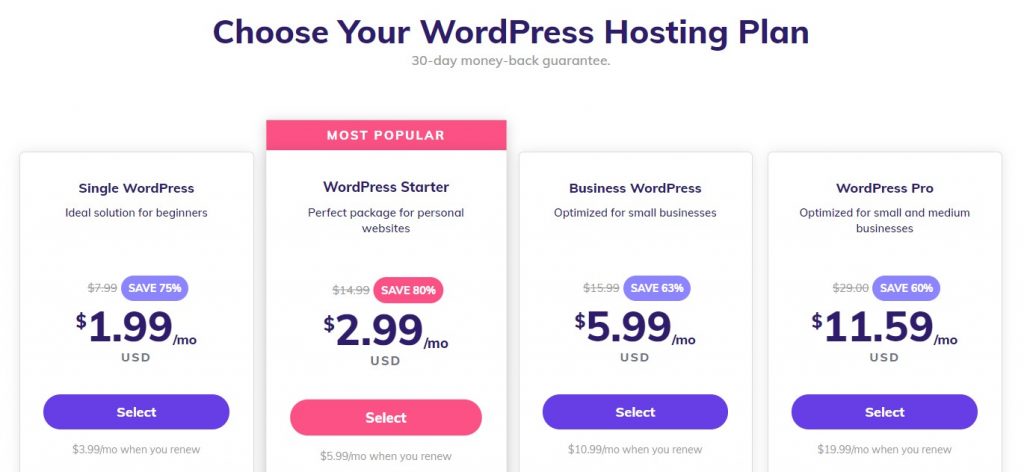 At Hostinger, all our plans offer a free SSL certificate, and most include a free domain for one year.
Also, make sure to get a domain name that suits your brand's niche and use a domain checker tool to verify its availability.
Domain Name Checker
Instantly check domain name availability.
Creating Your Online Store
In this section, we'll go through the steps to create an eCommerce site using WordPress.
Before we continue, ensure that you've purchased a hosting plan and have access to your hosting account.
Here's how to install WordPress as a CMS if you use Hostinger:
Log in to your hPanel, scroll down and navigate to Website -> Auto Installer.

Navigate to WordPress and click Select.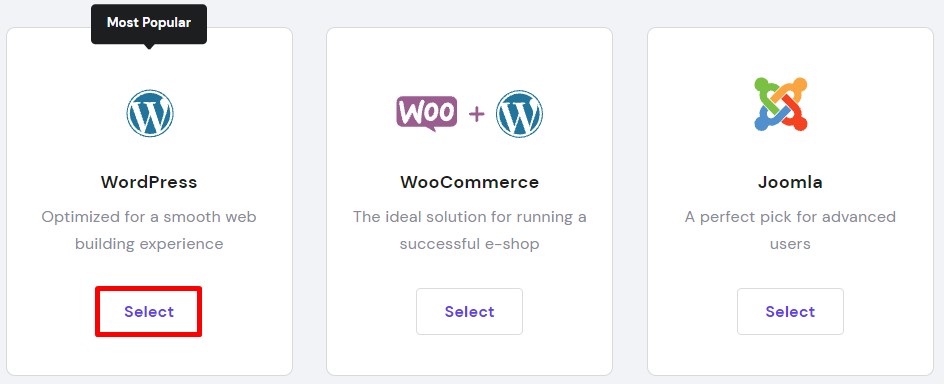 Enter your administrator credentials and input your domain and Website Title in the designated fields.
Double-check all the information and click Install.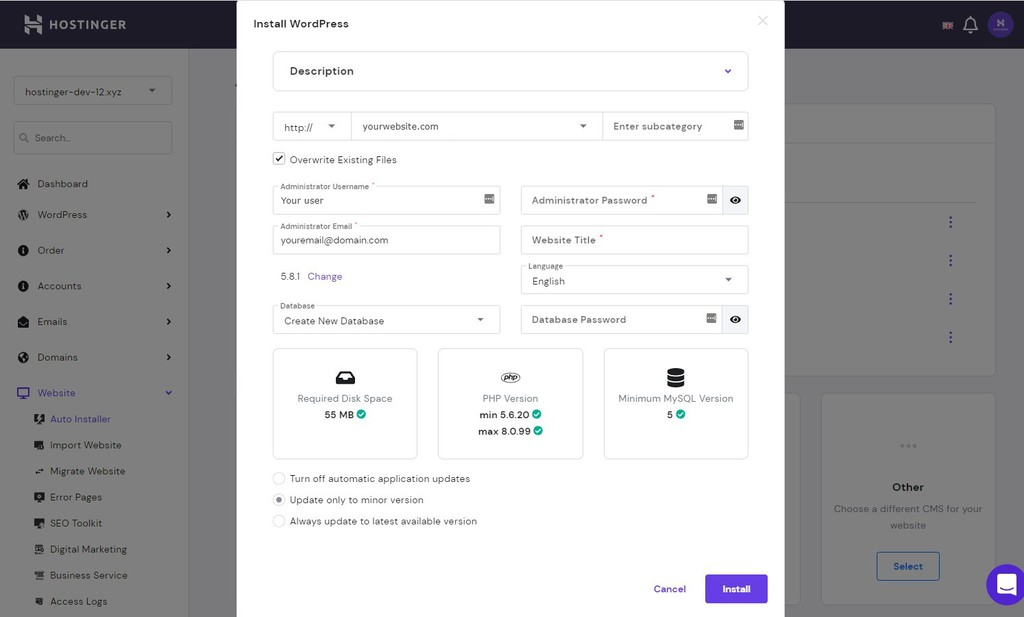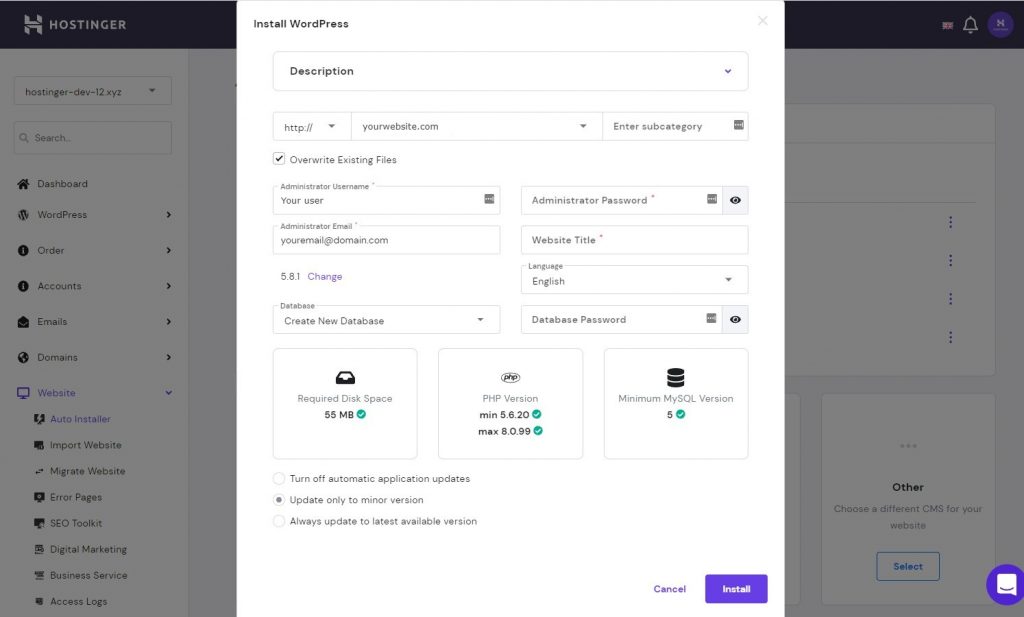 Go back to your hPanel. Now, your Hosting Account has a WordPress section.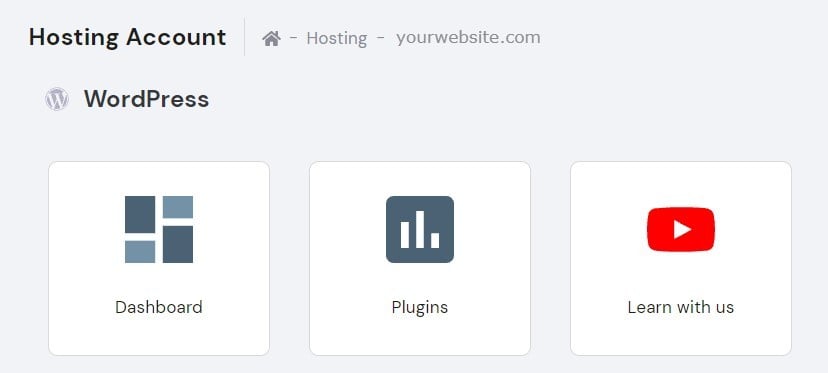 Next, it's time to install the WooCommerce plugin via your WordPress dashboard.
Log in to your hPanel and navigate to WordPress -> Dashboard.
On the right side of your screen, click Edit Website.
On your WordPress dashboard, navigate to Plugins -> Add New. Search for "WooCommerce" in the search bar at the top-right corner of the screen.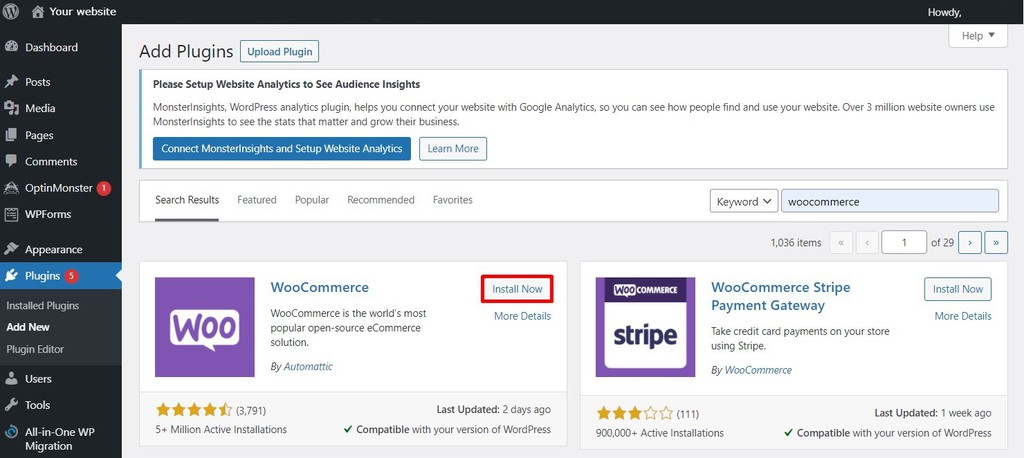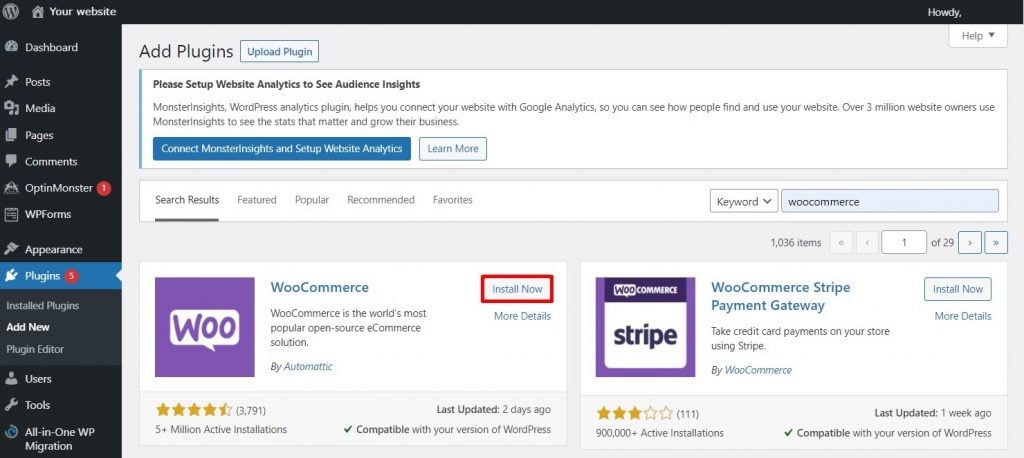 Under WooCommerce, click Install Now and then Activate.

Alternatively, you can activate the plugin by going to Plugins -> Installed Plugins and navigating to WooCommerce -> Activate.

On the Setup Wizard page, input your business information and complete all five steps to get WooCommerce up and running on your website.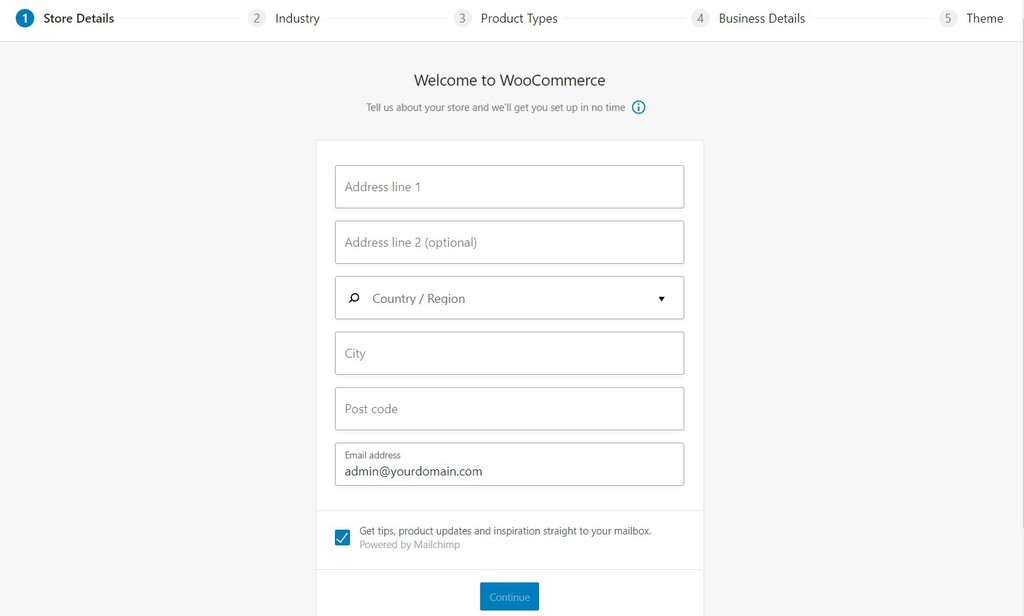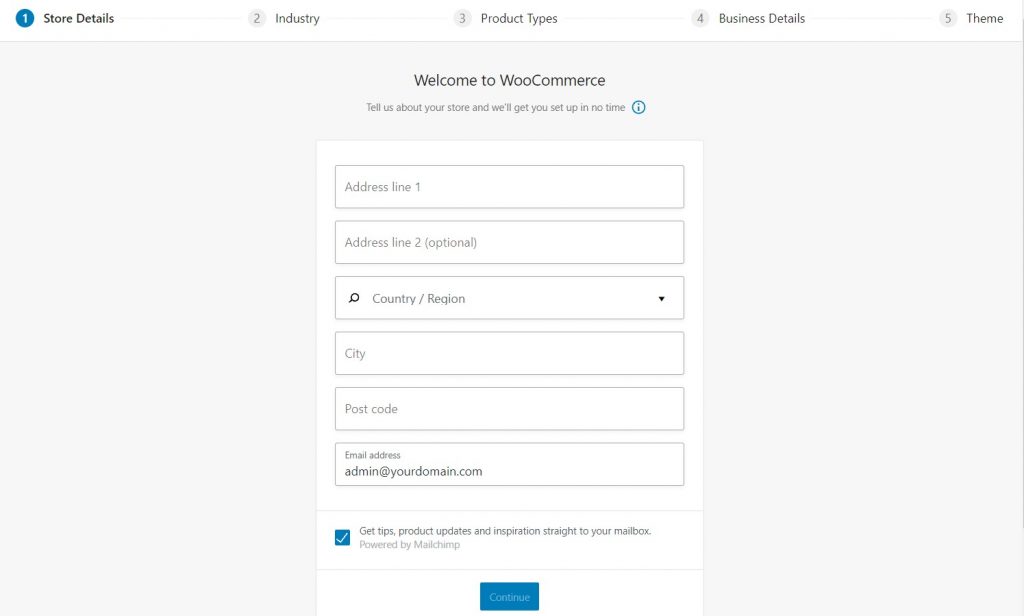 Once set up, you will find a WooCommerce tab on the left side of the WordPress dashboard. This is the section where you'll configure your dropshipping site, from store details and marketing tools to payment methods.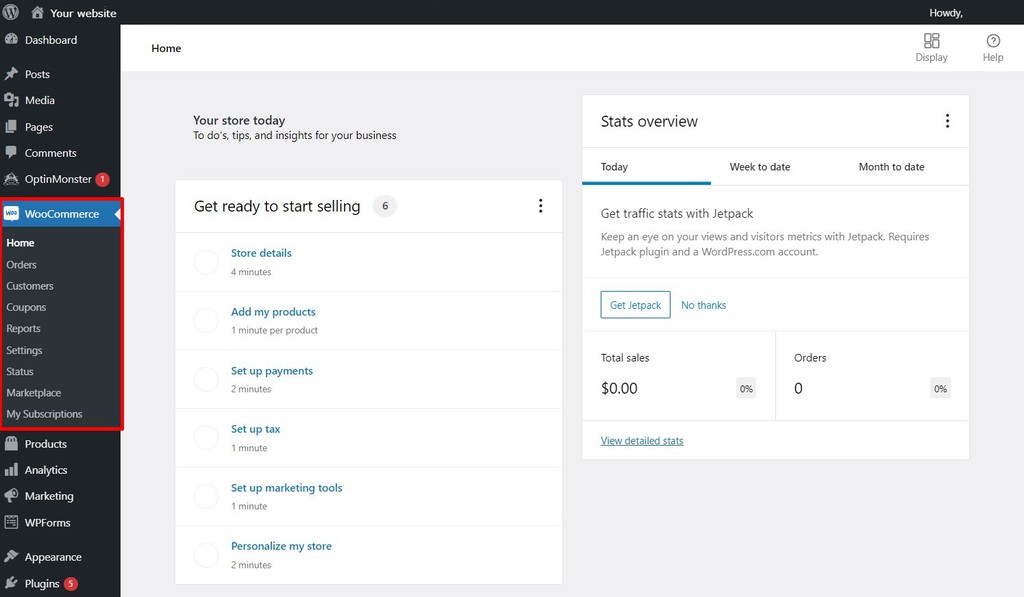 To help you get started, here's a quick tutorial on how to add products to your own online store.
On the WordPress dashboard, navigate to WooCommerce and click Add my products.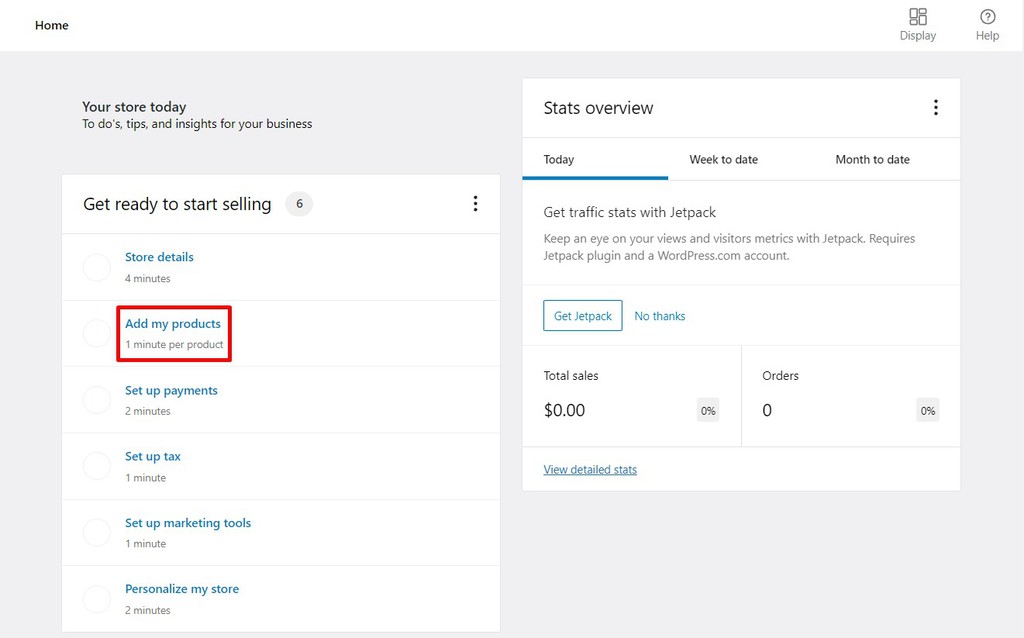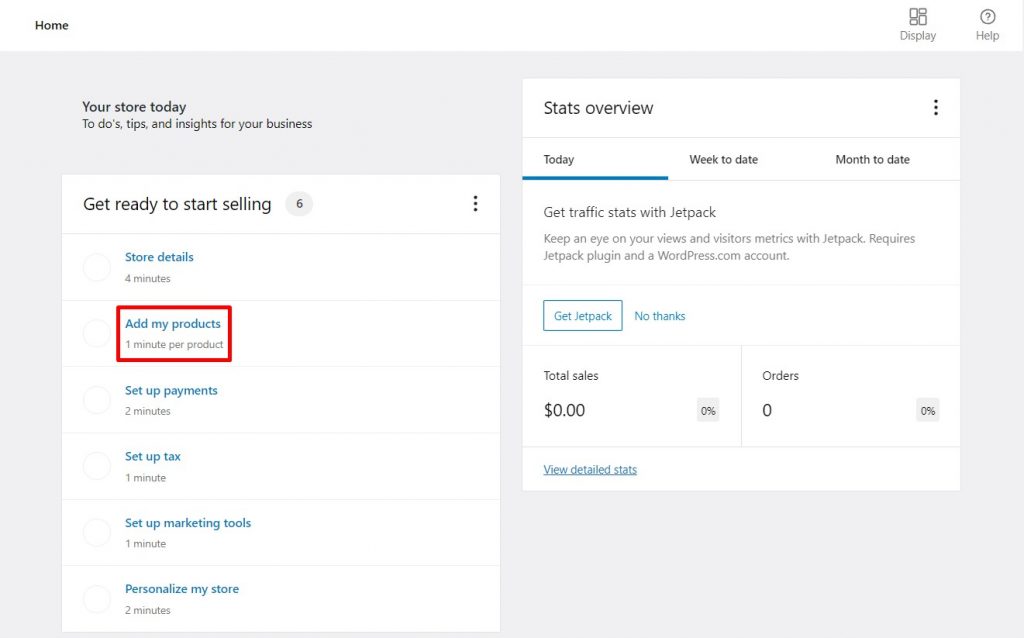 Choose how you want to add products to your store. Here, we will Add manually.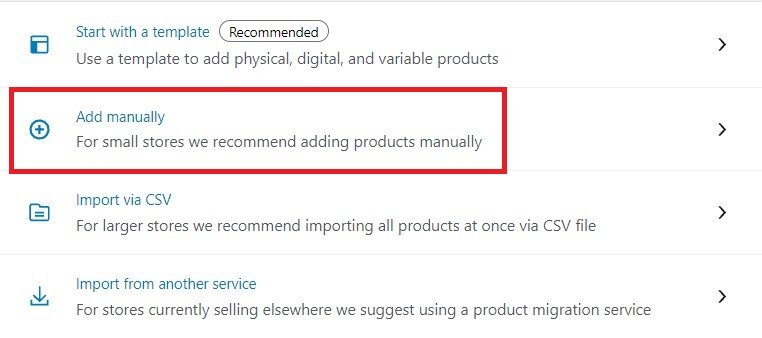 On the Add New page, insert the Product name and input its description. We also recommend uploading a media file, preferably a high-quality image, to each product listing.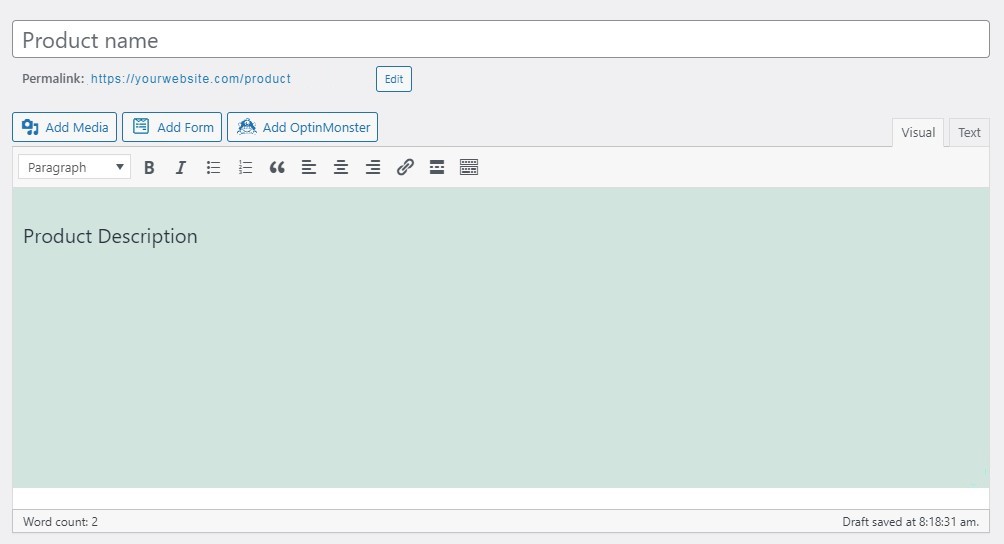 Then, scroll down to Product Data and choose the product type in the drop-down menu.

Tick the Virtual box if your product is a service or a non-physical item that does not need shipping. Alternatively, tick the Downloadable box if your product is accessible to the customer via downloads, such as an eBook or software.

Input the price of your item in the designated field, and configure the product inventory, shipping details, and other information on each tab.

Click Publish to add the product to your website or choose Save Draft.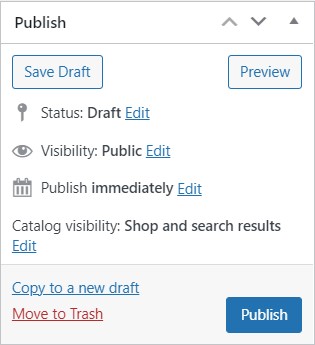 6. Register Your Dropshipping Business
Important! Hostinger does not offer legal advice. This section simply provides a general overview of factors to consider – do your research and consult the proper legal entities.
Whenever you start a business, it's essential to sort out the legalities and whether you need a license for dropshipping.
You don't need a business license to start dropshipping. Often, beginners who start a small-scale dropshipping store online skip this step altogether.
However, properly registering your business as a legitimate entity not only protects it from being a legal liability, it can also open doors for you to work with good suppliers and business partners.
To know your country's specificities, you'll have to consult with the proper legal authorities in your area.
Although we can't – and won't – offer legal advice, we can review the three most common business structures:
Sole proprietorship. Think of it as a one-person, one-shop business. Under a sole proprietorship, your dropshipping business' earnings are counted and taxed as your personal income.
Although this seems like the easiest option to register your business, it can also be quite risky. Because your business is legally attached to you as an entity, you have no personal liability protection. In short, if the business runs into legal issues, so will you and your assets.
Limited liability company (LLC). This option establishes your business as a separate legal entity, meaning that you have more liability protection. Note that registering an LLC means that you need to fulfill different legal requirements when filing and paying taxes as a business owner.
Corporation. Most large businesses are incorporated. Similar to an LLC, it means that a business is registered as a separate legal entity. However, while an LLC is owned by one or more business owners, corporations are generally owned by shareholders, run by managers, and overseen by directors.
Note that incorporating your business is an expensive venture since this option offers the highest personal liability protection. It also means that corporations can profit, pay tax, and be held legally liable as independent entities.
Other Ways to Protect Your Dropshipping Business
Here are a few other things to do to increase your business credibility and stay legal:
Create a refund policy. Although this isn't technically a requirement, having a good refund policy helps to build trust with your customers. It also presents your business as a fair and safe place to shop.
Create terms and conditions. Have a legal document that clearly outlines the rights and responsibilities of both your customers and your business. Not only does this help to manage expectations, it can also protect your business.
Create a privacy policy. It explains how your business collects, uses, and discloses customer information. It's an important document to communicate that your business takes its responsibilities seriously.
7. Market and Optimize Your Dropshipping Business
After creating a website or setting up your own store on an eCommerce marketplace, it's time to learn how to market a dropshipping store. This means formulating good marketing and customer acquisition strategies.
There are various ways to do this, from free content marketing to paid advertising. However, they all have one thing in common – you have to invest time to see successful results.
To start with, here are some marketing strategies that you can do for free:
Content marketing. Create valuable and consistent content to inform audiences about your dropshipping products. Content marketing includes strategies like creating blog posts and regularly posting on social media.
This approach is highly effective in building trust with customers and establishing your brand as an important player in the industry. It can also help generate leads, so make sure to utilize internal links to guide visitors to your product pages.
Email marketing. Email marketing is a great way to directly reach out to existing buyers and improve conversion rates. Build an email list by adding a subscription form to the website or offering an introductory discount each time users sign up.
SEO. This is one of the most important strategies to implement for digital marketing. For those with their own eCommerce website, it's even more critical because it impacts how your site ranks in search results.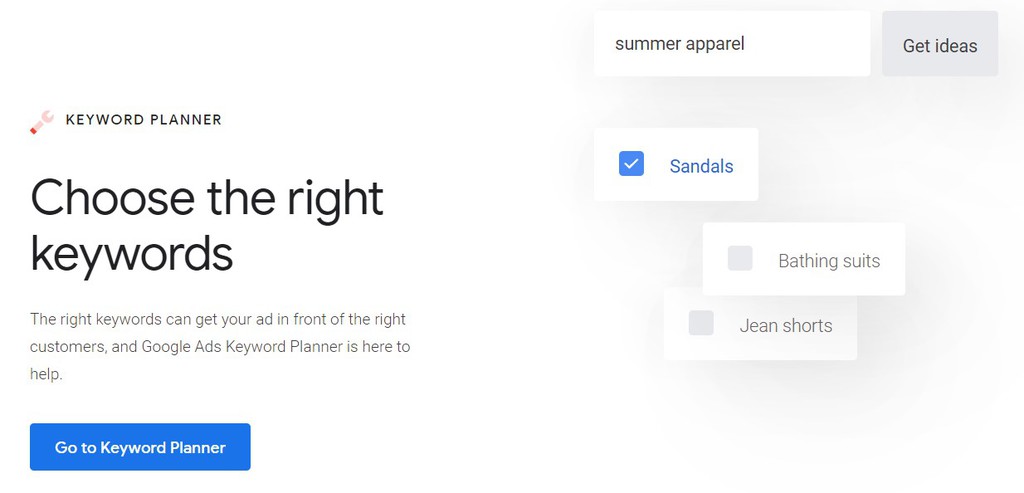 A good way to start an SEO strategy is to do keyword research. Tools like Google Keyword Planner and Keyword Generator can help with this process. Find keywords with a high search volume and apply them to your product listings, descriptions, tags, and image alt texts.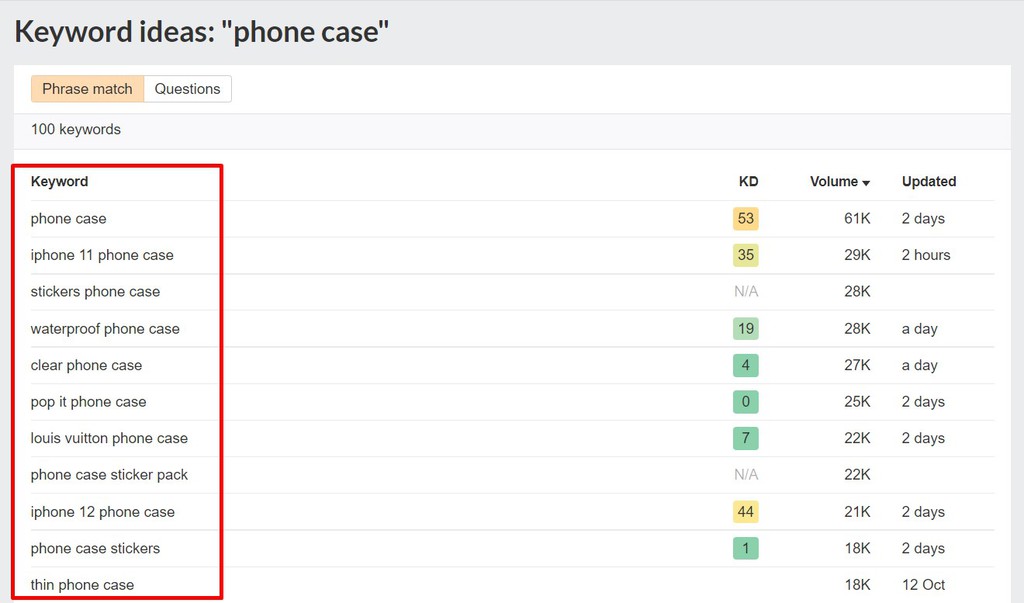 If you have a bigger budget, consider the following paid marketing strategies:
Ads. Paid advertising might be a great option for your dropshipping business if you want to create targeted content for a specific demographic. Many eCommerce businesses today utilize Google Ads and Facebook Ads as part of their marketing strategy.
Influencer marketing. Like endorsements, influencer marketing is a way for businesses to collaborate with online personalities, getting influencers to promote products in their own channels.
These days, influencer marketing is one of the most effective ways to reach your target audience, especially if the people you collaborate with have high audience engagement rates.
Affiliate marketing. This marketing strategy works by paying a commission to an affiliate each time they sell your product through an affiliate link. It's considered a low-risk and cost-effective way to market your business since there are no upfront costs.
What Is Dropshipping?
Dropshipping is an order fulfillment method where dropshippers connect customers with suppliers. In other words, you essentially sell another company's products under your own brand.
Dropshippers don't need to worry about inventory management systems, dropshipping warehouses, storage, shipping, and general logistics since it's all handled by a third party.
The third-party or supplier can be a manufacturer, wholesaler, or even another retailer.
However, you are responsible for setting retail prices, product marketing, conducting market research, and handling customer service.
You're also responsible for establishing a business partnership with the supplier. This includes signing up for their services and paying any associated fees. You also need to inform the supplier of customers' orders and where to ship products.
How Does Dropshipping Work?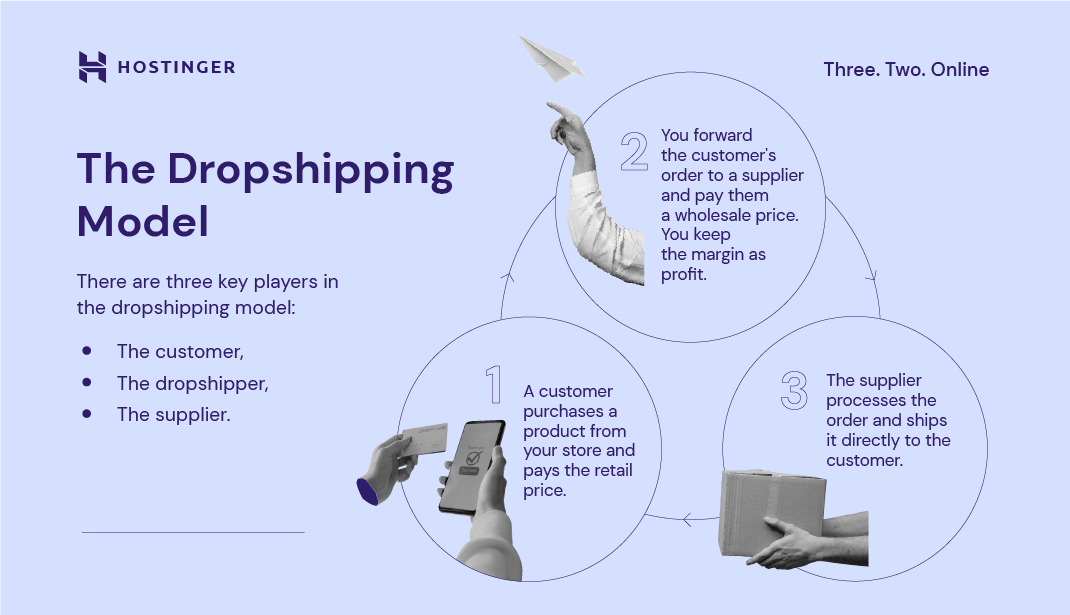 There are three key players in the dropshipping model – the dropshipper, the supplier, and the customer.
At its most basic structure, this is how the dropshipping business model works:
A customer buys a product on your website or eCommerce platform and pays retail price for it. For example, the retail price is $100.
You forward the customer's order to the supplier and pay them wholesale while keeping the margin as profit. For example, the wholesale price you pay is $70, so you keep $30 as profit.
The supplier processes the order and ships the product directly to the customer.
Why Start a Dropshipping Business?
Without the need for inventory management, dropshipping is a viable business model if you're a small business owner with limited experience or an expert merchant wanting to branch out to other markets.
Another key benefit is that people don't have to know you're a dropshipper. Dropshippers can market products under their own brand and label, which means customers see little to no difference between you and a regular store.
Here are some other benefits of dropshipping:
Low startup costs. No need to purchase stock means a lower initial investment.
Low-risk business model. If you're struggling to sell a particular product, simply switch out the listing with a different item your supplier has available.
Minimal supply chain management. Sell items without ever having to deal with inventory or shipping logistics.
However, note that there are some drawbacks to having your own dropshipping business, such as:
Sudden stock shortages. Since you're not in charge of inventory management, items may go out of stock suddenly without any warning from the supplier. This means you have to be careful not to list any unavailable items on your online store.
You may pay a premium. Even though you pay wholesale prices, you might still be paying more per item compared to stores that purchase inventory in bulk.
You take the blame. If there are any issues with product mishandling, bad packaging, or delayed delivery, customers will hold you responsible.
With that said, dropshipping is still a viable business option. The ease of starting is a great reason alone, and we think the pros outweigh the cons.
Conclusion
Starting a dropshipping business is an excellent option to make money online with little experience and a limited budget. It doesn't require any stock or inventory management, making it lower-cost and lower-risk than a traditional eCommerce business structure.
Starting a dropshipping business is also easier than you might think. To recap, you should start by choosing a business niche and doing market research to determine what type of products to sell.
Then, you should find reliable dropshipping suppliers whose products you will sell under your brand. Make sure that they are a legitimate business and offer good quality products and services.
Now, choose a platform to launch the dropshipping business. This involves either opening an account on an online retailer or marketplace or creating your own website.
Finally, it's also important to register your dropshipping business as a legal entity and get the finances sorted. Getting a business license not only enhances your credibility, it also opens up opportunities for you to work with great partners.
Make sure to also invest some time into marketing and promoting your business to support its long-term success. Good luck!
How to Start Dropshipping FAQ
In this section, we'll answer some common questions about how to start dropshipping.
Is Dropshipping Easy to Start?
Dropshipping is one of the easiest online business ideas to start an eCommerce store. With low barriers to entry, you just need to choose a niche, an eCommerce platform, and a reliable supplier.
Remember to conduct a market analysis to ensure a successful dropshipping business.
Is Dropshipping Worth It?
Yes. Around 27% of sellers have shifted to dropshipping businesses. Although the eCommerce industry is quite saturated, there's still an opportunity for new dropshippers to grab a share of the market. Forecasts also predict that the number of online shoppers will keep growing, too.
How Much Can You Make Dropshipping?
Dropshipping has such a high potential for growth that eBay's top 10% dropshipping businesses make an average profit of $7,731/month. The average dropshipper makes a $2.67 profit for each sales order, bringing an average dropshipper salary to around $2500 per month.
Is It Possible to Dropship With No Money?
The short answer is yes.
The dropshipping business model enables you to start selling products with no inventory. You only purchase the relevant items from the supplier after receiving an order. To start dropshipping for free all you'll need to do is choose a platform that charges nothing until you make a sale.