How to Start Dropshipping Business in 2023 – A Comprehensive Guide
Dropshipping is a well-known method to make money online. Its popularity mainly comes from the straightforward setup process.
This article will show how to start dropshipping in seven steps, along with some of its best practices. We will also explain the dropshipping business model and the benefits of starting one.
In addition, this tutorial will compare the pros and cons of starting a dropshipping business by creating your own website or using an eCommerce marketplace.
At the end of this article, we will answer some frequently asked questions about dropshipping.
How to Start Dropshipping – Video Tutorial
Watch this step-by-step guide about creating a dropshipping business on a low budget.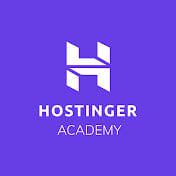 Subscribe For more educational videos!
Hostinger Academy
Subscribe
What Is Dropshipping?
Dropshipping is an order fulfillment method to sell products online from third-party suppliers. Often, businesses favor this method to avoid handling inventory and logistics. Instead, dropshipping companies mainly focus on product branding and marketing.
Dropshippers create partnerships with selected suppliers and handle all associated fees and communication. The supplier can be a third-party manufacturer, wholesaler, or retailer.
Here are some popular types of dropshipping:
Reseller. Dropshippers look for products from different suppliers to sell in their online stores. Reselling products is the most common dropshipping business type.
Business expansion. A dropshipping business can also work with other retailers to sell its products online.
Custom products. This dropshipping type offers customers the option to customize the product.
Dropshippers can also market products under their own brand and label, depending on the partnership. Therefore, many customers cannot see the difference between a dropshipping business and a regular online store.
How Does Dropshipping Work?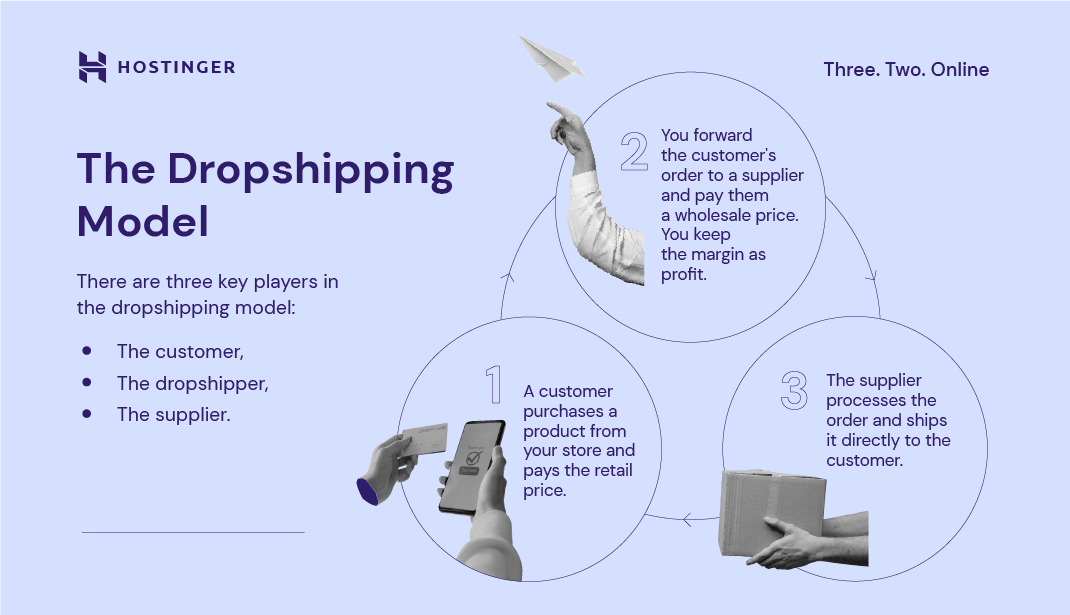 The dropshipping business model has three key players: the customer, the dropshipper, and the supplier. Here's the general process:
When a customer purchases a product from a dropshipper, they will pay the online store's retail price.
The dropshipper will forward the order to the supplier. Depending on the agreement, the dropshipper pays the wholesale price to the supplier and keeps the profit margin. For example, if the customer pays $100 for a product and the wholesale price is $70, then the dropshipper will keep the $30.
The supplier processes the order and ships the product directly to the customer.
Customers can contact the dropshipper directly for any complaint. The dropshipping business is responsible for forwarding the issue to the supplier.
How to Start a Dropshipping Business in 7 Steps
Here are seven steps to creating a successful dropshipping business:
Pick a niche. Create a business concept focusing on what products you want to sell.
Do a market analysis. Check your market niche. Then, analyze your target audience and competitors to make informed business decisions.
Find a dropshipping supplier. Choose reliable suppliers who will provide products that represent your own brand well.
Create your online store. Build a dropshipping store to sell products and build branding.
Prepare the finances. Separate your business and personal finances to accurately record how much you make from dropshipping. In addition, check if your dropshipping business needs to collect sales tax from customers.
Register your business as a legal structure. Research the regulations in your country before registering your dropshipping business store. Note that different locations have their own laws.
Optimize and market your brand. Optimize your online store and promote the products using different eCommerce platforms and marketing tools.
With proper research and preparation, starting a dropshipping business will not take much time and financial investment.
1. Pick a Dropshipping Niche
To start, compile your dropshipping business ideas and find a niche for your brand. This will help you find suitable suppliers and stand out among competitors.
A dropshipping niche is a group of products that cater to a specific market with similar interests. Depending on your business, a niche can be broad or narrow.
For example, Meowingtons is a dropshipping store that sells products specifically to cat owners.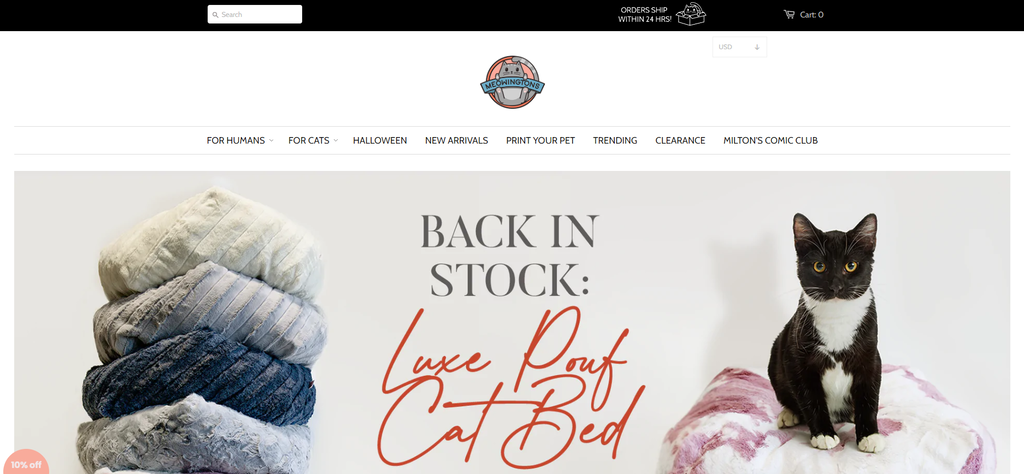 First, establish a dropshipping business plan by determining the products, target audiences, and goals. This will help guide your decisions in the following steps.
To create a successful online business, here are some tips on choosing a niche:
Determine your interest or passion. Being passionate about what you sell makes managing a dropshipping store more enjoyable. In addition, it will be easier to convince customers to buy your products.
Create a solution. Customers gravitate toward dropshipping businesses that offer solutions to their problems. Find out what your target audience wants and get the right products for them.
Focus on longevity. Use a free tool like Google Trends to find products that people will always need for the long term. For instance, household appliances are commodities that will not go out of style.
When you start a business in dropshipping, don't be afraid to be creative to stand out from competitors.
2. Do a Market Analysis
Once you have a dropshipping business plan with a niche, conduct market research to assess the industry you are entering. The market analysis should mainly focus on the main competitors and target audiences.
It is essential to research your market before creating the dropshipping store, as you can easily choose a different niche if the results don't look promising.
Look into the following elements to kick-start your market research:
Industry value and market size. Gather information on your market niche's size, trends, and growth rate. This data shows if there are enough customers interested in the products. Tools like Semrush can help with this process.
Target audience. Consider your niche demographics, such as the age range, gender, income level, hobbies, and occupation. This information will determine whether your dropshipping business idea is profitable.
Customer buying behavior. Observe consumer behavior to see what drives product demand. Understanding how often they purchase similar products will also help determine selling prices.
Main competitors. Find competitor sites and examine their performances. There are many online tools like Similarweb that can help identify market gaps. Limit your research to around five competitors and analyze their strengths and weaknesses.
This analysis can help you make informed decisions and projections for your dropshipping business. Estimating revenues and building marketing strategies will be easier.
3. Find a Dropshipping Supplier
If the market analysis yields positive results, proceed to choose dropshipping suppliers.
Finding reliable suppliers can determine the success of your dropshipping business. Besides providing the products, suppliers are also responsible for delivering them to the customers.
Popular wholesale suppliers like Doba, SaleHoo, and Wholesale2B offer an extensive range of products. Some dropshipping suppliers like Printful can also create custom products for your customers.
When searching for a supplier, consider the following elements:
Legality and reputation. Find a supplier with a solid reputation. Always check the supplier's client list and ask for their business license to avoid scammers.
Online reputation. Look for third-party reviews to check the supplier's service quality.
Pricing. Consider the affiliate fee when choosing suppliers. Most dropshippers aim for 15-20% in profit margins.
Customer service. Check if the supplier provides responsive and professional customer service by calling them directly.
Product quality. Order the products first and review them. Most suppliers offer a free trial to test their products. Remember that the supplier should create products that are representative of your branding.
Packaging and shipping. See what the product looks like when you receive it, and check if the supplier is consistent with packaging and shipping.
Order fulfillment process. Note the time the supplier takes to process and deliver the order. In addition, choose a supplier that can handle returns well.
Minimum order. Check if the supplier has a minimum order you need to pay upfront. Knowing this information will help determine your pricing.
Integration. Most suppliers offer integrations with popular eCommerce platforms like Shopify, eBay, and Amazon. Simplify your dropshipping process by choosing suppliers that integrate with these platforms.
Compare similar products. Order similar products from different suppliers to compare their quality and service. Choose the one that represents your dropshipping business the most.
For a small business, we recommend using one supplier only to avoid inconsistencies. After your dropshipping business grows, consider having multiple suppliers to expand your product options.
4. Create Your Online Store
Now that you have products to sell, it is time to create your own online store.
First, choose a business name for your store. It should be unique and easy to remember, preferably related to your niche market.
Then, select a platform for your dropshipping business. We will compare the two popular options for starting an online store: making a website or using an eCommerce platform.
Finally, implement consistent branding for your online store. Even though the products come from third-party suppliers, the store should have consistent branding to stand out from competitors.
Warmly is an excellent example of how a dropshipping business can have a luxurious design and strong branding.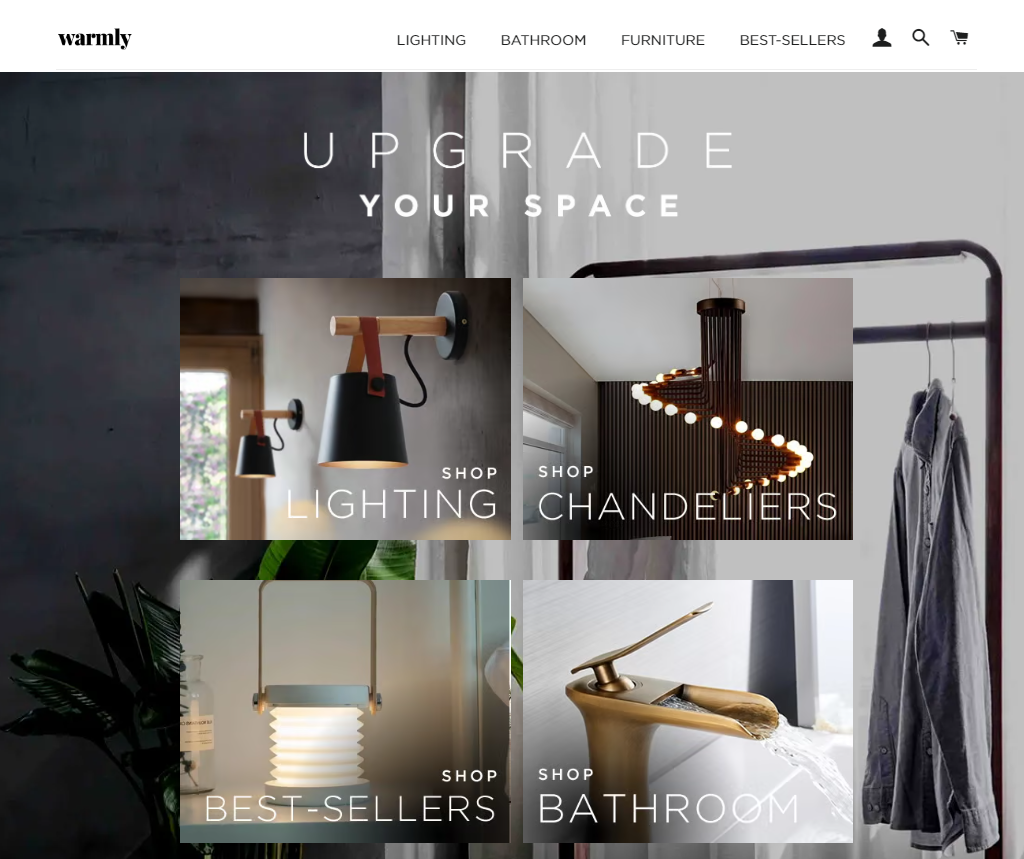 Focus on the following factors to create a successful dropshipping store:
User experience. Customers should be able to browse your online business to find the products they want quickly. When designing your website, make sure to consider the overall customer experience.
Payment Gateways. Provide multiple payment options with clear instructions. Be transparent with additional tax and shipping costs that customers need to consider.
Categories. Help customers find your products easier by creating separate categories. Make sure to include the categories in your main menu for faster access.
Product pages. Include clear and complete descriptions with high-quality product photos.
Contact form. Give potential customers a user-friendly avenue to ask about your business and products.
Mobile optimization. Make sure your store is mobile-friendly. Customers should be able to buy products from different screen sizes.
5. Prepare the Dropshipping Business Finances
Getting your finances in order is essential before you start selling products.
Separating your personal and business finances makes it easier to note revenues and expenses. Doing so is also better for your legal processes.
Consider the following factors when setting up finances for your dropshipping business:
Business bank account. Open a new business bank account under your dropshipping name. Remember to only use this account for business transactions, such as receiving payments from customers and paying suppliers.
Resale certificate. Many areas require businesses to get resale certificates to sell products from somewhere else. Check with your city or state to see if you need to register and pay for this certificate.
Sales tax. Some countries require customers to pay sales tax. Check the sales tax nexus regulations with your business' and suppliers' local government. Then, make sure to take this cost into account when pricing your products.
Maintenance fee. Include platform fees and marketing costs in your budgeting and pricing to help maintain and grow your business.
6. Register Your Dropshipping Business as a Legal Structure
Important! Hostinger does not offer legal advice. This section only provides a general overview of the legal factors to consider. We recommend consulting with proper legal entities before choosing your business structure.
Another essential step is to sort out the legalities of your online business. This includes checking whether you need a license to dropship in your location. Remember to research specifically for your country, as different locations have their own regulations.
For businesses in the United States, you will need a sales tax ID and an employer identification number to file taxes and apply to wholesale dropshipping accounts.
Once you have researched the regulations, consider setting up a legitimate business entity to protect yourself from legal liabilities. Doing so can also allow you to work with better suppliers and business partners.
Here are the three most common business structures:
Sole proprietorship. With this structure, your dropshipping business finances will be taxed on your personal income. This option is risky as your business is legally attached to your personal assets.
Limited liability company (LLC). This structure establishes your business as a separate legal entity, which means you will have personal liability protection. However, you will fulfill different legal requirements when paying taxes as a business owner.
Corporation. Similar to an LLC, this option registers the dropshipping business as a separate legal entity. However, corporations are owned by shareholders and overseen by directors instead of just a few business owners.
After registering the business structure, we recommend creating the following documents to increase customers' trust:
Refund policy. A clear refund policy builds customer trust because it indicates your dropshipping business is a secure place to shop.
Return or exchange policy. Most customers are hesitant to buy from an online business because they can't see the product immediately. Having a return or exchange policy builds confidence in your product.
Terms and conditions. Manage expectations and protect your business by having a legal document outlining your company's and customers' rights and responsibilities.
Privacy policy. Explain how your business collects, uses, and discloses customer information. This document shows that your business takes its responsibilities seriously.
For example, the home decor store Rosamiss is transparent about the policies and terms that the business implements.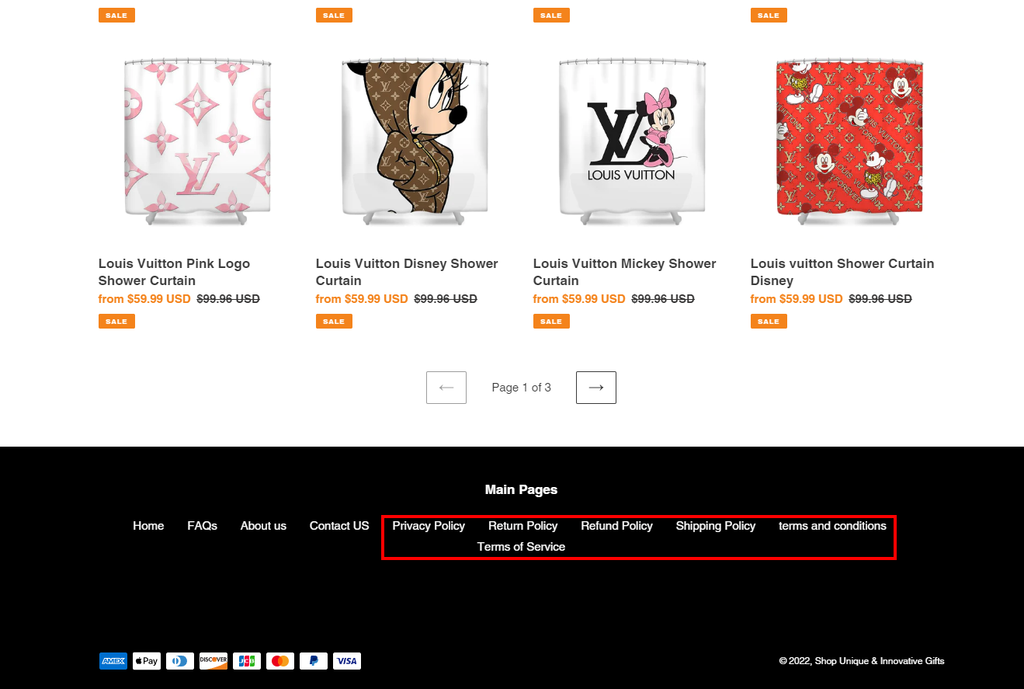 7. Optimize and Market Your Dropshipping Business
After establishing a legal dropshipping business, it is time to promote and sell your products. Good marketing and customer acquisition strategies are essential for a successful dropshipping business.
If you have a small business, start with the following low-investment marketing strategies:
Search engine optimization (SEO). Every online business wants to rank higher on search engine results pages (SERPs) to drive more traffic. Improving your store's SEO will help attract more potential customers.
Blog. Create valuable and consistent content to inform audiences about your dropshipping products. Writing blog posts can also help your business connect with audiences.
Email marketing. Build an email list by adding a subscription form to your store and offer an introductory discount every time a user signs up. Email marketing can also help keep existing buyers excited about your products.
Social media. Share your products and content on different social media platforms to reach more audiences. This marketing method also helps your business stay connected with customers.
For example, Notebook Therapy shows how to utilize social media to boost their credibility and connect with their buyers.
Once your dropshipping business grows and you have a bigger budget, consider the following marketing strategies:
Ads. Paid advertising is an excellent option to target a specific demographic. Most businesses utilize Google Ads and Facebook Ads as part of their marketing strategy.
Influencer marketing. Collaborate with well-known people in the industry that have a lot of influence. With influencers promoting your products on their channels, you can increase the business's credibility and reach more audiences.
Affiliate marketing. Pay a commission to an affiliate each time a customer buys your product using their affiliate link. This marketing strategy is a low-risk and cost-effective way to promote your business.
Why Start a Dropshipping Business?
The dropshipping business model is a great way to start your own store, as you do not need to manage inventory and logistics. Although dropshipping is often suitable for small business owners, larger companies that want to branch out can also take advantage of this model.
If you are still unsure about starting your own dropshipping business, here are some of its main benefits:
Low startup costs. With the dropshipping business model, you don't need to stock products. Without upfront inventory investments, you can start selling products without spending much.
Low-risk business model. Dropshippers can easily switch poorly performing products with different ones from the suppliers.
Minimal supply chain management. Sell your products without having to stock on inventory and deal with shipping logistics.
Flexible location. You can run and manage your business from anywhere with an internet connection because you do not need to manage the products in person. However, dropshippers need to maintain communication with suppliers and customers.
Many product options. Since you don't have to stock on inventory to make a sale, you can offer more products in your store. If a product is not doing well, you can switch to a different one.
Great scalability. You can expand to a new market easily. Since suppliers are the ones who deal with the shipping, you don't have to worry about receiving more orders.
However, there are some drawbacks to having your own dropshipping business:
Sudden stock shortages. Sometimes, suppliers do not warn you if products go out of stock. It's important to regularly check in with your suppliers to prevent listing unavailable products in your store.
Less control. Dropshippers rely heavily on suppliers to create, package, and deliver high-quality products. If there are issues like product mishandling, lousy packaging, or delayed delivery, you will not be able to address them directly.
With that said, the dropshipping model's pros still outweigh the cons.
Best Platforms for Your Dropshipping Business
As dropshippers do not have to worry about managing product supplies, most of the work goes to creating a high-quality store. The success of your dropshipping business significantly depends on where you sell.
Your platform can affect your sales performance and customers' perception of your online store. The two most popular platform options for a dropshipping business are starting your own eCommerce site and selling on an established eCommerce marketplace.
The two options have pros and cons that we will cover in the following sections. Note that you can also choose to use multiple platforms for your store.
Create Your Own Website
Having your own eCommerce business site means more control over your store's appearance, content, and user experience.
Fortunately, you can make a website in less than an hour using the right platform.
Website builders often offer high-quality templates with a drag-and-drop editor to customize your store. For example, Hostinger Website Builder has necessary built-in features for a store, like shipping integrations, payment systems, and contact forms.
Another option is to use a content management system (CMS) to create a website. Some popular CMSs for eCommerce include WordPress, PrestaShop, and Shopify.
With WordPress, install WooCommerce to add eCommerce features to your website. Meanwhile, PrestaShop and Shopify already have built-in eCommerce features. Alternatively, you can use Hostinger's WordPress hosting service, which comes with a convenient 1-click scripts installer.
Here are the main benefits of making a website for your dropshipping business:
Stronger branding. With a website, you will have full creative agency over your branding, from customizing the theme to adding useful features.
Outstanding control and flexibility. Choose how to present your products and what information to include. In addition, you can select the payment and shipping methods that suit your business strategy best.
Higher profit margins. Since you are not paying any platform fee to a marketplace, expect to earn all revenues from your sales.
No direct competition. All traffic to your online business site is from potential customers. When browsing your site, they will not be able to see products from your competitors.
However, building your own site also has its downsides:
Higher initial costs. You will need to pay for web hosting and a domain name to create your own site. Meanwhile, many marketplaces let you start selling for free.
No guaranteed traffic and established market. With eCommerce marketplaces, there is a large existing customer base to attract to your store. However, with an individual site, you will need to drive the traffic yourself.
Create a Dropshipping Store using Hostinger
Web hosting and a domain name are the two main components of creating a website.
With Hostinger, you can create an online store starting at $2.99/month. This plan also lets you register a free domain name.
First, check the availability of your desired domain name using a domain checker.
Domain Name Checker
Instantly check domain name availability.
Once you have purchased a hosting plan, follow these steps to create a dropshipping store:
Log in to hPanel and head to Website → Auto Installer.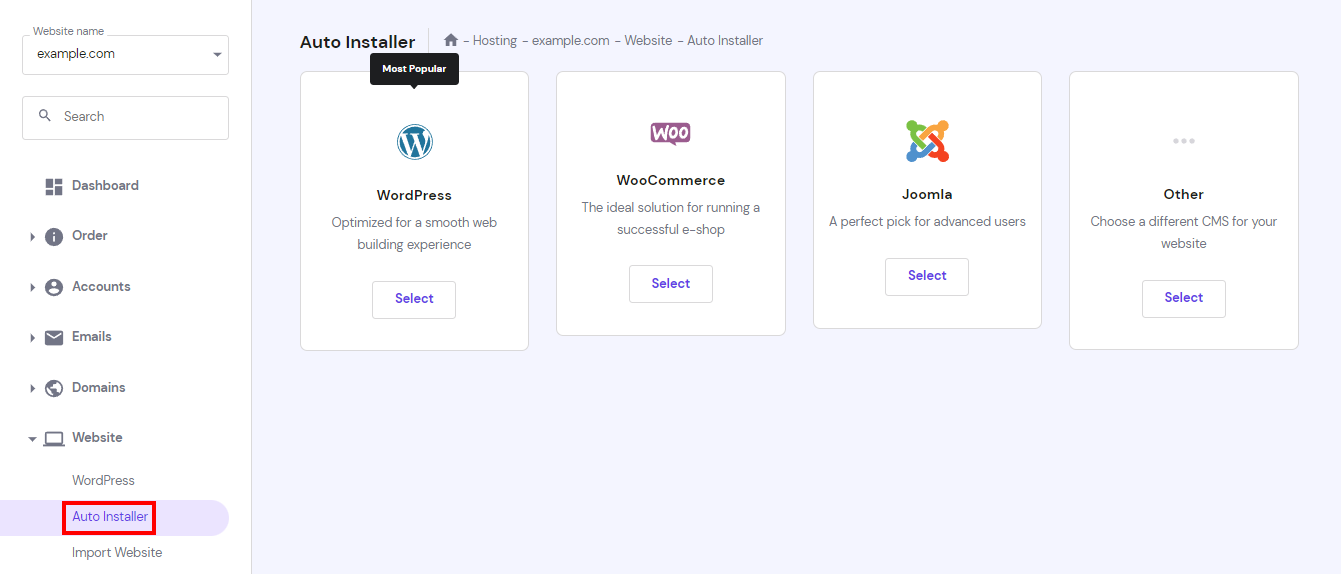 Choose the platform of your choice. For this example, we will use WooCommerce.
Enter your Website credentials, including Website Title, Administrator email, username, and password. Click Next and Install to finalize this step.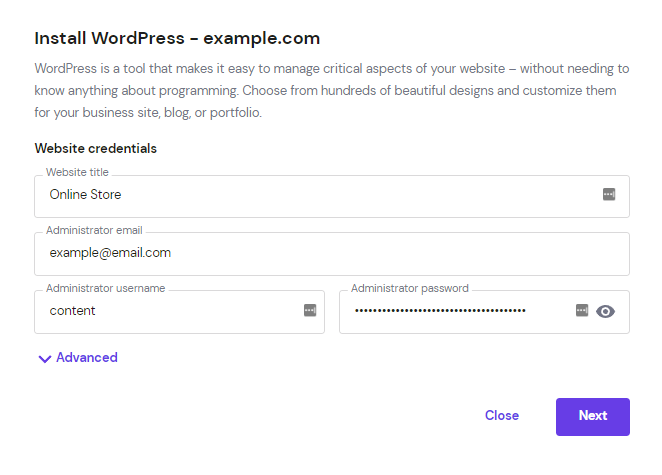 Hostinger will automatically direct you to the WordPress section of hPanel. There, click on the Edit Website button.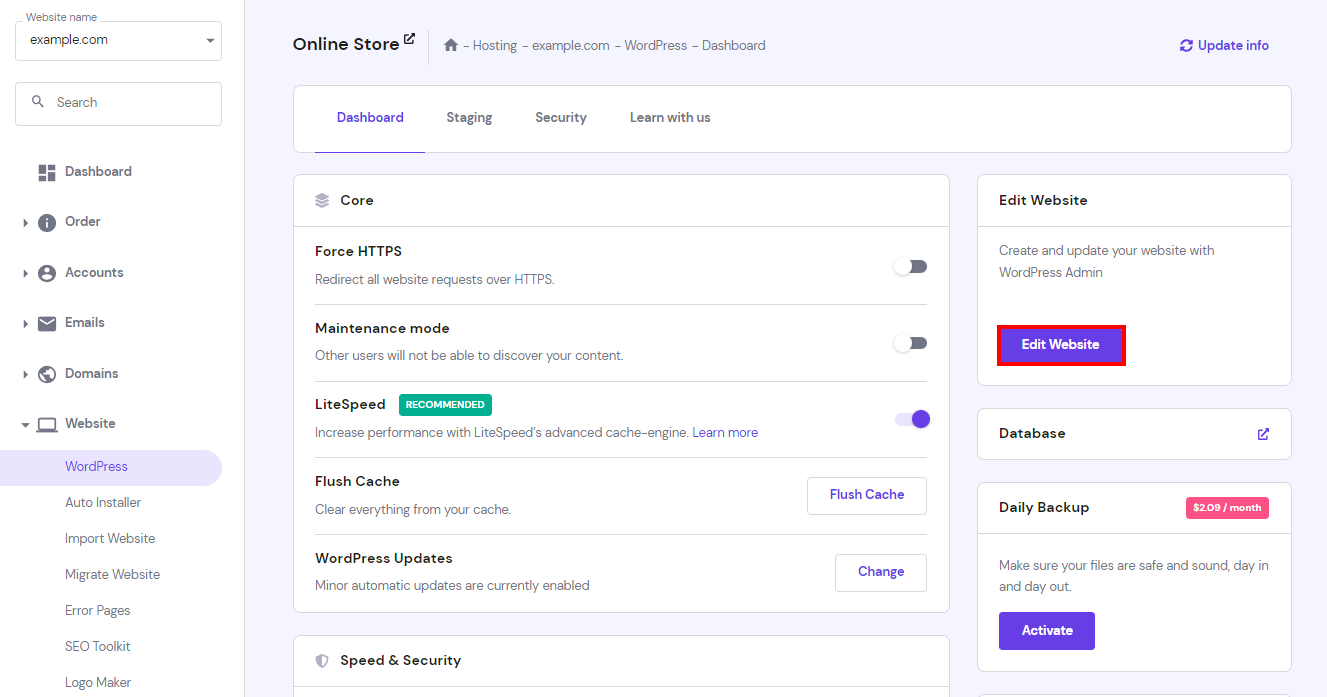 Head to Dashboard → WooCommerce to set up your online store. Fill out the required information.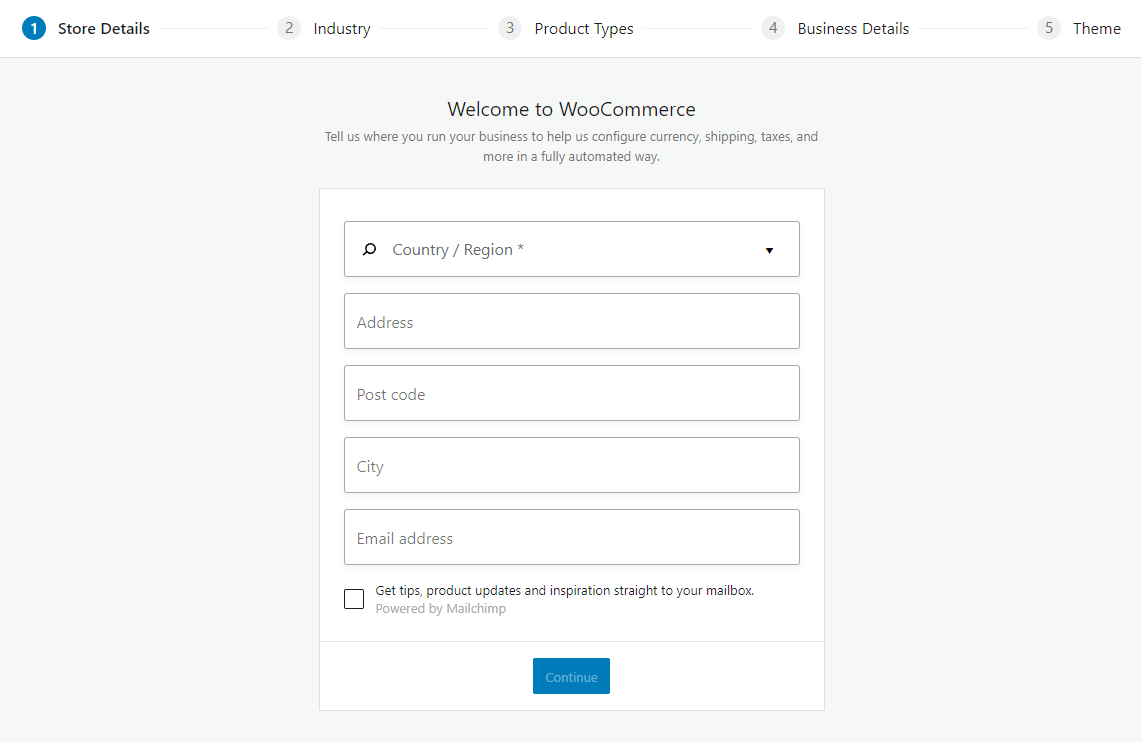 Start adding your products to the website by heading to Dashboard → WooCommerce and selecting Add my products. You will have four options to add your products.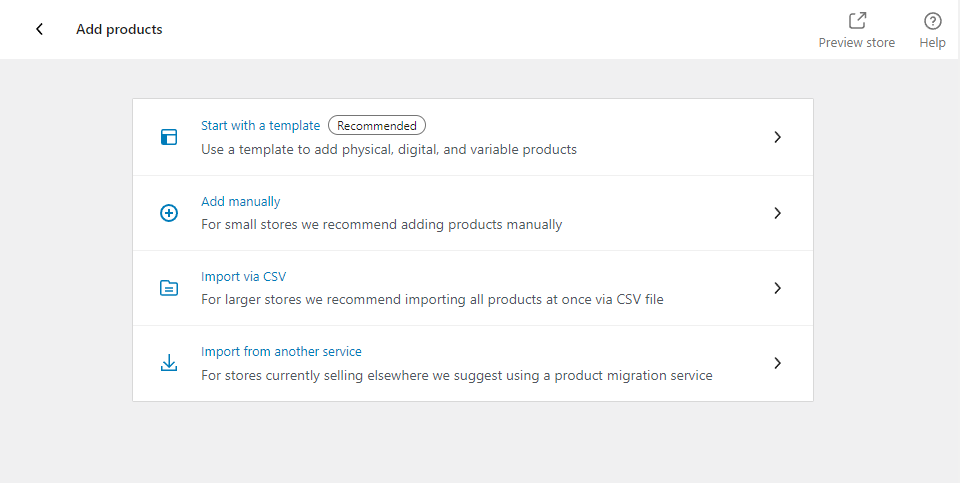 Choose the option most appropriate to your products. We recommend using a template to add products.
Create a Store in an eCommerce Marketplace
Opening a shop in an established eCommerce marketplace is an excellent option for beginners. With most marketplaces, you only need to sign up, enter the business name, and list the products.


With this option, you don't need to worry about website design and features. Therefore, it's suitable for those who want to dropship as a side hustle.
Additionally, dropshipping businesses that already have their own site may choose to create an eCommerce store on a marketplace to expand their audiences.
Here are some main advantages of starting a dropshipping business on an eCommerce marketplace:
High traffic volumes. Although eCommerce marketplaces do not guarantee high traffic, these well-known platforms already have many users. Therefore, customers are more likely to visit your store while browsing the marketplace's website.
An established customer base. These platforms have dedicated teams to promote the marketplace and attract customers. Many of the platform's users are already regular, loyal shoppers.
A strong infrastructure. eCommerce marketplaces already have the infrastructure to process transactions. Many have multiple payment and shipping methods, letting you sell internationally.
Easy setup. Simply sign up and follow the instructions from the platform. With this option, you do not need to worry about website design.
However, it's important to note that an eCommerce marketplace also has downsides:
Platform fees. Most eCommerce marketplaces take a cut from every sale you make. These cuts include platform, handling, and transaction fees. Therefore, using this option can minimize your profit margin.
Limited control. Dropshippers must follow a fixed template from the marketplace, allowing minimal control over branding, payment methods, and shipping services.
Competition. Dropshippers must consider other merchants on the marketplace that may sell the same products. In a marketplace, customers can easily compare your products with other sellers.
Lack of individuality. Following a set template makes it harder for your dropshipping business to stand out from the crowd and establish strong branding.
Lack of trust. Some customers may view eCommerce marketplaces as platforms for amateur brands, making them skeptical about product quality.
If you are interested in choosing this option, here are some of the most popular platforms to start a dropshipping business:
1. Amazon
With over 200 million Prime members worldwide, Amazon is the most popular eCommerce platform. If you choose to sell on this marketplace, make sure to follow Amazon's dropshipping policy:
Packaging. Identify your dropshipping business as the seller on all packing slips.
Processing orders. Be responsible for accepting and processing customer orders and returns.
Seller agreement. Comply with all terms in the seller agreement and follow Amazon policies.
The fees for selling products on Amazon vary depending on the product type, but they are mainly around 10-15% of your sales. This fee can highly influence your pricing, especially for a small business with relatively small profit margins.
Amazon's Individual plan charges $0.99/item. Alternatively, the Professional plan costs $39.99/month and does not charge per-item fees. Note additional charges may apply, such as referral and shipping fees.
2. eBay
Another popular eCommerce platform that's great for a dropshipping business is eBay. With over 147 million active buyers, this online retailer implements consumer-to-consumer sales. It also has an auction system where potential buyers can bid on items.
Even though eBay is a great platform for selling products, dropshipping restrictions exist. All dropshipping eCommerce businesses need to fulfill orders directly from wholesale suppliers.
eBay does not allow dropshippers to resell products from another retail website or eCommerce marketplace. All dropshippers are also responsible for communicating with customers and safely delivering the products within the time frame stated in the listing.
Remember that eBay may remove or lower your listings in its search results if you do not comply with its dropshipping policy.
Online stores must pay to sell on eBay, with plans starting at $4.95/month. If the number of products you sell exceeds the limit provided with the plan, eBay will charge insertion fees for each additional listing.
3. AliExpress
AliExpress is also a popular platform for dropshipping eCommerce businesses. Although this platform is newer than Amazon and eBay, the marketplace has over 150 million active users.
With this platform, dropshippers can easily find products to sell in their eCommerce store. The marketplace offers AliDropship to help you start a dropshipping business.
However, keep in mind that AliExpress is not known for high-quality products. It is mainly known for its affordability, and the competition is tough.
With an AliExpress dropshipping business, your competitive advantage is not your price or unique products. Marketing and customer support are the two elements to focus on to stand out from competitors.
AliExpress takes a 5-8% commission on each item sold, depending on the product category. Note that you will have to pay the shipping costs, which vary depending on the courier and region.
What to Avoid When Starting a Dropshipping Business
When you start a dropshipping business, make sure to avoid the following:
Choosing the wrong niche. Finding customers with a broad or outdated niche is difficult. Doing proper market analysis can help you avoid choosing the wrong niche.
Not optimizing your store. Customers should have the best experience on your online store. Ensure your store puts the customers' needs first by optimizing every page.
Relying too much on suppliers. Putting too much trust in your suppliers can be risky, so it is important to have backups. To insure your business, write a contract with your vendors so that they are aware of your expectations.
Not enough branding. With dropshipping, branding is essential to stand out from competitors. Since customers can find the product elsewhere, communicating your brand consistently is key.
Lack of customer support. Stay connected with your customers to ensure they feel satisfied with your products.
Shipping issues. Confirm with your supplier before accepting your customer's purchase. This will help avoid shipping issues.
By avoiding these common mistakes, you will have a higher chance of starting a profitable dropshipping business.
Conclusion
The dropshipping model is a great way to start an online business without managing an inventory. This article has shown that creating a dropshipping business is relatively straightforward, making it suitable for people with less experience and budget.
To recap, start by choosing a business niche and doing market research to determine the types of products to sell. Then, find reliable dropshipping suppliers to get your products. Make sure that they are legitimate suppliers that offer high-quality products and services.
Once you start creating the store, don't forget to separate your finances and register your business. Finally, invest some time into marketing and promoting your business to ensure long-term success.
We have also explained the benefits of creating a dropshipping business and what to avoid. Finally, we shared the different platforms to consider, along with their pros and cons.
We hope this article has helped you learn more about dropshipping and how to start. If you have any questions or tips, feel free to comment below. Good luck!
How to Start Dropshipping FAQ
Now that you know how to start a dropshipping business, we will answer some frequently asked questions about the topic.
Is Dropshipping Easy to Start?
Dropshipping is one of the easiest methods to start an eCommerce store. People will limited experience and budget can create a dropshipping store with low risk. Simply choose a niche and reliable supplier, build the store, take care of legality and finances, and market the business.
Is Dropshipping Worth It?
Yes, the benefits of creating a dropshipping business outweigh the downsides. There is plenty of room to scale up your business and replace products that aren't selling well.
How Profitable is Dropshipping?
Dropshipping is known to be a profitable business model. In fact, dropshippers can earn over 50% more profit than those who keep their own stock inventory. Since you don't need to worry about overstocking and warehouse costs, you will have fewer expenses than other business models.
Can You Start a Dropshipping Business for Free?
Technically, yes. The dropshipping business model allows you to start selling products with no inventory. Therefore, you only purchase the items once you have received the customer payment. However, you need to choose an eCommerce platform that does not charge you until you make a sale.