How to Sell Online and Make Money: Complete Step-by-Step Guide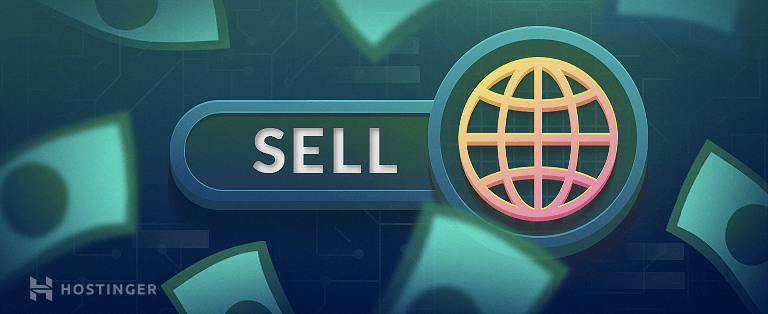 Studies estimate that by 2023 online retail market share will account for 22% of retail sales worldwide. That's a 6.5% increase compared to 2020, which shows that this is the perfect time to start an eCommerce business.
In this article, you will learn how to create an online business and sell online for profit. We'll cover all of the steps, starting from finding what to sell online to setting up your online store and marketing your products.
Follow this guide to get started, and you'll be running a successful eCommerce store in no time.
Choosing Your Niche, Strategy, and Products to Sell
Your first step is to outline your plan. Think about what kind of products you'd like to start selling online, who your target market might be, and the best way to approach them.
Let's start with the overall model of your business.
eCommerce Business Models
There are multiple business models for eCommerce platforms, and each one depends on your choice of products and the market niche.
Business to Business (B2B)
B2B is a model where businesses sell products or services to other companies. This model usually includes a more complex sales cycle but produces a higher-order value.
Statistically, in 2019 B2B models made up 18.2% of all online sales adding up to a total of $1.3 trillion. The products can include anything from stationary to appliances and software.
Business to Consumer (B2C)
B2C is the most common model where businesses sell their products or services straight to consumers. Its market size is expected to be worth $6.2 trillion by 2027, potentially making it the most profitable business model option.
The order value is usually not as high, but the quantity of sales is large. Considering the products or services go directly to the end-user, the chance of creating various profitable marketing campaigns is also much higher.
Consumer to Business (C2B)
A C2B business model applies to online selling platforms that allow consumers to trade their products or services with businesses. This model includes websites that enable companies to hire freelancers and marketplaces that list freelancers' products for businesses to buy.
Consumer to Consumer (C2C)
A C2C business model involves consumers buying and selling products or services to other consumers by listing them on marketplaces online, such as eBay, Amazon, and Airbnb.
eCommerce Business Plans
When it comes to business plans, it's all about where and how you will source and sell your products. Let's look at the most commonly used options.
Direct to Consumers (D2C)
This business plan includes selling products or services directly to your customers; no third-parties are included. Meaning, you will handle selling, packaging, and shipping processes yourself.
A D2C business plan works great for handmade products or outsourced products you will be shipping yourself.
Wholesaling
The wholesale business plan includes selling products in bulk for a low price. This plan is usually done using a B2B business model. However, some wholesale businesses offer it as a B2C option as well.
Bear in mind that you'll have to take care of the inventory and ship the large orders yourself (or use a fulfillment company). The most profitable products for wholesaling are accessories, fashion items, and toys.
White Label and Private Label
These business plans include collaborating with a manufacturer. The idea is that they produce the products and label them with your brand.
The difference is that white label companies already have a list of products they produce and collaborate with other retailers. Therefore, many brands end up selling the same product line under different brand names.
Private label companies sign a contract with one retailer and produce only the products that they order. These products are unique and branded, which means that no one else on the market is likely to be selling the same merchandise.
Dropshipping
Dropshipping is one of the fastest-growing business plans in eCommerce. Valued at $102.2 billion in 2018, it's expected to achieve a compound annual growth rate of 28.8% from 2019 to 2025.
Dropshipping entails selling the product without having to manufacture it or ship it. Hence, you create an online store where you sell items produced by a third party. After you make the sale, you contact that third party to send out the item on your brand's behalf.
This business plan holds the least risks when it comes to investment and startup capital, which is why many eCommerce businesses prefer dropshipping to any other method.
Subscription
This subscription business plan includes automatically recurring weekly, monthly, or yearly purchases. It works best for various SaaS companies as well as consumable items, such as cosmetic items or meal delivery services.
How to Choose a Good, Profitable Product to Sell Online?
Now that we covered different online business models and plans, it's time to learn how you can find the most profitable products to sell online. Here are four ways to help you narrow down the merchandise with the most potential.
1. Products That Solve a Problem
Introducing a product that solves a consumer's problem is a great way to ensure profitability. Pay attention to what frustrates or causes issues for people, and see if you can think of a product that could fix that.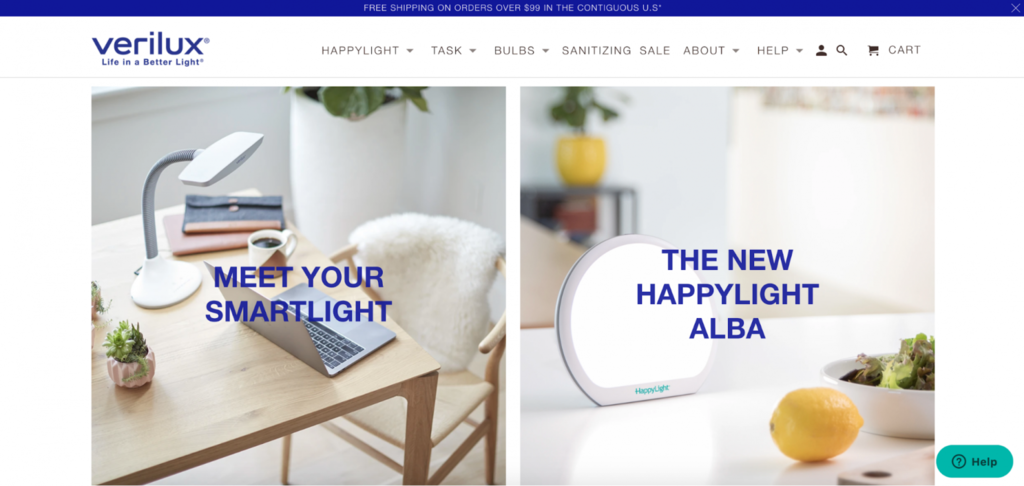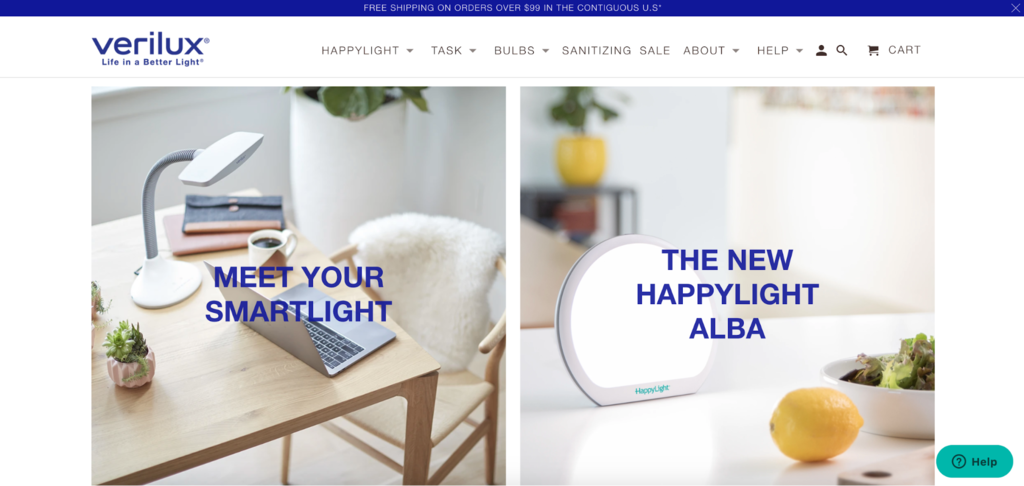 For example, Verilux provides daylight-mimicking lamps that improve people's circadian rhythm and energy levels. Waking up early during the winter months while it's still dark outside throws our bodies off balance, making us sleepy for the rest of the day.
Verilux cornered this problem by introducing artificial lighting that helps our bodies naturally produce melatonin, which balances the circadian rhythm. This way, waking up gets more manageable, the energy levels are higher, and you fall asleep faster at night.
2. Hobbies and Passions
Tapping into people's hobbies and passions is another excellent way to make money online. By the end of 2020, the toy, hobby, and DIY departments are expected to reach $88,206 million in revenue in the US alone.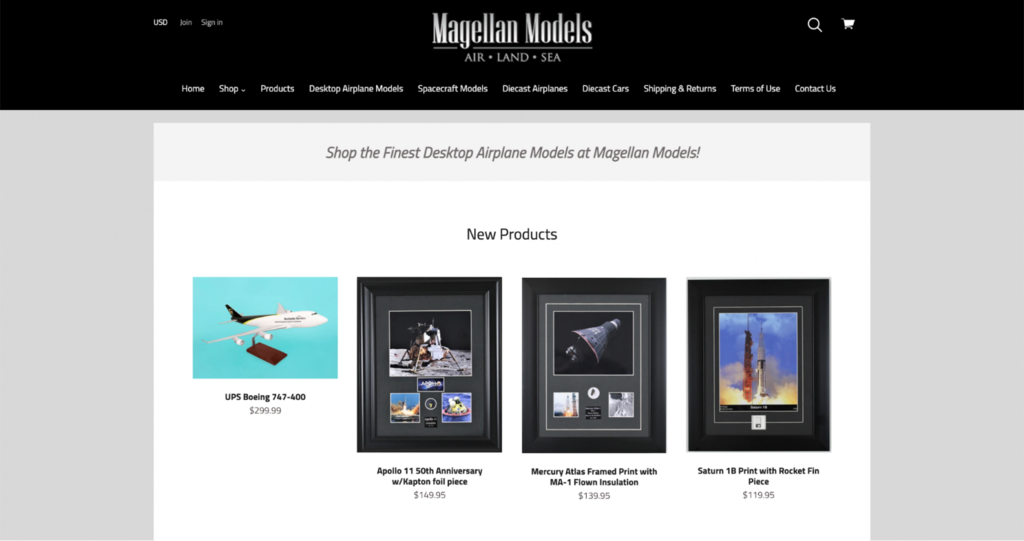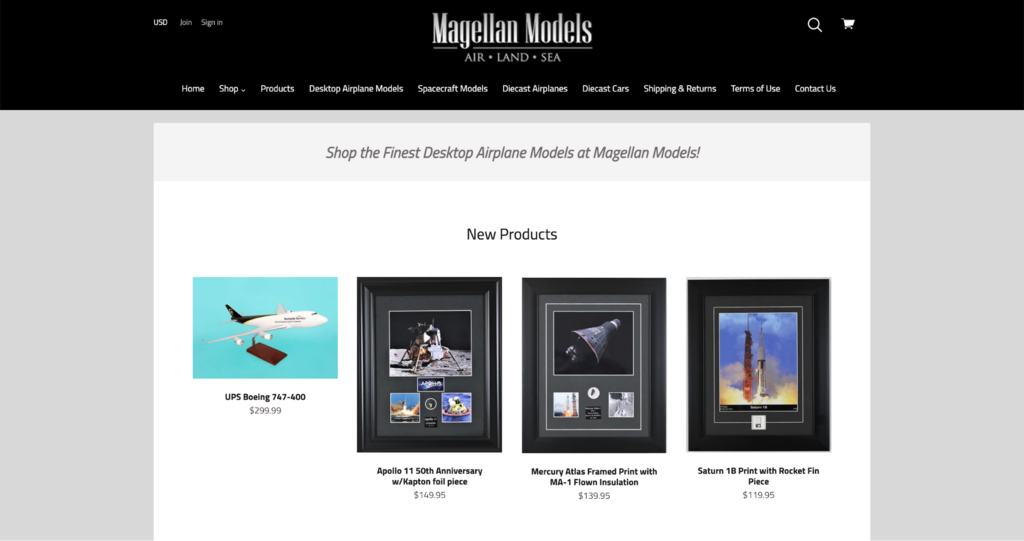 A great example is Magellan Models. This online shop found its niche in selling collectible ships, airplanes, and automobile models, which bring in an estimated annual revenue of $109 010.
3. Products on Trend
Researching currently trending products and selling what's popular is arguably the least risky way of making money online. The only possible downside of this method is that trends change often, so your aim should be to capitalize on it as quickly and efficiently as you can.
It's a good idea to check the best-selling products on Amazon, eBay, and Etsy. Also, keep up to date with information available on Google Trends and Trend Hunter. Use these platforms to see the most popular products selling online and take advantage of the current trends.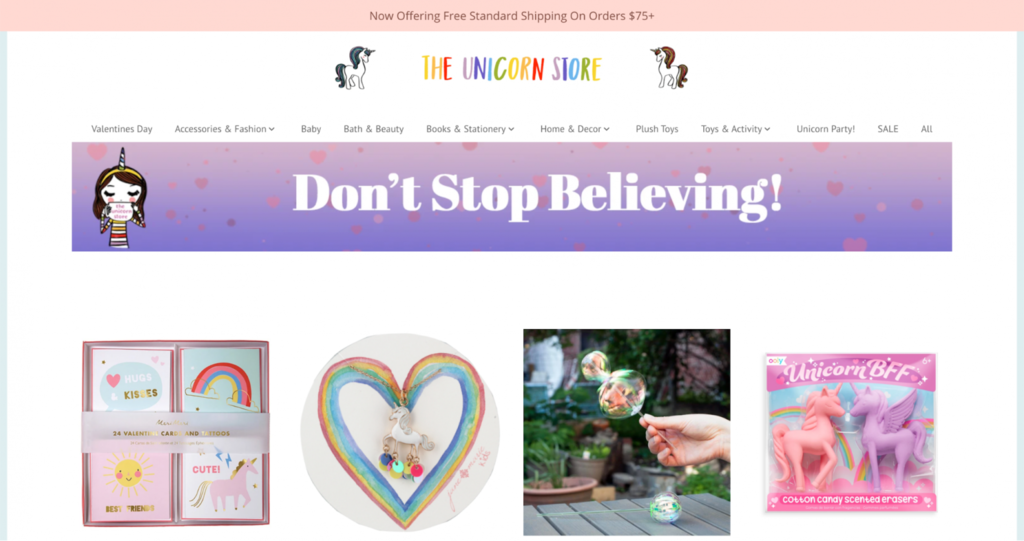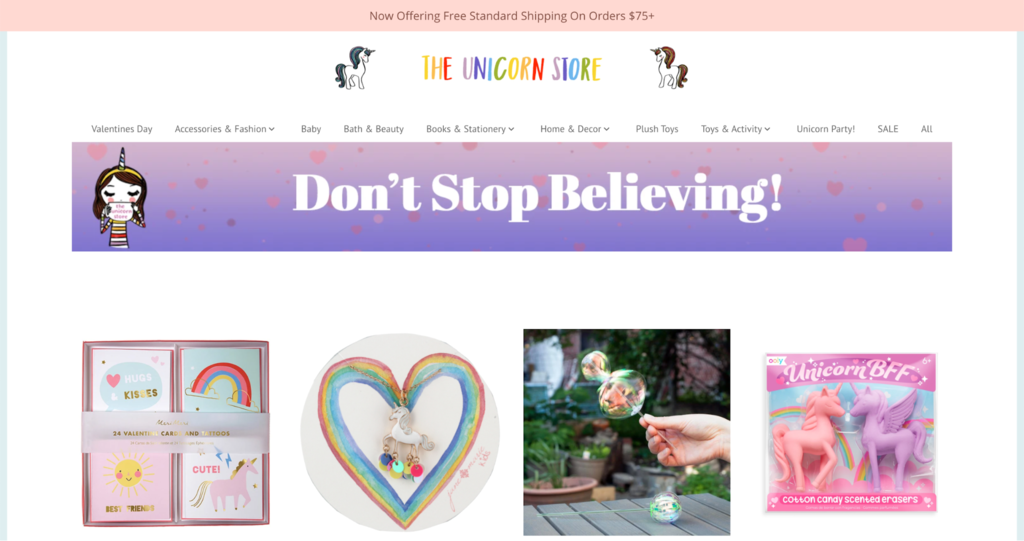 2017 was the year when the trend of unicorns exploded. While the fairytale imagery was primarily popular with children's products, unicorns overtook the adult market.
Here's where the unicorn store took this opportunity to open an online store selling only unicorn-related products. They offer a large variety of items, all targeted at the same audience. This store is an excellent example of an eCommerce business utilizing trends to make a profit.
4. Niche Products
Niche products tend to have higher profit margins as they target a specific audience. When using precise marketing strategies, niche products guarantee higher conversions and engagement.
Many online selling sites decide on niche products when they start selling online but fail to resonate with their target market. to avoid this, you have to put extra effort into getting to know your ideal customer when creating your marketing campaigns.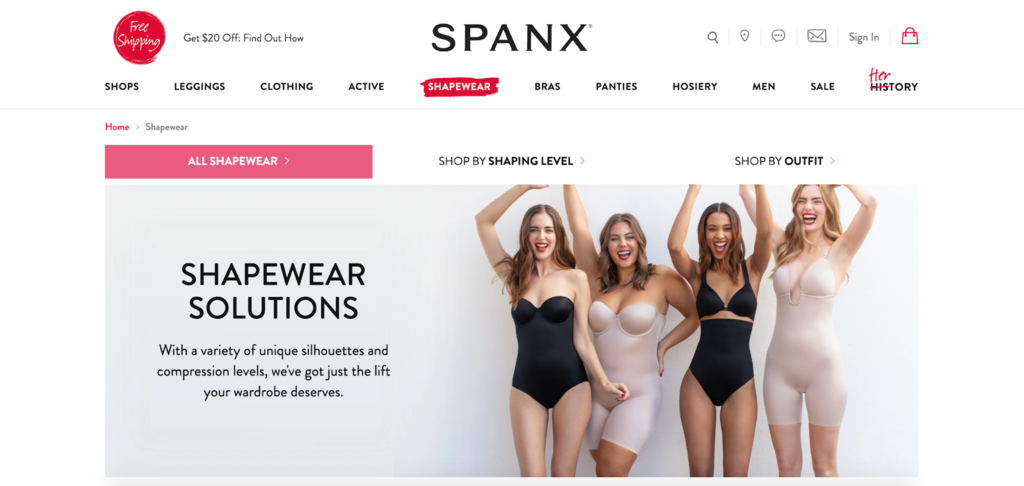 Take Spanx as an example, a name that is known worldwide for shapewear. This brand brings an estimated annual revenue of over $40 million, selling niche items to their targeted audience.
The success of Spanx was built using great marketing techniques that resonated with their customers. They knew what products they wanted to start selling online and who would be interested in what they had to offer.
Creating a Virtual Store to Offer Your Products or Services
When it comes to selling your products online, you will need an eCommerce store to help you reach your customers. There are a few ways to set it up, the main ones being:
Buying a hosting service
Using a website builder
Selling on online marketplaces
Utilizing social media platforms
Let's look at each one in more detail to find the best solution for your business.
1. Hosting Your Own WooCommerce Online Store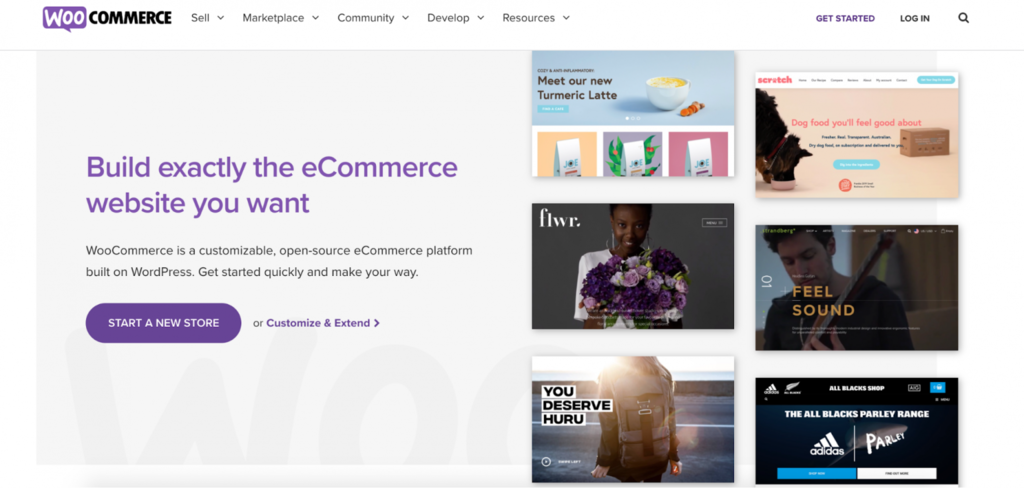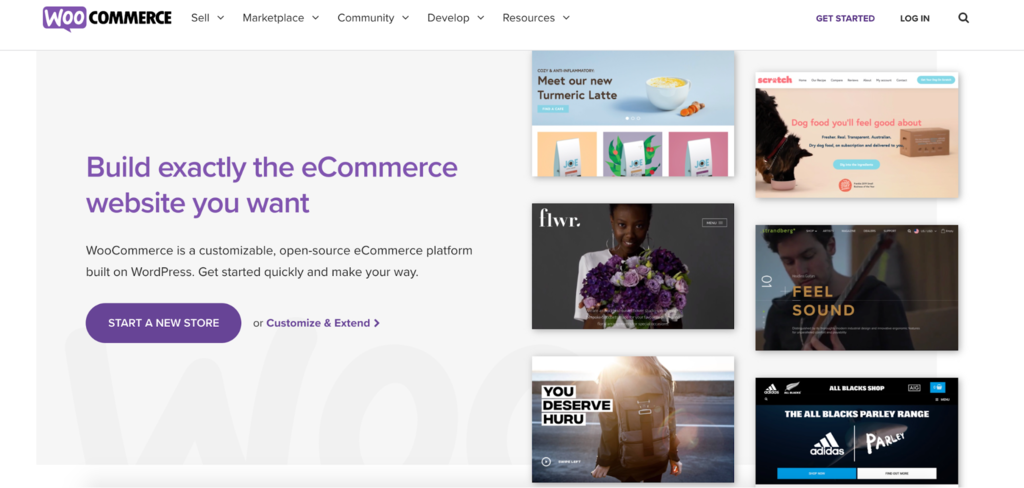 WooCommerce is an open-source plugin that integrates into WordPress. It's a free eCommerce platform with many free and paid extensions to improve your online store.
Hosting your online business and installing WooCommerce gives you a lot of flexibility in terms of the store's design and the website's functionality. However, the process of creating a website is more complicated compared to other methods.
First of all, you'll need to find a hosting provider to keep your files on their servers. For example, Hostinger offers excellent shared hosting plans suitable for smaller eCommerce sites that start from $3.99/month.
Larger WooCommerce stores will need more resources, for which Hostinger's Business WordPress Hosting plan is ideal. This hosting plan costs $7.99/month and is specifically designed to host WordPress websites that hold more data.
You will also have to purchase a domain name to have an address attached to your website if your hosting plan doesn't include one. If you're struggling to find a suitable option, try using a domain name generator to get some ideas.
Keep in mind that a domain name should relate to your business name. Doing so will build trust and help your potential customers remember how to find your online store.
Pros
Deep customization options
Easy to scale
It comes with a wide selection of free and paid extensions
Cons
Not very beginner-friendly
Need to get web hosting on your own
Successful Stores Built With WooCommerce
Let's have a look at some successful businesses that use WooCommerce to sell products online.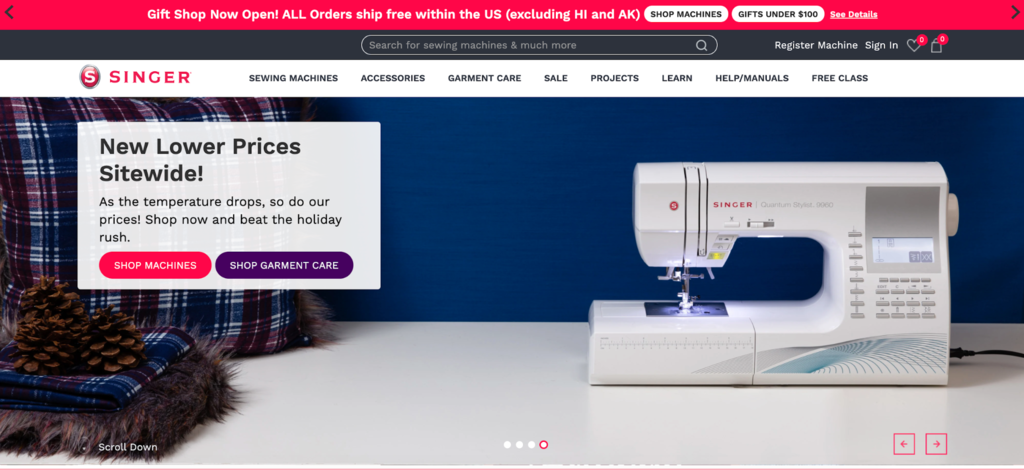 Singer is a well-known US-based company that manufactures sewing machines for consumer use. They have annual revenue of $161.08 million, part of which comes from online sales.
Airstream is another known brand that uses WooCommerce to sell products online. Their annual revenue in 2018 reached $90.56 million, most of which came from selling online.
How to Host Your WooCommerce Store?
To set up your WooCommerce store, simply follow the steps below:
Get a domain name and a hosting provider.
Install WordPress and the WooCommerce plugin.
Choose a theme and customize it to suit your needs.
Upload the products you will be selling online, write the content, and set up the payment gateways.
Test your buying process and launch your store.
For a more detailed guide on setting up your online store with WooCommerce, see this article.
2. Building an Online Store Using a Website Builder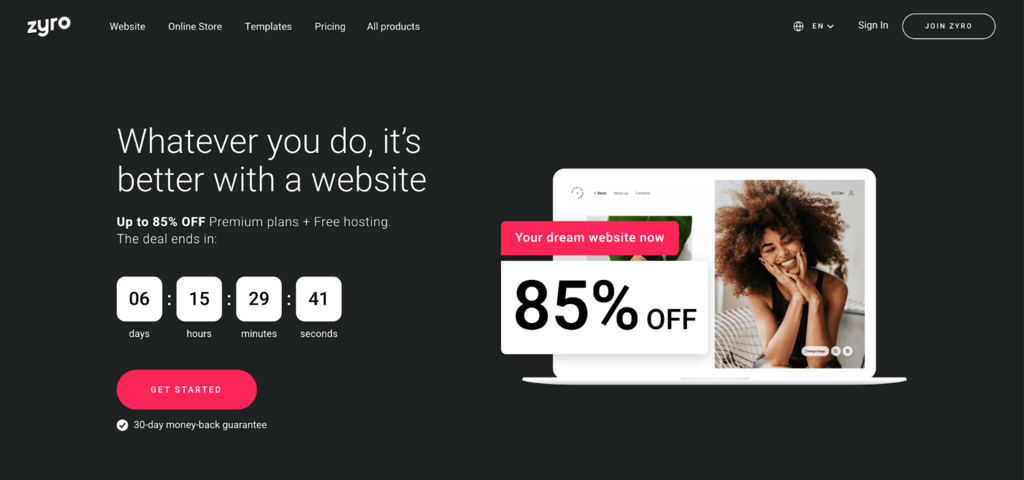 Using a website builder to build your eCommerce business is a good idea, especially if you don't have much technical knowledge. The built-in tools and ready-to-use templates provide you with everything you need to have your online store up and running with minimal effort.
Zyro is an excellent example of a beginner-friendly AI-powered eCommerce platform. Its drag-and-drop website builder tool is intuitive and easy to use, making the process of website building as simple as it can be.
All of Zyro's eCommerce plans include a variety of premade templates, payment gateways, order and inventory management systems, as well as other eCommerce functions. What's more, all plans come with a 30-day money-back guarantee and free hosting.
Zyro's eCommerce plan costs $8.99/month and is an excellent choice for a small online business. It comes with a free domain for a year, unlimited bandwidth and storage, Google Analytics, and supports up to 100 products for you to sell online.
A larger-scale online business should go for Zyro's eCommerce Plus plan that costs $13.99/month. This plan includes all features mentioned above, plus an unlimited amount of products to sell online, an abandoned cart recovery system, and multiple languages for your store. You can also easily integrate it with the Facebook store, Instagram store, and Amazon.
Pros
Very beginner-friendly
Great technical support
Fast and easy to set up
Cons
Limited customization and flexibility
Difficult to change platform providers
Successful Stores Built Using eCommerce Platforms
Limited customization of your website does not mean you can't have a successful online business. Here are two excellent examples of highly profitable online stores that were started on eCommerce platforms and continue to use them.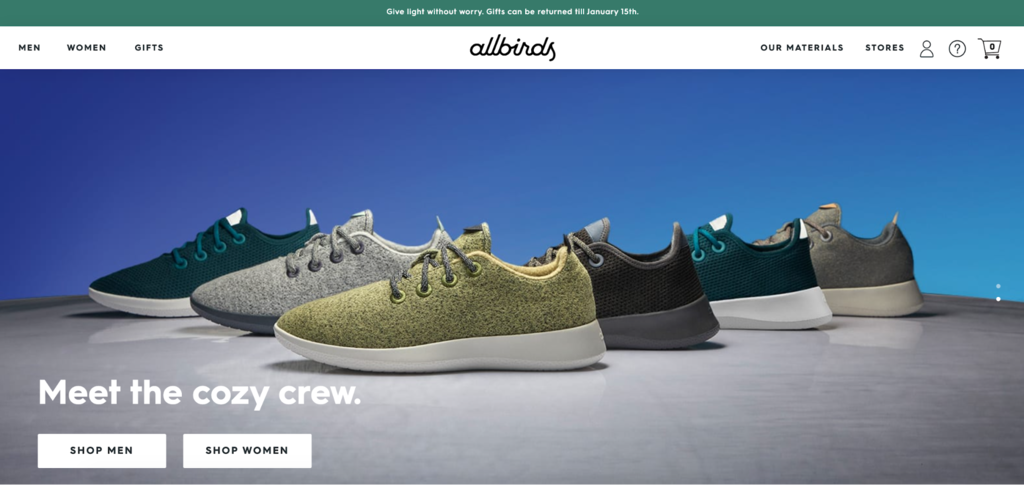 Allbirds manufactures and sells sustainable and eco-friendly shoes for men, women, and children. Their value in 2020 is estimated at $1.6 billion, making them one of the most successful stores when it comes to eCommerce platforms.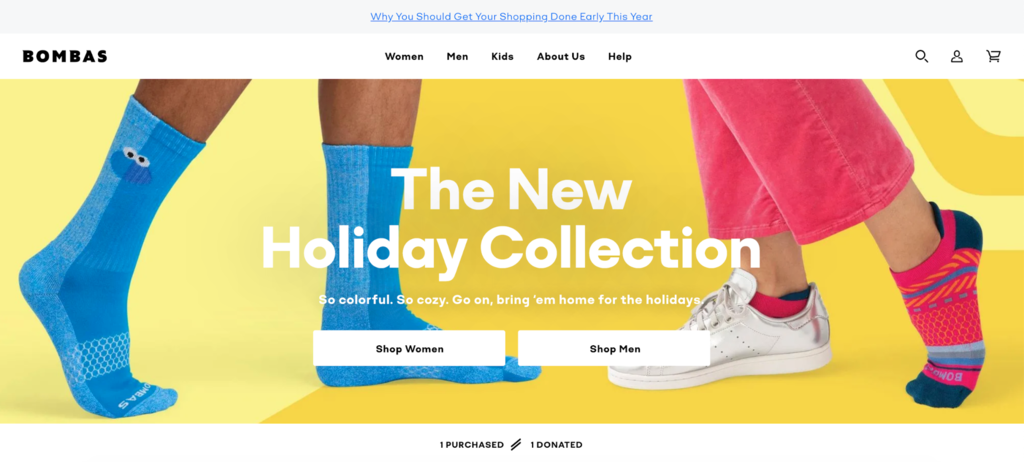 Bombas sells high-quality funky socks for men, women, and children. Their business includes donating a pair of socks to charity for every pair of socks bought at their store.
Recently, Bombas's annual revenue was estimated to bring in over $100 million. This estimation makes it a highly profitable online business that focuses on selling a niche item.
How to Easily Create an Online Store With a Website Builder?
Here's how to build a successful online business when using a website builder:
Choose a website builder with the best features.
Get a domain name and attach it to your store.
Pick and customize an eCommerce website template.
Upload the products you will be selling online and other content.
Test your store and launch it when it's ready.
3. Creating a Store on an Online Marketplace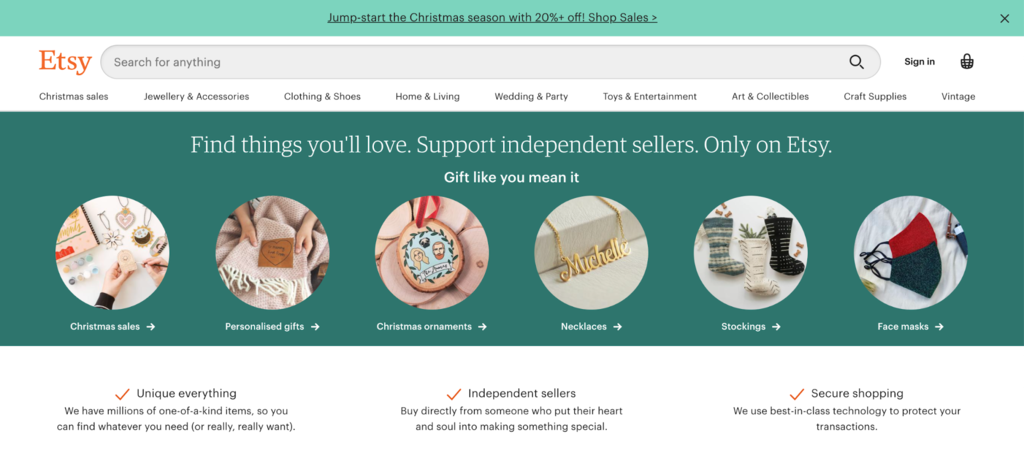 Using an eCommerce marketplace is the easiest way to sell items online. You don't need to worry about getting a web host or a domain name, and you don't need to create a website.
Online marketplaces, such as Amazon, eBay, and Etsy, provide everything you need to get started. All you need to do is create an account, and you can start selling.
Unfortunately, the easy account setup means minimal customization and design of your business page. All merchants on these marketplaces display their products similarly, making it a challenge to create a unique image for your brand.
What's more, the customer base is shared with other sellers on the marketplace, and the buyer-seller interaction is limited.
These restrictions make it difficult to scale your business effectively and enhance your brand visibility. However, if your goal is to run an online store with minimal effort and interactions, using eCommerce marketplaces to sell your products might be the right choice for you
The price of using an online marketplace varies from platform to platform. For example, Amazon has two selling plans – the Professional Selling plan that costs $39.99/month + a referral fee per item, and the Individual Selling plan that costs $0.99/item + a referral fee per item.
The primary costs of selling on eBay include a selling fee of 10% per product and an additional $0.35/item listing fee for every product outside the 200 product limit you can list for free.
Etsy charges $0.20 per listing that lasts for four months or until the product is sold. When the sale is made, there is an additional transaction fee of 5% on the sale price.
Pros
Minimal setup effort
An existing customer base
No technical maintenance
Cons
Not suitable for scaling
Restricted design and customization
Lower profit margins with higher competition
Not possible to optimize for search engines
Examples of Successful Stores Built With Online Marketplaces
In 2019, the top online marketplaces globally brought in $2.03 trillion in sales. This statistic shows that even online businesses with lower profit margins on eCommerce marketplaces can grow to become successful. Let's look at some of them.
ModParty is an excellent example of a successful seller on Etsy. They provide decorations for various celebrations, ranging from bridesmaid parties to weddings and baby showers.
ModParty has made nearly 770 000 sales so far, with an estimated total revenue of over $10 million.
MusicMagpie is another excellent example of a successful business that uses eCommerce marketplaces to sell products online.
MusicMagpie is known for selling pre-owned old games, CDs, books, and other similar goods. They sold an estimated $125 million worth of products in 2017-2018 on Amazon and eBay combined.
How to Launch a Store on a Marketplace?
Launching a store on an online marketplace is quick and straightforward:
Find an online marketplace that sells products similar to yours.
Register as a seller and create an account.
Upload the products you want to sell and add their descriptions.
Launch your store.
4. Selling on Social Media
Although most businesses use social media as a marketing channel, you can also use it as an eCommerce platform. Facebook and Instagram both have integrated store features that let you upload products to sell and set up a checkout process with integrated payment gateways.
Both Facebook and Instagram charge a selling fee of 5% or a minimum of $0.40/item sold on their shop. However, that depends on your merchandise's pricing.
Pros
Fast and easy to set up
Beginner-friendly
No technical maintenance
Cons
Limited customization and personalization of the store
Limited scaling
Not possible to optimize for search engines
Successful Case Study of Selling on Instagram and Facebook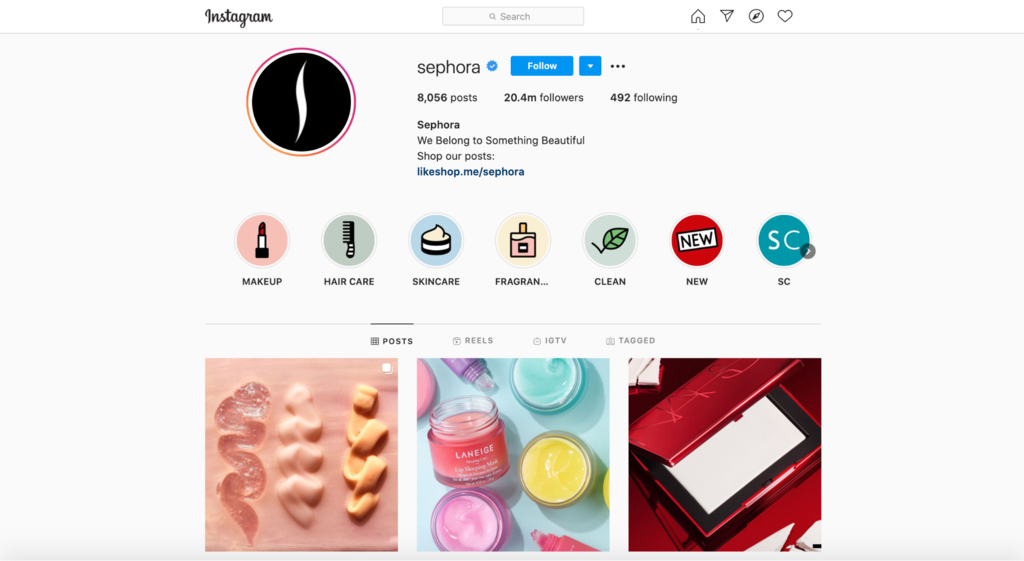 Sephora is a well-known makeup and skincare retailer that's popular on Instagram and Facebook. They successfully use these platforms for marketing campaigns, through which they sell products as well.
The large following of 20 million people on Instagram and nearly 20 million people on Facebook provides Sephora with a well-founded, easily reachable customer base. This access to a broad audience plays a big part in their estimated $500 million in annual revenue.
How to Sell on Social Media?
Follow the steps below to start selling on the Facebook shop:
Add a Shop section on your existing brand's Facebook page
Connect your Stripe account
Upload the products you want to sell and other content
Start selling your products online
Marketing 101: Strategies to Sell Online and Grow Your Business
No online store can become successful without good eCommerce marketing in place. It's the only way to inform and engage your potential customers, build a reputation, and sustain a growing business.
Here are some effective marketing strategies that you, as an eCommerce business owner, need to know and use.
Search Engine Optimization (SEO)
Optimizing your website for search engines increases organic traffic to your online store. In other words, SEO encourages search engines to display your website above other sites when people input a relevant query into the search bar.
There is another way to appear on the first pages of search engine results – paid ads. However, a recent study shows that organic results perform 20 times better than PPC (pay-per-click) advertisements.
There are a few ways to make your website rank better on search engines organically. It is a strategy that requires time, but it's worth the effort and the wait for the long-term results.
Keyword Research and On-Page SEO
You may already have ideas of what keywords you want your website to rank for. However, what you want to rank for and what your target market will be searching for can be very different things.
Use an online tool like Google's Keyword Planner or Moz's Keyword Explorer to determine what terms your potential customers might be searching for. Make a list of these keywords and phrases and include them in the content on your website.
When performing on-page SEO for your site, make sure not to overfill your content with keywords. Doing so could lower the quality of the content, leading to people leaving your website prematurely. Plus, Google ranks pages that overstuff keywords lower.
Instead, look at how the best-ranking websites on search engines use these keywords and use them as an inspiration to make your eCommerce store twice as good.
Header Tags
Make sure to use header tags for every page of your website. The main header should reflect the page's title, and the sub-headers should split the page into organized sections.
Doing so will help the visitors navigate the page more comfortably and find relevant information faster. What's more, it will also help your website rank better on search engines.
Here is a more detailed guide on HTML headers and how to use them.
Internal Links
Internal linking is another effective on-page SEO technique. It helps to achieve better website architecture, where all content is connected and a clear page hierarchy is established.
This tactic allows search engine "crawlers" to explore the website without complications, effectively improving its ranking. It also helps the visitors find relevant content faster and with less effort.
Here is an excellent article on internal linking that can help you understand how it works and how to apply it to your website.
Optimize Your Site With Analytics
Installing an analytics tool on your website is a great way to track how your store is performing. A tool like Google Analytics or Bitly can show you where your audience is coming from, who they are, and what products seem to spike most interest.
It can also let you know which parts of your website lose the visitors' interest and why some people never go through the checkout process. These metrics are called the KPI (key performance indicators), and we've listed the most important ones you should pay attention to below.
Target Market
An analytics tool can help you better understand who your target market is. Most of these tools compile data from your website's visitors and categorize it into certain demographic groups.
These metrics can help you understand who you should target in your marketing campaigns and how to adapt your website for better conversions. For example, in some instances, including a different language and currency can double your conversion rate.
Traffic
Another function of an analytics tool is to display the amount of traffic to your online store and where it comes from. Knowing this can help you keep track of which traffic sources are the most effective and improve them further.
The critical traffic sources for eCommerce include:
Organic. A traffic source that comes from search engines due to good SEO practices.
Paid. Traffic that comes from paid advertisement.
Referral. People from other websites that link to your store.
Social. Visitors that come from social media channels.
Direct. People who input the URL of your store into their search bars.
Email. Traffic that comes directly from email inboxes due to effective email marketing campaigns.
Tracking the traffic can also help you see if the number of visitors is steadily increasing, decreasing, or unchanging over time. Your aim is to have it always rising in order to grow your business.
Average Session Duration and Pages Per Visit
The average session duration shows how much time visitors spend on your website from the moment they come there to the moment they leave. Pages per visit inform how many pages they visited and which ones they spent the most time on.
Together, these metrics can help you better understand which parts of your website need improving and which ones convert best. Use this knowledge to improve your store and increase your profit.
Email Marketing
Email marketing is one of the most effective marketing strategies for an eCommerce website. A study shows that 59% of customers agree that marketing emails influence their purchase decisions. However, to organize an effective email marketing campaign, you'll need an essential item – a good email list.
An email list is an invaluable source of potential customers that already know about your brand. You can collect this list by offering visitors something in return for their email address.
For example, with your customers' approval, you can save their emails after sending them order confirmations. Alternatively, you can include pop-ups on your website which offer a discount in exchange for an email address.
Once the email list is large enough, segment your customers into three groups:
Loyal customers
Browse or cart abandoners
One-timers
Doing so will help you organize separate email marketing campaigns for each segment. This will increase the ROI (return of investment), which can get as high as $44 for every $1 you invest.
Cart Abandonment Emails
In 2019, the average cart abandonment rate worldwide was 77%. That's a considerable number of potential customers never going through the payment process.
The most effective way to handle this is cart abandonment email campaigns. This means reaching out to the visitors that abandoned their carts and reminding them of the products they left behind. You can also offer a discount code to increase the chances of them making the purchase.
Statistically, a cart abandonment email campaign of three emails was found to have a success rate of 69%.
Paid Online Advertising
Paid online advertising includes paying for ad space on other popular websites to increase your brand's visibility and traffic to your eCommerce store.
The main three categories of paid online ads are:
Pay-per-click (PPC)
Pay-per-impression (PPI)
Display ads
Let's look at each category in more detail.
PPC Advertising
This advertising method includes paying every time a visitor clicks on your ad. The process of placing a PPC ad usually consists of a real-time automated bidding process, where the highest bidder gets the best spot on the advertiser's web page.
With most PPC advertising models, the ads are displayed when visitors search for relevant keywords. If the advertisement answers the users' queries, 33% of them are more likely to click.
To understand more about creating effective PPC ads, make sure you see this comprehensive PPC campaign creation guide.
PPI Advertising
PPI advertising includes paying a flat rate every time your ad gets displayed a thousand times. Compared to PPC, the upside is knowing the PPI campaign's exact cost before it's launched. The downside is that your ad is not guaranteed to be shown to people actively looking for relevant information.
Display Ads
Display ads are visuals placed on third-party websites. They usually come in the form of an image, text, or a banner and are displayed at the top, sides, or bottom of the advertiser's web page.
Display ads aim to gain more brand awareness and traffic through advertising on popular websites with high traffic. It is the most cost-effective method of paid online advertising but only has an average conversion rate of 0.77%.
What's more, many Internet users employ advertisement-blocking applications, such as AdBlock. These apps stop all advertisements from being displayed on their browsers, directly affecting the conversion rates of display ads.
Retargeting
Retargeting is a method of advertising to visitors that have already visited your website before. It uses previously collected knowledge about the potential customer and displays items they are most likely to find interesting.
Retargeting can be done through paid online advertising, social media, email marketing, and other channels. It is an effective method that increases the chances of conversion to 70%.
Social Media Marketing
50% of Generation Z and 42% of Millennials claim that social media is the preferred method for seeing advertisements. This statistic shows that social media platforms, such as Instagram, Facebook, Snapchat, and Twitter, can be one of the most effective ways to market your products online, depending on your target audience.
Here is a more detailed guide to social media marketing. It can help you discover the most effective channel for your target market and help create a successful marketing campaign.
Conclusion
Armed with the knowledge of how to create a business plan, launch an online store, and scale it to success, you are ready to start selling online.
Here is a quick summary of the process:
Choose a business model that will work with your idea
Decide on the niche and what products to sell online
Explore different platforms for building your virtual store
Use marketing strategies to find the best way to sell online
Finally, a short recap of our recommended marketing strategies:
Optimize all content for search engines
Use the most important metrics provided by an analytics tool
Do email marketing campaigns
Consider paid online advertising and retargeting
Make sure to use one of the most effective marketing platforms – social media
This is everything you need to know about launching successful online stores.
Now it comes down to you taking that first step. Good luck!