How to Sell on Pinterest: Drive Sales and Market Your Online Business
If you're considering Pinterest as a potential platform for starting an online store, you are on the right track. The social media network and image-sharing platform attracts over 460 million monthly active users looking for ideas and their next purchases.
Pinterest functions similarly to a mood board. Users can upload various content called Pins and compile them to public or private boards.
It is especially popular for food and drink recipes, home decor, travel, fashion, and DIY projects. Many businesses in these categories use Pinterest to market their brands, grow their audience, drive traffic to their eCommerce websites, and increase sales.
No matter your business idea, Pinterest can be a powerful marketing tool if you know how to use it. This guide will teach you how to sell on Pinterest and market your products effectively.
Download Checklist: How to Start an Online Business
Why Sell on Pinterest?
Pinterest is an ideal online selling platform for many reasons, including:
How to Sell on Pinterest in 8 Steps
In this section, we will go over every step to start selling on Pinterest and boost sales. But first, ensure you have an online store where Pinterest users can purchase your products.
You can create an online store using an eCommerce website builder or a self-hosted content management system like WordPress.


For example, Hostinger's online store builder is an excellent option for beginners. Meanwhile, WooCommerce for WordPress is best for sellers who want complete control over their online store.
Once you have set up an eCommerce store, let's explore each step of selling on Pinterest in detail.
How to Sell on Pinterest

1. Sign up for a Pinterest account
2. Claim your online store
3. Optimize your Pinterest business profile
4. Enable rich Pins
5. Categorize Pinterest boards and Pins
6. Optimize your Pins for search engines
7. Use paid advertising

1. Sign Up for a Pinterest Business Account
If you have never used Pinterest or would like to create a separate account for your business, simply register for a new Pinterest business account.
However, you may already have a personal Pinterest account with existing Pins, boards, and followers. In this case, you can create a business account linked to your personal one or completely convert the existing account to a business profile.
Create a Linked Pinterest Business Account
This option lets you switch between your personal and business accounts with just a few clicks. No need to use a new email address to link up to four business accounts to your personal Pinterest profile.
To create a new business account that's linked to your personal one, follow these steps:
Log into your personal Pinterest account.
Click the down icon at the top-right of the screen and select Add account.
Under Create a free business account, click Create.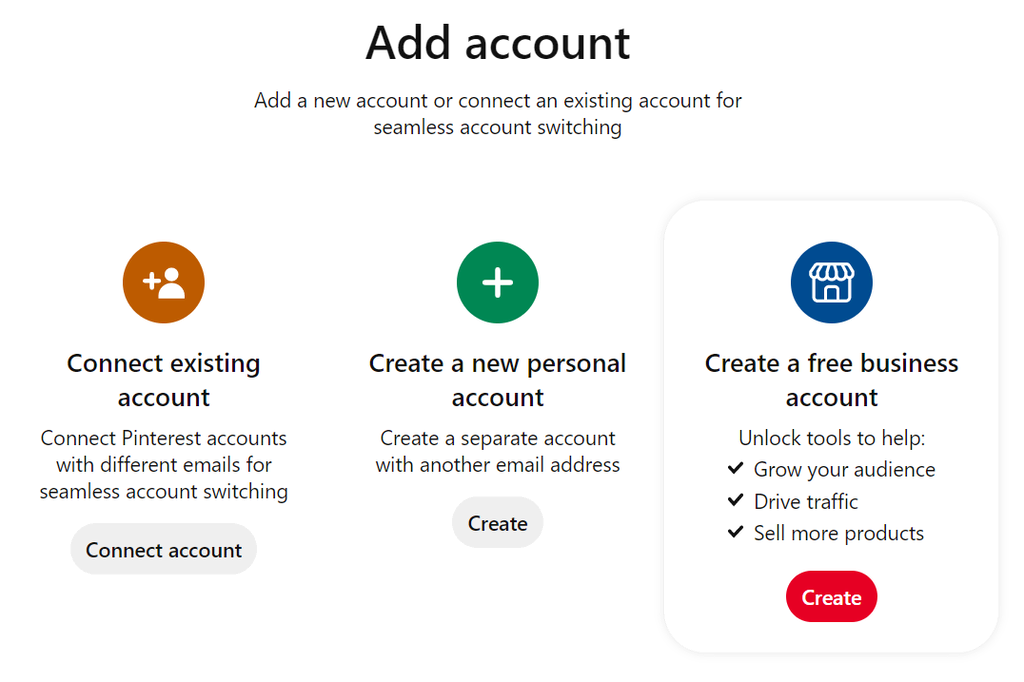 Ignore the Create a free business account window and choose Create linked account.
Confirm by clicking Create linked account.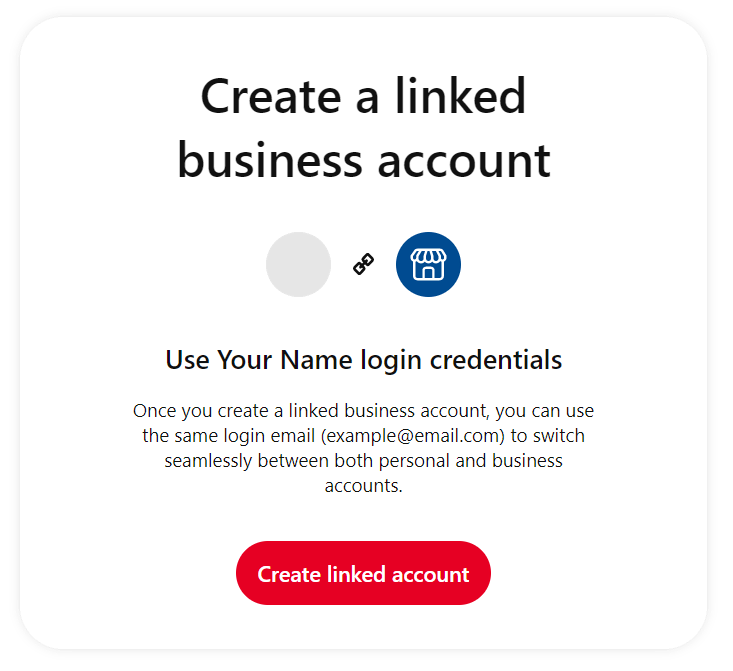 Fill out the necessary fields to Build your profile and Describe your business.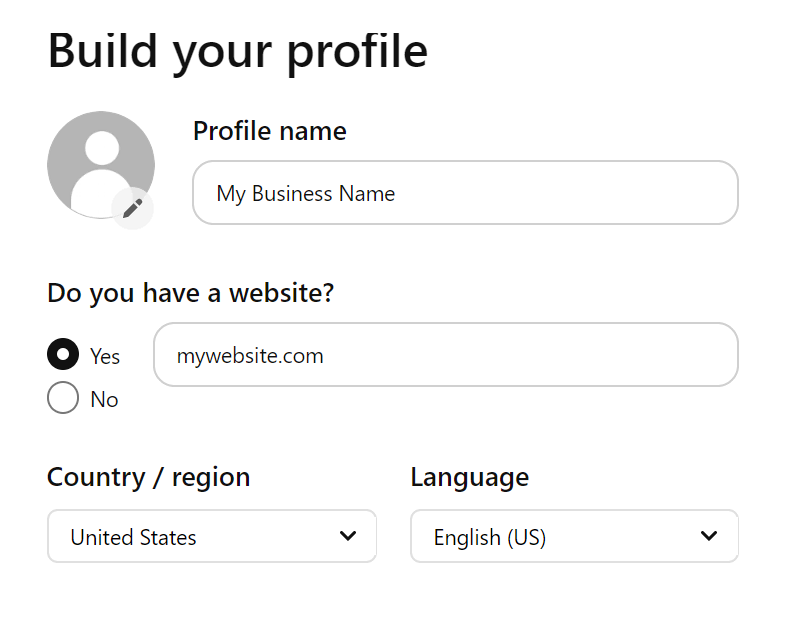 Select if you want to run personalized collections or shopping ads, then click Next.
Click the X icon to go to your linked Pinterest business account.
Convert a Personal Pinterest Account Into a Business Account
Alternatively, fully convert your personal Pinterest account into a business account. This option will retain your Pins, boards, and followers. You can change it back to a personal account at any time. If you prefer this option, follow these steps:
Log into your personal Pinterest account.
Click the down icon at the top-right corner and choose Settings.
Go to Account management → Account changes.
Find Convert to a business account → Convert account.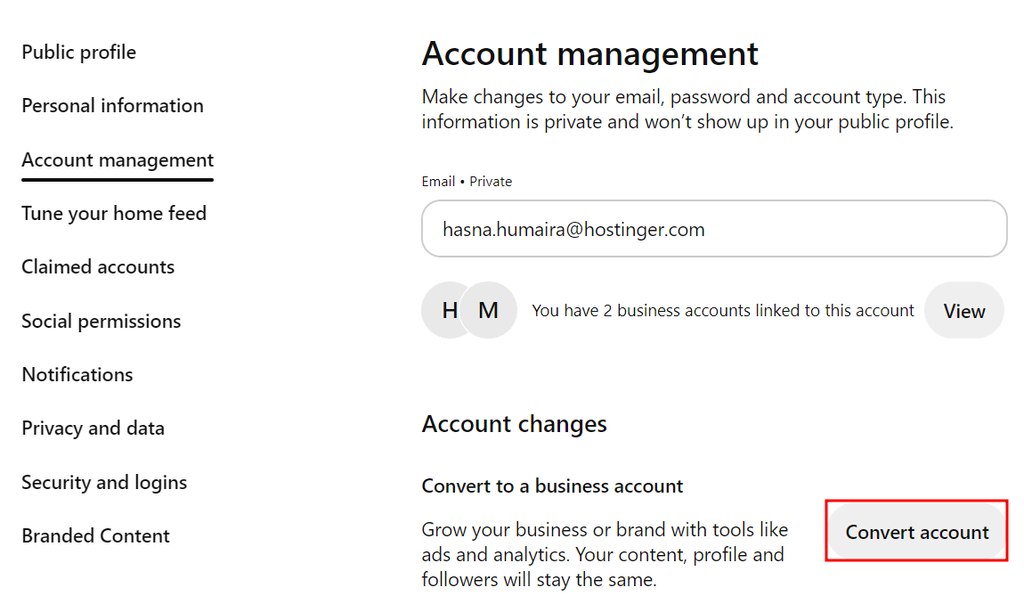 Enter the fields to Build your profile and Describe your business, then click Next.
Choose whether you want to run Pinterest ads and click Next.
Select where you'd like to start, or click the X icon to go to your converted Pinterest business account.
Once your Pinterest business profile is set up, add your online store or business website to your profile.
Fortunately, you can quickly add Pinterest to Hostinger Website Builder. All you have to do is add the Pinterest social icon and your profile URL on the builder.


2. Claim Your Online Store
By claiming your business website, you will receive valuable analytics on your Pinterest marketing strategy. This includes analytics for Pins published from your online store and those created by others from your site.
Additionally, all Pins from your site will have your profile picture and a Follow button for your Pinterest account. This helps increase brand awareness and encourage visitors to view more of your content.
What's more, the website URL on your profile will also get a blue globe icon, marking you as a verified seller. Seller verification is essential to cultivate customer trust.
There are three ways to claim your online store through Pinterest Business:
Inserting a Pinterest HTML meta tag to your site
Uploading an HTML file to your website
Adding a DNS TXT record to your website
How to Claim a Website By Adding an HTML Tag
Log in to your Pinterest business account.
Click the down icon to expand the menu and select Settings.
Select Claimed accounts → Claim.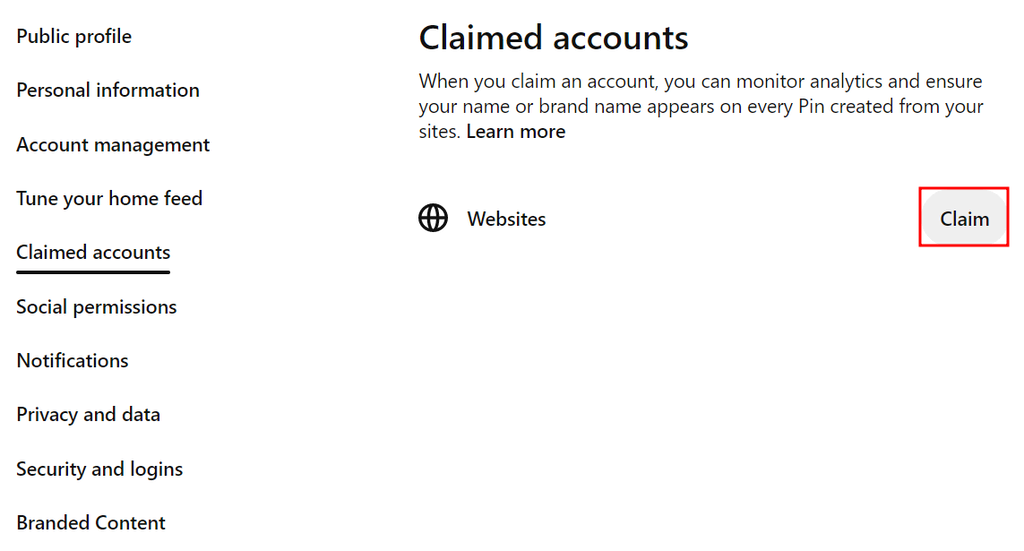 Copy the text under Add HTML tag.
Click Continue.
Access the index.html file on your website and paste the tag to the <head> section before <body>.
Go back to the Pinterest Business profile screen and enter your website's URL.
Click Verify.
Pinterest will check your website for the HTML tag and claim it within a few hours. Once the process is complete, you can return to your website's index.html file and remove the tag.
How to Claim a Website By Uploading an HTML File
Log in to your Pinterest business account.
Click the down icon to expand the menu and select Settings.
Select Claimed accounts → Claim.
Under Upload HTML file, click Download.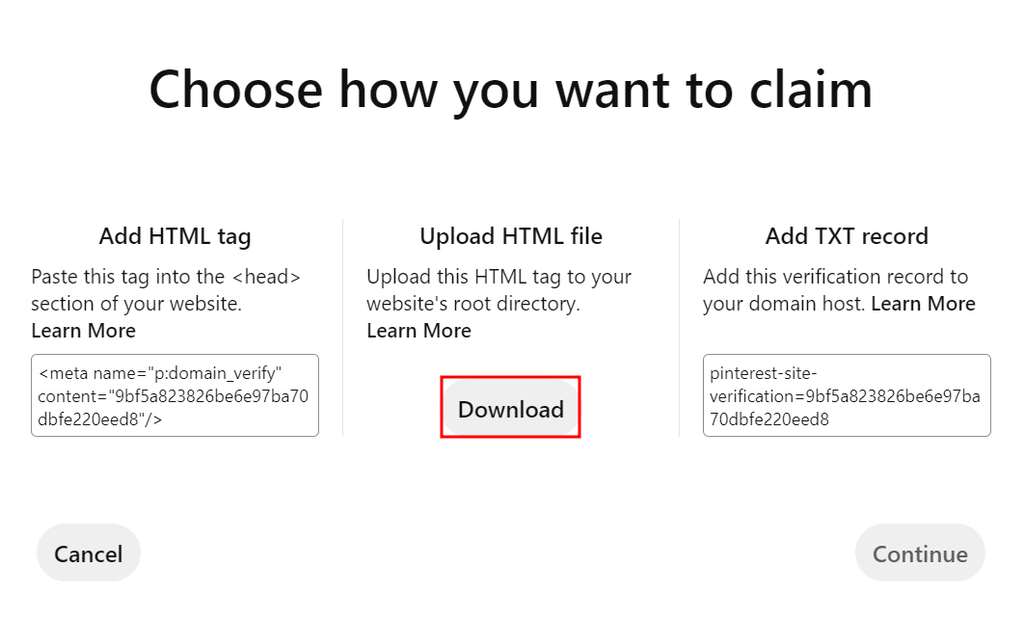 Select Continue.
Go to your website hosting account's file manager and upload the downloaded file to the root folder.
Return to the Pinterest business profile and enter your website URL in the box.
Click Verify.
Once the verification process is complete, feel free to remove the HTML file from your website's root folder.
How to Claim a Website By Adding a DNS Record to Your Domain Host
Log in to your Pinterest business account.
Click the down icon to expand the menu and select Settings.
Select Claimed accounts → Claim.
Copy the text below Add TXT record.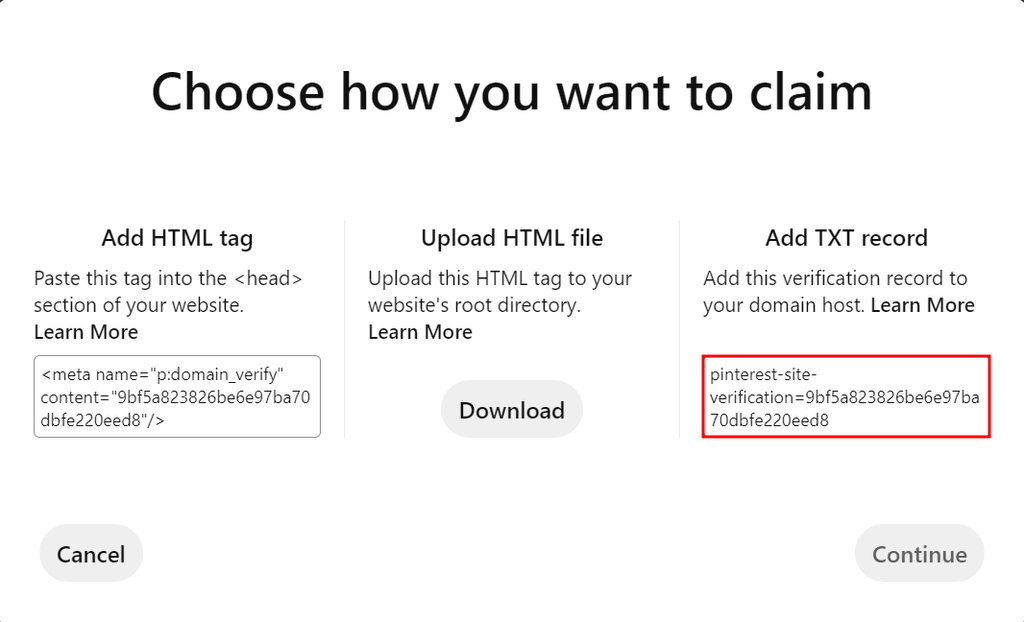 Click Continue.
Open your website's DNS record settings and paste the copied TXT record from Pinterest. If your domain host requires it, add @ in the Host field.
Wait for the DNS changes to be implemented. This may take a few minutes to up to 72 hours.
Go back to the Pinterest business account and enter your website URL in the box.
Click Verify.
3. Optimize Your Pinterest Business Profile
A professional profile for your Pinterest business account is as essential as your website. It should represent your online business, brand, and products clearly and accurately.
To properly brand your Pinterest business profile, follow these best practices:
Use the same display name and username as your other social media accounts. This will make it easier for potential customers to find you.
Change the profile picture into your business logo. This logo should be the same logo used on your website, products, and other marketing channels. Consider designing a logo using free AI tools if you don't have one yet.
Add an attractive cover picture that represents your brand. Since it's located at the top of your profile, make sure it blends well with other elements, including your profile picture.
Write a short introduction about your brand, products, and company mission. If you have a physical store, add the address underneath the description box too.
Once you have customized and optimized your Pinterest profile, create Pins and boards to reach your audience and get more followers.
4. Apply for Rich Pins
Rich Pins are Pins that automatically sync with the information on your website. If changes are made to your website, the rich Pins will update to reflect them.
Fortunately, this useful feature is free for all Pinterest business account users.
There are four types of Rich Pins:
Product Pins. Provides real-time information about product availability and pricing.
Recipe Pins. Includes cooking time, serving sizes, and ingredients.
Article Pins. Displays the author, headline, and summary of the story.
For online stores specifically, including extra product information on your Pins increases the chances of making a sale.
To must first validate rich Pins before using them. Simply add rich meta tags to your product, article, or recipe web pages. eCommerce stores should follow this guide to add meta tags to their product pages.
Next, validate one of your marked-up pages using the Rich Pins Validator. You will receive an approval message if the page is marked up correctly.
Pinterest will take up to 24 hours to process your application. After being approved, all web pages with rich meta tags will appear as rich Pins when creating a new Pin. Meanwhile, existing Pins that link to those pages will be converted to rich Pins.
5. Categorize the Boards and Pins
Having a collection of different Pinterest boards is vital. It lets you categorize and market your products in segments, attracting a niche audience through targeted keywords.
Use different boards to separate product categories. For example, an online store selling fragrances may create the following boards:
Eau de parfum
Eau de toilette
Scented candles
If you sell digital products, some board options are:
Digital art
Mockups and templates
eBooks
Then, add relevant Pins to the appropriate boards. In addition to uploading your own Pins, add the ones uploaded by other Pinterest users.
Filling up your boards with useful and relevant content from different users makes you an active and collaborative member of the Pinterest community. It will also attract more visitors to your account, improving the visibility of your brand and products.
6. Optimize Your Pins for Search Engines
Applying search engine optimization (SEO) strategies, especially keyword optimization, is essential when marketing your products on Pinterest.
To find ideas and products, users enter keywords into the Pinterest search bar. In turn, the algorithm provides the most relevant results.
Including suitable keywords in your content ensures your Pins and boards reach the right audience. Therefore, do keyword research for each Pinterest board and Pin you create.
The first step of implementing Pinterest SEO is to create an effective keyword list for your brand. You can do this with a few methods:
Use Pinterest's search bar. Enter a keyword related to your business into the search bar. The suggestions are search terms users commonly input, which means they can be effective target keywords.
Use Pinterest's Analytics tool. Log in to your Pinterest Business account and go to Analytics → Trends. Enter a keyword into the search bar and get a short list of related keywords with trend graphs.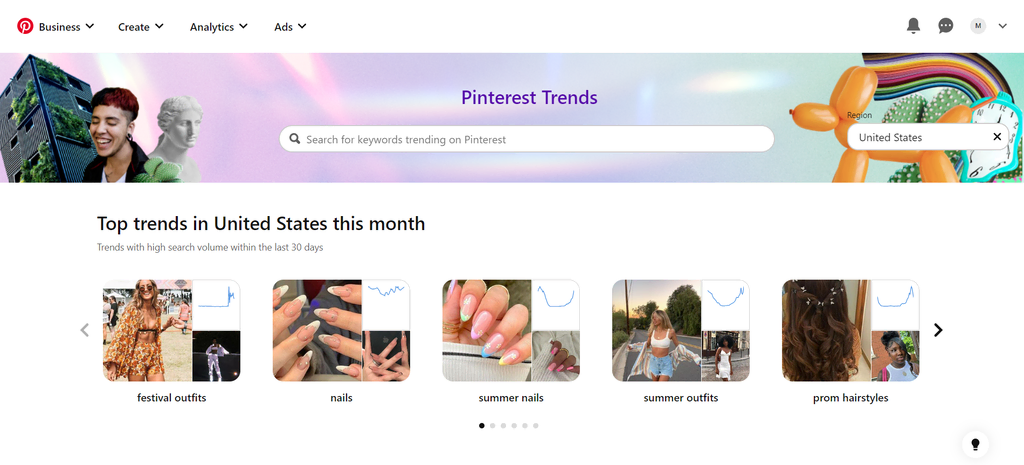 Use Google Keyword Planner. Although separate from Pinterest, Google's Keyword Planner is a great tool for creating a list of popular search terms.
After collecting relevant keywords to target, try to naturally incorporate them into your Pinterest content where relevant. This includes product descriptions, titles, links, and hashtags.
7. Use Paid Advertising on Pinterest
Before advertising on Pinterest, decide whether your goal is to boost engagement, build brand awareness, or drive traffic to your eCommerce store. Doing so will help you pick the most effective advertising method for the results you're after.
Once you set the goal, it's time to decide on the format of your Pinterest ad. The effectiveness of each one depends on your branding and the products you offer.
Pinterest offers four ad formats:
Standard. Use conventional vertical or square static images to promote your products.
Video. Attract potential customers with moving images that tell a story.
Carousel. Lets users swipe through different images in one ad.
Collections. Showcases one large asset along with three smaller secondary ones.
Set a budget for your paid ad campaign and select your target audience. These factors should be decided based on the ad format and the length of your campaign.
To give you a general idea of the ad spend, here are the average costs for advertising on Pinterest:
$0.10-1.50 per click
$2.00-5.00 per thousand impressions
$6.00-10.00 per conversion
How to Grow Your Audience and Boost Sales on Pinterest
There's more to selling on Pinterest than creating promoted Pins of your products and setting ad campaign budgets. Here are some extra tips to ensure you're using Pinterest to its fullest extent.
Understand Your Audience
A key to Pinterest marketing success is knowing who your target audience is.
Take into account Pinterest's user demographics. For example, 60% of global Pinterest users are women, but male Pinners are increasing by about 40% annually.
Research more information regarding your target audience on Pinterest and use them to your advantage. When you publish Pins and boards, always have your audience in mind. This means creating compelling content that fulfills their search intent.
Targeted content that understands your audience will increase your followers and bring more traffic and conversions to your online store.
Stay Up to Date With the Latest Trends
Keep up with the latest trending products in your business niche and post up-to-date content to keep your audience engaged.
Posting fresh, relevant content helps you offer helpful Pins to your audience at all times. Moreover, Pinterest's algorithm ranks fresh graphics, images, and videos much better than older ones. Therefore, make sure to post new Pins and re-Pin content from other creators regularly.
Other than the built-in Pinterest Analytics feature, use tools such as Google Trends, Ecomhunt, or Trend Hunter to discover emerging trends. Analyzing trends on social media platforms like Twitter, Reddit, and TikTok is also recommended.
Engage With Your Audience
Actively interacting with your followers builds brand awareness, credibility, and trust. Make sure to comment on people's profiles and send them short but meaningful private messages.
Prioritize Quality
Every Pin you publish must be valuable to your audience. They should answer their search intent and speak to their current needs.
In addition, your Pins should look and perform well to reach the intended audience. For example, make sure to use high-quality images that are optimized for SEO. This is especially important for a promoted pin.
Optimize for Mobile Devices
Roughly 85% of people that use Pinterest browse the app on their phones. Therefore, always remember mobile users when creating Pins for your business. For instance, always refer to Pinterest's Pin and ad size guide before posting your images.
Conclusion
Pinterest is a great social media and visual search engine platform for selling and marketing your products. Now that you know how to sell online on Pinterest, it's time to give it a try and make money online.
Simply create a Pinterest Business account, claim your online store, build your profile, apply for rich Pins, and start posting Pins and boards with SEO in mind. You can also use paid advertising to boost your products' visibility on Pinterest.
If you follow our steps and tips, before you know it, you'll be selling on Pinterest like a pro. Good luck.
How to Sell on Pinterest FAQ
Check out the answers to frequently asked questions on how to sell on Pinterest.
How Much Does It Cost to Sell on Pinterest?
Selling on Pinterest is free of charge – so is creating a business account on the visual platform. That said, consider how much work and time you must put into setting up your profile, creating Pins and boards, and building a following.
What are the Requirements to Become a Seller on Pinterest?
Pinterest has comprehensive documentation detailing all the merchant requirements. They include abiding by relevant laws and regulations, having a high-quality website, and having a clear shipping policy. Pinterest may remove your buyable Pins and boards or even restrict access to your account if you violate their guidelines.
What Type of Items Can We Sell on Pinterest?
Pinterest lets you sell all kinds of items except those listed in its prohibited products list, which includes alcohol, financial products, gambling products, and healthcare products. On the other hand, product categories that do well on Pinterest are food and drink, women's fashion, beauty products, and DIY crafts.
Does Pinterest Take a Commission From My Sales?
No, because Pinterest doesn't directly facilitate product purchases, sales, and deliveries. It is a marketing channel for the products sold on your online store. However, your eCommerce platform may take a commission from sales.
Is Selling on Pinterest Worth It?
Absolutely. Nearly 70% of Pinterest users use the platform to research products. This means most people on Pinterest have buying intent, making them more likely to purchase your products. If you sell products that match Pinterest's demographic, this social media platform can be a very profitable marketing channel for your brand.