How to Create and Sell Digital Products: Guide With Product Ideas
Are you trying to earn extra income by creating and selling digital products? It can get pretty challenging when you don't have any product ideas to start with.
In this article, we will go through a complete guide on creating and selling digital products and the most popular products to date.
Download Checklist: How to Start an Online Business
Why Digital Products Are a Great Way to Make Money Online?
Digital products are items sold online that don't have a physical form. They can be sold repeatedly without having to stock up inventory. These products usually come in the form of digital services, such as streaming and a variety of digital downloads.
Here are some benefits of selling digital goods to make money online.
Cost-effective. Since sellers don't have to replenish stock and digital items can be sold repeatedly, business operation costs such as packaging and storing are either reduced or completely eliminated.
No shipping. Vendors don't have to deal with shipping altogether, removing any possible shipping incidents in the process.
Instant delivery. When customers purchase your digital goods, delivery is instant.
Are There Any Downsides to Selling Digital Products?
While the digital industry is promising, some disadvantages come with it. Fierce competition is one of the biggest challenges sellers will face, as the lower bar to entry allows more people to enter the market.
Digital items are also often perceived to have less value than physical products because they only exist inside devices.
Where you decide to sell your products can also make or break your business. If your choice of online platforms to sell your items is down or performs poorly, sales will be significantly affected.
It's not easy to develop digital products that are top quality in order to compete in the market. It's time-consuming, and you need the appropriate skills and tools for it.
10 Best Platforms to Sell Digital Products
Choosing the right platforms to sell online is one of the most important steps when starting a digital product business.
There are many eCommerce platforms out there that allow sellers to sell digital goods. However, not every platform will cater to your needs and fit your business.
We will give a short overview of the best eCommerce platforms for selling online, from digital downloads to streaming services.
1. Selling Digital Downloads via an Online Store
One of the best ways to sell your digital products is through your own eCommerce website. It allows you to have full control over the functionality and look of your store and the freedom to customize and scale your business as needed.
Having your own online store is also good for your brand's reputation as it will make you seem more professional. It also cuts down on possible competition if other vendors in your niche do not own an online store of their own.
However, if you're not comfortable with the technical aspect of owning a website, setting up your online store by yourself can be tricky.
It also takes time to build a sizable following for your brand. Some knowledge regarding the attraction of traffic and leads is needed to optimize your store's performance and reel in more customers.
This option is ideal for those who have experience and knowledge in website building. If you're a beginner, we recommend using easy-to-use solutions such as an online shop builder.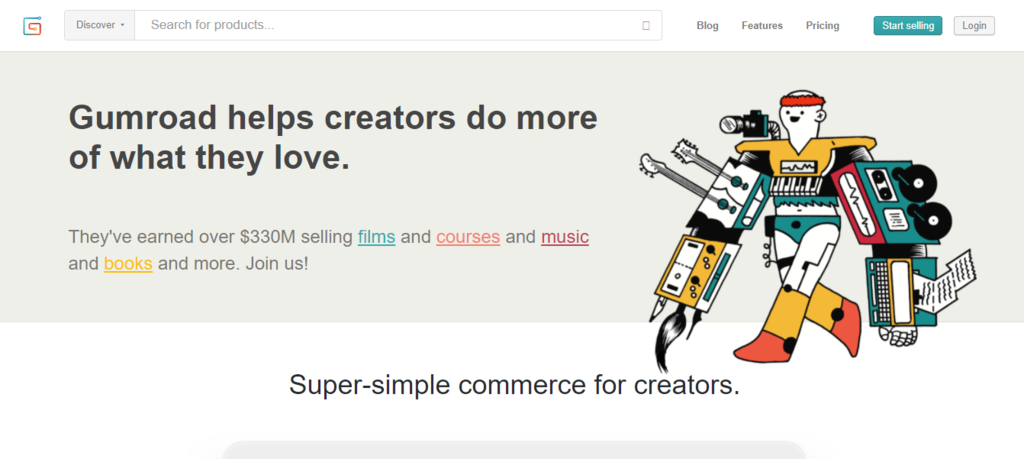 Gumroad is a simple cart checkout service that allows artists to sell their digital creations online. It can turn any website into an eCommerce store quickly with no coding or technical expertise required.
For $10/month, you get the option to sell an unlimited amount of products. Gumroad also boasts an analytics feature to see how many times each product has been viewed and purchased. It also lets you know where the sales come from.
To start selling with the platform, simply upload your products to Gumroad and add the auto-generated link anywhere on your website. It will then turn the section into a storefront from which customers can directly purchase your goods.
Gumroad is a good choice for those who only have a handful of products to sell. It lists products by the upload time, and there's no way for you to categorize or group products.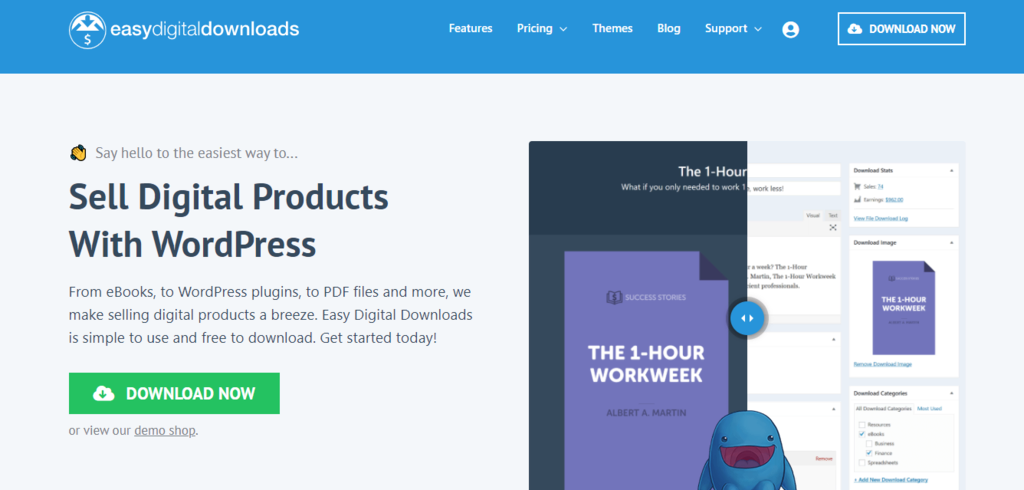 As the name suggests, easy digital downloads is a WordPress plugin that lets you sell downloadable products online. If you need extra features, it has a wide variety of free and paid extensions available.
The plugin features discount codes, download activity tracking, and a built-in reporting tool. You can also set download limits and link expiration to avoid piracy and duplication.
As it is a popular WordPress extension, there's plenty of support available, including forums, customer support teams, and tutorials. Embed the shortcodes that the plugin generates anywhere on your website to display and sell your downloadable products.
To use this plugin, you will need a WordPress website. You can use this plugin for free. However, you will only get basic features if you do so. Its premium plans start at $99/month. This plugin is more suitable for an established digital business due to its higher price range.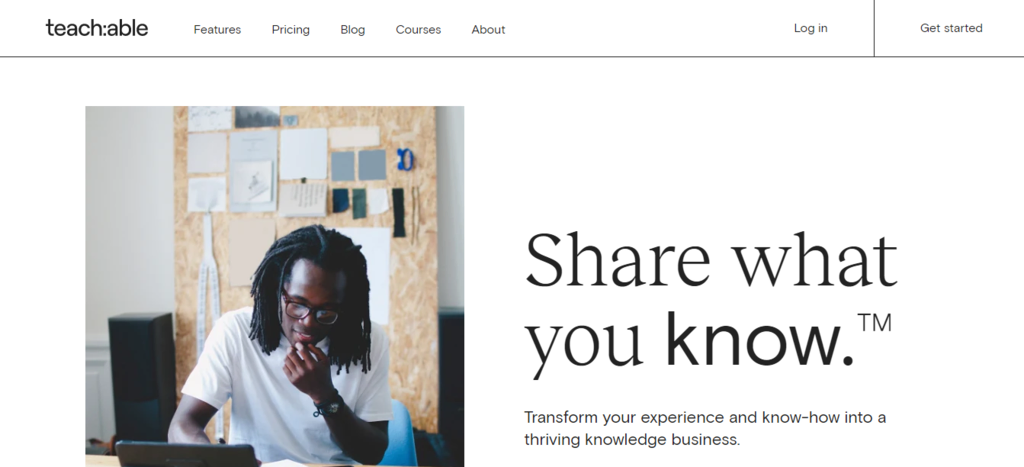 If you're planning to sell online courses and coaching, Teachable is one of the best choices available in the market. It comes with an intuitive and straightforward interface to make it easier for users to navigate around the site.
Teachable has multiple features to support eLearning, such as numerous teaching media support, quizzes, course completion certificates, unlimited bandwidth, unlimited courses, and unlimited students for all paid plans.
As for the store development aspect, you get access to in-depth customization options, such as customizable pages and built-in affiliate programs. It also supports a variety of third-party integrations like Google Analytics and MailChimp.
Teachable plans start at $39/month. However, if you choose to get billed annually, you will only need to pay $29/month for its Basic plan. Furthermore, there's a 5% transaction fee when subscribed to the cheapest plan.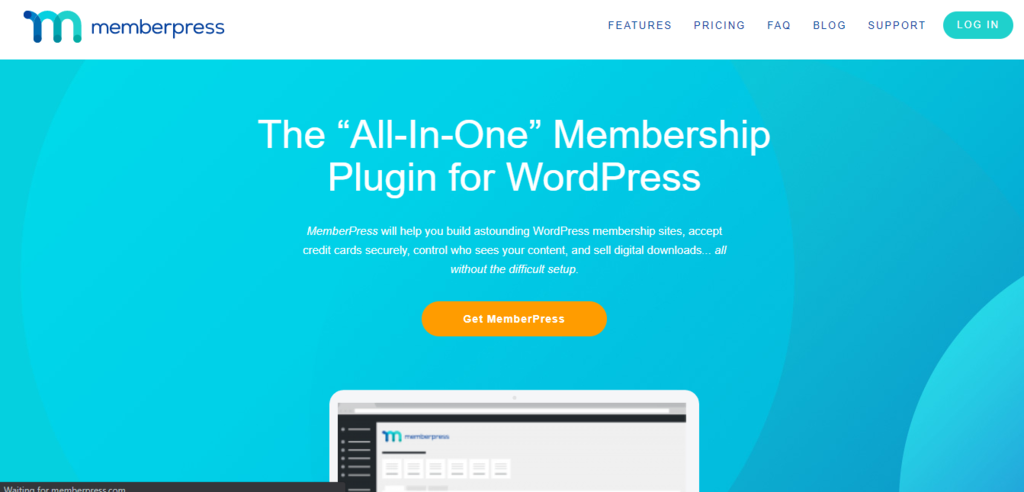 MemberPress is a WordPress plugin used to create, manage, track membership subscriptions. With this plugin, you can give or restrict access to specific posts, pages, videos, digital files, or sections of your website for membership members.
MemberPress comes with membership subscription tracking, a wide array of integration options, and multiple payment gateway support. It's best suited for sites that offer membership as a service or online stores that offer membership perks.
Considering that the plans start at $179/year, this plugin is more suitable for big eCommerce businesses.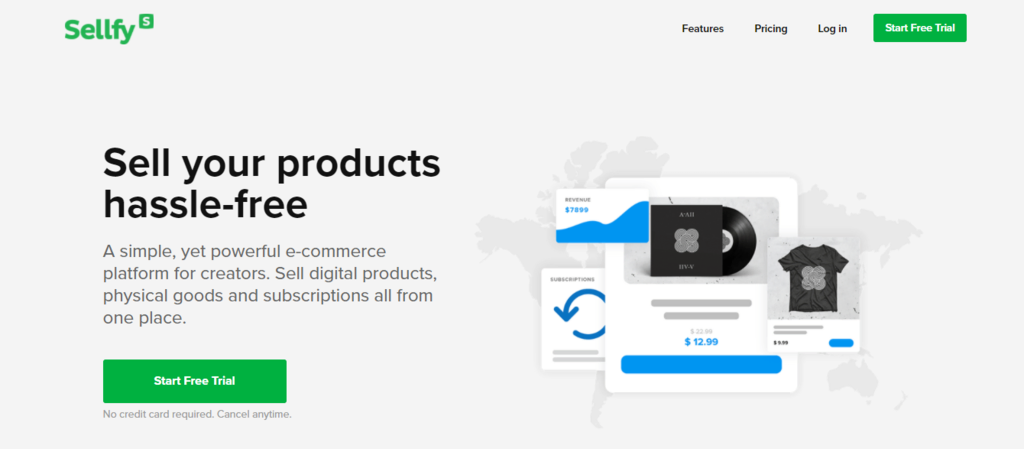 Sellfy is a simple eCommerce platform equipped with smart tools to improve sales and promote products on social media. Supporting more than 60,000 content creators, Sellfy allows its users to sell a wide range of products, from digital files, subscriptions, and memberships, to physical products.
With Sellfy, you can easily embed call-to-action buttons, product widgets, or an entire story on your website or a social media platform through a single link. It also sports an easy-to-use visual builder that allows you to customize the embedments to your liking.
It supports multiple payment options, multiple store languages, and mobile optimization. Sellfy plans start at $19/month. It's a good choice for a business that sells a wide range of different products.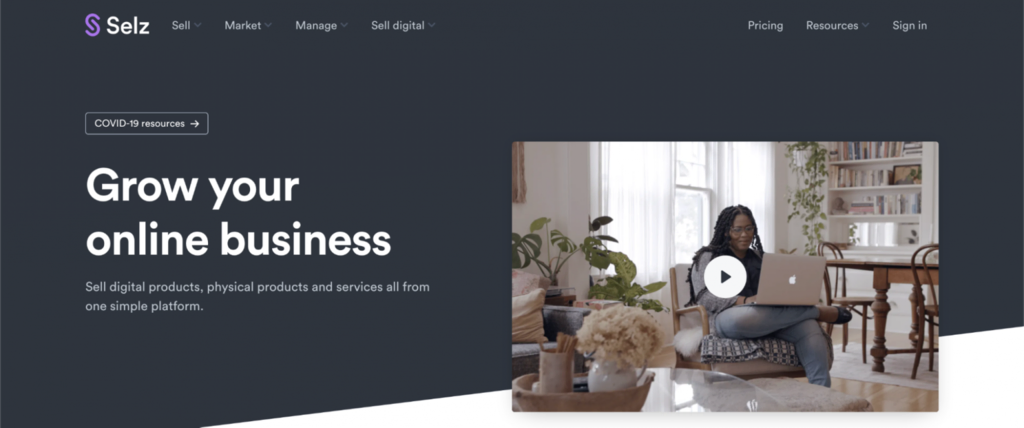 Selz is an eCommerce platform used to list, market, and sell digital and physical products. It features inventory management, social channels integration, analytic tools, automated product delivery, and much more.
With Selz, you can build an online store and embed it on various social media platforms and other websites. You can also stream movies and video tutorials with limited-time streaming, as well as set download limits. What's more, transactions are available in up to 100 currencies.
The plans for Selz start at $26/month, which already includes unlimited products. However, there is a 2% transaction fee for every product purchased. Selz is a good choice for media content creators as well as businesses that offer eLearning online courses.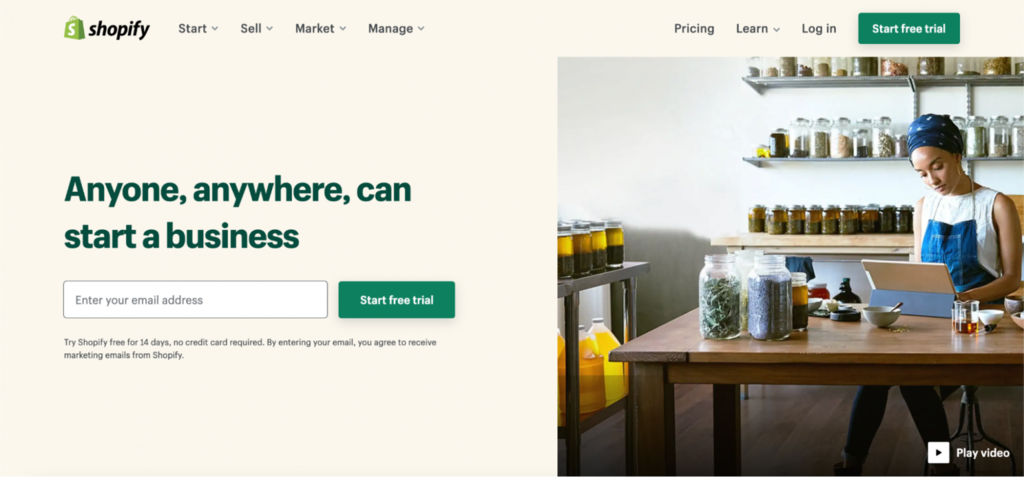 Shopify is an all-in-one eCommerce platform solution with all the essential features that cater to small and big businesses. You don't need to have technical or coding knowledge to use it, thanks to Shopify's setup wizard, which makes the website building process a breeze.
With Shopify, you can sell both digital and physical products. It also has an extensive directory of various free and paid add-ons you can use to extend the functionality of your store. This includes a free digital downloads app that allows you to track the sales and downloads of your products.
However, if you're not using the standard Shopify payment method, there's a 2.9% transaction fee for every sale made on the website. The basic Shopify plans start at $29/month, but there's a 14-day-trial if you want to try it out first.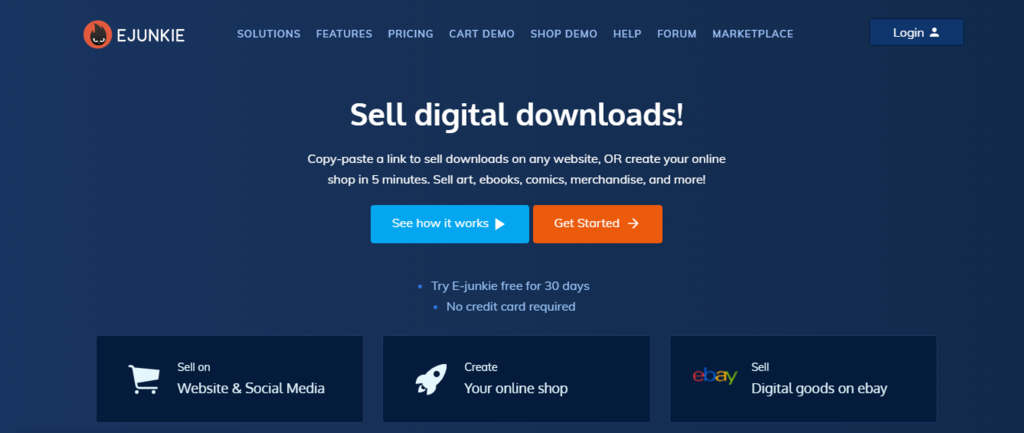 E-junkie is an easy-to-use digital selling platform that provides a shopping cart integrated with popular payment processors such as Paypal and Stripe. This allows you to sell digital products on various platforms like social networks, blogs, or other app selling platforms like eBay.
Using it is as simple as setting up your payment gateway and copy-pasting the auto-generated links of your products on the chosen platform. Customers who purchase the goods will receive download links that expire after a certain amount of downloads or time.
For only $5/month, you get to sell up to 10 products with unlimited transactions and bandwidth, all without any transaction fees. E-junkie also comes with an affiliate management tool that helps you get more sales through affiliate marketing.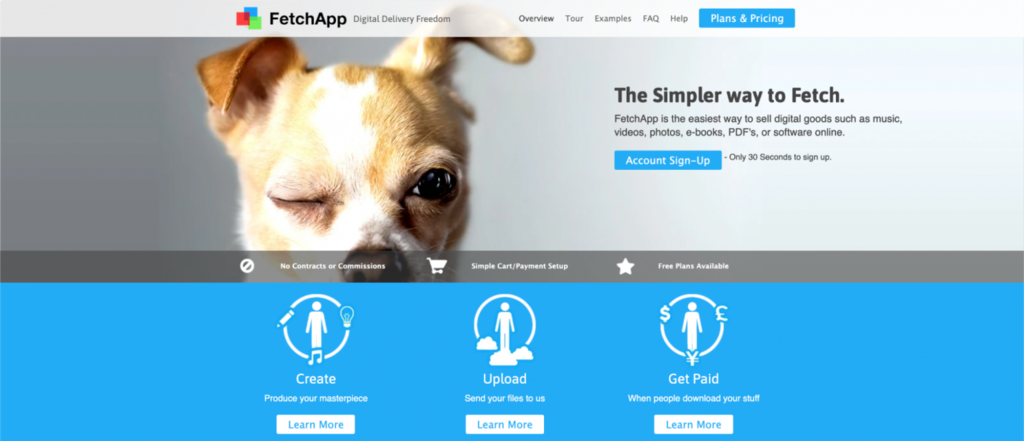 Fetch app is an eCommerce platform that allows stores to sell various digital products ranging from videos, music, eBooks, and custom software to graphic designs.
You can integrate the platform with popular eCommerce systems such as Shopify and WooCommerce. Fetchapp accepts payment from a wide range of payment gateways. It also features an automated download and order fulfillment.
Once an order is placed, the platform will send an email with a secure download link to the customer. You can also restrict file downloads by time and quantity for extra security measures.
There's a free plan available, granting up to 25 orders per day, 5 MB of storage, and unlimited bandwidth. Paid plans range from $5/month all the way to $500/month, depending on the amount of storage space provided. This platform is worth a try for beginners with limited products to sell.
10 Digital Products Ideas to Sell Online
Once you've picked the appropriate platform to sell your digital products online, we'll go over some of the most popular product ideas to help you get started.
1. eBooks and Info Products
eBooks are publications in a digital format and can be read on electronic devices such as tablets, phones, or computers. It's one of the most popular digital eCommerce products to date.
eBooks are not hard to produce. Unlike regular books that need hardcovers, papers, and ink, eBooks only require content and software to get it all together. Here are some other advantages of eBooks:
Compatibility with most electronic devices due to their small file size.
eBooks can be created using free software available online.
If you don't have the writing skills but want to share your expertise through eBooks, you can hire a writer to ghost-write for you.
2. Membership Sites
Membership sites are websites that offer monthly subscriptions and memberships. They are usually integrated with other eCommerce businesses like retailing, online services, or courses.
Customers will sign up for a membership to access exclusive content and other perks offered by the brand. Selling memberships can be a good business opportunity if you have a loyal following.
You can create a membership site through the integration of such platforms as MemberPress.
3. Video Courses
Video courses are a vital part of the eLearning industry. These educational courses typically require a lot of preparation – choosing the topic, coming up with the material, and recording the video itself.
When creating online courses, you will need expertise in the topic you're going to cover. If that's out of the question, you can hire an expert to teach the course in your place. Keep in mind that this will increase the production cost of the course.
Other production costs include purchasing a high-quality video camera and editing software to create engaging and attractive videos.
Here are some other benefits of selling video courses:
Video content is growing in popularity, and it's predicted that an average person will spend around 100 minutes a day watching a video in 2021.
Attractive video visuals are more engaging since they make the learning process much easier and more fun.
Video courses are usually short and informative, making them more effective at daily consumption than textbooks.
Once you have all the tools needed to create the video, create a lesson plan, and determine the learning outcome of the course. You can sell digital products like courses on platforms such as Sellfy or on your own online course website for a seamless customer experience.
4. Music Licenses and Compositions
If you have a passion for creating music, consider selling some of your work. While making music is a hefty investment due to the cost of equipment and software, it can generate a sizable amount of profit if you get popular or land a deal.
Selling your composition as stock music can also be a good money maker. Content creators in the film and online video industry are always looking for the right music to use in their projects.
5. Apps and Games
When creating apps and games, you will heavily benefit from in-depth knowledge of coding with a programming language of your choice. Alternatively, you may look at solutions that provide you with an interface for creating an app without knowing how to code, such as Appery.io.
6. Digital Art
If you consider yourself creative and enjoy working on visual design or creative drawing, selling digital art and design might be a good idea. You can sell various digital art products starting from logos, fonts, illustrations, digital graphics, icons, and so on.
Bloggers and content creators are usually in need of high-quality digital art to spice up the visuals of their content.
7. Themes and Plugins
If you're into website development and have ideas on making website building easier, consider selling plugins. Plugins are a popular choice for website owners who are looking to extend the functionality of their websites.
If you know how to create a WordPress theme, you can also sell it. You can create these third-party extensions for popular platforms such as WordPress or Drupal.
8. Mockups and Templates
Mockups and templates are pre-made designs that can be further customized by the user to fit their needs. Mockups can accommodate anything from a resume, social media posts, cover letters, visual design, posters, and so on.
These models usually include a combination of already generated content, layout, and structure. Since hundreds of free mockups and templates are available on the internet, make sure your creations have more to offer than the free ones.
9. Stock Photography and Video
From advertisements to website design, there is a great demand for stock images and videos. If you like photography, consider turning your hobby into a profitable digital business.
All you need to get started is a decent camera and photo or video editing software. Once you have the captured images ready, you can start selling your material by yourself or through stock sites such as iStock or Shutterstock.
10. Selling Services Online
If you're in an occupation that allows for work to be done remotely or you have valuable knowledge to impart, you can sell your services online.
One way to get potential customers hooked is to have a website dedicated to your work portfolio. Or, if you're just starting out, you can try Fiverr, which allows you to sign up as a freelancer.
How to Choose Profitable Digital Downloads Ideas to Sell Online
To help you choose which digital product is the best one to get started, we've listed some useful tips:
Research keywords and trends. Find the top-ranking keywords and Google trends for digital products and make a list of all the possibilities you might be interested in. Continue narrowing it down until you come to a conclusion.
Test out your ideas. Before investing all of your time and money in creating the products, it's better to start small and observe the potential of the products. For example, if you intend to sell eBooks, provide a small selection first before scaling up.
Conclusion
Many benefits come with selling digital products – business startup cost reduction, high profits, and instant delivery are just some of them. However, starting a digital product business can be challenging.
In this article, we've explored why digital products are a great way to make money, along with the best platforms to sell digital downloads and the best product ideas for it.
We hope this article has been helpful. If you have any questions, please let us know in the comment section below.